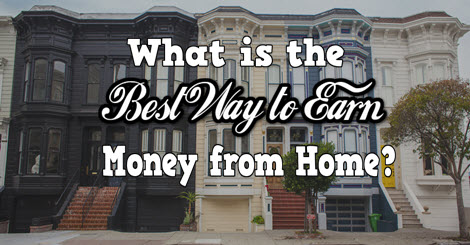 Have you ever wondered as to what is the best way to start earning from home from the comfort of your own seat without even doing anything that might cause you excessive sweating?
If you've read other articles online, you might have come across many different answers like working in Fiverr, doing forex (Which is very risky) or even working as a freelance writer at eLance or Odesk.
Those particular strategies do in fact work but the best method of earning money to date is by…
Having Your Own Online Business – Building and Monetizing a Website.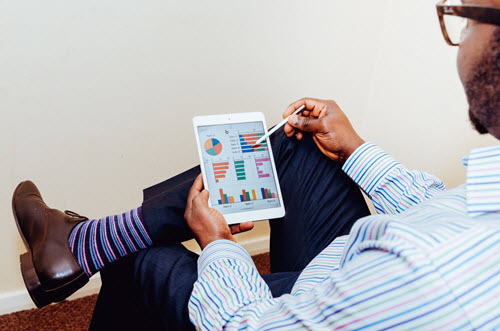 Owning a website is like owning a local business, it is the central thing that binds all other small businesses and furthermore, it can also boost any existing or local businesses that you have.
Simply put, everyone needs a website.
But, not everyone has the time and money time to build and manage one because paying a website developer is definitely a no-no for beginners as they tend to charge thousands for their website building services.
We can actually build one for free today and I'll show you how in a moment but if you're still wondering on whether or not you actually do need a website, here's why…
More customers – Opening a small local store is hard and risky work, you need to open it where the crowd is. Building a website on the other hand, lets you control how many people you want to attract to your website as your audience is basically everyone who uses the internet. Pretty cool, right?
You build authority – You can open your own brick and mortar business anywhere but at the end of the day, everyone wants a website of their own because that shows how established you are. In fact, I only start getting a lot of calls on my brick and mortar event management company after I decided to create a website for it.
Easy to sell and update customers – Selling stuff online is actually very easy compared to selling stuff in a local store. Instead of being there at the shop early morning till the end of the day, you can actually put up everything on your website as e-commerce and from there, people just buy stuff from you whenever they are interested. You can also just update any promotions on your website or even talk to your customers instantly free of charge.
Now that you've had a taste of perfection, you might be hungry for answers on…
How does it Work? –Your 10 Crucial Steps to Success.
Building an Online Business has revolutionized over the years but the concept is still the same – set-up your page and lead traffic to it which is what I'm going to show you today…
Step #1 – Find a Niche You're Interested In
Like any other businesses out there, you need specific interests to focus on.
What is your passion? What industry don't you mind working in for hours without getting bored? What are you good at or want to improve on?
If you're wondering what niche you should have, I have actually written a post on the Top 10 Affiliate Marketing Niches here which I have compiled from my experiences being in the industry.
In fact, my blog that you're looking at right now is on blogging where I further break it down to SEO, content creation and reviews so you should do the same for the niche that you're choosing as well.
For example, if you're into the gardening niche, you could further break it down into gardening equipment, how to grow certain types of plants, or even locations for buying and selling farms which is a lucrative business.
My friend Rufat made a brilliant list of many other niches many of us might not have thought of in his blog here which I strongly recommend you to check out – Things like Graphics design, tutoring and even animation which relates to a common skill we all have.
Start with one step at a time.
It may be a bit blurry to you at the start but I promise you, you'll start to get plenty of ideas as you delve into the industry further.
Step #2 – Build Your Very Own Website!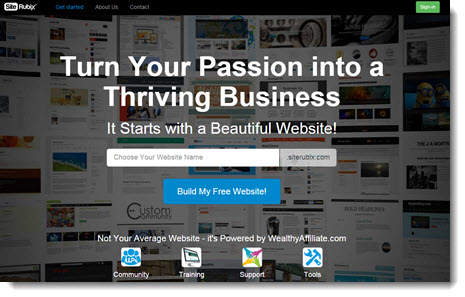 Now that you know what niche to choose, I'm sure you're thrilled to learn how to build your own website from scratch.
Don't worry, it's actually easy and not time-consuming at all.
In fact, I'm going to show you how to build your own website for free and a quality one at that!
There are various platforms for building websites such as Webs and Weebly but for Online Business purposes, the best one I can recommend you to date is Site Rubix.
When talking about websites, you should know that a domain refers to the website URL such as "hungryhogs.com" or "myinternetquest.com" – In other words, a domain is like a name with the www.
Have a name ready for your website? Have a go at it here…
Now one thing you should know about free websites is that they all have the extension before the dot com.
For example, since we are using SiteRubix your domain name should be something.siterubix.com instead of something.com and this is because independent dot com domains need to be purchased as they are under strict regulations by the Internet Corporation for Assigned Names (ICANN) which is considered as the government of the internet.
Paid domains are really affordable as we only renew yearly and they cost somewhere around $10 to $15 but for the purpose of this lesson I'm guiding you through, we'll just go along with the free Site Rubix one.
Have a website name already chosen?
The steps are pretty self-explanatory but just in case, here's a video to walk you through how to build your website in under a minute…
Site Rubix is created by Wealthy Affiliate which is why the name is there but more on that later because right now, we'll focus on building the website first.
Site Rubix is awesome because it's the only website provider that has a health analytics checker to guide you (Very useful for beginners) and a dedicated server host inclusive which is very fast and secure to ensure optimal website condition for business and SEO.
Now that you have a website set up and running, it's time for you to…
Step #3 – Prepare to Sell through Affiliate Marketing
Affiliate Marketing is the art of selling someone else's products in exchange for commissions.
I know I know… It may sound like nothing but for beginners as a start especially, it is the best form of making money at an early stage as you can start instantly compared to creating your own products which will take months.
There are many platforms for you to choose your affiliate products but I can only recommend 3 as these platforms are the safest and most reputable ones on the internet…
Amazon – Great for physical products.
Clickbank – Great for digital products like e-books
Walmart – A good Company with a good reputation but sells best in the USA.
Amazon is the top affiliate network to tap into because although they give out low commission rates, they also give out commissions if your referral buys something else and when it comes to e-commerce, you just know that people will keep surfing Amazon to look for more cool stuff that they can get their hands on because really, who buys only one?
To understand how to use Amazon, here's a quick video on how to do that…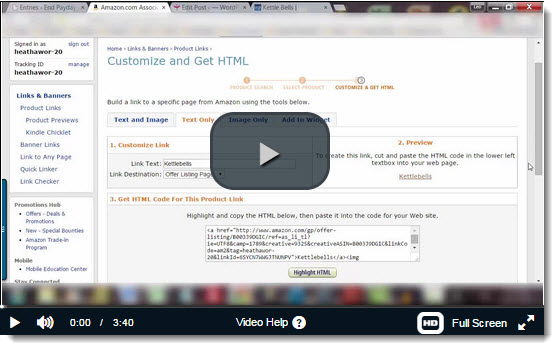 One thing you need to know about Affiliate Marketing is that each and every affiliate will get a separate affiliate link that is special only to you.
This lets them know that you are an affiliate so that whenever someone buys something from that link, you get a commission.
Another great platform to find products for affiliate marketing is Clickbank.
There are thousands of digital products such as e-books and memberships that you can find within Clickbank and the process to become an affiliate is quite similar as well but just in case, here's a video walking you through becoming an affiliate…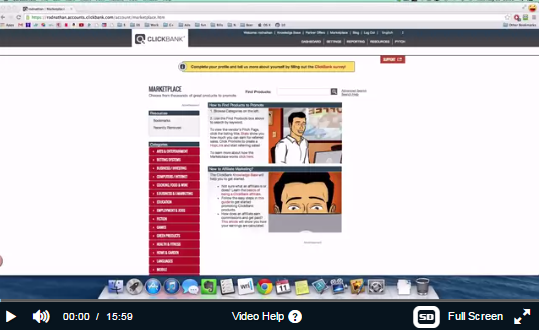 But be careful though, due to ClickBank being one of the best places to make money, a lot of scam gurus have taken nest there and I've even reviewed programs like Google Sniper 3.0 and Copy Paste Income which aims to drain customers out of their money rather than providing quality value.
Still, there are plenty of products to choose from so just surf along to find the right one – A rule of thumb is to find products that you particularly like because that way, you'll have a lot more to talk about since it's coming from yourself.
Now that you have a product chosen, it's…
Step #4 – Time to Organize Your Site!
If you want to start on Online Business, it is crucial to make your website as neat as possible without too many things on one page.
Focus on writing content without distractions.
Want to know what I mean? Take a look at this…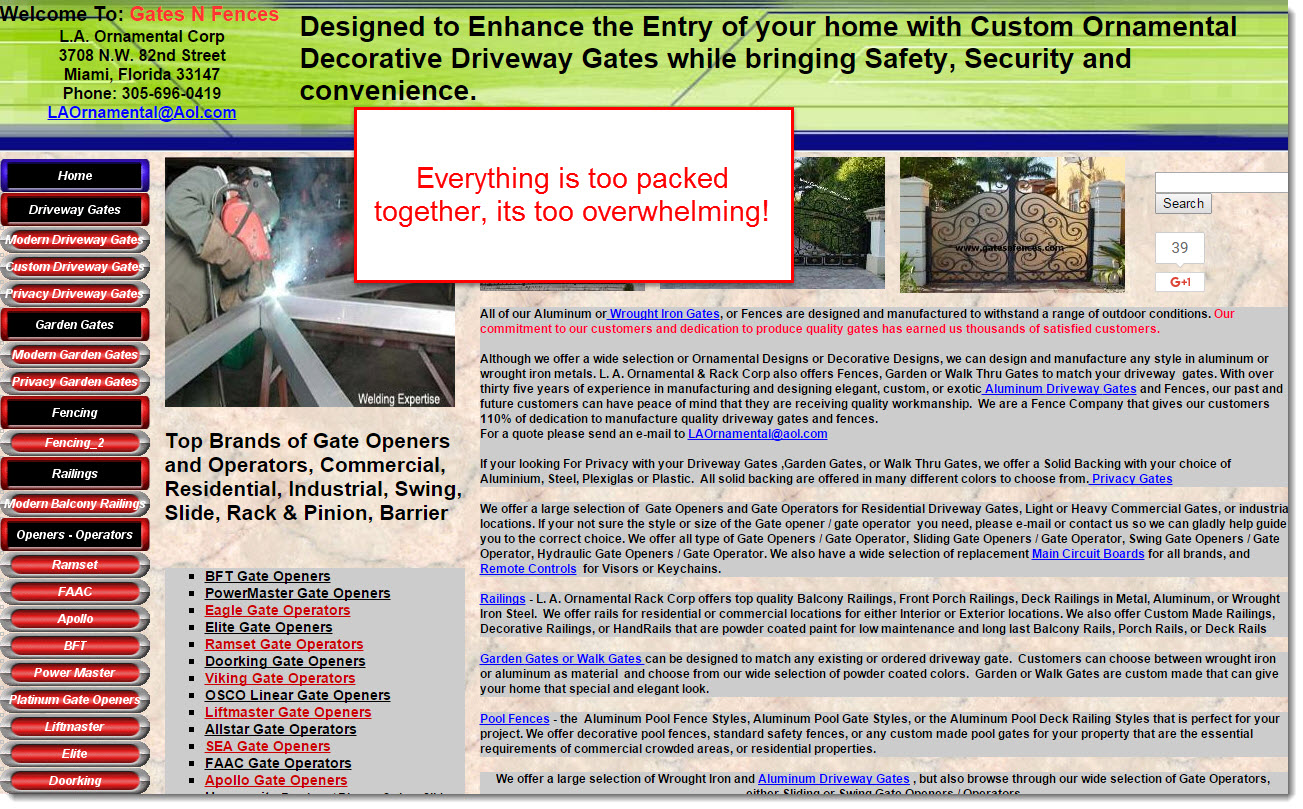 This website Gates n Fences has a good start for their business – They have a website but… something seems a bit off don't you think?
That's because their website is too crowded with information and everything looks really packed.
Doing this is a no-no because you will confuse your readers even more by throwing in too many choices at once – they'll end up looking everywhere and get distracted very early which is something we do not want.
When it comes to writing content, we want our readers to focus on the main thing at hand which is why the more of that white margin you have on both the right and left-hand side of your website, the better.
We now know of how clean and distraction-free a good website layout should be, but have you ever wondered if whether or not colors do play a role in this too?

Penny Juice wants to make their website different from the rest so they used bright colors to attract readers. Problem?
One-color is too bright as it is but multiple colors all at once can literally damage your eyes.
Admit it, even you can't stand staying for long and read the wordings when those colors are bothering am I right?
On that note, here are some points to bear in mind when you're organizing your website…
Simple is always better.
Don't use too many colors. The white background actually works best as it helps readers focus better on your content.
Do not cramp up too many things on one page, think minimal as you don't want to get your readers distracted from your main content.
Don't take too long on organizing your website though, always remember that simple is better and no matter how beautiful your site is, the main reason anyone would come to your site is to read your content.
Speaking of which, I'm sure you're just dying to know of…
Step #5 – How to Generate Ideas for Content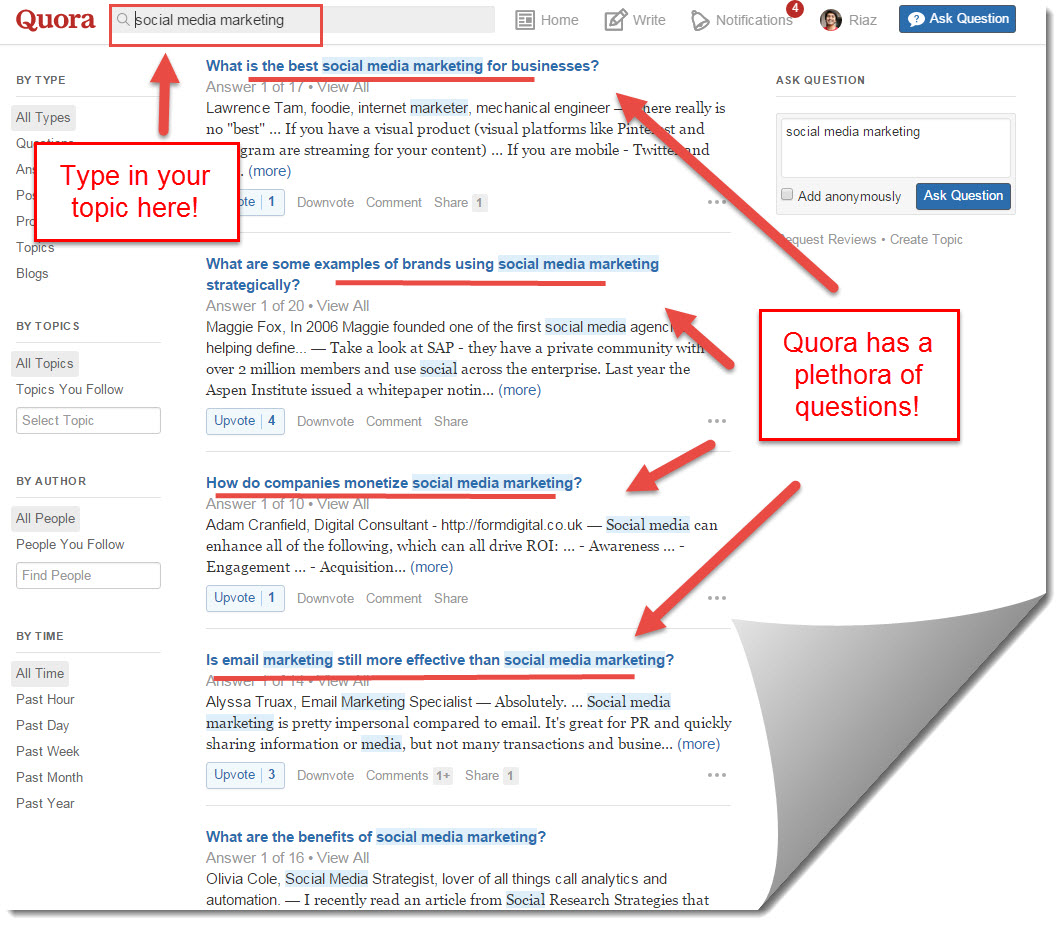 You may have an idea on what to write about now but how confident are you that you'll never run out of ideas?
All writers have something called a writer's block whereby you'll eventually be having 'that day' which no idea seems right so how do you keep yourself thinking creatively with many things to talk about forever?
Simple, go and find some ideas!
I particularly love Quora as you can find ideas there non-stop as there are many people asking questions there every day.
You can simply type in your niches like blogging or gardening and you'll get loads of people there asking something you'd never even thought of!
Make use of these questions as topics to write about on your site because once you help solve a problem for people, they'll have a high probability of staying loyal to your site.
Apart from Quora, there are plenty more forums you could check out including…
Yahoo Answers
Wiki Answers
Warrior Forum (For those in the Internet marketing niche)
IGN (For those in the gaming niche)
From these questions, simply form a nice enough topic to be made into a title so that you can write about the solution and attract those readers to your site instead.
Want to know how to make your website even more visible in search engines? I'm glad you asked because it's high time we learn about…
Step #6 – Keywords to Even the Odds
If you've been wondering how to make your website more searchable on Google, this part plays a very important role in helping you achieve that.
Basically, the art of ranking your website on the first page of search engines is known as search engine optimization (SEO) and I've actually covered the 10 steps on how to do that here.
SEO is vast and there are plenty of topics to cover. In fact, did you know that universities even teach it as a whole subject to students?
It really is that deep but the good news is that you don't have to know everything in order to rank well – I certainly don't.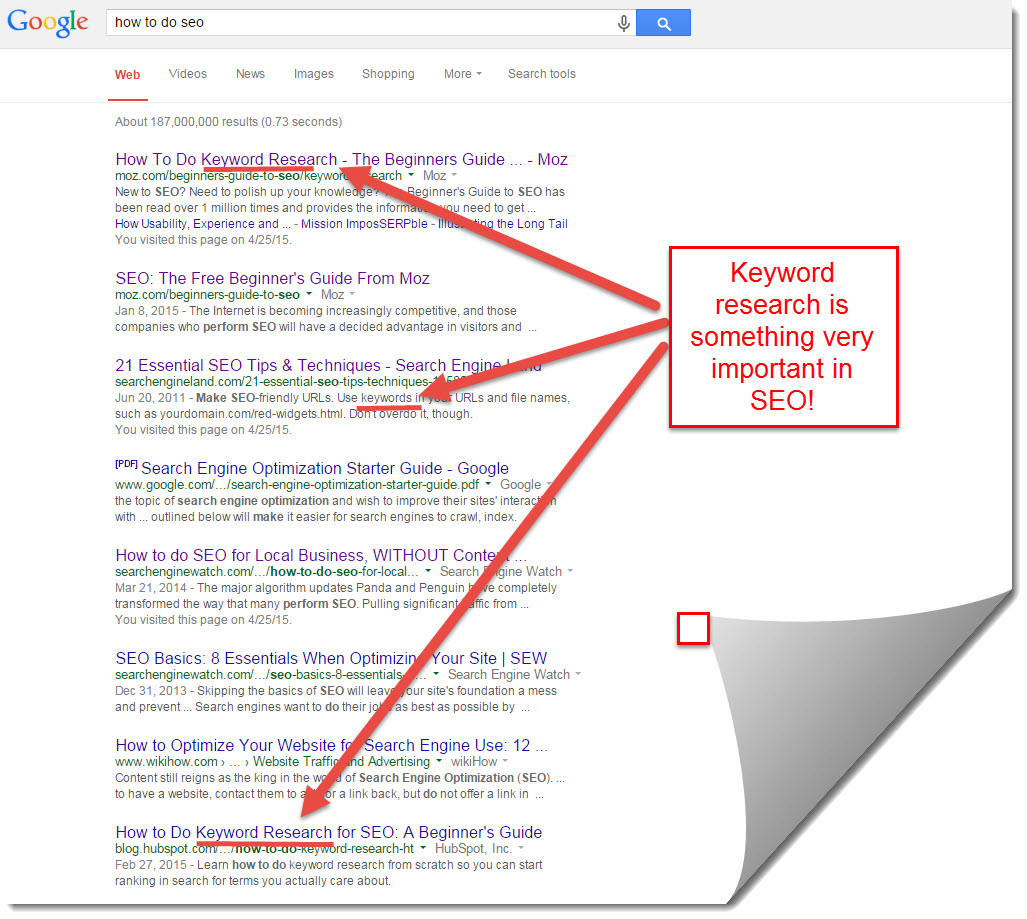 In fact, I'm a hotel student so I have no knowledge whatsoever on how the internet works yet I am still able to rank my site and posts on the first page of Google so it's definitely doable by anyone.
You just need to know the essential ones and the first step is understanding how keywords work.
Keywords simply put, are the key-words that target a particular topic or niche.
They can be either one word, two or even a few words – and they can still be considered one keyword!
For example, "Lose weight" is considered one keyword and believe it or not, something as long as "How to earn money by blogging" is also considered a keyword so you see, they don't necessarily have to be just one word.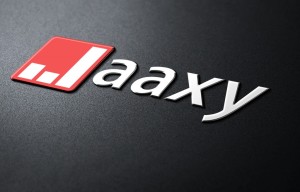 By researching keywords, we can determine exactly how many competitors you will be facing for that particular keyword and even how much traffic you could earn from that keyword alone which is why they are so powerful.
So now comes the question of how on earth do we research keywords in the first place?
By using a keyword research tool of course, and the best one to date is Jaaxy.
I've been using Jaaxy for over a year now and it is also my secret recipe to ranking many of my blog posts on the first page of Google.
Sure, you can type in the keyword itself on Google search but do you know the exact number of competitors you will be facing or more importantly how much traffic you could gain if you do that?
Let's have a look at a keyword search on "totally free stock photos"…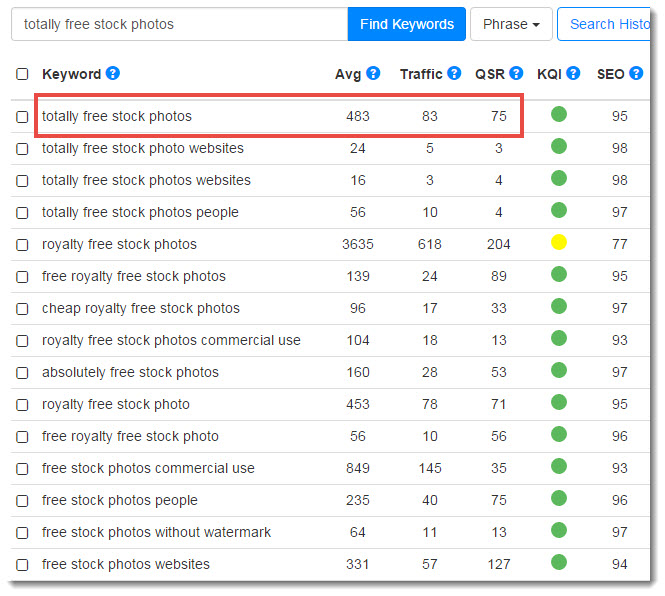 As you can see, this particular keyword can bag me an average of 483 traffic per month and best of all, there are only 75 competitors!
Just so you know, QSR stands for quoted search results which just simply means the number of websites currently targeting that particular keyword hence your competitors.
A good number of competitors to bear in mind when you want to rank any website easily is to not exceed 300 competitors so seeing that there are only 75 competitors here with a huge amount of 483 traffic, this is practically a gold mine!
Since my website niche is about blogging, I know that a lot of bloggers find a hard time looking for photos that are high quality yet free so I decided to write a compelling post on 30 websites with totally free stock photos.
The result? Take a look at this…
I managed to rank on the first page of Google for that particular post!
Knowing that the power to rank any website at your fingertips is very thrilling and it's exactly why a combination of keywords and great content is essential for you to rank your website on top.
Have a keyword in mind that you're just dying to research? Have a go at it here…
Step #7 – Writing Your First Post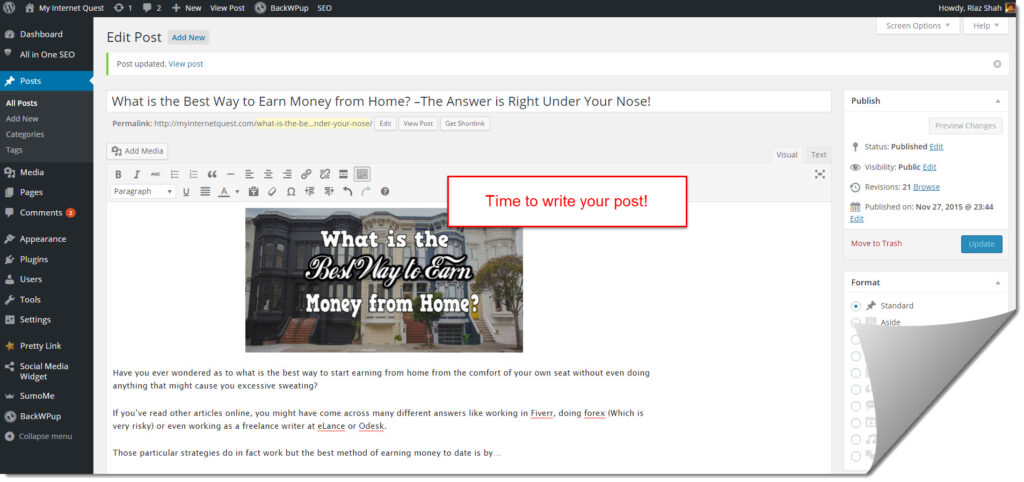 This step should be a fairly easy one now that you have all that you need – a keyword and topic.
You shouldn't put too much pressure on your first post though, after all it's just your first post.
I remember how nervous I was when I wanted to click on the publish button but believe me, that feeling will soon fade away and eventually when you're too busy, you'll be glad to even get a chance to click on that particular button in the first place.
You can write anything since it's your own blog and you call the shots but you know I won't just leave you without a valuable tip or two to help even up your odds, because here are some tricks to bear in mind if you want your post to stand out…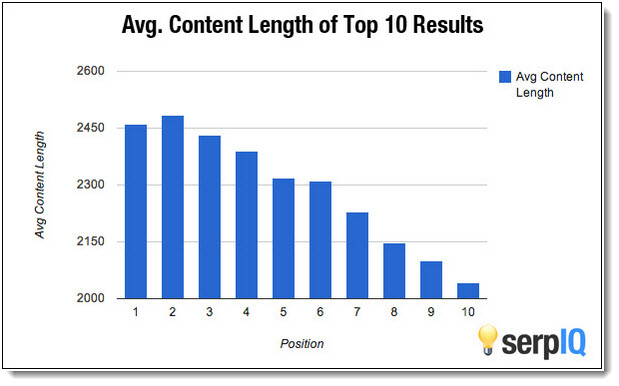 Content length – A lot of beginners are afraid of writing too much because they thought that readers will be too bored to read but according to research made by SERP IQ, the longer the length, the better. This is because you'd be surprised to know that there are actually many people who read the full post and those that don't will also prefer to skim through and see your important points so don't be afraid to go all out when you're writing your content.
Style of writing – Don't be stiff and write like a corporate salesman, just be yourself and write casually. Being informal is the key to making people read your content more because they can relate to you better. It'll also take the burden of writing off your shoulders since you can just literally write as how you normally speak to people… minus the swear words.
Solve a problem or two – The reason people type in something on Google is that they are looking for something. When writing your post, be sure to provide a solution for a problem because if you answer those dilemmas, your readers will have a high probability of bookmarking your website to read more.
Once you've written your post and published it on your site, it's time to start…
Step #8 – Building Your Social Media Presence
This part is fun, all you need to do is share on all your social media channels and for that, you would need to start creating your accounts.
Sure, writing content and publishing is great as you can still rank but wouldn't you want to generate more traffic to your website?
The more traffic you have, the more sales you get and every successful business especially online has social media accounts to begin with.
I'm actually quite the introvert and before creating my blog, I didn't even have Facebook but now I have accounts on Facebook, Twitter, Pinterest and Instagram.
Starting off won't be easy as you'll surely startup with a very little follower base if not any so for that, you would need to also promote your account to your friends by asking them a favor to like.
Simply share each and every new post you have on your site and eventually, all your channels will start to grow together.
Step #9 – Indexing Your Website

If you've been wondering (Or about to wonder) how to index a website in a search engine, well you're at the right place!
This process is fairly simple because all you need to do is submit the URL of your newly-published article to Google Webmasters (Now called Google Console) and you're done!
However, creating an account there might be a tad confusing for some people so here's a quick video to help you out with that…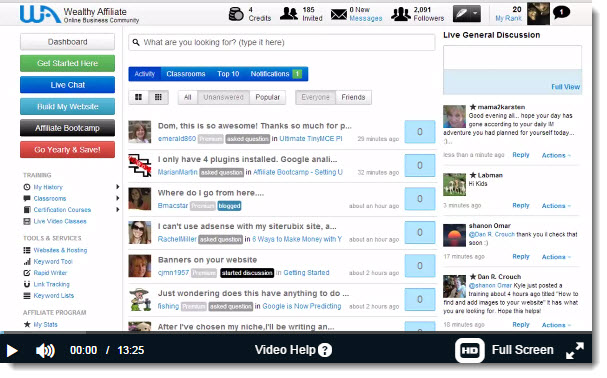 The reason why we need to index our website is that Google does not actually put up your website on their search engine instantly.
It will take 1-2 weeks for your post to be up on Google for new websites so by submitting our URL to Google Webmaster, you can hasten the process for your website and this should be done for each and every new post that you make.
Step #10 – Rinse and Repeat!

Building an Online Business I would say is very time-consuming, but worth the investment.
Unless you always have a base of followers, it is very hard to build your reputation from scratch as it will start very slow for the first few months.
Google will usually evaluate your website for 3 months first before giving you full visibility on search engines because there are millions of websites being created every month so you need to show how serious you are.
It is very possible to make a full-time income from home but you need to have a strong mindset to persevere and not give up because trust me, I've been there and there was not a day when I feel like giving up when I first started.
But after a few months, I'm used to the whole blogging process and everything will come as second nature to you and you'll even start enjoying the attention as people start to know you and appreciate you more due to the hard work you've put in.
Online Business is successful because of the content that attracts people.
So keep creating fresh new content weekly if not daily and before you know it, your website is going to shoot up high with traffic and when there's traffic, the sales will soon follow.
What is the Best Program for You to Get Started?
Having an Online Business is something you'll be doing for your entire lifetime so it's best to always update yourself with the right knowledge and community as these steps that I've shown you are only the tip of the iceberg.
There are many skills you could learn to boost your business and for that, I recommend you to check out my top-ranked program, Wealthy Affiliate.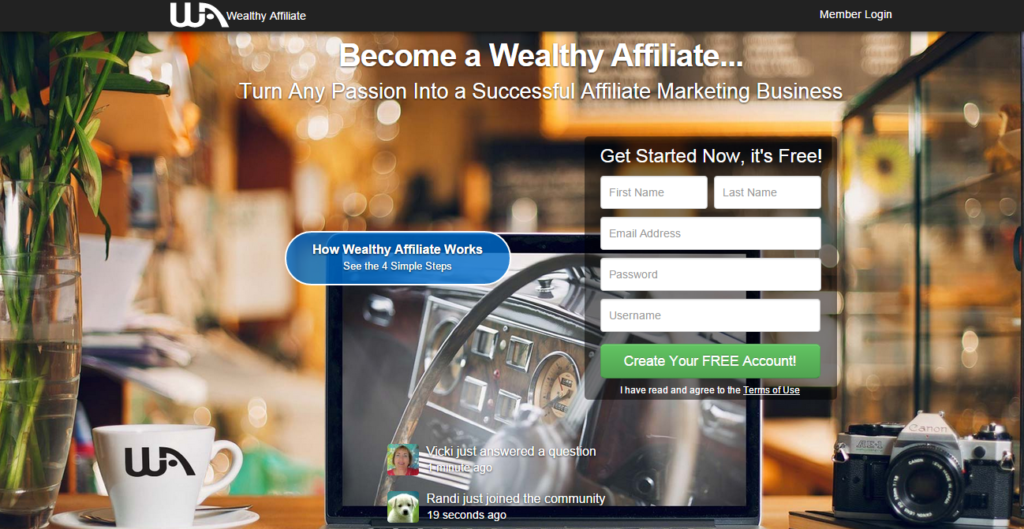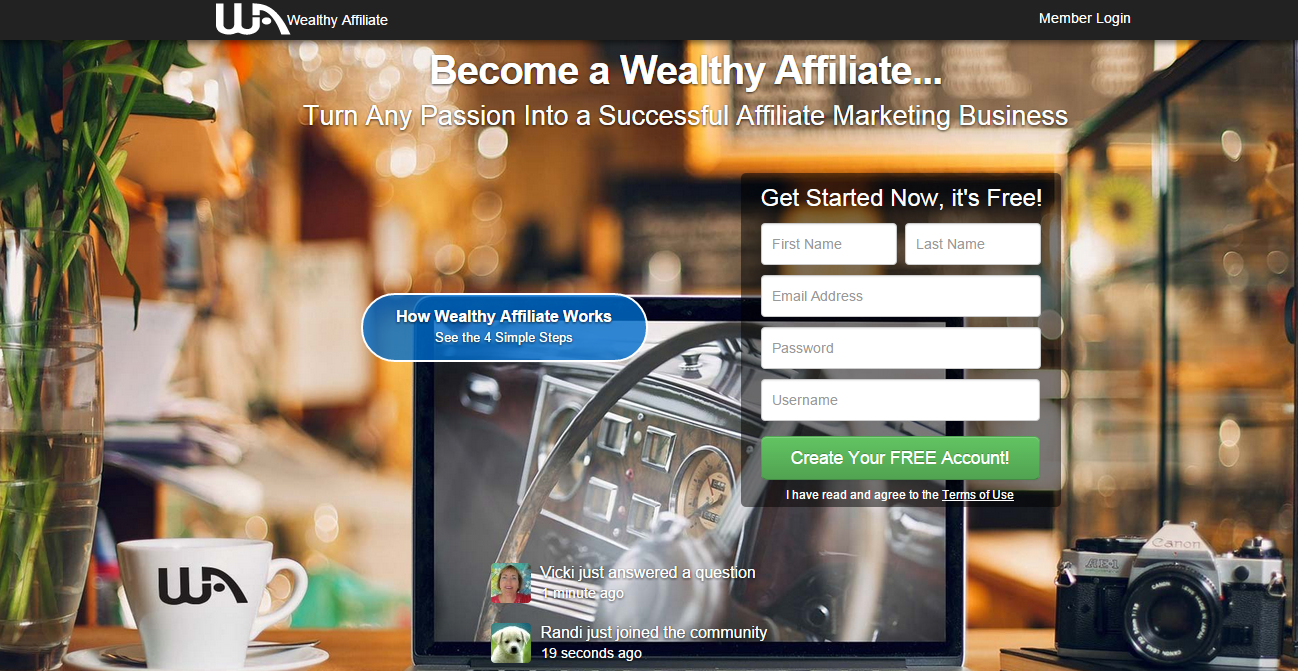 Wealthy Affiliate is the best Online Business course to date on the internet – it has no hidden upsells, you get dedicated high speed hosting for your website, a keyword tool, evergreen lessons and a wonderful community of people just as enthusiastic as you and me!
If you're looking to get some affiliate earnings by blogging about the program itself, you're more than welcome to do so.
In fact, it's the very same thing I'm doing and here's a screenshot of my earnings currently…
It's not much but it's a great amount considering that I've been away from my blog for over a month so it's definitely a sight for sore eyes.
Wealthy Affiliate also teaches you on opening up different income streams and you could totally do much better than I am.
I've been a member there for over a year now and out of all the programs I've tried and reviewed, I have never stayed in one program for as long as how I've been at Wealthy Affiliate so if you ever decide to give it a try, I'll be more than happy to guide you personally on the other side.
Conclusion
---
Jeepers, that was over 3,900 words!
There are plenty of ways on how you could earn from home such as through online surveys or freelance jobs but if you want to earn passive income depending on how much effort you put in, the best way for anyone to achieve that is by starting an Online Business.
Remember though, like any other business you won't start with explosive growth.
Be consistent and put in the effort to nurture your business and I promise you, it will be steady enough eventually to grow on its own without you tending to it.
If you're interested on learning how to become an online entrepreneur, check out my #1 recommended program here.
Thanks for reading, do share out whatever is in your mind down below as I would love to hear them out!