Product Name: Google Sniper 3.0
Website: www.gsniper.com
Type of business: Website building/ Affiliate Marketing
Price: $47 per month + $187 Sniper ELITE upsell + $97 real case study upsell
Owner: George Brown
Overall Rank: 0 out of 5 (SCAM)
[Update] Their page has been taken down so you won't be able to access their page.
I was very reluctant to give Google Sniper 3.0 ago as both the previous versions are both scams and you know what they say about these types of people… "Once a scammer, always a scammer"
If you haven't seen my previous Google Sniper review for the 2.0 version, you can do so here.
But with a popular request, I decided the best way for me to tell you guys to avoid this program, is to show you how it looks like from the inside so here's my full review of Google Sniper 3.0.
Pros and Cons
Pros
Site navigation is smooth.
Videos are made in a step-by-step sequence. I like that.
Google Sniper 3.0 is a ClickBank product so it's easy to get a refund.
Cons
Lack of information in presentation – No indication of what you will actually be doing inside and how do you actually earn money.
Not newbie-friendly – George will talk about SEO stuff such as Google AdWords and Google Sandbox with little explanation nor visuals which can be hard for beginners to understand.
George lies again – on the sales page, he said "I'll give you everything for $47". Well guess what? You don't get everything for just $47 as you'll need to pay monthly for that plus upsells of $187 + $87.
Complaints everywhere– There are a lot of Google Sniper complaints about this version already, and so much more from the previous versions as well.
The time-consuming process to start – Even after you made your initial payment of $47, you will have to sit through more of George's upsell videos (4 pages!) and if you do sit through the whole thing, it will take you at least 30 minutes just to reach the main member's area!
Spammy social media marketing – George will ask you to promote the program to your friends and family which is something I really do not feel comfortable with (Why would anyone promote a scam to someone close anyway?).
Inconsistent video qualities – The videos are a mixture taken from previous versions of Google Sniper which is of very low quality.
Unethical upselling tactic -The "Skip" button which you are supposed to click on if you're not interested in buying the upsells, is very hidden and George made the link light grey in color so you'll have a hard time spotting it.
Loads of fake Google Sniper 3.0 websites on the web – If you Google "Google Sniper 3.0", you will notice that there are many of George's bootlickers who spread positive reviews only without negative ones and they use the usual "I will give you bonus" trick which to help mask this program's negativity.
No tools provided – Google Sniper teaches you how to build websites, but it doesn't prove you with the necessary website support such as web hosting, feedback and performance management.
Lessons don't focus on quality – George focuses on teaching how to build many low-quality websites instead of focusing on building a quality one that you will appreciate.
Zero support – It will take you days or weeks to get a reply and you can only ask serious questions. (What kind of support is that?)
Golly, that's a lot of Cons! Better check out my #1 recommend program here instead!
What is Google Sniper 3.0 About?
Created by George Brown, Google Sniper 3.0 is an Internet Marketing course that teaches you how to make money online by finding less competitive niches and build websites around it.
So yes, the majority part of the course will be on building websites.
However unlike other website building courses, Google Sniper 3.0 focuses on making you build many low-quality websites instead of focusing on building a proper quality website which is something questionable.
You will be taught on focusing on quantity more than the quality of a website so that means the end-results of your Google Sniper websites won't be as impactful as you thought it would be as it won't be filled with the proper information requires.
Apart from that, Google Sniper 3.0 is also a combination of its previous versions so some of the lessons will certainly look familiar if you have tried the previous versions.
I feel really bad seeing how many people get scammed with this program because even today, I still get questions like "Does Google Sniper really Work" or "Is Google Sniper legit" which shows that George is a master when it comes to attracting people to buy.
If you are really keen on checking out this program, I recommend you to look for a Google Sniper free download instead because it is simply not worth the price advertised.
Tools and Training – Are They Still Useful?
Would you believe that Google Sniper 3.0 doesn't even have tools for you to use?
Instead, George recommends you to go to do it externally like going to BlueHost for web hosting, going to oDesk to outsource and SEObook.com to learn about SEO (Aren't you supposed to teach us that?)
It is wise to note that for SEO courses, if you need to go outside of a program that is supposed to teach you that just for you to learn more about it, then it might be a better idea to stick to other sites instead.
For Google Sniper 3,0, George does provide training which includes:
1) Google Sniper Course (Main training)
Master Manual and maps
The seven video modules
Bulletproofing
Empire Module
Additional training
2) Sniper X Training
New 'X' training videos
Webinar replays
 3) Sniper Cash Machine
The strategy explained and setup
Start the Machine
Main strategies and advanced
Sniper Partners club
The Sniper Partners Club is an exclusive members-only group for Google Sniper on Facebook but as the program has been taken down, the group is basically dead.
What I Don't Like About Google Sniper 3.0
There are some things about this program that really ticks me off which I thought it's best for me to share with you and elaborate more on.
Flaw #1 – Blackhat Methods. Again.
When will he ever stop?
On his previous Google Snipers, George was teaching black hat methods which led him with penalized sites.
I thought he would go for a more different approach but turned out, he's still asking us to implement blackhat strategies in Google Sniper 3.0.
A lot of my friends who tried George's program told me that their email accounts were banned and that they were even locked out from their own social media networks.
After digging more into that, I found out that the methods taught by George were not the only blackhat, they were also targeted on forcing you to leverage your social media to promote to your close friends hence the locking of the accounts because someone might have reported you as a spammer.
At one point George will tell you to promote to your families and friends (Which is already not a good idea) but when he said that "They will spend because they trust you", it is no wonder that certain people actually do that as some people can get too blinded with promises of money.
I'm not very fond of promoting things to my family and friends because doing stuff like that is not only unethical, you are also taking a huge risk and making yourself look like a greedy fool which will push your loved ones away from you more.
Plus, who in the right mind would promote a scam to someone they care about?
Flaw #2 – Inconsistent Video Quality.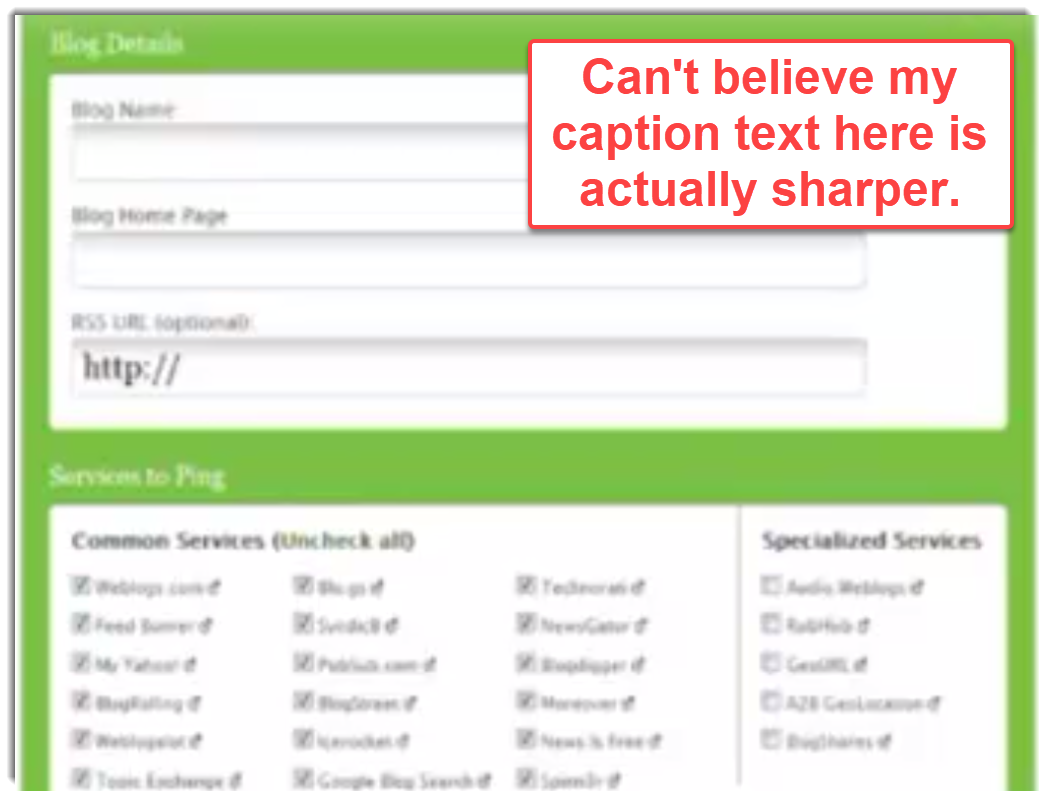 Although Google Sniper 3.0 is a new version, not all of the lessons are new and so because of that, there is a mixture of videos from the previous versions of Google Sniper.
I am totally fine with mixing lessons because as long as they are useful, it is still helpful, isn't it?
However, I am not fine with inconsistent video qualities because not only do they hurt your eyes, it can get pretty annoying when you're trying to stay focused as one video is HD while another is 360 pixels.
It can be very frustrating to get through these lessons, just imagine one video is as clear as the sky with 1080p and when you want to continue the lesson to the next video, it's blurry and looks like it's 360p worth of resolution.
It can distract one's concentration to mention putting a strain on the eye which could damage it if you force yourself to watch through the entire course.
The videos are fairly long as most would take around 40 minutes to an hour half so watching low-quality videos can give you a headache as it had given me.
Flaw #3 – It's the Same as It's Previous Versions.
How would you feel if a new product that you love releases a new version but has the same features?
Voilà! Behold the Google Sniper 3.0 map which is exactly the same as Google Sniper 2.0!
Although there are new videos, that is only some of them as most of which are mere lessons from the previous versions.
How would you feel if you spend a lot of money on the new iPhone 12 but turns out it is exactly the same as iPhone 11 only that it looks nicer from the outside?
Loyal users would not mind because they want to associate themselves with the brand but for others who are new to it, it doesn't feel fair to pay that much just to get a rehashed version of something.
If you've spent your money on the previous Google Sniper 2.0, you can already see how Google Sniper 3.0 would look like which is why I would advise you to stay away from this program.
Flaw #4 – Lying about the Price. Again.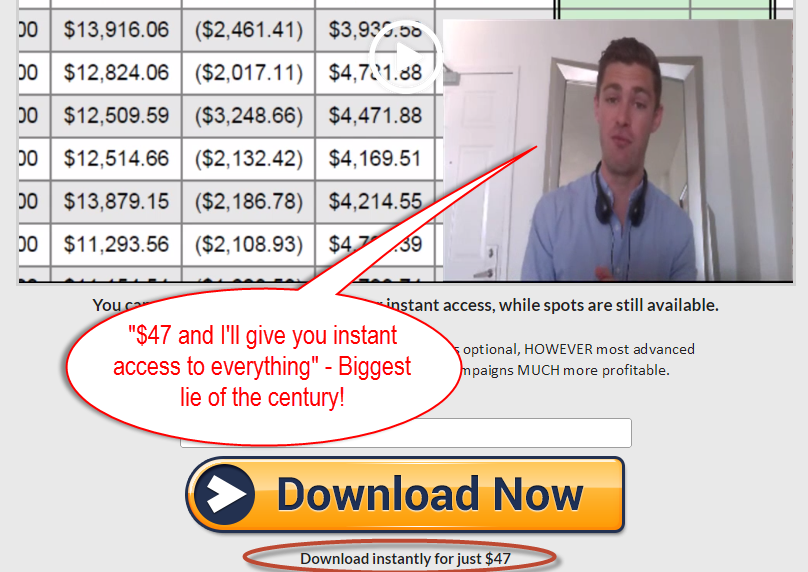 Don't you just hate it when someone who you are supposed to trust, lies?
Especially when it's not the first time.
And, on a supposedly more-updated version of a program.
Maybe lying comes as second nature for some but in the business line, lying is unacceptable.
Banks won't trust you to give out loans, other companies would blacklist your name and even your friends would start to doubt their trust in you.
In the sales video, George builds up your hope by saying that he is there to help you succeed online and because he appreciates your eagerness, he claimed that "Just $47 and I will give you everything"
However once you made your payment, you will be brought to a page which tells you that you will be billed $47 monthly as future payment.
Whatever happened to $47 access to "everything"?
In 2 months' time, it will be $94 overall and if you stay up to 3 months, it will be $141.
The monthly payments aren't all actually, there will also upsell and speaking of which…
Flaw #5 – Unethical Upselling Tactics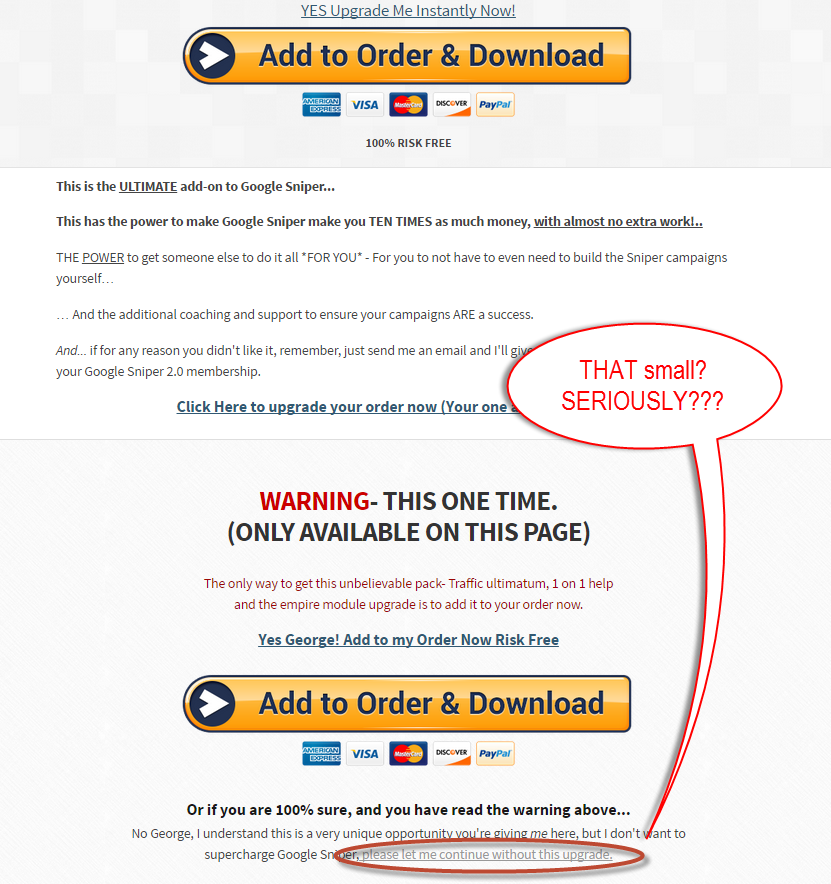 Upselling to people is acceptable, hidden upsells are still bearable, but hidden upsells that force you to stay at the page are asking for trouble.
Most scam gurus love to do hidden upsells and they are experts at luring innocent people who are still new to the Internet Marketing world by flattering them through words like "You are clever" or "You are smart"
Some scam gurus would go above the line and say things like "I will only show you this once" which works even better at tricking people into buying.
But all of those gurus still add a clear skip button which gives you a choice to continue without buying.
George on the other hand, forces you to spend more time at the upsells by making the continue button almost invisible – He made the font size small, he made you scroll all the way down and he tried to camouflage the link by coloring it grey so that you won't see it!
That is a very scammy and unethical way of forcing people to buy!
It took me a while to look for that link, just imagine how others who are color blind or long-sighted would feel – They would be forced to buy the upsell in order to continue!
George's upgrade buttons and links are huge but when it comes to allowing you to pass through freely without buying, he made the link so small that you have to really fumble around to find it.
Slimy tricks like this what makes my blood boil and it is exactly why I am on this quest of uncovering scams on the internet.
Does It Really Have a Community?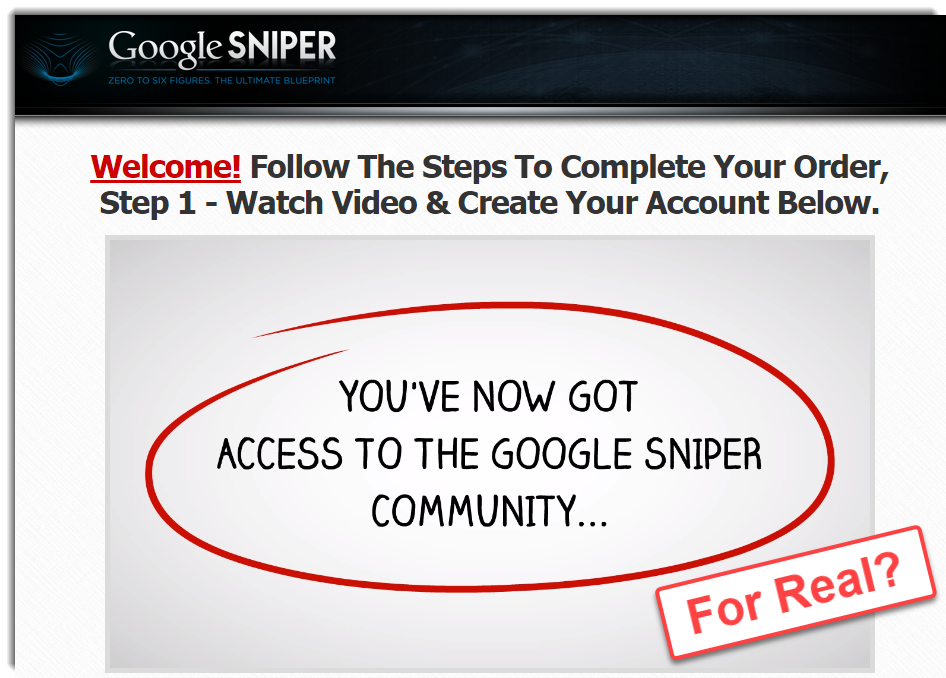 "Finally something new on Google Sniper!"
In the sales video, George made another claim by saying that "You've now got access to the Google Sniper Community" which personally got me really hyped up to see.
But as soon as I got into the member's area, there are no mentions of any communities whatsoever!
You will literally feel alone in the program with nobody to talk to or ask advice from and trust me, you need a community for Internet Marketing as it will help ensure your success.
So I set out to Facebook to find a Google Sniper 3.0 group and see for myself and here's what I found…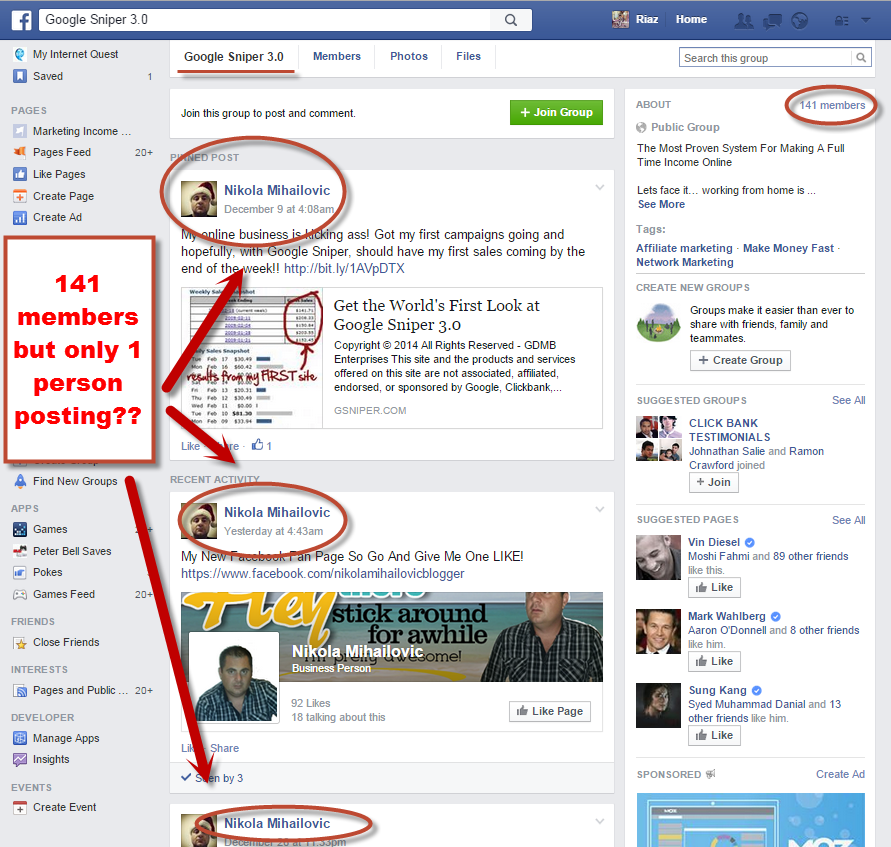 As you can see, there are 141 members there but only one person does the posting!
It is completely barren!
Nobody is communicating with each other, nobody asks for help or anything, and George himself wasn't there to inject motivation and bring hope.
Google Sniper 3.0 has a sorry excuse for a community.
Pricing – Is it Worth the Cost?
If a program is so legitimate, I believe that it's pricing should be done ethically like how other normal businesses do, don't you think?
Google Sniper 3.0 on the other hand, uses slimy pricing tactics and hidden upsells which you will never expect from the sales page alone.
Here's a breakdown of the price range for this particular program…
Monthly Google Sniper 3.0 membership – $47
Sniper ELITE upsell – $187 but will drop down to $97 if you try to click away.
Real Case Study Training upsell – $97
Other external expenditures (Like domains, web hosting, outsourcing) – $300+
As you can see, you don't get everything at $47, do you?
Do I recommend Google Sniper 3.0?
It comes to no surprise that I don't.
It's the third edition of the Google Sniper program and we can clearly see how George is still lying through his way using the blackhat methods that may be of risk to your whole entire website as Google's algorithm isn't very forgiving.
The lessons are also a mixture of new and old content rehashed from his previous versions which explain that some videos do have good quality, whereas some are terribly blurry which is very inconsistent.
It is also a known tactic for scammers to get away from the heat of their failures from their previous programs by creating another version of it instead of just sticking to their original names and working hard to bring honor back to that program.
It's true when you think of it, instead of just spending all your energy on building the same business, why create a different one and start all over again?
If you own McDonald's and people say your burger sucks, would you create a new McDonald's 2? And what if people still hate it, will there be a McDonald's 3?
A real solid business will remain like a rock on solid ground, going through any hurdles to standby by their ideals and adapt to be bigger.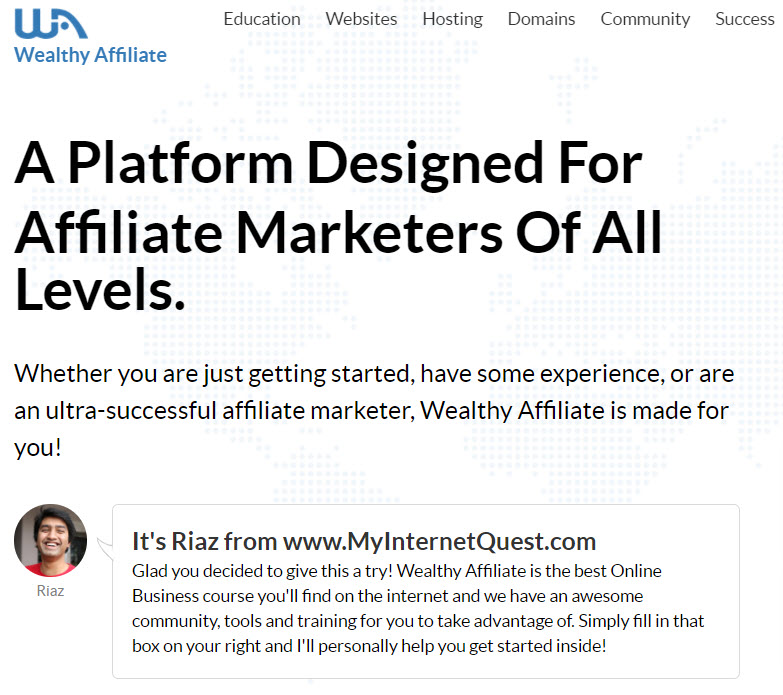 There is a particular program like that which I can recommend, it's called Wealthy Affiliate.
It's an Online Business platform that helps you make money online through Affiliate Marketing.
How it works is that you basically build your own website, pick whatever niche you have in mind like maybe cooking niche for instance, learn how to create good content which will help you monetize your website.
And by good content, I mean ones that are legitimate and of course, with Google's greenlight which means it's totally okay.
In short, it's like Google Sniper in a way, but with more features to help boost your website like it's famous SiteHealth checker which makes it easier, a good community so that we can ask the pro bloggers for help and advice (Also to connect with people who've already in the industry), and of course, more established as WA has been in the industry for more than 10 years now.
And more importantly, with no name changes as their program works.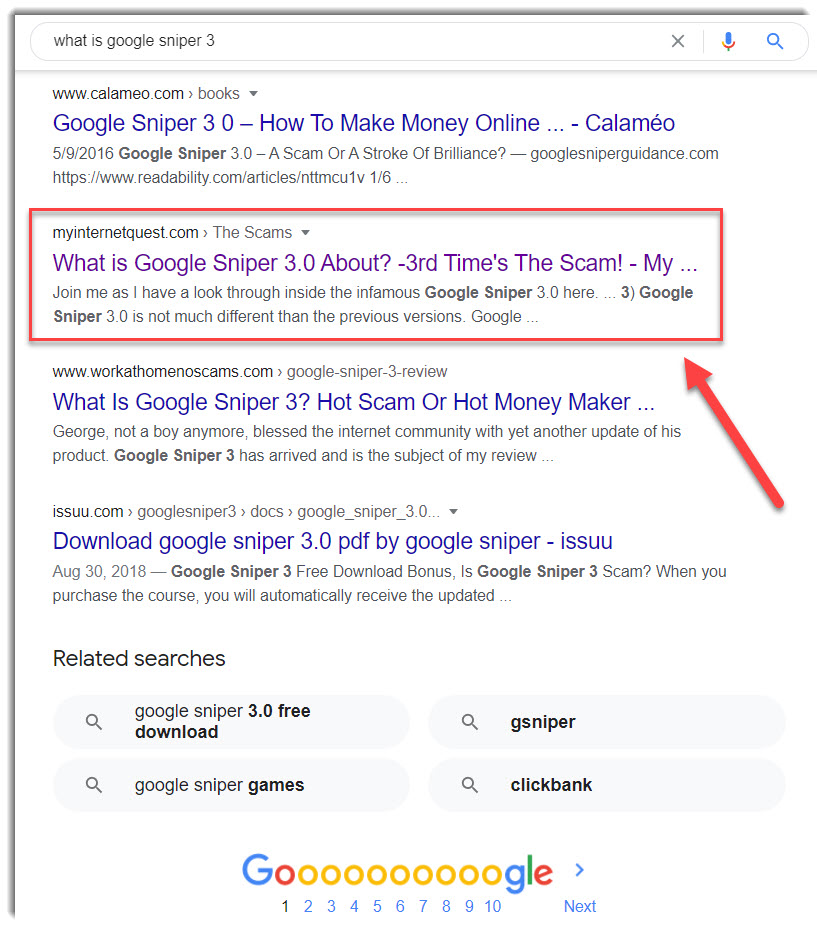 A good example would be this very review that you're reading.
If you've come across this site, you might have seen it on Google's first page and there's a reason for that.
I don't do illegal or blackhat strategies like that of Google Sniper's but instead, I do it the normal way which may sound difficult, but it's actually very easy and doable and all of this, I learned at Wealthy Affiliate.
The community there helped me get back up when I was still new and broke, all the way until I finally started to monetize on my own and now, I'm sharing it with you so that many others will know too.
Doing an Online Business is still doable despite the many scams on the internet, here's a quick table to help you weigh in on the values of your program of choice…
Final Word
---
Google Sniper 3.0 works almost the same as its previous versions so I cannot deny the fact that you can make money from it.
However due to the unethical blackhat methods taught on building websites, the slimy hidden upsells which catches you off guard, as well the content itself being rehashed from its previous versions, Google Sniper 3.0 is indeed still a scam and receives my rating of only 0 out of 5.
There are many more legitimate programs out there in the same industry and certainly ones that are upfront with you with better content and lessons which you should focus your time and energy on.
If you're interested in making honest money online by building a viable business online, do check out my #1 recommended program here instead.
Thanks for reading this long review (Took me 8 hours), do share your thoughts and experience as I'll be more than happy to reply.