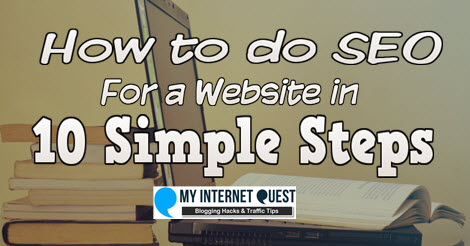 Wondering on how to do SEO for a website you're currently handling?
Hiring SEO firms is definitely not the option because if you plan to consult them every month, you'll end up spending thousands of dollars on things you could simply do yourself.
Sure, SEO may be complicated before but as Google updates its system, websites with great content now have a better chance at ranking on the first page of Google which means only one thing – If you put in effort, you too can reach on top.
So how to do your own SEO you ask?
Simple, by checking out these 10 SEO steps to follow that I personally use and so should you…
Step #1 – Conduct the Art of Keyword Research
Keywords play a very important role in ranking your website on top and if you Google the word "SEO" or "Keyword", you'll probably see that most of the top results are solely on keywords.
See how important that is?
But I'm not gonna bore you with the details as there are a lot to cover. Instead, I'm going to show you how to maximize keywords research according to what have worked for me.
Keywords are in a nutshell, important words that are highly searched after such as lose weight, dating, how to do SEO, or even something as silly as how to breathe air underwater.
As long as people search for it, there is a reason why they are called keywords.
Now since we know that keywords are very important, I'm sure you should have a lot of ideas on where to use this – your school project, a survey, or even a marketing campaign because if you understand keywords, it is almost as though you are reading people's minds on the internet!
Knowing that, I'm sure you're just dying to know just how to search for a keyword or more importantly, where to we even begin? For that my friend, you need a keyword research tool and the best one to date that I personally use, is Jaaxy.
Sure, keywords are important but it has already been in the industry long which means that if I know about it, everyone else who is doing SEO should have known about it as well, correct?
But what not many people know is that there is an even deeper way of leveraging keywords which is by looking for the competitors which can really mean a win or lose for you because even if a specific keyword has thousands of traffic, what makes you so sure that your website can rise on top easily when there are obviously many established websites to compete with?
Let's try out a quick random search on "Affiliate Marketing niches"…
As you can see, there are 80 monthly searches with around 189 competitors (known as QSR).
Just so you know, QSR stands for Quoted Search Results which refers to the number of competitor websites which are also targeting that same particular keyword you're planning to go after.
Not bad I would say, because a rule of thumb to always bear in mind is to not exceed 300 competitors if you're planning to target a certain keyword.
Of course you can target any keywords with any number of competitors you want but throughout my experience, keywords with less than 300 competitors tend to have a much better chance at ranking because there are not many competitors around.
When your website has been around for many years and is already established, competitors should not be a problem for you but if you're just starting out, getting visibility is the toughest challenge you can have.
Got a keyword in mind? Have a go at it here…
Step #2 – Use that Keyword to Construct a Powerful Title
Titles are your first line of attraction because when your website appears in search results, you want to make it attractive enough so that people click on it.
Now that you have your keyword, you can actually alter that into a proper sentence and believe me, this is something many people are scared of because they thought that it would disrupt the keyword in a way.
The trick is to add a few words to make your keyword sound more 'human'. For example, since my keyword is "Affiliate Marketing niches", I could change that to "Top 10 Affiliate Marketing Niches for 2015" and it will come out like this…
Get the idea? Okay here's another example on a keyword I just researched which is "Totally Free Stock Photos".
Now using that particular keyword alone would not look personal so here's how I made that into a sentence…
30 websites with totally free stock photos!
Pretty cool right? And if you look at my screenshot above, the images that came out are also mine and I had no ideas it appeared on the first page at all.
Keywords are great and every Internet Marketer knows that you can leverage this to rank better on search results but after Google's recent update, the use of keywords is limited because if you were to overuse it, Google will see that as a spam which is why the best way to utilize this is to use it as your title.
Step #3 – Find Related Search Terms
This is a trick not many people do but it can actually help boost your rankings even further and that is by leveraging related search terms.
When you search for something on Google, notice that there are some related search terms at the bottom of the page?
Here's a screenshot to help give you an idea…
Simply type in your keyword on Google's search bar and you can see that you'll get some related search terms underneath and the trick to using this, is to add it in your content so that when people type in that search term somewhere, your website can get ranked indirectly.
Pretty cool, right? You only need to include those terms once in your article and it's enough for Google to detect. If you're wondering as to how some websites get ranked for search terms that has nothing to do with the keyword they're targeting, well now you know why.
Step #3 – Optimizing Your Content 
Content is probably the most important part of your website because the reason people type in something in that search bar, is because they want to find answers to satisfy their curiosities.
Like the title thing we talked about just now, there is also a trick on how to write SEO friendly content…
Content length – If you're wondering as to why your visitor bounce rate is high and or that your readers don't spend as much time on your website, have you ever thought about maybe… just maybe your article is too short? After Google's update, websites with longer word counts are more than likely to stand out and rank better. Here's a graph to help you get a better view on what I'm talking about…
As you can see, the higher the word count the better your SEO which is why nowadays my articles have at least 2000 words.
Style of writing – This has nothing to do with SEO but it does affect it indirectly. There are many websites who write their content in forms huge paragraphs like how we usually write in school and this can actually scare away some readers because not everyone can read fast. Being informal is the new trend in business so a good way to make your article more interesting is to write as though you're talking to someone by being a bit less… formal. There should also be a maximum of 3 sentences in a paragraph so that your article won't look overwhelming.
Solve the problem – Have you ever get annoyed when you're looking for a solution online and you have to click from site to site just to find the answer? This is a problem I see many beginners do and instead of saying 'how' to solve the problem, many people just focus on the "what" and "why". People have no time and when they look for something, they want their answers to be shown immediately which is why you need to bear this in mind every time you write a post.
Step #4 – Meta Description
When you search for something on Google, have you noticed that there are some short texts beneath the title?
That my friend, is a Meta tag.
In short, it's quite frankly only a short description for your title and although it does not affect your SEO, it actually plays a role in giving you better click-through because people actually read that.
The Meta tag keywords limit is 160 words but in my opinion, simply writing around 100 words is enough because that can give the visitors a chance to have a glimpse of your writing style while standing out from all the other sites who want to squeeze in a whole paragraph just so that they can reach the maximum number of words.
If you appear too salesy, chances are your link won't be clicked but if you are honest in giving advice and in a not-too-formal way of tone, you'll definitely experience a much higher click-through rate.
Not only that, adding your keyword there is important as well because Google will actually bold them as you can see from my screenshot above.
Step #5 – Find the Appropriate Image
Humans are visual in nature and when there are too many words on a page, they'll probably just skim it through if you don't have some images to keep them focused.
However you also cannot just simply 'take' any images you find on Google because those are all copyrighted, which means that you can probably get sued if you take their photos without permission.
There was a case whereby a blogger was sued because she thought it was okay to use someone else's photo. She eventually wrote her experiences in BlogHer and it's something you probably need to read.
And Roni wasn't the only one getting sued, countless of other bloggers experienced this as well and even companies couldn't run away from this matter.
Many photographers get upset if you use their photos without their permission that they will not hesitate to sue you if they ever find out that you're using their photos on your site and although it saddens me to see some people with this nature, it's a dog-eat-god world we live in today and people have to find ways to get by.
However not everyone is mean because there are still many other photographers out there who actually share their photos for everyone to use (God bless them) which I find much better in terms of quality and resolution.
I actually compiled 30 of the top photography websites here.
Although adding photos won't have a direct effect on your rankings, it does affect it indirectly because some people will only stay to read if your content have images to make it more interesting.
However there is a way to optimize your images to gain a more direct SEO effect and that is by…
Step #6 – Optimizing your images with Alt Text and Image Size
So you have a picture uploaded? Good, but not good enough.
There is a way to further optimize your page and that is through your alt text.
When you upload your photos on your website, have you noticed that there is a place where you can fill in the title and another where you can fill in the alt text?
If you're wondering why are alt tags important, that is because you can actually fill it with keywords to help you get ranked better!
Take a look at this…
Have you ever wondered as to why some images can get viral when the website had no intention on doing so as it is also actually a random new website that nobody knows of?
That my friend, is because the image alt tags are aimed at SEO and this can help your site rank much better as all the pictures will appear in Google hence the higher probability of people clicking on your link.
Many people want quick answers instead of reading through blogs so they opted for the easy way out – type in something in Google search, switching to "images" mode, and choosing sites based on the image that they like and this is how your website can rank too.
That's it! That's all you need to know before you publish your content.
After publishing…
Step #7 – Get Social by Sharing on All your Social Media Account
I can't stress enough the importance of social media.
If you haven't made any accounts yet, you better be because each social media has millions of users. In fact, Facebook alone has over 2 billion already!
Once you've published your content, simply share on all your social media accounts because this will actually help rank you much better in terms of SEO as you have links all over social media.
But be sure NOT to only share posts because that is considered spamming. Instead, you need to mix between business and personal because that will allow your users to relate to you better and you're also giving the impression that you are there for them as well.
Speaking of personal, don't just share post on your business accounts – Do so on your personal accounts as well!
This is because it will not only add more backlinks to your site, people will have a much higher tendency to follow you because you're not hiding behind a computer screen.
If you find an awesome blog which you absolutely love, wouldn't you want to follow the founder as well?
Simply add a link to your website on both your personal and business account and before you know it, you'll have a steady growth on both accounts as people can find out more about what you do easier.
Step #8 – Fetch Your New Content in Google Webmaster (Now Called Search Console)
Before your website can get ranked in Google search results, it needs to appear there first and to do that, you need to wait for Google to index your page.
This process may take a few days to a week if you post new content regularly but will take even longer up to 2 weeks if your website is new.
Usually people just wait till their page gets indexed which is very time-consuming but what if you can actually take matters into your hand and hasten the time?
You can in fact, by doing so through Google Webmasters (Whoops, its called Search Console) here…
From your dashboard, simply click on "Crawl", followed by "Fetch as Google", fill in your link and click on Fetch!
This will signify Google that you have a new page waiting for them to index and they'll come to you as soon as possible.
Your indexing speed may be a bit slower at first but if you post regularly, Google will index your site much faster and this also affects your SEO as you are giving the signal to Google saying that you mean business.
Don't know how to attach your website to Google Search Console?
I got you covered. Here's a quick video on how…
If you're new to Google Webmasters, its basically a free tool provided by Google which lets you see statistics of your website which is pretty handy to have around.
Step #9 – Submit to Bing
Or shall I say, fetch to Bing?
All these while we've been talking about Google and not at all on other search engines but in truth, Bing also has a big market share of 20% compared to Google's 64%.
Many people focus on Google but not many focus on Bing which makes it less competitive for you to take advantage of!
I actually like the process of fetching your site on Bing, it's really easy because you don't even need an account!
All you need is to head over to this link here: www.bing.com/toolbox/submit-site-url.
Simply key in your full URL of your published content, click on submit and you're done!
Like Google, this will signal Bing to index your site a little faster which is a huge benefit for you since you can grab more traffic from another search engine for free.
Step #10 – Notify Your Subscribers through Email Marketing
This works only if you have some subscribers already though, because the idea is to inform them and get them back to your site again to read your content.
Although this means that the traffic that you're getting are not new visitors, in a way this can also improve your rankings as well because when Google see that you have loyal existing visitors, you are going to rank much better because you are giving the impression that you are providing good value to make those people want to come back.
If you haven't had any auto responders yet, go get one! Every day your website is without an autoresponder is a day you'll miss out on the opportunity to get emails from your visitors.
Aweber is the best one to date because I find the interface really easy to use as you can craft your optin page in a matter of minutes!
Here's a quick look of the customizer….
There are a lot of ready-made templates and you can basically just drag and drop, simple as that.
I used to go with MailChimp but I decided to stop when one of my subscribers complained about the ads he was getting.
It turns out that MailChimp actually spam ads every once in a while especially when you are on the free account so if you were to pay for an auto responder service, I would go for Aweber any day because of their level of service.
Sure, you won't be getting that many emails when you first start placing your optin page but over time, you are going to grow your list and that my friend, is your weapon to succeed in any business.
Want to Sharpen Your SEO Skills?
I'm not a master at SEO and these strategies I've just shared with you is only the tip of the iceberg as there are many more things that you need to cover so if you want to learn more on how to improve your SEO skills, I recommend finding out from the very source of all my knowledge, Wealthy Affiliate.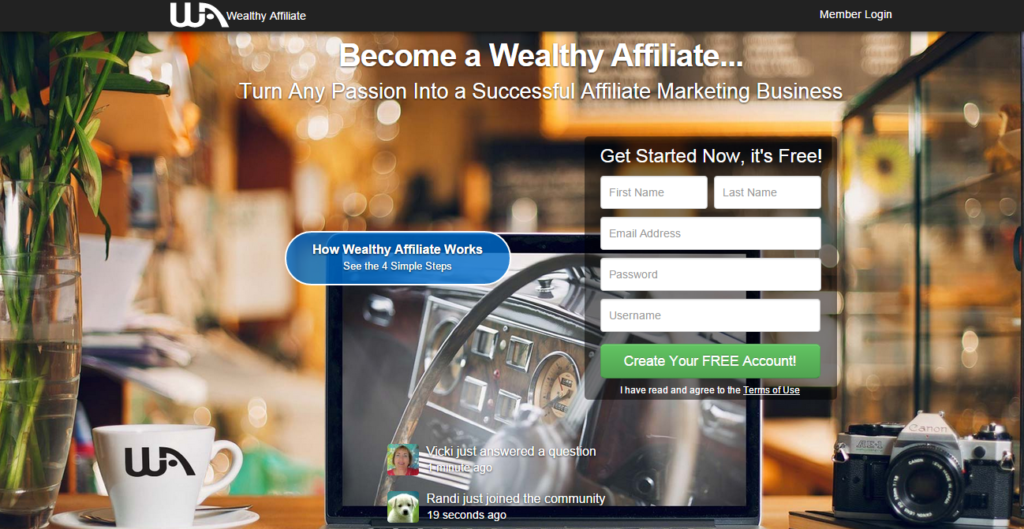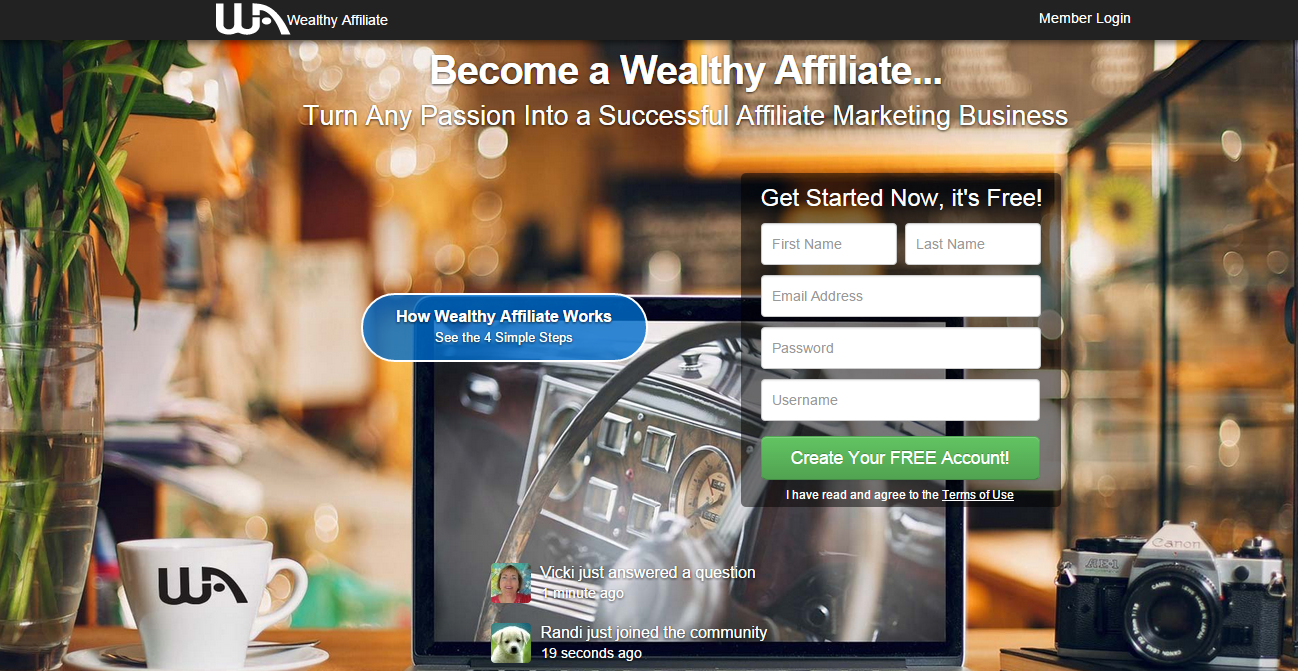 Wealthy Affiliate is an Online Business course which teaches how to build websites on any niche at all and learn how to monetize it.
The main part of the course covers on SEO because getting organic traffic is very important because that's the best kind of traffic every website needs in order to grow.
As Google updates their system every year, so does the lessons in Wealthy Affiliate because you need to be in front of the news if you want do do your own SEO but lucky for you, the news are all in here so you'll never be left out!
I learned so much from the founders Kyle and Carson because maintaining a website is no easy task.
I wanted to give up multiple times back then but they never stopped motivating me which is why if you join our little community, I will personally help you get up and share my own tricks that I got under my sleeves as well.
Take a look at this…
Succeeding in your website is a very slow process but it will all be worth if you persevere and though SEO may be a pain for beginner websites and blogs, eventually you will succeed if you put in the effort.
Conclusion
---
Golly, that was over 3,300 words! So you see, SEO may be rewarding but it is also not a one-time thing as you have to constantly watch over it.
But as long as you create fresh new contents, everything will eventually seem natural to you and before you know it, your struggles will start to pay off when you see your website's chart shoot off the roof!
If you're interested in honing your SEO skills from the source, check out my #1 recommended program here.
Thanks for reading this lengthy blog post of mine, do share your thoughts below as I'll be more than happy to reply 🙂