Did you know that 60% of all organic clicks go to the top 3 websites that appear on Google search?
Getting your website on the first page of Google is crucial to win the majority of the traffic and one of the most important methods to achieve that, is by leveraging keywords.
Almost everywhere on the internet, we'll tend to see the term "keywords" on blogs, online games or even news websites but we never have a clue on what it means (Even me initially).
So if you're wondering on what keywords are, buckle up because here's my simple explanation on what keywords are and what they can do for you.
What is a Keyword?
Keywords are highly searched terms that people key in that Google search bar you were looking at just now (Or Netscape, or Bing, or ANY other search engines).
It can be either a word or even a whole sentence so in short, keywords are whatever it is that people type in the search bar and pressing 'Enter'.
Just by hearing this, you might have gotten a clue of just how important a keyword can be.
Since they are words typed by people on that search bar, having the ability to research keywords, is like having the knowledge to read other people's minds!
There are boundless of ways on how you can use keywords to your own advantage so without further ado, let me give you an insight on…
What are keywords used for?
Keywords are very important as they are great information that we can use for almost any work we do…
Ranking websites – When you can understand what people type in Google, you can adjust your website in a way to help people find you better!
Marketing campaigns – One of the toughest challenges of marketing is finding whatever it is that makes people click. Now with the ability to know what people are looking for, you can target your campaigns better!
Any new types of businesses! – A lot of people are afraid to try out new business ventures no matter how awesome their ideas are because people might not like them. Now with the power of keywords, you can find out exactly HOW many people are searching for the solution you can offer!
How to Find Keywords?
Now that we know just how important keywords are, you must be dying to know just how is it do we actually FIND keywords right?
Well to find keywords, you need to use a keyword planner as you can find not only the number of searches, but also the competition.
The best keyword planner to date is Jaaxy which I very much prefer compared to other planners due to the accuracy in finding the exact numbers needed and the efficiency of getting things done fast (A lot of keyword planners are slow because there are a lot of data to be retrieved).
Let me show you a random keyword search on "Does anyone use Google plus"…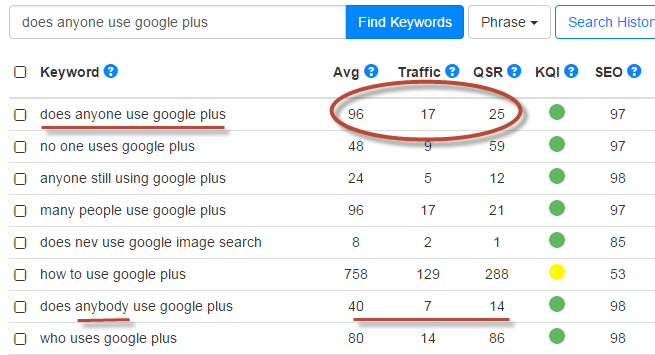 There you go!
From the search results, we can know now that there are about 96 searches and 25 competitors (QSR) which is certainly a low-hanging fruit!
From my experiences, there are usually around 300 websites (At least) that targets on a specific keyword so having to know that my chosen keyword has only 25 competitors, I better not waste this opportunity and make use of this! (Oh wait, I actually did!)
I also found out that if I change "anyone" to "anybody", my competitors will only be 14 which is pretty cool.
Using that keyword which has a very low competition, I decided to write a blog post about it and to my surprise (Wasn't that surprised actually), I managed to hit first page of Google!
Take a look at this…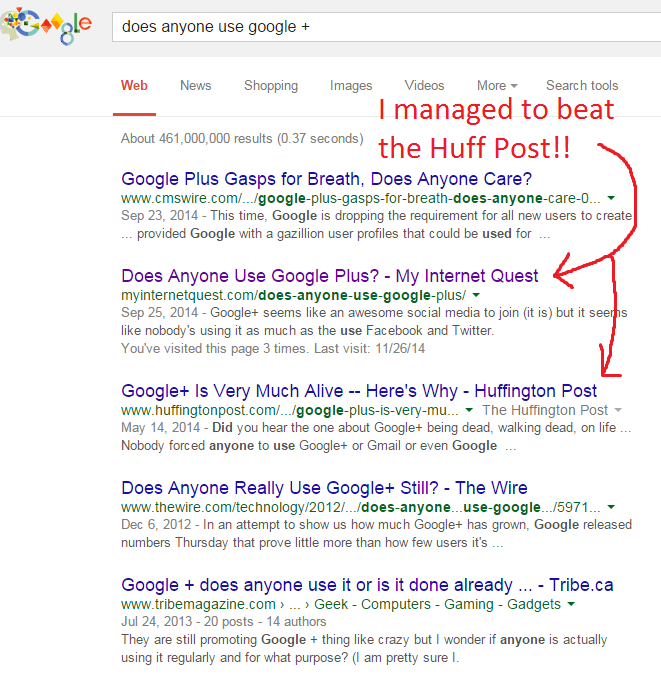 Have a keyword that you're just dying to find out more on?
Try it out here…
Become an Online Entrepreneur! –Learn How to Start An Online Business.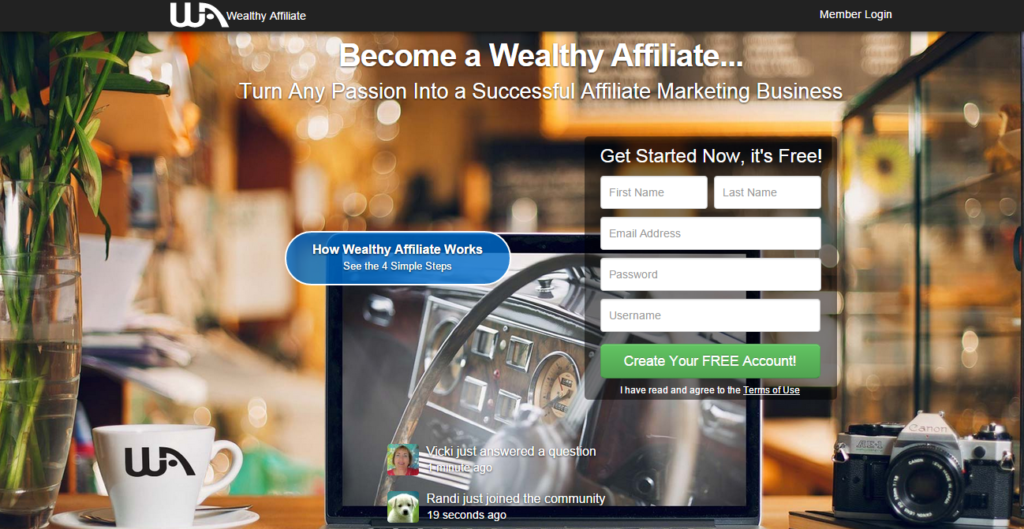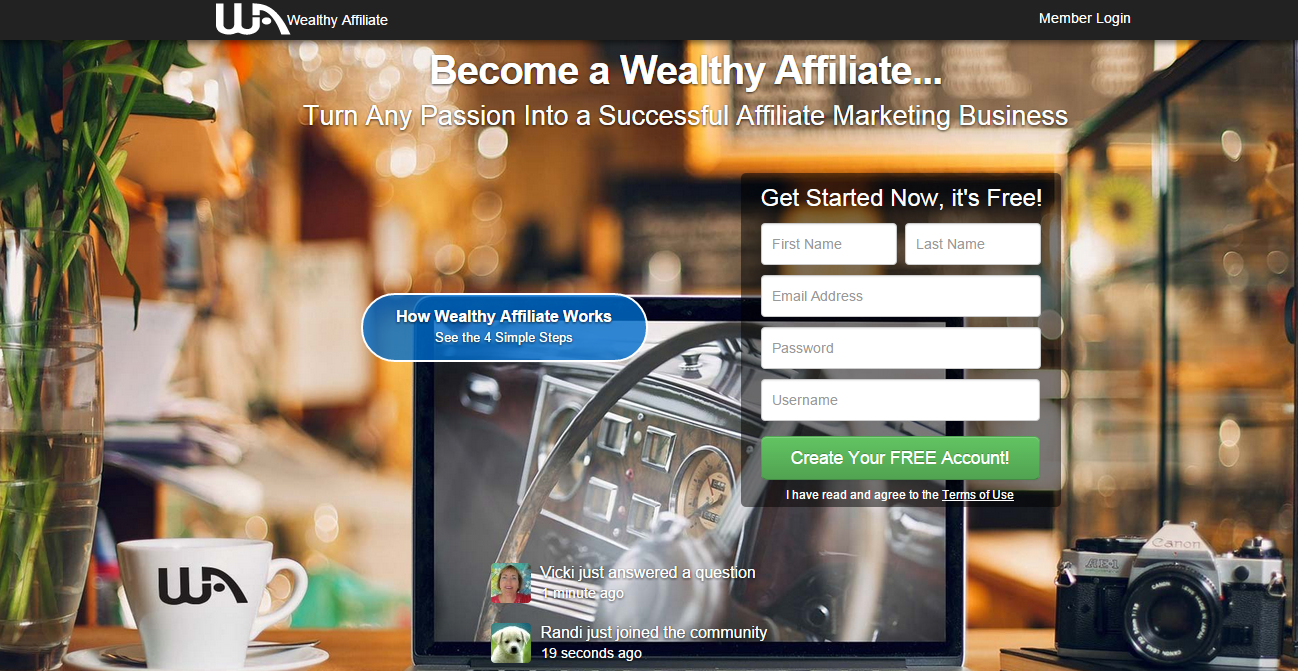 Now that you have the ability to learn about keywords, there are boundless ways on how to leverage them and make money out of that highly-prized skill of yours so why not start an online business while you're at it?
Wealthy Affiliate is the best Online Business Classroom on the internet which has ever-updating lessons, and a great community.
Inside, you'll learn the easiest way to start your online business by building a legitimate website, learning how to get your site on the first page of Google (Which you already know), and learning how to monetize it.
60% of all organic clicks go to the top 3 pages of Google search results and if your site is up there too, you'll get endless traffic (website visitors) which results in your website making great business.
Conclusion
---
Learning about keywords is really fun and has many benefits.
Any time you have an idea popping up, always do a keyword research to study your market before you make any move because that patience will eventually lead you to great results on whatever ventures you are doing or studying on.
If you're interested in learning more on building an online business through keywords, check out my #1 recommended program here.
Do share your thoughts below as I'll be more than happy to reply.