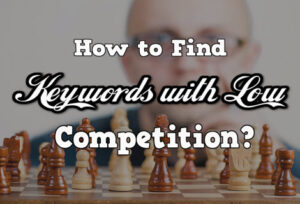 There are normal keywords and then there are keywords with low competition.
If you're wondering how to find top keywords to rank your blog with less competition, then you've come to the right place.
Despite the complex sound, Keywords are actually fun once you've gotten quite used to it and one can spend hours without end just looking for keywords to utilize to help grow their business.
So What is a Keyword Exactly?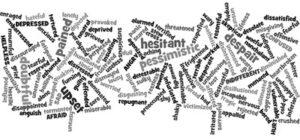 A keyword as the name implies – is the 'key' word for a certain topic that is highly searched for.
It doesn't just have to be a word though, it can be two words or three like "Lose weight" or even something as long as "How to find keywords in Google", or even "How to find top keywords" which is what I'm writing about now.
And believe me, I also did a proper keyword research on this before writing, which is why it ended up on the first page of Google and it's why you managed to find this very post.
Interested in learning more about what is a keyword research all about now? Glad you asked.
Simply put, keyword research is the practice of finding out which words or sentences are highly-searched for in Google.
Obviously, it's meant for any other search engines out there such as Bing but Google tops all as it is the biggest and well-known search engine there is so you are going to hear a lot more of me saying Google rather than Bing or Safari.
Now that you know more about keywords, you might be curious to know whether or not…
Are Keywords Still Important? 
Oh, most definitely.
I know exactly how you're feeling – Oh, do I need to learn all of this? Is it really going to benefit me?
If you're wondering as to why are keywords important for SEO, here are some points to ponder on…
High traffic keywords – You want a ready audience that is looking for what you are going to write about.
Lessen your competition – You want to be able to stand out, especially if you are just starting out. You want to win the business.
Write great headlines – How do you know if people want to click on your title if nobody wants to look for it in the first place? Two words, keyword research.
Rank of the first page of Google – Did you know that 60% of all organic clicks go to the top 3 of search results? Like it or not, you need to rank your website on top if you want a continuous business.
Without keywords, you will never succeed online – Keywords are something every Internet Marketer needs to know because each and every one of your posts NEED to be properly researched before publishing in order to reach the top page.
See the significance? Before we delve into the steps on how to research keywords, you need to first know…
What to Look for in Keywords? – Understanding the Game.
The rules for a good keyword research is simple – Find keywords which have good traffic but low competition.
Before we delve into what to look for when doing keyword research, it's important to learn some of the terms and lingos…
Average Monthly searches – This is the first thing we would want to look at in a keyword research. No matter what people say about search engines, a good number to go for is at least 100 a month. We need to be realistic, there's no way you can get 100,000 visitors off one keyword, and 100-500 is the cold hard truth of the exact numbers you can actually score in terms of people who are actually going to click on your website,
QSR – The Quoted Search Results actually stands for the number of websites targeting that exact keyword you're looking for. In other words, they are your competitors and a good number to always bear in mind is to never exceed 300 QSR in a keyword if you want to rank with ease.
KQI – Keyword research too complicated and tedious? Never fear! The Key Quality Index is an automated keyword strength indicator which gives you signals in traffic light colors green, yellow and red. If you're too lazy to look at numbers, just look at the colors!
These are all terms that you will come across when you use a keyword research tool which is a software to help you find out all you need to know on a particular keyword's viability before going after it.
There is much more jargon out there but for now, these three are the only ones you need to know of.
But enough of that, it's high time you learn the…
3 Simple Steps to Rocking Your Keyword Research Process
Finding keywords for SEO is a relatively simple process – All you need to do is get a raw idea of what you want and from there, we refine, refine and refine until you reach the best and highly optimized keyword that you can use for your website.
Step #1 – Find Out What to Write About
We look for keywords because we want to write about it, no?
The first step to getting a keyword is finding inspiration on how to write about them.
But the most common obstacle of all that we all tend to face is writing topics related to our niche.
We can come up with ideas of what to write about but when it comes to finding blog topics to initiate, we have no clue on how to create endless topics.
The solution for this is simple – listen to what everyone is talking about!
There are a ton of places for you to get questions like from social media and from forums but the best place I usually go to for ideas is Quora.
There are tons of questions being asked there every day, every hour and possibly every minute on a multiple array of topics.
You just need to type in a topic and there you have it, a ton of topics just for your own personal use which you can write your content on.
Besides Quora, there are other forums you can go to such as…
Wiki Answers
Warrior Forum (For Internet marketing niche)
IGN (For gaming niche)
Yahoo Answers
..And many more! There are forums for almost any niche imaginable because people want answers so don't be afraid to explore.
After getting an idea on what to write about from those questions, you need to…
Step #2 – Refine your idea with Keyword research
The idea for this one is to find the right keywords to make sure that people are actually looking for them in the first place.
This is because even with your raw initial idea, you won't know if whether or not there is demand for it – You don't want to spend hours writing the perfect post without people visiting your website would you?

So how do we start researching keywords?
For that, we need a keyword research tool and the best one I can recommend you is Jaaxy as I find it really affordable compared to other keyword tools such as Market Samurai which costs $149.
Jaaxy is perfect for beginners – It's slick, simple to use, and has amazing up-to-date features.
I've been personally using it for over a year and I love the related keyword search terms it comes up with as it gives you endless ideas on what to write about.
Let's do a keyword search on "Totally Free Stock Photos"…
As you can see, I now know that if I target this keyword, I will get 483 average monthly traffic and there are only 75 competitors!
Now is this a good keyword?
Far from good, it is actually a low-hanging fruit, a gold nugget!
A good rule of thumb to always bear in mind is to not have more than 300 competitors so having a keyword of 75 is something you should never pass out on because it's an opportunity for you to rank high on Google's first page with ease as there is very low competition.
Not only that, because of the keyword search I made, I also found out other related searches and their average traffic as well as the competitor search which I could totally make use of.
Now let's have another keyword search at "Affiliate Marketing niches"…
And there you go, I managed to find that it is the perfect keyword for me to use instead of others as it is also a low-hanging fruit which is very valuable.
If I were to choose, "Affiliate Marketing Niche ideas" which is the second choice after, it would still be a very good keyword because just by adding one word, I can manage to eliminate 73 competitors!
This is exactly you should be taking advantage of this powerful tool and why every successful Internet marketer relies on keywords.
Have a keyword in mind you're just dying to have a look at? Have a free keyword search here…
Step #3 – Making up a sentence
Once you've gotten the keyword that you wanted, you can't just use it just like that.
I mean you can of course use it, but it won't sound nice and 'human'.
How does "affiliate marketing niches" sound to you as compared to "Affiliate Marketing niches that can rock 2016"?
Definitely the latter right?
There is a trick to making your keyword sound nice though – Basically, you can add any words before or after the keyword.
However, you CANNOT break the keyword sentence.
For example, you cannot make "affiliate marketing guides and niches" because it's breaking the keyword sentences already.
Always remember that when people type that in Google search, they will type the keyword only so you're a rule of thumb to always bear in mind when making sentences out of your keyword is that you can add words before and after as long as you keep the keyword intact.
Wondering on how to make your titles awesome and catchy? I've got you covered.
Twelveskip actually has a wonderful blog post title template that you could literally use for any of your posts here…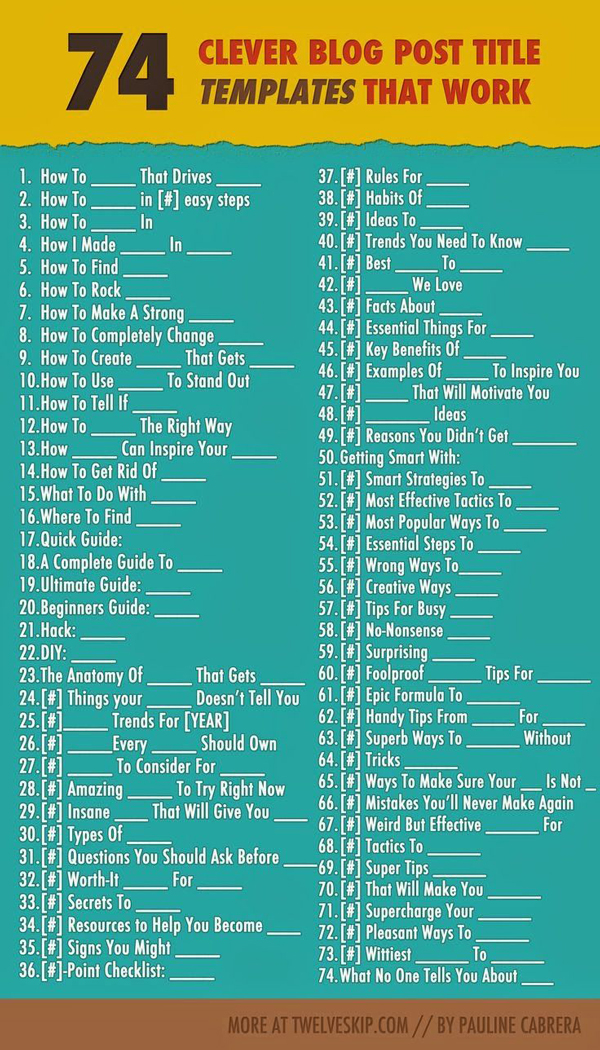 When it comes to making your website and posts clickable, you actually have to make it very interesting and eye-catching at the same time.
Sure, you can make your page appear on the first page of Google, but how sure are you that people are going to click on that?
Making your post readable and casual is also a crucial step to successful online venture.
Does this work with any other niche? – Time for Case Studies!
I get this question a lot – Do keywords work on a website with different niche?
The answer is most definitely yes!
As long as the words are in English, people basically are typing that in Google search which is why we as Internet Marketers can detect them with the right keyword research tool.
I have several friends who use Jaaxy as well for their websites and they too managed to rank their websites on the first page of Google with ease and believe it or not, most of them have websites on different niches.
To show you how it works, I'm going to conduct case studies by researching their posts with my keyword tool…
Case Study #1 – The Hiking niche
Jovo own Mountains for Everybody, a website that is in the mountain climbing/hiking niche.
His latest post was on "Great Practical Tips On How To Prevent Tent Condensation". Let's have a look in Google on how it's doing…
As you can see, Jovo's post managed to rank on the first page of Google search.
His blog is quite new so I'm quite surprised that he managed to beat Hub Pages because that is a very established website.
He is definitely using a keyword research tool, let's have a closer look on his keyword on Jaaxy…
As you can see, there are 64 monthly searches that he's getting with only 30 competitors, no wonder he was able to rank easily!
And here's a unique niche entirely, hiking!
Plus from the Jaaxy search results I just did, there are obviously more keywords for him to take advantage which all have low competition which is amazing.
Still not convinced? Well, how about…
Case Study #2 – Archery niche
Moritz owns My Archery Corner, an archery website which is also in a niche not preferred by many because people who do sports seldom blog about it.
I'll take his first post on "Choose your correct bow draw weight" and look for it in Google…
Voilà! Although it's way at the bottom, it's still ranking fairly well on the first page – It's only a matter of time before it rises up through ranks.
Now let's do some keyword research on his post, shall we?
From the search, we know that the keyword is actually "Correct bow draw weight" Instead of the longer "Choose Your Correct Bow Draw Weight" which is the sweeter sentence he created to make it sound more interesting.
And we also found out that the keyword has super low competition of only 5 websites which is pretty cool though the traffic is also low.
Still, this is a great step for him to take to build confidence in ranking because when it comes to the Online Business world, its either you get your website on the first page, or you don't do anything at all because really, the only real traffic you can get is when you hit the top.
I would say that Moritz is on the right path and I would do the same if my website is very new so that I can build my confidence in targeting tougher keywords in the future.
Still not convinced that keyword research is for any niche imaginable? Here's one you would never have thought of…
Case Study #3 – Beer Blog!
I love beer, don't you?
Let's try something else for a change and look at how beer blogs fare when doing keyword research.
Nathaniel is a friend of mine who founded XBrewX and he also uses Jaaxy so I know that if he's ranking well, he's definitely doing his fair share of research.
I'll take one of his posts on "How to Reuse Yeast in Your Homebrew" and look it up on Google…
Boom! It's on the first page! Now let's do a keyword research on his post and see…
What did I tell you? Keyword research rocks and I found out that Nathaniel used the keyword "How to reuse yeast" which has 56 traffic with only 13 competitors. Not bad!
So you see, keyword research can in fact be used with any niche at all.
As long as people are looking for answers in Google search, keyword tools can detect how many of them are there and how many competition you'll be facing which is essential in any Online Business success.
Now that you know the power of keywords, aren't you curious on…
What do I do with my keywords?
I noticed that a lot of articles on the web tells of how important keywords are but they never tell you how to actually use them.
Keywords provide valuable info based on the demand of people, it's like having the ability to read people's minds and opinions without having to do any of those tedious surveys that we used to do in college which is very time-consuming and costly.
They can be used for many things which require you to give an edge to catch your listener or reader's attention – research, presentations, headline writing, news or dissertations.
However, the most beneficial way to use keywords in my opinion, is by writing content to grow your website because that way, you can earn income by writing content and grow your website.
Did you know that 44% of online shoppers begin by using a search engine?
The real money comes when your website reaches the top page whereby you get clicks continuously without having to throw away money on ads and when you have an offer for your readers, they will have a better tendency to spend as people believe content more than plain ads.
In fact, I managed rank many of my pages on the first page as well through keyword research. Take a look at this…
Remember the Jaaxy keyword research we did together initially?
I actually used that keyword and wrote "30 Websites with Totally Free Stock Photos" and ranked on the first page.
And even this one we did on the "affiliate Marketing niches"…
I took that keyword we researched about, made it into a cool sentence of "Top 10 Affiliate Marketing Niches of 2015", wrote awesome content on it and look at where it is now, on the first page!
Speaking of which, it's high time I write another one for 2016, don't you think?
You may have a website and you may be able to research awesome keywords with low competition but at the end of the day, people want to see your content because honestly, that's what the whole internet is all about.
If you want to grow your Online Business, then you need to…
Enter the School of Online Business – Become an Online Entrepreneur!
Researching keywords is important to attract people but in order to make your readers loyal, good content always prevails.
I learned everything there is to know about keyword research, content writing, and traffic generation from Wealthy Affiliate and I highly recommend you to check it out if you want to really boost your website.
I wrote a review about it here.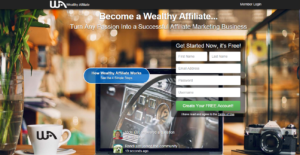 Wealthy Affiliate is an Online Business Platform which teaches you all there is to know about building an Online Business from any niche imaginable and monetizing it.
There's a wonderful community of people there, free website builder, live video lessons every week, and very immersing lessons which are regularly updated to help keep you up to date on Google's algorithms.
I spend most of my time there at WA so if you're interested in giving it a try, do let me know as I'll be more than happy to guide you.
Conclusion
---
Golly, that was around 3,200 words!
Keywords are very powerful if you know how to use them but because of that, everyone is using them to get the upper hand on their website which makes it very difficult for you to rank.
However it is not impossible for you to get a chunk of that treasure – As long as you know how to target keywords with low competition and avoid the more saturated markets.
If you're interested in learning more about how to grow your Online Business with keywords, check out my top ranked program here.
What about you, have keywords changed your life for the better?