If you're new to the online business world, you might have heard about the term Affiliate Marketing from somewhere, saying that you can make massive commissions from your site or blog.
This is both true and untrue as there as many factors of how you can get success on monetizing your website.
Trust me, it took me 6 months to finally make my first affiliate sale and that alone was just a mere $22.50 which wasn't enough to convince me to quit my current job.
So what is Affiliate Marketing? How much can you earn? Or can you even earn money from affiliate marketing in the first place?
Well worry not because today, I'm going to delve on one of my favourite topics of all – What is Affiliate Marketing and How to get started the right way so that you too, can start your online business with the right mindset and expectations.
What is Affiliate Marketing All About?
Affiliate marketing simply put is a way someone earns money by promoting someone else's products in exchange for commissions.
Though the word can be applied offline in the real world, it is more likely used in the online word simple because the market is huge and there are limitless possibilities for you to earn since your target market is globally and you can reach them all if you have internet.
A great example of an offline affiliate marketing is by being a Honda sales person whereby you get commissions off the car you managed to sell.
How it works online is very similar, except for the fact that…
You won't need to work for someone to sell their product.
You won't even need to sell, all you do is just to recommend.
You don't even need to go out of your house! All you need is a computer and an internet connection.
Pretty simple right?
Plus you'll also get a higher commission usually than being a salesman offline, especially if you become an affiliate for digital products as they don't have any stocks to keep which is why they are able to give you commissions as high as 50%.
Just so you know, how I monetize my blog is by recommending my #1 program of choice called Wealthy Affiliate to my readers.
You can promote more than one affiliate product but always make sure you know what it is about first and that means getting your hands dirty and using it yourself to get that firsthand feel.
Is Affiliate Marketing is Relevant in 2020?

One of the most asked questions of all time.
But, the answer is yes and you can clearly see how the growth is going on healthy from the statistics I've got from Google Trends.
The reason being is because with the pandemic making it hard to go out, the urge to succeed has hastened the way people accept technology, including absorbing Affiliate Marketing as a way to earn from home.
It's even more fascinating to find out some of these stats by The Marketing Headline which pretty much sums up the potential of Online Businesses today…
91% of companies are implementing content marketing
4% of website visitors are ready to buy
$3 in revenue from every $1.60 they spend on Google Ads
That being said, Affiliate Marketing is definitely on the rise with more opportunities for anyone to make a full income of today and many more years to come.
It's important to set your Expectations Straight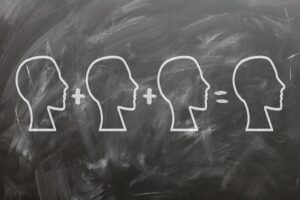 A lot of people keep getting wrong perceptions on Affiliate Marketing, mainly because of those internet scams that promise you millions overnight (I wrote reviews of those scams here)
I used to believe the exact same thing too and back then – I was so naïve that I keep jumping from program to program, hoping to find the right one that can finally teach me how to make money overnight.
I was so brainwashed that I was going on and spending money with that messed up perception in mind.
At the back of my mind, I keep saying to myself "If people can make millions overnight, I can too"
Having that huge motivation is great, but you don't want to push yourself for something that you can never achieve because in reality, nobody can make millions overnight, not unless you have millions of dollars in your pocket to spend on some large-scale marketing.
So here are some things I learned about Affiliate Marketing that you should know too…
You won't make millions overnight, nor can you even earn on the first day.
On your first month, getting your first $500 is the most difficult task you'll ever face.
Your best bet at making your business on autopilot is through a blog.
You can still make money without a blog but you won't get far as it can be very tiring compared to having a permanent page where people can drop by even when you're not trying to promote.
Even without the hard work product creators have to go through when creating their products for you to sell, Affiliate Marketing is actually hard to do and you need to have patience before you can finally lift your business off the ground.
How to Start Affiliate Marketing in 5 Steps
Ready to face reality? Don't worry, I'm here to guide you with my step by step affiliate marketing training that I personally use and so should you…
Step #1 – Narrowing Down Your Competition With a Niche.
The most common mistake every beginner tends to make when it comes to Affiliate Marketing is selling everything they can get their hands on.
Please don't do this!!
Not only will you risk making yourself look like a spammer, you will also confuse your readers because there are so many products for them to choose from.
Remember, the power of Affiliate Marketing lies when you dedicate your time promoting only a few hand-picked products as each and every one of those products has a meaning to you.
This is totally the opposite of an eCommerce business whereby the more stuff you sell, the better because people have a tendency to buy in bulk.
You have to niche research your product first and determine what products fit that particular niche.
For example, the gardening niche can sell gardening equipment, gardening eBooks, and even trees or plants!
In fact, you can narrow that down to be even more specific like targeting solely on growing roses, or solely on growing your own vineyard and this can be very successful.
Ever since my mother got interested in planting roses, she spent thousands of dollars on fertilizers, books, and even the roses themselves – All of this from rose blogs she found on the internet.
Here's a picture I took from my mother's Facebook (She keeps posting pictures of flowers)…
Pretty cool right? Imagine how much money those gardening blogs earn from people who make gardening their hobby!
Since they trust those blogs, they would be more inclined to buy things that were recommended and this is exactly why blogs are a powerful tool to monetize online.
Another example would be the blogging niche which is the one I am currently doing and the very one you're reading right now.
Blogging is a very wide niche too and you can narrow it down to blogging tips, SEO for blogs, business blogging, social media, content marketing, product creation, email marketing and many more!
So you see, everything is related to each other when you choose a specific niche that helps complement your main affiliate offer. You don't see a clothing store selling foodstuff, do you?
Once you've got your niche done, you're now set to…
Step #2 – Building Your Very Own Blog.
Finally, a chance to build your own blog!
When it comes to affiliate marketing, it is so much easier to make a profit when you have a blog of your own because people tend to trust you more as they can know you much better through your writing style and your willingness to share information.
Every typical beginner who is new to affiliate marketing would just jump straight to things and promote their products by spamming them everywhere which causes people to have bad perceptions of products that are aggressively promoted.
However if you have a blog, people will be more willing to buy from you because you're not like the rest – You put in more effort to do business and you don't come out as pushy.
Instead of chasing after people, why not make them come to you?
You'll save more money that way not to mention you'll have a much better conversion rate too since they are already looking for a solution which only you can provide.
So how do you build a blog website for affiliate marketing then? Here's how…
There are many free website providers out there such as Weebly and Webs but Wealthy Affiliate's platform is by far the best when it comes to making affiliate websites as they give you a free dashboard on your site's condition (Plus a free website creator).
Stuff like how good your SEO is, how frequent should you post or even keeping track of your comments is really important because when you're just starting out, it can be really overwhelming to keep track of so many things so why not let the website keep track of things for you instead?
If you're wondering what the difference between a blog and a website is, they are practically the same thing except that blogs are regularly updated and has a more personal touch since you are free to write anything you want, whereas websites are more for corporate businesses which are often boring, dull and full of sales and prices everywhere.
Having a blog can really help you out in terms of sales but if you really want to pass out on that, it is still possible to promote your affiliate offer through my top 10 methods here.
Basically, all the other methods besides blogging cost more money such as through solo ads, PPC or FB ads and you won't even know if you can make any in the end which is why having a blog is much safer as you are ensured success if you put in the effort.
Once you've chosen your blog name and started building your very own from scratch, it's about time we go about…
Step #3 – Finding Products to Promote

I purposely didn't want to put this step before creating your blog because even when you do have a product, you won't make any sale if you don't know how to promote.
A lot of people ask me this question because they are afraid that they might not find products for a particular niche.
That might be an issue last time but today, there are thousands of products to choose from and there are various programs and companies which allow you to become affiliates too such as…
Amazon – Great for physical products like swords and stuff.
ClickBank – Great for digital products like eBooks.
Commission Junction – Great for traditional wares such as janitorial franchises.
There is a thin line between promoting and spamming and when it comes to affiliate marketing, the best way to promote is by recommending your readers the product of your choice as they will be more inclined to check out your offer compared to when you're just simply selling it.
One very important thing to always bear in mind when you're looking for affiliate products to promote is to never choose something just because they pay high commissions.
I know making money online may have a slow start but eventually, your business will bloom and people will start to know you so you don't want to be seen promoting a scam product just because you can make money out of it.
Have some products in mind already? Good, because now you need to…
Step #4 – Create Reviews as Your Sales Page
Did you know that nurtured leads make 47% larger purchases than non-nurtured leads?
People will be more likely to buy from you if you show them the benefits, the cons, the cool features, and of course pictures of the product to help them decide better so how do you achieve that?
By writing reviews of course!
Reviews are like the sales page of your product but instead of trying to sell that product to someone, you recommend it to them which is why it is so powerful and it's also why if you've noticed, there are loads of review websites around regarding a certain product, especially the new ones.
In fact, writing reviews is how I earn money from my website too and I even wrote a whole blog post on that here.
There is also a very important reason as to why you need to write a review of your product and that is because if you promote your affiliate link everywhere, Google is going to penalize you for being spammy but if you were to promote your review page instead, it is absolutely legal and fine with everyone.
In fact, Facebook is also against the use of Affiliate links so you can't even add those links on your Facebook page because they will surely detect it.
However what you can do instead though, is by sharing links to your blog's pages instead of your affiliate link and that is why many people boost their Facebook ads on a specific page link instead of their own products.
After you write your review on your product of choice, you can find similar products within the same niche to write reviews on and compare those on your blog so that you can grab readers looking to buy those other products to check out what you are offering instead.
Step #5 – Mix Commercial Intent With Interest.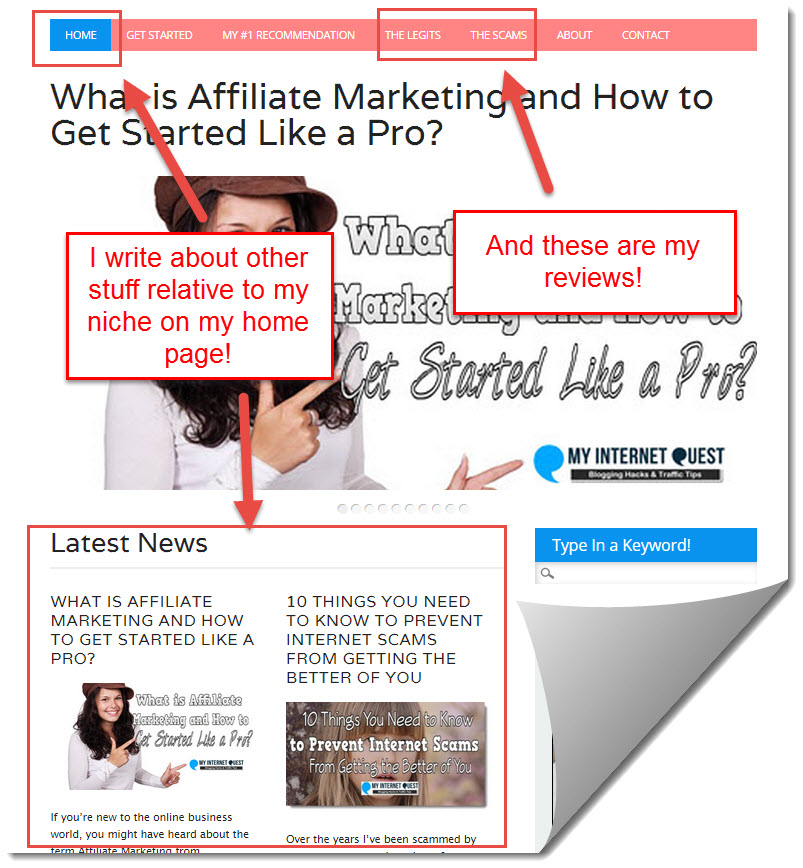 Writing reviews are all for commercial purposes based on commercial products which are good for business but not so good when it comes to your public image.
To add more color to your blog, you need to alternate your time to write about other stuff too such as tips or controversial opinions on rising trends because that way, you'll have a much wider group of people coming to your blog from everywhere.
For example, my blog here is on blogging so instead of writing reviews all the time, I also write blog tips, social media tips, WordPress tips and many more.
If you're doing a gardening blog, you could alternate your product reviews with gardening tips, fertilizing and so on.
Writing topics of interest is a good way to establish your website's brand and as it will open up your mind to think outside the box as well as increasing your blog authority at the same time.
You may realize that I haven't included advertisements as the compulsory steps and that is because if you have a good blog, you don't need to pay for marketing because Content Marketing itself can generate 3 times as many leads as traditional outbound marketing, but costs 62% lesser.
So what are you waiting for, start your affiliate marketing journey now!
What is the Best Course to Learn Affiliate Marketing?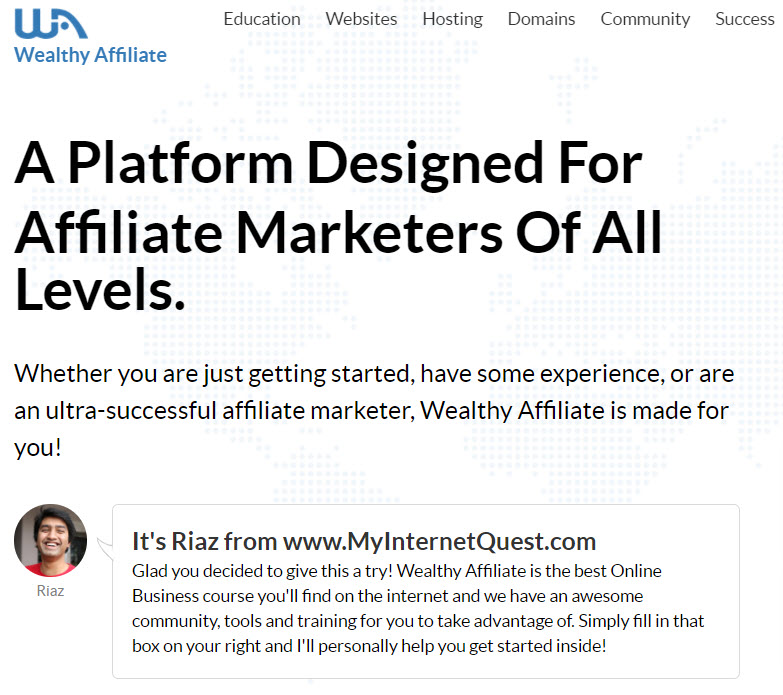 There is no doubt that Affiliate Marketing can make you money, even more so than using Google Adsense because the earning potential is bigger.
However, the steps which I showed you just now are only the basics that every beginner should know of to get their business up and running so if you really want to boost your results, it is better if you delve deeper and find out more from the very source of all my knowledge, Wealthy Affiliate.
Wealthy Affiliate is an Online Business course that specializes in teaching you how to earn income from Affiliate Marketing and grow it huge out of any niche imaginable.
The lessons are regularly updated, there are tools you can take full advantage of in order to research your niche, free website builders and an awesome community just as enthusiastic as yourself!
There are a lot of cool tips you can learn to propel your business even further and one of them is through SEO which helps you rank your blog on the first page of Google to get never-ending clicks by targeting keywords that have very low competition.
Here's an example of one of my reviews…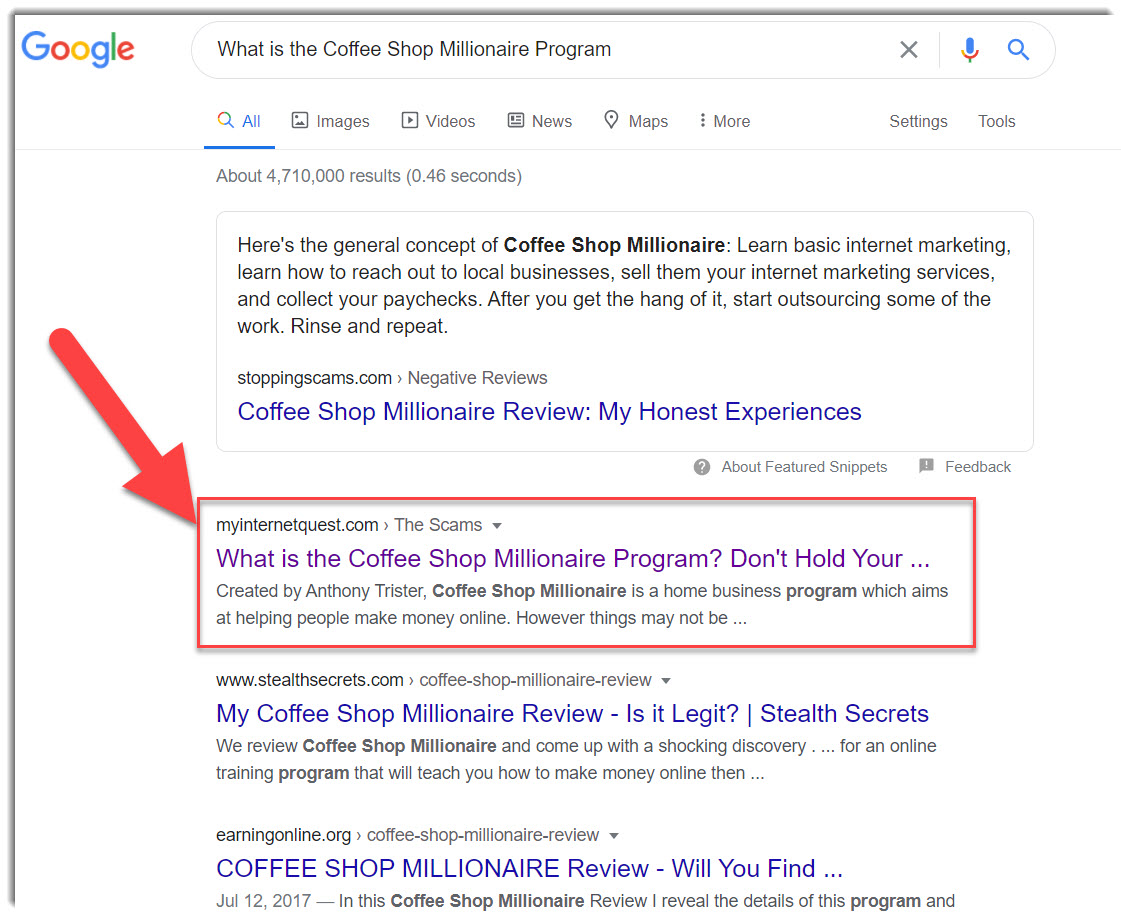 One of the best strategies to get people to trust you is by doing product reviews and from there, you can share your experiences and recommending your readers your affiliate product as the better choice and Wealthy Affiliate teaches you how to do that from scratch with templates and guidance which is how I got started too.
Since my review got on the first page, people are clicking on it non-stop because your page is going to stay on Google forever so just imagine how much traffic I can every day if I have 20 more review pages up there? That's about at least 2,000 clicks a month!
Once your reviews have a good ranking and traffic starts coming in, sales will follow after. Here's a quick look at my affiliate earnings…

Those are my affiliate earnings for November 2015. Although it isn't much, it's pretty cool to get that earning since I haven't really worked on my blog for a while.
I've been juggling time between my blog and my event startup so getting additional income this way is really encouraging for me. It's also pumping me up to work harder this month and I'm sure you can do better than me as you'll definitely have more time to focus on your online business than I do this year.
I have to sleep at midnight almost every day just to find time to work on my blog and now it looks like my hard work is definitely paying off…


From the looks of my website stats above, my graph is beginning to shoot up at the end of November and this only means that I have to continue working harder to carry my momentum. Never give up because you may never know that the moment you're about to give up is actually the moment you're going to get a breakthrough.
I learned a great deal of knowledge from the owners of Wealthy Affiliate, Kyle and Carson. Without them, I would have given up somewhere in the middle so now, I'm returning the favor by helping others succeed too so if you ever wanted to give it a try, I'll personally help you get started.
Conclusion
---
Affiliate Marketing is a great way for beginners to earn money online as you don't have to worry about the headaches of product creation since you're basically helping them sell.
Although there are no costs to start, you can still risk not making any money if all you do is spamming your affiliate link and risk getting yourself blacklisted so if you want to succeed, learn how to do it right by researching your niche and finding keywords that have fewer competitors because that will really speed up your success rate tenfold!
If you're interested in finding out more on the best Affiliate Marketing program for beginners, check out my #1 recommendation here.
Thanks for reading, do drop down any thoughts you may have down below as I'll be more than happy to repl.