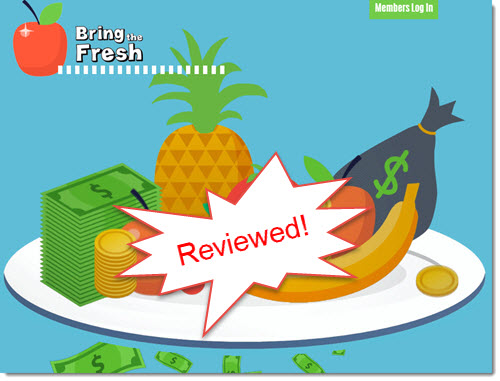 Business Name: Bring the Fresh
Website: www.bringthefresh.com
Type of business: Online Business course
Price: $47 one-time fee + Upsells up to $2,500.
Owner: Kelly Felix
My rating: 2 out of 5 ⭐️⭐️
[Update] Goodbye Bring The Fresh! As of today, Kelly has closed it down to avoid people using it as he has not updated the courses for a while. He has a new program now at Underestimated.com which I'll be doing a review on soon.
I came across Bring the Fresh from Clickbank and I was fairly curious about what it was.
I've seen many of my friends tried and many of them started to monetize their blogs so that made me a bit curious about what it's all about because naturally, I own a website as well so I'm quite curious about what it's about.
Many reviews online say that Bring the Fresh (BTF) is legit and surprisingly, there aren't many that say that it's a scam so that made me wonder even more and the fact that there are some people mentioning that the program is a hoax, well it just fuels my with curiosity even more to find out just what the program has to offer in the bigger picture.
Is Bring The Fresh a scam meant to drain all our money, or is it otherwise? Is it even worth all the time we'll be committing ourselves into? There are just so many questions that need answering.
What are your thoughts on this? You already know my verdict but as for why I rated it in such a way, do continue reading my full Bring The Fresh review below to find out.
Pros and Cons
Pros
Lessons are updated regularly to suit Google's algorithms.
It's proven to work.
There's a forum you can go to for questions.
60-Day Money-back guarantee.
Very established program, been standing for years.
Cons
Some people do not like Kelly Felix's snobbish personality as he was involved in Rich Jerk.
There are various upsells which costs a lot once you get inside, and you need to purchase them in order to learn more.
Most lessons are in Webinar videos so it's a bit difficult to keep track
You can't have a free trial.
Sometimes when you buy, you won't be able to log in.
Support sucks.
The Done-For-You website upsell is very scammy as it does not guarantee the results.
Golly, that's a lot of Cons! Better check out my #1 recommended program here instead!
What is Bring the Fresh About?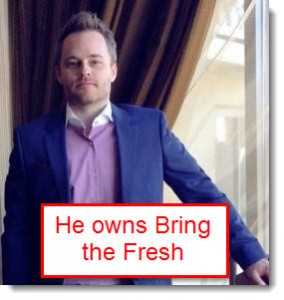 Ever wanted to learn how to make money online?
Bring The Fresh (BTF) teaches you exactly that.
It's basically an Online Business course focusing on Affiliate Marketing which has lessons on how to build a website and monetize the right way and straight to the point.
There were 2 founders initially but they split up, leaving Kelly Felix to run Bring the Fresh on his own, a one-man show.
The program is great for beginners who are starting out especially with the money-back guarantee policy which helps give us a sense of security in case you did not like what you see.
I like the fact that they are being frank with you by telling you that you need to put in effort in order to succeed and there is no such thing as an overnight success.
Still, the lessons are not as in-depth because it does not provide you some integral elements like keywords research through keyword tool and SEO content.
Tools and Training – Are They Any Good?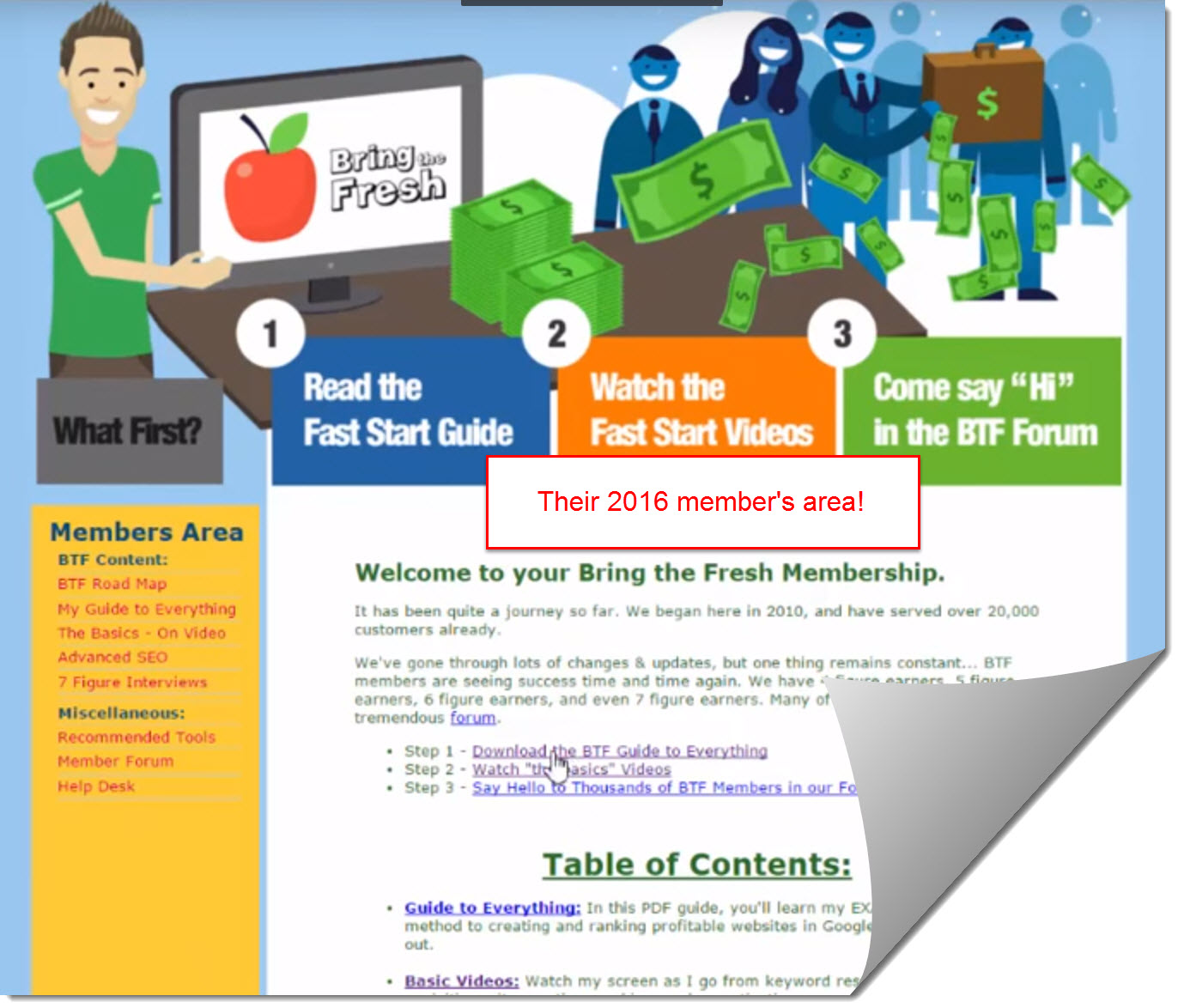 This is the main part everyone wants to hear – What does Bring the Fresh include and how does it work?
It's actually only a training course website which teaches you how to make money from your own website that you will be creating by getting your hands dirty and the features are as follows…
Website Building Software
Fast Start Guide – a 70+ pages step-by-step guide for beginners to learn a bit more about how the Internet Marketing industry works.
Bring the Fresh Forum – You actually have to go all the way to the Forum on a separate site to ask questions. They should definitely integrate this into their system.
Webinar training
Additional tools – Article creator, spinner tools, link builders, etc.
The Form of specialized keywords – Bonus for new joiners.
Bring The Fresh Backlinks (Upsell)
Done For You website package (Upsell)
Red Flags – Things to Watch Out For.
I don't normally give good ratings on programs, only once in a blue moon I tend to be lucky and find a legitimate program to recommend to you guys.
But even so, no program is perfect as even Bring the fresh has some cons that I thought you should know of…
Red Flag #1 – You May Have a Bit of a Problem Logging in.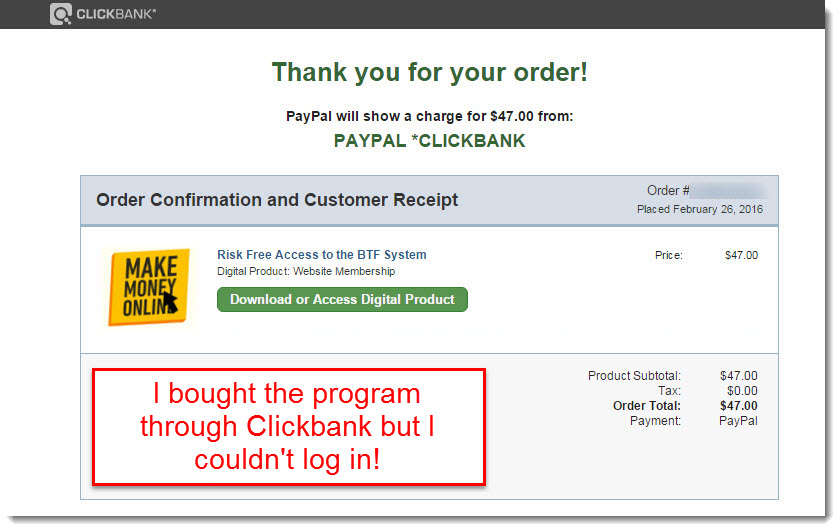 The first time that I tried Bring The Fresh, I actually couldn't even log in to my own member's area and for me, that is such a huge red flag because I actually spent $47 on the program.
My first impression of the entire program was a bad one because after purchasing, I clicked on my link and all I got was a blank page which was unpleasant to say the least.
How would you feel if you were as excited as me to try the program out only to find out that you have to wait longer due to some errors?

I couldn't even see how the member's area looked when I had that glitch thing because every time I tried clicking on the link, I was always brought to a blank page instead.
At first, I thought that the problem arose from Clickbank so I tried buying Bring the Fresh from their own website instead but unfortunately, they re-directed me back to Clickbank again.
I was patient and gave them the benefit of the doubt so I sent a support ticket to Clickbank to ask them to fix my problem.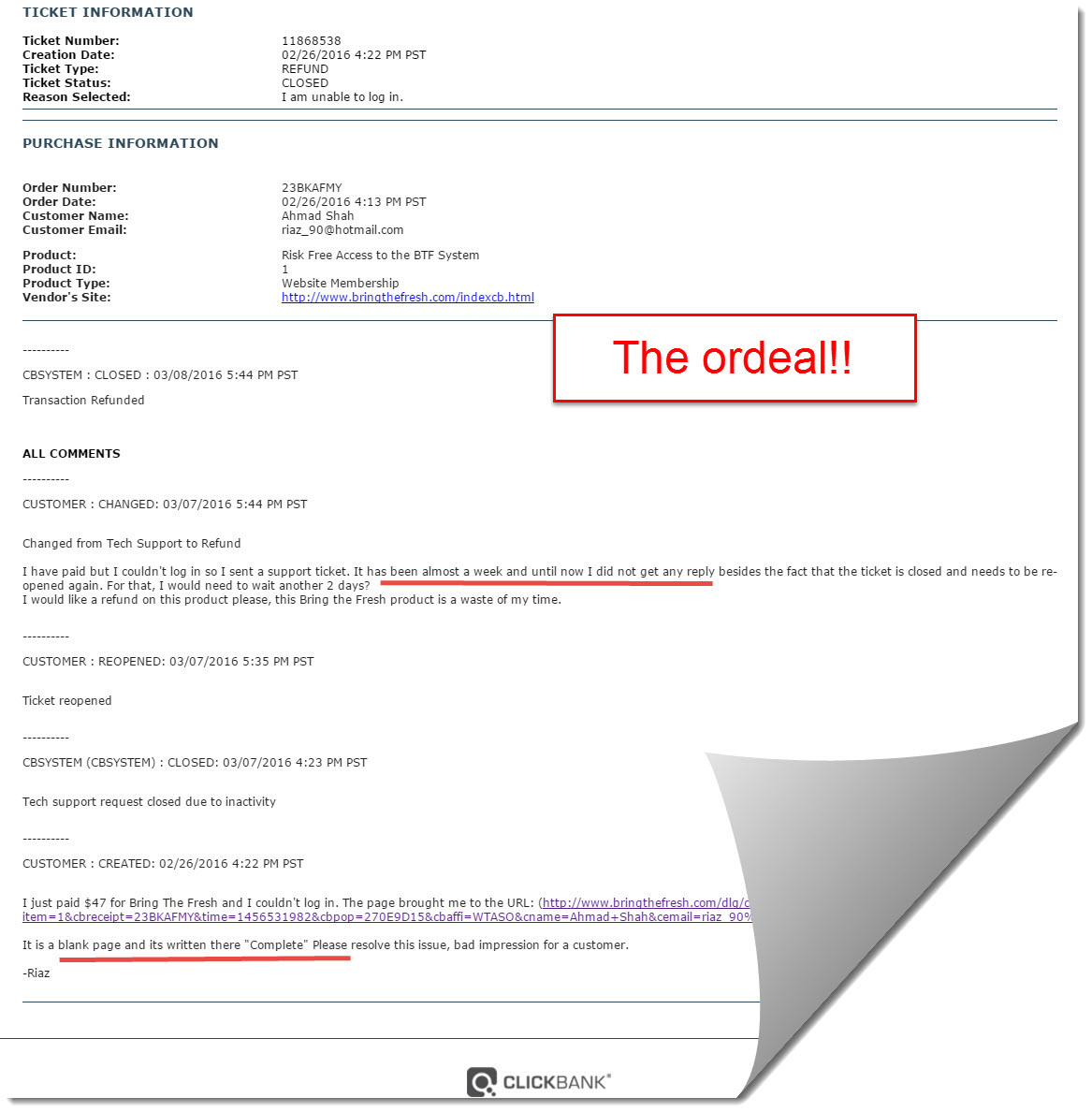 I waited a week and still no reply.
In the end I was so fed up so I asked for a refund instead.
Clickbank actually has a pretty good record of refunding a product within 30-60 days depending on the program and I actually got my money back within 5 days.
If you're wondering how to get your refund from Clickbank, I actually wrote a blog post about it here.
After that, I had to try another approach to trying out the program which is by using a friend of mine's account to log in and have a look at the member's area as well as the pieces of training.
Red Flag #2 – It's Not BBB Accredited.
If you haven't heard of the Better Business Bureau, it's a non-profit organization that rates a company to protect consumers.
Almost everyone in the US checks the BBB before making a decision to purchase and according to research and not just for brick and mortar businesses but online ones too.
It's very surprising to me that Bring The Fresh isn't even accredited by the BBB even after more than five years of operation, that's highly disturbing.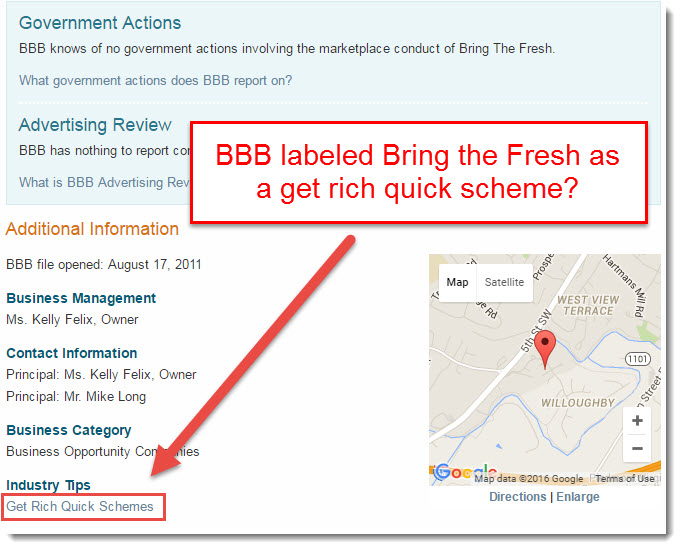 But what shocked me the most is that BBB rates the program as a get-rich-quick scheme when in reality the lessons do work which made me even more peculiar.
Kelly is one of the few Internet Marketers that still does his online courses legitimately which makes me wonder more about why is his program rated as such.
I guess the reason for them rating Bring the Fresh in such a way is because of the…
Red Flag #3 – Upsells Are Up to $2,500!
Don't you just hate it when you buy a game that you like, only to find out that you actually need to pay even more to unlock the journey?
Unfortunately, this is the case with Bring the Fresh.
When you join the program, you will be bombarded with upsells one after another but I will skip all those minor upsells and focus on these 2 big guns starting from the…
Red Flag #4 – Done For You Website package.
This is by far the biggest upsell in Bring the Fresh.
How this works is that Felix and his team will build up your website for you and try to rank it to Google page #1 and hand it back to you to continue.
He will do all the SEO for you but mind you, the cost is not cheap – It can easily cost you from $500 to $2,495 depending on which package you chose.
But here's the killer – They do not guarantee that your site will rank on the first page.
Being the skeptical pessimist that I am, I decided to look into this matter and research around to see what people are talking about and unsurprisingly, there were tons of negative feedback all around the internet.
People are being skeptical, but the most prominent comment that I thought I should share with you is this screenshot I shared.
Basically no matter how expensive you spend on the done-for-you website package, you are actually gambling away money because you'll never know if you will really rank or not.
From the looks of it, I have a pretty strong feeling that the team behind it is implementing Blackhat SEO techniques which is something Google really hates which is why you won't end up on the first page if you cross the line.
This is highly unethical in my opinion and I would advise you to stay away from this upsell because actually you can rank your website yourself through something called Keyword Research and lucky for you, I wrote a whole blog post on that here.
Getting a keyword tool and learning how to rank with keywords is definitely more cost-saving than spending thousands on something you might not get.
The next upsell you should be wary of is called the…
Red Flag #5 – Bring the Fresh Backlinks.
This upsell is not is the second in line in terms of money wasting.
Backlinks are great but they are very risky to do nowadays because ever since Google's new algorithm update, many websites are being slapped by Google after they found out these sites were trying to cheat their ways to ranking on the first page.
If you're new to the Internet marketing world, when Google slaps your website, it's a bad thing because you'll lose ranks and traffic.
All those hard work will go to waste.
Basically how backlinks work is easy – If a big website like Forbes or something similar links to your site, you're golden and you get good ranks because there is a reason why a big site might want to link to your tiny site.
That's why guest blogging on other blogs is a thing now because you can get good backlinks safely instead of buying it from blackhat sellers.
Bring The Fresh provides this backlink service and it costs around a hundred bucks a month but in all honesty, please stay away from this upsell if you want to save your money and save your website because it's a very risky thing to do.
Although this program is legitimate, not many owners can avoid implementing upsells in their programs because there is a lot of money to be made when consumers are forced to pay in order to get the best of the program.
I've reviewed 2 other programs called Affilorama and Chris Farrell Membership which are legitimate as well and they both implement upsells which will really drain your money.
Red Flag #4 – Kelly Felix the Rich Jerk.
Before running Bring the Fresh, Kelly Felix was involved in another online Business program called The Rich Jerk which despite the name, was a success.
He then saw a bigger potential when Bring The Fresh was proposed so he left his previous program on its own with someone else to take care of but then we stopped hearing from it ever since.
It's good to know that Felix turned over a new leaf (I hope) but even in Bring The Fresh, he brought his old tricks of upsells to rake more money from the members and that already left a bitter taste in my mouth.
I know The Rich Jerk was a good program with workable lessons but I totally despise the way he acts and the way he belittles the little people by saying that they got nothing better to do with their lives and that they are all losers.
In a way, that made all of us who didn't join his program a loser.
Still, he made quite a huge number of followers despite all those unnecessary flashings of expensive cars and sexy women with the limo.
I don't know, would you feel the same if you were in my shoes?
Red Flag #5 – Webinars make it hard to learn.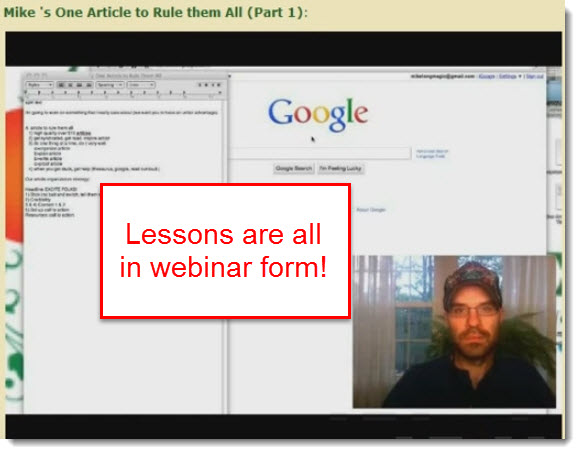 Another thing that you should know about Bring the Fresh is that almost all the lessons inside are all in webinar form.
Which means that Kelly will guide you through the training by showing you through his webinar.
Some of you might like it but personally, I find it very troublesome to pause between the video to note down stuff because he did not write down all those stuff that we need to be wary of.
There are no transcriptions or anything so it's really difficult to remember what you've just learned in the webinar and you'll end up putting in more time and effort to rewind and try to catch again what you missed.
This is where it's different than my top-ranked program where not only is there a video, there's also a description below the video – A transcription if you might, of the things being taught in the video for you to refer to easily or recap.
It's Good, But There's a Better One.
Bring The Fresh is a good Online Business program but those ridiculous upsells kill.
You were shown a $47 one-time fee and that got you really excited.
You purchased, gone through the lessons only to find out that you'll need to spend up to $2,500 to grow your website and oh yeah, all the constant upsells being bombarded to you.
That in my opinion, that isn't a way to help people because the reason people join an Online Business program in the first place is that they don't have money and they would love to start a second income stream like many of us do – NOT spend a bundle just to start.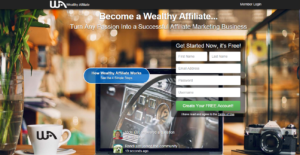 I know another program that is much better called Wealthy Affiliate which is also in the same niche – Online Business.
It is an online course that has everything you need to start getting ahead and it's currently my top-ranked program out of the many work from home businesses I have reviewed.
There are no upsells, you'll have access to more tools, the lessons are more updated, they mix videos and descriptions to teach, they provide high speed dedicated web host for the members and you'll have a great community of people inside who are just as enthusiastic as you are!
This is a program perfect for both beginners and the experienced because you'll save a lot more money when you don't spend on upsells.
The lessons work and you'll learn SEO the right way – Build a website from any niche, learn how to write, learn keywords and ads, and rank on the top page to get traffic hence your sales.
But what I like about it the most is the keyword and content strength from WA is way better and stronger than what you'll learn at Bring The Fresh, which is why they are still standing strong until today which has been more than 10 years now.
It's straightforward, I highly recommend it and from an overview here's how the comparison looks like…
Conclusion
---
The training here is definitely legitimate, very few online courses provide this.
When it comes to Online Business courses, we can actually count the number of workable programs we can join out there, the ratio is 1 to 100 as there are more scams than legitimate ones.
Because the training works, I definitely rate Bring The Fresh as legitimate but due to the outrageous upsells they implement which can cost you a bundle, I can only rate it 2 out of 5.
If you're serious about making a living out of Online Business, check out my #1 recommended program here instead as it will really save you a lot more and get you traffic the right way.
Thanks for reading this review, I would love to know your experiences down below.