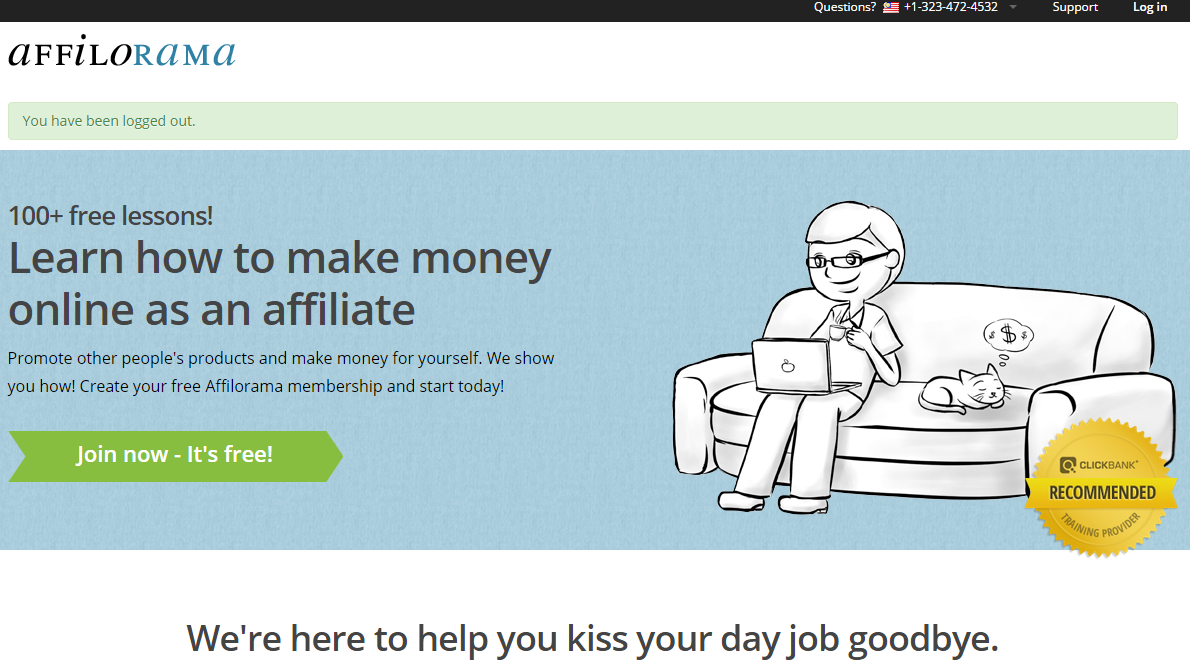 Name: Affilorama
Website: www.affilorama.com
Type of business: Affiliate marketing course
Price: $1 thirty day trial, $67 monthly, $497 for three years + complicated upsells
Owner: Mark Ling
My rating: 2 out of 5 ⭐️⭐️
[Updated] Goodbye Affilorama! The program has ended and Mark Ling decided to not continue Affilorama nor renew the program as he's finally retiring. 
Created by Mark Ling, Affilorama targets all types of internet marketers who want to make a living selling other people's products.
But that's the thing, the course is only for those who want to develop a business selling other people's products and not their own.
It is great for newbies but sooner or later, everyone would want to create a name for themselves instead of making other people famous for the rest of their lives.
But unlike many other scam products, Affilorama is one of the very few legit online business courses which keeps updating to suit the changes today.
What is Affilorama All About?
If you've worked as a salesman before, have you noticed that you will get a commission based on how many products you've sold?
Affiliate Marketing exactly the same, only that it's fully online from the comforts of our home, or wherever we want to work with our laptops from, be it the beach or in a shack in the woods.
Anyone could do affiliate marketing but to get an edge in the market today, Affilorama was born to teach those who are interested in the proper ways on how to get started and dominate the market.
Affilorama is basically an Affiliate Marketing platform that provides you with competitive knowledge on building a site and ranking it so that you can monetize and earn money online at your own flexibility.
The lessons are great for those that are just starting out as it gives you all the information to help you start right and avoid making mistakes like others do that might prohibit the growth of your Online Business.
Their courses offered will teach you how to grow your website and from there, rank well to become an authority website, which is the highest level of the website world as to reach that status, your site needs to be really established.
That is what you'll be learning at Affilorama's courses.
Tools and Training
Affilorama's lessons are broken down into several categories along with tools that you can use to build up your affiliate site.
The training is backed up with a variety of handy tools and recommended sites for us to kickstart our online business with ease.
Some features are included within the package whereas others might have a separate price…
Video lessons (Beware! Not all are updated)
Software apps (site ranking and analysis tool)
Bootcamp and interviews with successful internet marketers (For premium)
Website creation and hosting within Affilorama (Jetpack Premium)
I particularly find the interviews quite motivating since we can learn from people who have already undergone the struggles that we are facing.
The Jetpack Premium in my opinion costs an arm and a leg as it's quite costly seeing that you can create a website way cheaper if not for free through other programs like Wealthy Affiliate which can be just as good as a premium and paid one.
Is The Support Any Good?
Mark Ling although is the owner, does not make Affilorama his main focus.
With the money he earns from, he goes into other huge business ventures outside leaving Affilorama lifeless without the main people to handle it inside.
Instead, he pays freelancers to take over the responsibility of answering questions but will take some time to get a reply as you'll have to go through the old-fashioned ticket system where you'll need to submit a ticket, wait until you get a reply and after that, give your details and wait for it to settle which will take some time.
This is exactly one of the main reasons why Affilorama does not come close to my #1 ranked product as owner support is crucial in showing trust and responsibility, as well as giving life to the program he creates.
Personally, I like having the founders around as it gives me motivation to see the big people coming down to help out those little people like us.
In Affilorama, you can get some support from the other members but bear in mind that those members are mostly freebie seekers.
Affilorama has many complicated upsells inside but not all the members choose to become premium members. This means that the further you go into the program, the lesser support from people you get as they have not reached your level yet.
The Complicated Pricing Strategy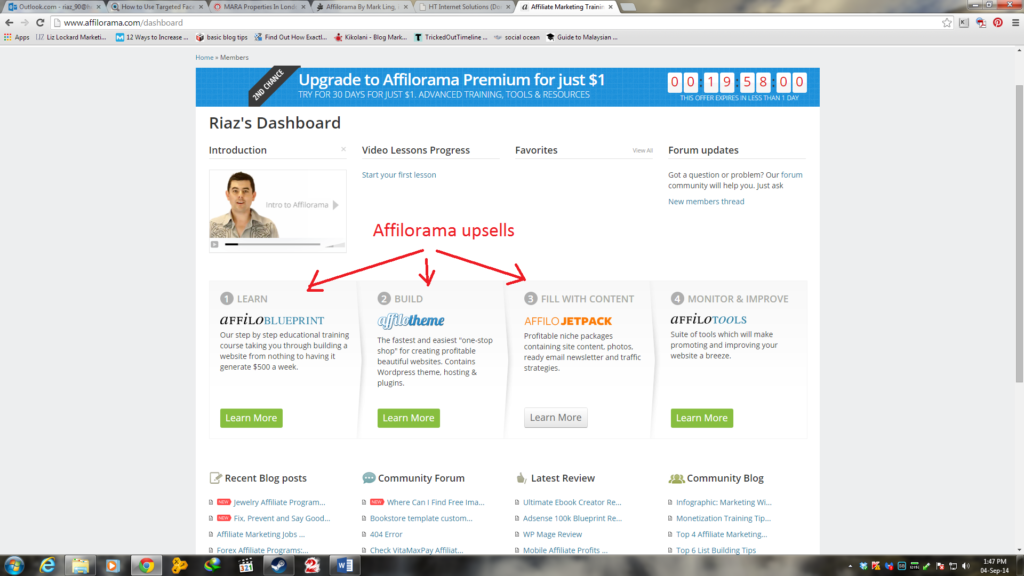 Personally, I believe that if a program truly aims at helping the members grow, there shouldn't be any upsells if any.
I understand that there should be an upsell or two because surely any program would need money to pay for development costs and of course the team behind the company who are working hard to give it justice.
Affilorama has three interesting packages for you to check out…
Package #1 –  AffiloBlueprint 3.0 Membership 
Cost: $197, then $67 monthly.
AffiloBluprint is the first level of upsell that is meant to attract newbies.
It comes with access to the private members' forum, 6 WordPress themes as well as more video lessons being unlocked for you on affiliate marketing.
Personally, I think the price is ridiculously high for very simple lessons that anyone could have gotten free elsewhere.
AffiloBlueprint also doesn't come with any kind of support unless you decide to pay the monthly $67 fee.
As if that's not enough, you will also be tempted to buy another upsell should you wish to continue your lessons to another level which is…
Package #2 –  AffiloJetpack Membership ($997)
Believe it or not, Affilo Jetpack cost $497 just last year before Mark decided to ramp up the price to the current $997.
It is an elite package that Affilorama has to offer and as seen from my screenshot above, it includes:
Newsletter reports
e-book graphics
WordPress themes
12-months web hosting
Chosen topics for you to write about
And PLR articles
I agree that some of the things included in this package are helpful in building a successful website but there are also things that are better done yourself such as writing your own ebook and your own email Newsletter.
This is solely because if everyone is given the same templates to choose from, then your site would be just about the same as your competitors within the program.
I strongly disagree with the use of PLR articles as that is a cheap and unethical way to trick visitors into believing that you write the book yourself.
PLR stands for Private Label Rights which means that the e-book or report is done by someone else so all you need to do is just change the title and cover page and voilà, you have your very own e-book that you can proudly sell!
Still, this is my own personal thought and conscience when it comes to creating my own business.
Affilorama's Jetpack package will help you earn the money within several months' time but your whole entire business will revolve around making Mark Ling rich with sales while earning a percentage of that money for your own.
If you are interested, I suggest you have thorough thinking and research on this package before you decide to purchase as their price charged is extremely high for things that you could otherwise get for a free or cheaper price.
Once you set on this path, you will be stuck making someone else richer when you can well use that knowledge and time to create your own branding and business.
Package 3# –  Affilotheme ($97)
The last upsell that you'll come across is the AffiloTheme which focuses mainly on tweaking your WordPress website. This package offer includes:
AffiloTheme WordPress theme
Private member's only forum
Video lessons
1-year web hosting
Graphics editor
Affilotheme is not a large part of the traffic generation system of Affilorama as it only focuses on teaching you how to manage your website better.
This is just my personal thought but it is very unethical to charge high for website tools and tips because again, there are always better alternatives on getting all these for a much reasonable price.
Comparison between Affilorama and Wealthy Affiliate
Affilorama is a good program that comes the 2nd closest to my ranked #1 Wealthy Affiliate compared to other programs that I have reviewed.
However, there is a reason why I don't rank Affilorama as my #1 recommended and that is due to the lack of one of the most crucial elements in an education platform – Support.
Wealthy Affiliate beats Affilorama in a number of ways such as the constantly updating videos and affordable price but what I really like about it is the fact that both owners Kyle and Carson actually interacts with the users regularly.
It may sound little but you'll be surprised by the boost of morale you'll get when big people start talking to you!
At first, it is human nature to feel that we can do everything on our own but the moment you get stuck, believe me you are going to need someone to help you get through.
My Final Verdict
---
I can safely say Affilorama is not a scam and the founder Mark Ling is actually a pretty honest person as he actually puts in real effort into his courses.
However for a product that helps you make money, the price is massively expensive to start with as the JetPack package alone is already $997 and that doesn't include the other packages and monthly fees.
It is a pretty big decision to make because all that investment will not come back at least about 6-12 months because for Google to recognize a website is already talking about 3 months minimum.
Therefore with the high amount of risk that you need to take in order to even break-even those investments, Wealthy Affiliate is a much better and safer choice as most of the things included in Affilorama can actually be gotten in WA for free.
For more information on Wealthy Affiliate, do check out my full review here. As usual, if you have any experience regarding Affilorama that you wish to share, feel free to comment below and I'll be more than happy to reply.