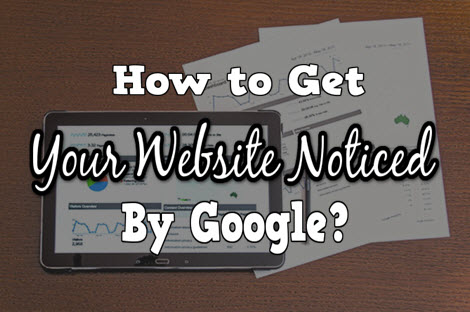 Wondering on how to get your website noticed by Google?
I was thinking the same thing when I first built my website. I had no knowledge so I tried various methods to bring it up but to no avail.
That is, until someone asked me to check out SEO.
I was reluctant at first because I had no clue on what all these technical terms mean but slowly but surely, I've finally managed to bring my blog to where it is today.
You can too, and I'll teach you how starting from…
What is SEO? – The One Thing That Will Help You Rank.
SEO stands for Search Engine Optimization and you may have already guessed, it is the practice of doing things to your website in order to optimize its presence within search engines.
The SEO world is humongous – There are websites dedicated to teaching you that, there are students who learn that in college as a whole entire subject, and there are firms making money by selling their service to people who do not want to go through with SEO.
Many people are afraid to learn SEO because it sounds very hard and too vast.
It is indeed very vast but you don't need to learn all, just a few basics is enough to help you boost your site and if you've felt success and you wanted to boost your website even more, you can learn more advanced methods which I will be explaining a bit more as we go.
Why Do You Need To Know SEO?
Did you know that in March 2017, there about 3.8 billion internet users globally?
Staggering numbers, if this doesn't convince you to learn SEO, I bet these points do…
Security – If you know SEO, you can avoid making your site look crappy and people won't mark you as a scam.
Prevent yourself from being tricked – Thinking of cheating your way through by hiring an SEO firm? Here's the truth, they know nobody understands SEO so they charge super high for simple things that you can do on your own. Moz did a survey on how much they charge here…

Avoiding doing the wrong thing – A lot of beginners who want to do SEO themselves end up doing a lot of mistakes because they do not want to learn. They tend to cheat using blackhat methods and when Google found out about it, they're screwed. You wouldn't want to experience that, would you?
Save time – Really, SEO can take a LOT of time if you don't know what you're doing. I spent 5 hours a day doing tweaking and trying to beautify my website which I learned afterward is totally unnecessary.
The world revolves around SEO – Anything you do online requires SEO knowledge be it creating a marketing campaign or a website for corporate clients. No matter how established your business is, that doesn't assure you good standing within Google. SEO does so invest in that.
How To Do SEO Yourself in 3 Simple Steps.
Although these steps that I'll be showing you are basic, they are pretty powerful.
The steps for SEO are simple but that doesn't mean it's easy. Without further ado, let's hop on straight to those three crucial steps…
Step #1 – List Down Potential Keywords For Your Niche

If you're in the dog niche, keywords could be things like a dog collar, best dog snacks, or even ways to take care of your dog's health.
If you're in the gaming niche, your keywords would be something like first person shooting games, tips to level up your character faster, or how to craft armors fast.
If you don't know what it is – Simply put, keywords are highly searched terms or words people type into the Google search bar (Click here to read more on keywords).
So you can know now that by learning keywords, you are learning about what it is that people are typing.
Anything you do, bear in mind that your keyword revolves around a problem people are looking for so don't forget to include your winning solution for that which I'll explain more on as we go.
You can use keywords in many ways like marketing campaigns or project research but the most beneficial way to get your website ranked is for you to find a keyword to think of and write content about it because when people come across your website blog post, they will appreciate that and bookmark your page for later use.
Step #2 – Do Some Keywords Research
Now that you have a keyword in mind, we are going to need to check for the strength and potential of that keyword and to do that, we'll need to use something called…a keyword planner!
There are various keyword tools out there such as Google keyword planner (Inaccurate) but the one I would highly recommend you to use is Jaaxy.
Throughout my experiences with keyword tools, Jaaxy is so far the best in terms of accuracy, organization, and performance which is crucial for a successful website.
The reason why we need to research the strength of a keyword is because you may never know if your keyword has got a mighty high competition.
For example, "how to lose weight" will surely have loads of other websites writing about the same thing in other words, high competition.
But if you were to go a bit more specific with "how to lose weight through meditation", you'll definitely reduce the competition. THAT is why keyword research is important, – its purpose is to refine your keyword by eliminating competitors and helping people finding your website easier.
I recently did a blog post on "What is MailerLite" this month (March 2017) and believe it or not, here's how it looks like on Google…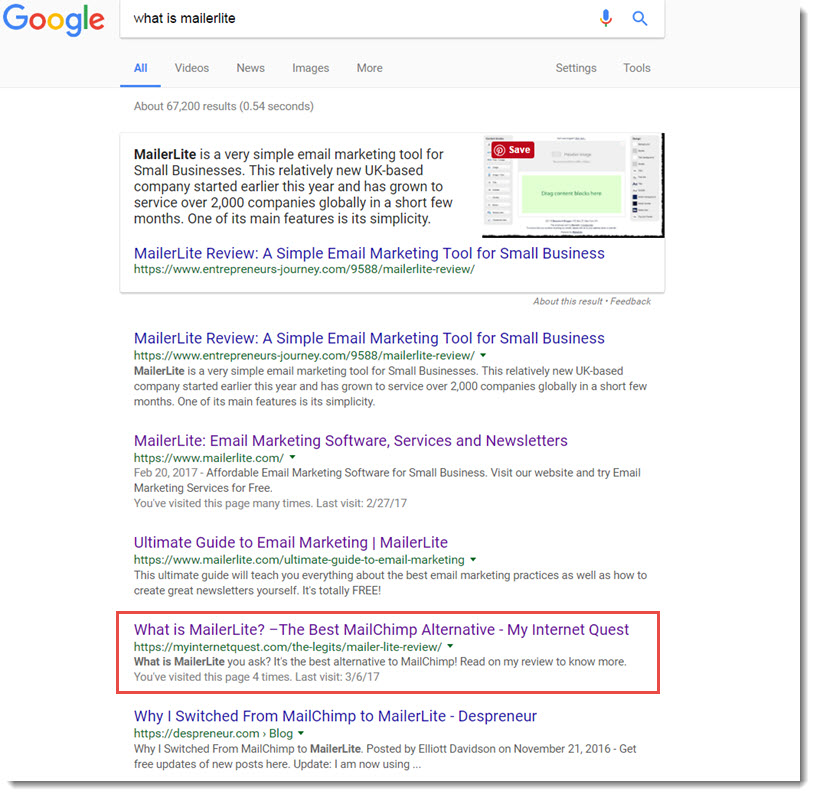 I got my site on the first position within 2 hours!
And how did I do that? Through keywords research of course. Let's have a quick look on how it looks like in Jaaxy…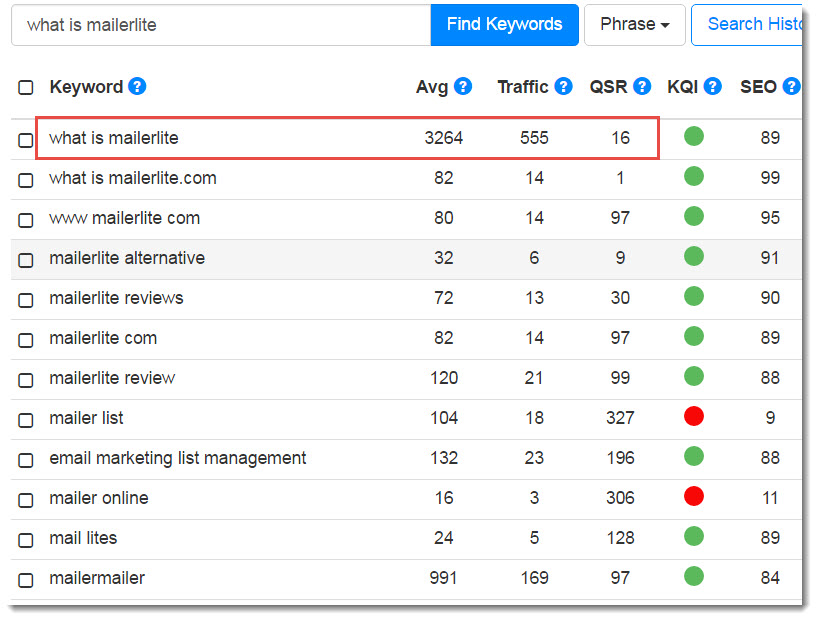 As you can see, there's 3,264 searches for that particular subject, 555 traffic (People who will click), and most important of all, only 16 competitors (QSR).
Powerful, isn't it? If you'd like to know more on keywords research, I actually wrote and entire blog post on "How to Find Top Keywords With Low Competition" and speaking of which…
I also got the first page Google ranking for that particular keyword!
And how did I do it? Simple, I did a keywords research on Jaaxy…
From the research, I managed to find out that there's 104 searches per month, 18 clicks and 29 competitors which I would say is a very good number.
Again, traffic stands for the number of people who clicks on that particular keyword whereas QSR stands for Quoted Search Results which basically just means the number of websites targeting that particular keyword hence, competitors.
A good number of competitors to bear in mind is not to exceed 300 and looking at the number 16, it is definitely a low hanging fruit and I managed to rank my website super easy!
Have a keyword in mind you're just itching to find out? Have a go at it here…
Step #3 – Write a compelling content around it!
As of 2017, Google emphasizes on content.
Cheap websites with no updates or any new contents at all will have a hard time maintaining its rank on Google and for good reason too – They are simply too many websites on the internet and many of them are made by lazy people who just build and leave it be untouched forever.
If you're like me, a person who works hard, then you'll definitely be able to rank your website pretty easy because the next step for getting your website noticed on Google is by writing a compelling content around it.
Titles are very important as it is the very first thing your readers will look at.
When they first type something on Google, they will look at which titles are the most attractive and only after that will they decide on whether or not the body is worth going through with.
Not good with titles? I got you covered. Twelveskip wrote an awesome info graph on various titles you could use here…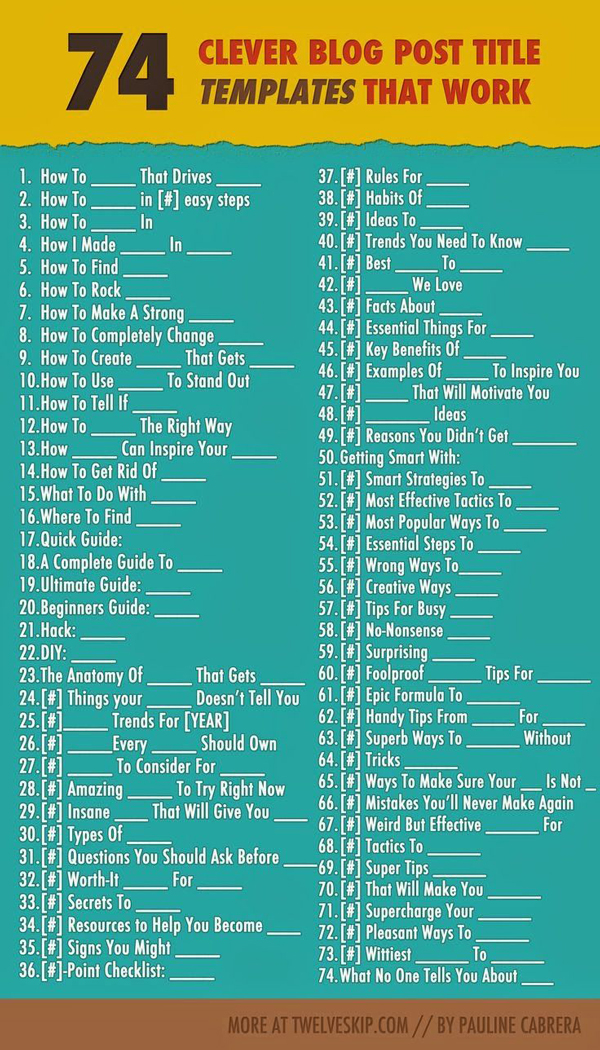 Don't underestimate that title template, it's pretty powerful and I still use it even after 2 years of blogging.
Sometimes we think that we know everything but when it comes to business, it's best that we double check with other people no matter how awesome we think our ideas are and that is why using templates can help you save a lot of time.
Still, title alone is not enough to make you rank your site on Google – Content still play a role.
No matter what you write, 500 words and below will hardly rank on Google. Just be sure to write at least 1,500 words on your content and you'll rank pretty easy… That is, unless there are top notch websites like The Huff Post or Forbes writing about the same thing.
Want to Learn How to Boost Your Website Even Higher?
2 years ago, I did not know that Google changes its systems regularly so after they applied the updates, a LOT of websites went down.
Because of that, the way rankings work were altered so your website stopped ranking properly which is a pain.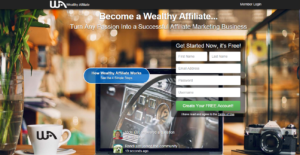 As I was searching for answers, I came across Wealthy Affiliate which is an online business classroom with an excellent community of like-minded individuals.
After learning their lessons bit by bit, I managed to rank my website easily and it gets even easier as there is a community of very friendly bloggers there too so I could just ask them to guide or share some of their veteran tips.
There are a lot more to cover on SEO and what I just shared with you today is barely the tip of the iceberg. If you want to learn more, you definitely need to learn from the best.
As of today, WA has added so many new features like the free SSL, domain registrar, and high speed dedicated hosting and more to help boost your website even more.
I've tried many programs and reviewed them but there's a reason why WA is rated as my #1 recommended program out of the others I've written about.
Conclusion
---
SEO may be simple but it can be tiring and boring after some time.
As long as you stick to a supportive community which can give you regular updates, do your keywords research well and write compelling contents that kills, you'd be surprised as to how fast your website will rank on Google!
Do share your thoughts and opinions as I'll be more than happy to reply 🙂