Name: MailerLite
Website: www.MailerLite.com
Type of business: Email Marketing Software
Price: $0 for 1,000 subscribers, $20 for 5,000 subscribers.
Owners: Ignas (Founder) and Eimantas (Co-Founder)
My rating: 5 out of 5 (Highly recommended) ⭐️⭐️⭐️⭐️⭐️
I came across MailerLite while looking for alternatives to MailChimp.
MailChimp is fine but their new update and price is something I don't really agree with seeing that I've been with them for quite some time and have grown accustomed to their price along with my cost projections for the year so after they've updated their price, I went to look for another autoresponder and I'm glad I come across MailerLite as I needed something more stable.
I was reading forums and comments but I can barely find any resources or blog posts writing about it at the time I stumbled upon MailerLite which made me even more intrigued to give it a try and instantly, I was hooked by their amazing functionality and efficiency as it made the whole internet campaigns seamless especially the fact that you can integrate it almost anywhere today.
I decided to stick with it but if you're wondering whether or not it's a worthwhile email marketing software for you, do read on my MailerLite review to know what it entails…
Pros and Cons
Pros
Free for 1,000 subscribers!
They have a click map to help you detect your subscribers' activities.
Very cheap compared to other email marketing software.
Easy drag-and-drop feature.
Crafting an email is very simple and beautiful.
They have their own Email Pop-up form!
They allow A/B email tests.
You can create a custom unsubscribe page.
Email Automation made easy.
They allow CSV and TXT files for importing subscribers.
Phone, email and live chat support!
Very Beginner-friendly, simplicity at its best.
They have a Rich-Text editor which makes it easier to write in text format.
They write blog posts to help you learn faster.
They even come up with Video Tutorials.
They have a very casual approach and not very corporate.
Cons
Does not allow MLM, Affiliate Marketing or Work From Home stuff (I'll explain how to get around).
Not many design templates for the Webform.

What is MailerLite? –Simple Roots, Big Goals.
MailerLite is an email marketing software created by 2 entrepreneurs, Ignas and Eimantas from Lithuania.
If you don't know where that is, it's a country in Europe situated between Poland, Latvia and Belarus. It's on my bucket list and I've always wanted to go there 😉
MailerLite is known to most as the cheaper alternative to MailChimp and it's fairly obvious when you see the pricing comparison which I will be explaining later on.
The company started off as a web developing agency and from there, the founders Ignas and Eimantas decided to grow their brand and broaden their service. They started creating various products and systems on the web until one day, they got the idea to start an email software based on the demands of their clients.
Lithuania doesn't have email software and Mailchimp on the other hand, is a tad complex with a steep learning curve – Not for anyone without a marketing background.
Seeing the opportunity, they decided to create Mailer to cater to the Lithuanian market and after their demands exploded globally, they rebranded it to MailerLite which is what we are now seeing today. Totally off-related topic but I love reading entrepreneurship stories such as this one as they give me encouragement to pursue my own dreams and goals.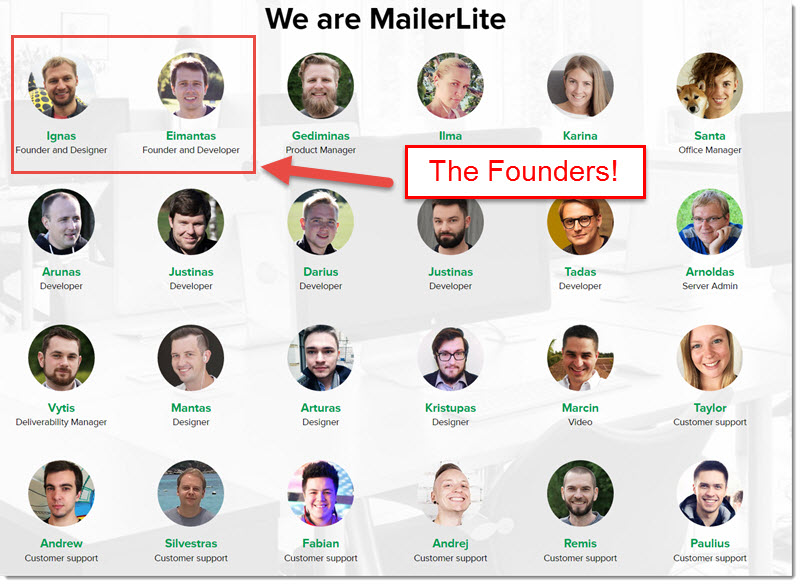 MailerLite does a lot of bulk emailing for bigger clients which is how they are able to sustain themselves and grow at a fast pace. Because of that, they are able to reduce the price to cater to more people like you and me who don't have that huge of a list yet.
I really love their approach to doing business. They are very transparent about what they do and you can see who you are talking to which makes me feel a whole lot more confident and if you're contacting support, you can see his or her face on the site.
Features That You are Going to Like.
MailerLite although is only one year old, has amazing features comparable to the other email marketing software powerhouses. Ready? Here goes my explanation…
Not Ready for Monthly Payments? –Chill, It's Free for the first 1,000 Subscribers.
Starting a website or blog is tough.
We may never know how much effort we need to put in order to build and continuously maintain our blog nor do we know how much is considered an "Okay" spending.
For all I know, it might be a few hundred bucks a month in order to maintain one and to many, an email marketing software might be costing a lot for a beginner.
The first few months are going to be a struggle as we just started delving into an unknown environment and we're just about to get ourselves used to the industry, what it entails, and what many services are out there that we can utilize.
I remember when I was first starting out, I was wondering what an autoresponder is and whether I really need it and since it was all very new to me, I went and researched other websites where I noticed that some do have an autoresponder whereas many others do not.
It is when I started monetizing my website do I understand how it all works and why an autoresponder is crucial for a business's success.
MailerLite got this right and they showed how genuine they are by letting you join for free to test it out and see it for yourself. They know that many blogs do not make money until their 3rd or 4th month which is a great move that they did to help the little guys.
I used to be paying Aweber $19 a month continuously for 5 months until my subscriber base grew to 200. If I would have founded MailerLite earlier, I would have saved $95.
Want to Know Which Part of Your Email Your Subscribers React Better to? –Introducing the ClickMap.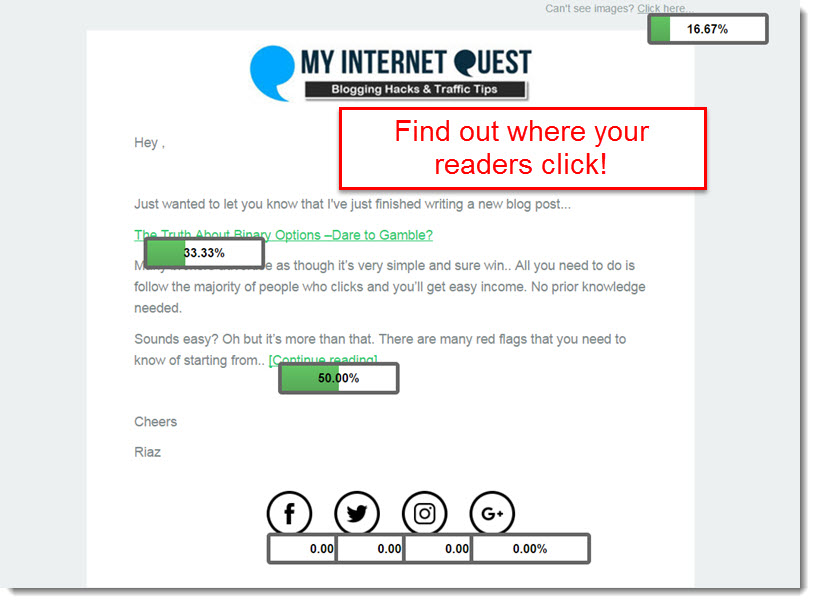 Ever heard of the heat map? Well, MailerLite has something similar called the click map.
Basically, it detects your subscribers' activities when they open your emails and this is a very powerful tool for you because you can increase your conversion rates by focusing on things that your subscribers react most to.
For me, I noticed that my subscribers often click on the "Read More" section that I put at the end of my paragraph. I implemented that by accident because I just wanted to play with teasers but little did I know that 50% of their clicks are mostly happening there. Amazing, isn't it?
It would even be of great help for your email campaigns as you can see what technical problems your readers might face, for example, if they're clicking on "Can't see image" which means that maybe your subject line might sound a bit too spammy to have ended in the spam mail which is why they can't see which leaves room for us to improve our copywriting methods.
From that moment onwards, I shortened my paragraph so that I can focus on empowering my teaser which will make them even more likely to click and from there, I boosted my email clicks to my website. See how good that is? You can do it too on your website as well and speaking of experimenting…
Want to Know Which Emails are Better? –Do Split Testing!
This is something all Bloggers and Internet Marketers do all the time – We split test to find out which email has the best reaction from our subscribers.
This is also one of the huge reasons as to why doing email marketing can save and boost your business. It sounds tedious but it actually helps increase your conversion rate, especially if you have a huge list of subscribers and you're planning to do a promotion.
How it works is that you create 2 different emails, both of them are about the same topic – The only difference is that one of them have some words change.
For example, did you know that if I write "Click Here" on a link, it has 30% higher rate of people clicking on it as compared to "Read More Here"? That's the power of split testing.
Want to capture emails on your sidebar? –Their Webform's Never Going Away.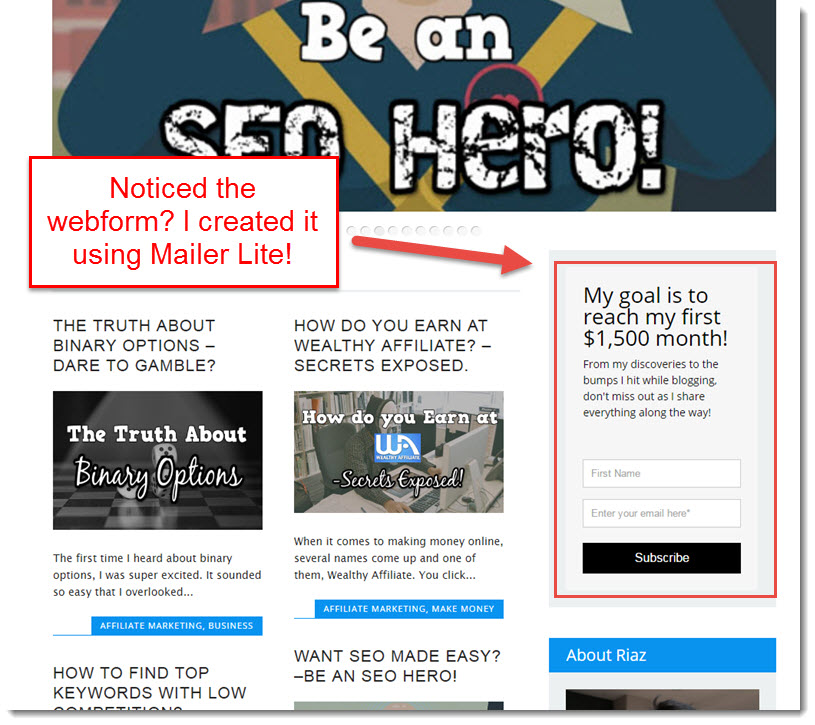 Notice how some websites have their email signup form on their right or left-hand side?
In case you're new to this, it's a very common thing bloggers have and it's a way to collect emails from web visitors to inform them of their newly-published posts like how I'm doing on my blog.
Similar to Mad Mimi though, MailerLite's Webform doesn't have many templates to choose from but its more than enough as it is and I'm still getting subscribers from it everyday so it works fine regardless.
Did you know that Google Cares About Email Marketing? –Introducing Mobile Responsive.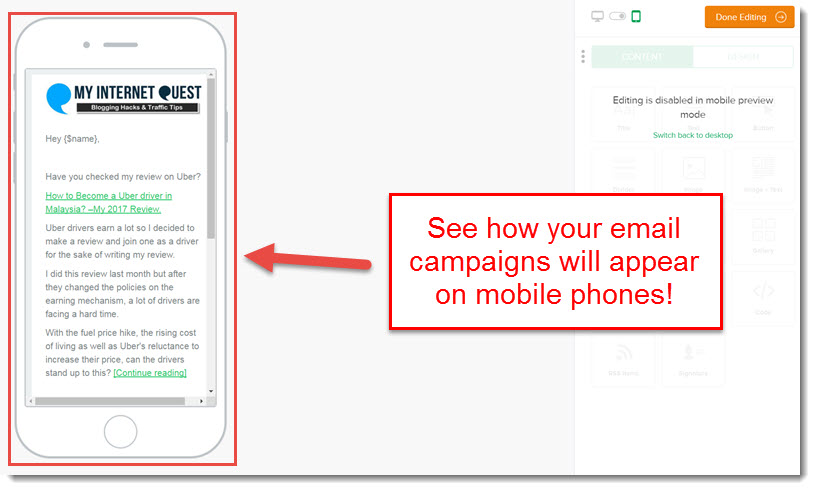 Yep, you've read it right.
They've even taken up the initiative to make your emails more mobile-responsive. Whatever emails that you are about to send, you can check and see how it will appear in mobile phones and this is something not many email marketing software is able to provide.
Did you know that about 53% of emails are opened on mobile phones?
Getting your email content fitting and appearing just right on mobile phones could significantly increase your conversion rate.
No Technical Knowledge? –Just Drag and Drop!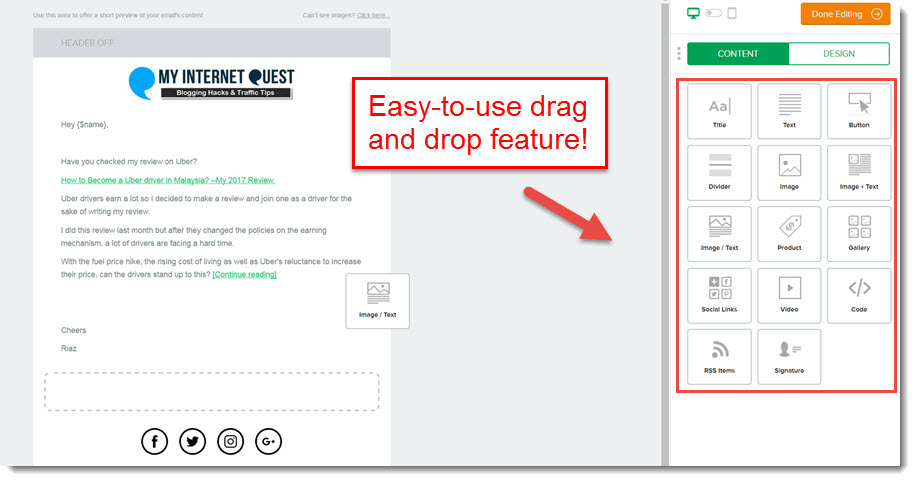 I love the Drag and Drop feature, don't you?
Not many email autoresponders have this feature, even Aweber and Mad Mimi so it's definitely a game changer as it makes crafting your email so simplistic and fun.
MailerLite's simplicity and beautiful designs have made the experience of crafting any types of email very easy and straightforward.
Drag n Drop too Tedious? –Just Choose their Ready-Made Designs!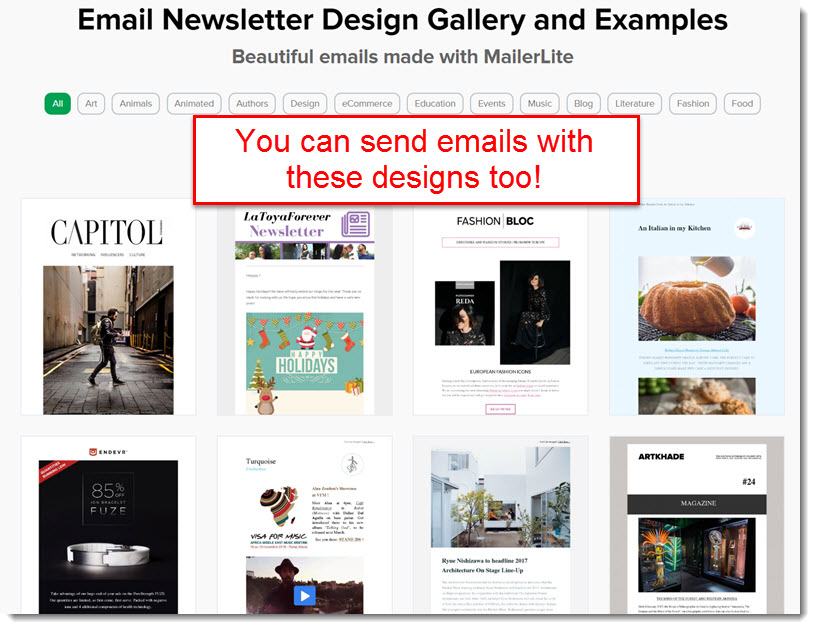 Many bloggers send plain text format.
Me too, except that I tend to add in some colors into my email like my logo as well as my social media links but from time-to-time, I also do promotions and crafting an email can be pretty tedious.
Their gallery has all the unique templates which are already tested for conversion and all you need to do is click on one and start writing. They also allow you to edit the designs with your own HTML too if you like.
Need a Better Way to capture emails? –Create Your own Popup form!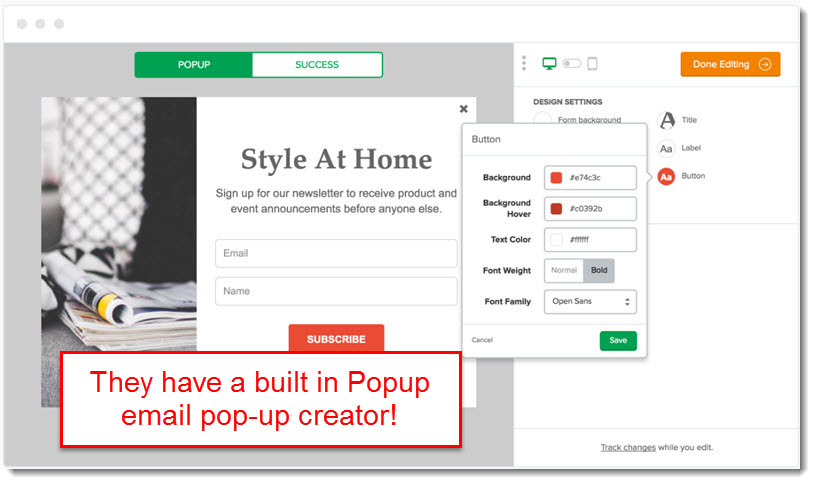 That's right, they even have their own Pop-Up form!
I was pretty surprised by this because not many email marketing software have this feature built-in. Even Aweber and Mailchimp doesn't have this.
Usually, email marketing software only provides a Webform and the database for you to send emails to your subscribers. Mailchimp has this feature though, but it's complicated whereas Mad Mimi doesn't.
Email Collection software such as Sumo Me and Optin Monster on the other hand, is a whole different thing that you need to spend more on every month and it costs an arm and a leg.
They are however, very good at boosting your email signups and the most common features are the Welcome Mat, the Slide-in email collector (Which is what I'm using), and the most common of all – The email pop up.
But seeing that Mailerlite provides a Pop-Up email collection form, it's definitely worth the investment as you'll be saving a lot more money in the long run.
Want to Set a Schedule for When to Send? –Introducing Email Automation.
Ever heard of Drip Campaign?
It's basically you setting up your campaign to send emails to your subscribers automatically, at a given time and date, with your own pre-written articles.
Things like your thank you for subscribing page, your secret gift email after 10 days, or even a subscriber's birthday surprise on their own special day – That is, supposing you managed to get them to give you their birth date on a survey or event.
Want to Increase Your Open Rate? –Find Out Who Never Opened!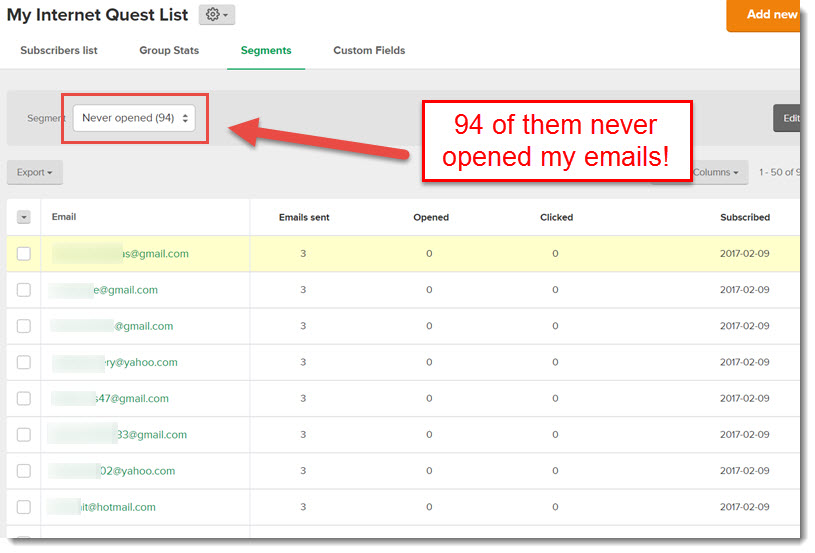 Do you think not getting subscribers is annoying? Try getting those who never open them.
Although MailerLite gives your free access for 1,000 subscribers, always remember that the bigger your list, the more it costs you.
For example, if you have 5,000 subscribers it will cost you $20 monthly but what if out of that many people, only half of them ever reads your emails? You would be paying $10 instead which can be costly in the long run as the months go by.
If you can find out who never opens them, you can just simply kick them off your email list as they are going to take up space and when that happens, your email open rates and click-through rates will dramatically indirectly increase as well.
Want to Collect Emails As You Go? -They Even Have an App For It!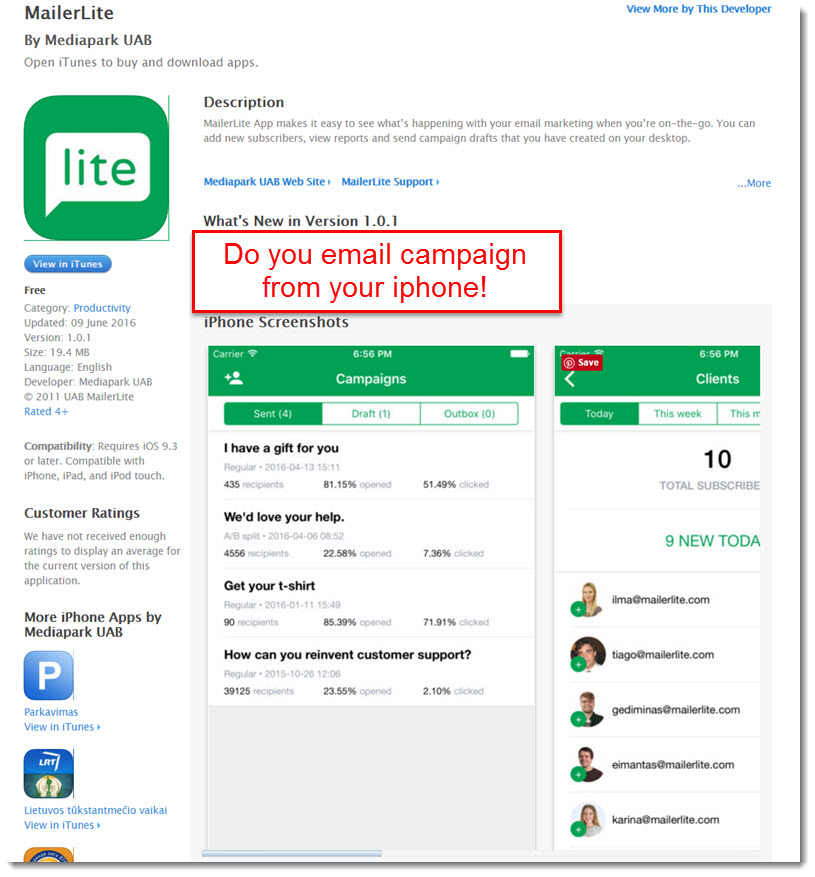 Sometimes when you're always on the move, you won't have time to check your email analysis report let alone write one.
Lucky for you, They're building an app for this and its already launched!
This really sets them on par with other Email Marketing software powerhouses and better yet, did you know that you can collect emails from your shop through your iPad?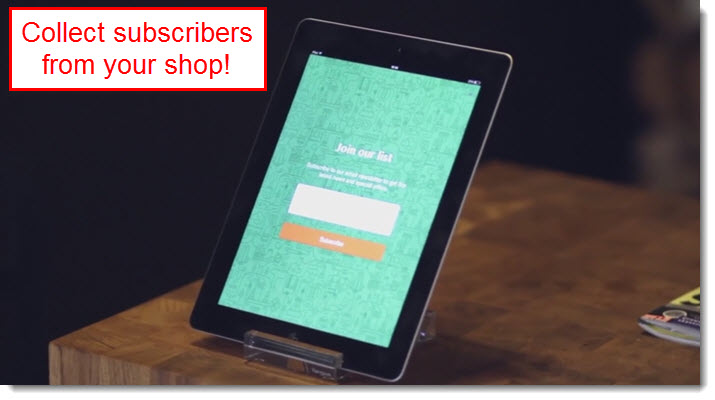 It'll really help your local business too and not just your blog because people who come into your shop will have a chance to interact with you in person and when they know you as a person, they will be more than happy to help you out by subscribing to your newsletters.
I personally have a local business of my own here in Malaysia and my field of expertise is event management.
My previous method of collecting emails is through events that I organize and I collect them through EventBrite but now, I'm branching out and finding more ways to build my database.
Moreover, since I'm moving to another office I could just place my iPad there to collect emails from my client with ease.
Do you like WordPress editor? They have it here too!
It's called the MailerLite Rich text Editor to be precise.
While I was on Aweber previously, I needed to write on my Microsoft Word first and then copy and paste it there as I cannot do the editing on their editor.
Believe it or not, even pasting it requires me to use Ctrl + V instead of pasting it with my mouse clicks. With MailerLite, it's very simple and I can do my editing on my content straight from inside.
Don't Wanna Spend on a Photo Editing Software? –No Fret, They Have it Too!
What photo editing software do you use?
Whether its Adobe Photoshop or Snagit, photo editing software can be really expensive. Some have a one-time payment plan whereas some are monthly so should you decide to join, you'll end up spending more money even more.
MailerLite saw this as an opportunity and created their own built-in editor so that you can edit images on the spot to make your email experience smoother. Speaking of images…
Don't Want to Spend on a File Manager Software? –Mailer Lite's Got Them Too!
You can also save your photos inside your MailerLite account.
This comes in very handy as not only can you edit and save your images here, you can also regularly use your images for your emails should the need arrives.
I tend to use a custom image for all my blog posts and reviews so the featured images are all saved here and plus, I also save other files too. What is it that they don't have?
New to Email Marketing? –They Have Blog Posts to Teach you How!
Not everyone knows email marketing, there are even bloggers who have been in the industry for over a year and still have never used a single email marketing software yet.
I personally take 2 years to finally use an email marketing software properly for my blog besides buying a list of subscribers who aren't my own.
Fortunately for MailerLite, they write compelling blog posts on email marketing to teach you things that can help increase your conversion and open rates, as well as boosting your business subsequently.
Here's a sneak peek at what topics they write about…
How to make your call-to-action stand out (To increase conversions)
What is Inbound Marketing and How do you utilize it
Tips to improve email surveys
Top 20 podcasts for online businesses
And of course updates on new features like the Shopify add integration.
No Time to Read Through Their Articles? –Learn Through Their Videos!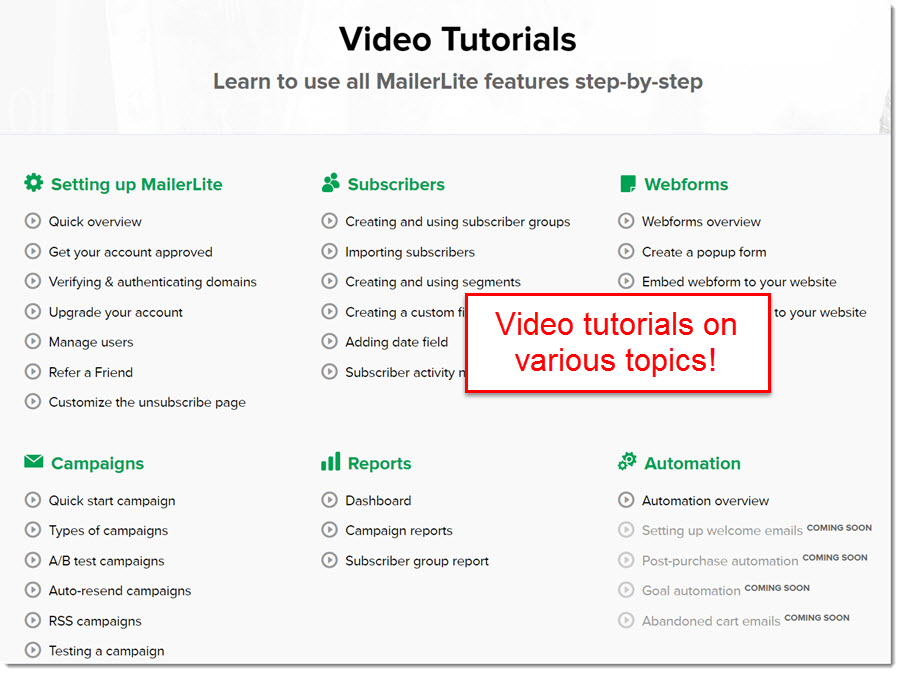 Did you know that 76.5% of small business owners and marketers use videos because of the positive impact they bring to their businesses?
According to a research made by a video creation app Animoto, it does and this is because people react better to visuals.
Like when you're reading a newspaper, do you go straight to reading the content or do you look at the image there first? Definitely the image right.
MailerLite does this right by providing you with video training to teach you how to go about using their email marketing software and this makes learning so much simpler.
Want to Know What Other New Updates Coming Up? –Check Out Their Milestones!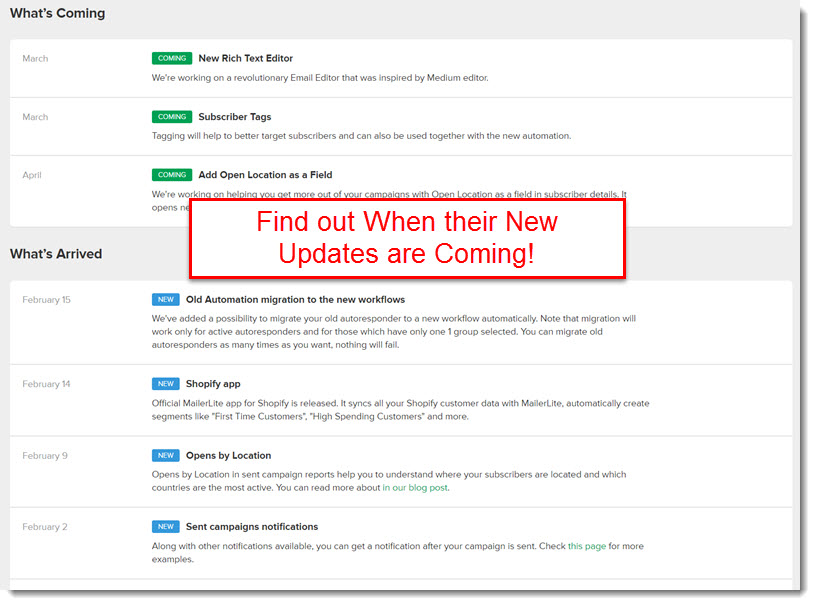 What better shows transparency than briefing you about their journey through milestones?
MailerLite started in 2016 and from their milestones page, you can see how fast they work and how many updates they have created ever since.
They are pretty established, on par with the other big email marketing software like MailChimp, Aweber and Mad Mimi but at a much cheaper rate.
They can be integrated into almost all established systems like WordPress and SumoMe and recently on February 2017, they've just got themselves connected to Shopify as well.
They still have a lot more ground to cover and any updates they have, you can see them all on their website. You can even give them suggestions on what to add on.
They are new and fresh and they'll certainly be more than happy to consider things that will help them grow faster and make their customers happier.
Want to Transfer Subscribers From Your Previous Software? –Import CSV or TXT Files!

When switching between email software, all your subscribers will be saved either in TXT format or CSV and MailerLite accepts both.
They also accept excel file sheet of your own and they're pretty flexible too.

How is Their Support? –You Can Bet on Their Response Time.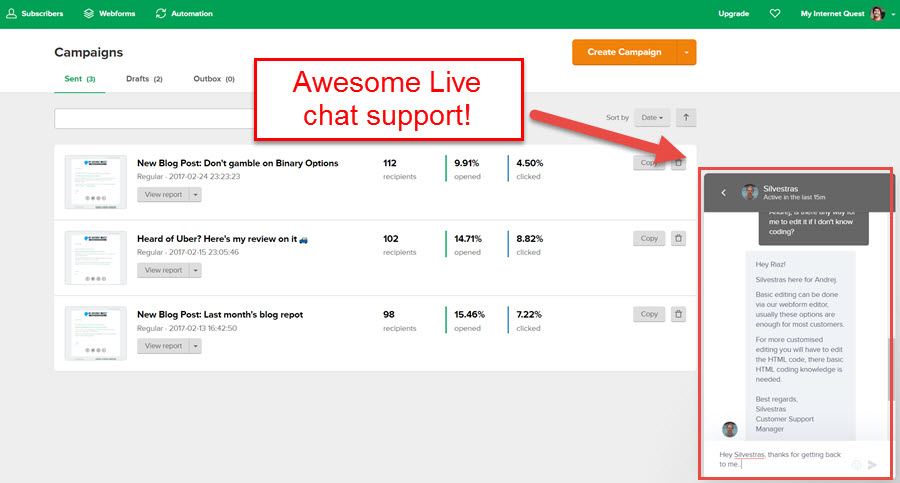 Support plays a very important role in any service, especially those that you'll be using frequently, or those that you'll be paying for.
In my experience with MailerLite, their support team is truly wonderful.
You can either call, email and talk to them directly through live chat but what sets them apart is that their staff is very transparent – They are more like a family than just mere workers.
I talked to Andrej and Silvestras on their live chat and if you'd like to know who they are, you can just look at their About page where there are faces of all members there which I find pretty amazing.
They are so welcoming that believe it or not, they even invite you to visit them in their office for a nice cup of coffee and wifi! Now if only I live nearby that area…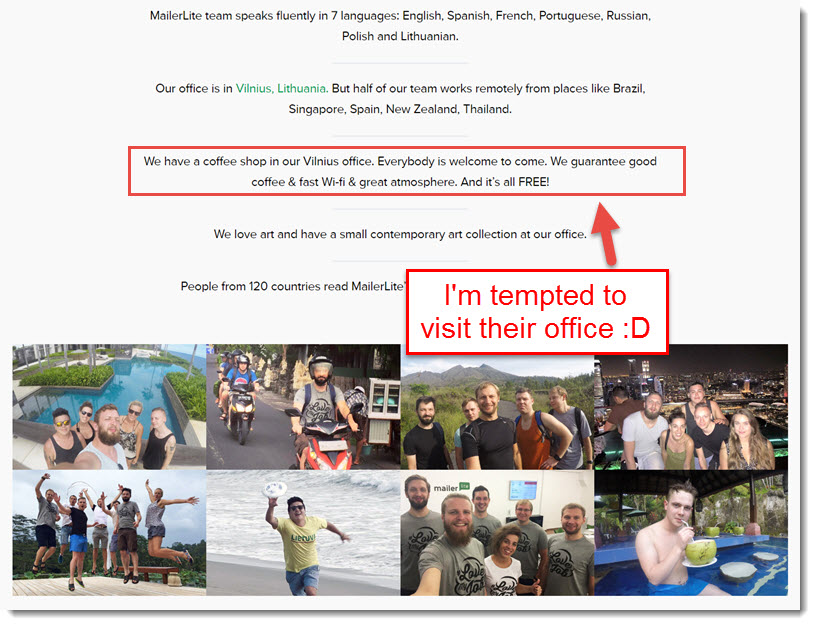 Their working culture is amazing as they don't go into full agressive corporate mode.
Instead, they have a good balance between personal and work, and they update everything through their Instagram page as well…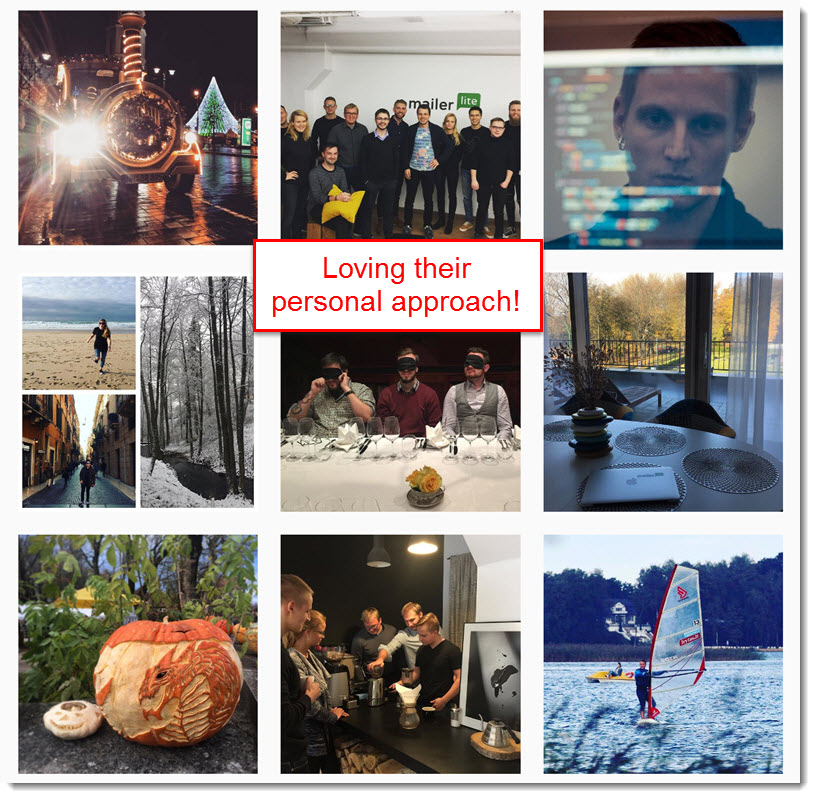 Their Founders are very cool too because their corporate retreat is not just within their own country Lithuania, but to other countries instead such as their recent trip to Bali to increase productivity in the warm environment whilst escaping their cold winter snow.
I feel such a geek for knowing this but if I were to work for someone instead of my own company, I would totally work for them or companies with similar working culture.
How Much is it Gonna Cost You? –MailerLite Pricing.
For the first 1,000 subscribers, you'll have free access with no time limitations whatsoever.
Regarding the price, it is much cheaper than Aweber, Mail Chimp, and even Mad Mimi. MailChimp of course, allows 2,000 free subscribers and they have good quality but they cost way much more in the long run as compared to Mailer Lite.
Price-wise, you literally have nothing to worry about.

Great for Newsletters, NOT good for Affiliate Marketing stuff.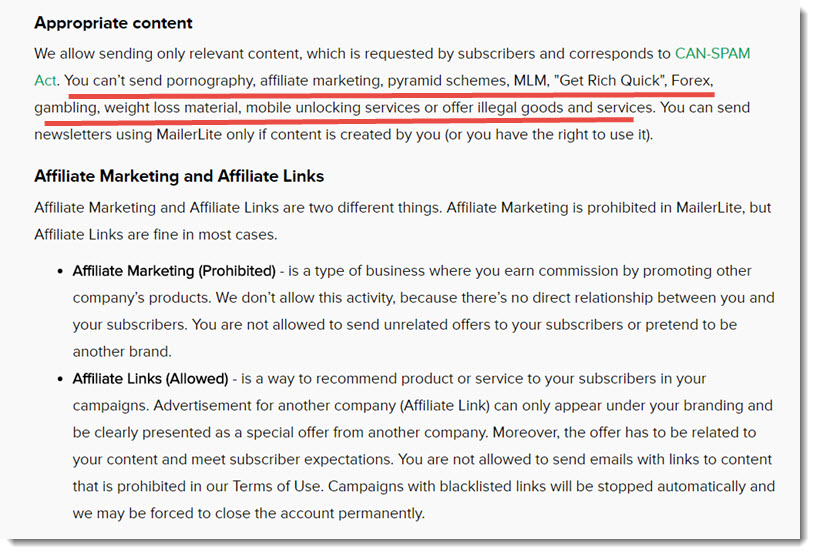 I hate to break it off to you but just like MailChimp and Mad Mimi, MailerLite also doesn't support work from home related emails, affiliate marketing as well as MLMs.
As you may have noticed, my blog is about work from home opportunities and this category is also something that MailerLite doesn't approve so how do I go about using MailerLite without getting blacklisted?
Simple. Don't spam and use those words in your email.
Typical work from home emails often overuse their links and spam in order to increase open rates, they tend to look something like this…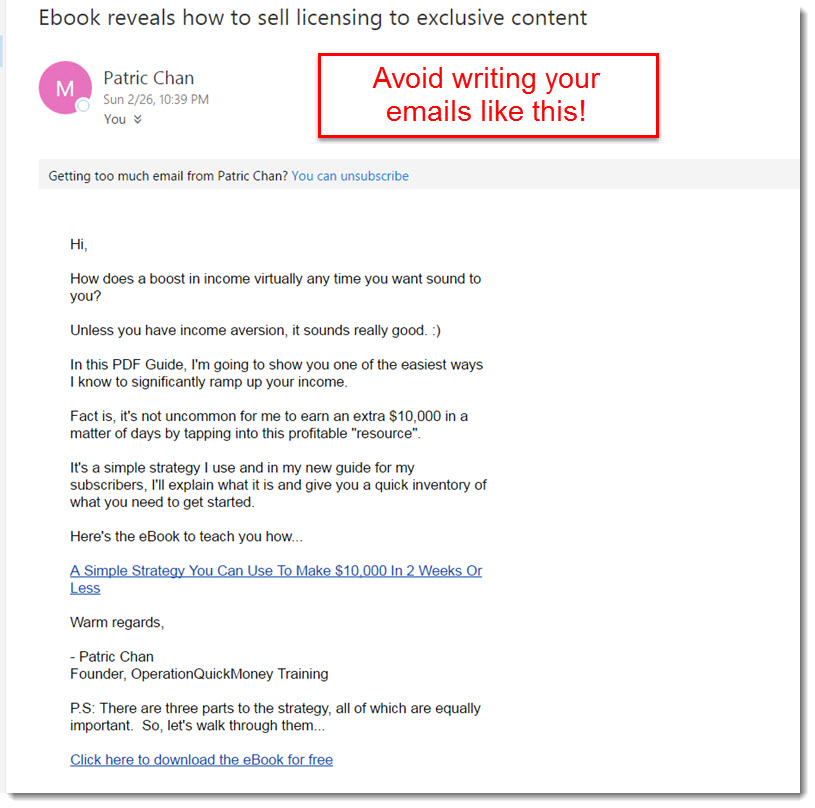 This in term makes your email look spammy and personally, even I do not like this kind of approach as it baits you with attention grabbing email titles but when you click on them, you'll start to thin like "Oh, it's those kind of scammy emails".
People have changed. Times have changed. And Google has changed.
The Internet Marketing world now relies more heavily on quality and Google values content on your website. Email marketing still is very powerful, but the best way to utilize it is to get people to go back to your website through newsletters.
Take a look at this…

After I implemented the newsletter instead of my usual baiting emails, my website grows too and there's a valid explanation to why this happens.
Whenever you send newsletters to your subscribers, they will ultimately come back to your site to check out your new post, correct?
Google sees this as a green light to boost your site because having loyal web visitors coming back to your site regularly shows that you are authentic and that your site is providing real value to make those people want to come all the way back hence the increased growth and visibility.
If you're into the work from home niche, simply avoid using the words like "Make money fast" or "Affiliate Marketing" and you're good to go.
This is how I write mine…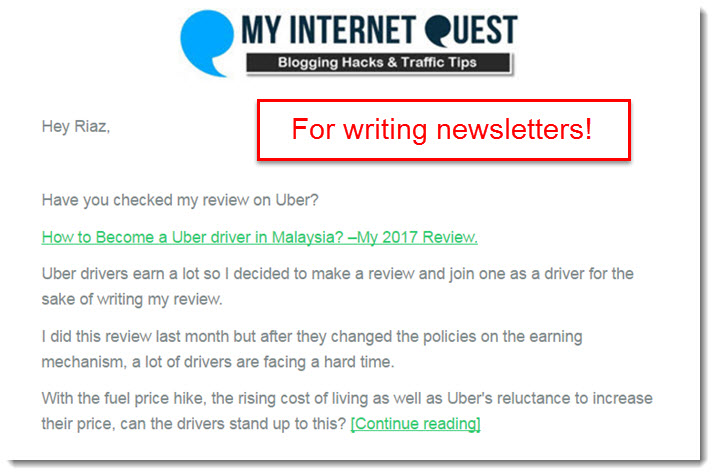 I've been changing the way I write emails from various bloggers and this particular way of writing a newsletter was inspired to me by Neil Patel (Big fan of his work!) and of course with the addition of my own personal touch.
As you can see, I focus more on writing content so my use of MailerLite is to just inform my subscribers of any new articles that I've published.
Occasionally you can go a bit aggressive to take advantage of seasonal promotions but be careful not to overdo it as it will lose its effectiveness if you do.
It may sound like it's not much of work but it's actually a very powerful way to grow your blog because Google sees this as a good and healthy legitimate business to have loyal readers flocking up whenever you provide something new.
Returning website visitors will have a dramatic impact on your website's growth and this in turn, will also boost anything that you are promoting on your website.
It's a straight-on indirect ranking boost.
Conclusion
---
Phew, 3,300+ words! Did not expect I would write that much 🙂
Long story short, MailerLite is definitely worth going after. With their amazing simplicity, breathtaking visuals, very attractive pricing and awesome customer support, I'm rating it a full 5 out of 5 (I rarely rate this high).
I've been switching from Aweber to Mad Mimi to Mailchimp and I've finally found the best email marketing software for my blog.
Got any questions? I'd love to hear them out below and thanks for reading!