Wix has just stepped into the blogging arena with their own brand called SEO Hero School and I was pretty excited about this.
I heard the viral marketing happening all around but I never bothered to look until one day, I got an outreach email from them which got my attention.
So how effective is their SEO program? Read more to find out…
What is SEO Hero? –A different Take on SEO.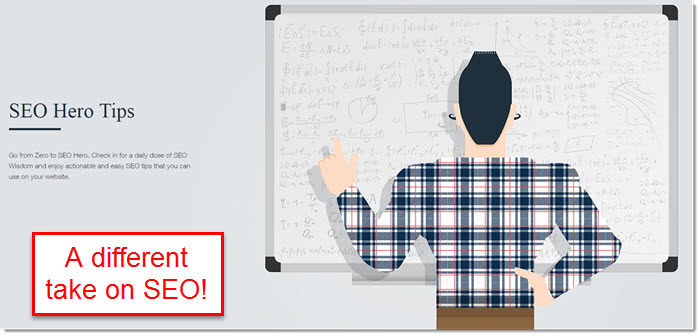 Ever wanted to learn SEO step by step for free? –That's SEO Hero in a nutshell.
In the online world, we usually read blogs like Moz, Quicksprout, and Hubspot when it comes to learning anything SEO.
You can say that they are like the powerhouses of the SEO world but as one of the leaders in the website building platforms today, Wix started creating blogs about SEO themselves.
Their tips are jam-packed with good info but as most of us have probably experienced, it would be a wee bit difficult to understand the SEO world if you are new to everything.
Things like XML Sitemap and indexing might all be very new to you so you'll have a hard time understanding everything – that's where SEO Hero comes in.
Created by popular website building platform Wix, SEO Hero is designed to help website owners get an edge online and to manage their website the right way – By focusing on good content and abiding by Google rules.
It's a fun, very immersing way to master SEO regardless if you are a newbie or veteran.
7 Worth-it Reasons to Love SEO Hero
There are a number of things that got me pretty attracted and those are…
Reason #1 – Story telling-based lessons.
Who doesn't like stories?
Alright there are some people who doesn't like stories and they prefer studying through direct facts but learning is so much easier with stories.
Even when we were studying in colleges, we try to make up simple stories connected to the topic at hand as they make things more interesting and that it also helps us remember points better for exams.
People are attracted to visuals and if you read anything at all even at newspapers, you would obviously look at that huge image first, wouldn't you?
SEO Hero did this right by teaching lessons in form of stories and honestly, I love how easy they've made it to learn SEO!
According to Online Entrepreneur Neil Patel, human brains are wired to remember a story.
Every month he tells us his stories of how his blog fares through the month and his subscribers grew tremendously every month.
Wix started their SEO teachings right with story-telling the whole thing which I would say is their greatest move yet.
It takes a lot of work to do that so how did they plan to maintain their efforts for all their upcoming blog posts?
Simple really, they actually created…
Reason #2 – Interesting Superhero characters!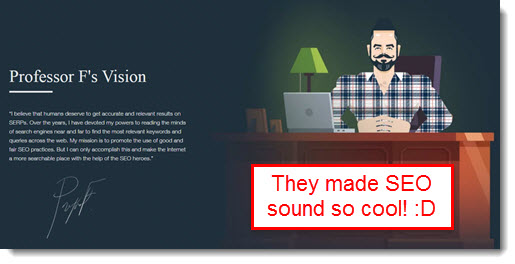 Ever wondered how Wix write story-telling blog posts regularly without running of ideas?
Even authors have writer's block and the key to overcoming that, is to find something constant that you can start writing about in every article.
For Wix, their solution to that is by… *Drum rolls*… Creating their own superhero characters!
It sounds cheesy but even the characters themselves are created based on SEO keywords to help you understand them better.
For example, the SEO Hero character Blogan will teach you the importance of writing proper content that is evergreen because that is the real way to make Google love your site – Not by creating cheap, short one-paged sites.
XML Sitemap is also an integral part of ranking in Google and having good SEO strength for any website and many website owners do not know this because the name sounds so complicated.
I had to watch a few Youtube tutorials in order to learn but as you can see, Wix made it sound so easy to learn!
I won't spoil more on the heroes' part but I just wanted to pointed out that learning SEO has definitely become really fun now with superheroes on board.
Reason #3 – Daily SEO Tips
Too lazy to keep searching for ways to update yourself on Google's changes? We've got you covered.
You could also check for short tips to remind you on what things you should or should not do when managing your website.
SEO is very wide and often times, I get too overwhelmed with learning that I often forget the little things that make a huge difference on my site.
Knowing things like the right format, the right keyword or even the right content to match could mean great traffic for your website.
Reason #4 – Quality Blog Posts to Teach You in Greater Detail.
Very much like what I'm doing here on my blog, Wix's team is also writing regular blog posts for SEO Hero.
As a blogger, I know quality and I know cheap – SEO Hero's posts, is more than that.
I was surprised that they really put in effort into writing their content – Very rich with knowledge, quite in-depth, and they touch on important information to help you bring your website up.
Things like keywords, ecommerce, business tips, and even something I've never even heard of before like using Moz Explorer to find more topics related to what you're targeting.
Reason #5 – The Famous SEO hero competition
Entries are already closed for this competition but the talk all around the web is how hot this competition is and has become.
Entrance is closed December 16, 2016 and there will be no new competitions until they finished this current one which will take 4 months.
Basically, you can win $50,000 if your website can reach the top position in Google's first page for the search term "SEO Hero".
It shows how confident the Wix team is of their website building platform's quality for them to throw away that much money for anyone who can beat them.
And it's also to prove that Wix's websites are just as good as other high quality website building platforms such as WordPress and Joomla.
Reason #6 – Quizzes to Help you Keep Track.
Learning SEO is mostly technical and we'll never know if we fully grasp everything or not.
Even for someone like myself, I have been in the industry for 3 years but still, there are things that often slip my mind such as the methods to market a blog post through Linkedin or Google+, or even some word definitions like what on earth a subdomain means.
Although I've learned a lot of things and are implementing them today, I often read blog posts to keep myself updated and do quizzes to make sure I remember everything and I am at the top of my game so that I won't waste reading again in case I forgot.
SEO Hero's quizzes are actually pretty insightful, I've learned new things from questions I couldn't answer.
Reason #7 – Success from Real Business Owners
I love reading success stories, don't you?
Stories like how Bill Gates created Microsoft, how Richard Branson created Virgin Airlines, or even how Tony Fernandez started Air Asia with just RM1 do inspire me but sometimes, those may be a bit too high of a goal for some people to achieve.
We can admire them but not everyone can reach that kind of level.
Some people have simple hopes and simple dreams but for us, we are content and might even get super inspired to see the little people who nobody knows, succeed.
Like how the flower shop lady down by your apartment suddenly moved to a bigger shop from just a simple kiosk, or how a random dude started a small cooking class in his home suddenly manage to open a diner.
Achieving visibility for any business can be achieved in an instant when you have a website and good SEO.
No matter how big your business is, your visibility is limited if you don't have a website… Not to mention the fact that you're not updated to the trends today and that is how small businesses can succeed.
Long story short – Without a website, your customers are limited demographically. With a website, the entire would notices your business.
Wix understands this and has done a real good job at showing how normal people like you and me started a business and used Wix to create their own website and achieved success.
Staying Ahead of Your Competitors
When it comes to SEO, most people would think that it's all about content creation and tweaking your website in order to make it function better.
Those do work but true SEO consists more than that – You also need to do your own added marketing efforts on top of that in order to make your website more visible.
For example, Wix already has a powerful brand, good reputation, and reliability.
However, the problem with that is that Wix is not the only one in the market – There are other website building platforms who are just as good such as Weebly and Wealthy Affiliate.
So what they did was that they started doing their own SEO blog to set themselves apart while getting more visibility from their readers and all this, they cover within their posts.
Their techniques work and I felt like sharing this with you because I experienced it myself, particularly the approach emails.
When I first got an email from Wix, I never actually bothered to read because I thought that it might be a spam but after I received their second email a week after, I was sold.
I replied and checked out their email and I went through their content – I was totally blown away.
It was exactly as they mentioned in their content which is why I'm confident that the knowledge that they share works and this article is proof.
Wix has gone a long way and if you doubt the quality of the websites created, its safe for me to say that you don't have to worry about it all because Google is actually fine with it.
That means that any website being created through Wix can definitely rank well – If it doesn't, than that's probably just you not putting enough effort to improving your site.
If you're ever in doubt as to how important SEO is to your business, here's a few important points…
SEO helps to get your website on the first page of Google.
It also helps you find out just how well people react to your business through conversion rates.
It helps you find an opening to give your business an edge amidst the huge competition you're facing.
My Final Word
---
I love Wix and I'm totally psyched to know that they've launched SEO Hero and shared their knowledge to help website owners grow their sites in the right direction.
I'm foreseeing awesome things from them in the near future and I can't wait to see them update their results on the competition.
Any thoughts on SEO Hero yourself? I'll be more than happy to hear them down below 🙂
Till then, thanks for reading and have a great day!