Photos are very important in any business because we humans are designed to react better when we see visuals rather than words.
When you're reading a newspaper, would you be tempted to look at the picture first, or read the plain old article first?
Definitely the picture, right?
You can probably say that for any articles or blog posts, images are going to be your first line of attraction which is why many photographers make a lot of money selling their photos to bloggers.
In fact, many of them won't even be afraid to sue you if you simply take their photos without permission and I've known many bloggers who have experienced this. Roni even wrote about her experiences in BlogHer.
However, not everyone has the money to pay for photos especially those who are just starting out so how do you get high quality stock photos for free?
There are many photographers who take photos out of passion and contribute to certain websites for anyone to use them for free and those are…
Niche: Nature, office, business, landscape.
Attribution needed: Yes.
Unsplash is my favourite, they update 10 new photos every 10 days and the pictures are immensely breathtaking!
They cover mostly on pictures if nature, office, and eventually people as well and it's well worth attributing them as those images are taken from great angles.
It's almost hard to believe that these people upload such high resolution photos for anyone to use it for free!
Website #2 – Pexels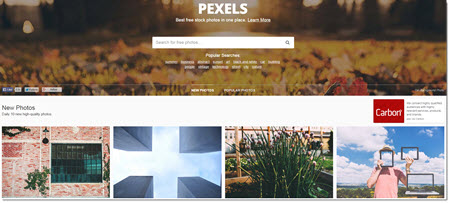 Niche: Everything.
Attribution needed: No.
Pexels is another one of my favourites that I personally use on all my blogs as they have pictures for a variety of niches whether its business, technology or abstract and of course, high quality guaranteed!
The pictures are also taken for bloggers so you will definitely be tempted to dig in for more and more!
Niche: Travel and Food.
Attribution needed: No.
If you're running a food blog or a startup restaurant, then Pic Jumbo is worth checking out.
They also allow you to donate some money to the contributors if you're feeling generous and I find it a good strategy to keep those photographers motivated as it lets them know that their efforts are being recognized by some of us.
Although the site may be a bit distracting with all that ads, it's easy to navigate and of course, free 😉 .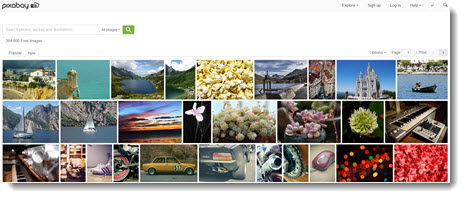 Niche: Everything.
Attribution needed: No.
Pixabay is another one of those websites which covers almost all niches you can think of – Art, nature, travel, city, and more!
I love it for its ease of navigation and even better, you can also find some of the best photos recommended from other websites which provides free images as well, such as Unsplash.
Niche: Everything.
Attribution needed: Yes.
IM Free also has a collection of photos on almost any niche you can think of and they're also targeted for bloggers.
The pictures are of really high quality, even better than most paid websites and it's worth checking it out.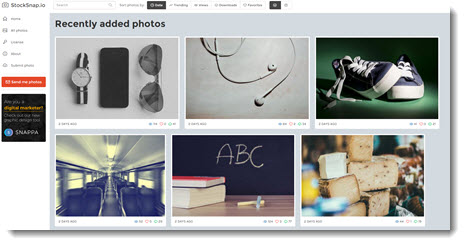 Niche: Everything
Attribution needed: No.
I really love the StockSnap.io particularly because of their interface which I find pretty cool and interactive, especially with the number of views and downloads.
The pictures are uploaded by various contributors and since it's a public domain, all of them can be used for free without attribution which makes it all the more sweeter.
Niche: Random and extraordinary.
Attribution needed: No.
If your blog is about random stuff or entertainment and you're looking for pictures which are out of the blue, then Gratisography should be your number one photo place.
All the pictures are taken by Ryan McGuire of Bells Design and it is regularly updated every week!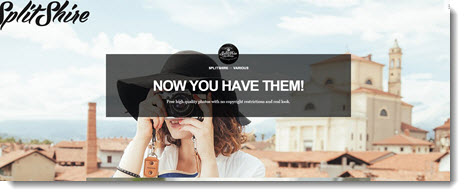 Niche: Vintage, commercial and random.
Attribution needed: No.
Splitshire is made by web deisgner Daniel Nanescu and it started with his idea of helping people out by sharing all his photos which were gathering dust.
Because of that, he added all his photos for free and since then many people use it for both personal and commercial reasons and he's okay with that!
Plus, this is one of the very few free photography image websites which were featured in CNN, Yahoo News and The Huffington Post so it must be something good!
Niche: Landscape and nature.
Attribution needed: No.
There is a story behind Little Visuals.
Back then, it used to be one of the budding free photography sites out there but after a while, popularity dropped because pictures weren't updated for a while and eventually, months passed by.
After a year, we found out that that Nic died of Sudden Adult Death Syndrome because his family decided to log into his website and update it with an announcement so that loyal followers of the site can know what happened.
The pictures may be a bit outdated but you can still use his old photos which are just as good and if you want to help out his family, there is an option to donate at Little Visuals.
Niche: Landscape, travel, people, buildings, nature and office.
Attribution needed: No.
Life of Pix is one of the first free websites that I come across when I firsts started blogging and today, I still go there from time to time as the pictures are amazing.
The pictures are provided LEEROY creative agency and they are kind enough to let the public use it for free without you ever needing to attribute back which pretty cool.
Niche: Technology, landscape, city, business, people, nature.
Attribution needed: No.
Refe or Getrefe (Not sure which is the real name) is something out of the ordinary, they start off from Tumblr!
Now that they are confident enough with their growth over the years, they bought their own domain and started charging for customized photos.
Still, they haven't forgotten the people who made them famous so their pictures will always be free for everyone.
Niche: Old, grey and white, colored 90's, and vintage.
Attribution needed: Yes.
Old photos are very hard to get nowadays and sometimes, having those kind of photos in your blog every now and can give your readers some good nostalgic feeling that will make them stay for more.
People know how hard it is to get those photos online as you have to clean them, scan and edit to sharpen the look so New Old Stock is like a living relic for us all.
The only catch, is that you may need to attribute some of them as most of these photos are obtained through Flickr.
Niche: Landscape, nature, art.
Attribution needed: No.
Created by AJ Montpetit, Lock and Stock is the new guy in the market as he just launched the website last year in 2014!
However due to AJ's fame and reputation, he managed to quickly bring the website up almost on par with the big guns in just a year which is an incredible feat.
As usual, the photos are free to use with no attributions required.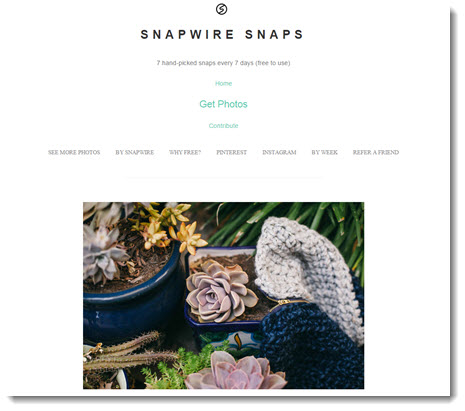 Niche: Landscape, nature, silhouette, people.
Attribution needed: No.
I always get confused between Snapwire and Splitshire, don't you?
Names aside, Snapwire actually has beautiful photos that you really want to take advantage of and they also regularly update it by 7 photos a week.
Niche: Beach, blogs, grey and white, abstract.
Attribution needed: No.
Jay Mantri really has an artistic eye for blogs as his photos are catered for those who want to use pictures as an attraction headline.
Similar to Snapwire, Jay adds 7 new photos a week too except that he does it every Thursday.
Niche: Nature, wildlife, antiquities.
Attribution needed: No.
Morgue File may not have super shard HD pictures taken from super expensive cameras, but their picture taking skills are just as good.
Plus, I particularly loved their website interface as it makes it really easy for you to navigate because they minimize the gallery images instead of putting in huge pictures which you would have to scroll down if you want to see more.
You can cover the ground faster if you're needing to find multiple pictures for a project.
Niche: Nature, Landscape, people, building, random.
Attribute needed: No.
Picography is another one of my favorite and it's created by Hidden Depth, a web design company from Ireland.
Like many of the photos above, the pictures are free and you don't need to attribute them which is really nice of them to do that.
Niche: Everything.
Attribution needed: No.
Public Domain Archive may sound cheap but I assure you, their photos are as beautiful as the darling buds of May.
They used to be all out free but after a while, they needed money to maintain so they offered a premium service for $10 a month which allows you to download in bulk and of course, your very own premium only photo.
You don't need to become a premium though but it's a way to donate if you love their free photos.
Website # 19 – Up-Free
Niche: Everything
Attribution needed: Yes.
Up-Free is also one of the few new kids on the block as they recently launched their website last year.
I find their photos pretty good and I do love the fact that there are a variety of photos ranging from architecture to vegetables and even mountains.
Their images are of very quality and they are great for bloggers but you may not like the excessive ads they have though.
[Update]: Up-Free went down and the website is no more.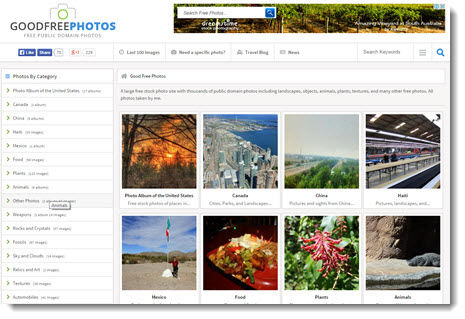 Niche: Landscapes.
Attribution needed: No.
Good Free Photos is a public domain which means you can use their photos however way you like without needing to give back any attributions.
They focus more on landscape pictures like those taken from National geographic which just begs for you to set them as your desktop wallpaper.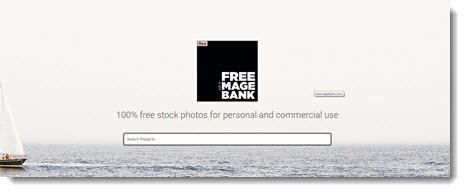 Niche: Everything
Attribution needed: No.
I came across Free Mage Bank (Or Free Image Bank) through a friend because due to their domain name spelled as Freemagebank.com instead of Freeimagebank.com, there was a wee confusion in terms of SEO.
However I still loved the fact that the pictures are actually of high resolution and that the interface is also easy to navigate since it's in gallery mode.
There wasn't any notifications on whether or not the pictures need to be attributed but I'm dropping them an email to reconfirm and will let you know soon!
[Update] Got my reply and they said that they do not mind us not attributing at all, but they would be ecstatic if you do do 😉 
Niche: Everything.
Attribution needed: No.
Barn Images is one of those free images with nice and user-friendly interface which allows you to scroll through photos with ease.
I particularly like the way they organize their site as there is only one ad instead of simply spamming it everywhere as how many websites do.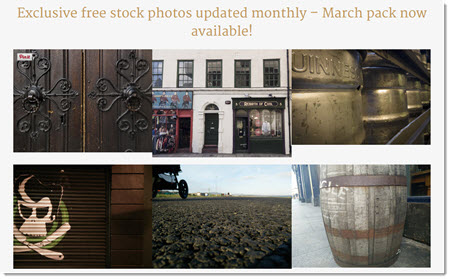 Niche: Random pictures around Dublin and Europe.
Attribution needed: No.
Sometimes all we want are pictures from certain regions and at DubStock, their images come from all around Dublin and Europe.
The pictures here can bring you back to memory lane if you used to stay or study anywhere around the region, especially in Dublin.
Niche: Random photos edited from a mobile phone.
Attribution needed: no.
Instastock is actually pretty cool, I find it really unique the fact that all the pictures there are edited using iPhone 6 before being uploaded!
It is definitely something you don't find in any other photography websites and having these free photos in your blog can really mean a lot to your blog because since they look like they come from Instagram, your site is definitely going to look more personal.
[Update]: Instastock also went down and the website is now no more.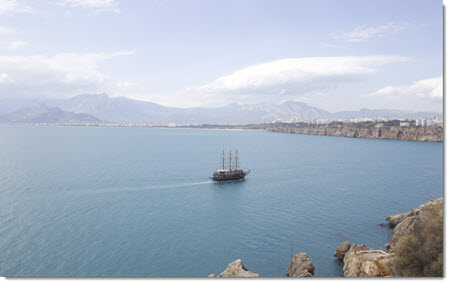 Niche: Travel and landscape.
Attribution needed: No.
I really love the photos at Travel Coffee Book, the pictures are all very sharp and it'll give you the impression that you are there with them!
It is almost hard to believe that these photos are free and you don't even need to give attribution too!
Now if they would only start their own Twitter account…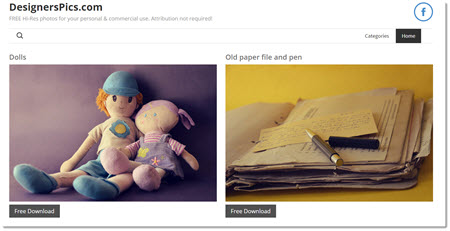 Niche: Pictures for blogs
Attribution needed: No.
Designer Pics are made by bloggers and well…designers so they have some pretty cool ideas on how to make their photos so tempting.
If you're looking for pictures for your blog or simply for a commercial, this is one website you wouldn't want to miss!
I do wish however, that they would start their own Twitter account.
Niche: Everything.
Attribution needed: No.
Negative Space is one of those websites with great user interface as you can easily scroll through the gallery to cover more ground rather than scrolling down through huge images.
They upload 20 images every Monday and the images are all In their raw format so you can edit them fresh from the camera!
Niche: South-East Asia
Attribution: Yes.
Looking for free high quality pictures around South East Asia?
Well look no further! Fancy Crave covers just that and why I love them so much is because that's where I'm from too! (I'm from Malaysia to be exact 😀 )
The website is still kind of new as it was made March 2015 but it's growing up pretty fast and I'm foreseeing some exploding growth somewhere in the near future because who doesn't love tropical islands?
Plus the niche itself is something unique as there aren't many free photo websites around which are based on that specific region as well.
Niche: Everything.
Attribution needed: No.
Stockvault is a free photo sharing website which has a wide variety of photos created various by web designers, photographers and students.
You can use their photos for anything at all and if you're wanting to have a go at your photography skills, feel free to submit your images there as well and find out just how many people react to your work.
Be warned though, it is a non-commercial only site which means that you can't use their photos if you plan to earn money from your site.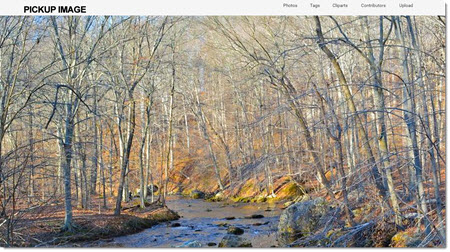 Niche: Landscape, nature, travel.
Contribution needed: No.
Pickup Image isn't as popular as the other free photography websites but their photos are just as good and I find them breathtaking still.
The photos cover mainly on travelling and nature and since the resolution is very high, you could almost drown in self-discovery just by looking at them so it's worth giving it a try if your niche is related.

Niche: Nature and Artistic.
Attribution needed: no.
Not the most popular stock photo websites but I do love their photos and its perfect for bloggers – They can be used for commercial use and we don't need to attribute them.
Photo sites such as this are the ones who are really helping the little guys like us grow and save some cost and they do deserve a little more recognition than they already have, more people should know about it.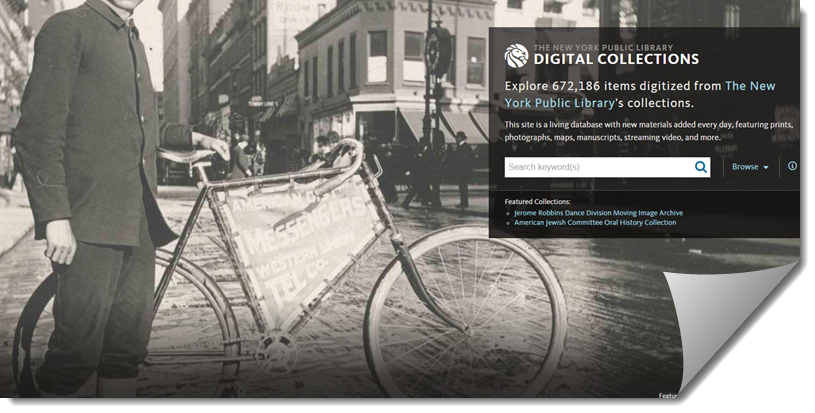 Niche: Past photos scanned and digitalized, still in beautiful shape.
Attribution needed: Yes.
Started in 1991, The New York Public library has been around since I was but a wee lad.
Even so, they haven't made everything public until 5th January 2016 (That's this year!), where they made an announcement to encourage people to use their wide resource to help the public.
They have a wide resource of over 180, 000 images from the past that they have scanned to make it available online for everyone's use.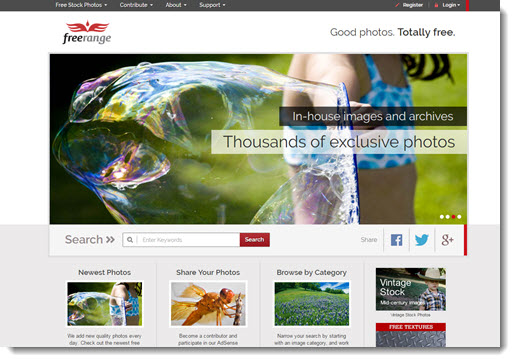 Niche: Blog-post pictures
Attribution needed: No.
Freerange is another free stock photo site that I absolutely love.
Their photos are all meticulously edited and filtered by their own in-house photographers as well as their photographer community.
The photographers get paid when people like you and me click on their those little ads you see on their page, that's how they manage to keep those pictures free.
They wanted to be different by allowing the public use their photos for free regardless of commercial or non-commercial and if you don't want to attribute it, its fine but they would greatly appreciate it if you do.
Niche: Breath-taking views and blog post pictures.
Attribution: No.
Started in 2015, My Photo Pack is a wonderful photography website and they're very active in social media too! I had the honour of chatting with them on Twitter and they reply really fast 😉
Their photos are set for download and are updated every month which I find pretty cool as those photos are very authentic taken by their own photographers.
If you don't feel like it, you don't need to attribute them but they would really appreciate it if you do.
Niche: Blog post pictures, various.
Attribution: No.
Realgraphy is another public domain free-to-use photos you can use for your blog.
They are constantly growing and they are also using their own pool of photographers to increase their photograph collection.
Their images are nice and if you like, you can give the photographer a tip for their hard work.
One thing you need to know though, the email opt-in pop up is quite frequent prompting you to subscribe every minute so if you're the type of person who doesn't fancy disturbances while you're looking at peaceful pictures, then this site is not for you.
If the website owner is reading this though, you might want to reduce the email opt-in freqeunce so as to not appear non-stop.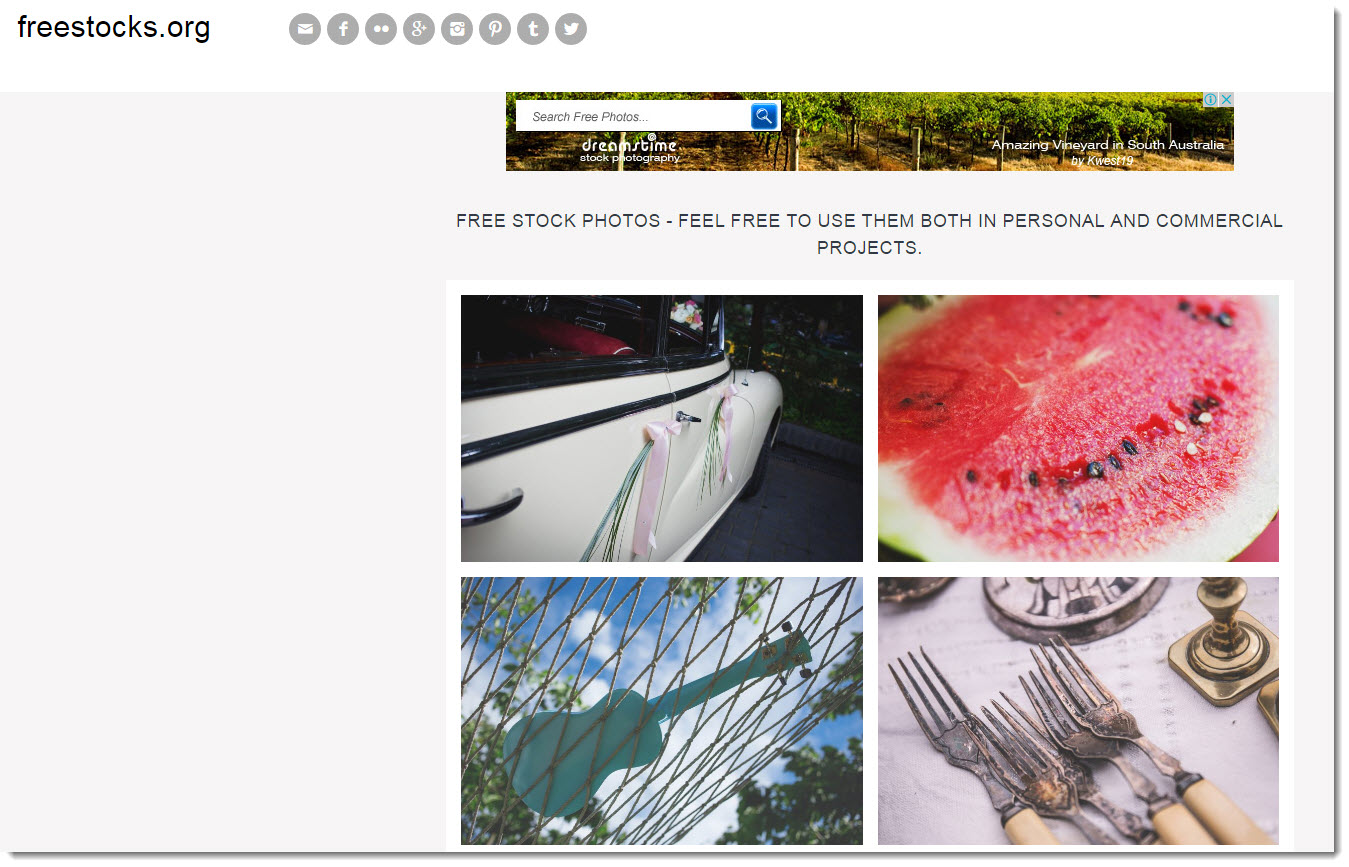 Niche: Blog post pictures, various.
Attribution: No.
I came across Free Stocks on Twitter and decided to check out their page as I find them quite active on social media (They have good response time too!)
FreeStocks.org is another free-to-use stock photography website containing thousands of beautiful photos contributed by various walks of people from all around.
I personally use their photos for both work and for my blog.
Like the most of the websites listed here, they do not need any attributions whatsoever if you don't feel like doing so but they would be more than happy if you could let people know of their existence.
They just reached their first year so why don't you guys give them a chance and check out their page yeah? You won't be disappointed especially if you're a blogger!
Are Blogs Considered Commercial Use, or Non-commercial?
This is one topic which often confuses people, and it's one of the most common questions that I often get.
So what is a commercial use or non-commercial use of images?
To clear the air, commercial use means that you are using the photos for the intention of making money which makes it fairly obvious that the non-commercial use means that you can use the photo so long as you're not planning to earn money from it.
Sounds simple, doesn't it? I beg to differ.
Even if you want to use the photo for educational purposes to teach to your students, there are many loopholes to this – The photo owner can always sue you by stating that the photo you used earns money for the university.
Doesn't make sense right? But people can be very devious when they are desperate for money so it's best not to take the risk unless you're confident of what you're doing.
Sometimes when I do presentation slides to teach orphans for charity, I don't publish them on the internet even though I'm not making any money out of it because I have a noble reason to help them and I do not want to get into trouble of people suing me for that.
Even if you're using the non-commercial images for your presentation in a conference, it is still a risk because it is a fact that conferences make money either through ticketing, from sponsors, or both.
No matter what the case, if you're not confident that there is any money involved at all, don't go for non-commercial images unless you feel like contacting the owner.
So what is the case for blogs?
Simple, if your blog doesn't make any money or you don't intend to, you can use non-commercial use photos.
However if you do plan to earn money from your blog such as the case of e-commerce, Affiliate Marketing or ads, then you should definitely use photos which allow commercial use because that's the very intention that you have to work on your site.
Jeepers, Attribution Sounds Hard!
Not at all, my friend.
As you go through the list of websites above, you'll notice that some of those websites require you to attribute your photo and by that, they simply mean to say "Hey! Don't forget to say my name, buddy!"
Some people allow you to use their photos without giving them credit but not everyone wants to be nameless heroes so in return for letting you use their photos, some people would like you to simply put their name there and link it back to their site.
There are 2 ways to go around doing this, the first is by putting a caption on a picture and linking it like this…
I used to do this for a few months on all my photos but after a while, I began to realize that it doesn't make my blog post look nice not to mention my readers getting distracting when they click on that link so early before even reading my content.
Which brings us to the second way of attributing which is by adding your link at the end of the post.
This is a much better way for you to attribute an image because by putting that link in the end, your visitors will be more than likely to focus on reading your content till the end as they do not have any distractions at the beginnings so in a way, it's a win-win situation for you.
My Final Word
That's it, my list of 30+ free high quality stock photos for everyone to enjoy with ease.
I plan to update this from time to time so if you'd like me to add in your very own photography website as well, do let me know below along with your contribution requirement as I'll be more than happy to reply.