Did you know that there are over 2.8 billion internet users to date?
Starting a brick and mortar business is expensive, risky and hard work which is why many more people opt for the other alternative for business – the internet.
Getting started with your online business isn't as hard as it was 10 years ago and plus, it's even more rewarding than it ever was before so don't be afraid to get yourself a shot, you've got nothing to lose!
Why start your own internet business?
If you're new to the internet world, you should know that starting a business online isn't as hard as it is in the offline world (By a long shot!).
Here are some benefits for you to ponder on:
Cost is at least 10 times lesser! (The most you have to pay is about $15 for your website name and the web hosting)
A more global customer base (We're talking about the 2.8 billion internet users!)
Lesser things to worry about as there are no paperwork needed.
You can call yourself an online entrepreneur.
You will get passive income which will gradually increase every month and eventually you'll get more than $5,000 a month as your reputation increases.
You can work at home, in your pajamas!
What is a legitimate internet business?
Not all internet businesses are legitimate because there are plenty of scammers who want to make money the evil way by tricking you and telling you that you can make money overnight.
Don't believe this lie!
There is no such thing as making money overnight because proper business needs time to grow and get recognition until it's enough to attract people to buy.
Because of this process, it will usually take you between 3-5 weeks before your website starts to make money.
When talking about legitimate internet businesses, one thing that you have to bear in mind is that ONLY the website business is safest method of business.
Not solo ads, not Facebook pages, not Multi-Level Marketing (MLM) and certainly NOT those annoying porn ads!
Having a website is clean and legit because building one takes time and tender loving care.
After all, wouldn't you feel proud telling people that you have a website business rather than telling someone "I make money tricking people to click on porn ads"?
Over time, your website will continue to grow and attract more people every day which means more money as they will spend on your site when you offer them something they like.
For example, if your website is an Ed Sheeran fan blog, your Ed Sheeran offers (Like his new book, A Visual Journey) would definitely make some sales because it's relevant and clicks with the people.
Interesting isn't it?
Avoiding scams online
There are many ways people can make money online.
However, not all methods are ethical as there are and will always be people who do not want to do work to earn money properly so they trick you instead in order to get some quick cash and this is what you call scams.
Some of the main examples of scams which I have reviewed are:
There are of course, THOUSANDS of scams online be it binary option scams, gambling scams or the worse scam ever – the "make thousands of dollars overnight" scams.
There are just too many of them for me to lay it out here but you can learn to spot these scams because they share similar tactics:
They tell you that you can make thousands or millions overnight.
They ask you to PAY first before you make any money.
They ask you to promote their products to your family and friends (Not ethical).
They don't have trials.
They keep upselling you more stuff even after you join.
How to start a legitimate internet business?
As you may know now, building your own website is the safest most ethical way to earn money online.
Because with your site, you have the power do control anything because it is after all, your very own business.
You can control how many things you want to offer to people, how interesting your contents inside should be, as well as how your website looks overall.
So now you should be thinking to yourself, HOW do start building my own site? Is it hard?
No, it's not hard at all because you can actually build one within 30 minutes by watching this short video: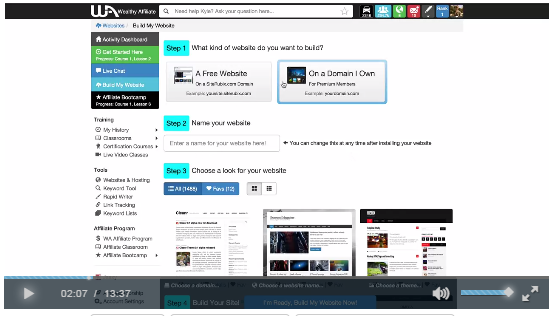 Just so you know, you will be using WordPress for your website according to that video which is definitely a good thing because it's the most widely used platform of choice for every online entrepreneur!
Conclusion
---
Having an internet business is pretty cool – You can control how much work you want to put into it, how interactive it should be and how often you want to work!
So don't be afraid to try building one because once you do, you'll never want to do your business offline again!
For more information on how to start a legitimate business online, check out my #1 recommended program here.