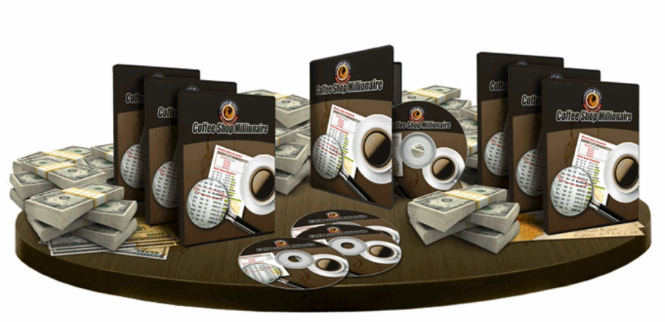 Name:  Coffee Shop Millionaire
Website:  www.TheCoffeeShopMillionaire.com 
Type of business: Website building course
Price: $47 per month + upsells
Owner: Anthony Trister
Overall Rank: 63 out of 100 (Scam alert!)
Coffee Shop Millionaire is a work from home online business program made by Anthony Trister.
However in my honest opinion, I have to say that Anthony is more focused on "selling" the product to you rather than aiming at helping you make money.
There are many signs for this which I say this such as the fact that you can't speed up the video because it's designed to make you watch till the end (Ahem! Unethical)
So do bear with me and continue reading the rest of my review if you want to know what this program has to offer.
Pros and Cons
Pros
Anthony comes clean and tells you that the program does not make you money overnight
Although outdated, the training inside does help you give an insight about how the online business world works
Cons
Unrealistic expectation being conveyed by the "Millionaire" word in the title because the information contained within is not that in-depth to give you that kind of income.
Monthly price just recently increased from $37 to $47 which gives doubt for its users that it might increase more.
Training is outdated
ZERO support!
No mentoring available
Thousands of complains being made, even from the users themselves.
NO communities available so you can't communicate with the other users and ask for direction
And of course, the upsells (A real online business program doesn't do upsells)
How does Coffee Shop Millionaire work?
The program teaches you to make money through a website which will be your first task.
And here's the kicker – to build your website you will need to buy hosting and domain which Anthony insists that you pay for 2 years.
If you're new to the website world, you don't actually need to pay for 2 years as you can choose to pay your web hosting monthly.
However so, the reason Anthony wants you to pay upfront for 2 years is because he will get a commission.
As if that's not enough, the website that you will be making in the program is of low quality with PLR content.
A word of advice, NEVER fall prey to paying for a WordPress website because you can actually start your own for free and it comes with better quality and more beautiful themes ( Like this very website that you're looking at 😉 )
Who is the program for?
In the video, Anthony states that the Coffee Shop Millionaire is meant for everyone even for those who do not have prior knowledge in internet marketing.
But really, the program just targets unwary beginners because these people are innocent and do not know that there are better programs out there than can teach you quality lesson for free.
What's worse is that because people have the will to continue the program (Who doesn't want financial freedom?), they will actually fall prey to those many upsells that the program has to offer.
Furthermore, according to the training provided, I would say that this program is way better suited to veterans or those who already have prior experience in internet marketing as the lessons there are not newbie-friendly.
Does it offer ANY kinds of support?
Of course Anthony claims that the Coffee Shop Millionaire has great support but every program says that because what company doesn't offer support?
However as an education program, I would say the support is really ineffective because you need to send emails which would take days to even get a reply.
And to make matters worse, not all of your support tickets will be answered as I have experienced personally that out of my 8 emails sent, only 3 were replied (Bad news!).
Coffee Shop Millionaire also claims that it has a community of users but I can't keep in touch with any of them which is really disappointing considering that as a beginner, I needed help in many areas that I have doubts on.
The pricing strategy
If you see that the price today is $47, that is actually a recent change because initially, it was only $37 a month.
A lot of people were actually devastated with the change because if Anthony can increase the price just like that, what makes you so sure that he won't change the price again in the near future?
Apart from the monthly fees, you will also be tempted with many expensive upsells which would make you lose money even before you start making any.
Here' the upsells that you will be spending your money on once inside:
"Six Figure Success Club" for $297 (The first upsell that you'll get when you start joining)
You will also be told to buy hosting right away which is going to cost you $100+
Not to mention your domain acquisition and website development!
So you see, you are actually spending at least $444 before even making money and getting through your first week!
Here's an advice for you to always bear in mind – If you want to differentiate between a scam and a legit online business program, legit programs do NOT have upsells and are serious are helping you make money.
Scam programs however, will always have hidden upsells aimed at sucking your money dry because the owners are a greedy lot that only care about themselves.
It is really unethical to show people that your product is cheap to attract them but actually hidden inside are upsells waiting to steal the users' money.
Comparison between Wealthy Affiliate and Coffee Shop Millionaire
Of all the products I've reviewed, Wealthy Affiliate remains my #1 recommendation because to date, I have yet to find a better home business program that can replace its features.
Coffee Shop Millionaire lacks many things that makes up an ideal online business program so here's a table comparison in a nutshell:
My final verdict
---
As many scams that I've encountered, not one of them does not have hidden upsells.
I couldn't agree more than Anthony is a great salesman as he really knows how to convince people into buying (Even me!) but when it comes to making an honest home business product, it seems that even he was blinded by all that money too.
With all those upsells, outdated training plus the very limited support, the Coffee Shop Millionaire receives my rating of 63 out of 100 and is definitely a scam.
If you have any personal experiences that you'd to share with, do feel free to comment them below as I'll be more than happy to reply J.
If you're looking for a way to start a viable business online, check out my #1 recommended program here.
Sincerely,
Riaz Shah, Founder
www.MyInternetQuest.com