Name: Dot Com Secrets X
Website: www.dotcomsecretsx.com
Type of business: Black hat internet marketing methods
Price: $1 for the first 2 weeks, then $47 monthly
Owner: Russell Brunson
My rating: 45 out of 100 (Scam Alert!)
What Dot Com Secrets X is all about?
Dot Com Secrets X (DCSX) is a program made by Russell Brunson to help people especially newbie marketers to make money online.
The "X" wasn't there before though, it is a recent addition to the name because Russell keeps altering the content.
I've tried DCSX first-hand for 3 months and from my experience, the program does actually help you make money.
BUT it will drain you out of your money even more than the amount you earn so it is a very huge risk to take which I would advice against.
How DCSX drains your money before you even start earning?
One trick I learnt from getting scammed a lot is that if you want to detect a scammer, find out if he's trying to sell you hidden products that he never mentioned earlier.
From DCSX, There are plenty of ways on how Russell sucks you dry out of money which I know very well and those are:
1)  Pure Leverage Upsell
On Day 6 of the 14-Day coaching program, Russell will ask you to register for an Auto responder.
Auto responders are important, so what's wrong with that?
What's wrong is that you'll never see how he tricks you into registering for his own Autoresponder which is Pure Leverage (Russell is a co-owner of Pure Leverage whereas Joel Therien is the founder)
His program will never work if you don't register for Pure Leverage can you imagine that?
I have a friend who had to register for Pure Leverage EVEN THOUGH he already has an Aweber auto responder!
My advice if you're looking for an Auto responder, is to stay away from Pure Leverage!
As you can see from the screenshot of my account above, you will be bombarded with a lot of upsells from Pure Leverage which will get on your nerves.
And as if that's not enough, Pure Leverage is also an MLM scheme which you will also need to reconsider if you're if you're not into it.
The price is also criminal whereby you will need to pay $24.50 for the auto responder, and another $29.90 for the reseller which just basically means the right for you to become an affiliate.
So in overall, you will need to pay $54.40 monthly from Pure Leverage alone!
2)  Solo Ad every week
On Day 10 of the 14-Day Coaching program, you will need to start doing your own Solo ad.
A Solo Ad is basically a one-time advertisement that you can email and for that, you will need to buy clicks from sellers who already have a list of buyers so you will be guaranteed those clicks.
Problem is, will those guaranteed clicks give you guaranteed sales?
The average price for 100 clicks is about $50 to $110 which is SUPER high and each time you buy those clicks in exchange for your one time email ad, you will be gambling money because most probably you WON'T get your money back.
Throughout my experience with solo ads, I have come across many scammers which will disappear after you made the payment for their clicks.
Russell knows this and will ensure you with a list of real life solo ad vendors as seen above and he "guarantees" that those are real solo ad vendors.
But again, would you want to gamble your money away?
According to the program, Russell will also make you create a calculation list for an estimated amount that you will spend on a solo ad per week.
That's right, PER WEEK!
So let's take the lowest solo ad price which would be about $50 and multiply that by 4 weeks to represent one month, how much would that be?
$200!
You will be spending a minimum of $200 per month JUST on solo ads!
3)  GVO hosting Upsell
On Day 13 of the Coaching program, you will reach a point where you will need to create your own Authority Website. (Finally!)
BUT, there's also a catch to this.
You can have the choice to create your own website by yourself or you can join GVO in order to get the full training on how to make the best of your website.
Cruel fate don't you think?
And since creating the website lesson is considered the last step of the 14-Day Coaching program (Day 14 is a trick lesson whereby Russell will only say thank you), people will have the urgency to join GVO in order to complete the program because bear in mind that not everyone knows how to create a website.
And joining GVO is NOT free!
You will have to pay another $9.97 per month which adds to you payment listing.
Although GVO is not part of Dot Com Secrets X, it is co-owned by Russell Brunson as well so in a way, it is his product that you'll be paying for and his pocket that the money will go into.
If you want to create a quality website for business, I find Wealthy Affiliate to be very cost-effective and easy to understand as you can create a website for free not to mention there's also a community where you can mingle with in case you get stuck.
In fact, I created this very website through WA as well.
4)   The complicated Dot Com Secrets X monthly fees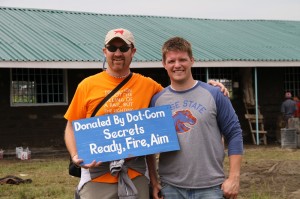 If you've watched the sales video, you'd probably notice that Russell will tell you that you can start joining DCSX for 2 weeks with a $1 trial payment.
And to entice you even more, he will tell you that the $1 trial payment money will be collected and sent to the World Teacher's Day Foundation to help teachers in Africa.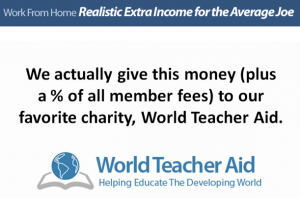 What if I tell you that even that is a lie?
When you start joining DCSX, you will become an affiliate of the program so as an affiliate, you can track the amount of payment that you get by promoting the program.
I was surprised to see $1 in my bank and although Russell didn't say it, I knew instantly that the money comes from the $1 trial payment.
Now back to the main story at hand.
There are actually 2 payment schemes for Dot Com Secrets X:
Payment Scheme #1 – Join the $1 trial for 2 weeks, then pay $47/month.
Payment Scheme #2 – Skip the $1 trial and pay $37/month instead.
Doesn't that sound scammy to you already?
Legitimate online business services won't charge you for that because they intend to help you make money in business, not suck you dry before you even got through your first month there.
Estimated Overall Cost Per Month
Bear in mind that my calculations are only an estimation supposing someone really follows the Dot Com Secrets X program:
DCSX monthly fee            = $47
Pure Leverage fees            = $54.40
4 weeks solo ad payment = $200
GVO hosting payment     = $9.97
Grand total                = $311.37 per month!!
Sometimes solo ads do work but often times, they never convert more than you expect.
It's even worse for newbies because our solos rarely convert as we are still fresh in the whole email marketing idea.
Still, are you willing to spend $300+ per month when you know that you'll never be able to get back that money for the first few months?
We know now that Dot Com Secrets X is a scam but allow me to further uncover for you what's inside the program…
DCSX Red Flags
Besides the price (which I guess is enough to drive you away from the program), there are also certain red flags about the program that I personally dislike about:
1)   You CAN'T cover the lessons at your own pace
After finishing the 14-day Coaching Program, there is nothing left to learn apart from the monthly Immersion Coaching.
And as the name Implies, you can ONLY access them one month at a time!
Plus after one month, you will have to pay $47 monthly for only one lesson which will take you about a few hours to cover which in my opinion, is not worth it at all.
2)   Russell pays someone else to teach
Don't you just hate it when your mentor leaves you in the dark?
That's exactly how I felt when Russell stopped appearing in his Immersion coaching program.
As you can see from my video, the rest of the immersion coaching program that I unlocked by paying $47 monthly, has NO trace of Russell anywhere.
Instead, Russell adds notes and links without even stating the purpose of the lesson or what should we expect to learn from it.
For example, on month 2 of the Immersion Course (the Facebook part), Russell adds YouTube videos (just like that!) without even saying what's the video for!
One of the greatest reasons why I left DCSX in the first place is because of this exact problem – your own mentor leaving you!
I'm glad that I found Wealthy Affiliate because so far, Kyle (the owner) has been helping and guiding me and ever since. (Check out my chat with him here!)
If only I had found WA sooner, I would have saved tons of money.
3)   Ripping you off with YouTube videos (Low quality ones at that!)
After staying with Dot Com Secrets X for 3 months, I was at my maximum boiling point and I felt completely betrayed of my $47 monthly fee when Russell started picking videos from YouTube and putting it on his program.
I mean c'mon! YouTube videos are FREE and you don't have to charge $47 to someone for some free video!
And as if that's not enough, the Youtube videos that he added are outdated and has low resolution making it hard for us to learn.
Comparison between Wealthy Affiliate and Dot Com Secrets X
After being scammed by Dot Com Secrets X, I decided to try out another home business program called Wealthy Affiliate which is also an online business course aimed at helping you make money online by guiding you on building your own WordPress website.
I was skeptical to try at first but since the program is free anyway, I decided to give it a go and little did I know that Wealthy Affiliate is the one that is actually helping me make money in the end.
I was surprised at first because there wasn't any marketing to make you feel all hyped up (Like how I fell for DotComSecrets X) but later on I learned that real programs don't need all those as they have nothing to hide and they have trust in their product.
Here are the comparison in a nutshell:
My Final Verdict
---
Although Dot Com Secrets X is a total scam, there are a few things that you can learn from there like how to do email marketing and for that DCSX receives my rating of 45 out of 100. 
But apart from that, everything is else is a scam which is designed to suck you dry of money.
Russell Brunson (owner) will also disappear during the monthly immersion coaching leaving you frail and vulnerable without help and direction so I urge everyone who's reading this to stay away from Dot Com Secrets X.
I've been scammed and I wouldn't want anyone else to fall prey to this as I did.
If you're looking for a way to create a sustainable business online as how I did, please do check out my review of Wealthy Affiliate here.
Feel free to share your personal experiences with Dot Com Secrets X, I would very much like to hear them too.
Riaz Shah
Founder, MyInternetQuest.com