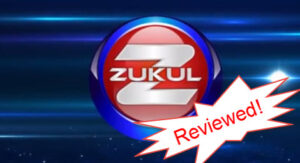 Business name: Zukul
Website: zukul.com
Type of business: Online Marketing Software MLM
Price: $17.98 – $250 a month
Owner: Jeremy Rush and Michael Bloom
My rating: 1 out of 5 ⭐️
Unlike the other MLM companies I've come across, an Online Marketing MLM company is certainly something out of the ordinary.
Conventional MLM approach is usually to go outdoors and create events, talks and parties in order for you to meet people and persuade them into joining your cause.
Online MLM however, is something we still are trying to understand because after the Empower Network case, people are getting skeptical to join any other online MLMs.
Zukul is either brave or ignorant to open during this dire time.
Are they confident with their strategy? What tricks do they have to stand out among the rest?
Read more to find out my full Zukul review and what it entails…
What is Zukul About? –The Software Cum MLM.
Started by Jeremy Rush 2 years ago in 2014, Zukul is an online marketing system that provides users with lessons on how to gain traffic on the internet.
It is also a Multi-Level Marketing platform whereby you earn more money by recruiting people to join and adding them as your downline.
However unlike many other MLMs which I have reviewed such as Mary Kay, Thirty-One Gifts and Organo Gold, I can't quite call Zukul a scam just yet as they actually have some pretty good record and by good I mean clean.
There is no abuse of power cases, members do not bully each other and there are no huge controversies that make headlines in huge media such as Forbes or The Huff Post.
However one thing which made me worry is Jeremy's involvement Banners Broker, a Ponzi scheme which went down 2 years ago – something to keep a watchful eye out on.
Pros and Cons
Pros
One of the few MLMs that have a clean record, mainly because it's fairly new.
Jeremy does mingle with the members from time to time.
They do weekly hangouts for members.
Cons
You need some spare cash on hand to spend on the various marketing channels like solo ads and Facebook ads.
Jeremy Rush was involved in the previous Ponzi scheme called Banners Broker and this is definitely something to watch out for.
Constant bombardment of emails you will be getting every day.
The blogging platform for Zukul is very limited and not very flexible.
Guaranteed Sign Ups is very risky.
PayPal Doesn't work with Zukul.
Not listed in the Top 100 MLM companies.
Not BBB accredited.
Zukul is only 2 years old, very risky to join an unestablished MLM company.
Golly, that's a lot of cons! Better check out my #1 recommended program here instead!
What are the Lessons You will be Learning?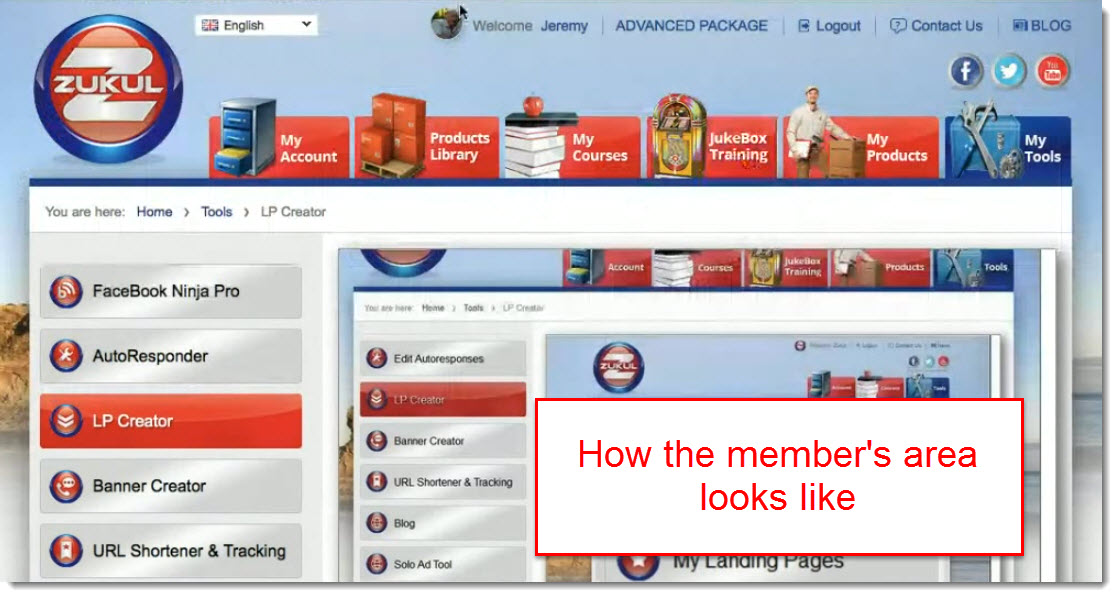 As an Online Marketing system, the main reason why anyone would want to join Zukul is the lessons you learn on driving traffic.
Here is part of the things you will be learning…
Beginner Level – $17.98 per month
Capture Pages
AutoResponder
Social Sniper
Intermediate Package – $ 50 per month
Facebook Ninja Pro
Autoresponder Lite
Capture Pages
Landing Page Creator
Banner Creator
Solo Ad Creator
Jukebox Training
Blogging Platform
Advanced Package – $250 per month
Capture Pages
Banner Creator
Video Submission Tool
Social Submission Tool
Link Shortener & Tracker
Jukebox Training
Solo Ad Tool
Blogging Platform
Youtube Buddy
Videoscribe Suite
Banner Creator
The advanced package is rather heavy as you will need to maintain a payment of $250 a month so unless you have recruited downlines under you on that package, you are going to be spending a lot of money for nothing.
The lessons revolve mainly on utilizing social traffic specifically from Facebook which is not enough to boost your website stats.
Solo Ads also cost a bundle (Around $40-$90 for every 100 clicks) so you will be spending a lot of unnecessary money even before your base is properly built, resulting in very low conversions.
Their blogging platform is also not very flexible as they have very limited options, themes, and their training doesn't cover the integral parts of how to blog successfully.
A sustainable Online Business venture should cover more than a traditional online marketing approach.
You need to know how to create websites, learn affiliate marketing the proper way and master SEO – Most importantly though, it shouldn't cost so much because the reason we want to make money, is because we don't have much to give away in the first place.
Zukul Compensation Plan – Find the MLM in You.
Every MLM has a compensation plan and that means you will earn money the more downlines you recruit.
If you're new to MLM, here's a typical unilevel structure of an MLM company…

As you can see, you are always on top as in a pyramid structure and you will be placing your down lines in levels as shown in the image.
Unlike any other typical MLM companies which have tons of levels though, Zukul has only 3 levels and the way you earn is based on the membership package you chose to join with in the first place.
The lower your membership, the lower your commission which is why to make the best out of MLM, you need to join the most expensive package which in this case, is the $250 a month advanced package.
The way you earn is as follows…
(a) Beginner Level Package – You earn $10 on level 1 of every Zukul beginner package you sell on level 1, $5 on level 2 and $4 on level 3.
(b) Intermediate Level Package – You earn $11 on level 1 for every Zukul intermediate package you sell, earn $6 on level 2 and $5 on level 3.
(c) Advanced Level Packages – You earn $50 on level 1 for every advanced package you sell on level 1, earn $30 on level 2 and $10 on level 3.
There is a reason why membership to join Zukul is a bit expensive as compared to other normal programs that do not apply MLM and this is because of the flow of money involved.
Since you have down lines in MLM, you will get money from each of your down lines' own referrals.
Although this does help in making you more money as the referrer, it sparks wide controversy as your down lines do not like it if you get free money just because of their hard work.
You can never become better than the person who referred you in MLM as they will always earn a percentage of all your down lines which is why many people are against the pyramid structure so if this is this is indeed the path you'd want to venture into, it is best you sleep on as it is indeed a big decision.
Any Red Flags? – Things to Watch Out For.
Red Flag #1 – Banners Broker All Over Again
A Ponzi Scheme is an investment scheme not authorized by law – In other words, they are completely illegal.
When Jeremy was involved in Banners Broker, the company went down because they couldn't pay back the people who invested in their Ponzi scheme – They were in a pickle when lawsuits were being made.
So how is Zukul connected to a Ponzi scheme?
Take a look at this…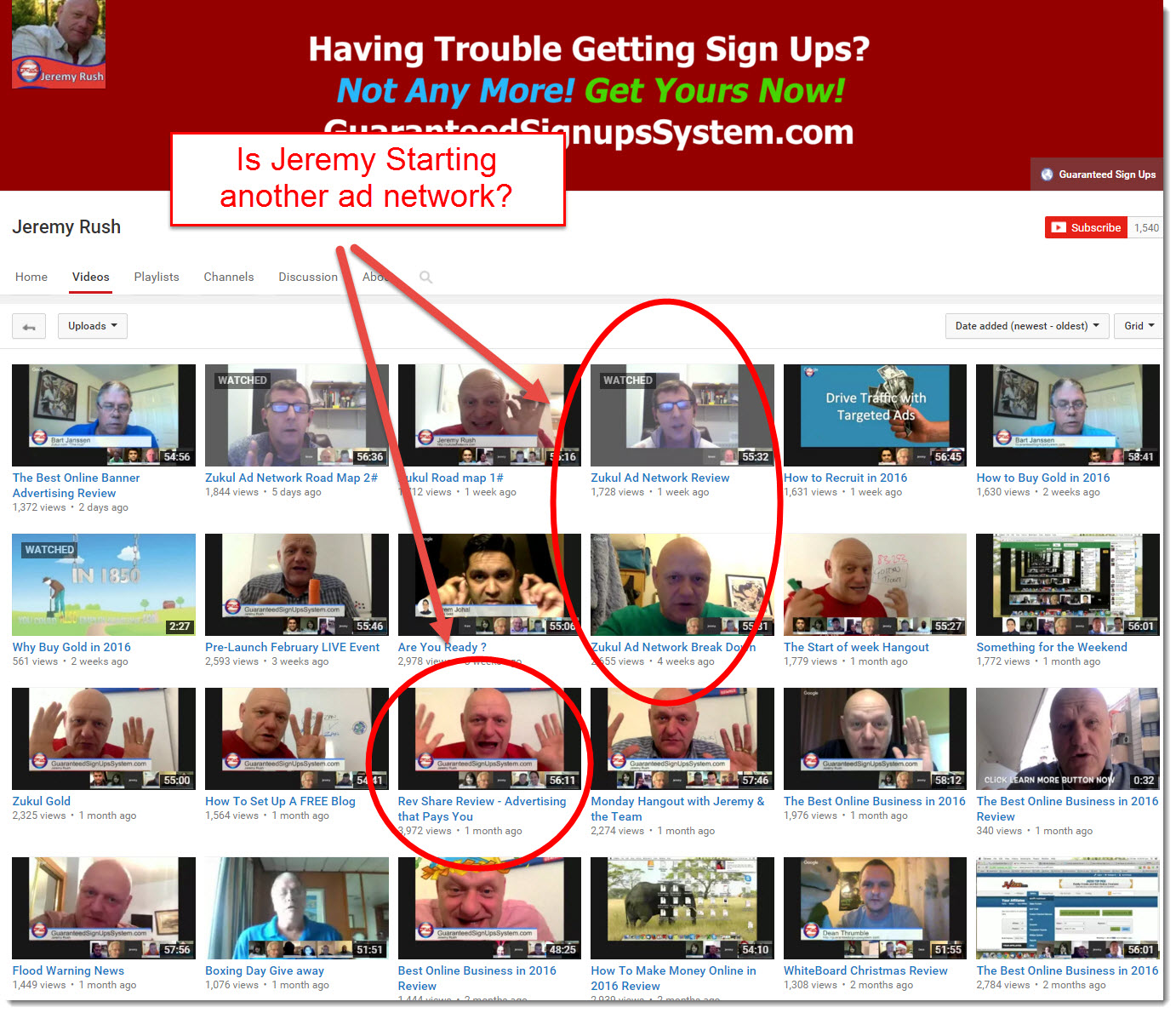 I checked Jeremy's Youtube channel and to my surprise, I found something that wasn't made public yet – Revenue sharing.
If you're not sure what that is, it is a form of investment scheme whereby you put in money and hopefully get a high return after a few months… All within Zukul's terms of course.
This in other words, is a downright Ponzi scheme as it doesn't involve any authority and it's something just between you and Zukul.
Hundreds of people have lost thousands of dollars from Zukul's previous Ponzi scheme in Banners Broker so it's definitely a good idea to keep a watchful eye out if you ever decide on investing.
Remember, investing in established companies is alright as they will definitely be around for a long while as their name is at stake but putting all your money on a new venture is always a gamble.
Red Flag #2 – The Guaranteed Signups Upsell
Wondering what is Guaranteed Sign Ups all about? More importantly, what does it have to do with anything?
Most of you might be curious about this thing called Guaranteed Signup System that Jeremy is promoting.
For me personally, I found out about it from Jeremy's YouTube channel and I was curious about what it's all about so I did more digging to see what else am I missing that might be related to the whole business model.
Why is he promoting this website? Why isn't he promoting Zukul instead?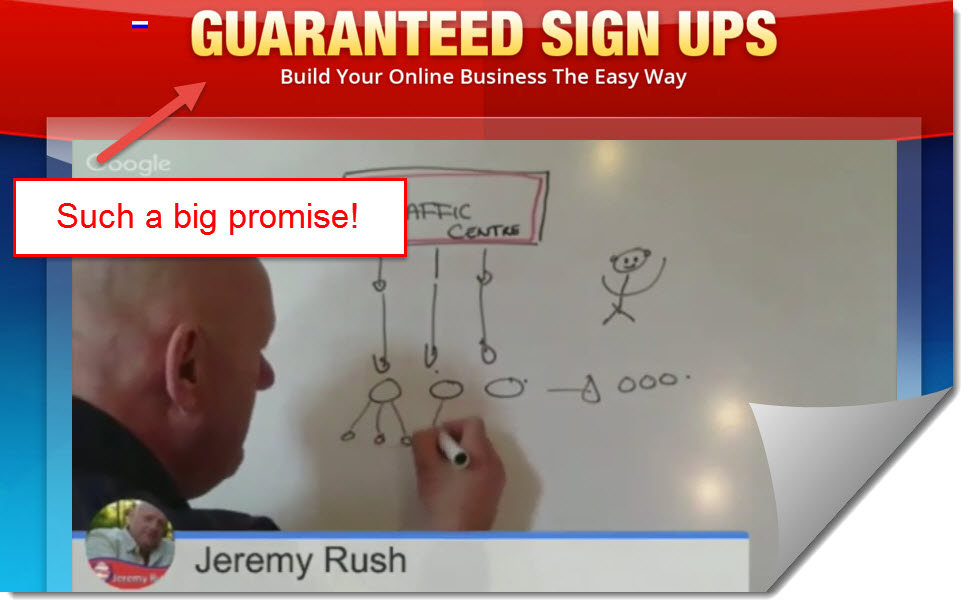 Turns out that Guaranteed Sign Ups is another upsell that Jeremy has up his sleeves.
For every Zukul member who refers 3 down lines, you will get the option to boost your marketing by letting the Zukul team do it for you.
However this isn't free though, as you need to pay $49.95 for the outsourcing fee.
I have very little faith in this "outsourcing" service Jeremy provides because another internet guru I know called Patric Chan provided this very service back then in his program CB Passive Income and it didn't go well at all.
I paid and paid until I wasted all my money because I thought that eventually I was going to make that sale.
Too bad though, I didn't so it's best to avoid Jeremy's Guaranteed Sign Ups.
Red Flag #3 – You Can't Use Paypal in Zukul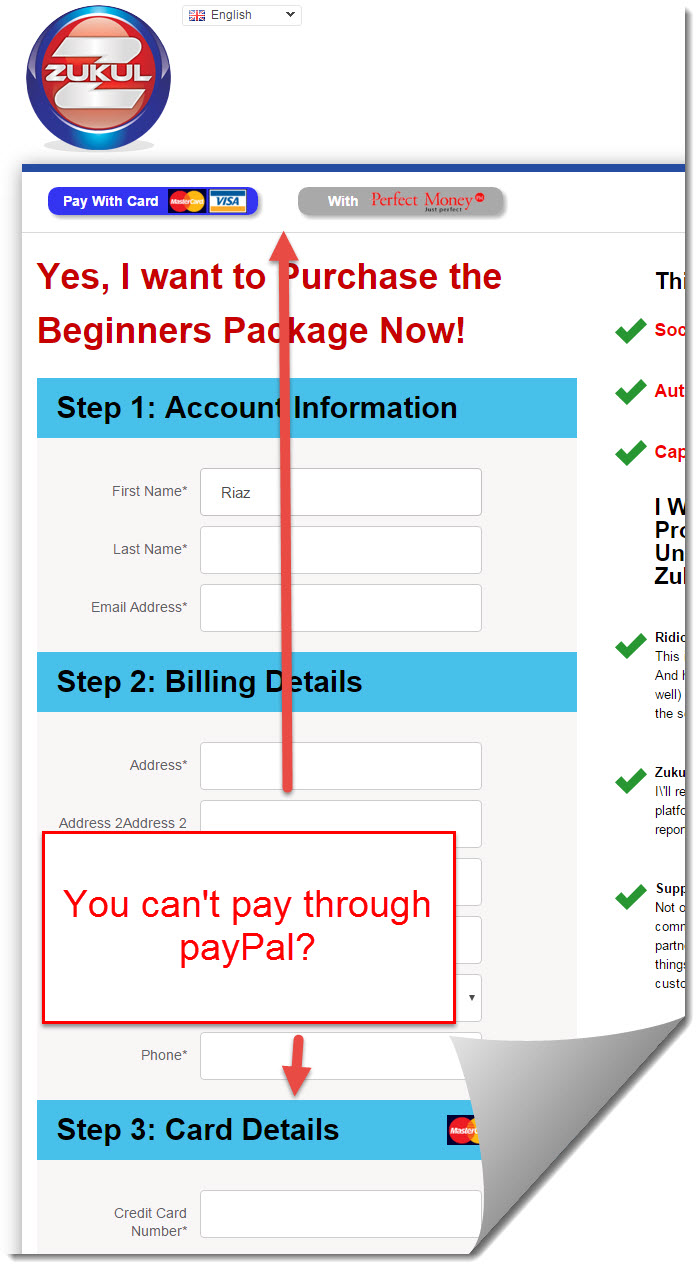 Doesn't it strike as odd as to why MLM companies do not allow the use of Paypal as a payment choice when other Online Business platforms are completely okay with it?
That's because PayPal isn't too fond of MLM companies as most of them are very close to pyramid schemes and in most cases, they often are.
I've covered this issue in my other MLM reviews like Empower Network which I've mentioned before that if Paypal doesn't trust a program, so shouldn't you.
PayPal has a very strict rue when it comes to MLMs whereby they would not want to affiliate themselves with any forms of MLM businesses which I think is a brilliant idea.
They've remained clean from any bad images by not involving with shady businesses and people are still relying on them as a payment gateway so sometimes it doesn't hurt to say no.
Zukul is still new and has not shown their true colors yet but it doesn't hurt to be cautious.
Red Flag #4 – Two Years and It's not registered in BBB?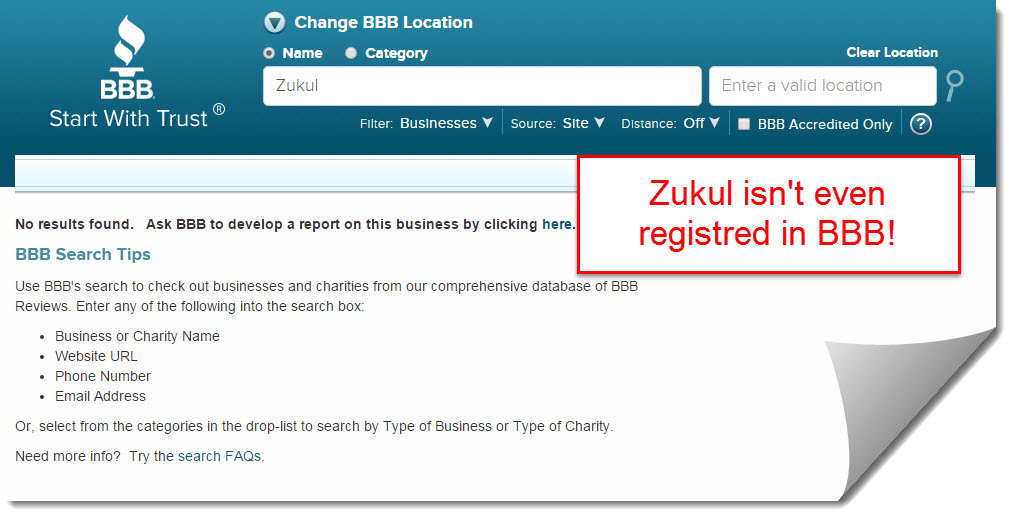 I'm quite cautious when it comes to investing in companies that I have no knowledge about as new companies are bound to close down.
Because of that, as cautious consumers we always do thorough research on a company and one of the most established websites we go to regarding that is BBB.
Did you know that 79% of consumers check on the Better Business Bureau to know a company's legitimacy?
It sounds like a small deal but it's actually a big one because there are countless companies out there who are well-established globally such as Mary Kay and Thirty-One Gifts but when you check their ratings on BBB, they have countless complaints for everyone to see which led to their terrible ratings.
Red Flag #5 – Not Listed in the top 100 MLM companies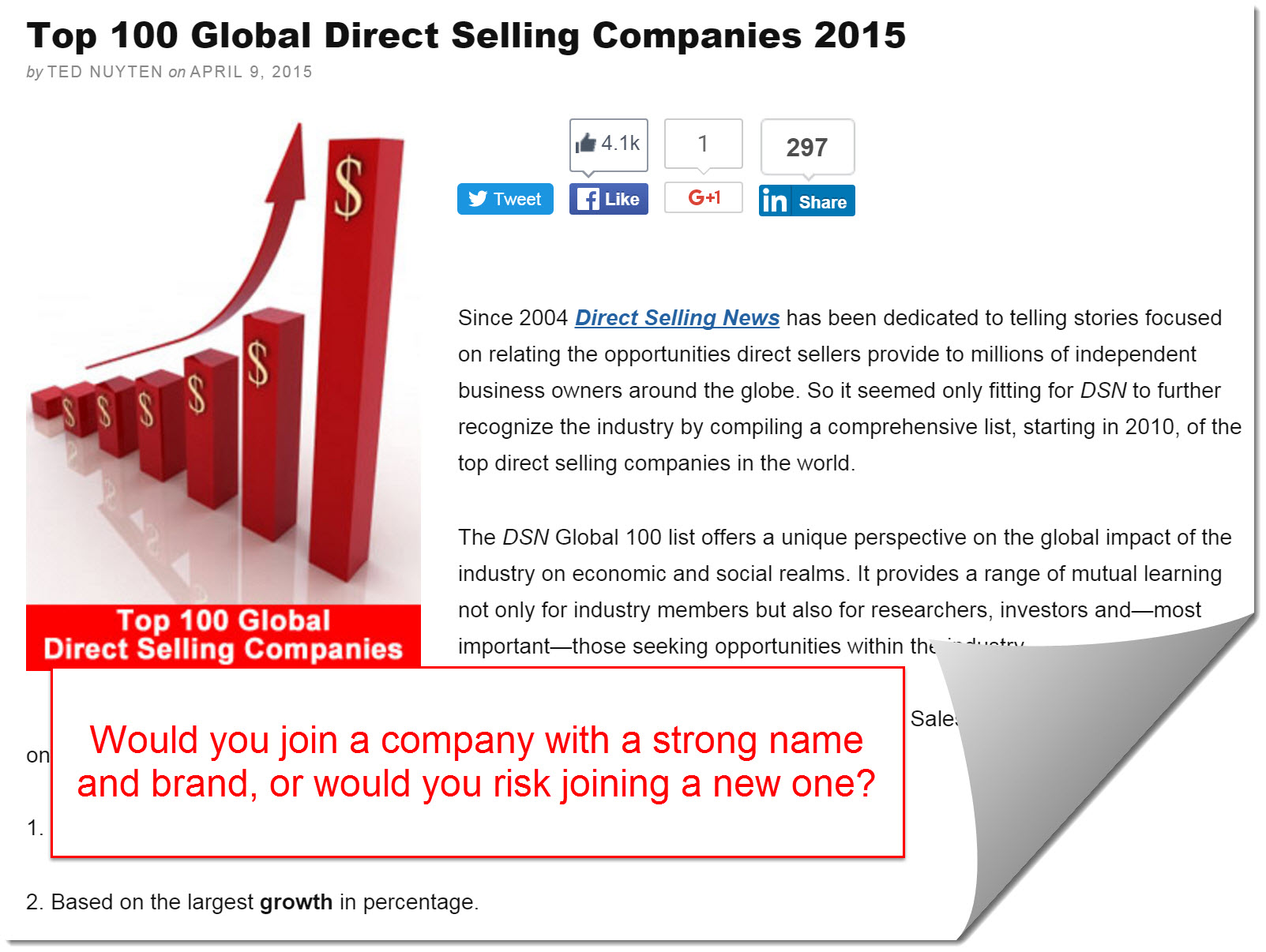 This is understandable as Zukul is quite a new company but would you consider committing yourself to a new company, or join one that is well-established?
If I were to join an MLM company, I would join those that is listed within the top 100 MLM companies and for good reason too.
According to research 50% of businesses fail after 5 years.
Zukul is just 2 years old and have not even reached its maturity stage so I would consider it as a risk to join, especially if you are joining as a normal member.
You see, the ones who are really making the money in all MLM companies are those who joined during the initial stage – In other words, the top guys who are on the top pyramid chain.
For this case, no matter how old or how new the company is, you will still make a ton of money as you will have countless of people under you already so you can just sit back, relax and watch the little guys do the work for you.
You won't have to worry if your MLM companies goes down or not because by the time the authorities take action, you would have made a million already which is why we have countless cases of MLM leaders running away and disappearing just when it's time for him to pay the members their compensations.
If you're joining an MLM company as a normal member (Same as everybody else), you're better off joining a more established company instead as you know that they will last longer and you are in safe hands.
Do I Recommend Zukul?
If you're looking to create a sustainable business online, then Zukul is definitely not the program I can recommend.
There are other platforms where you can take advantage of to make money online such as Affilorama and my top-ranked program Wealthy Affiliate but not Zukul as it is certainly going to weigh you down.
The lessons rely heavily on Facebook Marketing, outsourcing, and solo ads which all will cost you money – hundreds of dollars will be going to waste.
Not only that, the entire Zukul system revolves around Multi-Level Marketing which means that you will mostly be focusing on building down lines.
People today have a very bad perception on pyramid schemes because many network marketers do not actually succeed in MLM so if you do want to get in, you should know that the rates of closing are not as high as a few years back when the industry is still new.
I should know as I am one of them.
Back then while I was doing Amway, One Community Worldwide and Dreamtrips (All MLM companies), I do make income but all of those stopped when I stopped working and worse – I lost my money on my daily expenses and all those marketing.
But to help you understand better, take a look at this…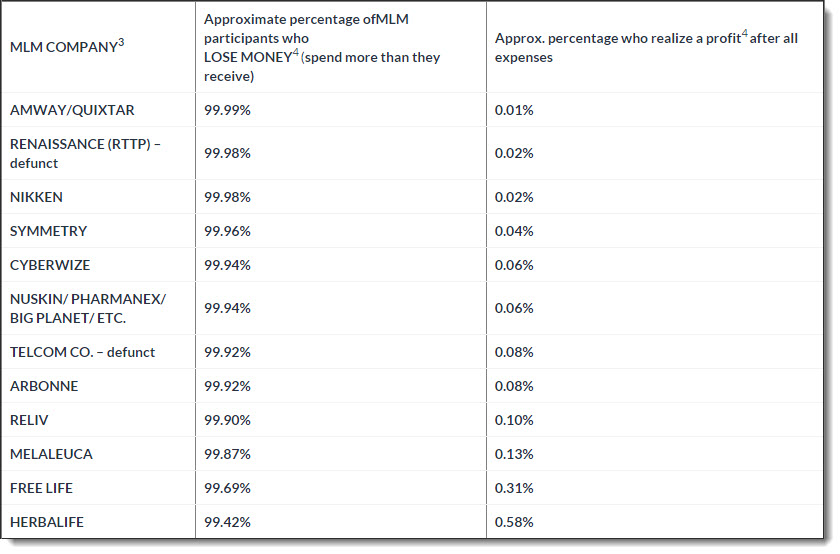 Did you know that less than 1% of people actually see any profit in MLM?
Not everyone can have a happy ending in MLM and today, getting conversions is harder than ever as people are getting skeptical on both MLM and Online Marketing so imagine a company that is both in nature (ahem).
Zukul doesn't even cover much on the importance of building a website and it certainly doesn't cover keywords and Search Engine Optimization which are all very important in helping you get passive income.
A proper Online Business is one that Google loves and having your website on the first page of Google helps build more trust with your customers and visitors hence more sales.
Sadly though, Zukul doesn't cover this and compared to my top-ranked program, here's how it looks like…
Conclusion
---
When it comes to learning how to make money online, there are certainly better options out there.
Zukul may be fairly new but because it is a combination of MLM and online marketing, it treads on very dangerous waters as you will end up having problems with your business in the long run as people tend to change when they see how much they can earn by recruiting.
The lessons are too shallow to secure you passive income and even PayPal doesn't trust Zukul due to its MLM nature so because of that, I can only give it 1 out of 5 though it is at the core, a legitimate program with a decent track record.
As Zukul updates, so will this review but if you're interested in learning the proper way to make money online, check out my #1 recommended program here.
Thanks for reading this review, do share your experiences down below as I'll be more than happy to reply.