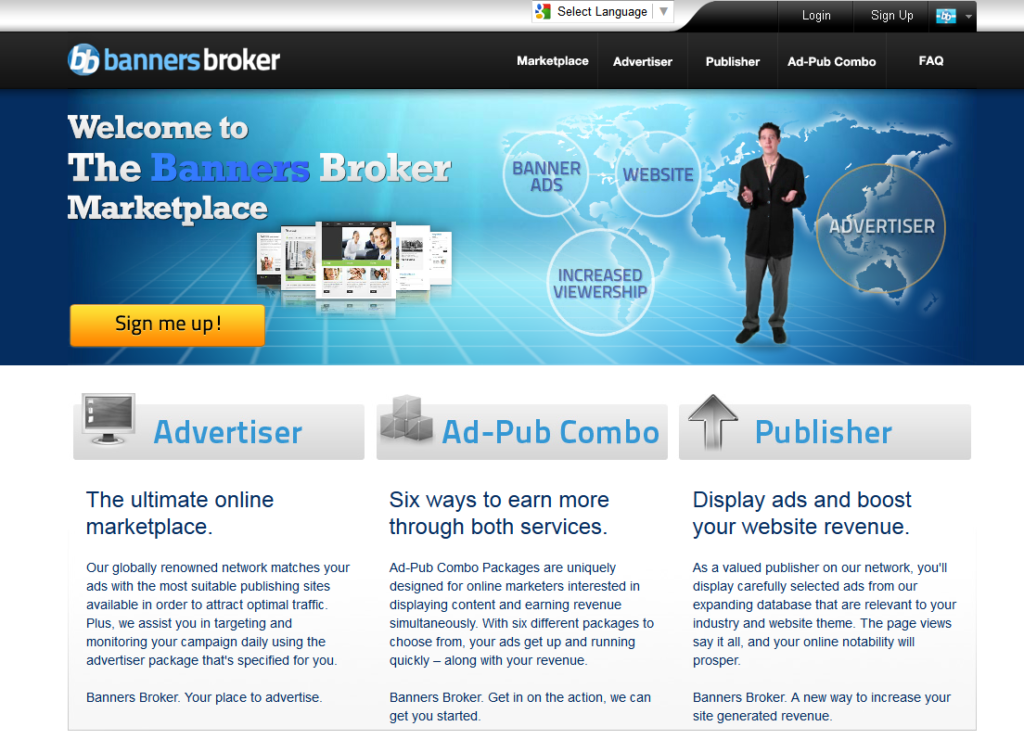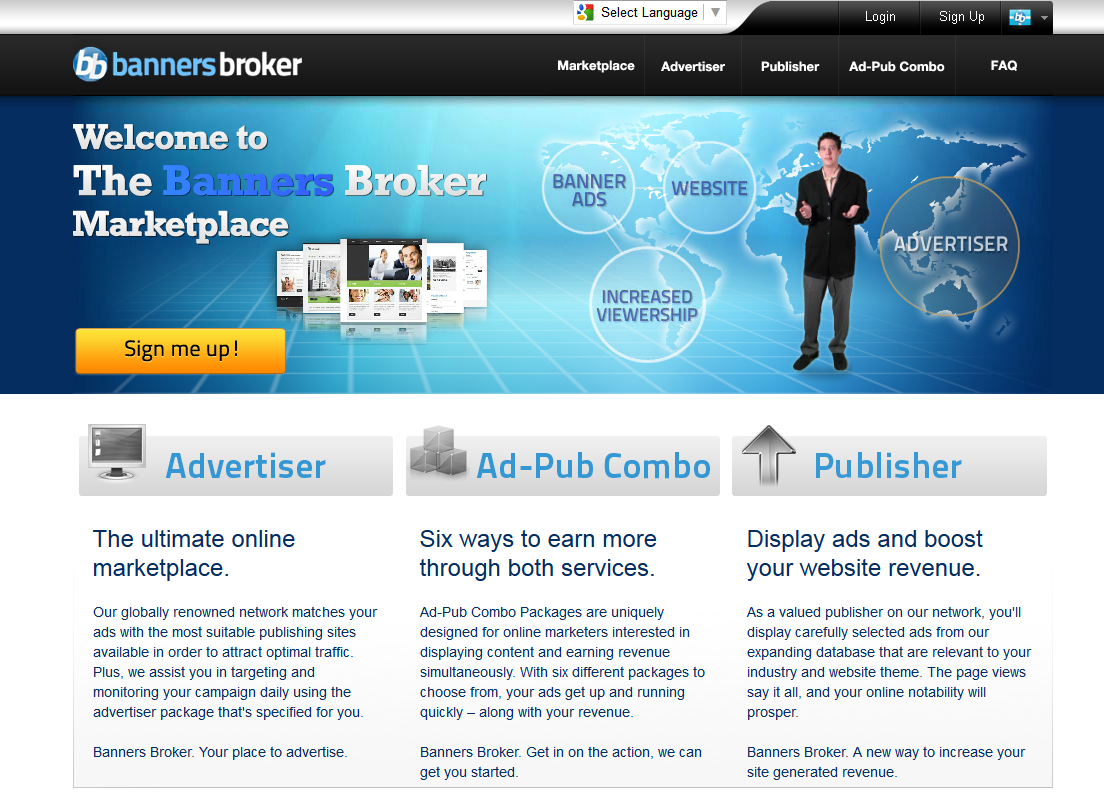 Product name: Banners Broker
Website: www.bannersbroker.com
Type of Business: Online advertising platform/ MLM
Price: Varies based on the level of package that you purchase
Owner: Chris Smith
Overall Rank:  0 out of 100 (Scam!)
Unlike other programs which I actually tried personally before making a review, Banners Broker was recommended to me by few of my friends who approached me asking me to help them as I am known to help people avoid scams.
Some spent on the $400+ package whereas others spent above a thousand bucks hoping that they would reap their returns faster.
They were devastated by their loss and wanted me show the world what Banners Broker is all about so for the purpose of this review, I'm borrowing my friend's account to get a feel of how it works from the inside and why many people are saying it is a scam.
What is Banners Broker all about?
They key is in the name – broker.
Banners Broker is an online advertising platform similar to the online brokering of traffic and ad space that merge publishers with advertisers for the benefit of both.
So you can think of it as a 3rd party agent who finds an ad space for an advertiser and vice versa.
How you earn money is through the placing of banners and advertisements on websites.
But don't worry because as of the end of 2014, Banners Broker will cease to exist as the government is taking necessary actions to jail the owner (He deserves worse don't you think?).
Pros and Cons
Pros
Although you have difficulty in getting your money back, the banner ads actually work and you can get huge impressions (questionable quality)
The breakdown of packages are affordable, not like other scams who dare to charge up to $9,000 in order to get more money from you.
Helps in getting your business visibility (great advertising)
Cons
Banners Broker has not paid any owed commissions since December of 2012.
Payments on your commission earnings will be stopped without any notice whatsoever (Insecurity).
Not meant for newbies (You need to have our business set up first in order to make your ads more effective)
Very little direction on what to do.
ZERO support
Lots of bad reviews not only from the users themselves, but from the media as well!
Customers are voicing up and suing the company.
This scam is TOO dangerous that even the government is on the way to closing down Banners Broker's business by the end of 2014.
Merchant cards like Mastercard do NOT recognize this business as a legitimate business therefore not allowing transactions to and fro. Because of that, Banners Broker made an e-wallet very much like the Empower Network scam which is even worse as it has less security.
Jeepers, that's a lot of Cons! Better check out my #1 recommendation here instead.
Tools and Training
Unlike other online business opportunities which has training and tool, Banners Broker doesn't have any because it's only an advertising platform so you don't need to do much besides promoting banners.
However there are 3 aspects of Banners Broker that you could choose to involve in:
Sure you can join Banners Broker to promote your banners but what if you want to be the supplier instead?
See, how banners are advertised here is through the websites that are partnered with the company although at times, they do just simply buy cheap bulk traffic to save cost (Totally unethical because that traffic quality is cheap compared to that of a website).
As a publisher, you can list your website under Banners Brokers for free with the necessary website statistics such as your niche and traffic.
You can also earn money depending on the amount of impressions you managed to get so if your website has high visitor rate, then you'll make more money.
I guess you know where this is going.
An advertiser is the main aspect of Banners Broker as you will be the buyer who's interested in getting his product marketed.
This means that you'll be purchasing different packages depending on how many impressions you are wanting.
You will also be asked for details such as company business and demographics.
In simpler words, this package is for those who want to be both an advertiser and a publisher.
You won't see the benefit unless you've been in the internet marketing industry for a while.
Being both a publisher and an advertiser is for those who wants their investments to pay their own costs.
For example, you have a website but you want your website to have better recognition so how do you achieve that through Banners Broker?
By buying an advertiser package!
But for that you still need to pay so how do you cover your costs then?
By submitting your website as a publisher so you can make some extra cash to cover the costs.
See how that works?
Red Flags
I usually just write the pros and cons as they are much easier and simpler to do but I find that news around Banners Broker are just too dangerous for me to turn a blind eye to.
Here are a few huge red flags regarding Banners Broker that you should concern yourself with:
1) Merchant cards do NOT accept transactions with Banners Broker
To be honest, it is not so much of a surprise to me when I find out about the fact that Mastercard doesn't want to have any connections with Banners Broker because their reputation is at stake.
Mastercard said that there are just too many negative reviews and customer complaints (Another red flag) regarding Banners Broker that they just can't accept.
PayPal also doesn't agree with Banners Broker's nature of business and has long stopped their services with this particular scam.
Want to hear something funny?
A customer actually asked on Facebook as to why Banners Broker doesn't want to use Paypal and here's their response…
Due to this situation, Banners Broker had no choice but to create some sort of an e-wallet which is like their own card and bank for the users to use.
They control everything on that card which means that there is NO security at all whatsoever as they can literally take away the money from the users anytime they want.
To make matters worse, this actually happened as many users could not get their money back after earning from their campaigns.
This is really upsetting and I really hate it when people are too blinded with greed that they could resort to such attempt.
There is also another scam which I have reviewed called Empower Network which has a very similar case regarding the merchant banks not accepting transactions with them any longer.
I don't know about you but if huge companies like PayPal and Mastercard sees Banners Broker as a scam, I too would think of it  as a fishy company.
2) 11,000+ users being scammed and they are voicing out
I would understand if there are a few hundred people being scammed but 11,000+??
Imagine the money Banners Broker would have made from them!
These people are so fed up with being cheated that they voiced out and are grouping together to fight for their rights.
3) The media also has negative views
We've heard of unsatisfied users writing complaints and bad reviews but we don't really hear those from the media because they have better things to cover about… unless that it is a huge news.
Sure there are a LOT of internet gurus out there scamming people every day but that has become so much of a norm that the media just doesn't have the time to post about each and every one of them.
However, an internet guru that is being chased by the government?
Well that's something you don't see every day! (And a huge news to cover)
Here's a depict from the Sunday World regarding Paul McCarthy, the Irish representative of Banners Broker:
And here's another one by the Irish Examiner regarding losses that can and should be claimed from Banners Broker:
Want more?
Penman & Sommerlad Investigate which is a popular scam investigation website, ALSO has negative views on Banners Broker and they even featured some of the comments that the Banners Broker users are not satisfied with as well.
Way to go Penman & Sommerlad!
4) The Government is taking down the company
Banners Broker is SO huge of a scam that of course it doesn't go unnoticed by the government.
And since it's based in Canada which I would say is the most polite country in the World, they wouldn't just stand idly by while their country's image is tainted.
According to the court order screenshot above, I'm betting that Banners Broker will definitely go down.
And according to Spergel which is a Canadian chartered insolvency company, you can rest assured that this tyrant of a scam is definitely going down as Chris's company will be undergoing liquidation. [ Update – Or should I say… has undergone liquidation 😉 ]
5) Many users couldn't withdraw their hard-earned money
What is even more depressing than the fact that you can't withdraw your own cash that you worked so hard for?
Seeing how Mastercard and Paypal didn't trust Banners Broker in the first place was actually enough to give me a hint of what's coming because through the creation of the e-Wallet, Banners Broker can control the money flow of the people.
In other words, that e-wallet is the main cause of the users' money not being able to be taken out.
Since it's their own bank, your entire investments that you put there is under their own command which is a really evil thing to do.
Really, how do these people sleep at night knowing that they've made millions by stealing from innocent people?
Does Banners Broker offer quality support?
Customer support is perhaps the pinnacle of every business because it is the only way for a customer to get in touch with a company.
Supposing you want to ask a question or request for a refund but you have no way to reach a company, what then?
For the case of Banners Broker, support is VERY limited as it is in a form of an online email form which doesn't even work because whenever you click on send, it will bounce back as 'Invalid".
That's the only support you'll get.
There are NO support ticket to send, NO Frequently Asked Questions (FAQ) for you to refer to, and there's not even a community for you to mingle and ask questions or advice to.
The customer support is terrible and there are loads of complaints which remains unsolved.
Banners Broker vs Wealthy Affiliate
Instead of relying on a company which holds the security of your earnings at the palm of their hands, why not take control of your own earnings instead?
Wealthy Affiliate to date remains my #1 recommendation as it has the tools and training to guide you in build your own online business by monetizing your passion.
What I really like about it though, is the fact that it's free and there's loads of other community members who you can learn from.
Here's a quick comparison between these two programs:
Conclusion
---
I have to say, Banners Broker does look promising and I do firmly believe that it can grow even bigger if the system still works and the owner doesn't think about money.
However due to the difficulty in withdrawing your hard earned cash, due to the massive amounts of people not being satisfied with the service as well as the fact that even the government is taking actions to shut the company down completely, there is no doubt that Banners Broker is a SCAM and receives a rating of 0 out of 100.
If you're really interested in making honest money online, I would advise you to learn how to build your own online business through my #1 recommended program here.
Thank you for spending your time reading this lengthy review, do share your feedback as I'd be more than happy to hear them out!
Sincerely,
Your friend Riaz
www.MyInternetQuest.com