It's New Year guys and what better way to start your year than a recap of last year.
2018 has been a memorable year filled with ups and downs but unlike those other years, I finally took up the initiative and started up different businesses in areas I didn't really have the knowledge in.
Though my interests and niches are but various today, one essential skill that still remains number one is Online Marketing because without my blog and without the content, I wouldn't be able to grow my revenue let alone get any sales to begin with.
Want to know how my website fared the last quarter of 2018? Read on as I unveil the bigger picture, starting from…
My Website Statistics! -Let's have a Look at Numbers.
Since my last monthly report ended on August 2018, I'll be covering September till December.
I didn't manage to start posting regularly due to the numerous events that I had to handle since it's the end year but hopefully my site would sustain its monthly traffic.
For September 2018, I received 2,385 web visitors.
It's not a lot as compared to my previous stats when I was still active in posting content but at least it's sustaining itself.
Notice the huge spike at the graph? That's from one post that I did last September and it actually went up 3 times more than the average traffic I get daily.
Wondering how I did that? I thought you'd never ask!
Last September, there was a viral media whereby two university students printed a photo of themselves and hung that portrait at McDonald's and nobody, not even their own staff noticed!
It stood there for 2 months and nobody said anything as they thought that that particular portrait belonged to McDonald's when it clearly did not.
The whole internet went viral when those two students exposed their scheme and they were even invited to feature as artists on the Ellen Show.
In fact, McDonald's HQ even offered them an opportunity to work with them to be a part of their next campaign and they even paid both those students $25,000 each as a thank you.
Talk about whoa!
I took the opportunity to ride along that wave and wrote a case study on how that method went viral and how the internet went crazy about that and to my surprise, my retweets went off the charts hence the sudden spike from just that one blog post.
That sums up September, let's take a look a what happens on October 2018…
On October, my web visitor rate went up a bit to 3,049.
I was still a bit busy with numerous events for the year end but in order to sustain my site, I created one good blog post which was a bit similar to that of the month before but this time, it's a much bigger one.
I spent the whole month creating a roundup post to get all the bloggers together on one page and as a result, many shared back hence the sudden spike in that month.

Moving on the month after on November 2018, my stats went down to 2,309 web visitors.
November was a very busy month as I needed to constantly do field work for events and sometimes, I come home 4am in the morning.
Sometimes, 8am.
Because of that, I couldn't find the time to write as I work every day so even when I come home late, I still continue working the day after.
Last but not least, for December 2018 which was just last month (I'm writing this post in January 2019).
I was completely occupied with work that I didn't manage to publish any articles at all except for answering some comments on my site and connecting with people.
It isn't impressive, but this year in 2019, it's all going to change.
Now that we've got the stats down, I'm sure you're all curious on the next part…
How Much Were My Sales? -The Breakdown of How I Earn.
Okay explaining how I earn this time is going to be tough.
Usually, I write my monthly reports… monthly of course.
But since I've missed out on 4 months already, I'm going to breakdown my earnings roughly so that you guys can see easier, starting from…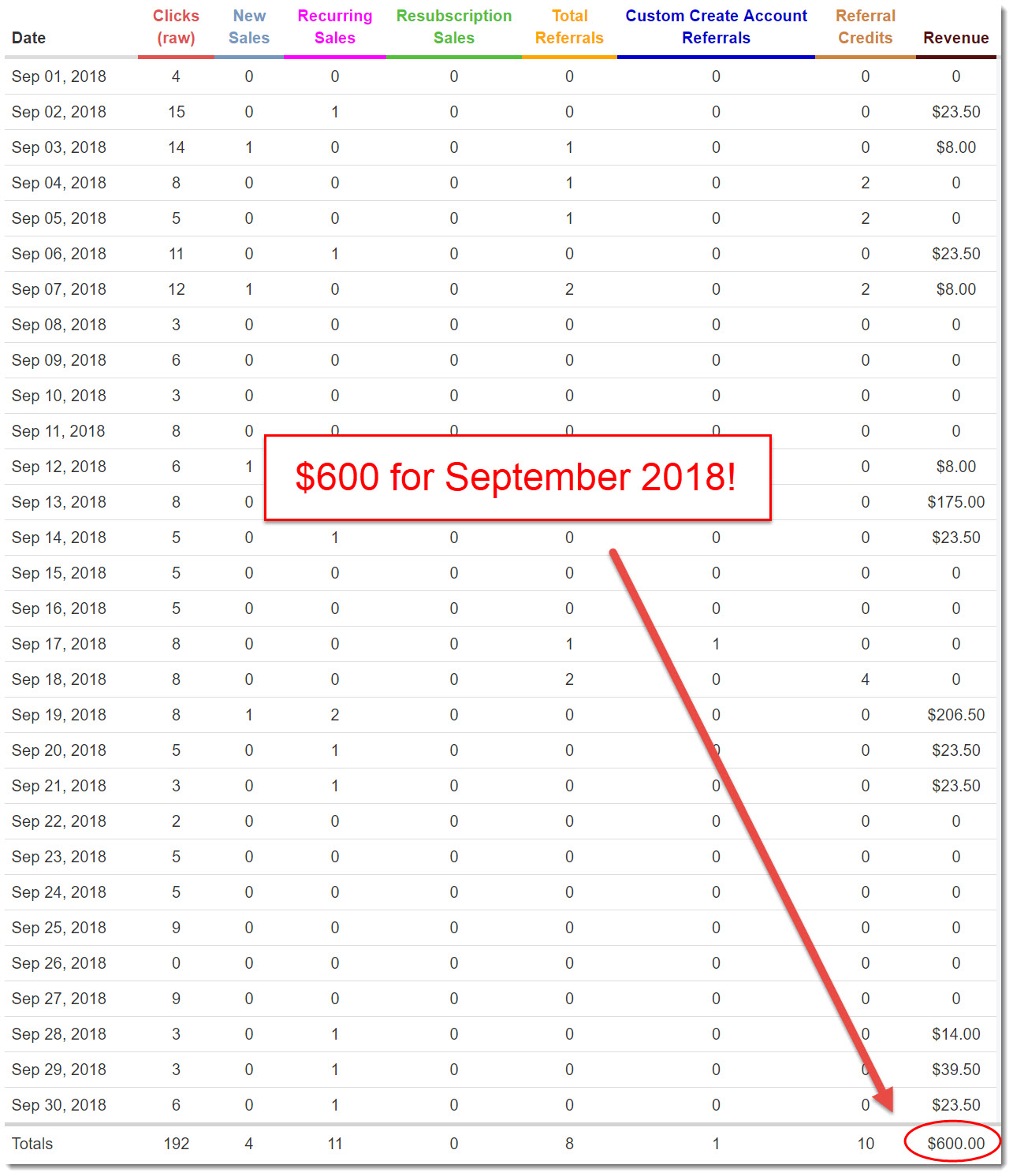 For September 2018, I earned $600, yaay!
But that's not all that I earned because I also have a few other sources of income so here's the total earnings compilation for the month…
WA earnings – $600
Uber Referral earnings – RM400 ($100)
Kitamen Shah Alam earnings (My Gaming shop) – RM5,000 ($1,250)
KAMIRA Event Management earnings (My Event Management company) – RM3,500 ($875)
Total for September 2018 = $2,825
Moving on to the month after, my blog earnings dropped a bit…
From $600, you can see that my WA sales dropped to $270 as I didn't work on growing it much.
Here's the total earnings breakdown from my other sites…
WA earnings – $270
Uber Referral earnings – RM200 ($50)
Kitamen Shah Alam earnings (My Gaming shop) – RM2,000 ($500)
KAMIRA Event Management earnings (My Event Management company) – RM30,500 ($7,625)
Total for October 2018 = $8,445
That's a huge drastic improvement from the month before!
As some of you might know, besides my affiliate earnings, I also earn through event projects that I promote solely from my event management website and for October, I got one of the biggest projects I've ever done.
It was a Gala Dinner for an aeroplane maintenance company from the US which has a base in Malaysia and I was handling for its Malaysian branch.
Of course I couldn't just show my bank statement to you as proof as that is confidential for our company but I can show the amount paid from my client here…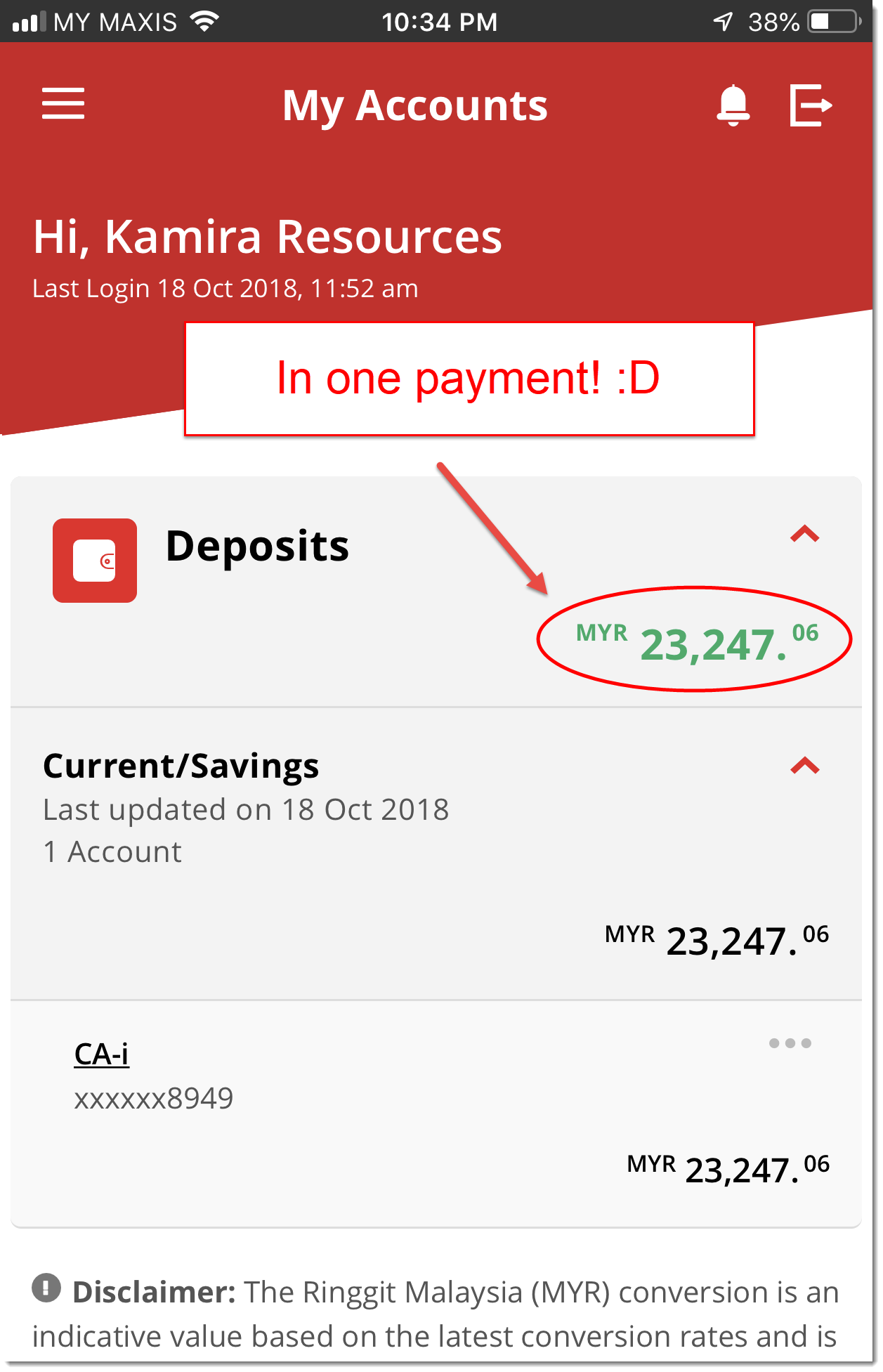 You can bet how excited I am, and all this from one simple call I received from my website.
I do receive a lot more calls of course but most of the other clients are usually on a tight budget and that they only want to rent some of my equipment instead of organizing their whole entire event.
My purpose is not to brag, but merely to show that Online Marketing does work for any business that you choose. All of these lessons I learned are from an Online Business platform called Wealthy Affiliate.
It is there that I learned everything there is to know about starting your own Online Business or growing an existing one which I highly recommend you guys to check it out.
That's for October guys, moving on to the next month…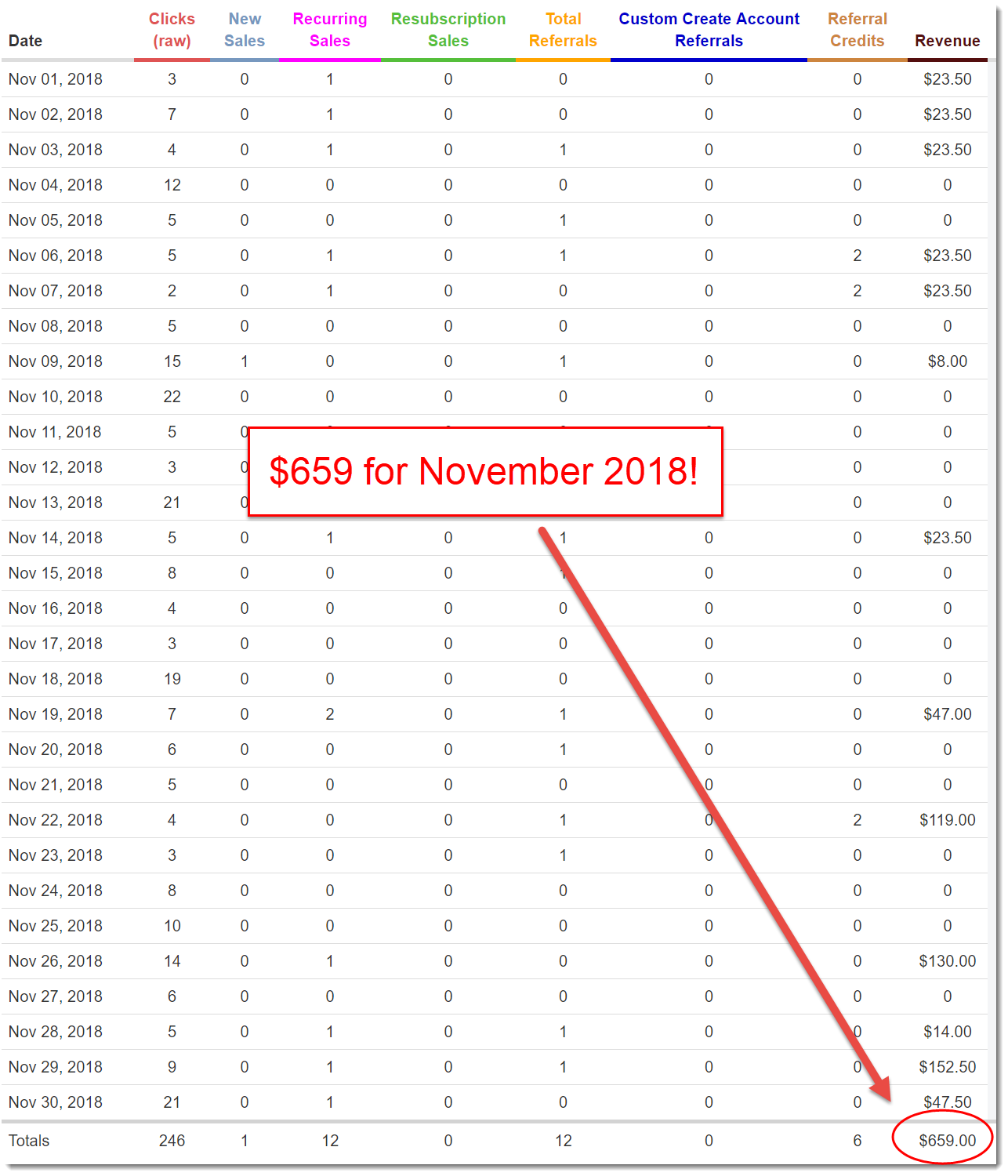 For November 2018, my blog got me $659.
It's a huge increment from the previous blog sale which was $270 and as for the total breakdown here you go…
WA earnings – $659
Uber Referral earnings – RM200 ($50)
Kitamen Shah Alam earnings (My Gaming shop) – RM3,000 ($750)
KAMIRA Event Management earnings (My Event Planning company) – RM8,000 ($2,000)
Total for November 2018 = $3,459
For this particular month, there weren't any huge events that I covered unlike the previous one besides equipment rental hence the low revenue from my events firm as compared to the previous month.
Last but not least, let's have a look at the final month of the year 2018…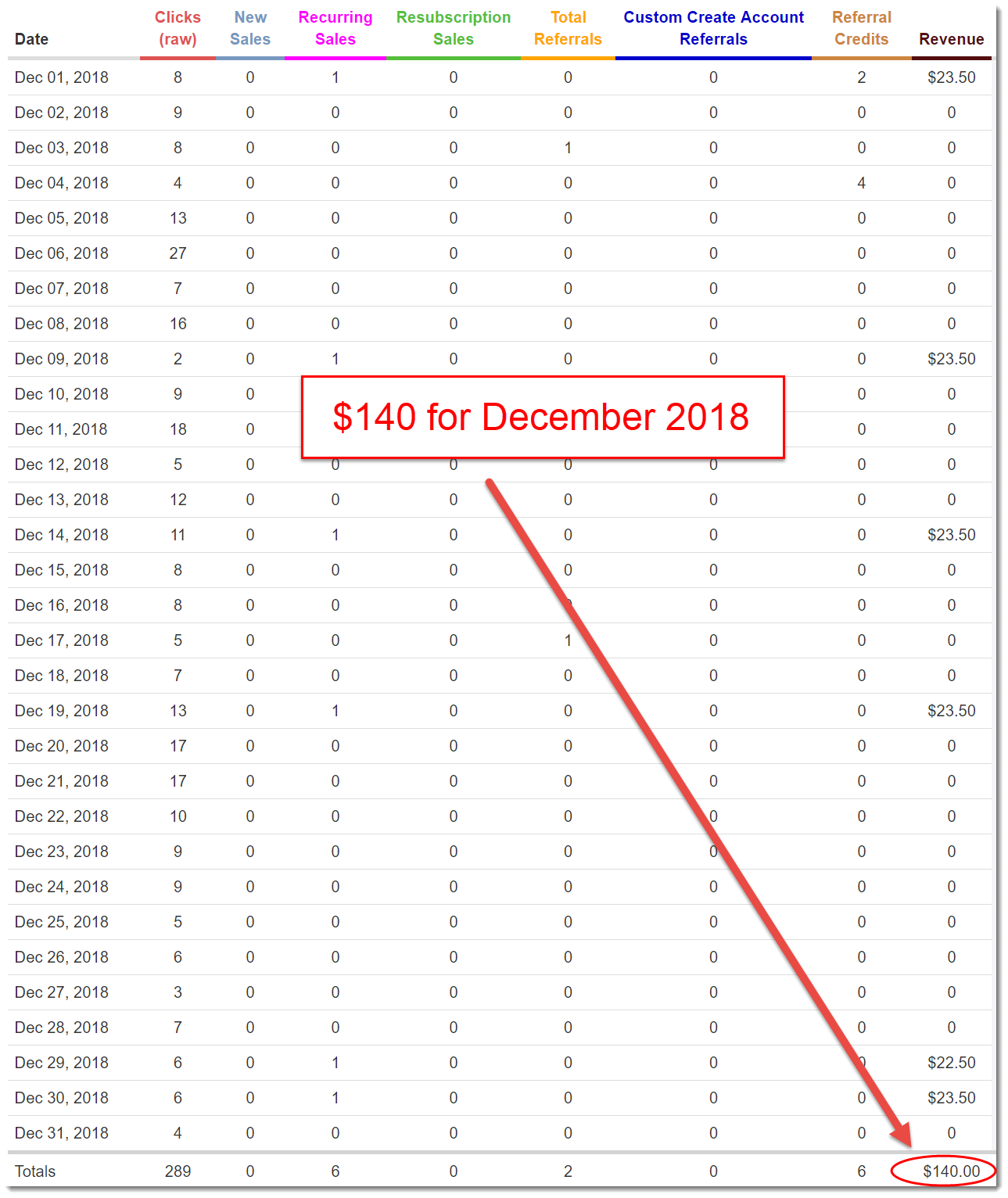 I was reluctant to share with you this part because my earnings dropped pretty bad, and I only managed to get $140.
But as I promised you guys earlier to be transparent and show my progress on my journey, I decided to show it to you anyway so that you get an insight that some months may give you higher sales than other months due to the seasonal holidays.
For December, blog earnings may vary as people tend to focus more on spending for Christmas and of course, for their outings.
Do not despair though, because my external projects came through again here…
WA earnings – $140
Uber Referral earnings – RM200 ($50)
Kitamen Shah Alam earnings (My Gaming shop) – RM3,000 ($750)
KAMIRA Event Management earnings (My Event Planning company) – RM28,000 ($7,000)
Total for December 2018 = $7,940
And that's it! My earnings for the whole entire four months explained 😀
For December though, I managed to get a last minute job for an exhibition and I was in charge of setting up the stage, decoration, arch and LED frame on the stage.
It was a crazy man's job and I had to stay up for 1 week just to make sure that our stuff finishes on time but luckily, we managed to make the event happen and wow the client as well.
It was extremely tiring and after the event ended, I went into a deep sleep for 2 days and still got tired even after waking up.
If you ask me, it was a golden experience and I would definitely do that again if another opportunity arises.
Doing what I do is not easy, I'm spreading myself a bit too thin which made me lose time on the other businesses if I focus on one.
You can see that when I focus on blogging, my revenue increases while the other jobs decrease in revenue but if I focus more on my event projects, I earn more there at the cost of my own blog revenue.
My goal is to make enough money to hire more people to help me with my work to take a step back and focus more on blogging.
What Was I Up To You Ask? -10 Things That Kept Me Busy.
Yup, 4 months.
There are of course a lot of things that kept occupied so much so that finishing my blog post writing took longer than expected.
1) I was in Charge of an Aeroplane Maintenance company's Annual Dinner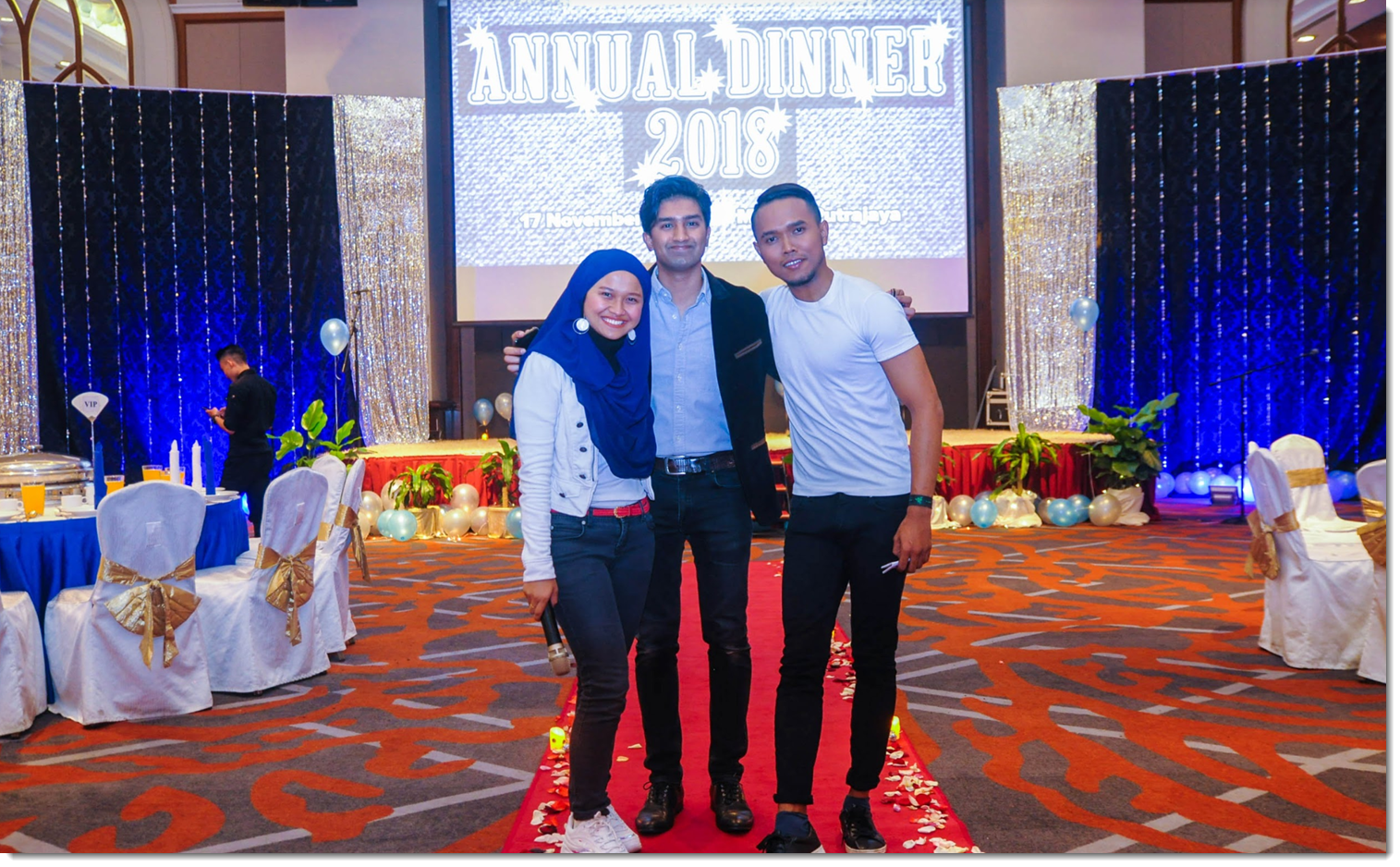 This was one of the reasons as to why I was terribly occupied.
It's been a while since I've last organized an annual dinner from scratch and it was well worth it too as I got to handle all the performances, the décor, and activities for the whole entire night.
One night, 2 months of preparation. Phew!
2) My Best Friend's Wedding
I don't have many friends but those that I have are very close to me and affects my life greatly.
As my best friend's wedding was getting near, me and my friends started getting busy in organizing so that took most of my time too.
3) Business Trip to Singapore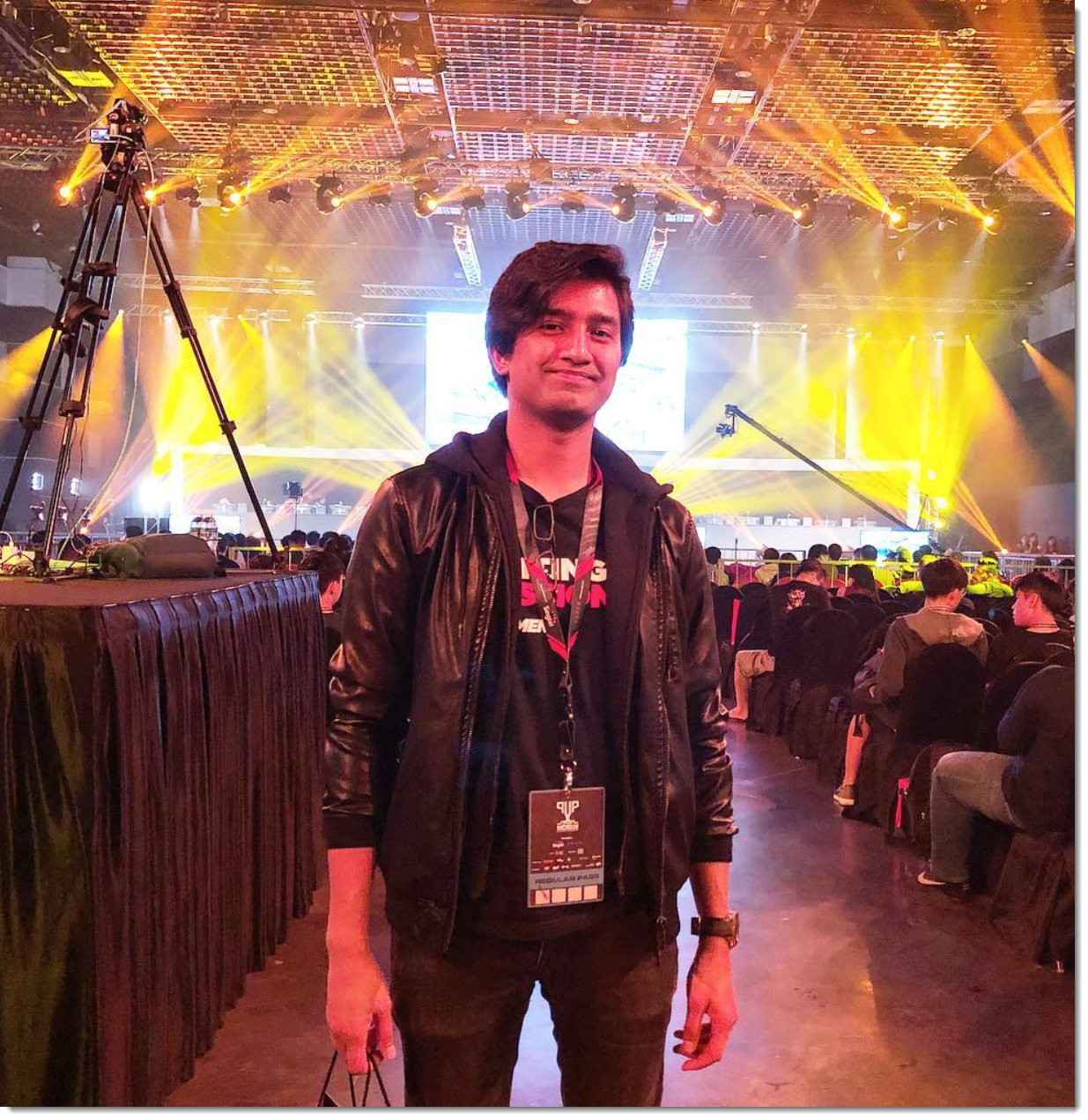 This is the part I loved most.
As I work, I tend to be stuck in front of my computer either in the office, or at home.
Sometimes when I want a change of air, I bring my laptop out and do my work in the park or in my garden where it's breezy and calm.
But after a while, I started to miss travelling so when I stepped foot in Singapore for the event, I ended up going all over the place and spent the whole week there instead.
Coming back to the main point, while in Singapore, I was invited along with several other Malaysian eSport organisers as guests of honour for the event.
4) Esports Tournament for National Sports Day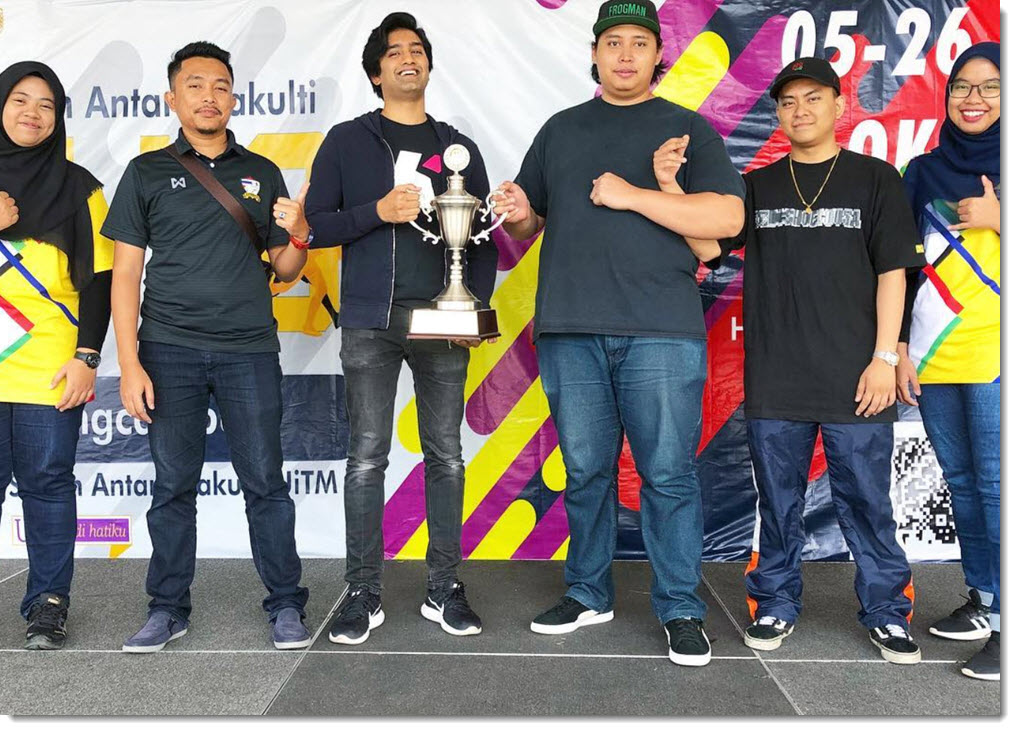 This was another eSport event that I handled in conjunction with the National Sports Day.
We brought all our equipment from my small gaming shop as well as my team to handle the tournament there.
The event was jam packed and we couldn't have space to leave the room, it felt as though we're in a can of sardine but it was well worth the time.
5) Interviewed by University Students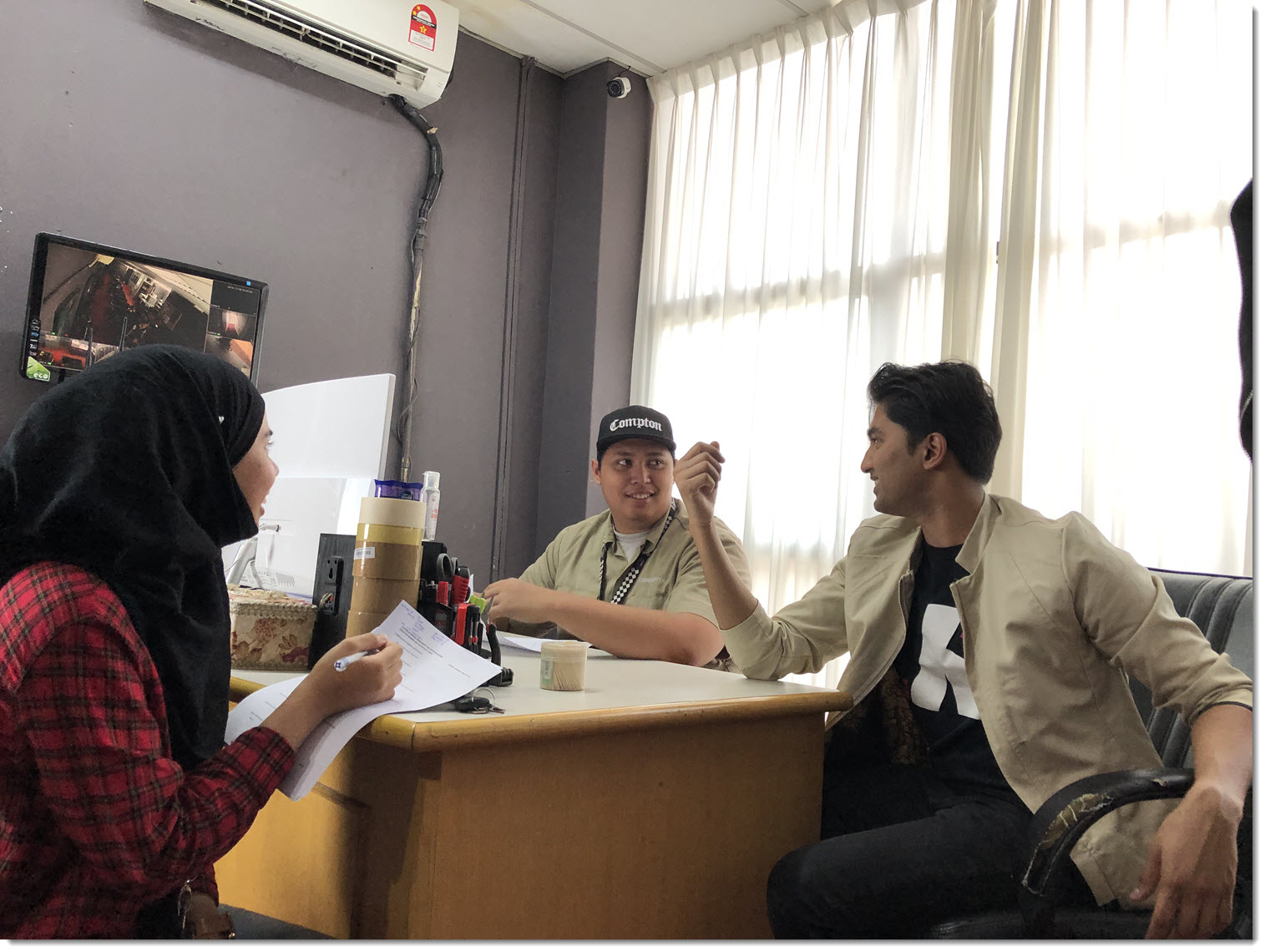 After managing events with various institutions, I was again invited for an interview.
This time it wasn't anything big as it was only university students from UNISEL (Selangor University) and we ended up spending the whole entire day teaching them about managing startups.
6) Another one of my friend's wedding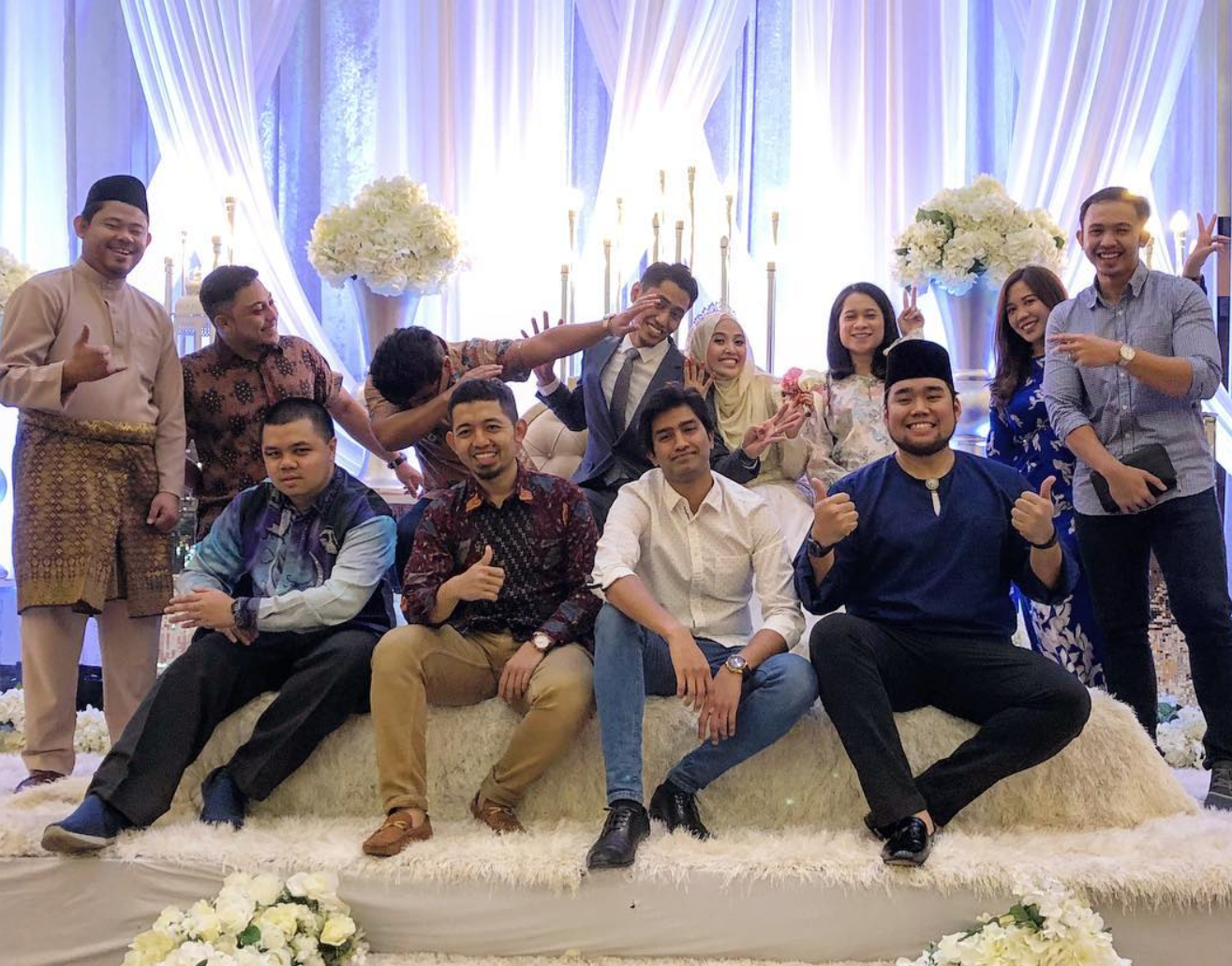 Nothing much here, just another one of my childhood friends getting married.
It seems like 2018 is the year when almost all my friends got married.
7) Yet Another Annual Dinner Job
Yup, you've read it right.
I was in charge of handling another annual dinner, and this time it's for a very sweet company which produces cleaning sprays.
I loved every moment of the event as everyone there was super nice and friendly, I was surprised that they reserved a whole table of hotel dinner just for me and my team to eat if we're hungry.
You can imagine how surprised I was and just so you know, clients usually do not spend part of their food for organisers.
Definitely a company I would want to work with the next time around!
8) Interview with Roope Kiuttu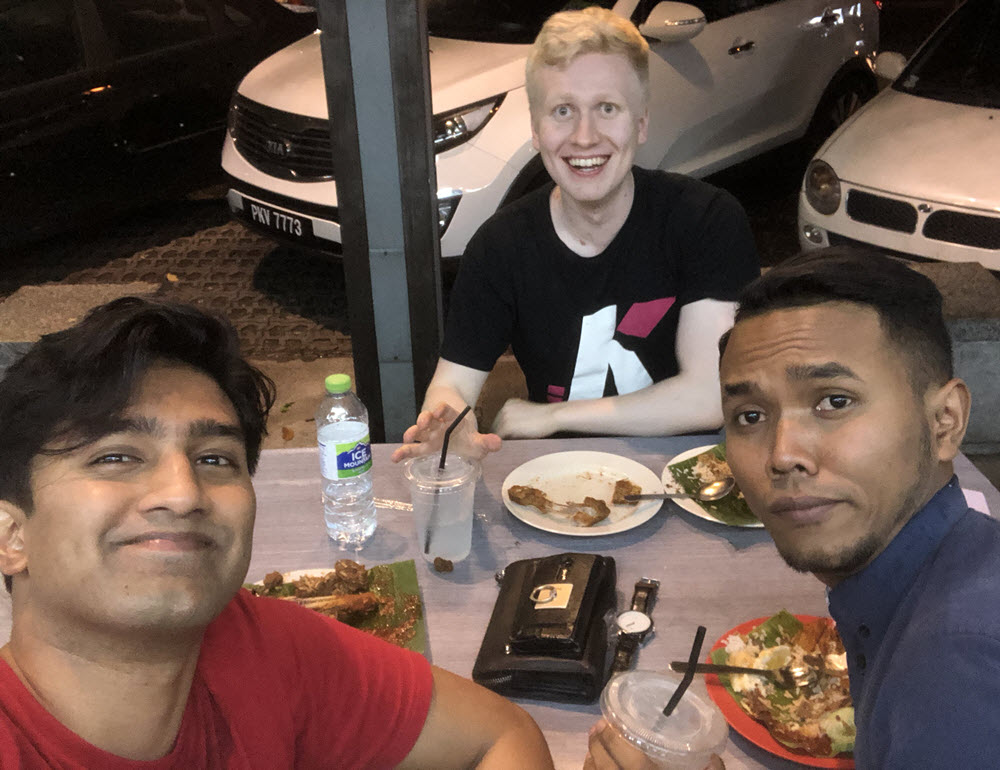 In the midst of all of that, believe it or not my friend came all the way from Finland for a short visit.
I was super excited as it has been a long while since I've last seen Roope and just so you know, he is one of my closest friends inside the Wealthy Affiliate community which is the Online Business platform I was talking about.
We started both our blogs just about the same time and because we were newbies back then, we usually share SEO tips and of course, ways to increase revenue to so that we can grow our blogs faster.
On his visit, I managed to do a short impromptu meeting here…
It wasn't much since it's my first ever interview video but more to come and I'll definitely do a better one in the future!
9) German Expats visited me
Well not exactly expats but rather my friends from Germany.
Back while I was in the UK, I was working in the Mayfair hotel and since it was my first time living there, I was clueless as everything was different, even the accent.
I met my friend Bastian there who was also clueless so we explored London together and I told him that if he ever comes to Malaysia I'll give him a tour.
I learned that he too is slowly delving into the business world and he sells LED which is done mostly through his Online Marketing efforts.
I learned a lot from him as well and it's certainly one of the many reasons that gave me the added push to continue blogging.
10) My first exhibition fabrication job
Yup, everything you see in that picture was exactly what I and my team did.
I'm super impressed with myself, we barely had any sleep for the entire week just setting up everything – Designs for an arch, fabrication décor, and even balloons dropping down from the top floor of the mall.
Even the Beetle (Short name for the car) was a last minute thing we helped the client with as they wanted to give a brand new car for the lucky draw but due to the last minute timing, we couldn't buy one so we got ourselves a second hand car just for show before giving the new one.
I didn't even know how to set up most of that and we all did it last minute by collaborating with some suppliers and of course, YouTube for tutorials but amazingly, the event ended up beautiful and the client was really impressed.
Final Word
---
I seem to have typed quite a lot for a simple monthly report but it's worth it.
Looking back, with multiple businesses that I have to handle today, it would seem that I have spread myself a bit too thin with my event projects.
Building a startup isn't easy but the money's good and I couldn't have grown any business without the Online Marketing skills that I've learned within Wealthy Affiliate.
My end game is to stabilize everything until my company can run by itself and from that moment onwards, I plan to fully be behind my computer to blog with ease 🙂
Thanks for reading guys, I really appreciate it and I wish you a Happy New Year!