Being viral is the best thing for every business.
And for most people who are not into business, benefits can get even better when you're recognized – You get awesome job offers, you get invited to talk on a radio or TV, and you get a ton of followers on your social media.
I've seen a lot of people getting shortcuts to success by being viral through various skits or gigs but this recent one regarding two students from Houston who shocked the whole world through their McDonald's prank until they got invited to appear on Ellen DeGeneres, got my attention the most.
I was so intrigued that I started doing an analysis based on what I learned back then during my Integrated Marketing class which had a lot of elements connected.
Are you as interested as me on finding out how some random students got famous in 2 months? Then read on as I unveil the bigger Picture.
How Did They Get to Fame? -McDonald's, I'm Lovin It!
Ideas can go crazy sometimes when you frequent a place too much.
And for this case, the story began with two students from Texas who happened to go McDonald's often and they saw an opportunity.
Jevh Maravilla and Christian Toledo noticed that of all the ad posters of McDonald's ads, none of them included Asians in those photos so they wanted to change that.
As the duo was thinking of ideas on how to actually do that, they saw a wall spot without any picture frames there while they were eating at McDonald's – It was just an empty wall space.
They looked around and saw that the CCTVs weren't even pointing on that specific wall, probably because it's just another wall, maybe that low handling ceiling light was blocking, or that maybe it wasn't in any specific area that needed surveilling.
Jevh and Christian instantly got an idea where they wanted to add another McDonald's ad poster of their own so they went back and got to work.
They bought some food from McDonald's, posed themselves with a burger and fries in a place with good lighting and surroundings for their pictures, and went back to do some editing.
They then paid to print their poster and bought a McDonald's uniform online in order to carry out their mission.
Came the day of reckoning, they went back McDonald's in Pearland Texas and waited until night time so that most of the crowd were gone.
Once the coast was clear, Jevh put on his McDonald's uniform so that he blended in, and guided his 2 friends to hang the poster ad on that empty wall spot.
He then waited for 51 days but surprisingly, none of the staff actually noticed that poster there so he finally tweeted it and got super viral instantly.
Very clever and well-thought idea, don't you think? I have an office and I never looked at the wall images at all!
And believe it or not, from that one specific tweet alone, Jevh received 260k retweets and one million likes…
i noticed there was a blank wall at mcdonald's so i decided to make this fake poster of me and my friend. It's now been 51 days since i hung it up. pic.twitter.com/5OTf5aR4vm

— JΞVH M (@Jevholution) September 3, 2018

Not only that, he also uploaded it on YouTube and got 1.3 MILLION views!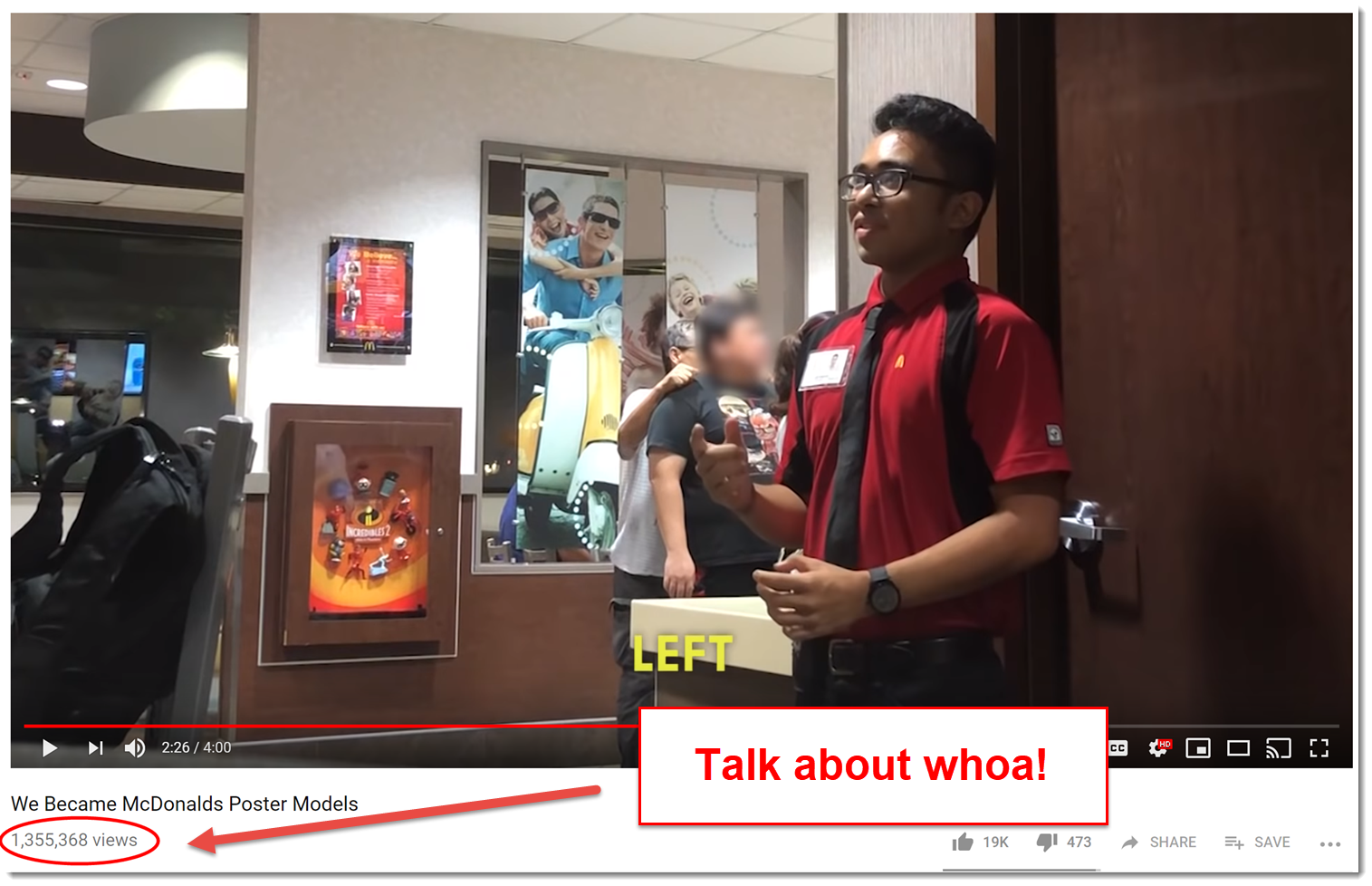 It got so viral with many sites covering about the students' prank success but that wasn't the end yet because soon after that, they got invited for an appearance with Ellen DeGeneres!
Because of their creative idea on making that poster (It actually looks kind of good) not to mention their appearance on Ellen DeGeneres, McDonald's collaborated with Ellen to surprise them with a check of $25,000 for each of them!
McDonald's also mentioned that the poster those students made will be taken down as the restaurant will be undergoing renovations but they will definitely be featuring both Jevh and Christian as the Asian diversity for their next marketing campaign.
I'm really happy and excited for them and I'm sure that this won't be the end for them because as their trends will slowly go down again through time, we'll be sure to see more of Jevh and Christian on one of McDonald's future ads.
Top 5 Elements that Made Them Viral
This is the best part – Finding out what makes their gig so viral.
Element #1 – They Identified the Problem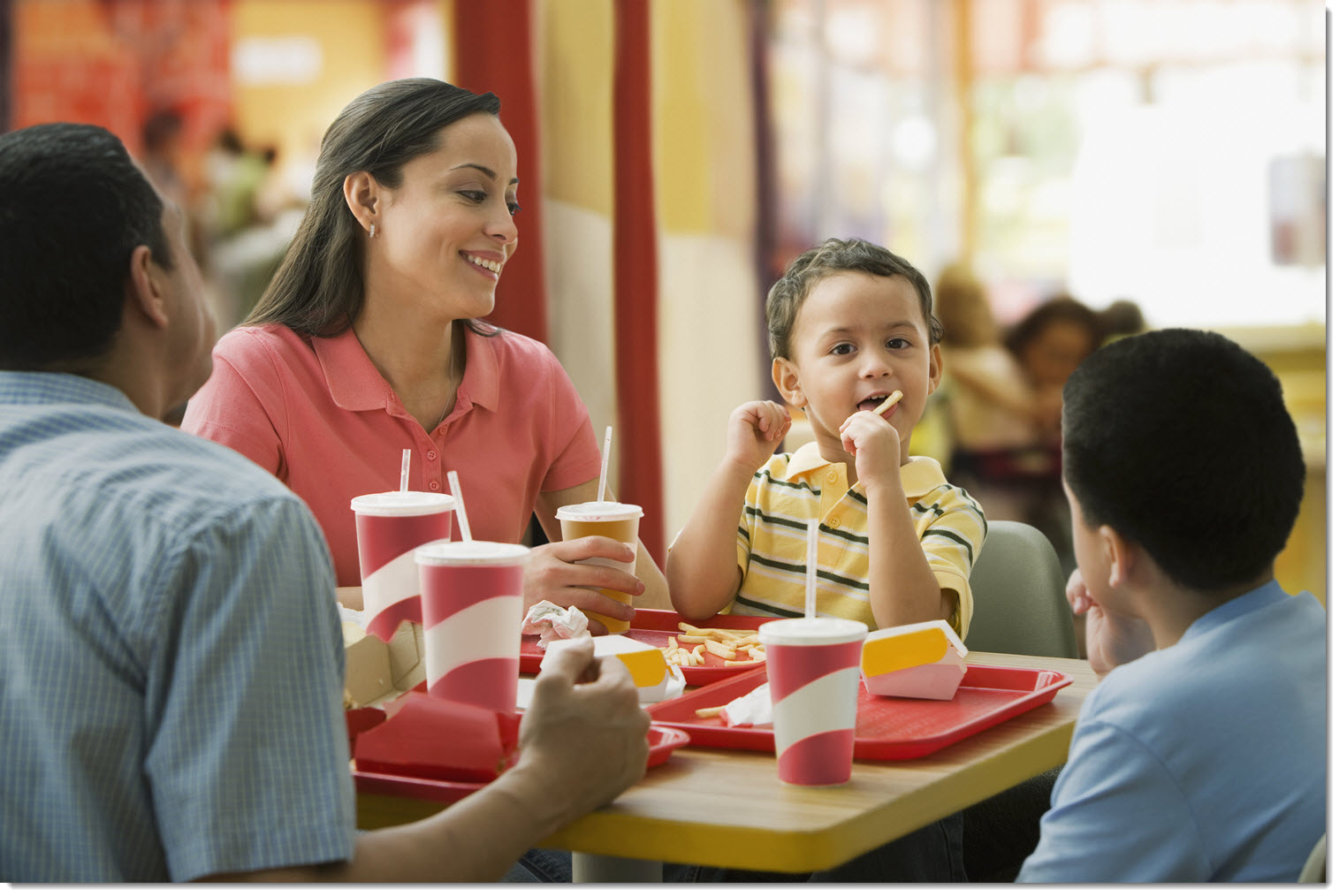 Not all viral campaigns are based on a problem but those that do, is one of the main reasons they are viral.
Many people jump straight to solutions to cut their way to fame but what are you actually solving if you don't even know the root of the problem?
Even if you do get viral, imagine reporters or even Ellen herself asking you, "Why did you do that stunt"?
If you do not have any valid reason for the viral gig that you're attempting, everyone would criticize you saying that you're just doing that particular action for cheap publicity and nobody likes that.
Not only that, all your followers would doubt and leave you ending you with lesser followers than before which is why you need a cause.
For Jevh and Christian's case, the problem that they noticed here was, of course, the part where McDonald's posters in the Pearland Texas branch did not portray any Asians on their ads, so they wanted to change that.
From trying to solve this issue alone, they got the attention of all the other Asians friends who then spread the word around on social media first which then, got the attention of everyone else and from there, it just keeps spreading.
Although solving a problem is one of the main elements, there's also the question of how you achieve that…
Element #2 – Out-of-the-Box Idea That Helps the Company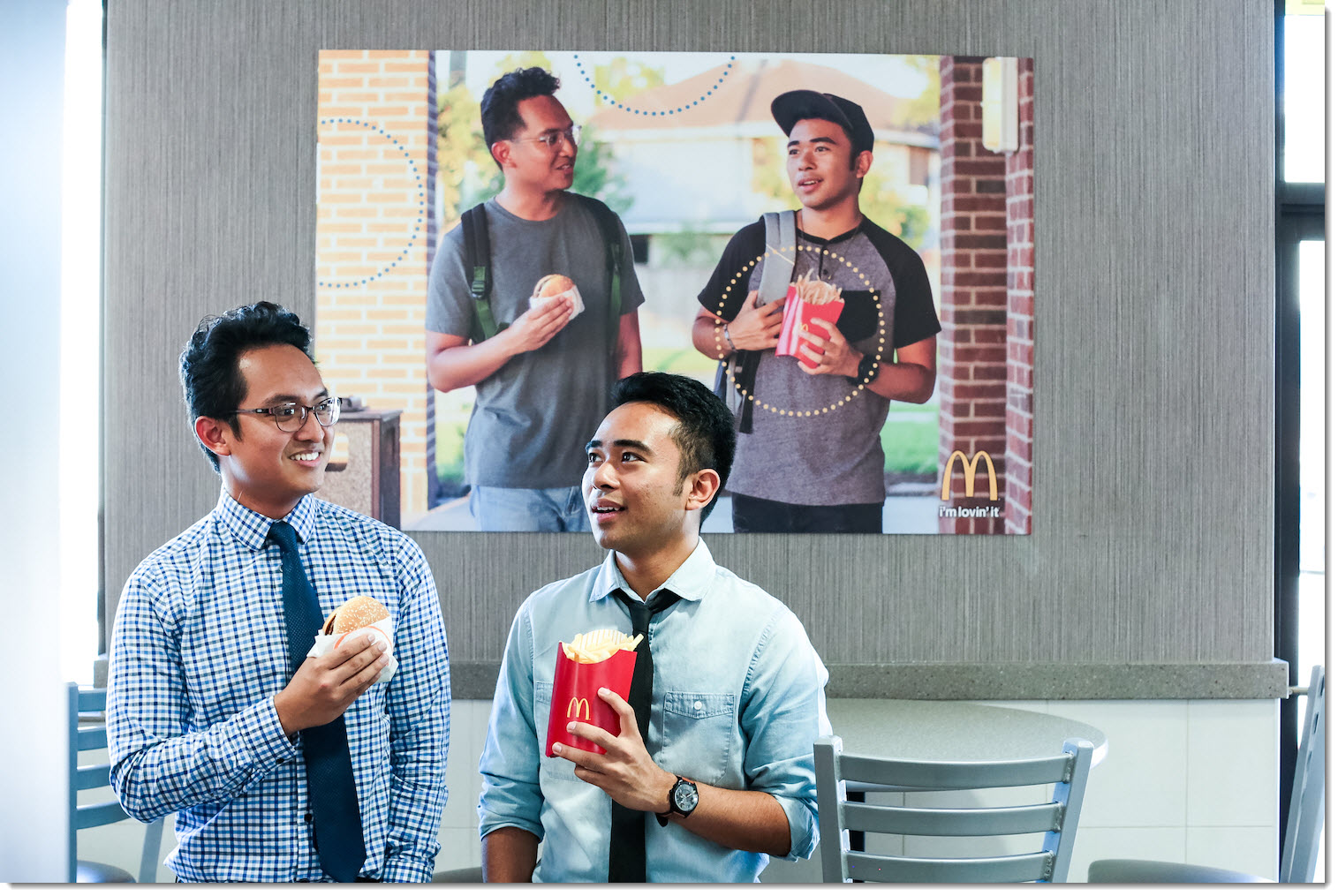 What do you do when you want to get the attention of big companies?
You help them out.
Believe me, this is the easiest way to get their attention or the attention of just about anyone at all because they will obviously start to wonder, why on earth are you helping them free of charge?
Jevh and Christian did it right by going through the trouble of creating their own poster and pasting it on McDonald's which obviously caught their attention.
Although it did take some time and a few tweets, they did notice these 2 students eventually and not only that, the HQ rewarded them handsomely for the effort and for the free marketing they received.
Some examples if you were to do it differently than Jevh and Christian…
Doing free classes for underprivileged people on school grounds – You'll get attention from the school.
Creating a super bed and placing it on Ikea – Ikea might take you in under their creative wing.
Making a robot out of disposed electronics – You help reduce electronic waste and at the same time, creating something amazing.
You get the idea!
We live in an era where money matters so if you were to help other people for free without asking for anything in return, it'll be an excellent marketing strategy because not only would they be surprised by you, everyone else will too.
Element #3 – Storytelling
Everyone loves a good story and until now, it is still one of the best forms of engagement.
Probably because we're reminded of our younger days, or that it may be a source of inspiration for some, or maybe because we're all too tired of working and we needed something to help take our minds off things.
The mechanism behind storytelling is hard to explain but it's been around for many generations and until today, it's still a very popular form of marketing.
Here's a cool infograph by One Spot explaining the science behind it…

Remember when Britney Spears shaved her head? she finally revealed the full story that she was under extreme depression due to personal reasons.
It's not because of cheap publicity, she is already known worldwide but she was in a very deep spot and it messed her up.
Or when an immigrant from Mali climbed several floors of an apartment building in Paris just to save a falling boy back then in May 2018, it was because of his personal connection to children that moved him to do the unthinkable.
The same goes for this case – Jevh and Christian didn't do a prank just to get famous.
They did the poster prank because they wanted more equality for Asians in American advertisements, especially in places they frequent a lot which in this case, is McDonald's.
They didn't go all the way to record a viral gig, no.
They simply added a few pictures after 51 days and only after they got viral, did they finally share the video of what happened behind the scenes.
Element #4 – Portraying Themselves as Consumers.
In France, we have this saying "Quand à Rome, fait comme les romains".
In Rome, do as the Romans do which means that wherever we go, we need to blend in to be accepted and that's exactly what Jevh and Christian did for their poster ad.
They wanted to show that they are loyal customers of McDonald's and that they are not doing this poster stunt entirely for cheap publicity. So, they made it in a way that McDonald's would see that they are one of them.
Jevh and Christian bought burgers and fries from McDonald's, they added a logo there on their image and hell, they even bought a uniform to blend in seamlessly.
McDonald's is a huge corporation with strict guidelines and they could as easily sue those students for easy money and save all the trouble but because the stunt was well carried out and that they see Jevh and Christian as their loyal consumers who just wants to do good, they take it as an opportunity to reward them instead.
It is a great idea because by doing so, it would make McDonald's competitors like Burger King or Wendy's to awe in jealousy when they see that McDonald has those type of consumers which places them on another level in the fast-food chain.
The stunt was well-carried out in my opinion because if Jevh and Christian were to use products that did not come from McDonald's, they would have gotten themselves sued or much worse, jailed.
So if you want your publicity to work out and get favours from the respective bodies, blend in and try to make yourself a consumer or supporter of that specific place, organization, or company.
Element #5 – Emotional Anchor
People bond easily to you when you share what you're feeling.
Whether it's happy, sad, nervous, or fright – Humans can easily relate to those feelings and the connection goes way beyond words which is why sharing your emotions is a powerful thing if you want people to relate to you better.
On one of Jevh's videos (Some next level editing he's got there), you can see how nervous everyone was here…
At first glance, it looked simple and not scary at all – Just some students putting up a poster, what's so scary about that right?
But after they started sharing the whole entire journey from idea-making to buying that McDonald's outfit online, viewers got hooked to their story and wanted to know more.
Jevh and Christian didn't have any bad intentions and they just wanted to see how the photo would look like however at the same time, they were also afraid that McDonald's would do something to them.
They explained how careful they were when putting up the poster ad – They used tapes to stick it so that it won't damage the wall, used a McDonald's logo on their image, and waited till late night when all the other customers had left so that they won't bother McDonald's source of income.
They catalogued everything in their video but of course, shared their journey on Twitter so that their audience was informed of the process.
People reacted super crazy on their Twitter thread because they can relate to that and one of them also shared a similar experience they did on poster swapping…
Me and some friends did that at our local Walmart! Then we took a pic with our pic in the frame and put that in another frame! They were there for a good 3 or 4 months until they got a new batch of frames in. pic.twitter.com/SUKsuD1OXi

— Brynn Shuller (@BrynnShuller) September 3, 2018
Sharing how you feel with your audience is a great way to connect with them because it shows that you are down on their level and not above them because nobody likes a snobbish know-it-all.
When Jevh and Christian reached Ellen DeGeneres' place (They were invited), they understood well that it is a rare opportunity that not many people get so they shared a picture to their audience to keep them updated, and let them know how they felt…
I'm still trying to wake up from this dream! Catch @christiantoleds and me TODAY on the Ellen DeGeneres Show! (excuse my ugly reactions) #McDonalds #EllenDeGeneres pic.twitter.com/f51E12ur9Y

— JΞVH M (@Jevholution) September 17, 2018
Because of the emotional attachment that Jevh has established with his audience, people related to him easier and they were able to understand the reason behind what that which is why they supported both Jevh and Christian instead of backlashing them.
Nervousness and laughter aren't the only emotions at play, there is a whole bunch of them and you can refer to the Wheel of Emotions by Psychologist Robert Plutchik to find out the full variety of it…
Huge corporations also leverage on emotions for their campaign, like joyful advertisements for children, love for teens, and luxury for entrepreneurs.
Do you feel scared when watching horror shows?
If you've noticed, the frightful feeling will linger for a few days even after you've watched the show and that's because movie producers spent months planning on the perfect horror leverage to make sure it is connected to your everyday lifestyle so that you will continue to remember the show.
Horror shows aren't actually scary if those monsters don't exist in real life – But if they were to be connected to the real world, you're definitely in for a thrill.
Regardless of what campaign you are planning to do, if you share the emotional train ride with your audience, you can easily bond with them for better engagement.
Want to Earn More Visibility Online?
There's a program that teaches all of that called Wealthy Affiliate.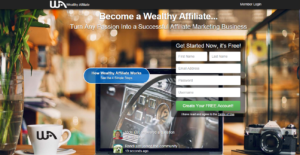 It is an Online Business platform that provides you with everything you need to know about scaling your business.
Inside, you'll not only learn how to build an authority website, you will also master the art of branding and monetizing regardless of any niche or interest which is how I was able to build my blog and several others on different businesses.
The features they have there are really all that you need to be successful online – Things like a keyword tool, live video training, website health checker, or speed booster but the most powerful thing there I would say, is the community of bloggers and entrepreneurs inside.
I started my entrepreneurship journey alone back then and countless times, I find myself stuck which was very frustrating but with the people there, I was able to get through those obstacles and grow my blog even further.
If you want to grow your business through online marketing or start a new one, then this is your best place for you.
Final Word
---
Viral stories are awesome but as a marketer, learning on how they get viral in the first place is the real question.
I really love how carefully planned the prank was, like instead of waiting a week or two, they waited for almost 2 months before revealing the whole plan and they even took the time to edit a video and add it on YouTube for better traction.
Thanks for reading guys, I hope the analysis was helpful and if you'd like more info on how I do what I do for a living, check out my top-ranked program here.
Let me know if you have any ideas on what you'd like me to cover next, I'd love to hear some of your ideas 🙂