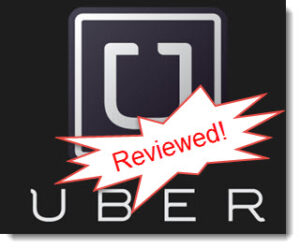 Company name: Uber
Country of Origin: USA
Founder: Garrett Camp and Travis Kalanick (Co-Founder)
My rating: 4 out of 5 ⭐️⭐️⭐️⭐️
[Update] Goodbye Uber! Such a sad day for Uber in Malaysia guys because today, they have ceased operation due to their merger with Grab and I too am no longer a Uber driver.
Uber started appearing in Malaysia back in January 2014 but I've never really bothered to try it out because I was busy with work and studies.
It is not until my family started having problems with our finances that I started looking for another income source and that's how I decided to try out Uber as a driver.
Is it a good opportunity to go for?
Definitely yes and I've even the proof to back me up so do continue reading this full Uber review of mine to know more about how Uber works and how you can earn from it.
Pros and Cons
Pros
You get to earn cash fast.
Payout is weekly so it's useful if you are in urgent need of money.
You can earn boosts on rush hours.
You don't have to worry about requests because you'll get another one even before you finish sending a passenger.
You don't have to worry about tolls, they are covered within the payment itself.
You'll get to meet a lot of great people from various backgrounds to network with.
You'll get to meet celebrities if you're lucky!
Uber support is awesome!
Cons
Not a good job to go into full-time as it wears out your car and increases the mileage.
You have to pay for your petrol.
The Uber fee is 25% of your total earnings.
Your car must not be more than 5 years old of make. If your car is older, you need to send them to the Uber HQ for inspection.
Some passengers are dirty so you have to constantly clean your car every day.
Many grumpy passengers especially in the city as they are always in a rush.

So How does Uber Work in Malaysia? –My Brief Intro.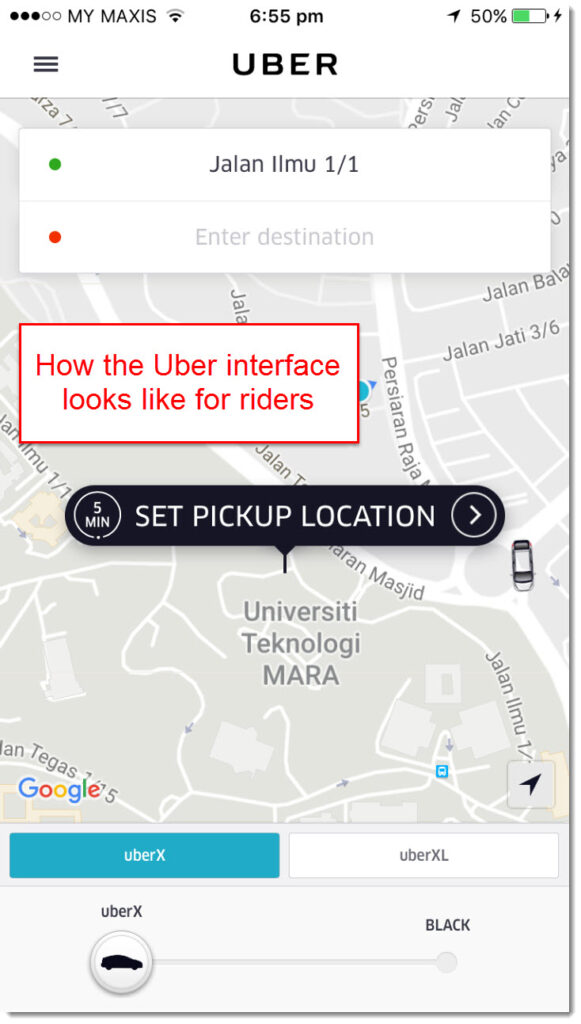 If you're reading this page, I'm sure you're more than interested to know how you can earn as a Uber driver rather than a passenger or rider.
I know because like many other drivers I've met, I myself have only tried requesting Uber as a rider only 2 or 3 times before becoming a Uber driver.
Not to show that we are greedy or anything, but it's actually due to the fact that we have our own cars which is why we rather drive on our own than paying people to drive us around, so why not earn more to drive others as well right?
Nevertheless, it's good to know some general info on what is Uber and how it works.
Uber is a ride-sharing app that helps us get from one place to another with ease by connecting riders and drivers with a touch of a button.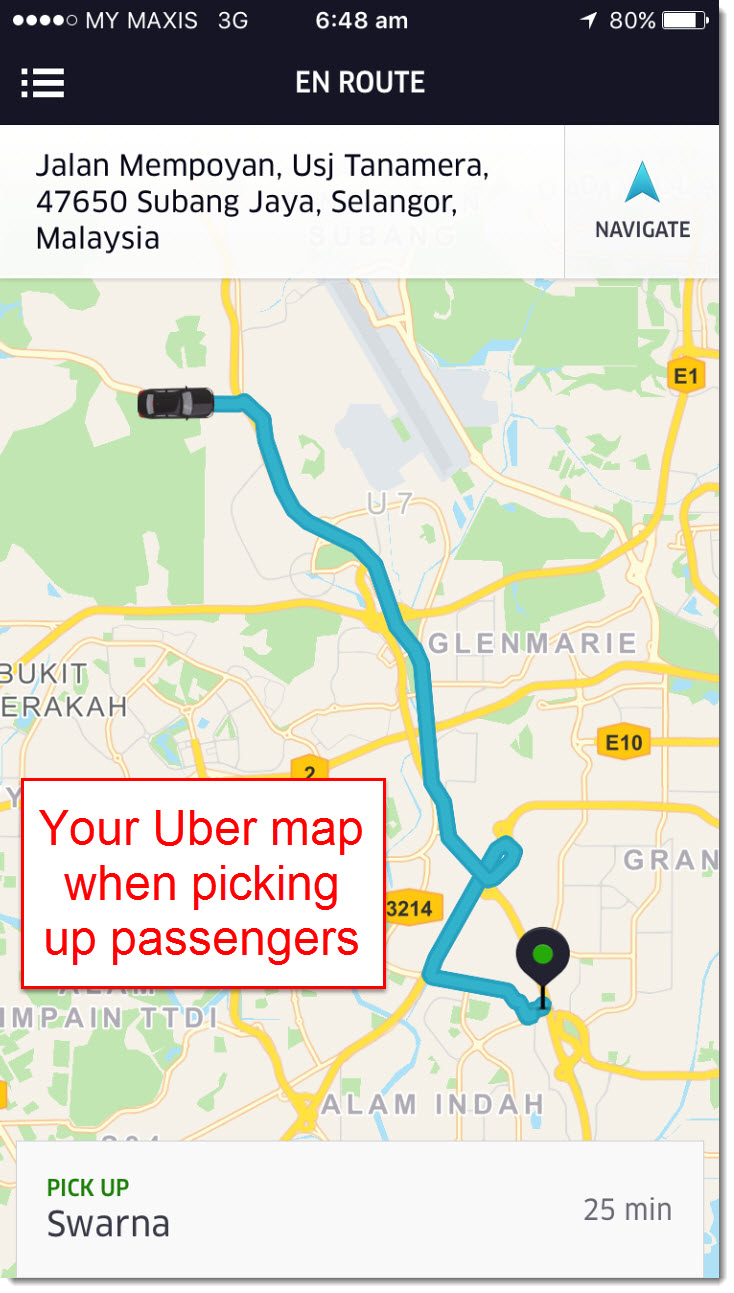 Actually, it works pretty much the same in every country, but with a difference in pricing (More on that as we go).
It's actually very cheap compared to conventional taxis and it's more comfortable too as Uber drivers use their own cars rather than taxis who do not really bother about their car condition as theirs are rented.
Whenever a user requests for a ride, the Uber App will give the signal to the nearest Uber driver available so if you are forced to pick up a passenger 15 minutes away, it's not your fault and you can actually give the passenger a call to see if he or she would rather wait for you that long or get another form of transportation instead (Very unlikely).
And as a Uber driver, you don't need to worry about directions because Uber will show you the way from its map if you're not familiar with the area.
Not comfortable with other map navigations? No worries! I usually switch to Waze for navigation as I'm more comfortable with it. Some other drivers use Google Maps so there's no excuse for you not to try.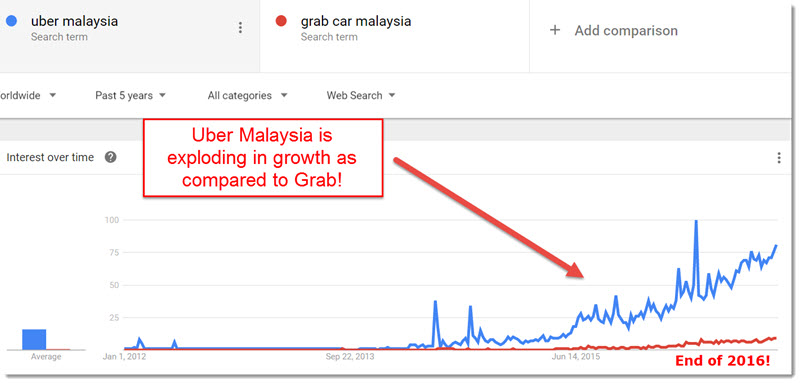 What's more awesome is that Uber is really going up right now as they are doing all sorts of promotions non-stop almost every week so if there's a time for you to give it a try, there's no better time than now.
Pretty simple right? Now onwards to the good part…
How do Uber Drivers Earn? – Know the Formula.
There are 2 ways how Uber drivers earn in – By driving passengers or by referring other people to join as drivers (Or both!).
If you refer new drivers, you'll get RM300 if they finish 49 trips…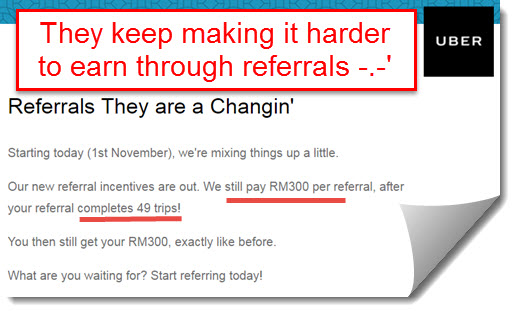 It used to be 15 trips, then it went up to 30 and now, they've increased it to 49 trips which, I'm guessing they'll be increasing it more than usual sooner or later.
You know how stingy big companies are the more money they have.
So how do you earn as a Uber driver?
Every country has different calculations and here in Malaysia, the formula is as follows for the normal Uber X…
RM0.95 base fare + RM0.25/minute + RM0.60/km
When you first accept a Uber request from riders, you will instantly start the Uber meter with RM0.95 as soon as you start the trip and as you drive, the per minute and per kilometer calculations will follow.
It's really simple and you don't have to worry about anything else – I particularly just drive and not even think about calculating because oftentimes, you'll get too busy with Uber requests and your passengers will want to chat with you too so you have to focus on them.
As a Uber driver, some of your passengers will pay by card while others will tend to pay you by cash.
So if you're holding cash, how does it work in the system?
I'm glad you asked. Take a look at this…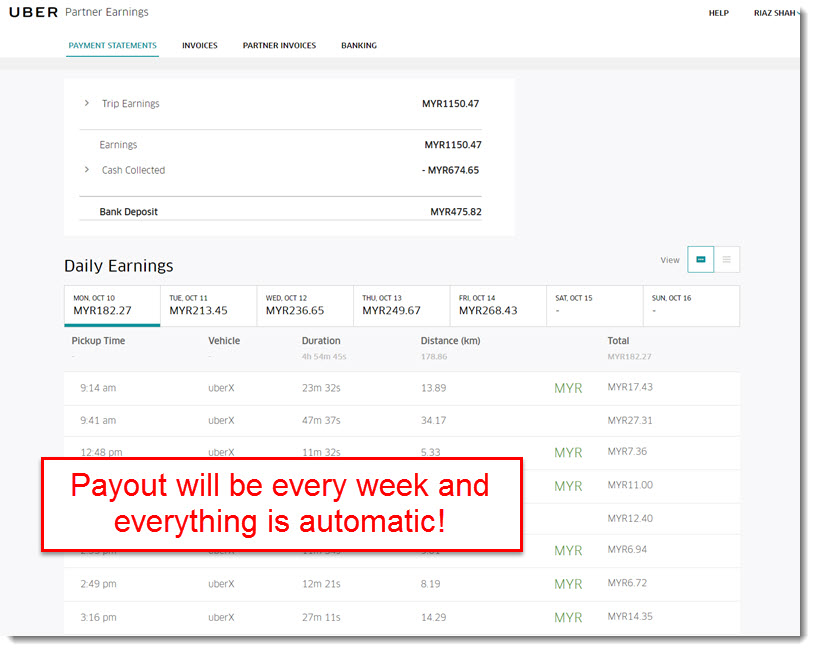 Every week, you will be getting your payment from Uber and everything will be calculated already.

Uber will calculate the total accumulation of your trips for the entire week and from there, they will minus the amount of service fee from the total (25%) followed by the amount of cash you have on hand before banking in your account the remaining balance.
And before you got to thinking, what if I get only card payments and no cash?
Well if you do get it, then you're one heck of a lucky guy but in my experience of driving, around 70% of Malaysians prefer to pay by cash as not many still prefer the use of cards which is a hassle because then I would have to park, calculate the cash and most of the time, it will take some time because riders tend to pay slow casing the other to wait behind you.
Types of Uber Cars You Should Know Of – Which One are You?
I'm sure you're pumped up to give it a go already but before everything, you should know that Uber is divided into 3 categories depending on the types of cars…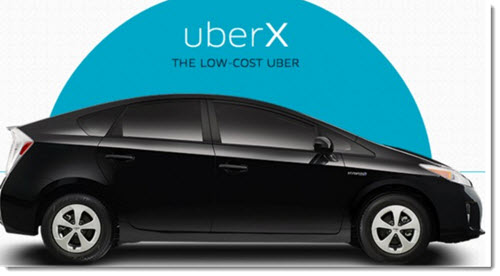 Uber X – The most basic of cars with 1.8 CC and below such as Viva, Myvi and even a Honda Insight (Which is what I'm driving).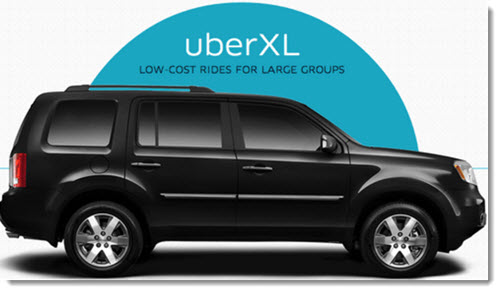 Uber XL – MPV type of vehicle which can carry up to 7 or 8 people. Typical cars I've come across include Vellfire, Perodua Alza and Totoya Avanza.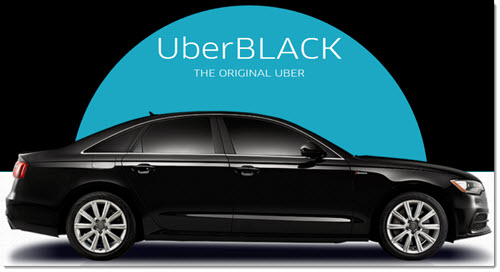 Uber Black – Premium cars with 2.0 CC and above like BMW and Perdana.
And if any of you are wondering, the idea of Uber first started out as a luxury ride-sharing service which is why Uber Black has a tagline "The Original Uber".
But because the company wanted to expand the business and cater to all types of people rather than focusing only on the rich, they started creating other categories so that everyone can ride no excuse.
And before you say anything, No, Uber Black is not meant for black cars only. It's only a name and any color is fine.
There's another type called Uber Select which have luxury cars like Jaguar and Hummer but it's not yet introduced in Malaysia mainly because the economy isn't very stable here and living costs are just enough for us to pay bills and none for ourselves (Which is why driving Uber part-time is getting very popular).
So now that you've got the car categories settled, how much do the fares differ according to the types of Uber cars? Take a look at this…
As explained in the table above, the prices are inclusive of the base fare, the amount per minute and per km.
One thing that sets me off a bit is the percentage Uber takes from Uber XL which is 28% while Uber X and Black both are only 25%.
But I wouldn't worry too much about this though, because one special part about being Uber XL is that you will be able to pick up Uber X passengers as well as Uber XL which means that you will have double the requests!
You will have endless requests and you won't have to drive long being idle, saving you a lot of fuel in the long-run.

How Much do Uber Drivers Make in Malaysia? –My Best Score.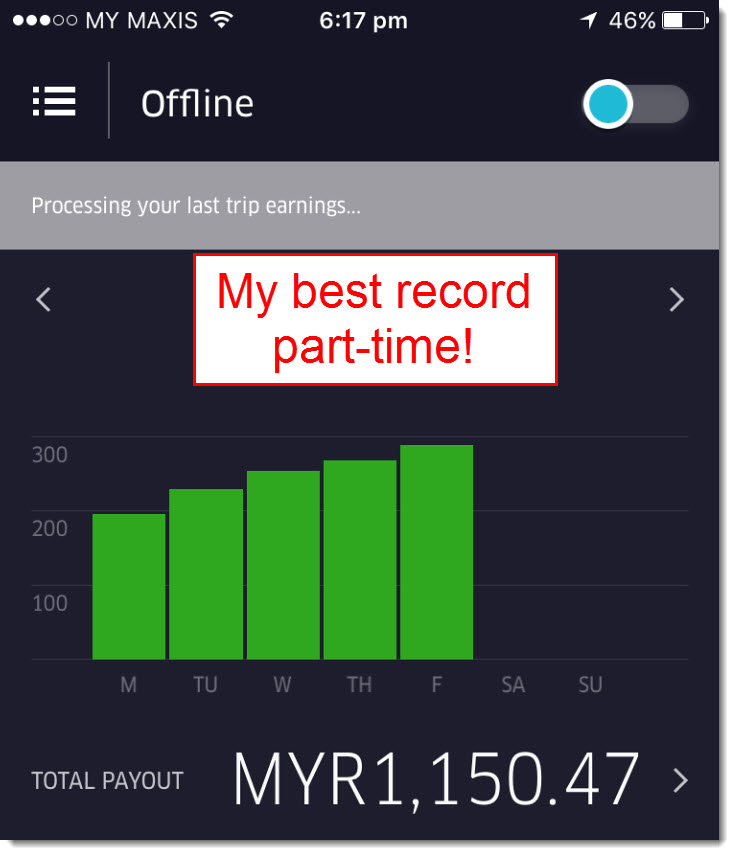 If you've heard Uber drivers earning RM5,000 a month, even up to RM9,000 monthly, those are definitely true but only in gross total, not the clean profit.
In reality, you have to think about your petrol costs, toll and car service. Minus those which will take about a quarter of your earnings and you'll get your clean cut.
From my experiences, the most I could earn a day if I drive 12 hours is RM300.
So if I were to collect that much every day for 30 days, I would definitely hit RM9,000 and a few of my friends are actually doing this.
But on certain days where there are boosts up to double and triple the price, it's possible to earn up to RM500 in one day.
For me, I prefer driving part-time because I also work full-time as an event planner so with the time I have, the best I can achieve is RM1,150 (You could definitely earn higher!) because I almost never drive on weekends and on weekdays, I only drive in the morning and evening where the rush hours are.
Driving part-time, I usually target somewhere around RM150-RM200 a day so every week, I try to collect RM1,000.
So from RM1,000 in gross weekly that I collect, I spent RM200 on petrol and roughly RM80 on toll which gives me an average of RM720-RM800 clean profit because I tend to drive longer sometimes to earn more.
How to Earn More Money in Uber? – Introducing the Surge!
Previously, Uber has this thing called the guarantee hourly rate for rush hours.
Meaning that for a set period amount of time from 10 am-6 pm, 12 pm-2 pm and 4 pm-8 pm, we will be guaranteed money if we drive within the hour supposing we drive around 2 passengers an hour.
It was quite happening and in order to get all of those incentives, I wake up every day around 5 am just so that I can leave the house before 6 am to start Ubering.
It was crazy and the hourly guarantee rate in the morning was RM30 per hour on weekdays so if I were to complete all 4 hours all the way until 10 am, I could earn RM120 just like that!
However there came a problem soon that many Uber drivers could not get the minimum required to drive in order to reach the guarantee rates.
Because in the morning, people who go to work with Uber sometimes tend to travel very far so the drive could sometimes take an hour or more like this passenger that I had from Shah Alam going to Melawati in KL.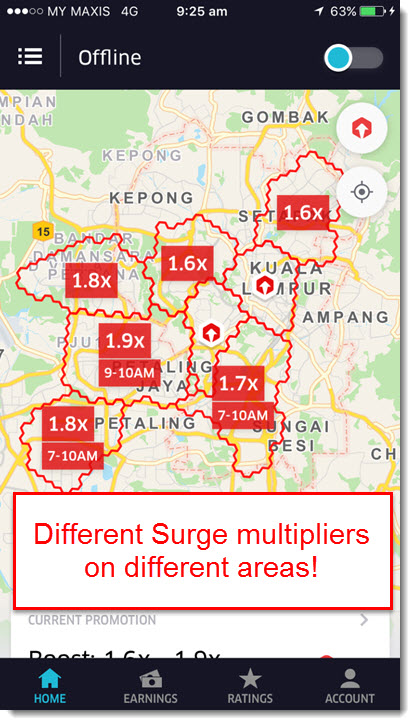 Because of that, not many drivers could reach the minimum 2 passengers per hour requirement so Uber decided to demolish the hourly guarantee entirely and introduced… The Surge pricing!
The Surge is a new type of payment system whereby you don't have to follow a fixed schedule anymore in order to get your bonuses – You just drive in rush hours at anytime you prefer and you're good to go!
The rush hour times are as follows…
Morning rush: 6am-10am
Lunch hour rush: 12pm-2pm
Evening rush: 4pm-8pm
In the morning people, are rushing to go to work so there's a lot of requests non-stop so ready yourself before you head out because some distances are quite far – You'd be amazed how people can work like that if the distance from their houses is about an hour to 2 hours!
Lunch hour is another surge time to go after but in my experiences, many passengers here will often go to short distance places like malls because they are chasing time so most of them are quite fussy.
Evening is when people are rushing to go back home from work so you'll have endless requests too and sometimes non-stop all the way till 11 pm! (My favorite shift).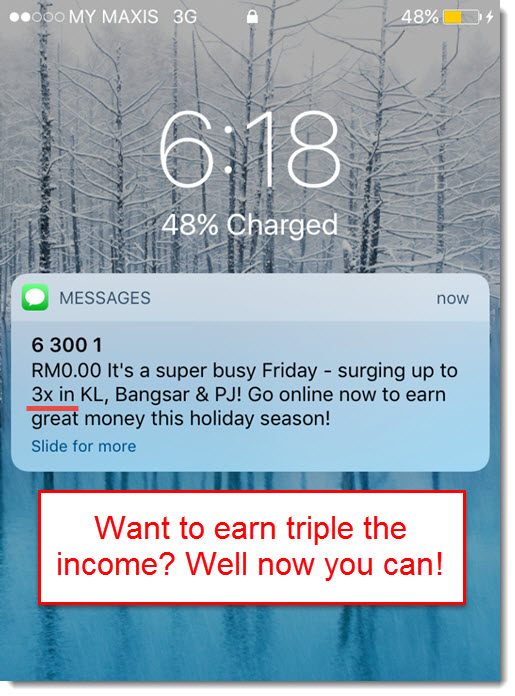 Have a look at the surge map I screenshot above – This will be your best friend because if you know the times and places, you can maximize your earnings and earn almost 2 times more!
In fact, on certain days like celebrations and events, you can earn up to 3 times more!
This is because on holidays like Christmas and New Year, people go out to celebrate so there won't be enough drivers to go around and the same goes for events as well – Thousands of people visit a place in one day and not enough drivers to around.
Like when Sunway Lagoon did a half price promo, it was extremely crowded that people come as far as from Seremban just to get on those surges.
When it first started, the Uber surges are all in the capital city of Malaysia, Kuala Lumpur but now, some of the other states are also beginning to experience surges like in Penang and Johor Bahru.
Whenever the clock reaches the rush hour periods, your Uber partner map will turn red indicating the areas where the surge is at.
Within the red areas on the map, you will notice that there are different surge multipliers on different areas on the map and this is basically affected by the number of people requesting Uber rides versus the number of Uber drivers available.
But don't worry because if I were you, I would be more than happy to get any type of boost from anywhere at all because compared to our Uber driver friends outside of KL and Selangor like in Penang, they don't have the luxury of having frequent and long surges yet.
So what if you live in an area far from the surges? Introducing… the Uber destination set!
See when using Uber, you cannot know where your passengers would want to go until you finally pick them up and start the trip.
This is a tad annoying because sometimes just when we are about to make a final trip, we get a random passenger who wants to go somewhere very far like out of state up to Seremban (Happened to me 2 times!) and we have no choice but to accept.
However with the recent update now, we can choose a location and Uber will synchronize the rider requests to match where we want to go – Makes our lives so much easier!
For example, I live in Shah Alam where the sweet surges do not cover my area so what I usually do is that I set my destination all the way to Setapak from home and from there, as I drive I get a passenger who wants to either go there go somewhere nearby.
This helps in productivity as we don't need to go offline and drive all the way just to go online at a destination – Instead, we can go online anytime, set our destination and let Uber make our lives easier.
So how do you stay up-to-date with surges? Easy!
With the recent update, all the bonuses will be saved in your phone so you won't have to worry at all about checking your email while you drive as to how I did last time when I first started.
The best surges are always on weekdays when most of the people go out for work and meetings because there is a lot of money to be made there.
Weekends on the other hand, will not have a lot of requests in the morning because some people tend to sleep the whole day after a whole week of working while others like me, we tend to rest at home doing chores like cooking and washing the car. (But afternoon till nighttime, you'll have non-stop requests!)
I personally would like to stay at home on weekends and spend time with my family because on weekdays, I work early morning and usually reach home around 10 just in time to refresh and sleep.
And because I work as an event planner, most of my work is always on weekends to manage the event there so I rarely have weekends to myself, probably once or twice a month only.
But starting from lunchtime, a lot of people will go out and you'll have plenty of requests the whole day and if you're driving till night, the nightlife areas like Bukit Bintang has some very cool surges too.
I remember driving someone from Bukit Bintang to Sunway Pyramid at midnight for 15 minutes and I managed to collect RM35.
It's fun and you'll meet a lot of cool people and hot girls with drama 😉
Uber Service Area Map –Knowing the Locations.
As for the surge areas, you would have already known that it's busiest in cities and central areas like malls and business parks where people are in need of fast transport as they want to avoid the hassle of driving on their own.
The Core Service Areas around KL area for Uber include…
Petaling Jaya
Bdr Utama, Damansara & TTDI
Hartamas, Mont Kiara & Bkt Tunku
Bangsar & Bangsar South
Central KL
Ampang
Sunway & Subang Areas
USJ & Taipan
Pusat Bdr Puchong & Bkt Jalil
OKR, Sri Petaling & Salak South
Setapak, Wangsa Maju & Setiawangsa
Putrajaya / Cyberjaya
Besides the obvious KL as the hotspot for uber requests, other cities and states like Penang and Johor also has surges too.
Now that you know of the rush hours and surges, it's time I show you how the Uber surge algorithm works and how you can earn more money as a Uber driver…
How does the Boost Work? -Uber Surge Pricing Explained.
The best thing about surges is not just the flexibility of driving at whichever time you prefer within the rush hour period, but actually the bonuses you'll get during the multipliers.
So what do I mean by multipliers?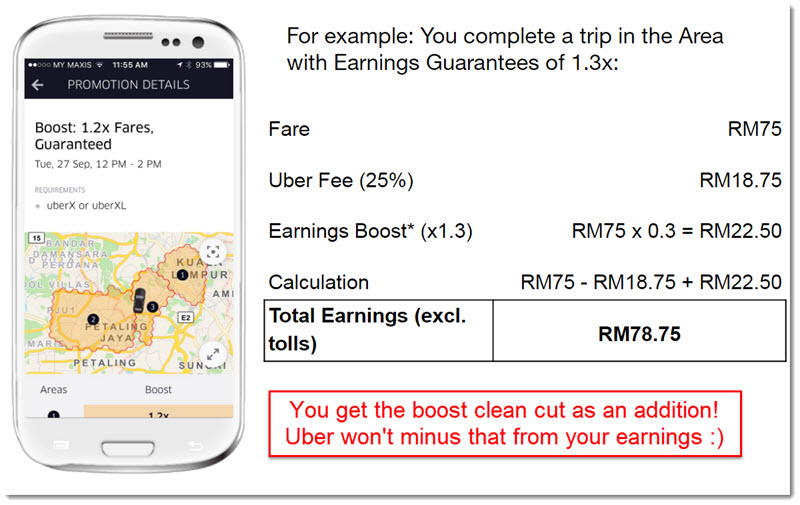 A multiplier (Also known as boost) is the bonus incentive you'll get on certain areas whenever the surge is on.
It's one of the best ways to get additional income because the amount you get from the multiplier is for your own and Uber won't touch that.
As seen from the calculation above, Uber has a fee of 25% of every transaction so supposing you collect RM100, they will minus RM25 from the total you've collected.
But if you were to position yourself when the surge is 2x more, then that means you'll get RM200 correct?
And Uber will still only minus RM25 instead of RM50 because the extra RM100 you earn is from the surge!
And 2x multipliers actually happen more often than you think, take a look at this…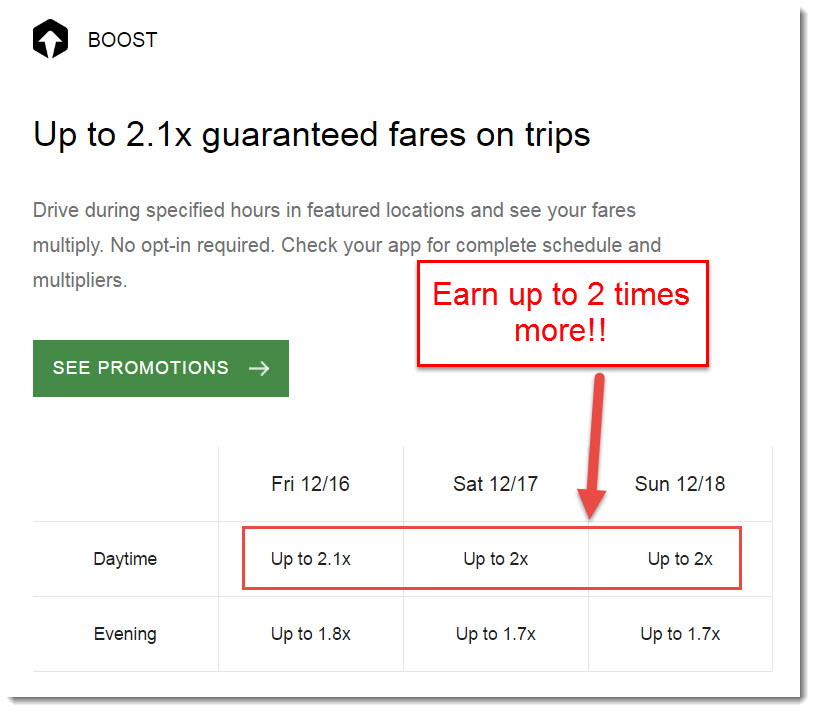 That picture above is a screenshot of an email I got for an upcoming surge on the weekend.
On weekends, there are handsome boosts such as those because not many people want to work because we want to spend time with our families.
Because of the lack of drivers versus the high amount of requests from riders, the surges often go up so you can definitely be sure that surges shoot up even more in times of public holidays or celebrations.
It's even exciting when there are events for example, expos at PWTC, KLCC, or Mid Valley because there are so many people going to events and these people do not want to go using their own transport since it will obvious jam the roads.
Even me when I go to KLCC for a meeting, I don't drive and instead take Uber since parking is so hard to find not to mention expensive too and don't get me started on the traffic jam.
During festivities, there are two choices you can make – Whether you want to take the day off and enjoy by becoming a customer, or you work to get the most out of that time as an entrepreneur or more specifically for Uber, a Drivepreneur.
Maintaining your Ratings – Do You Have to Maintain Status as a Driver?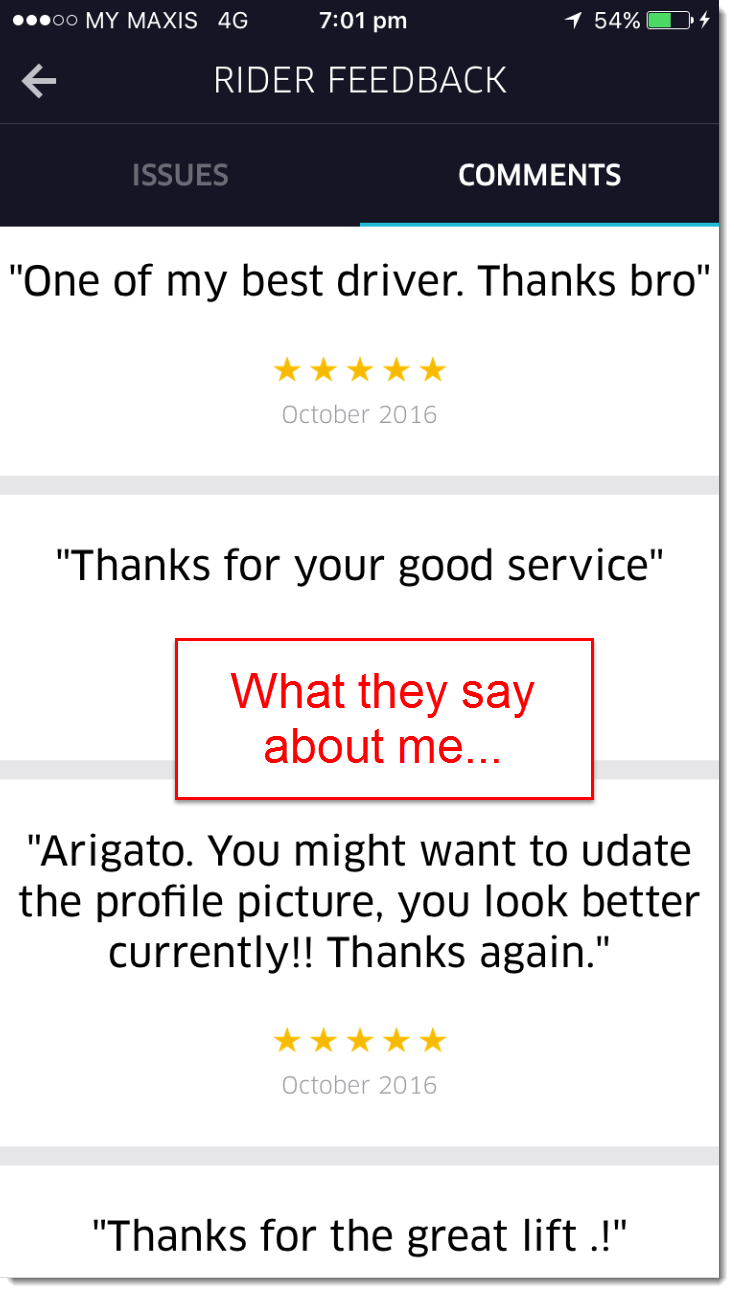 If you've heard of drivers saying that they meet very rude passengers, that is actually true but only if you are rude to them.
If you keep your car clean, converse nicely with the guests or give them some mint or two, they would definitely give you a good rating.
If your car is dirty, smells of cigarettes and you raise your voice to your passengers, then they would definitely give you a bad rating.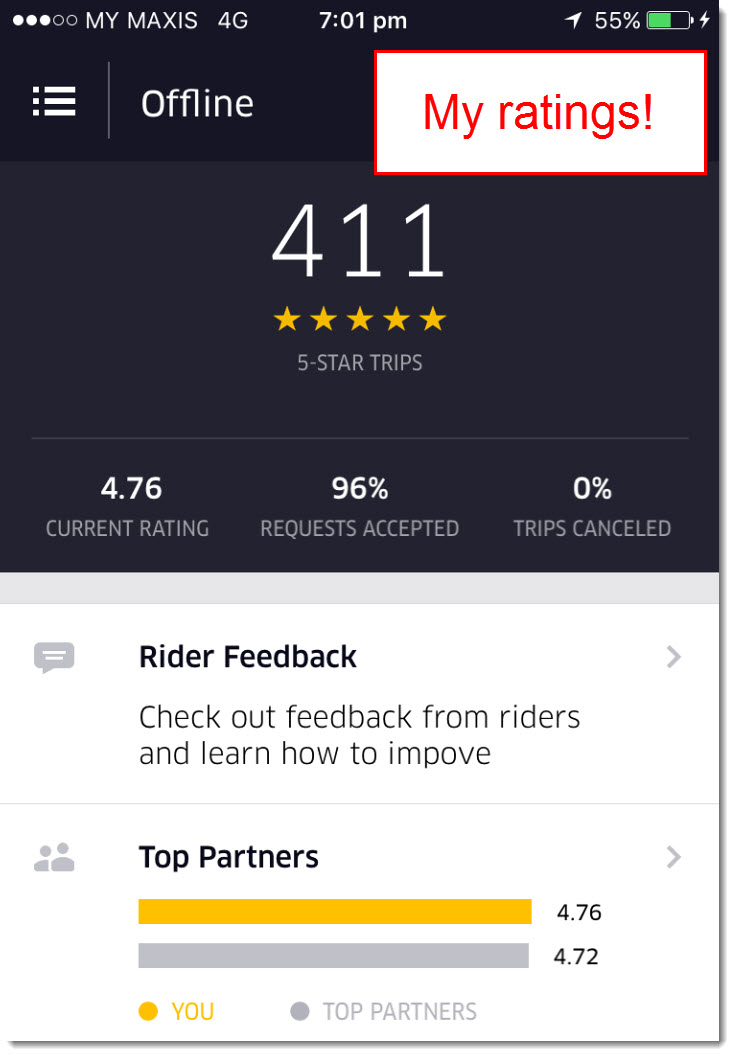 The Uber driver minimum rating requirement is 4.6 so if you were to fall below that, would get penalized and your account blocked.
But don't worry though, that just means that you need to go see the management to clear it up and they'll be asking you a few questions on why is that so to help you get better.
Also, if you're thinking of being the "perfect" driver and try to hit 5 Star ratings… don't be.
It's pointless and there's no benefits whatsoever, no incentives, no money.
My best score was 4.95 but all I got was a message saying the "community thanks you" instead of any proper rewards (Uber can be so stingy at times).
So whatever you do, it's best to keep on driving and not worry about getting the best rating because at the end of the day, it's all about driving to earn a living for yourself.
As Ed Sheeran once said, "I can't tell you the key to success but the key to failure is trying to please everyone.
Uber Driver Requirements – Checking if You're Fit.
Becoming an Uber driver is easy! All you need are these 4 things…
IC (At least 21 years old)
Driving License
Insurance cover note with your name on it
Car not older than 5 years old (Flexible)
If you're curious about what an insurance cover note is, I scanned mine to help you get an idea of how it usually looks like above.
Basically you don't even need to own a car to become a Uber driver, you just need your name on the insurance letter which means that it doesn't matter whose car you use – Your mom's car, or your friend's one which I find pretty flexible.
Also, nationalities are specific to their country of origins only which means that in Malaysia, only Malaysians can become Uber drivers and in France, only the French can.
As for the car requirements, they put the maximum of 5 years old but due to the shortage of drivers versus the immensely high demand of requests (Uber does a lot of promotions), they can be quite flexible.
I've seen Uber drivers with an 8-year-old car driving around, it's definitely possible just that you may need to go to their office for inspections – Keep your car clean and if it's in very good shape, you'll definitely get their green light easy!
So then you might be wondering, do Uber drivers have insurance?
The answer to that my friend, is definitely no.
If Uber were to give the drivers their company insurance cover, that means we will all be labeled as employees which is a hassle for Uber since they will then have to give medical coverage, payslips, and other stuff that normal employees have.
That is why we drivers are labeled as Uber "Partners" because they want to emphasize that we are not employees and that we are driving under our own risks which is okay I guess since we have the flexibility of starting whenever we want.
Getting Started – How to Sign Up and Get the Bonus.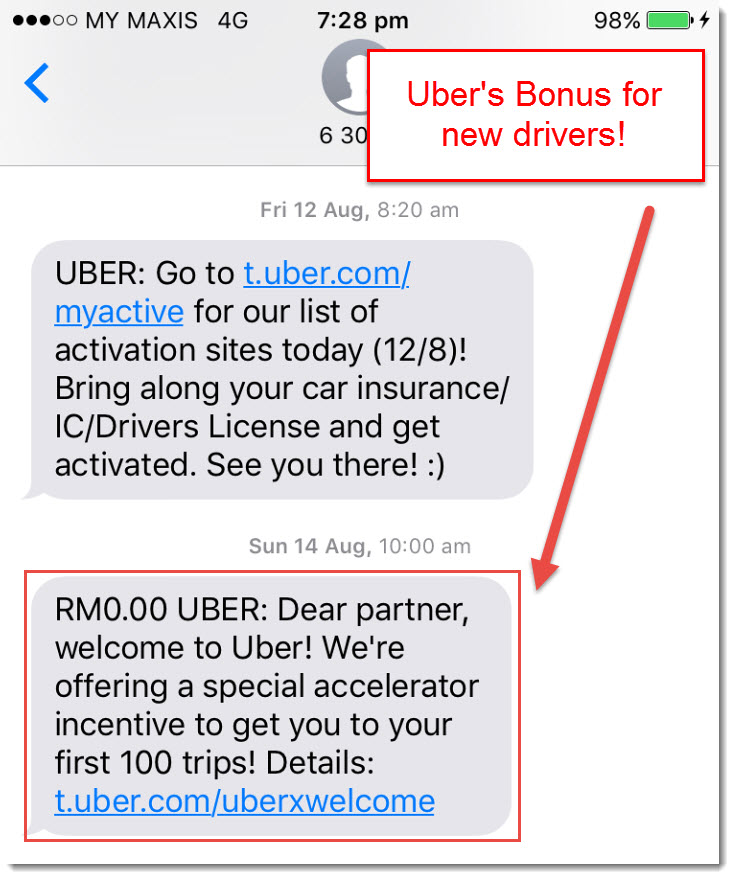 Finally, The signing-up part we've all been waiting for! There are overall 3 simple steps you need to follow…
Step #1 – Sign-up Online
To get started, the first step is the easiest which is to sign up online.
Now there are 2 options to this – One is to sign up through the main Uber website, or the other option is to sign-up through a referral (Here's my link).
If you sign up from the main Uber website, you won't get any bonuses whatsoever but if you sign up from my link, you'll get a bonus and it's usually in the form of a cash guarantee.
It's not direct cash money though, it's in a form of a guarantee or an incentive boost in order to reach their set goal for you.
The welcome rewards keep changing so I'm not sure what their latest update is as they do not have a specific list on the welcome bonus updates – you'll get a notification after you've joined.
Initially, it was cash top-up but after the recent update on the surges, you'll more than likely get an incentive boost to help you earn more handsomely – Either way, just keep driving and you'll be notified by Uber.
Step #2 – Wait for a Text
After you've signed-up online, all you need to do next is to wait for a text from Uber.
This will take somewhere between 3-5 days and when you do get the text, they will ask you to head over to the nearest branch as seen on the screenshot from step #1.
Step #3 – Go to the Nearest Branch
Once you've received the text saying that you need to head over to the nearest branch, you now need to head over there with the documents I've mentioned before – The IC Photostat, insurance cover note, as well as your driving license copy.
Having your car grant copy with you will also help as sometimes the officers there might want to have a closer look (It happened to me maybe because I'm driving a Honda).
The location of the activation sites in KL currently includes…
KL – PJCT Industrial zone
Kota Kemuning – Giant Kemuning Utama
TTDI Jaya – Taman TTDI Jaya Shah Alam
Bangsar – Jalan Maarof
Ampang – Jalan Medan Bukit Indah 4
Cheras – Jalan Dwitasik 2
Bukit Jalil – Taman Puncak Jalil
Pantai Dalam – Gasing Indah
Segambut – Segambut Bahagia
Old Klang Road – Taman Danau Desa
Cyberjaya – Lingkaran Cyber Point Barat
If you're wondering where the Uber locations near me are, you could check out the full list here.
Also, bear in mind that these locations (Except for PJCT Industrial Zone) are all very small office rooms that are often shared with another company and can only go in after you've received a text from Uber to go there.
This means that you won't find any Uber signboards or anything outside the building because it's not Uber's office to begin with but rather a shared office which Uber pays a bit to the company owner to reduce the rent while remaining as an activation site, pretty clever if you ask me!
They are called "activation sites" because you go there just to hand over your documents and hear the briefing so Uber took up the initiative to rent one room within a certain company's building to make it easier for you to go there and keep their costs at a minimum so if you're wondering, no it's not a Uber office.
Their main office is in the PJCT Industrial Zone so if anything, that's where you want to be.
Having Trouble Contacting Uber? –Here's How to Reach Out.
One of the most common questions I get is how to contact Uber in Malaysia? (I presume any other countries elsewhere might be facing this issue as well).
You go to the Uber website, you can't seem to find the phone number and when you want to email them, there's no email address to begin with.
So how do you reach out to them?
Initially, I talk to their representatives via their "support [at] uber [dot] com" email address and they reply quite fast too.
On average, I get replies between 30 mins to 2 hours. But if you were to reply to them now, you'll get something like this…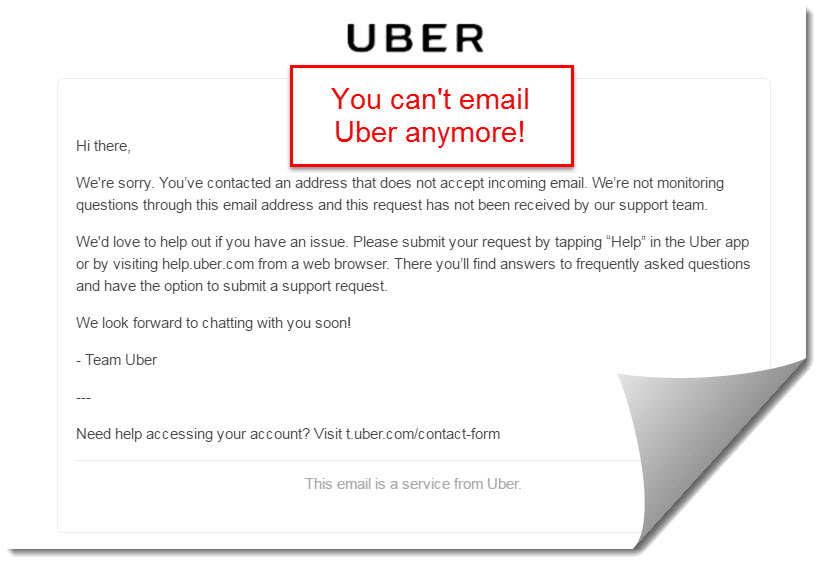 This is because starting from December 2016, Uber stopped incoming emails anymore which means that you cannot email them anymore, but they can email you instead.
Now, you've left with 2 options – Through their app, or by calling them.
The main part they focus on is the Uber app support which they tend to reply to you almost instantly as many drivers tend to prefer settling issues through there instead as they are already on the app most of the time.
From the Uber app, you can access the support from the Help tab where you can report on issues there.
There are 2 different apps for Uber – the Uber partner app and the rider app.
Don't worry about the rider app though, it is the main app you'll find on the app store or Google Play – The driver app on the other hand, is hidden and can only be accessed when you go to their activation sites when joining.
Just so that we're on the same page, Rider refers to your passenger whereas Driver refers to the Uber drive which in the context, refers to you and me.
Other essential info you might want to note down includes…
Uber KL office address (Main HQ):
6, Jalan 51/225a, PJCT Industrial Zone, Seksyen 51a, 46100 Petaling Jaya, Selangor.
Opening Times:
Monday – Friday: 10am – 8pm
Saturday: 12pm – 5pm
General Uber support line: 03-92122575
Uber emergency line: 03-27253060
Bear in mind that the contact number is not meant for riders – Instead, it's meant only for Uber drivers.
The general line is for any questions or issues you might face while driving, the Uber Support team tend to answer on the spot without any holds or transfers because it's meant to help drivers settle disputes while driving which I find really comforting since we're on the road and would probably have our focus on settling the drive and our customer.
Note that they also open 9 am-6 pm on normal operation hours.
The emergency line on the other hand, is only meant for accidents whereby Uber will help guide you on what you need to do.
What if I Don't Have a Car?
I got you covered brah – Introducing the Greenlight Hub!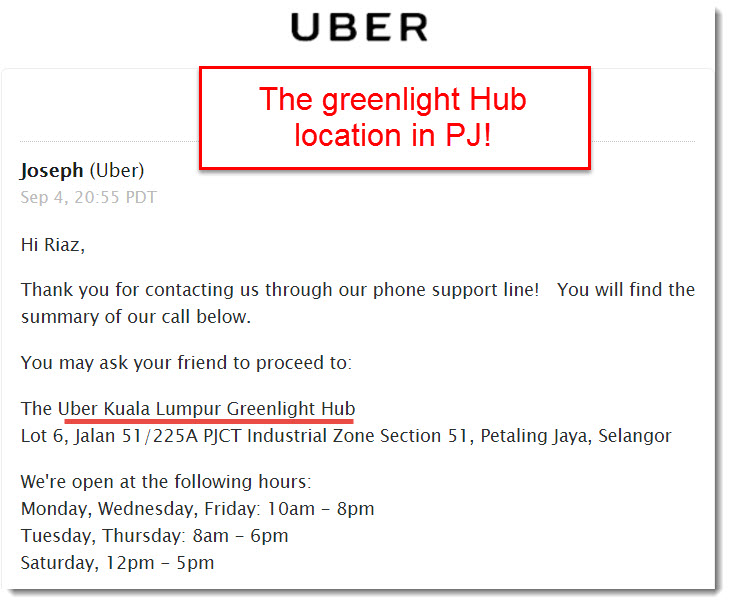 So what is the Uber Greenlight Hub?
It's basically their main office in PJ where they do their vehicle inspections and any other Uber activities that the activation sites can – I asked them if they do car-leasing or have a collaboration with a company that does and they said that everything is at the Hub.
Basically you go there and see what car fits you but you have to pay monthly for it since you'll basically be renting a car from them.
If you're interested in renting cars for the long-term outside of Uber but have no sources to look for, here are some websites that could help you…
The ranging of long-term car rental is usually around RM40 per day which is about RM1,200 a month but if you can find one at a lower price, please do share your knowledge here as well so we can help others save more.
Another alternative you could use is renting from students who are just starting out the car rental business as they tend to be much cheaper and the price is also bargainable.
Also, if you drive around housing areas where you see cars which are just parked there long-term and people rarely use it, you could go and visit their houses and strike a deal with the owner so that you could use their car and pay them monthly as royalty.
Is Uber Legal in Malaysia?
It's more legal now than ever.
As of September 2016, Khazanah Nasional Bhd bought a stake in Uber.
For those of you are do not know about Khazanah, they are a huge organization that controls the sovereign wealth fund of the government here in Malaysia.
They invested $30 million for their share so seeing that the government controls part of Uber, the question of whether or not Malaysia legalizes uber has definitely been answered.
So what does SPAD (Malaysian Land Public Transport Commission) have to say about this?
I'm happy to say that for the case of SPAD Uber Malaysia, it's definitely legal here starting last year in 2016 because they want to level out the playing field with the pirate taxi drivers who control the market.
Here's another something to help make things more interesting…
Even Tan Sri Wahid Omar, the ex CEO of Maybank drives Uber and he is a very well respected man was also the previous CEO of Telekom Malaysia back then.
A lot of people are taking the initiative to drive Uber because of the rising living costs in Malaysia and no matter what level of society you are, everyone can drive.
I get a lot of people asking is Uber banned in Malasyia or not because in certain countries, the government prefers taxi drivers instead.
In fact, in the Eastern part of Malaysia, the Borneo island of Sabah and Sarawak, Uber is not yet established there because the mister still prefers taxi drivers there instead so not all areas are well-received yet.
Enjoy your Uber Journey! – Some of My Encounters.
On your first drive, you'll definitely be very nervous.
But trust me, after two or three drives you'll definitely be getting the hang of it and after a week, you won't even feel the nervousness any longer.
You'll start to enjoy and to break the ice, here are some of the people I met during my drive…
Yup, I met him.
I forgot his name I met this guy at Nu Sentral and his destination was Bangsar Village.
This guy is pure Malay but he was born in Sri Lanka from a minute Malay colony so he doesn't speak Malay but he wants to learn more about himself and his origins.
I had a great chat with him about our country and what's happening now and before.
Funny story on this Pakistan guy.
The moment he stepped into my car, he said to me "Bro, today I feel like a perfect day. Weather is fine and when I request Uber, I get to meet Shahrukh Khan!"
He was of course referring to me and then he asked, "Can I put on a song? I want to listen to something to fit my mood"
I said sure! And as I drive, the song he chose was Janam Janam – sang by Shahrukh Khan.
He made my day ?.
Don't be fooled by his looks, this guy with the blonde hair is actually Instafamous and he's got 96k followers!
I met Harry in Jalan P Ramlee KL and he asked me if I wanted to be viral.
I thought he was joking but when he asked me to look at his Instagram, I was shocked but of course I didn't take up on his offer – I did however ended up being good friends with him and also…
Jim is the sister of the famous Malay celebrity Alif Satar and I met her at Publika after she finished work.
I was quite surprised that she was working with her uncle, Bon Zainal because I know him as I've worked with him previously at a fashion show here in Malaysia.
In case you didn't know, Bon is one of Malaysia's top designers and I was quite surprised as to how humble their whole family is that I still keep in touch with until now.
There are loads more pictures that I wish to share but this is just to show that there are many great people you will be meeting and who knows, maybe you'll even meet your soulmate through Uber 😉
An Uber or A Uber? -That is the Real Question.
The correct pronunciation is actually "a Uber driver", that meaning "Yoo-ber" as it starts with a "Y" instead of "U" – Its kinda like saying "University", "Uniqlo" or even "Utopia".
It's NOT pronounced as "Oober" vowel-wise but in my defense, it varies from country to country.
Americans and French prefer to call it a vowel but in the UK, Singapore and here Malaysia, we pronounce it otherwise.
It's a minor detail but somehow 5 out of 10 of my passengers keep asking me the same questions again and again so I figured that I should put it out there for all to read.
So how do you pronounce it in your country? I'd love to hear about them down below!
My Final Word
---
Phew! This is by far the longest review I have ever written and it's 6,000 words!
Last but not least, bear in mind that Uber pays weekly every Tuesday so use that info to time your drive hours carefully.
You are bringing the image of an international company so dress nice, clean your car and drive carefully!
Personally, I think 25% is quite a high fee they're taking in the long-run but other than that, Uber is great in terms of navigation, app functionality and as a side income job which is why I gave it a rating of 4.5 out of 5.
A little disclaimer though – I will get a small commission if you decided to join and drive so if you like this information that I shared with you, please join from my link so I can continue sharing more great tips on my blog and keep you all updated 🙂
That's it! Thank you for reading, you guys are awesome and as always, share your thoughts below if you have any as I would love to hear them out!
And if you have any questions whatsoever, you can contact me on my number 012 – 304 7011, WhatsApp preferred.