Wanting to make money writing reviews online?
I know the temptation – Find products, write reviews and get money. But is it really that simple?
There's no doubt that writing reviews can in fact make you a lot of money but in reality, it is much difficult now compared to a few years back as Google has updated its system and wipe out many scams.
In a way, it's actually good news because this means that you will get more profit if you put in more effort.
If you believe in becoming a millionaire overnight, then this is not for you but if you believe that hard work pays off, then read on because I am going to share with you my tips on how you can start your own Online Business by writing reviews at your pace.
How does it Work? –Getting the Big Picture.
There are numerous ways on how to make money online through reviews, the most common one is by making reviews for company product to give them a good image.
However there has been so much abuse of power that people don't do the reviews legitimately anymore, they are inspired by money and companies pay these people to write fake reviews and give them a good image.
The concept of it is very wrong and it has also given a very bad image for us little guys who want to have a go at writing reviews for a living.
Would you rather put aside your conscience and cheat other people for money?
That is why I'm not going to make you write for someone else just to get on a company's good side and earn more dirty money from them.
Instead, today I'm going to show you how you can make money writing reviews as you deem fit ethically and that is by making your own blog and writing at your own pleasure instead of being pressured by other people to write for them.
Writing reviews is actually a strong point for any Online Business. Personally for me, most of my website's traffic and income comes solely from my traffic.
So how are we going to earn money from reviews, is to build our own blog, write our own reviews and choose a few products as our top recommendations.
Have a look at how I did mine…
My chosen product that I am promoting is called Wealthy Affiliate and as you can see from my screenshot above, I chose to promote the top 5 programs that I deem legit (Because it is!).
It doesn't matter if you do a Top 10 or even a Top 20 because when people see this, they will surely check most of it before finally deciding to go along with your #1 recommendation.
Make sure that you are actually an affiliate of the program or product that you are promoting because this can earn you commissions as you promote that product.
This technique is actually a well-known method of doing an Online Business which we Internet Marketers know as Affiliate Marketing so if you're curious, yes writing reviews and making money from your blog IS actually an Online Business that you should really proud of!
There are many places where you can apply to become an affiliate such as Amazon but we'll get to that soon.
So how do you know that the program you're promoting is a scam?
If you've been in the Online Business (I really love this word, and so will you) industry for a while, there are a few major signs of scams you should definitely watch out for…
Hidden upsells – Have you ever seen a program advertised as $7 but the moment you actually paid for it, you get bombarded with hidden upsells asking you to spend more in order to continue? Hidden upsells are a slimy tactic used by scam artists around the world to trick people into spending more which I find really unethical.
Limited trial period or NO trials at all – Trials are a chance to give people a free look at what they will be spending their money and commitment on which is something that should be made free. However many companies are too focused on making money that they put restrictions like 7 days in hopes that people would just have to buy in order to get more from that program. In my opinion, trials should be made longer or without any length of time at all so that users can really think about their decisions freely.
Look at their emails – This is perhaps the simplest form of detecting a scam ever. Have you ever had spam emails that keep asking you to open your email to get your money? Or even emails that are rushing to make you buy their product each and every day? Sounds familiar? Those emails are usually made by scam artists who only want money and it's a very obvious scam tactic that you could even expose and get ideas to write on. Here's a look at how slimy emails usually look like…
There are many scam programs today, much more than you could ever have time to write on in your entire lifetime and you can actually leverage this to build a list of scams like how I did here.
By writing down your scams and listing them, you'll earn more loyal readers because to them, you are like the online watchdog that everyone needs and they'll be happy to bookmark your site in case they see other products in the future.
Benefits of Writing Reviews on Your Blog.
I can't stress enough as to how important and powerful reviews are for your blog which is why scam companies strive to find good writers to write for them a fake convincing review to attract more people to buy their products.
Here are some cool facts on how writing reviews can benefit your business tremendously…
Immense traffic – There are always reviews for any products. Look at iPhone, there are tons of review websites on each and every one of the new iPhones AND their IOS! Reviews are a big thing today because people are getting cleverer as they tend to read online before making a purchase and this is your chance to convince them. Almost three-quarter of my total website traffic comes from my reviews which is all the more reason for you to start too.
Increases conversions – People are more likely to buy from you if they see your honest review. When you have a website and you have readers, people trust you more when you write reviews of your own along with your final thoughts and recommendations. Being honest and 'human' is your secret weapon as people will be able to relate to you better.
Builds reputation – If you write short reviews for companies just for the sake of money, you won't get far because that money will only come to you if you secure a job they post. However if you have your own blog where you write reviews freely at your own pace, your blog will have nowhere to go but up and through time, your Online Business can run and attract a ton of readers without you ever needing to do everything as people have already put their trusts in your commitment. And since you categorize your reviews into scams and legitimate, you will attract a lot more readers as they know you have standards which can be a huge plus on your business.
How to Start Your Online Business? 7-Steps to Getting Ahead of Your Competitors.
To make money from reviews, you will need a blog of your own so that you can build your reputation, your own identity and make sales according to which product you really do love.
Lucky for you, building a blog today is much simpler but before we get to that, you might want to…
Step #1 – Get a Niche.
You cannot blog about everything in this world so you would have to narrow down your niche to something specific.
If gardening is your choice, then you should choose a niche of something more specific such as "Ways to Grow Roses" or "Asian Vegetable Growing For Dummies".
If you like gaming you should already know which type of game genre you'd like to cover, maybe you'd like Real-Time Strategy (RTS) or First-person shooting.
Don't have any ideas on which niche to choose?
I have your back, because I've written top 10 Affiliate Marketing niches which you could easily choose from here.
Step #2 – Build Your Very Own Blog!
Now to the fun part, building your blog!
All you need now is to think of a domain name that just means your blog title and this will be something you would have to bear with forever.
There are 2 types of domain names to choose from:
Brandable names – Names you create out of fun or reason which you can be proud to market everywhere like Gooey or Steevie's adventures.
Keyword names – Instead of writing Steevie's adventure, you could name your domain according to what people are searching for, such as "How to play an adventure game"
Keyword domains do actually have certain leverage when it comes to ranking but brandable names are also okay as long as it is short and easy-to-remember.
I mean look at my blog domain! It has nothing to do with anything but I still manage to rank it high so no pressure when choosing your domain name.
Once you've chosen your name of choice, you can start building your blog but don't worry as it's actually not that difficult considering it will only take less than 30 seconds and here's a video on how to do that…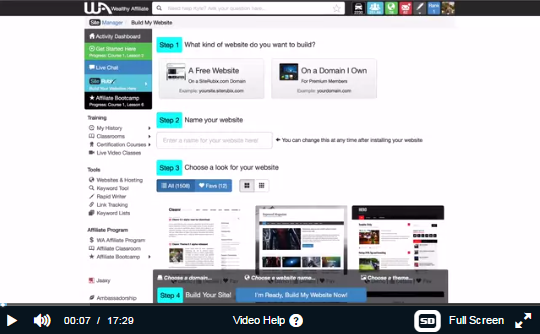 If you might have noticed, that video training I shared teaches you how to build your blog using SiteRubix which is a free website creator.
I only chose the best for you because compared to other free website providers such as Weebly and Webs, Site Rubix is way better in terms of performance and SEO because with it, you can actually check on your website's health.
Step #3 – List Down Products on Your Niche.
We are almost there!
You are experienced in your niche so you should have a number of products or programs in mind to review already.
Your reviews are not only restricted to online ebooks or programs though, but it can also be about anything – Books, iWatch, gadgets, a certain gymnasium, or even chocolate bars!
This should be pretty fun but do bear in mind to not spend hours on this because there are endless products out there for you to review on but they won't be of any use to you if you haven't even reviewed one of them.
When I first started, I actually wrote a review on a scam program called Dot Com Secrets X.
Initially, I never thought of it as a scam but after being stuck for many months and spending more money on useless ads PLUS the membership fee, I realized I was being scammed.
After that, I decided to write my first ever review to help people avoid Dot Com Secrets X and not fall into that pitfall as how I did before I joined Wealthy Affiliate.
Coming to the story, if you don't have any ideas on where to find products or programs, I recommend you going to…
There are tons of products or programs to review on and you'll never run out of ideas!
Step #4 – Find a Product of Your Choice and Make it your Recommendation.
This is perhaps the best part of Affiliate Marketing – You don't need to paste your prices everywhere to promote a product, you just write a review about and lead all your traffic to that page.
People will read your review, get attracted and click on your affiliate link to check out the program and decide whether to purchase or not.
But to promote a product of your choice, you first need to actually find it and to do that, you can actually choose a product of your choice through Amazon or ClickBank.
Amazon is great for physical products like books or antiquities whereas ClickBank sells digital products.
Before you start asking for more recommendations, yes there are many more Affiliate Marketing platforms such as Jvzoo but most of them are all hangout areas for scammers which is why I only advise ClickBank and Amazon as I find these 2 work best with buyers as they have a good reputation which people love.
Oh and one last thing I wanted to share with you – Try to get Affiliate links for all your products that you're reviewing!
Although you have a product of choice that you want people to buy, some of them might go for other programs that click with them so why not make use of this opportunity and make some money out of it?
It is a great contingency plan which can also make you money regardless of what products you're reviewing.
Step #5 – Try Out a Product and Write Your Review!
The moment of truth, review your listed products or programs!
This step is pretty self-explanatory, all you need to do is to try out a product and write your reviews, simple as that!
However, I do like to point out that trying out that product will help you make a better review than just writing from a glance without having any idea what it looks like inside.
I get that, you're trying to save money but it isn't very effective.
When I first started writing reviews on some products, I never actually bought them because they were very expensive especially for a Malaysian as the currency difference is almost 4 times more!
But after some time, I realized that my reviews are just as similar as other reviews out there on the web and I wanted to do something different that would make it stand out.
So, I decided to start buying and trying out a product and the results were amazing – Better interaction, more readership and even more loyal followers!
This is because if you try products and write reviews about them, you can instantly get a gist of what you should be saying because you put yourself in the shoes of a customer.
Still, there is a way to buy products for free. You might not like it but here goes – Buy a product and get your money-back guarantee!
There are many products that come with a 30-day money-back guarantee so you can make full use of that for your reviews.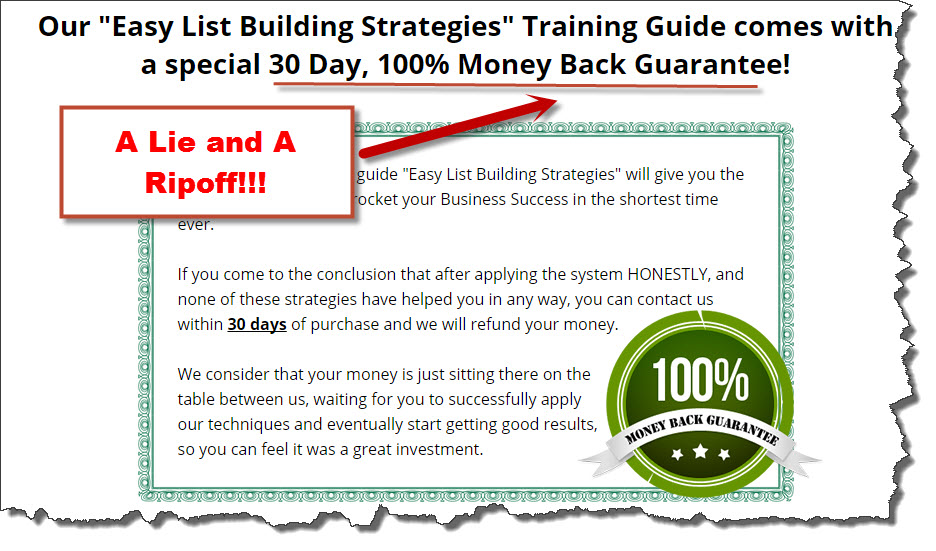 Don't worry about companies not giving your money back though, because out of 30 products that I've reviewed, only one never actually gave me back my money and if that were to happen to you, it is also kind of like a plus point for your story because you can write your experiences regarding that particular product as well as your conversations with the seller.
I have the perfect example of this scenario.
There is a product called Easy Listbuilding Strategies which I have reviewed and this product is the only one that has never given me my money back.
Frustrated, I contacted all of the seller's emails and even Jvzoo which is the very platform that Arjan Van Hemert (The product seller) uses to sell his product but to my surprise, none of my emails were replied!
I was so frustrated that I even screenshot my emails that I have been sending again and again for a few weeks after that incident.
Now, this is what happened to my review…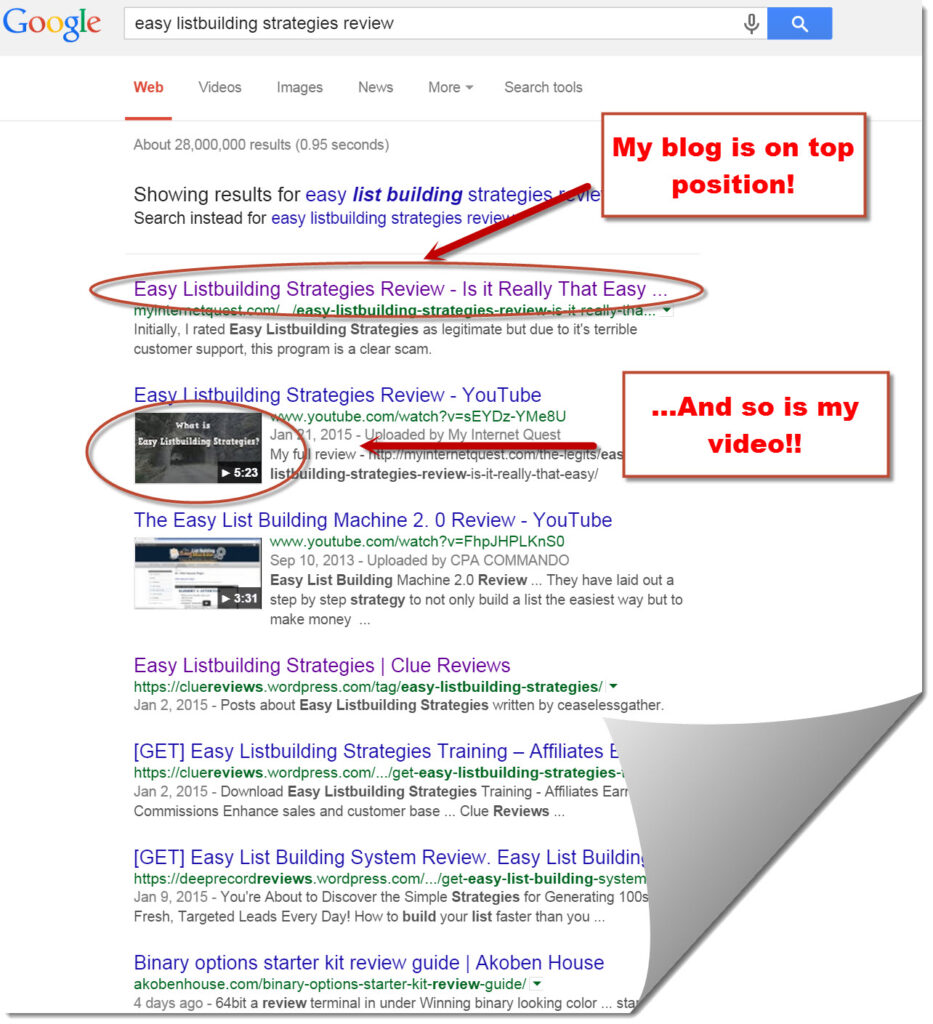 It's on the first page!
This has gotten me loads of clicks to my offer which is Wealthy Affiliate as people began to trust my reviews better knowing that I write about things that really happened to me as well instead of only focusing on the good things alone.
People love reading stories every now and then and when it comes to reviews, it helps a lot in convincing your readers to trust you even more.
Step #6 – Compare it to Your Chosen Offer.
By now you might be wondering, "I already have a review for my offer, why do I need to review other products too?"
The answer to that, is because you want to direct those people to the offer you have at hand instead which in your opinion should much better in terms of value.
Always remember that people are looking for reviews to read on the product that they are considering to buy so when they see your review and read, they will eventually realize that there are way better products out there and since you have a list of product reviews, they will be more likely to trust you when you recommend them your product of choice.
You could say something like "Product A is great but personally, I find that the price is way too expensive for information that isn't as in-depth as Product B".
From there, you spark your reader's curiosity enough that they might want to find out more about the product that you are offering which you can then use to give a bit of a teaser to get your reader hooked enough to click on your review.
I do this for all my product reviews, have a look-see at any one of them here.
Step #7 – Never Give Up Hope!
Building an Online Business is not an overnight success and you won't be making money for at least a few weeks' time.
It is important to set your expectations real because I have seen so many people give up hope as they thought that they could earn immediately which is a wrong mindset.
An Online Business is still a normal business and like any other normal business, you have to bear a few months of hard labor before your business can finally make you any money.
But you on the other hand, barely have any costs at all to start if not any which is one of the best perks of doing business from home as websites are really cheap.
Take a look at this…

When I first started blogging reviews, it was a very slow process and I had no experience at all.
I wanted to give up so I decided to at least give it my best shot so that I can rest well knowing that I've put my best in my blog instead of just leaving it hanging just like that.
To my surprise, it actually went well after a while!
This shows that you must never give up because every new blog and website will have a slow growth as Google has not noticed you yet.
There are millions of websites being created each month (At least 2 million in the UK alone!) and because of that, Google needs to find a way to determine which site is really serious in doing business because many people create websites as a one-time thing.
Be consistent by publishing at least 2 or 3 reviews each week and before you know it, your website is going to rise up in a blink of an eye.
In the Online Business world, you have nowhere to go but up and the key to success, is consistency and persistence.
Guideline to Writing a Review.
Writing reviews is easy but sometimes it helps to have a set guideline or template to help you write faster when you're lost on ideas.
Here's how I write mine…
What the product is about – Sometimes people search online just to understand what the racket is all about and writing this can help you attract more traffic to your review. Plus, it's also the international guideline for you to explain what the product is about before telling how it can benefit someone.
Pros and Cons – Reviews are best when they are long because a lot of people do read until the finish, and Google on the other hand, likes to rank websites with more word count. If you've noticed, most of my articles (At least the new ones) are at least 1,000 words because I find that writing in-depth content actually helped me rank my reviews higher on Google. However, not everyone likes to read but they do skim to see things that catch their eyes so having a Pros and Cons section so early in your review will give them a choice to understand better and probably click on your offer straight away!
What the product entails – If you are reviewing a program, you could write about the tools and training it consists of. If you are reviewing vitamins or food, you could write about the contents and their effects. If you're in the tech niche, you might want to write about what processor it's using or major influencers like in PC Magazine. Either way, writing what the product consists of is important people want to know what is inside that product.
Your experiences with the product – This is the strongest part of your review. People want to read your personal story of how do you find the product personally. Do you feel happy with it? Are you not satisfied with something? Does it feel right? Are the members bullying you? How are your results? Is support polite and helpful? There are questions that people are just dying to know of and reading your personal story can help them relate better. Don't think too much about what to write on this part, it's your story after all! If there's anything you miss out on, your readers can simply comment their questions to know more and through time, you could edit your review based on what your readers are asking.
Compare with your preferred product – This is your chance to sneak in your product of choice which you think is way better in terms of value and price. As you write your review, some people might not care when they see some red flags. However, you would be surprised to know as to how many people would want to know a better option which you can recommend. You are the expert and they trust you so use this opportunity to get them to click on your main review page instead.
Final thoughts – Writing your overall opinion on that product is a general guideline everywhere, it's more like a conclusion but with an added personal touch because the key to making a review convincing is in fact, your own thoughts and experience. Simply write what you think of the program in a bigger picture, wrap it up and you're done!
Want to Become a Super Affiliate?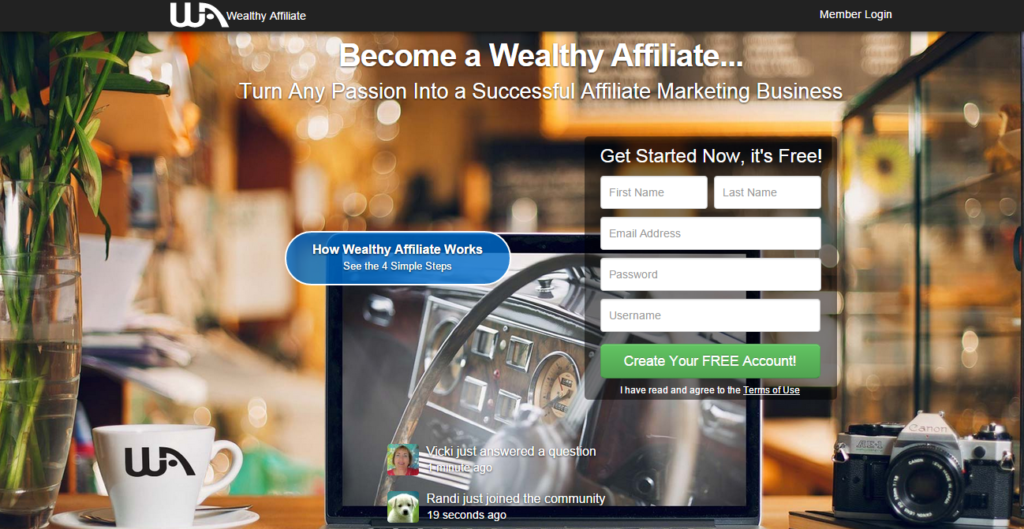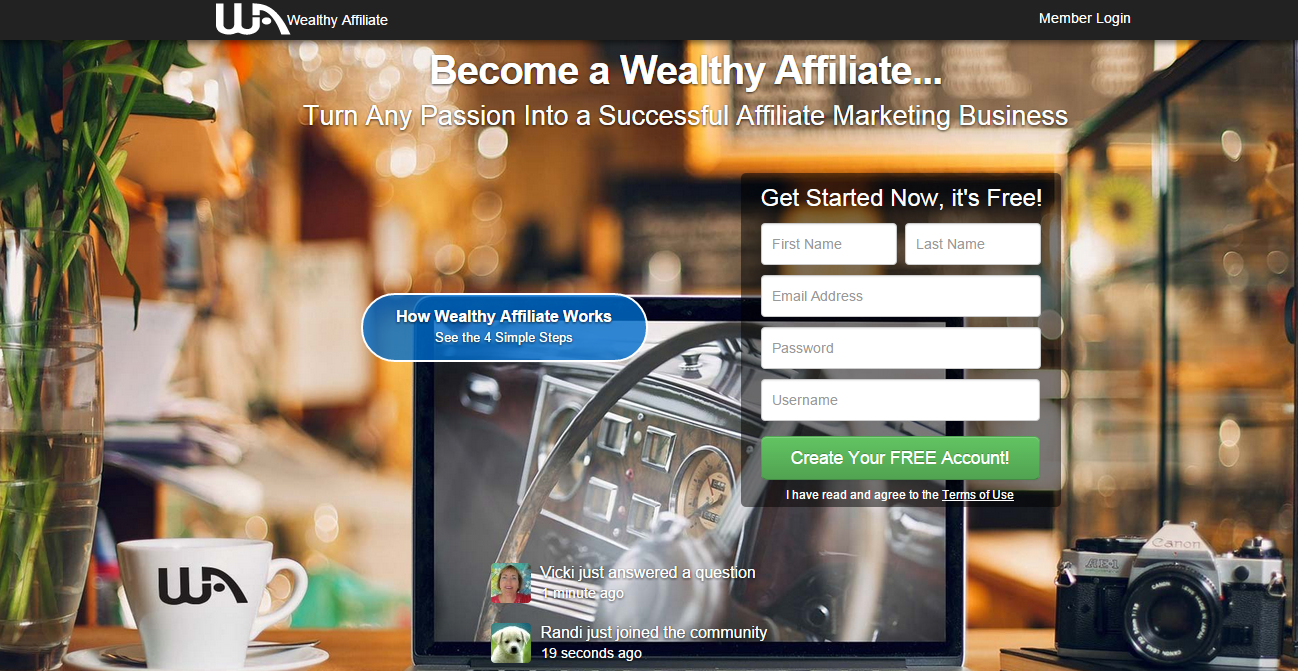 This is where I talk about my own offer to you which I guess you might have already known.
Wealthy Affiliate is the program that I am promoting but the reason I am recommending it to you is that it's actually the place where I learned all about building my Online Business and driving traffic to it through reviews in the first place.
The course is made classroom-based so you can learn at your own pace and you'll have all the tools you need as well as a great community of people just as enthusiastic as you.
I could share with you all my knowledge about being an Affiliate Marketer but if you want to go one step further and bring your Online Business to the next level, I suggest you learn it from the very source of all my power and knowledge, Wealthy Affiliate.
I have been a member there myself for almost a year now so I'll personally be your tour guide and mentor whenever you need me… plus the owners themselves Kyle and Carson at your disposal.
Conclusion
---
Phew! That took me a day to finish writing, it's over 3,000 words!
Reviews are a great weapon for blogs to grow their brand and drive more traffic but to do that, wring just one review is simply not enough.
In order to grow faster and attract a larger audience, keep writing reviews regularly and before you know it, your blog will be making you profits bigger than your own salary!
Thanks for spending time reading this lengthy guide, I really appreciate that! Do drop any thoughts you may have down below and I'll be more than happy to reply 🙂