Embedding images in WordPress is crucial for most of the images and videos to appear in WordPress.
Though it may sound difficult, the art of embedding is much easier today than 5 years back as WordPress has simplified its system so that even a 5-year-old can embed stuff.
The idea is simple – you add in some weird code somewhere and it will appear to be a huge high-quality photo of yourself, or an awesome video.
So how does one embed in WordPress?
I got you covered today but before we get to the main lesson, let's clear the air to make sure we're on the same page and look at…
What is Embedding and How Does it Work?
If you've watched movies like Merlin or Camelot, you might have heard of how Merlin embed the Sword in the Stone.
Embedding is simply the action of placing anything you want (Like a YouTube code or a sword), to a location of choice which in this case, is WordPress where it will stay put for as long as it is there.
So in the case of today's topic, I'll be showing you how to embed codes into your WordPress page to make images and videos appear and how we achieve this, is through codes which you need to acquire somewhere.
If you want to make a YouTube video appear on your WordPress site, you need to get the embed code all the way from YouTube and the same goes for images too.
So how can a video or image appear from a wee code?
Simple, codes are the language of the internet.
The language of the computer is a complicated one whereby everything consists of codes of numbers and symbols which is hardly readable by humans.
Hardly readable for normal people except… computer geeks.
If you take up computer science, you will actually learn how to speak computer and learning all about coding as part of their skills which not many people know of today but to think of a boring job.
Codes are important because that's how the internet reads stuff and that's how Google reads your website too. Boom reality!
So if you have a photography website for example, you can bet your sweet bippy that Google doesn't see any of those beautiful images at all! They will only see codes.
This brings us back to WordPress – Although all this while you may be uploading images in WordPress no problem, some images require codes as well as videos.
So if you want these images and videos to appear on your site, all you need to do is copy the code and paste it into your editor to attach it to your website.
How to embed images on your WordPress pages?
There aren't many images that allow you to embed because most of them can be saved and uploaded to your website instead.
However, some images are just too huge for that and if you upload, it will take so much of your time that it's a hassle many people do not want to be bothered with.
A good example of this, is infographics.
An infographic is usually a very huge image which often times can take up the whole page of your blog post because the information inside covers everything you want to say.
So let's get started!
Step #1 – Copy the Embed Code.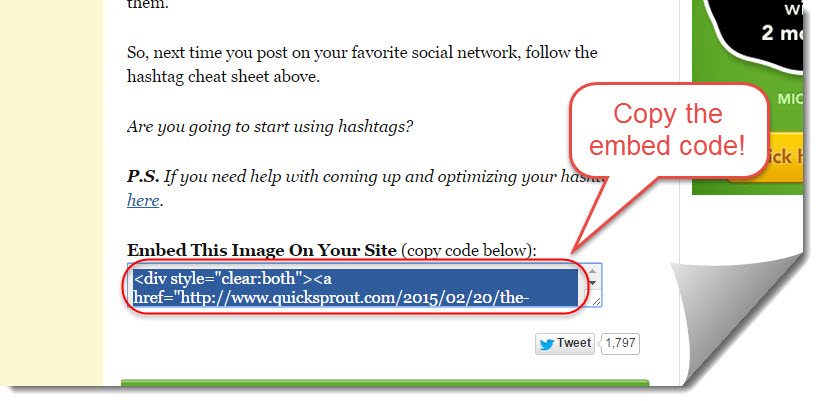 Embed codes for pictures are easy to find, they are most of the time located at the bottom of the image.
Step #2 – Paste it in the "Text" Section of Your WordPress Editor.
Most of the time when we're using the WordPress editor to write our content, we never really noticed that at the top right corner of the editor box, there are 2 sections for writing – Visual and Text.
The visual is the one that everyone uses, because what you see is what you get.
It's very easy to use because there is no coding involved and it works very much like any normal Word processor such as Microsoft Word whereby you can Bold or italicize your words.
The "Text" version on the other hand, is meant for codes which is why we will be pasting the embed code we got earlier there.
 Step #3 -Switch Back to Visual.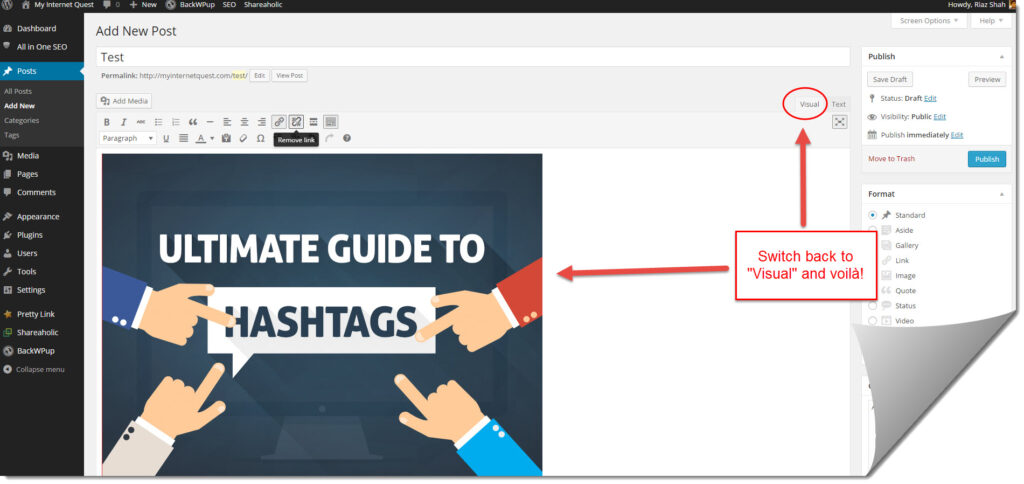 Now that you've pasted the image in "Text", all you need to do next is to switch back to "Visual" and your embedded image should appear simple as that!
How to Embed Widgets in WordPress?
The most widely-used widgets on WordPress are the search box for domain names or keywords so for the purpose of this lesson, we'll go with SiteRubix because it's my favorite free website provider.
The process is simple – Find the code, paste it in Text and you're done!
However when it comes to widgets, sometimes you might want to slide in that extra feature in between sentences to make it look more professional so here's how that would look like…

When there are a lot of words around, you might get confused as to where you should add in that code so a quick tip that I always practice is to indicate the location of where you'd like to add in the code with something like "[Place box here]" or "[Paste the code here]" so that you could always find it easier in Text format.
Now let's go get the code for Site Rubix…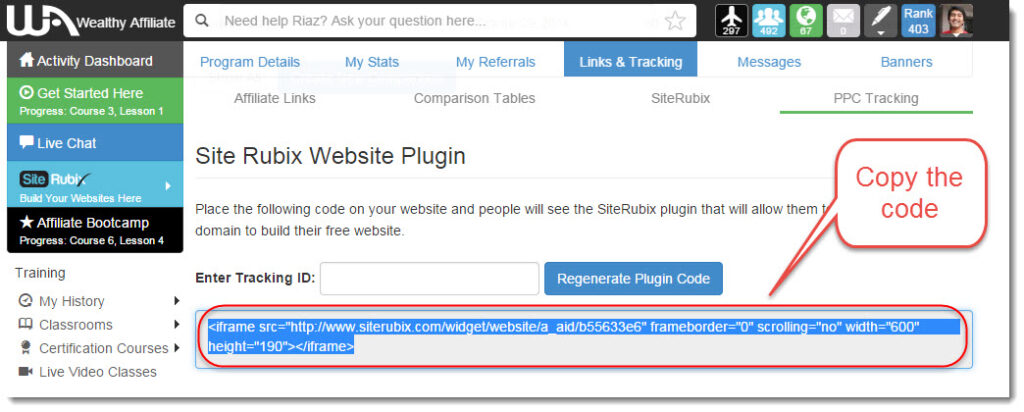 Paste it in the Text section of your WordPress editor…
Switch back to visual and you're done!

Don't worry about the grey box, that's completely normal for videos. Next, you need only to view it on preview…
How to Embed Videos on Your WordPress Pages?
By now you should have gotten the idea on how to images and widgets because the concept is the same – You just need to copy the code and paste it into your WordPress editor.
The same goes for YouTube as well, if you look below the Subscribe button, you'll notice that there are Share, Embed and Email choices.
Simply click on Embed and you'll get the code!
Here' a video I made to cover all I've talked about on embedding images, videos and widgets…
Can I Simply Use Any YouTube Videos or Images on My Website As I Like?
This is the question many newbies regret not asking until something bad actually happens to them.
Over my 4 years in Online Business, I have seen many people getting screwed by photographers hungry for money by leveraging copyrights.
Photographers may be nice when they're doing business with you but when someone uses their picture without permission, they will take every chance they get to squeeze money out of you.
Even if you didn't mean to use his picture, apologies do not work when people are too driven by money.
Sure, not all photographers are mean as some are really nice folks but the majority of them especially those living in the city put money over anything else and these are the types of people which I really hate.
This is why it is very important to know that images have copyrights and it is best to know them if you want to avoid getting sued.
But don't worry, I got your back because some nice photographers decided to pool in their pictures and allow you free use of their photos which they upload on various websites all over the internet.
Paying for these pictures is never an option for small-timers like me and you so here are the best free royalty-free websites which I personally use and so should you…
There are tons more free photography websites though, you just need to find them. But personally, I've been using these 5 websites for all my blog posts for almost a year 😉
As for YouTube videos, good news for you!
As you may know now, YouTube is owned by Google which is why you can easily connect it with Google Plus, and it's also why there are many ads everywhere (Google is famous for their ads).
This is actually a good thing because since it's owned by Google, you can easily embed YouTube videos wherever you like!
And people will not sue you if you do embed their videos on your website because by doing so, you are actually helping them gain more views, so it's a win-win situation for both of you.
And on YouTube, people want more views because if they reach thousands, they can start earning money by placing ads on their videos.
However YouTube life isn't as profitable as you may think though, because, for every 1,000 views you get, chances are you'd only get $1-$4 for every thousand depending on how many people actually click on your ad so I wouldn't advise you to go for Youtube for money (Unless you're already viral).
I actually covered YouTube monetization briefly here on my previous blog post for you to get a better idea.
Since you have a WordPress website up and running, you'd have a much higher earning potential than having a go at YouTube as there are many ways for you to actually monetize.
So coming back to YouTube's copyrights, Google has made it so easy for people to share videos that video owners themselves will determine whether or not to actually add in the embed code for their videos.
This means that if you see an embed code, grab it as you like!
But if there are no embedded codes to begin with, then you know that you can't use the video but this is very unlikely since everyone wants more views.
Need Help in WordPress?
WordPress is a very powerful platform for making high-quality websites and it's used by more than 74.6 million users worldwide. However, it can be a pain in the neck sometimes if you get stuck for even the littlest of things.
If your WordPress site is slowing down, how would you know how to get your speed back up?
If your Webhosting company is having downtimes, how do you get your website out of that mess as well?
And if your website is not ranked in Google no matter how hard you try, how would you find the source that's been hindering your website's potential?
I can certainly help you out with any WordPress troubles you may have here at Myinternetquest.com but if you want to propel your website even further, I recommend checking out Wealthy Affiliate, the source of all my knowledge.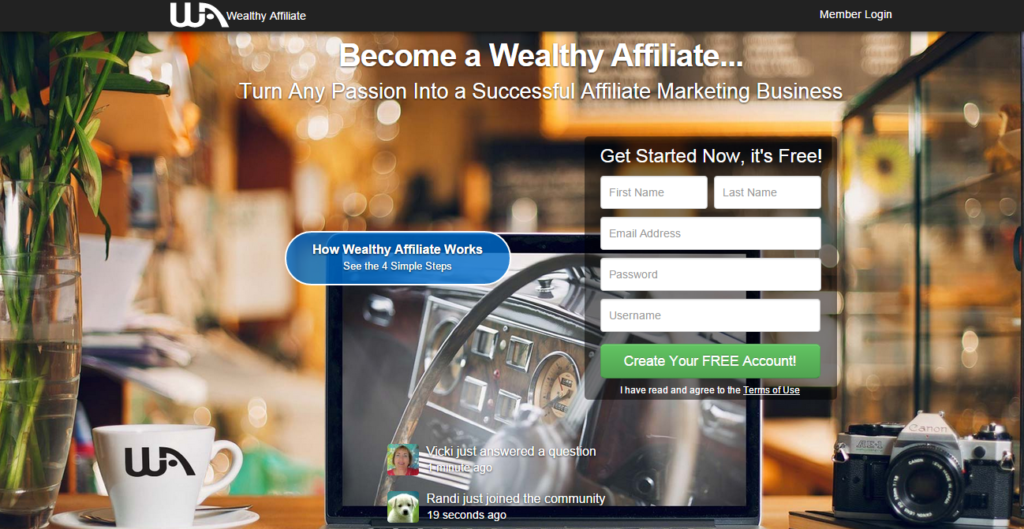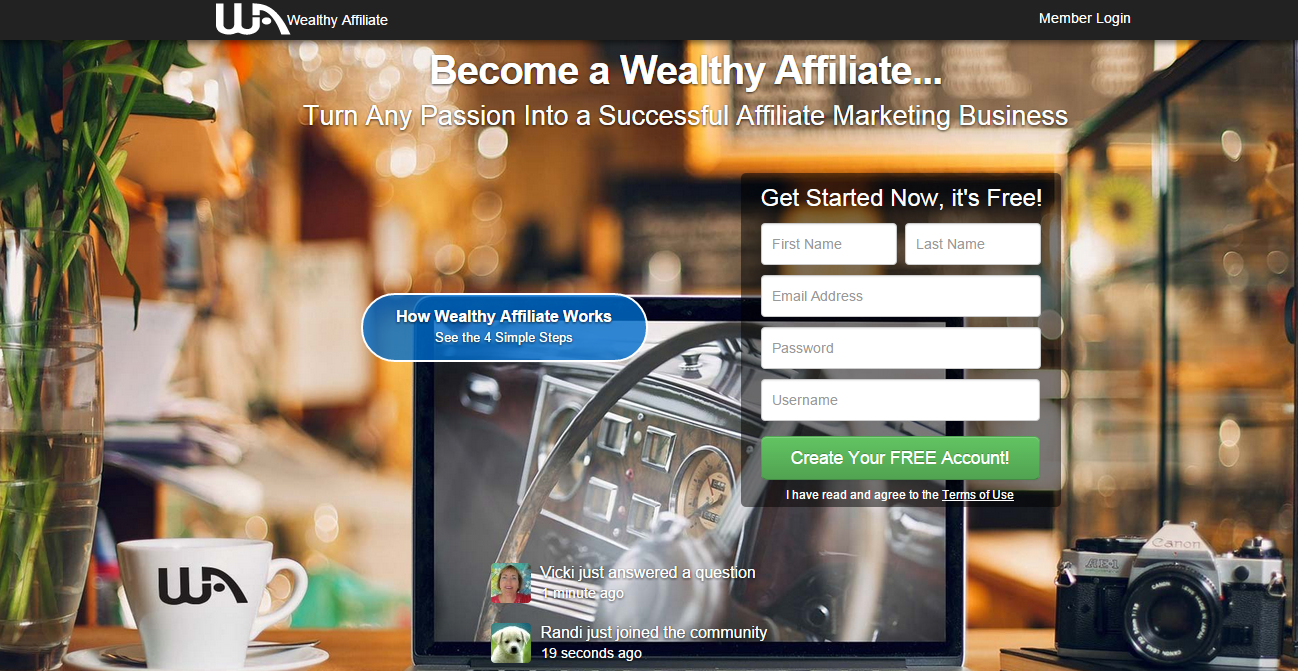 Wealthy Affiliate is an all-in-one Online Business course where you'll learn everything you need to know about building a WordPress website that Google loves out of any niches you want and learn how to monetize it.
Inside, you'll get beginner-friendly lessons on WordPress and SEO, you'll get awesome tools for keyword research and best of all, a friendly community of people just as enthusiastic as you!
It is also the very source of my knowledge that has helped me build this very blog that you're reading.
I was very terrible at websites at first because as a hospitality student, I had no background whatsoever on how a website works but after meeting the owners Kyle and Carson, they encouraged me to follow my dreams until I finally managed to build up my first and very own authority website.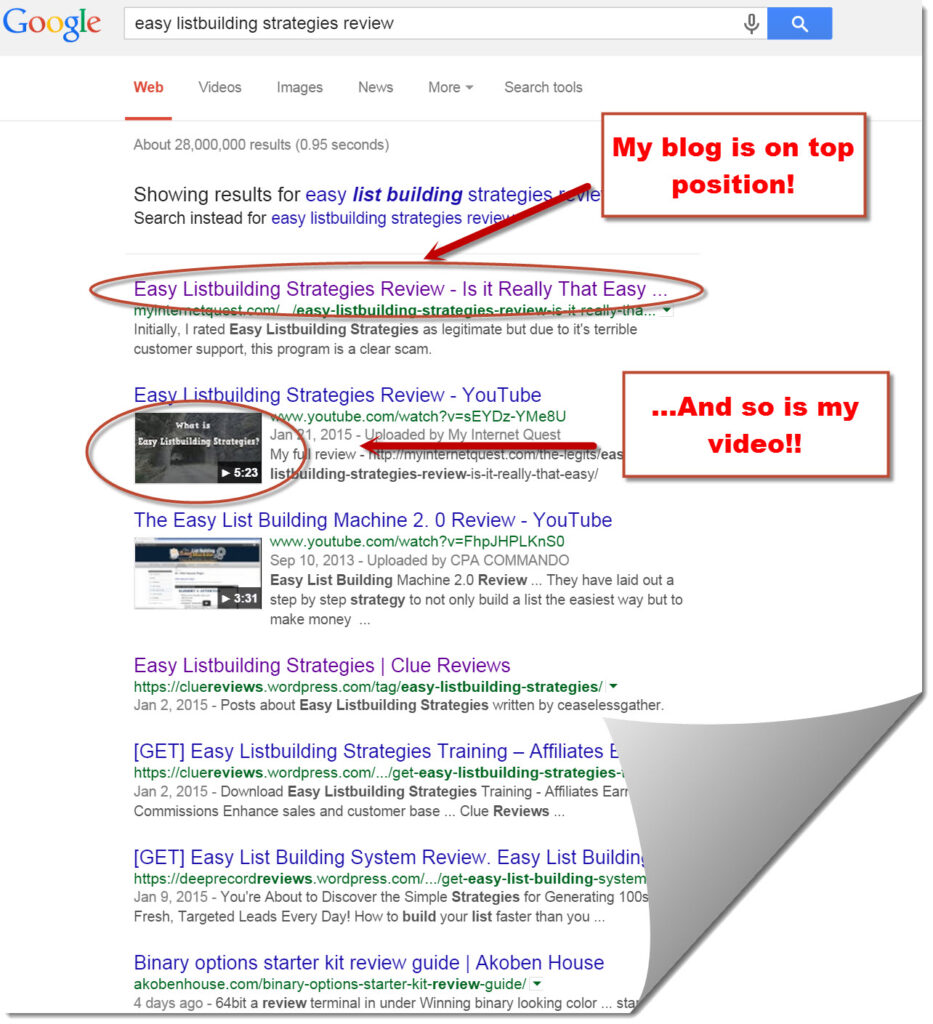 I even learned how to rank it up on the first page of Google easily and it's an achievement you'll never get tired of.
I've learned so much from Wealthy Affiliate and now, I'm using my knowledge to help other people kickstart their own online journeys as well so if you're looking for a way to optimize your WordPress website even further, don't be afraid to give it a try.
You've got nothing to lose. Literally. Because it's actually free to join with the $0 starter account here.
Conclusion
---
Although WordPress strives hard to make its programming simpler each year for its users, some actions still require code embedding which can be an obstacle for most users at the beginning.
But embedding isn't a big thing and you need only to know where to add in the codes because after that, everything else starts falling to place faster and before you know it, you'll master WordPress even more than 90% of the beginners who start at the same time as you!
If you're interested in learning more about taking control of WordPress and maximizing its potential for your business, check out my #1 recommended program here.
Thanks for reading, don't forget to drop your thoughts down below as I'll be more than happy to reply 🙂