Product name: Easy Listbuilding Strategies
Website: www.easylistbuildingstrategies.com
Type of business: Website traffic generation course
Price: $12.95 + $17 video training upsell.
Owner: Arjan Van Hemert
My rating: 0 out of 5 (SCAM)
I came across Easy Listbuilding Strategies from an email I received which got my attention because at first glance, it doesn't look as scammy as I thought.
Unfortunately after 2 weeks of trying out, I came across some problems which left me highly unsatisfied so I asked for a refund on its so-called guarantee instead.
Did I really get my refund back?
Are the lessons as good as they say? Do you think the list method inside this course is of quality leads, or are they just as useless as the other cheap programs on the internet?
I know you're curious so if you wish to find out more about what goes on behind the curtains, do continue reading my full Easy Listbuilding Strategies review below…
Pros and Cons
Pros
A pretty decent product without much fluff.
Lessons cover great topics and modules cover proper lessons on list-building which is a thumb's up.
There is only 1 upsell which is a great move to show to the people that you care about them by not trying to drain money out of their pockets.
Cons
LYING about the money-back guarantee! – I really hate it when people put claims like "If you're not satisfied, we will give your money back" just so that they can get people's attention because in truth, they don't even provide that service! These kinds of people only think about money which really gets on my nerves and is one of the reasons why I rate Easy Listbuilding Strategies low.
Joke of customer service – Arjan tells you to contact him by dropping him an email but when I did that, he never even replied me! I dropped him 3 emails and he never even replied to me which further shows how greedy and arrogant Arjan is and is something you should definitely be concerned about.
Lessons are shallow – Although the topics are great, the lessons that teach you those topics are extremely shallow. Arjan tells you many methods like building blogs and doing solo ads but he doesn't tell you how to achieve that or how much money you need to spend.
You'll need extra cash when you start – I had to inform you of this because it really bugs me as I didn't know that I'll be spending a lot on solo ads. If you didn't know of this before you join, you'd probably be as bummed as I am.
Lack of images in the eBook – I don't mind not having images for simple explanations but for technical stuff like Squeeze pages, you will not have a clue on what they are unless you can see images. Speaking of images…
Low image resolution – There are not many images in the main eBook course but whenever there is one, the resolution is so low that you will have a hard time reading. You can try to zoom in as you like but you still won't see much and this can affect your learning curve.
Videos are an upsell – The videos are an upsell which means that you need to pay more for the upsell in order to watch them which personally, is a letdown.
Prior knowledge needed – Since this program is about driving traffic to your website and offer, you will need prior knowledge or even a business ready in order to drive traffic towards.
No glossary provided – There is a lot of use of complicated jargon such as hard bounce and squeeze page which many people would not know if they have never encountered them. With the lack of images and brief explanations, I was hoping to find a glossary to understand better but to no avail.
No community – Training courses at the very least have Facebook groups so that you can mingle around and ask for advice. Unfortunately, List Building Strategies have none.
Having second thoughts? Check out my #1 recommended program here instead!
What is Easy Listbuilding Strategies?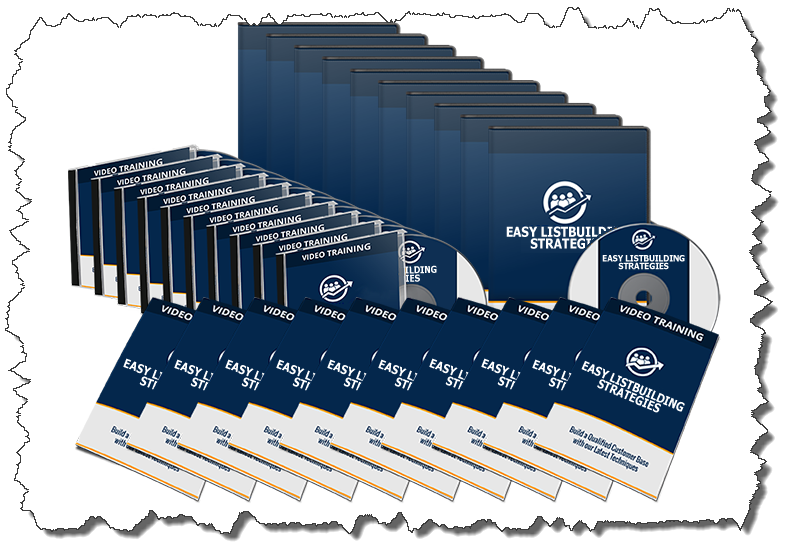 Created by Arjan Van Hemert, Easy Listbuilding Strategies is an eBook training course that teaches you knowledge on how to drive traffic to your website or offer.
Traffic is always a sensitive subject because it's the one thing every Online Marketer looks for in order to make more sales because basically, the more traffic you get, the more likely those leads will convert into income for any business and niche that you're looking for and this eBook explains the various methods one can go for to boost their traffic.
Initially, it is one of the very few legitimate programs I can recommend to my readers as not only the price is affordable, there is only 1 upsell as well which is acceptable compared to many of the scams I've encountered as they usually have at least 3 upsells to drain your money fast rather than actually helping you.
However, after encountering problems regarding customer support and not getting back my money as promised by Arjan, I gave it a lower rating because even if there are way bigger scams out there, they actually have great customer service for you to complain to.
Easy Listbuilding Strategies however, is meant for Internet Marketers who already have exposure to the Online Business world because there are words like SEO, IM or even bounces that newbies and beginners would not know of and there are no glossaries for you to look up to either.
You also need to have an offer or business ready before you can actually drive traffic because if you don't, you are going to spend more time searching for that or making a product for yourself which the eBook does not touch on and would definitely be a good addition if they do.
The main thing that you will be doing is to create your landing page and from there, the rest of the lessons are methods to drive traffic to that landing page in order for you to build a list.
Tools and Training – Are They Useful?
Besides the video upsells, Easy Listbuilding strategies only provide ebooks and those are…
Cheat Sheet – Just a simple checklist.
Training guide – The main dish.
Mind Map – Just an overview of all the modules.
Top resources report – A list of links that Arjan recommends you to check out.
As for the lessons, here's an overview of what this program cover…
What is Listbuilding?
Why should your Business definitely build a list?
5 must-have elements when building a list.
How to build a huge list the right way?
Hottest 10 list building tricks for businesses.
Hottest 10 list building strategies for IMs.
Shocking list building case studies.
The who course revolves around the eBook course which you'll get once you've paid for it but the information there does seem a bit outdated not to mention it focuses more on the what's rather than going into more details on the how's.
Flaws That I Hope They Improve.
It is disappointing to see a program that seems so legitimate turning out to be a huge good-for-nothing scam.
Easy Listbuilding Strategies has the potential to go far but there are things lacking in it which I would need to point out to you should you ever consider buying it…
 Flaw #1 – Lessons are Not as Detailed as They Should Be.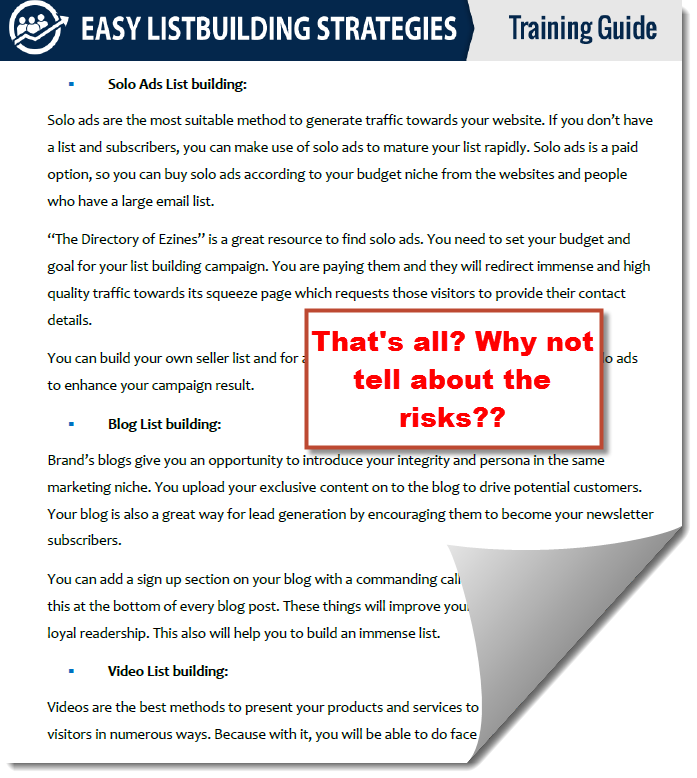 Although the topics are great and on the right track, the lessons about those topics however, are extremely shallow.
For example, one of the topics covered is on solo ads and the explanation on that is less than a hundred words!
Did you know how risky a solo ad can be?
One solo would cost about $40-$100 per 100 clicks which is really pricey!
And that doesn't mean that one solo ad campaign would even make you one sale, trust me as I have personally tried and lost nearly $2,000 on solo ads.
Let me tell you a few things Arjan "forgot" to tell you about solo ads…
How risky it can be as you can lose all your money without making back any.
How to write an email swipe if you even know what that is.
How to find honest and reputable solo ad vendors that don't disappear as soon as you pay them.
Solo ads are a risky business and I have even experienced being scammed as I paid several vendors money for their famed quality solo ads but for nothing because in the end, they disappeared without a trace with my money and I didn't even get any of those clicks at all.
I wish Arjan would really focus on how to utilize solo ads rather than just writing a few hundred words that seemed like something he just got off from Google as it is indeed a very important and risky paid traffic method to touch on.
There are other lessons within this course that were not explained properly such as building a list through blogs and videos which of course, were not explained properly on what the best approach might be rather than just mentioning the broad topic.
Flaw #2 – Bulshit Customer Support and Lying on the Promised Money-Back Guarantee.
This part upsets me the most because just when I thought that Easy Listbuilding Strategies is legit, I found out that Arjan lied with his claim!
After 2 weeks of trying out Easy Listbuilding Strategies, I had some questions that I wanted to ask and since there are no communities whatsoever of people buying this product, I had to send emails instead.
However after 2 attempts, I didn't receive a single reply!
I sent an email to ask for my money back and I didn't get a reply, so I sent another, and then another which is the last straw.
I then contacted JVZOO because that is where Arjan launched his course but instead I get a reply saying that "any dispute between you and the vendor are none of our concern" which was totally bullocks!
I mean what kind of platform doesn't even regulate the vendors to prevent scams? Unless of course, that platform is a scam itself.
I was so frustrated that I took the time to research everything and do a review on it which I hope readers will find and reflect on first before buying Easy Listbuilding Strategies.
Here's proof of Arjan's fake Money-back Guarantee…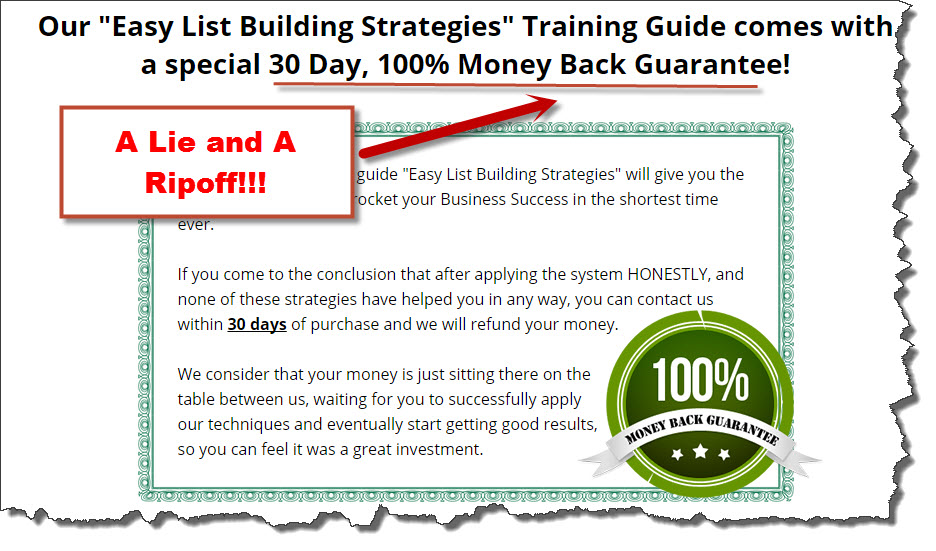 Once you buy this program, you will literally be cut off from any kind of support which is the worst thing you would ever want when it comes to buying something from someone.
Putting the money-back guarantee as a clickbait when they do not even bother to give you when a customer asks for it is despicable and reflects badly on that person and the product.
If I were you, I'd be wary if Arjan releases more products in the future.
Flaw #3 – Lack of Illustrations and Explanations on Important Steps.
When it comes to technical stuff, it is better for someone to show us rather than tell us in words, don't you think?
An example can be seen from my screenshot of one of the lessons above whereby Arjan (The owner) tells you to add a follow-up process for 'hard bounces' and also do a time-to-time measuring list quality checklist.
But how do you even know how to do any of those if he doesn't even show you that in the first place?
More importantly, how would you even know what they mean?
In one of the lessons, we need to learn about squeeze pages but as expected, there are no images of what they are, or even how good squeeze pages should look like!
This gets on my nerves because Arjan tells you that visuals play a vital role in education and business but he doesn't seem to be implementing it himself, does he?
Easy Listbuilding Strategies have great topics, I could give you that but it could have been better if you add more images for us to see.
Of course, there are some images on certain pages, but they are not enough to help you get a clearer view of things especially since we need to see more in order to learn better.
The content is there, but just not enough for you to visualize.
Speaking of a clearer view…
Flaw #4 – Blurry and Low Image Resolutions That Hurt Your Eye.
Sure, the lessons are great but when it comes to images, I get absolutely annoyed with what I can't see.
Since you will be learning from an eBook, it is only important to make the images bigger and sharper because if not, people will have a hard time seeing.
Arjan (the owner) did not go through his products properly before selling them as the images that he used are small and of low resolution!
It is different compared to using those sorts of images on a website because you can always click on them to enlarge but in eBooks, it's a whole different story.
You just can't click to enlarge.
I tried to zoom in to see whatever it is that Arjan is trying to show but to no avail because the image itself is of very low resolution, it's giving me a terrible headache just trying to focus and understand what it is exactly that he's sharing.
Because of this, I had to strain my eye even more to see and this is something we should all not be doing as it is hazardous for our eyes.
A Community Would Be Nice, But Does It Even Have One?
No, it doesn't.
It may not seem like much of an importance but educational courses especially Internet Marketing ones should have a community.
Easy Listbuilding Strategies especially, involves technical work which is why having a community is of utmost importance so that you can ask for advice whenever you're stuck.
And since you will be spending loads more worth of money on split-testing, I can't stress enough the importance of having a community because you will need to share your thoughts and opinion on which approach works and which doesn't.
This is because most of the methods that you will be implementing are paid methods such as the use of solo ads which further presses on the matter at hand because you wouldn't want to keep spending money on ads and getting back nothing in return, would you?
Many programs to date (Even scams) have a community and at the very least, a Facebook group and if Easy Listbuilding Strategies were to go far, they can start by creating a group with Arjan himself giving advice.
How Much Does it Cost?
When I first bought Easy Listbuilding Strategies, I was surprised that it doesn't have many upsells as I expected because usually, many programs online have up to 3-5 upsells to drain your money even before you make any.
Those programs of course, receive bad ratings from me as they are scams and you can have a look at a list of my reviews here.
Easy Listbuilding Strategies only has 1 upsell which helps us understand that there's not much to this program than I thought…
Original price – $12.95
Video training upsell – $17
With the eBook being blurry and hard to see, I wouldn't want to bet on the quality of the videos.
Do I recommend Easy Listbuilding Strategies?
No, I don't.
The only good reason I can think of for anyone buying this eBook is so that they can rehash and sell it on their own.
Other than that, with their outdated lessons, low-quality explanations with blurry visuals, and of course the fact the owner himself is just blatantly lying to you with huge claims just to get your money from you, I wouldn't recommend Easy Listbuilding Strategies to anyone.
If he can lie about what the Money-Back Guarantee No Questions Asked policy just to clickbait you, it's no surprise that he'll lie about many other things.
There are of course, better programs out there for Internet Marketing that I can recommend you.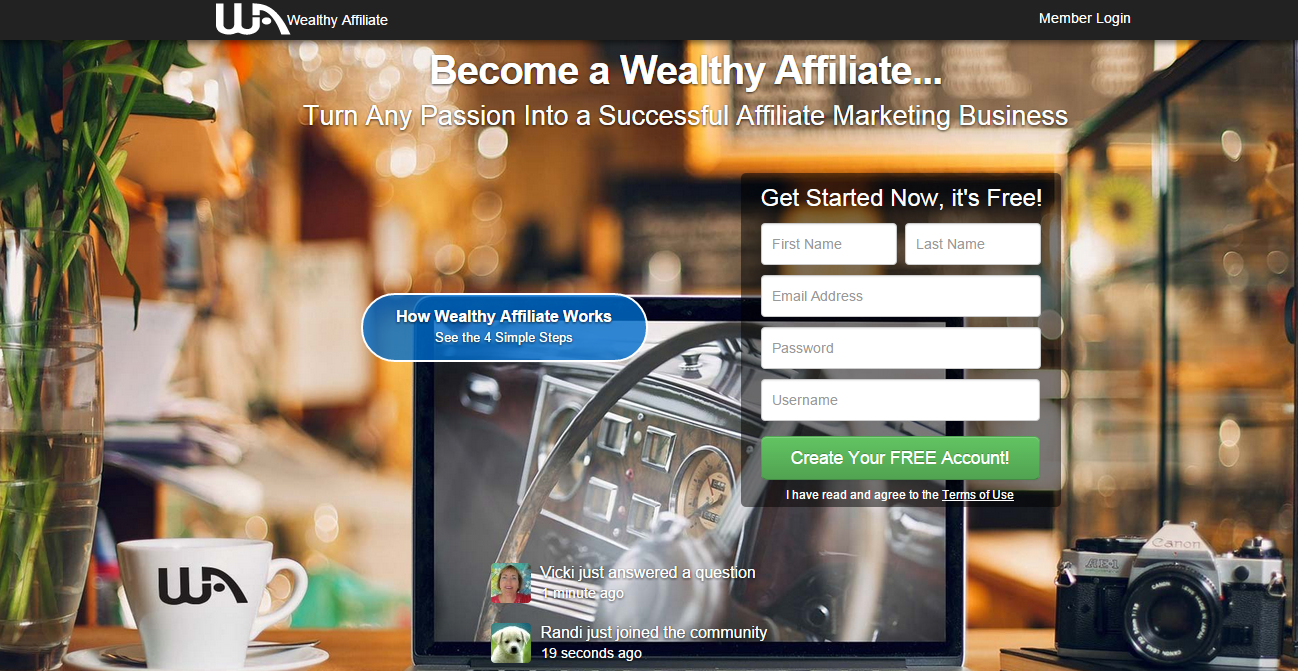 One in particular, is Wealthy Affiliate.
It's an Online Business platform that helps you build an Affiliate Marketing income stream by building your own website, and monetizing it.
And the best part?
Is that you can choose to dominate your website in any niche possible which alone, is one of the most attractive features of the platform – Besides the awesome community there of course.
How Wealthy Affiliate helps you get your website working, is by proving SEO lessons to help you create amazing content and of quality with proper keyword implementation that Google will love so that you'll rank your site beautifully.
If you've noticed, you might have discovered this very review on Google or Bing.
That's because it's ranking well and it's currently on the first page nonetheless and how it helps your business because when it comes to Internet Marketing, the higher traffic you get, the more potential it is for your website to monetize.
There are various ways on how to monetize your website besides Affiliate Marketing which is why I find it very interesting and why it works for just about any niche out there.
Long story short, you'll have the chance to not only start your own Online Business from scratch, or continue an existing business using the SEO methods and features provided there.
Here's a quick comparison for you to see from an overview…
Final Word
---
Initially, I rated Easy Listbuilding Strategies as legit because I thought it looked decent.
But as soon as I found out that you will literally be cut off from any forms of communications with Arjan not to mention the claims were nothing but lies and that the lessons are terribly outdated, Easy Listbuilding Strategies is definitely a scam and receives a very low rating of mine of 0 out of 5.
If you'd like to check out my current #1 recommended program, you can do so here.
Thanks for reading, do drop below any questions you may have as I would very much like to hear them.