Affiliate Marketing is one of the easiest way to earn because anyone even a newbie can make money online.
But is it a good business?
It IS a good business because you can earn up to $10,000 a month OR you can earn next to nothing.
Did I get your attention?
I hope I did because if you're dying to find out more, do read up till the end!
What is Affiliate Marketing About?
Affiliate marketing is simply a practice of selling someone else's products in return for a percentage of commission you'll be getting.
Think of it like you being a salesman in a real world.
If you are working in ZARA and you managed to make some huge sales, won't you get some sort of percentage?
I've never worked in ZARA so I'm not so sure if you get ANY commissions whatsoever but you get the idea.
BUT unlike being a salesman where you have to work hard and come to office every day, you WON'T have to work hard at Affiliate Marketing because it is online!
You can work on your computer screen in your pajamas and log in anytime you want but do make sure you actually put some work into it because how much you earn depends on how hard you work.
Affiliate marketing is a good business for newbies and beginners to earn some cash online.
Benefits of Affiliate Marketing
Still not convinced that you should give yourself a go?
There are loads of benefits when it comes to affiliate marketing that you should concern yourself with:
You can leverage other people's fame and hard work.
ZERO cost to start.
You can work anytime you want.
Freedom to choose ANY affiliate product to promote.
EXCELLENT way to earn some great cash.
How to do Affiliate Marketing
So you're all hyped up in trying out affiliate marketing but have no idea whatsoever on how to start?
Fret not!
I was exactly at your place when I first started out so listen up and listen good because I'm going to share with you my 3 steps to success:
1) Choose what product to sell
Before you make any money, you need to know what exactly are you going to sell.
I'm sure by now lots of ideas must be going through your brain but have you ever thought of where to get these products in the first place?
Don't worry though, because you won't need to ask permission at all, the online world is so automatic they already have a system for that.
There are 2 affiliate platforms that I would highly recommend and those are Clickbank.com and Amazon.com.
Clickbank.com are more to ebooks whereas Amazon.com is an all-rounder that sells just about anything, give it a try!
2) Have a blog website
Did you know that 61% of internet users buy stuff from blogs?
Sure you can promote your link anywhere you want.
You can promote it at your school, your friends or even Facebook groups but how long are you going to keep doing that? Until you're old?
Promotion takes time and energy not to mention risky too because a lot of people will start seeing you as a spammer so how do you sell like a professional?
In the real world salesman makes more sales if he has a shop and sell there.
If you buy a car, would you but it from someone on the street or would you go to the showroom instead?
The showroom right?
Similarly online, your website IS your shop!
When you promote your affiliate product on your website, THAT is affiliate marketing at its best. (I wrote about how to build a website for free here)
3) Apply SEO (Whoa fancy word!)
We're almost there.
Sure you can now boast to people that you have a website, BUT you can't just leave it be and hope for the best.
You need to do something called SEO. (Here's my blog post on that!)
In order to turn your website into an automatic money machine, you need to let people find your website first.
Any thoughts on how?
Through Google of course!
Many website owners earn huge passive income because people can go there with a click of a button.
As long as people can find your website on Google search, the whole internet is your market!
You can still further scale your earnings and…
Be in the Know, Learn How to Keep up With Google's Updates!
Have you ever randomly come across a very cool website and wondered "Why is this website not getting enough recognition"?
No matter how cool and awesome your website is, it means nothing if people cannot find it because those are your potential customers.
Building a website and monetizing does sound promising (it is), but how your website attract visitors (Also known as traffic) and monetize depends on how easy it is for people to find a website.
Take a look at this:
See how it is for people to find my website?
My blog post "Does Anyone Use Google Plus?" managed to get number on the first page of Google!
Better yet, first page on Google AND higher position than The Huff Post!
You can do it too, there is a program that I highly recommend you to join called Wealthy Affiliate. (Here's my full review)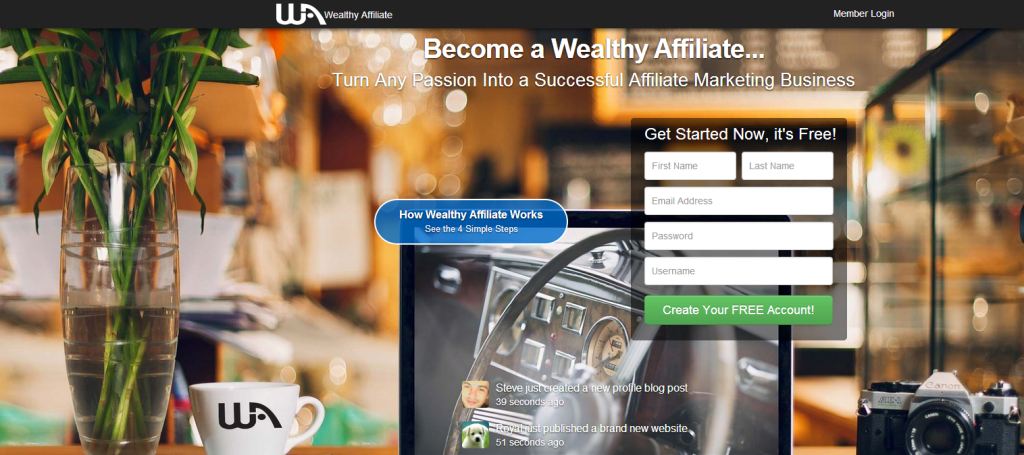 As you might already guessed, Wealthy Affiliate is an online classroom which teaches you all you need to know about building a blog or website for free.
The lessons are evergreen as it is constantly updated but what I really like most is the awesome community there which are always there for you to ask for advice or simply mingle around.
Personally, I like a healthy challenge so take a look at this quick competition I did with one of the members there called Jay.
As you can see, even though I managed to get first page, Jay's website gets number one while mine is number 3 (Darn!)
But the main point is that you WANT your website to be on the first page of Google because that's where the traffic is.
Conclusion
---
Affiliate Marketing is fun and easy.
Sure you can leverage other people's hard work in exchange for commission, but if you don't equip yourself on how to monetize passive income, you are going to work hard every day without stop!
If you're interested in becoming a pro affiliate marketer, check out my #1 recommended program here.
Do share any questions or experience you may have as I'll be more than happy to reply 🙂