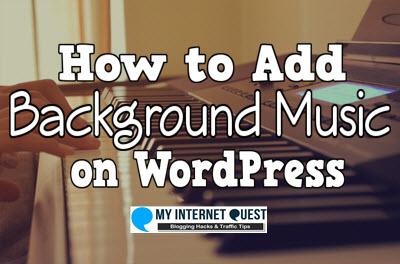 WordPress is famous for content maximization because the more people engage with your content, the better your page or site will appear in search results.
Because of that, WordPress does not encourage music much because having great music will distract readers from your content which is why they do not provide that service in their default dashboard which may be a bummer.
So how to add background music on WordPress then?
It's still possible though! By installing a plugin to your site which will give you the required extra feature and one that I recommend is…
WordPress Music Plugin by RighTune
If you're looking for a way on how to add background music in WordPress website, there is no better plugin which can get the job done than WordPress Music.
Here's a video to show you how to install the plugin which I've made for you…
So to install that, simply head over to plugins and look for WordPress Music by RighTune.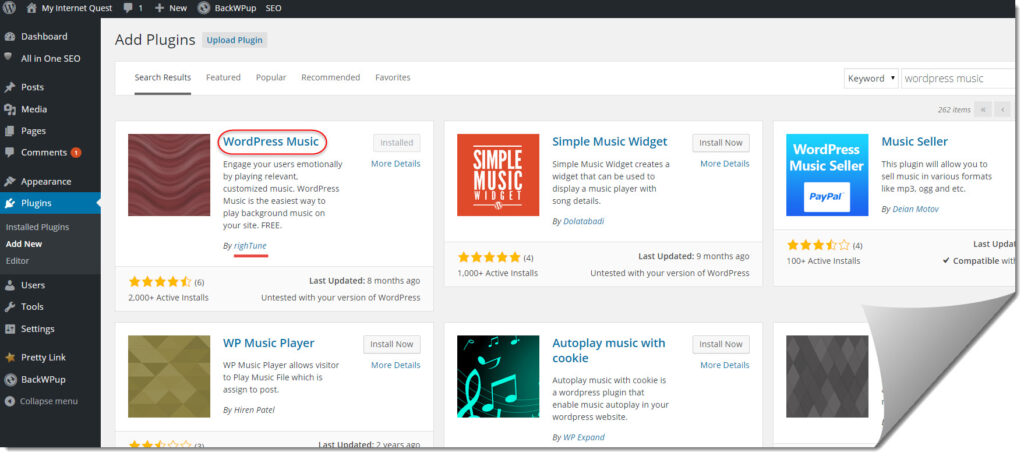 Once installed, head over to "Settings" where you can find WordPress Music. Click on that, and it will bring you to another page. Click on Sign up.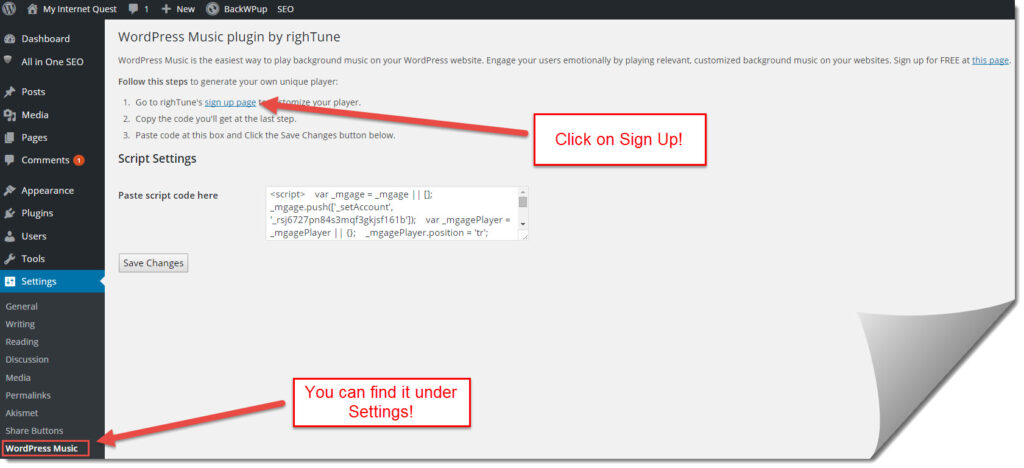 This will bring you to the RighTune page where it will ask you to register your email and password.
Just fill in that and finally, you'll be brought to the page where you can finally fill in that mini-questionnaire.
Those questions are actually settings which will let RighTune create your customized background music for your WordPress blog so make sure you fill it according to how you want the feeling to be.
Bear in mind that the music created is going to compliment your website's mood which is actually pretty cool.
And voilà! You get the code! Simple copy that code, head back to the previous page which was under the Settings and paste your code there.
Simple right? It's pretty self-explanatory really.
The magic of WordPress Music is that is can create its own song customized according to how you like the mood to be for your website as this can really affect your readers as they focus through your content.
Simple Music Widget by Dolatabadi
WordPress Music works wonders in giving you readers soothing melody for them to listen to when reading your content but it doesn't allow you to upload and play your own song so for that, you need to install another plugin instead called Simple Music Widget.

As usual, simply head over to plugins and look for the Simple Music Widget made by Dolatabadi.
Once installed, activate the plugin and head over to "Appearance" where you can find the "widgets" section.
Once you're there, simply drag and drop the "Simple Music Widget" onto the sidebar area on the right and you can start filling in all the details.
Everything else is self-explanatory but for the URL, you actually need to upload your song first in order to get your URL for that particular song.
Once you've uploaded your song through your media library, simply get that URL, paste it on your widget, and you can play your song anytime from your website!
It's not exactly a WordPress background music, it's more to the songs genre but you can upload any songs you like which is really fun.
Is Music Really Necessary for your Blog? –Why You Need to Think Twice on Adding the Music Background Feature.
I know many of you might not like the fact that there are not many music plugins out there and that some of you might argue that adding a music is important for your success.
However there is a reason as to why not many websites or blogs do not implement the music feature anymore and those are due to…
Legal issues – Many bloggers get sued up to tens of thousands of dollars just for using copyrighted photos, imagine how much you'd be charged for if you use copyrighted music? Although you might get away with it if your website is still small but as your business grows bigger, people are going to notice you and when that happens, lawyers will start to notice you as well.
Not all users can multitask – Can you read a book while listening to music? If everyone can do that, all the libraries in the world wouldn't mind if you make noise. Having great content in your website will not yield as much result if your users can't focus on reading.
It can slow your website down – Installing too many plugins can actually slow down your website because some of those features take up a whole lot of space.
There's the professionalism issue – Do you see Apple playing Taylor Swift songs on their website? Or the Daily Mail playing Linkin Park on their site? Sure, music on websites seems cool when we were kids but as you grow older, people's perception tend to shift and simply using other people's songs on your site, isn't very professional.
Does not appeal to the same market – Everyone has different tastes in music and while many people do not mind listening to various types of songs, there are others who get upset when they listen to specific forms of music. For example, religious people might not like it if you put on Katy Perry songs while adults will feel like he's wasting his time if your site started playing Justin Bieber. Oh and speaking of which, there are many people who hates Justin Bieber so if they were to stumble upon your website with his songs, they won't hesitate to leave.
The issue with music on websites and blogs are starting to grow really fast as music companies are getting more aggressive in fighting pirates.
Bloggers are getting sued, YouTubers are experiencing problems with their videos and more and more companies are on the verge of bankruptcy as the music copyright issue is starting to grow big so it's wise thinking twice when it comes to using songs from artists as opposed to normal melodies.
Want Help in Building Your Online Business Further?
It's not too late to learn what's best and what's not for your website to hit big.
Using WordPress may be free but it can be really tricky at times as there are some part where you need to be technical in order to optimize your site.
There is a program I recommend you to check out if you want to learn all there is to know about monetizing your niche and ranking your website through SEO and that is called Wealthy Affiliate.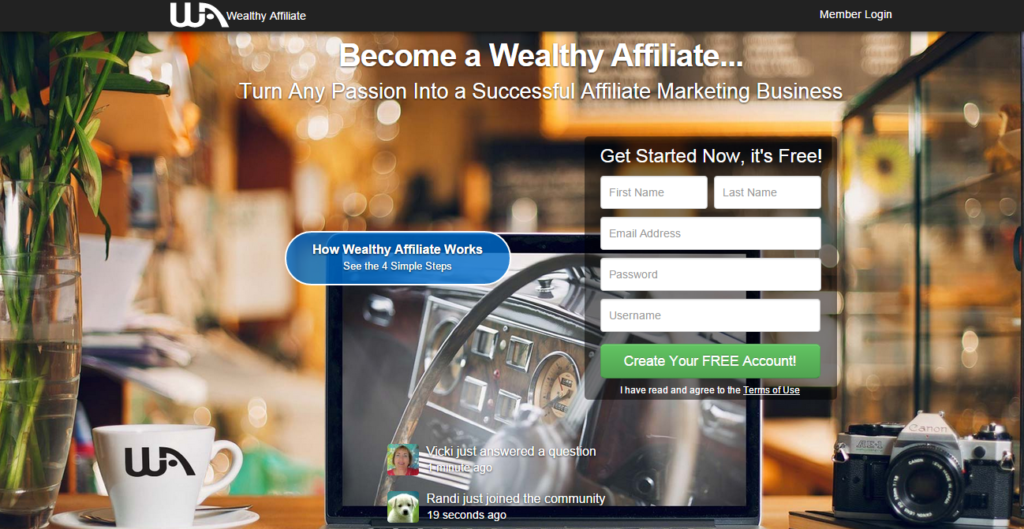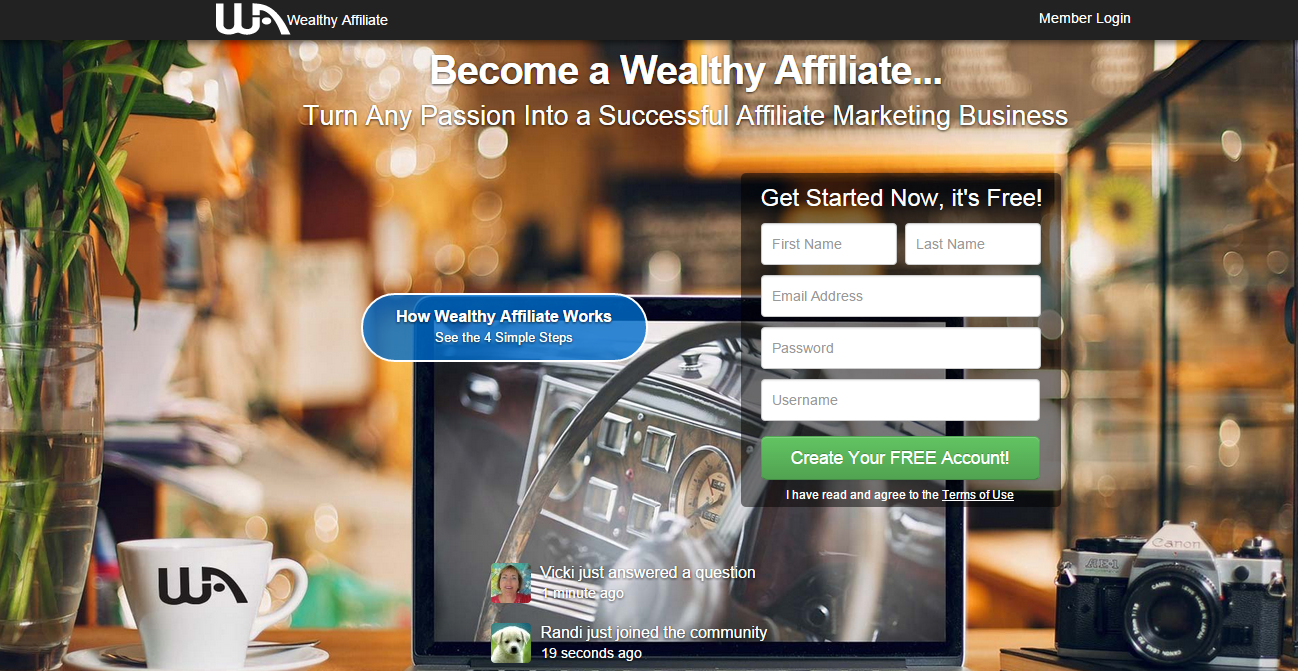 Did you know that adding too many plugins to your WordPress website can slow down your page loading speed? Or did you know that adding music can actually hurt your visitor rate?
If you want your website to appeal to visitors better and get better search engine rankings, all of those lessons can be learned at Wealthy Affiliate's training and if there's any question you may have on anything at all, there's a whole community of people just as enthusiastic as you to mingle with so you'll never feel alone!
Here's a screenshot of one of my pages on Google…
I managed to bring it up on first page in a matter of few hours and so can your website too.
Though not all my websites are on the first page, slowly but surely I am trying to bring them up and this can really bring up your site's visibility because once it's up there, it'll stay there for a very long time.
Regardless of your niche, if you want to monetize your passion and grow your online business further, then Wealthy Affiliate is the best program to propel your online journey.
Conclusion
---
There are many arguments on whether or not adding music to a website is worth it.
However that doesn't mean it can't be done because when there's a will, there's a way because as long as you learn how to adjust the features to optimize your website's user experience, you can pull the music background trick no problem!
If you're interested in learning more on building your website the real way, check out my #1 recommended program here.
Thanks for reading, do drop your comments down below as I'll be more than happy to reply.