With the rising cost of living today, a lot of people are turning to entrepreneurship to find another side income.
Brick and mortar business have a huge capital whereas Forex trading is very risky which leaves us with one method left – Starting your own Online Business.
Having an Online Business is the most convenient way for the little guy to start earning a secondary income without having any huge capital to start but more importantly, without having any risk.
But before we get to the main part, I'm sure you're curious to know…
What is Internet Business?
Simply put, it's business that you made on the internet.
However the internet is very huge and there are many ways how people earn money such as selling your service as a freelancer, filling up surveys, becoming a part-time writer or even scamming people.
Trust me when I said I have tried all those, even to the extent of scamming people BUT that was an exception because initially, I never knew that I was promoting a scam.
If you're curious on what those scams are that I joined and promoted during those early days of my discovery of internet business, there are actually a number of them which are CB Passive Income, Empower Network, iPAS 2, and Pure Leverage – All of those which I have made reviews for immediately after finding out that those are scams.
There are actually many more scam programs that mask themselves as the good guy but in the end, only sucking your money dry and I've made reviews for each of them here.
So what is the best internet business that everyone can go after?
The best, safest and cheapest one would be by building a website of your own and promoting it.
Sure, you can opt to become a part-time writer or fill up surveys but that takes up a huge amount of your time, it's very tiring and the pay isn't as huge not to mention you have to work in order to get paid.
But why make someone else rich when you can write content for your own website and make money from your own website?
I find having a website much better in terms of profit, time management and scaling opportunities which are why I recommend anyone who are strapped on a budget to have a go at this method.
Benefits of Starting Your Own Internet Business?
Initially, I was working in a hotel before delving into Online Business so I know first-hand that regardless of what people say, there are actually more benefits of working online…
Work at your own pace – Not only is it your own business, it's also online which means that you can work anytime you want by simply turning on your computer.
All your work is saved online – You don't need to keep a copy of your file and save it somewhere just in case as to how we usually do in the office world because since your work is on your website, it is already saved in Google!
Work anywhere! – Hey, you only need an internet connection to start so you can actually go anywhere you want as long as there's Wi-Fi!
Huge scaling opportunities – Having a website may take a while before it can get recognized because Google needs to see how serious you are. But if you keep working on it, your website will keep growing and growing which means your income will never stop increasing too, a least not if Google went bankrupt.
Huge reputation – Building a website is no easy feat and it takes a lot of work to make it successful so if you managed to build one, people are going to respect your decision as they too would one day like to have a website of their own. Although I'll be teaching you how to build one for free, people still have the perception that building a website will cost you thousands of dollars.
There are no cons for starting an Online Business because you are not spending any money on it to begin with but if there is, I would say that the cons would be that it might take a few months before your website can take off and get recognized which means that you should not quit your job just yet.
Other than that, spending too much time at home in your pajamas on your computer would make you feel super lazy at times.
How to Start Your Own Internet Business For Free? -6 Steps to Success.
Now to the main task at hand, building your own Online Business.
It's important to be realistic when building your website because although you will be earning, you won't earn overnight because you actually have to put in the effort for it to grow.
It is after all, a business so it starts small and will grow only if you manage your website and build it to grow into an authority website.
Ready? Here are my 5 steps that I personally use to build my websites and so should you…
Step #1 – Find Your Passion.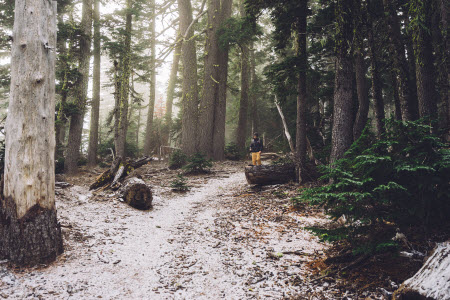 Passion helps you specify your website even more and makes the content process later on smooth as butter but the right word for that I suppose, is niche.
What is your website niche about?
Do you want to build a diet website where you can focus on a specific health issue?
Are you a mother who loves children? Build a pregnancy advice website.
Are you a gamer? No problem, gaming review websites are all the rage today! (I'm actually playing Elder Scrolls Online and thinking of making a blog for that too 😉 )
There are plenty of niches to go around, and the smaller the niche the better!
Don't choose something too broad because you will have a much larger competition.
For example, instead of choosing simply a dating niche for men, you can do a lot better if you choose something like a dating niche for Asian men in America or even a whole website focusing on dating French ladies!
If there's any advice I can give on choosing a niche, is to follow something you are comfortable with because you will be sticking to that website for a very long time.
Do not be picky when choosing the best niche because personally, it doesn't really matter if you cannot rank your website well in the first place.
If you have no idea what niche to choose, don't worry! I have made a top 10 list of niches for you here.
Step #2 – Think of a Website Name.
Thinking of a website name is the most momentous occasion you will ever have because it is really fun.
Here are some tips to help you get the best domain name…
Do not use dashes to separate the words – Instead how-i-met-your-mother.com, you should go for howimetyourmother.com instead. This is because it will be much easier for your visitors to remember the name not to mention type it in the search bar.
The shorter the name the better – This part is optional but shorter names go a long way to making a larger impact in marketing as it is easier to remember (And for people to type). Combining 2 words into one also makes it sound cooler like Mashable and Relationshipable.
Choose a keyword-based on your niche – Choosing your domain based on your keyword can actually give you a small boost in SEO which means that website name alone can help you get ranked on the first page of Google fast. Examples of successful keyword names are like Waystoavoidscamsonline.com or howtolosebellyfattoday.com. This doesn't sound brand-able like Apple.com or Gooey.com but still, it is handy to have a go at that if you have no idea what names to choose for a website.
At the end of the day, a name is just a name so please don't spend too much time thinking about the 'best' name because nothing in this world is perfect, what's important is progress.
After deciding on the right website name, you're now ready for…
Step #3 – Building Your Website in Less Than 30 Minutes!
Building a website is fun – You can choose the theme and overall look of a website and it makes you feel in control.
For this step, it's more to relaxation because in the internet business, building a website is easy, the hard part is creating the content which we will cover later on.
Here's a video on how to build a website in less than 30 minutes…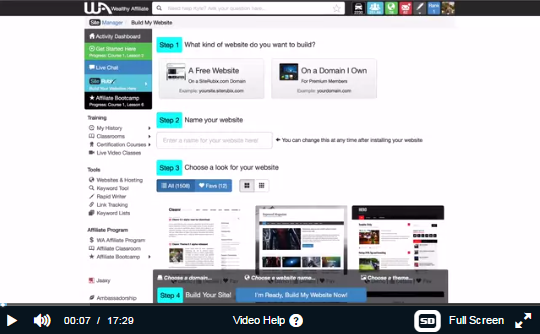 As you may have known on the video, the website platform that we use is SiteRubix which is created by an Online Business course called Wealthy Affiliate for its community.
There are many free website platforms around such as Weebly and Webs but the reason I recommend using Site Rubix is that it focuses on website safety and performance and it has a very cool interface that lets you see your website's health so it's very newbie-friendly.
One thing I want to point out is that whatever name you choose for your website, it will end with ".siterubix.com" and this is typical for any free website provider.
Even if you use other free website providers like Webs and Weebly, you will still end up having the ".webs.com" or ".weebly.com" because that is provided by that specific website.
This is because in order to have an independent ".com" domain or ".org" or even ".net", you will need to pay around $13 per domain annually so for starters, it is better to make full use of the free website before buying that domain.
Another reason why I recommend Site Rubix to create your website is that it is also the only free website provider that allows you to transfer your contents from your free website to any domains that you would want!
This is actually a pretty neat trick not found anywhere on the internet because it shows that they encourage you to have a free test drive at building a website before you are confident enough to buy a new one.
Pretty cool right?
Have a go at building your own free website here…
Step #4 – Creating Content.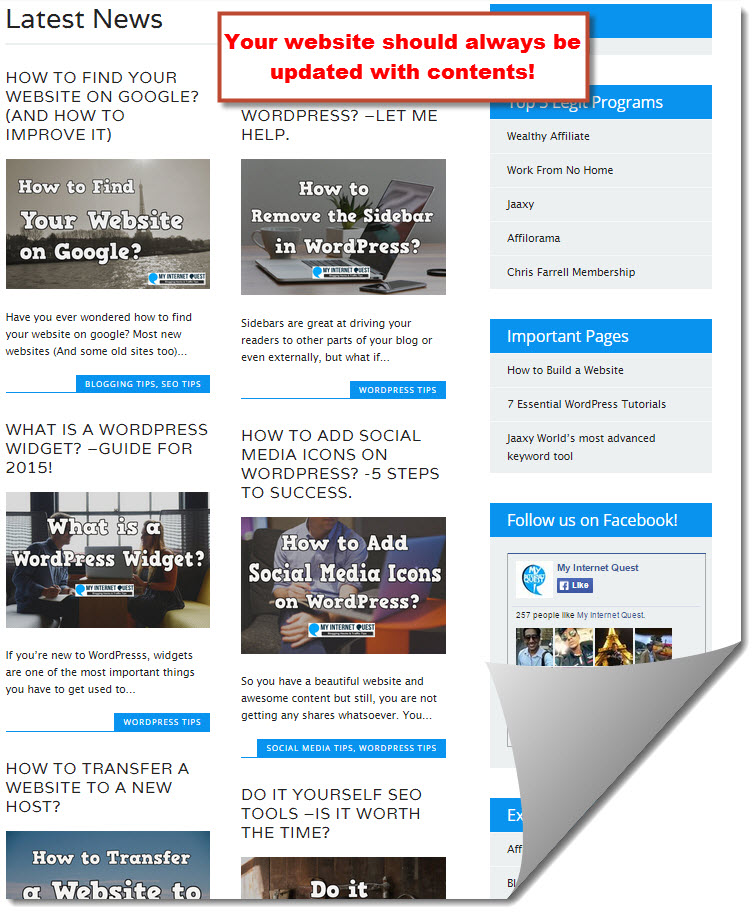 Now that you have a website at hand (Yaay!), your last step is to create content because without it, your website will be nothing but an empty shell.
Have you noticed how many bloggers earn money?
It's because they never stop blogging and writing fresh content to attract readers!
QuickSprout.com is one of the most successful blogs around which has money sources of income such as website building and online marketing but still, the biggest income earner in their blog.
Why? Because blogging helps you get huge amounts of readers with no cost at all because basically, all you do is write about something and post it on your website.
You can write about basically anything and there are loads of places where you can find ideas or inspiration to write such as through Google Suggest, or even from other websites.
Be sure to make your post solve a certain problem because the reason why people type in anything in that Google Search bar is because they want to find answers in the first place, correct?
If they want to find ways on how to make iced coffee, you should show them how.
If they want to find ways on how to play a certain video game, you can use your screenshot and show you how you do it.
If there is a certain controversy, it is also probably a great idea to touch a little on that because this will bring in loads of readers and gossipers to your website which can make your site look popular.
Sure writing controversies might be disagreeable for some people, but on a side note, you are also gaining a more loyal reader base who support you.
Do this regularly and your website is going to grow faster than you ever thought possible.
Now comes the question of the day, you have visitors coming to your website but how are you going to earn in the first place?
For that, you need to learn about…
Step #5 – Monetizing Your Website Through Amazon.
A lot of people say that the best way to make money from your website is to sell your own product.
This is actually true but it's not the only way to make good money from your website, especially for beginners because building your own product takes too much time and money so what is the alternative to selling?
Simply put, Affiliate Marketing is the act of promoting other people's products in exchange for commissions.
I know what you're thinking, why help other people rich when you can make money for yourself right?
That's because Affiliate Marketing actually is a very easy way to make money online without selling anything, and you get a very high share of commission which is usually around 50% (That's huge!).
Now you know how people can get rich online?
Affiliate Marketing is very easy to do, it saves time and it has a very high-profit potential which is why I am also doing it on my blog here.
A lot of people use Affiliate Marketing as a means to earn money while they focus on creating their own product but throughout my experience, 95% of Internet Marketers I meet stays in Affiliate Marketing because of the benefits and money that they get.
So how to become an Affiliate Marketer?
There are actually platforms you can go to like ClickBank and even Wallmart but the one that I really find better converting is Amazon.com because people tend to like Amazon more as they have been in the online market longer than any other online marketplaces.
Here' a video on how to become an Amazon Affiliate and find products to promote…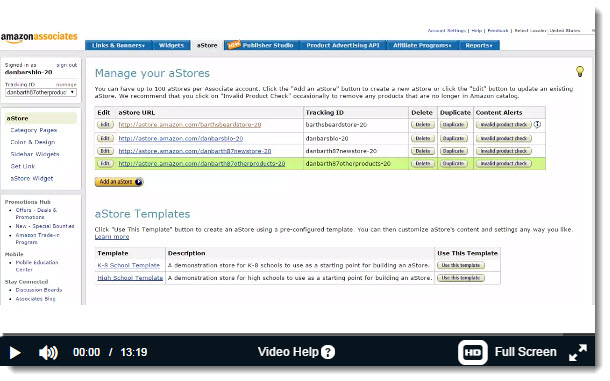 And you're good to go!
You have a website running and it's ready to make money for you so all you need to do is write content regularly at least 2-3 times a week to get steady traffic coming.
Step #6 – Learn SEO and Get Your Website on the First Page of Google!
The reason a lot of Internet Marketers fail is that they do not have the support they need to get started online.
When making a website, sure, creating content is the main part but in order to market your brand and get traffic (Fancy word for website visitors) non-stop, you need to learn how to get ranked on the first page of Google and so how do you do that?
There is the hard way – Reading blog after blog just to hit a wall until you find someone who is willing to help you or…
The easy way – Joining an Online Business course where there's a community of thousands of people who are just as enthusiastic as you willing to help each other grow and avoid pitfalls and the best one to date, is Wealthy Affiliate.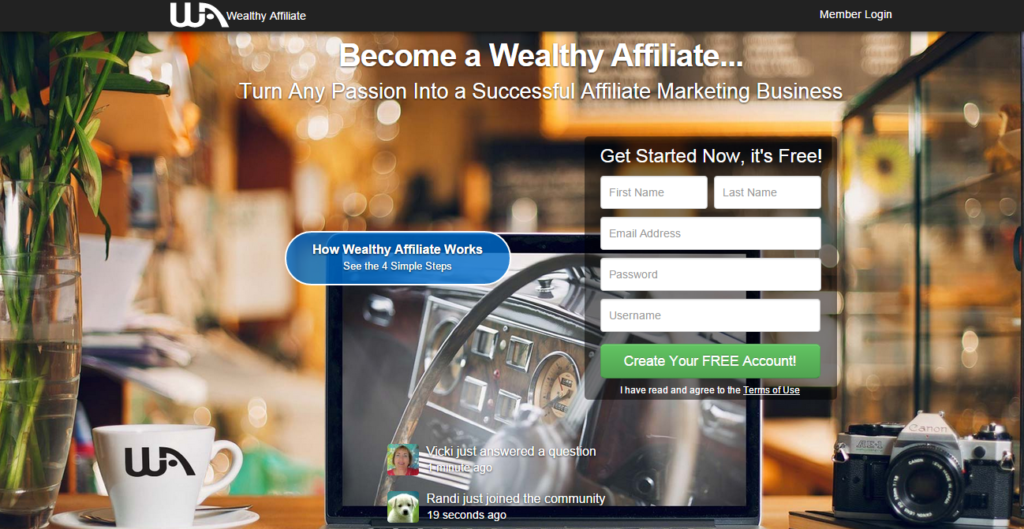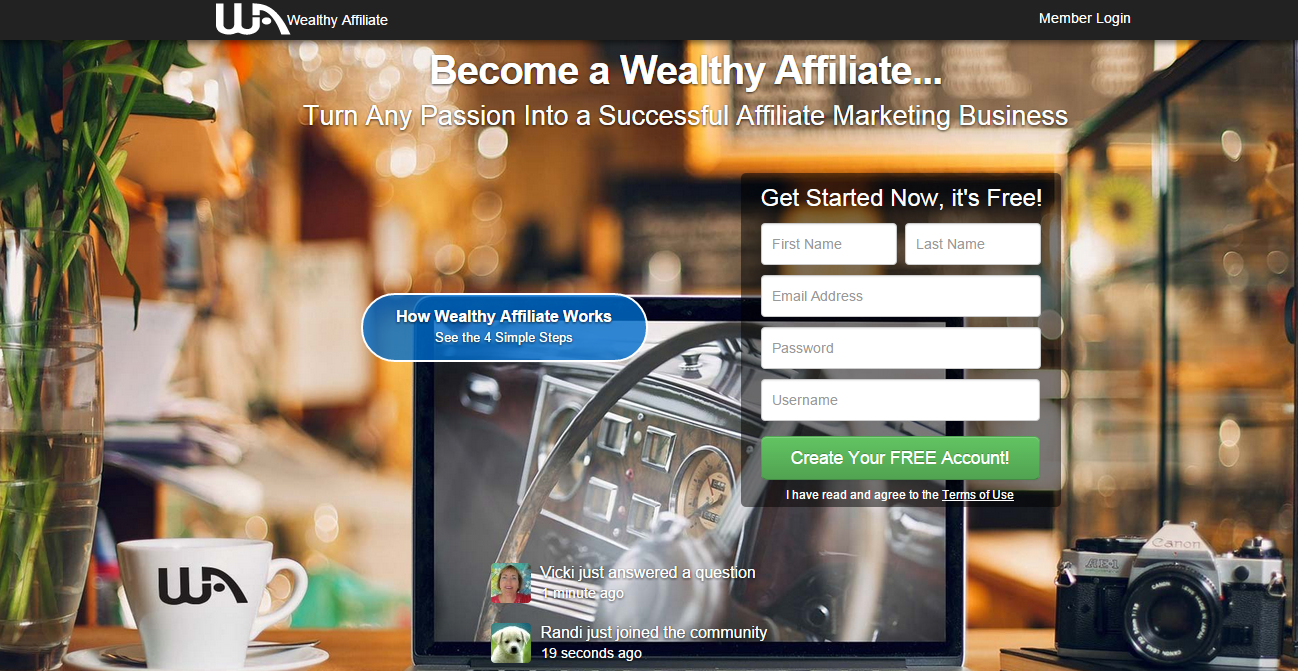 Wealthy Affiliate is an Online Business course that teaches you all you need to know in order to build a successful website and monetize.
It is beginner-friendly and the lessons are always updated because as Google updates its system, you need to learn how to understand its patterns so that you can propel your website further and rank on the first page while your competitors are struggling.
I've been a member of Wealthy Affiliate for quite some time and most of my blog posts are ranking on the first page of Google but still, nothing can beat the excitement I got when this happens…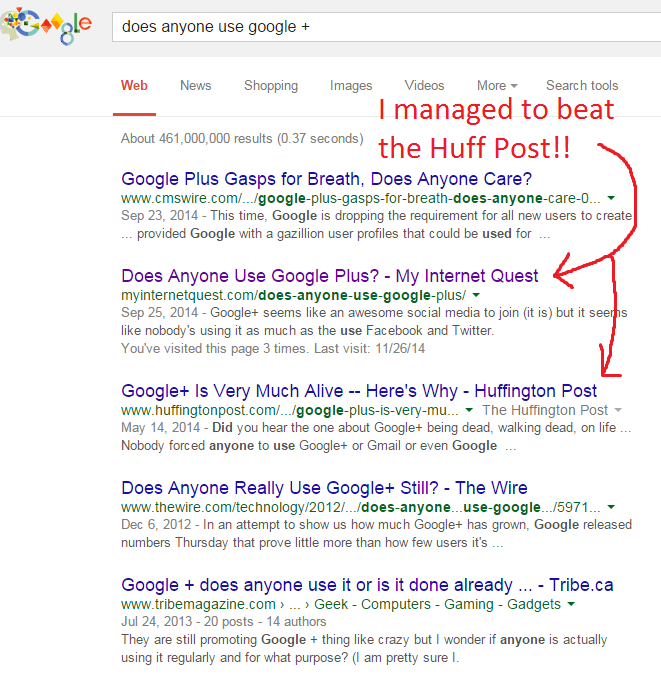 I managed to beat the Huff Post! How is this possible?
The answer is simple, I targeted my blog post to a keyword that is highly searched for but with very few competitors and made that my title.
Here's a quick look at the research I made on that…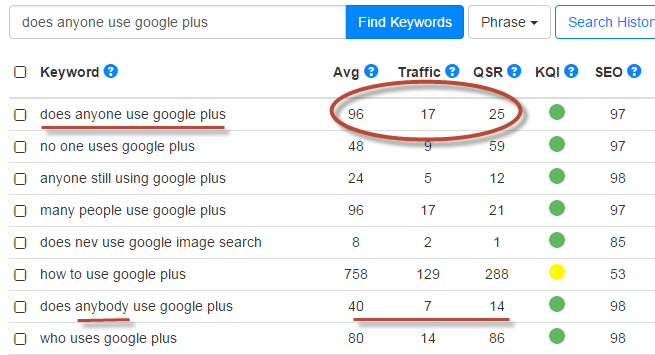 As you can see, I have way lesser competition if I use this exact keyword as a title so since The Huff Post isn't doing proper keyword research and using another title instead (Which isn't highly searched for), I managed to beat them!
The art of ranking your site on the first page is called Search Engine Optimization (SEO) and it's one of the main things you will learn at Wealthy Affiliate which is why I highly recommend you to check it out.
Click here to read my full review on Wealthy Affiliate.
What You Need to Know About Building an Online Business.
Although it is similar to a physical business in the offline world, having an Online Business differs when it comes to growth and sales.
When you first build your website, the cold hard truth that you need to know is that you will not get sales immediately, probably until a few weeks.
And when you do get your first sale, you won't immediately shoot up high to 100 sales on that week too and there's an explanation to this.
This is because your website is still very new and the mark Google set for new websites before they are considered to be in the big leagues is 3 months.
However it is still possible to earn fast from your website through direct marketing, I used to promote my website to my friends when I first made it and they were very supportive to promote it to their friends and colleagues as well.
To my surprise, I managed to make $500 in just 2 days but after that, I didn't have any sales because I stopped promoting.
Although direct marketing may be good, I would actually consider that the 'bonus' way of making money because when it comes to Online Business, the aim is to make passive income so that people will buy from you even when you sleep.
The idea of passive income for an Online Business is achievable because as you write fresh content every now and then, ALL of those content will appear in Google for everyone to see forever!
How cool is that?
Coming back to the story, it is important to set your expectations straight and never give up hope because the first few months will definitely be like a roller coaster.
Here's a screenshot of my website traffic visit…

As you can see, even I had a rough time getting traffic throughout the month but if you persevere and never give up, your traffic will eventually shoot up and you will rise amongst the stars.
I wished someone had told me that earlier before I found out about it the hard way because there are countless times when I actually felt like giving up but thank goodness I didn't because if I were to stop last month, I would never know my website would shoot up high just one month after.
Conclusion
---
Phew, that took me 6 hours to write! (I even forgot what the title was about halfway to be honest).
Although the idea of starting an Online Business is great especially with the low barrier to entry (Practically no barriers at all), the journey to get there may take some time.
However if you persevere and go through that rough roller coaster month the moment you launched your website, believe me it will all be worth it because hard work pays off and before you know it, your website will start to shoot up high and grab more traffic than you could ever imagine!
If you're interested in learning more about starting an Internet business of your own, check out my #1 recommended program here.
Thanks for reading this long guide, don't be afraid to drop down any thoughts you might have on this down below as I'll be more than happy to reply.