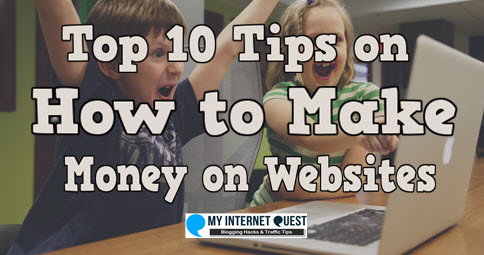 Building a website may be fun and wonderful but after some time, you will start to want to make a living out of it because maintaining it costs money already.
So how do that?
There are actually tons of ways on how people can make money from their website but many of those are frowned upon by Google because content is more important now than ever.
Still, there are also some ethical ways on how you can monetize your website today so here are my favourite top 10…
Monetization #1 – Become an Affiliate Marketer
This is my favourite.
Affiliate Marketing generally means selling other people's products in exchange for commission.
I know what you're thinking, "why should I build a website just to sell other people's stuff?"
A lot of people have asked me this, especially newbies but actually, Affiliate Marketing has a huge potential in making you a lot of money fast.
This is because compared to real life salesman commission, Affiliate Marketing gives you so much more around 50-75%!
And the best thing – You don't need to send in a resume because you are actually helping that company make money so you can actually start immediately after you register!
Some Affiliate Marketing platforms do not give you that much commissions such as Amazon but they offer you something else such as the "Chain commission" when they buy something else.
I've written a guide on Amazon Affiliate Marketing here to help you understand better.
So how do you become an Affiliate Marketer?
There are various platforms where you can go to and as an affiliate and those are…
ClickBank – Great for digital products.
Amazon – For physical stuff such as books and replicas.
Walmart – I wouldn't recommend Walmart as the pay is low and people don't spend as much there compared to Amazon but in case you're a stout follower, this one's for you 😉 .
One important thing you have to know about when finding Affiliate Marketing platforms is that IF you have to pay in order to become an affiliate, you are actually a customer and not an affiliate.
A true Affiliate Marketing platform will let you promote and earn money for free because why should we pay them when we are helping them to sell, right?
I have come across so many programs that trick you into paying JUST so that you can become an affiliate and promote their product such as iPAS2 and CB Passive Income which is why you need to be cautious.
So how do you promote your Affiliate product on your website?
Affiliate Marketing works best if you promote or recommend a product instead of blatantly putting price tags everywhere because by doing so, your readers will be more inclined to buy because they follow you.
You can simply promote your banner on your side bar and hope your readers will click on that or you could write reviews if you have extra time.
Reviews are super effective in increasing conversions because they tend to stay in Google for a long time which means that your traffic will be never-ending.
I write reviews almost every week and you can see a list of them here.
Writing reviews can really help boost your website especially if you review your competitors and their products because that shows how knowledgeable you are and at the same time, gives people a reason to trust you.
Monetization #2 – Create Your Own Digital Product
Affiliate Marketing is the best way for beginners to make money from their websites but at the end of the day, everyone wants to sell their own products.
Selling your own digital products is the best way to make money online because you get to keep all of the profits for yourself which is pretty cool.
And what's even better is that when you have your own product, you could get massive sales by allowing Affiliate Marketers promote your product through platforms like Clickbank or Amazon.
However the reason as to why not many websites or blogs choose sell their own products is because creating a quality one takes a very long time.
You need to think of building your reputation, research keywords, come out with killer titles, proofreading and split-testing before you can finally launch your own eBook and not many people actually prefer this.
My advice for you if you are really keen on creating your own product, is to start off with Affiliate Marketing because that way your website can start earning at least for that several months while you focus on putting full attention on product creation.
After you've finished writing your ebook, all you need to do is head over to FIVERR to get your book cover designed for a dirt cheap price and after that, save it in PDF and you're can add it for your website already!
Monetization #3 –Email Your Way to Success

Email Marketing is the best form of marketing ever existed on the internet.
EMarketer claimed that email marketing is the best marketing channel that has the highest effect in customer retention so what does that tell you?
If you read on any other blogs for online business success, almost all of them would tell you to go ahead for email marketing and start as soon as possible so that you can capture as many subscribers as possible.
There are a few email marketing platforms that you could go for but I recommend Aweber because I find it very easy to use and it is designed especially for websites who want to build an Online Business.
Aweber supports small businesses and you start using it immediately without any hassle, I did mine in just 5 mins…
Another alternative to Aweber would be MailChimp but that is more to corporate businesses rather than a small online business.
I've been using MailChimp for 2 months before changing to Aweber as I find more time-consuming to work with as the steps are tedious because it is more focused on corporate designs.
Having awesome images are great if you have a huge company but for blogs, I recommend making your emails with more texts because you will appear as more personal and enthusiastic which will really increase your click-through rate as well as trust from your followers.
I also noticed that MailChimp actually sends ads without me knowing and I was surprised when one of my subscribers started complaining that they did not agree this which is another donwside to bear in mind.
Okay! A bit sidetracked here I must say, so let's get to the point – How can email marketing make your website money?
Emails are a way for you to communicate with your followers in a more personal level because they trust you enough to have given you their emails.
When you offer something on your website, not all of your readers will want to make a purchse.
However, some of them might opt in for your newsletter instead and this is actually another way for you to communicate with them to build trust so that they will be more inclined to come back to your site and buy from you.
Even if they don't want to buy from you, informing them of your new content fresh from the oven will attract them back to your site anyway and this can be a huge boost for your website's ranking because Google will see that your site is starting to have loyal visitors instead of the usual one-time readers.
In a nutshell, NO you cannot make money by emailing alone.
You use emails as a medium to build trust which can lead to a higher conversion rate on your website as your readers trust you enough to buy what you are offering.
Monetization #3 – Sell advertising space (Google AdSense)
Don't want to promote any products?
Worry not! Because you can always sell an ad space on your website for other people to promote their stuff!
There are many established websites who have money to throw in and they are looking for ways to increase their brand visibility by placing their ads on other people's websites.
If your site has a huge monthly traffic, you could head over to www.buysellads.com and register yourself as a publisher and choose the ad that you'd like to promote on your website.
A rule of thumb to bear in mind when choosing ads is to choose something that relates to your niche because that way, you'll get more people to click on your ad.
How you earn money from these ads is through something we Internet Marketers know as Pay Per Click (PPC) which is an easy way website owners can earn money according to the amount of clicks they get.
Ever heard of Google Adsense? That's also actually another medium for you to get ads for your website that you could check out.
Selling ad spaces is a great way to monetize your website as you are guaranteed to earn money whenever your visitor clicks on your ad but on the downside, it doesn't look appealing which is why I chose not to have that on my blog.
Monetization #4 – Create an eCommerce Store on Your Blog
This is an option not usually used by many bloggers simply because in order to set up an eCommerce store, you'll need to learn all about… well, running an ecommerce store!
Combining an eCommerce store with a blog is an awesome idea because all those traffic that you are going to get from you content, are going to head over to your store as well!
That's actually a pretty cool strategy and you will definitely get a higher sale on your products as your readers who come from your blog would want to support you.
Even if your visitors are not your readers and they do not come from your blog, they will still be more likely to buy because of the personal touch you add to your business with your stories.
To them, they will really appreciate an owner who puts his heart and soul into the store rather than paying people to handle the store for them which is too mainstream.
Having both an eCommerce store and a blog is a powerful combination and it is something I am trying to pull off as well on one of my websites kamiraevents.com.
There are many platforms on building an eCommerce store and most of them expensive but if you're using WordPress, you can actually integrate the store with your blog for free through a plugin called Woocommerce.
Woocommerce is great if you are opening a small time store selling simple products to compliment your blog such as gadgets, toys or iphone cover.
Setting it up may be a bit overwhelming but Woocommerce actually has a free video tutorial to help you get started which makes things a lot easier.
The earning potential with setting up your online store is huge and all you need to watch out for, is the amount stock you have because you don't want to end up over-selling something but with no stocks in hand, would you?
Monetization #5 – Earning Through YouTube
What they say about YouTube is true, you need to have videos that have thousands of viewers before you can make any money online.
But if you love acting and video editing, you should have a go at it.
So how is earning from YouTube connected to your website?
It's a mutual thing – You earn thousands of viewers through your video and when they like you, those people are going to follow your blog as well.
When Google finds out that you are getting mad traffic to your blog, you'll easily rank higher within Google which will result in higher visibility for your brand hence the increased income.
You could also monetize through YouTube which can give you another income source but again, that only works if you're a viral YouTuber.
As an Online Entrepreneur, your best bet is to actually leverage YouTube for you products so that you don't even have to do marketing because your traffic will come from YouTube as well.
Kaleb Nation did pretty well at this.
Initially Kaleb was a viral YouTuber whereby his income comes ONLY from YouTube ads but in the end, he started focusing on creating his own products instead of becoming a full-time YouTuber.
One thing I really want you straighten out with you is that making money from YouTube isn't as profitable as you may think and Kaleb knowing this earlier, jumped off the boat and stopped making YouTube videos for many months as he was focusing on building his website and products.
You can still make money from YouTube though, just that it will be many years before you can actually become a millionaire which is a really long time, considering that you need at least 500 subscribers in order to apply for monetization, not to mention your income only comes in when someone actually clicks on your ad.
Considering only 2% of viewers actually click on your YouTube ad, your chances of earning if you have 1,000 viewers will only around 20 people, hence your YouTube earning will be somewhere around $1-4 per thousand views (Time to face reality).
Still, you have the upper advantage of making more money than the majority of the average YouTubers because you have what most of them don't – a website which sells.
So when you're using YouTube, try to have a little fun and don't expect anything because when your viewers enjoy your show, they will trust you more and would definitely be more inclined to purchase something from your website.
Monetization #6 – Placing a Donate Button on Your Site
We know that a many YouTubers do not have their own website and this actually restricts their income potential because their YouTube channels are only good for marketing.
But for most of them that do actually have a website, they use it as a means to get more donations as a support from their fans.
If you have a great cause you're supporting, it is a great idea to place a donate button and let your followers know your story so that they'll donate some of their money to support you.
This only works if you have an acceptable amount of subscribers because those people who follow and love your content would not want to see you go down without a fight.
Placing a donate button is best made through PayPal, and I've covered the how part here…
Although the video shows you a guide on how to place a "Buy Now" button using PayPal, if you watch the first minute, you will eventually have a dropdown indicating what button types to choose be it "Buy Now", "Donate", "Gift Certificate" or "Subscription"
It works for almost any button types you want.
Donation buttons work well if you are doing something good that people appreciate such as free guitar tutorials, shelter for dogs, or free webinars to help people.
Monetization #7 – Create a Resource Page
When you see a successful person, wouldn't you want to know what are the stuff he used to achieve that?
Like if you want to become a YouTuber, you might want to ask your idol PewDiePie what camera brand does he use, or where he got them.
Similarly in Internet Marketing, if you see some people growing their online business big, you might want to ask that person the cards he use under his sleeve.
Creating a Resource page gives you a chance to tell your readers your recommended stuff that you personally use, so how are you going to earn from there?
Through Affiliate Marketing of course!
While you write down the programs that you use for your website, you should also add in your affiliate link because when your readers would want to buy from you, you'll get easy income from there.
Be sure to add a disclaimer beforehand to let you reads know that you're an affiliate because they will really appreciate your honesty and would support you even more.
Some elements you could include in your resource page…
Monetization #8 – Leverage Your List to Create a Live Event!
Who doesn't like events?
People love to see who that person behind the computer is and if you have a list already, you can be sure that 90% will come to your event if it's within reach for your readers.
Imagine you watching PewDiePie on YouTube for 3 months now and suddenly, he decided to host an event somewhere near you, wouldn't you want to join as well?
Pat Flynn from Smart Passive Income did a small expo and it was full house!
People coming from all over the world just to see him live and although that might be an entirely different case for him as he's already well-known, people will still do the same for you because who doesn't want to get the opportunity to meet the owner in real life?
I'll let you in on a secret, I'm actually planning on a food festival here in Malaysia called Makan Fest and I'm currently doing the paper works as we speak.
I haven't pitched to anyone yet and I've already received calls from a few companies wanting to collaborate with me so I guess I'm going somewhere, wish me luck!
There are a number of reasons as to why doing live events can work wonders…
Increases trust as people know you're not just someone hiding behind a computer.
Shows how passionate and enthusiastic you are about your business.
Makes you stand out among your competitors because not everyone has the balls to come out live and meet their audience in person.
Doing live events can go a long way towards monetizing your website because you've basically covered all your marketing costs with your own list and traffic!
Touch up your event with a random self-made YouTube video and you have the marketing you need!
Monetization #9 – Offer 1-on-1 Personal Coaching
This only works when you have a reputation because in order for you to teach someone, you need to be someone.
People who are just starting out in the website world who doesn't have anyone to lean on will tend to find models who they can look up to to make sure they're on the right path.
Sure there are many online courses to choose from but they would never know which one works and which doesn't.
When I first start out in the Online Marketing world, I jumped from course after course as they were mostly scams before ending up at my last choice because I had no idea what I was doing.
The Internet Marketing world is a harsh place especially if you don't have any mentors to guide you because everyone seems to prey on each other and they all want your money instead of helping you succeed.
That's where you come in.
As a person who's already 'been there', you can charge for your time for a one-on-one coaching to help those in need.
But do bear in mind to not charge excessively though, because the idea is to help people who are in need of guidance – Not bankrupt them before they event start.
Monetization #10 – Sell Your Website and Get on With it!
When all else fails, you can always sell your website to earn some money.
But don't take it the wrong way, selling your website can actually make you a lot of money, especially if your domain name is really sought-after or just simply catchy.
For example, if your website is making $5,000 a month, then you could sell it for $120,000.
I'm not sure how they evaluate websites to give you a price but usually, it's at least 10 years' worth of monthly income if your website really is that big.
Don't get your hopes up high though, because I have seen many websites that do not even reach $1,000 but have no buyers mainly because of the domain name.
Some people like to buy used domain names because it is much easier to rank a website if the name has been around for a while as opposed to new domains which Google have not recognized yet.
Which comes to the moral of the story, updating your website regularly with content is veeeery important even when to sell it.
Sure you might lose a source of monthly income but on the bright side, you get a huge chunk of gold which your website can only produce you after many years.
I don't know about you but I'd really go for selling the website choice 😉
Need Help in Monetizing Your Website? –Join an Online Business School!
Building a website is not as easy as you think especially if you're just getting started because more often than not, you will definitely hit some walls.
You need a mentor, someone who you can lean to and ask anytime "What do I do now?" and the best platform for that, is Wealthy Affiliate.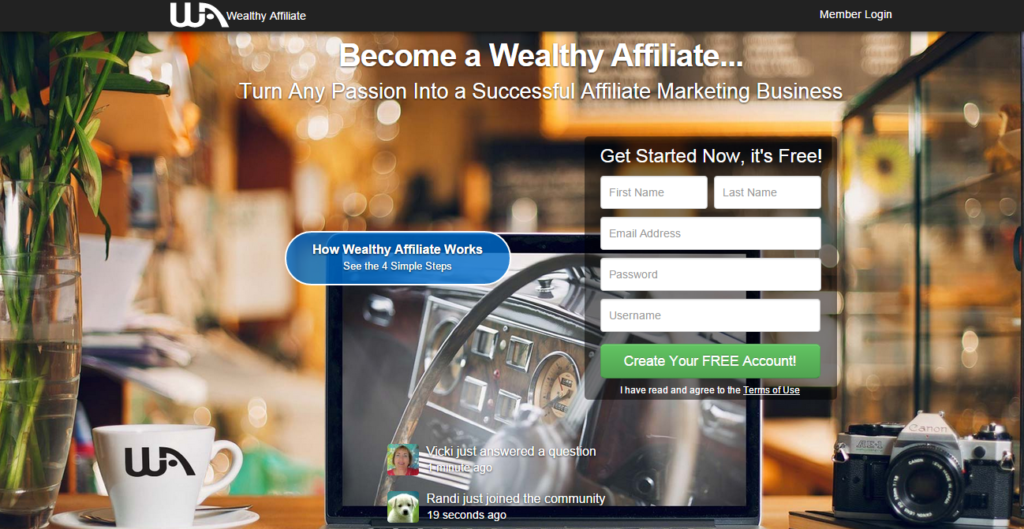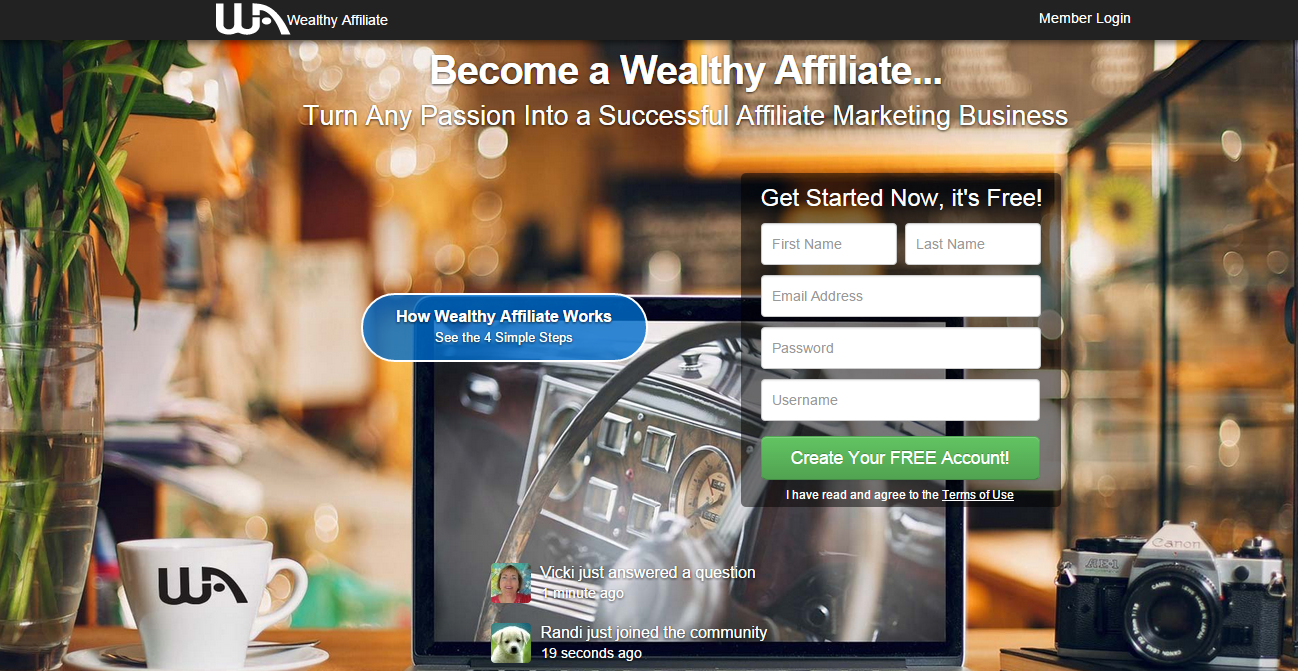 Wealthy Affiliate is an Online Business course which teaches you all you need to know about building a blog or website out of any passion you have and monetize it.
The community is very welcoming and you can ask anything anytime through the live chat – I actually forgot we ever had a support team for 10 months because all these while, I've been getting advice and help from the community instead.
You'll learn many ways on how to monetize your website and lastly, how to rank in on the first page of Google because no website is successful until you actually managed to bring it up there.
I'm a bit slow when it comes to technical stuff so not all my blog posts are on the first page of Google.
However as I keep learning and creating new content, it comes natural to me and I'm seeing more and more of my content ranking up on the first page though some are still left waaay behind at the back.
Conclusion
---
No matter how awesome your website is, you're going to miss out on a lot of things if you don't know how to monetize it.
Lucky for you, there are many opportunities on monetizing today that literally anyone can start and convert those traffic into sales, you just need to put in effort to find the best deals and of course, make sure your site does have traffic in the first place.
If you're interested in learning more on how to monetize your website, check out my #1 recommended program here.
Thanks for reading, do share your thoughts below as I'll be more than happy to reply.