Business name: Zyn Travel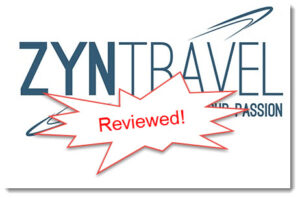 Website: www.zyndio.com
Type of business: MLM
Price: $49.98 – $499.99 + Setup fee + monthly fees
Owner: Anthony Powell
My rating: 5 out of 100 (SCAM)
If you're on this page, I'm sure you've been recently approached by someone from Facebook asking you become a Founder for a promising opportunity.
You clicked on the link he gave you and poof! You're at the video showing you how great it is to travel all over the world with ridiculously cheap prices.
Believe it or not, I got approached the same way.
You started asking yourself, is this for real?
Before you make any decisions whatsoever, there are certain things you need to know about this particular company so do continue reading as I unveil everything there is to know on my full Zyn Travel review below…
Pros and Cons
Pros
Appealing to travel enthusiasts.
Cons
Anthony Powell has bad reputation from his Herbalife and Vemma ventures, very untrustworthy.
If you don't go for the Platinum package, you might as well don't go for it at all! You'll lose more money than saving them.
Zyndio is a new company yet they started out with a ton of controversies already. What that does that tell you?
Very little detail about the company is being revealed unless you join… Would you want to take the risk?
Difficulties in getting back your refund.
Lack of support.
The only way to earn big is to go on full-force and recruit people like any typical MLM companies do.
Jeepers, that is a lot of cons! Better check out my #1 recommended program here instead!
What is Zyn Travel? – An MLM in the Travel Niche
Zyn Travel (Also known as Zyndio) is a Multi-Level Marketing company that uses travel discounts as their service.
It is not the only MLM company that uses travelling discounts as their service though, there is another company which does this called World Ventures which is also undergoing backlash from the community.
There are 3 packages to choose from when joining Zyndio (referred to as ZynTravel Club membership) and those are…
Silver – $69.98 plus $12.99 a month
Gold – $219.98 plus $12.99 a month
Platinum – $469.98 plus $12.99 a month
Zyndio is also being very discreet on who the founder really is but Anthony Powell is suspected to be leading the venture.
With enough controversies circling him with regards to both his previous ventures Herbalife and Vemma, Zyn Travel (Or Zyndio) is something we really need to study before making any decisions.
Zyn Travel Compensation Plan
Like many other typical MLM companies, Zyn Travel is no different when it comes to the compensation plan as there are 8 ways on how you can make money.
Method #1 – Affiliate Travel Commissions
Every Zyn Travel affiliate will get a website to promote (It's exactly the same as the Zyndio main website but with your name there as well as your link).
When someone makes a purchase from your website, you get a percentage of that as commission. This is based from which package you sign up for:
Silver – 25%
Gold – 50%
Platinum – 100%
Method #2 – Affiliate referral Bonus
This is when you really make money because like any other MLM companies – they live to recruit.
Zyn Travel is no different because although they emphasize on the travel discounts as being their main focus, they actually focus more on referral recruitment.
You will get you referral payment each week and depending on which package your referral joins in as, you will get 20% of that package as commission.
Method #3 – Affiliate Cycle Commission
This part is a bonus for the previous method.
Everyone who joins a network marketing company will have a tree cycle and Zyn Travel is no different.
But over here, you will get a commission bonus if you fill in 12 of your referral slots and of course the higher the package they bought, the bigger your commissions.
Method #4 – Affiliate Travel Bonus
This is another bonus that Zyn provides to you, a bonus for your travelling purposes.
All Zyn affiliates get a 5% bonus but if you are a platinum member, you get a 10% bonus on top of commissions but there is in fact a catch though – you need to recruit 3 platinum members within 15 days.
Method #5 – Affiliate Matching Bonus
This part is also another bonus that you'll be getting and it refers to the affiliate cycle commission.
The bonus that you'll be getting is reward for you for motivating your referrals to recruit because the affiliate matching bonus is earned through cycles generated by your first and second tier affiliates.
Method #6 – Affiliate Lifestyle Bonus
To push every new member into working harder, Zyn Travel created something called the Exclusive Rising Star Club whereby new members will be treated like royalty.
You get your name on a plaque, you get name visibility on their website, and you'll be invited to big events.
But the main benefit for this is only for platinum members because you can then have a chance to win more prizes based on how many cycles you finished…
5 matrix cycles – Mini iPad
10 matrix cycles – GoPro Hero camera
25 matrix cycles – MacBook Air
50 matrix cycles – A "Mastermind Session" in "an exotic location with Anthony" Powell and "his team"
1000 matrix cycles – BMW or Mercedes car plus $10,000
There are many more prizes mentioned to me like cruises and stays on the talk I attended however, but I couldn't find it anywhere on their compensation plan nor on their website.
Method #7 – Affiliate Marketing Bonus
This one is only eligible to those who purchase the Zyn Travel Pro.
The way this works is simple – You get $10 for each first tier you recruit, $5 for the second tier and $3 for the third tier.
The catch however, is that your referrals must also have the Zyn Travel Pro.
Method #8 – Affiliate Global Bonus
This method is only for platinum members who are high achievers.
When a Zyn member generates cycle commissions but does not recruit three affiliates within a year of generating their first cycle commission, those commission funds are put into the Global Bonus Pool.
The Global Bonus Pool every year gives out a percentage to qualified platinum members which have at least 50 cumulative cycle.
Red Flags
Red Flag #1 – Massive complaints everywhere
There are multiple red flags which you need to take note of, it's something I like to show to my readers before exposing the bigger controversies as it lets you decide better once you take the blow.
Here are some comments which I picked up over the net…
Nothing is perfect in this world and every business have people backlashing them but for a company that just started a few months ago, Zyndio already have this many people complaining about them.
I can only imagine how it will be like months to come.
Red Flag #2 – Price Discount controversy
The travel discount is what attracts people the most.
There are no proof that the price Zyndio (Or Zyn Travel whichever) can give you the cheapest rate of 85% when all other booking agents struggle to get a lower rate.
To test out this hypothesis is very troublesome and time-consuming as I would have to compare Zyndo's deals with that of other established booking agents such Hotels.com and Expedia which are obviously the power players in the travel industry.
However I am very insecure about Zyndio's 85% claim because being a new company fresh without any proper launchings and going straight to the billion dollar travel industry, this made me a bit suspicious, wouldn't you?
I worked in a hotel industry for many years before quitting starting my own company and never in my life have I seen discounts as high as 85%.
I worked at the reception and reservation for the Club Saujana Resort here in Malaysia…
And I worked at the Mayfair Hotel in London as sales as well reservation…
I had the authority of playing with prices when securing deals especially with travel agents but even so, we never gave away prices lower than 70% so 85% is a very huge claim to make which is why I am very cautious.
And I'm not the only one being overly skeptical of the huge price discount claim as there are other consumers also questioning their integrity…
Which brings us to the only logical explanation – Zyndio doesn't play with discounts!
What you're really seeing as you join is the amount of earning that Zyndio plays with for you as an affiliate.
In other words, you need to refer more in order to travel more because when you refer, the company makes more money and for you to make the best of that travel discount, you need to upgrade to platinum which gives the company more money.
There is a lot at stake if you join Zyndio just for the sake of travel, it is in reality a risky path to take and if you would really want to save money to travel more, planning yourself is still way more affordable then throwing $500 away unless you have that much money to spare with ease.
Red Flag #3 – No Trace of the owner!
…Or is it?
When it comes to new companies especially huge ones, everyone wants to know who the man behind the whole idea is.
It shows transparency and it shows that the director has trust in his own product or service… unless he has something to hide.
We all know that the man behind Facebook is Mark Zuckerberg, Bill Gates for Microsoft, and Steve Jobs for Apple.
Okay let's be realistic, it's MLM we're talking about.
All the more reason for them to show transparency!
Countless MLM companies have no problem with this whatsoever – We know that Bernardo Chua founded Organo Gold, David Wood and David Sharpe founded Empower Network, while Jay Van Andel and Rich DeVos founded the infamous Amway.
And despite the controversies, loads of people still join network marketing companies because they have faith in their leader.
But would you join a new company and spend about $500 when you have no idea who owns the company?
Call me old fashioned but as a consumer myself, I like to do thorough research before spending that much money on a company because if anything happens, I know who to point my finger to.
I tried looking everywhere on the Zyndio website but to no avail, there are no indications as to who the founder is which made me quite curious.
After doing some thorough research, here is what I found…
Take a look at my compared Whois details above.
The above part of the image is the Whois details on November 2015 whereas the below part is the updated Whois details for December 2015.
If you look closely at the registrant email, you will see that initially the email for the domain was registered to anthony@iofficeteam.com which is actually the email for a well-known MLM leader called Anthony Powell.
How do I know if that's his email or not you ask? Easy, take a look at this…
He was promoting that exact email on all his social media.
Now comes the billion-dollar question you've all been waiting for… Why is he hiding his name if he is a well-known person?
I guess it's time for…
Red Flag #4 – Anthony Powell, the Man Behind Herbalife and Vemma.
If you don't know Herbalife and Vemma, they are both huge MLM companies which Anthony Powell was a part of before he left after those companies were in a real pickle.
Herbalife is currently undergoing Federal Trade Commission (FTC) investigations and they are on the brink of going down which made Anthony leave to join Vemma.
And what happened to Vemma? Take a look at this…
Vemma definitely went down alright, and just recently too on September 2015 which was 2 months ago (It's currently 20 December as I'm writing this).
The FTC closed down Vemma as it is an illegal pyramid scheme which rewards the referrals for purchasing and recruiting rather than selling which was pretty messed up.
Herbalife shares pretty much the same thing in terms of their business plan but it is more established and have been around for many years which takes the FTC a longer time to investigate.
After Vemma went down, Anthony Powell started another MLM called Zyndio and he learned from his mistakes by targeting the travel niche instead of the health niche as in Vemma and Herbalife.
It seems that every company he's ever involved in brings misery to the people around him. In fact, he has a lot complaints all over the internet…
Now knowing the truth behind the company, would you still consider joining?
Me, I would definitely think twice.
Red Flag #5 – Is the Company Desperate?
While I was in the MLM industry, one of the things we were banned to do is to pay for our referrals no matter how close we are to them.
This is because we want to avoid the risk of pampering our referral too much that they tend to step over us but in reality, we just don't want to show how desperate we are.
It seems that this trend is starting to become a reality, I picked it up in one of comments here…
I wasn't really surprised at the fact that the person couldn't get his refund – No MLM companies would give you their money easily.
Since the profit is supposed to go to your up line, believe me they are the ones who will make your life a living hell just so that they can get their commission.
Why?
Because living the MLM life isn't as glamorous as it seems because making your way to the top ladder is actually extremely hard and in truth, less than 1% of Multi-Level Marketers see a profit due to the outrageous expense.
MLM The Truth actually made a study on the success rates of network marketers below…
Believe it or not, in the MLM world, only the top of the hierarchy are the ones that makes the most money out of you – you will never outgrow them and you will never make more money than them.
Do I recommend Zyn Travel?
Absolutely not.
Like all MLMs out there, the system is not at fault – The people are.
This means that the community inside are the one who are giving you the company a bad name.
It's getting pretty risky to join an MLM company and even though Zyn Travel promises to be something new and revolutionary, it's definitely not.
No matter how many new MLM companies pop-up, their methods are still the same…
You need to recruit people offline.
You need to do house parties or hotel talks to invite people.
You need to always start with your family and friends.
One thing I really hate about MLM companies is that they always make you call your family members and close friends first.
They force you make use of your contacts and push your product to them which is very wrong and annoying because by doing so, you destroy your relationship with the people you love and you're pushing them away on purpose.
I got into a fight with many MLM leaders from companies like Dreamtrips, iPAS2 and Organo Gold because of this.
I told them all the same thing – "If you cannot convince random people to become your customers, why would you convince your family members?"
The reason is simple, because people hate MLM.
Rejection rate is quite high so for new members, they are encouraged to sell to family members and close friends because this way, they will be able to cover back our investment and because family and friends are very close to them, they will for surely spend out of self-pity.
Real businesses do not depend on pity. Instead, people will come to you if you have a strong infrastructure and you do honest work instead of being so pushy.
There are many ways on how to do businesses ethically and the best one believe it or not, is by doing an Online Business.
Wealthy Affiliate is currently my top ranked Online Business program and you can learn how to monetize a website based on any passion you may have.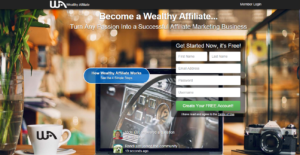 Unlike a typical MLM scheme whereby you have to promote a company you do not like while paying expensive monthly fees to them, believe it or not you are NOT supposed to pay anything at all if you are selling someone else's product.
It is called Affiliate Marketing and it basically selling someone else's product in exchange for commissions and this is something many Amazon affiliates or Clickbank affiliates are earning money from.
To start an Online Business, you basically make people come to you by creating a website unlike in MLM whereby you have to chase after people and depend on word of mouth.
Then, you work to get your website on the first page of Google because that's where people will start to click on your website the most.
Sounds like a tough thing to do but despite what people say about Google being super competitive, it's basically not so if you have the right tools and knowledge because believe or not, even I can rank any pages that I like on the first page…
Having the right knowledge, tools and support is crucial for a successful Online Business and all of these are provided within Wealthy Affiliate.
I quit the MLM world because I believe in making money based on my own hard work and passion because that would be an even more rewarding experience, one you will definitely be looking forward to wake up to in the morning.
Here's a table comparison between my top ranked program and Zyn Travels…
Conclusion
---
MLM is just a system, it's the people inside who make them corrupt.
But with so many controversies brewing up at its launching stage, the questionable travel discounts, as well as Anthony Powell's bad reputation of bailing when the going gets tough, Zyn Travel is definitely a SCAM and receives my rating of only 5 out of 100.
If you are like me, wanting to start a business the right way far from MLM or hard sells then check out my #1 recommended program here.
Thanks for reading thus far. If you have any experience that you'd like to share, do drop them down below as I'll be more than happy to reply.