Name: Clickbank University
Website: Clickbank.com/university
Type of Business: Clickbank affiliate marketing
Price:  $47/ month with up sells of $297/ year and $97 (one-time)
Owners: Adam Horitz and Justin Allen.
Overall Rank: 3 out of 5 ⭐️⭐️⭐️
[Update] This was the first-ever edition of ClickBank University released years ago. Today, they've moved their page elsewhere with brand new features added too.
Sounds exciting, doesn't it? Another review coming up soon!
Clickbank is the biggest and most reliable digital product vendor on the web.
In fact, it was actually one of the first few online business websites that I know of back when I first started internet marketing as Clickbank is the main hub for affiliate products.
I got to know of Clickbank University through their own website as I was browsing through new products to buy on dating (I wanted to impress a girl).
So I was clicking all over Clickbank but somehow, it leads me back to the Clickbank University promotion and since the course was released again in December, I thought of giving it a try and see what new updates they have.
So do bear with me as this is going to be a long review!
Pros and Cons
Pros
Perfect for newbies (Lessons are simple),
High-quality videos,
You can actually make some decent money.
Clickbank is an established company so they have great customer support and it's easy to get a refund.
Cons
Too expensive for simple lessons that barely touch the surface on promoting affiliate products.
Their lessons do not cover much of SEO which is essential in order to have a successful website.
Locked modules which don't allow you the freedom to access other lessons at your own pace.
Too much information can be a bit overwhelming.
They used to have a 7-day trial but they removed it soon after.
Training is only catered to promoting Clickbank products and NOT other affiliate opportunities.
Clickbank doesn't provide promotional tools such as banners which means that you have to ask the vendors themselves and see if they provide.
Although ClickBank is a reputable site, the vendors on the other hand has very high rates of refund due to its 60-day policy (Some products have a 90-day money-back guarantee).
Golly that's a lot of cons! Gotta check out my #1 recommended program here instead!
What is ClickBank University?
Ever felt curious about how people make money online legitimately?
There are a lot of methods that people use to make money which is really unethical such as stealing credit details and spamming honest communities to buy their scam products, but one of the most legitimate methods of earning online is actually through affiliate marketing.
Affiliate marketing is basically selling other people's products and leveraging their hard-earned fame to get a percentage of commission based on your sales.
Think of it as a salesman in real life, only that now you're doing it online…in your pajamas.
But in affiliate marketing, you can actually choose whatever products it is that you want to promote so how do you find these products?
That's where Clickbank comes in.
Clickbank is an online marketplace where vendors can put up their products and affiliates can choose which ones to help sell for a commission.
Pretty easy right? That's not the hard part.
You still need to know how to promote your chosen products online, which mediums are great to sell on, and how to convince people to buy and THAT is what Clickbank University is all about.
It's basically a course to teach you how to sell their stuff.
Tools and Training
Like many educational courses, Clickbank University also has its own tools and training.
As you can see from the picture of the member's area navigation menu, they include…
Tab #1 – Home.
This is basically just a page where Adam and Justin will welcome you and where you'll get a good overview of the entire program.
Tab #2 – Orientation.
A show around on how to use Clickbank University member's area basically like an orientation you had in school where they'll show you around the whole place like a tour guide.
Tab #3 – Site Builder.
As the name implies, this part shows lessons on how to build a site such as how to build a sales page and planning your own sales funnel.
I couldn't access this area though, because I didn't pay for the website builder upsell (I will explain the pricing strategy later on).
Tab #4 – Beginners.
The first tab everyone will click on which will cover an 8 weeks' worth of modules to learn.
The lessons cover more on creating your own products, learning how to create a sales page and driving traffic to it.
Tab #5 – Advanced.
More advanced lessons which I would say is just a fancy word for "Week 9, 10, and so on" which basically just covers more on driving traffic.
Tab #6 – The Affiliates Training.
Alright so the Beginners area was meant to teach you on becoming a vendor right?
So that means the Affiliates training is aimed at teaching you how to become an affiliate simple as that.
I like Affiliate Marketing mainly because I can just help other entrepreneurs sell their stuff in exchange for a sweet commission (From 50%-75%).
It gets even more interesting knowing that Adam and Justin is also into affiliate marketing as well (it's no surprise as they do work with ClickBank after all) so the lessons for this section is based on their own experiences which include:
PPC ads and how to do it effectively
A very quick class on creating backlinks and the importance of them
How to create an emailing list and market to that list
Social Media marketing tips
A class on SEO and the best practices to use.
Tab #7 – Live Seminar Classes.
One of the best parts of the module because the video seminars are based on Clickbank's Top Sellers.
You will be taught what methods these ClickBank sellers are using and how do they get to where they are.
Tab #8 – University Talks.
Similar to the live Seminar classes which are taught by the top ClickBank sellers, university talks are hosted by Justin and Adam themselves.
Tab #9 – Done for you.
Truth be told, I find this pretty ridiculous.
The "Done for you" part as the name implies is where you can pay ClickBank University for them to build a website for you and it depends on how much money you are willing to spend for them to tailor a website around your likes and passion.
My advice is to NOT opt for this one because again, building a website is free even if you have no prior skills or knowledge. (Here's my blog post on that!)
Tab #10 -Community.
This part is just a forum where you can post questions and hope to be answered.
Who is Clickbank University for?

Definitely for beginners who are new to the world of Internet Marketing.
I have to admit, there are great lessons which are also really attractive and fun however veterans or those who have been in this game long do not find this really helpful as ClickBank University doesn't cover the essential lessons such as SEO and keywords.
To make matters worse, the lessons are also locked which means that you can't just stray away from your scheduled lessons – you need to do them one step at a time which I find very limiting as you're not free to just venture around any parts of the lessons as you wish.
This means that you won't have the freedom of time to learn as you please which is also a trick ClickBank University uses to get more time out of the users hence more money as you will of course be paying for since you can't finish all those lessons in a month and would have to opt yourself to the monthly subscription.
Despite all that, the lessons are actually pretty decent and would definitely be insightful for those wanting to start out in the online world either as a vendor by creating your own eBook course. or as an affiliate for ClickBank where you can just utilize their wide array of product catalogs already there to just promote and get income through Affiliate marketing which is the easier part.
Pricing Strategy.
Clickbank University used to charge a whopping $97 per month (Ridiculous pricing) with a 7-day $1 trial but now they removed that trial as they reduced the price to $47 per month which means that even if you want to have a peek inside, you need to pay $47.
Guess they finally realized that $97 a month is a bit too much eh?
Take a look at the ClickBank University Funnel below…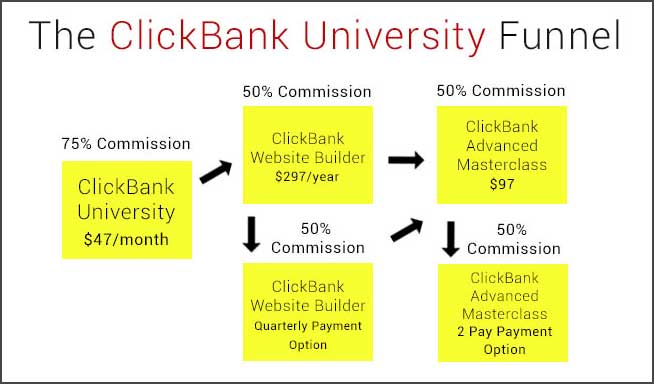 Don't get your hopes up high yet, because ClickBank Unversity still has some tricks up their sleeves on sucking more money from you.
Even though they reduced the price to $47, they also locked some features which are:
Clickbank Builder – $297/year
Advanced Master Classroom – a one-time fee of $97.
So supposing you want full access to ClickBank University, well that will cost you a whopping $861/year plus a one-time fee of $97!
Does it offer quality support?

ClickBank University has one of the best supports I've seen out there.
Clickbank has always had great service and I believe it is because they have been around for a really long time.
They do however, fall short on an online community which is really important for the users to communicate with each other as making friends will not only ensure trust and hope, it is a way better source of help than customer service.
The only community I see in Clickbank University is through forums which frankly, isn't actually a proper community but instead, it's more a discussion on a particular thread.
It's very rare that online business companies provide good customer support because most of them are too busy filling their own pockets so they won't really care about their users' well-being.
Support is an important aspect of any business and product because there are a lot of scam gurus out there who like to sell hype but not giving back what they promised.
ClickBank University Alternative.
When it comes to Affiliate Marketing, there's no better program than Wealthy Affiliate.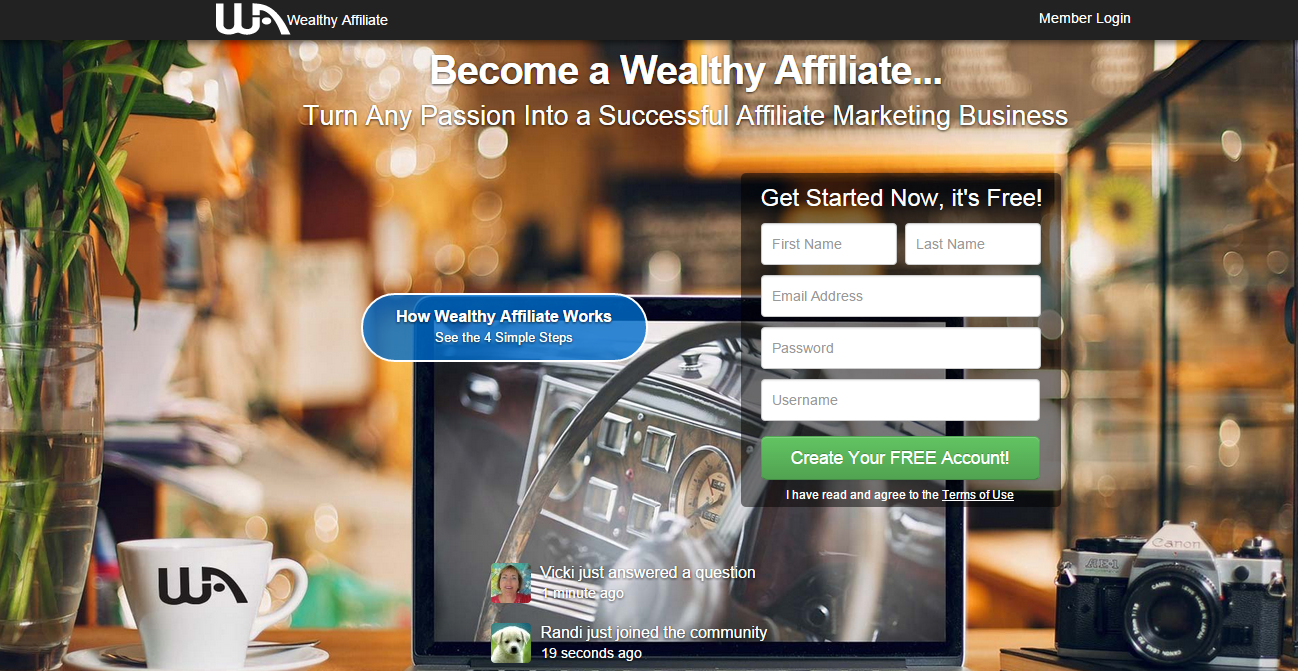 They have been in the industry for more than 10 years and are the pioneers of Affiliate Marketing.
When businesses come and go, they stand by like a solid foundation of time helping hundreds of thousands of people achieve success through Affiliate Marketing.
It is by far the best Online Business platform I've ever reviewed and compared to others, their features and lessons outshine the others in terms of quality because there are members inside that have been online since the beginning so you can get some amazing tips and info from them.
Though Affiliate Marketing is the number one source of income, there are of course other ways of monetization such as charging for a sponsored post, or for space on your site, even selling your own products.
I used to wonder a lot about how people make money on the internet, turns out you can learn everything about it from just one simple course.
To help you see better about what I'm talking about, here's a table for you to gauge between these two programs…
Final Word
ClickBank University is actually pretty cool and will actually no doubt teach you how to money online with their lessons.
The essentials that they provide are indeed useful though the reality of it is that their lessons are quite basic and a wee bit outdated which is something to be wary about.
Still, this review was their first edition after all and today, a newer version has been released which definitely be a much better bigger version of its previous self.
If you are interested in really becoming an online entrepreneur, check out my #1 recommended program here instead.
Thanks for reading, do share your thoughts below as I'll be more than happy to reply 🙂