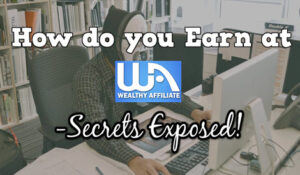 When it comes to making money online, several names come up and one of them, Wealthy Affiliate.
You click on the link, you check the program out for yourself, you see the vast resource, the long tutorial and you can't wait to get started.
All but one thing worries you – Does this thing work and if so, how do you earn?
Read on to know more because for today's post, I'll be touching more on the mechanics of earning…
What is Wealthy Affiliate and How Does it Work?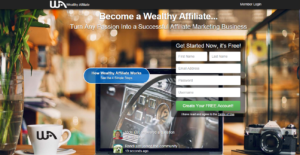 Before I explain further, let me just refresh through on what Wealthy Affiliate (WA) is about.
Basically, it's a platform to teach beginners and experts alike the proper way on how to make money online through Affiliate Marketing.
If you've never heard of Affiliate Marketing before, basically it's a way to earn money online by selling other people's stuff which in terms will make us revenue through commissions.
I'll explain further but coming back to Wealthy Affiliate, it's a whole entire Online Business platform to get started making money online.
I used to call it a course but today, WA has upgraded so much that the lessons are just part of the package of a much bigger thing.
Today, WA has not only the evergreen lessons but also an internal keyword research tool, live video lessons every Friday, a beautiful community of friendly people from all walks of life, high-speed dedicated hosting, and the two most recently added features introduced – Their own internal domain registrar, and free SSL for every member!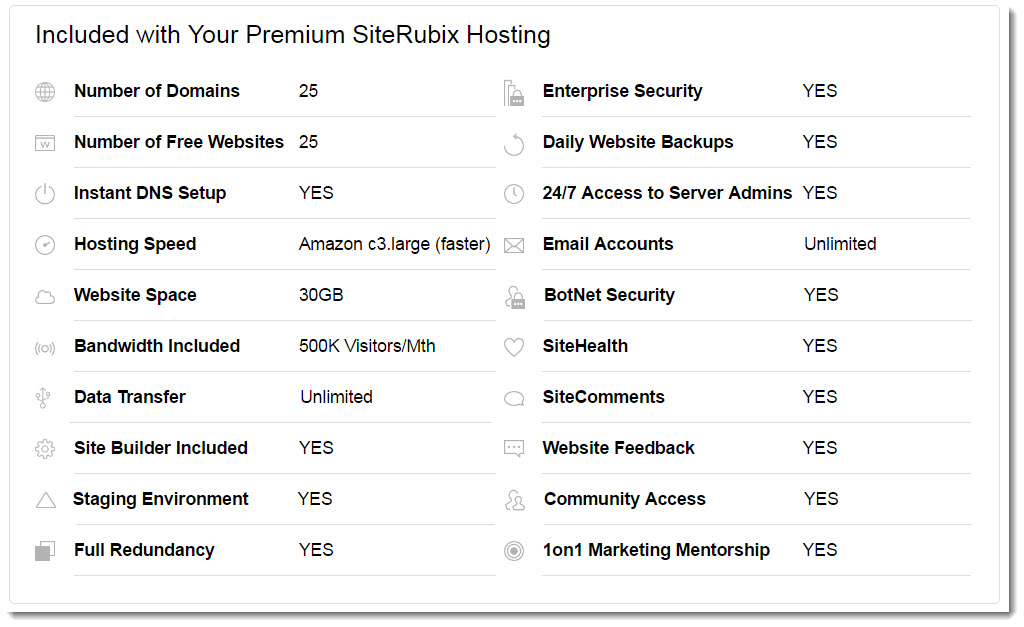 WA is a platform that has everything you need to succeed online from buying domains, hosting it, to using WordPress and setting up SEO.
You don't need to go out anymore to get separate services from another site because everything is here.
I used to use Hostgator but after finding out that their share server is making my site slow, I moved my site to WA's hosting instead and my site load speed ramped up from 8 seconds to 3 seconds… Amazing speed!
The best part is that I had no idea that WA's hosting is actually a dedicated Webhosting which means that your site is on a server on its own without having to share with other sites which is why it loads faster and why it's more secure.
So now that we know of what it is from an overview, let's touch more on how members get paid through…
Affiliate Marketing – Where Your Money Comes From.
Did you know that over 80% of brands worldwide practice Affiliate Marketing?
Affiliate Marketing is the main method of earning which is also covered within Wealthy Affiliate's lessons.
I do it, the members within the community do it, and big multimillion-dollar conglomerates like Walmart, Amazon and Click bank do it so it's completely legal.
It's, easy and fun but still, nobody can get it right without proper guidance which is why you need to learn how to get more visibility ethically because if you blindly promote your affiliate link, you'll get flagged by Google.
So how does Affiliate Marketing work exactly?
Think of a salesman whereby if someone pays, you get commissions.
The same concept, only one difference – You don't need to sell.
Instead, you only need to share information about something to get people to happy enough to spend on your offer and the way we do that, is by writing about it online.
You see, we live in an era of information and if you want to find answers, you Google it right?
As you look for answers online, you come across a website which answers your curiosity perfectly and then you decided to spend your money there to buy something.
Whether it's an eBook, a membership, or games, as long as it's from someone else's site, the owner earns through Affiliate Marketing (Unless he created the product himself which not many people have the time to do).
Now that you know the concept of Affiliate Marketing, let's get deeper and find out more on…
How does Wealthy Affiliate Pay You?

Wealthy Affiliate teaches you to make money in two ways – By earning Affiliate commissions from Amazon as an Amazon Affiliate, or by earning commissions through WA itself if you promote its program.
Generally, the majority of the members choose to promote their own niches of interest and it's much better and more fun to make money out of things that you like.
I have friends within the community who excels in their own unique niches like video games, archery, beer brewing, even hiking and many more!
For choosing your own niche, WA will teach you how to earn money by selling products through Amazon and it's very simple and easy to do.
Personally for me, I'm more interested in learning more about SEO and blogging so I created this very blog My Internet Quest that you're looking at instead and since it's within the blogging niche, I promote WA.
But for good reasons though, because I actually review many programs and out of all of them, WA has the best bang for the buck as you get so many features under one price.
As for the methods of payment, they go through PayPal so it's definitely safe and secure.
If you didn't know already, Paypal chooses which businesses allow their services to be used because they have to uphold their image.
Many scams couldn't use Paypal as their method of payment and I often stay away from these programs.
Most of them however, are MLM companies and Paypal are totally against them…
They are so strict in fact that even transactions that resemble MLM are terminated like this guy over here…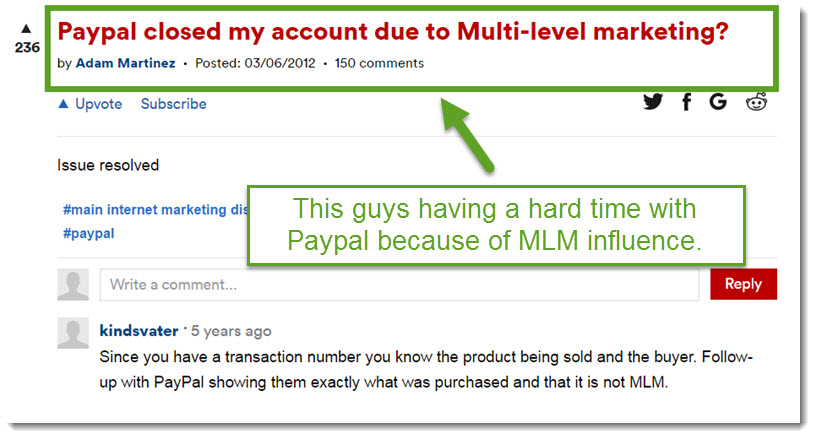 If you're curious on what's the difference between the two, not to worry!
I guess it's high time I touch more on…
Affiliate Marketing vs MLM – Knowing Your Facts.
If you're looking for a Wealthy Affiliate Compensation plan, don't bother.
Only Multi-Level Marketing (MLM) Schemes have this and the reason for the plan is that they earn the majority of their income through recruitment.
If you're new to the online world, many people often get confused between Affiliate Marketing and MLM.
These two are similar because both earn money through commissions.
The difference is that Affiliate Marketing lets you earn commissions one time through one method only – Either if someone buys a product, or if someone joins a membership program.
MLM on the other hand, earns commissions by recruiting people to join and their scheme is backed by a pyramid plan which they call a marketing plan or what most of us know of as the compensation plan.
Long story short, if you recruit someone, and your down line recruits someone, and he too recruits another, what will it look like from an overview, eh?
It'll look like this…

Looks like a pyramid, doesn't it? (Hence the pyramid scheme).
And in a scheme like this, the person on top is always making more money than everyone down your system which is why it is not fair for everyone and which is why it is illegal.
Pyramid Schemes started long ago and back then, you earn money solely by recruiting more people to join.
However after being banned by the government, pyramid schemes started masking themselves with a product and call themselves MLM because if you sell products, then it is legal.
However, even with a product, these MLM companies still operate mainly by recruiting instead of retailing because it is hard to make sales with their overpriced, low-quality products.
I do reviews regularly on my blog and if you look at my list of scam reviews here, you will notice that a majority of the programs there are all MLMs.
In fact, check out what the Federal Trade Commission (FTC) said about MLMs…
Basically if an MLM company sells products only, it's legal.
But if they try to pull you in and recruit you, then that's illegal.
How Much Money Can you Make at Wealthy Affiliate?
This is a very sensitive question but I think it's high time I share it out.
Supposing you go all out with your blog growth and create content regularly every week as taught by the lessons within the course, you should be making…
Between $30 – $80 on the 2nd month
Between $80 – $150 on the 3rd month
Between $200 – $500 on the 4th month
Between $500 – $1,000 on the 5th month
After 6 months, it is possible to reach the one thousand dollar bar and this is because Google started to noticed your website already as a real owner so it's much easier for you to get ranked in search engines.
In fact, some members earn up to $2000 on just one weekend when you take advantage of promotions like my mentor Scott…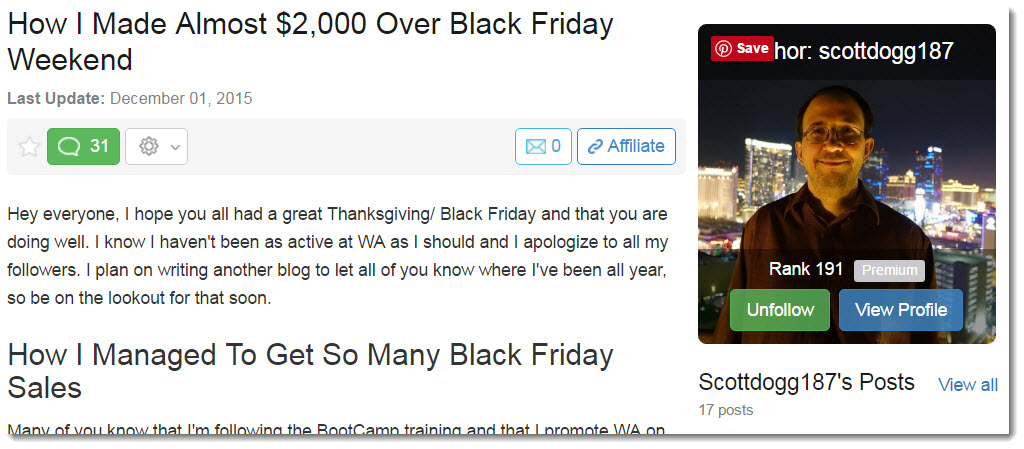 Kings is also one of the many people I look up to within the community and this is how much he earns…

When you're stable enough, earning a thousand a day is no problem…

As for me, I do not make as much compared to them because this blog is only part-time and I do not focus much here.
I write only in my free time which is about twice a month so on average, I earn $2,000 in 5 months (I keep track of my site progress through my monthly blog report here).
Instead, I focus more on my startup events company called Kamira Event Management which, a majority of the project calls I get comes from the website and that too I created thanks to the knowledge I learned here at WA 🙂
The site makes my business look established in a way and the knowledge I learned about PPC ads, social media marketing as well as content creation, helps me get visibility easier.
I'm sorry to disappoint you if you're expecting millions on your first week but it just doesn't happen that way.
This is not a get rich quick scheme, this is an Online Business and if you can put in effort, you'll definitely succeed.
My Final Word
---
Building an online business may be slow, but it's very rewarding and quite fun too.
You'll get very little revenue in the first month but if you put in effort, it'll grow every month and if you keep consistent on creating content, your site is going to get a sudden explode in visitors as Google recognizes and you'll make sales every day.
If you're interested to check out Wealthy Affiliate, click here.
Have any questions about WA you'd like answered? Leave them down below and I'll be more than happy to reply!