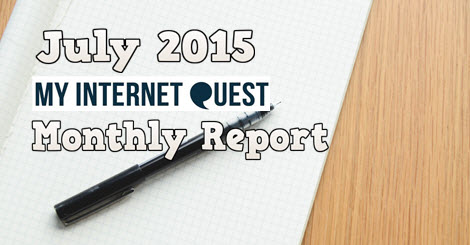 Ahh, July – Another busy month for me and a surprising one at that too.
Exactly like last month, I was strapped of time to write anything so the amount of effort and time that I actually managed to spend on my blog was as just as much as last month which was just barely.
There are a lot of setbacks but still, I was surprised that my blog somehow managed to sustain itself as a result of my content as many pages are starting to rank thus giving me traffic.
I couldn't spend much time on my blog as my internet line at home was down for a week and after that, it went jumpy for the entire month so I couldn't even open up my browser which put me behind my schedule.
My local events company is also starting to grow but at the same time we faced huge obstacles which set is back and really brought down my team's spirit.
Curious on how that affected my blog and the sales I got? Well read on…
Time For Some Good Ole Stats

July's graph looks pretty much like June – It goes up and falls down and but in overall, I do have lower visitors than last month.
I've already expected this because I was having my hands full with events but at least I managed to write one post a week which explains the 4 graph spikes within the month.
I've noticed that with every post, my graph grew even higher and I'm guessing that this is because my site now has more authority than before so it's beginning to become much easier for me to rank on Google which is pretty awesome.
I admit, it looks like a terrible growth but keep your fingers crossed for August as I'll definitely be doing more content promotion to increase visibility.
Now, for some quick stats (In comparison to last month)…
Overall, my social media reach is growing but it has the worst growth so far with little increase and huge unfollows from Facebook.
Although the traffic growth is extremely slow, I was quite surprised that traffic from social media is actually rising by 2 times more than last month.
Google+ and Linkedin surprisingly gave me more leads than Facebook which makes sense because in order for you to maximize your visibility, Facebook wants you to pay for ads!
This is because there are too many brands on Facebook already so they reduce chances of your posts appearing on your followers' feed.
To ensure that your followers get ALL of your posts and updates on your Facebook page, Facebook needs to know that they really want this so they would need to manually set it themselves by clicking on the "liked" dropdown and from there, click on "See first"
This way, your followers will see your new post on top of their news feed every time they log into Facebook.
Another way for them to keep track is to click on "Get notifications" which you can also see from the dropdown as that way, Facebook will give them notifications whenever we update new posts.
Particularly though, I'm not too worried on getting followers from Facebook as the best way to get better reach is to spend on ads which is a bit pricey but I do care about Facebook ads when I make events.
As for my main source of traffic, I only managed to cover 4 posts for July…
Although I get one post a week and reached my goal, I still need to crank it up a notch and write more so for August, I'm targeting to write at least 2 posts a week.
Now, to the Sales!
With my terrible blog growth, how much money do you think I make for July? Believe it or not, I actually made $181!
Here's a screenshot of my Affiliate sales…
As most of you might have known, I promote Wealthy Affiliate as my #1 recommended program as I really love the lessons and services which no other online courses out there can offer.
It's basically an Online Business course which not only has very updated lessons but also cool features like a website builder, keyword tool, and amazing community just as enthusiastic as you as well!
I don't recall the last time I ever made a support ticket as you can basically ask someone there to help you out whenever you're stuck.
From Wealthy Affiliate alone, I earned $141 so what about the remaining $40?
The remaining $40 comes from a secondary affiliate offer which I absolutely love called Jaaxy which is an awesome keyword tool that's very effective at finding you great keywords you can use as well as choices of other related keywords you can also target for your website.
I personally use it on all my blog posts so that I can rank easier while avoiding huge competition – Niche marketing at its best, it may not be the tool that every Internet Marketer needs, but its definitely the tool we deserve.
Even with the cool sales, I still have setbacks.
There has never been a month when I don't face problems but July was supposed to be the month where my business shoots up because so many people started calling me with projects at hand.
Here's what happened to those projects…
Setback #1 – School Dinner Failure
One of the projects that I had was to organize a school dinner for 190 people for a small public school somewhere in Malaysia.
We had good things going on and if the event were to happen, I would have made around RM6,000 ($1,544) worth of clean profit which is a really huge sum of money for us and my company would have a good start.
We were so close to signing the agreement until one of the teachers believed that the school shouldn't be doing dinners because it is a waste of money and that the students should only focus on studies.
Sure, studies are important but having the last school reunion before you and your friends separate to college is also a very important moment in these students' lives, wouldn't you agree?
But since I had no connection with the school, I wouldn't want to start a conflict so I just left and told them "I understand".
Soon after, the students had a fight with their teachers anyway so I was pretty satisfied knowing that they stood up to their rights but again, it is their school so the teachers always win.
Setback #2 – Bazaar Failure
Last month I talked about the bazaar that I'm planning in Malaysia which was supposed to happen 1-2 August 2015.
I already paid the deposit for the venue, handled logistics, electricity generator, wiring, booth layout, everything was perfect but we had one huge problem – Time.
When I first got the venue to do the bazaar, I had less than 3 weeks left but in order to break-even the costs which was around RM9, 000, I needed to bring in 30 vendors as I'm charging RM300 per booth.
It took me one whole week for preparation so that left me with 2 weeks left for marketing.
In Malaysia, Facebook and Twitter weren't that effective in driving sales so the best option small businesses here commonly use is surprisingly Instagram so I focused mainly on that particular social media alone.
I didn't create a Facebook page, a Twitter Profile, not even a website but in less than 2 weeks, I managed to pull of 745 followers which was even more than my own personal Instagram account!
Things were looking up good because we managed to close 15 vendors within those 2 weeks but in the end, we had to cancel the event and refund back those vendors as we were short of time to avoid making a bigger loss.
I wanted to postpone the event to another month but all slots are full until December unless I choose a different venue which I am still considering until now.
With 2 letdowns this month I was pretty disappointed so I took some time off to get myself back together. Since accepting failure is one of the most important things one need to go through as entrepreneur, I decided to keep myself busy and plan ahead.
My Plans for August 2015
I started out August with a strong determination.
I wanted to grow my confidence and connections so I keep myself really busy and spend most of the time outside meeting people and to my surprise, I even managed to get a very good connection with Sheraton KL.
They recognized me as one of their potential business bringing clients so they even invited me to their private Time Kulture showcase of luxury watches.
I get to meet the whole sales team, even the lovely manager and they were very welcoming!
They encouraged me to do business even further by giving me a special rate whenever I needed venue rentals and rooms – Super cool!
Apart from that, I'll also have another event coming up – A huge conference for 800 doctors which I will be organizing. Fingers crossed!
Nothing will ever go as planned so I learned not to put all my eggs in one basket which is why I'll also be organizing a Startup Bootcamp for 30 people which I will do real careful by persuading people through traditional sales – Cold calling and collaboration because often times, a face-to-face meeting is all we need.
My Final Word
---
August is a month of mystery for me and I have no idea on whether or not it'll be a good month.
July was a terrible month for my business as all my efforts were in vain and I wasted a lot of time and money on deposits, car fuel, expensive hotel parking and business lunches for projects that were cancelled last in the end.
However one thing for sure is that my blog is constantly growing and this lets me know that unlike the brick and mortar business, having an Online Business is much easier to manage as you literally have nowhere to go but up so I'll definitely double up my efforts from one post a week to 2 posts to see the difference in growth.
Thanks for reading, you guys are awesome for following me all the way till July! Wishing you a great August, I'm looking forward to see what lies ahead 😉
Cheers!