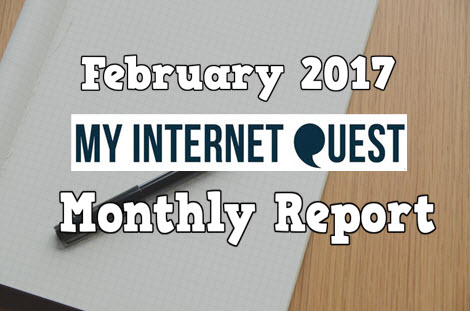 February's a month when I start to focus more on this blog.
I got a few things sorted out and now all I need to do is find time to create more content and I'm golden.
A lot of things happened to me these past few months but not February though, I guess it's just one of those months which is a bit quiet if we put aside the presidential activities but other than that, it's just another regular month without much happening around.
I'm planning more big things for my future growth in March 2017 but for now, we'll stick with last month's recap first, starting from…
February 2017 Stats – How's My Site Going Along?
For this month, my traffic declined from 4,608 web visitors (Last months' numbers) to 3,797 which is almost by a thousand people!
I was definitely surprised but this was due to a few factors – I didn't write content until the last 2 weeks, and… It's February! There's only 28 instead of 31 so I didn't have time to boost that up while juggling my other job.
Still, I did manage to write some content for the month and those are…
Four posts altogether, not bad! Just as I planned the month before but I'm planning to write maybe around 6 for March. A good number is actually two posts a week but March is going to be a super busy month for me with the loan I'm applying for so I'll keep my expectations achievable.
A good number is actually two posts a week but March is going to be a super busy month for me with the loan I'm applying for so I'll keep my expectations achievable.
As for my social media accounts…
Facebook page – 179 likes (+3)
My Internet Quest Twitter account – 90 followers (Same!)
My own personal Twitter account – 1,397 followers (+80)
My Instagram account – 791 followers (+19)
Pinterest – 155 followers (+1)
Email subscribers – 117 Subscribers
The email subscriber's part is something new but I've been planning to grow my subscribers for a while now. Email marketing is a very powerful advantage for every blog and every month, I'll be focusing on growing it even more.
Now, onwards to…
The Sales – Surprising Increase Despite the Growth Drop.

I earned $297.50!
Last month, I earned $183 so this is definitely a significant increase… $114.5 more than last month to be exact but I'm quite happy to achieve this as earning online isn't as easy as they say.
I target to achieve $1,500 this year and I'm well on my way there. I just need to keep on working on my content creation as well as my content marketing part and it'll keep growing every month.
Some of you might have known this already but for those who don't know, my income comes from an affiliate program called Wealthy Affiliate which is my top rated program for work from home businesses.
Things That Happened Last Month
Previously, I was joining Aweber which then due to the expensive cost of $19 a month, pushed me to joining a cheaper alternative called Mad Mimi.
I loved Mad Mimi's simplicity but they only allow free for 100 subscribers which I paid to join as I was already liking it. A few days after that, I got kicked out and they never even refunded my money!
It was because I was writing a review on a program and there was the word "Affilliate" there which is one of the niches that they do not allow. The system detected and quickly kicked me out on blacklist.
I was so angry that they didn't even pay me after kicking me out, I saved my list and looked across the internet for another alternative.
Lucky for me, I found this rising Autoresponder company called MailerLite.

I said rising because they only started last year in 2016 but already, they were making it big as they are providing deals that no other autoresponders provide – Very cheap price and a huge number of free subscribers.
Believe it or not, you'll be allowed to import 1,000 subscribers free of charge and after that, the charge is only $10 a month. As compared to Aweber, I was paying $19 a month like nobody's business.
I joined and instantly fell in love with their simplicity and efficiency so I wrote an entire review about and they owners were so impressed that they even commented on my page thanking me personally!
I'm also updating my other website for my local startup business, Kamira Events.
I'm restructuring my events company which is taking a lot of time but we did manage to launch the first VR in Malaysia with my friend's game platform company, Kitamen.
I've submitted 5 major quotations and proposals on an event job so supposing even one of them gets approved, I'll be extremely busy for the month but of course, I'll always find time to blog.
More events to come in March but for now, I won't reveal too much 😉
Final Word
---
Not many updates this month compared to other months but still progress nevertheless.
I'm slowly building by blog back up and although February's a bit slow for me, I'm hoping to make even more by March.
Thanks for reading, stay tuned for more updates next month!