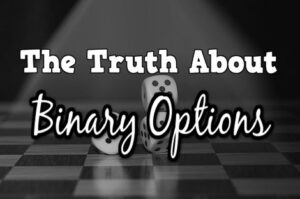 The first time I heard about binary options, I was super excited.
It sounded so easy that I overlooked the truth about binary options and the doom that follows after I get obsessed with it.
Many brokers advertised it as though it's very simple and sure win – All you need to do is follow the majority of people who clicks and you'll get easy money and if you're reading this, you must be pretty curious to try too.
Sounds easy? Oh but it's more than that.
There are many red flags behind the mechanics but first off, let me brief you on…
What is Binary options? –My Quick Intro.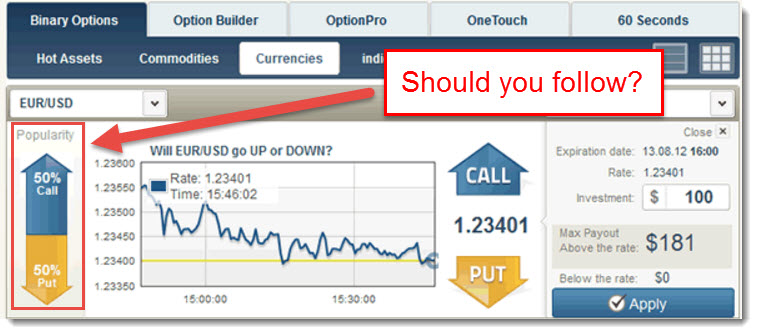 What if you can do forex without studying anything?
That's what Binary Options is about.
Everyone knows that if you can master the art of forex trading, you can make millions but in order for you to do that, you need to have an extensive knowledge on how the market works in order to minimize risks and increase your profit.
Problem is, it takes way too long to study that.
Workshops cost thousands of dollars and universities cover that subject for several semesters if you're taking a degree in investment analysis so it's not something that everyone can go for and the solution? Easy. Just follow the masters.
You see, in Binary Options we don't need any knowledge at all.
All you need to do is follow the majority of people who either call or put and if you're unfamiliar with the terms, we usually click on call if the currency rises or put if it drops.
There are thousands of people who are on that particular binary options platform and you can see how many percent go with Call and how many chose the opposite. Just see how many people choose what and you just join in the crowd.
What could possibly go wrong right? And the next thing you might be thinking, "If I'm wrong, these 10,000 people who voted would all lose their money too so I'm sure I can win easy!"
Many things could go wrong and before you ask, let me explain why…
Red Flags – Things to Watch Out For
Binary Options may be advertised everywhere being "The perfect investment for anyone".
It definitely isn't and here's why…
Red Flag #1 – You are Downright Gambling

Since you can't control anything about it, don't you think you're basically gambling already?
There is no way for you to control anything within the system, all you need to do is just follow the majority of people who vote call or put.
But even that, you can still lose and so will those thousands of people who voted the same answer as you.
You'll left with no way of knowing the answer and even if you go with the majority, you'll still lose – Up or Down, it's a game of probability.
Red Flag #2 – Unbalanced Payouts
As if gambling isn't enough, imagine not getting a hundred percent return on your profit.

A payout is basically your return of investment. When you gamble, you'll always get two times more the amount you put in, correct?
Well Binary Options doesn't work that way.
Instead of getting two times the return amount when you win, you'll get back your initial investment that you put in plus a percentage of it and this is called a Payout.
You'll get different payouts altogether, some platforms give you 60% or 75% whereas some can go up to 90% but never a hundred percent so it's not really fair considering the amount of risk we're taking.
But supposing you lose, they'll take a hundred percent of your money. Talk about the unfair advantage. At this rate, you're much better off with poker.
Red Flag #3 – There are No Strategies to Winning
Since it's all about clicking Yes or No, we cannot use any strategies whatsoever.
This is a huge problem because since we're just following the majority of people who clicks, we won't know anything else besides that.
This is a huge problem because we can never implement proper risk management to minimize our losses and this is exactly what they wanted us to do.
How do I know this you ask? That's because…
Red Flag #4 – It is Rigged!
This is how Binary Options brokers profits the most.
They know you act on your instincts which will make you a tad more vulnerable and then they steer you into choosing the wrong answer by faking the majority influence so you'll never know.
And just when you're about to win, you'll still lose because they control the win-loss ratio!
There was a leak during an interview that an employee confessed that his organization guarantees losses every time a user trades so that they could earn more, like how casinos control their roulettes.
This is completely possible since it's their own platform to begin with and before you start asking…
Red Flag #5 – Very Few Brokers are Actually Regulated
Although it has been several years since Binary Options first started, the real truth is that not many brokers can be trusted because a lot of them are not regulated.
They are very prone to fraud because they are banned by many regulators as they are seen as gambling rather than a form of investment and after mentioning the points I wrote earlier, it's hard to argue when the facts are in front of your eyes.
Because of this, many brokers take the opportunity to take advantage of innocent people who are new to the whole entire Binary Options thing which is why I'm writing on this particular topic as I too got tricked and burned a few hundreds of dollars of my own.
The number of people who got scammed are so many in fact, that it got the attention of the FBI and they are investigating Binary Options scams throughout the world.
A few countries namely France, Belgium, and Israel has even taken extra measures to ban Binary Options entirely on grounds that they are obviously a form of gambling.
So, still interested in taking the risk?
Red Flag #6 – Too Fast to Predict!
In real trading, you take months to study a trend but in Binary Options, it becomes very difficult to predict anything because it is too fast paced.

The duration in Binary Options ranges between 60 seconds to 24 hours and when the time periods are too short, assets move in random directions making any investment techniques completely useless.
If you want to win, the only way is to do it the hard way which is by staying up to date with technical data through chart-reading, technical indicators, statistics calculations and many more but since we cannot do that, your chances of winning all comes down to pure luck.
Red Flag #7 – Oh, So Haram!
Haram doesn't just apply to food, it also to businesses.
I just had to add this in because I was getting questions from a number of Muslims asking asking me whether or not binary options is haram.
Gambling or any acts of investing money without knowing we'll get a definite return, or even a mere doubt on any investment you're about to make is considered haram.
And after pulling in the facts earlier, we know that it's more than just gambling – It's much worse than that since some fraud companies make you lose on purpose so I guess I pretty much answered this question too.
Oh, But I'm Still Interested!
If you want to do it, do it safe.
I'm the type of person who would go all out on something if I'm curious enough despite the negative facts in front of my eyes (Which is why I tried binary options myself) and if you're like me, I'm sure you're dying to give it a go still.
If this is the case, then you might want to be extra careful by joining the right platform.
Binary Options are risky enough as it is, you don't want to be losing your money on a fake platform made by internet gurus who would one day run away with your money, do you?
Here's a list of legitimate Binary Options brokers if you're keen on starting and experiencing them yourself.
Always try out the demo account first before spending a dime on any programs online.
There's a Better Way.
Want to make money through Amazon?
If you're looking for a way to make an income online, a much more legitimate way you can go for is by Affiliate Marketing.
It's basically a way to make money online legitimately by selling other people's stuff and the best program with the best lessons that I can recommend is Wealthy Affiliate.
It's the easiest way to start earning online because you don't have to go through the hard work of creating your own products.

You just leverage out of the ready products that are already out there.
Do you have a passion? Great!
All you need to do is to find your niche, build a blog about it, learn how to attract people to your site and you'll earn commissions when your visitors spend.
It's how I build this very blog that you're reading and it helps you understand the online world even more, perfect for beginners and those serious in building an Online Business and compared to Binary options, there's zero risk in it.
My Final Word
---
Binary Options are a scam because it is purely a gamble game and you don't have any control over it.
Many brokers are frauds, they manipulate the winning-to-losing ratio so they earn more, and even if you win, you still have a huge probability to lose which is why certain countries go so far as to ban the entire thing.
If you are into gambling, you are much better off with Poker or Roulette. At least you'll be earning two times more than what you put in.
Thanks for reading and as usual if you have any questions at all regarding Binary Options, do drop them down below and I'll be more than happy to reply. Cheers!