Hey everyone!
It's the second week of the month already and although it's a bit late, it's about time I share January's update.
It's the first month of the year 2017 (Still pretty excited!) and there are a lot of things to cover, a lot of paperwork not to mention projections and goals to achieve for the entire year.
Have you finished last year's resolution yet? Yes? No?
Regardless, let's start this month's monthly report with some…
Good Ole Stats!
We'll start with the number of visitors.
For January 2017, I got 4,608 web visitors and compared to the previous month's number of 4,717 web visitors, it was a decrease.
This was because I was doing so many changes to my website that I didn't focus much on creating content because for the entire month, I only managed to write one blog post which was on…
Want SEO Made Easy? –Be an SEO Hero!
The SEO Hero post was made because I was impressed by their outreach team which managed to reach out to me so I decided to write about them since I love their new features.
As for my social media account, here it goes…
It didn't budge much because I only wrote one blog post for the entire month but I guess from there, we actually learned that it takes one content to sustain your stats for the entire month.
For February on the other hand, I'm planning to start increasing my efforts at a doable pace which by writing one article a week and boosting stats back up along with my sales.
Speaking of which…
Time to Have a Look at My Sales
Well I'll be, when I mentioned one article can sustain your visitor numbers for the month, I didn't know that it applies to the sales too!
This is pretty interesting to know because, for the previous month, I earned $182.50 but one month after which is in January 2017 now, it maintained that number! (Except for the extra 50 cents).
Not that I'm proud that I didn't manage to make more but maintaining that number by writing one piece of content for the entire month is kind of motivating because then I'll definitely be tempted to write more. Wouldn't you?
As usual, the money I earn is my affiliate commissions from Wealthy Affiliate which is the top-rated program that I'm promoting currently and in case you didn't know, it is an Online Business platform (The best there is) for people interested in making money online through Affiliate Marketing.
Things That Were Keeping Me Busy For The Month.
I guess I can safely say that… My website happened.
When's the last time you did any sort of spring cleaning for your website?
I decided it was time I did some changes to my site since it has been the same for a year now and that I feel like it seems to be rather bulky with so places links and tabs everywhere.
If you've been following my post for a while, you might have noticed the minor tweaks I made but if you didn't, no worries!
I'll still tell them anyway, starting from the widget area…
Do you like what you see with the images? You can see it now though, LIVE on your right-hand side of the screen. Maybe scroll up a bit.
What I did was that I deleted all the other widget area such as the recent comments, the recent posts, and the search bar, and kept only the ones that attracted attention the most.
Instead of the usual banner ads which nobody clicks on because obviously everyone's doing it, I changed them with my custom made thumbnail which looks very friendly and not too commercial-intended that I actually increased my click-through rate while I was at it.
With lesser things bulking at the widget screen, it looks cleaner and more user-friendly.
Next, I removed the plugins…
There were initially 14 plugins and I have no idea what I was thinking of installing that many plugins but reducing them will make your website lighter so bear in mind not to install too many.
I also removed the dropdowns…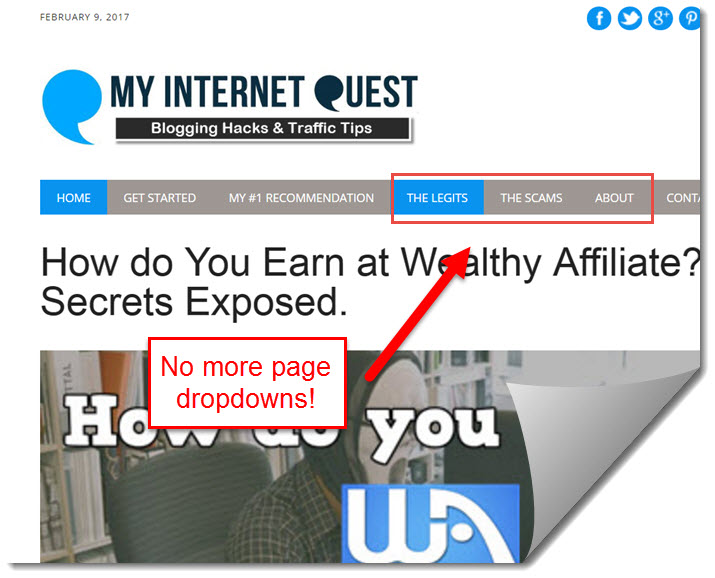 Not to say that I don't like them but as my website grows in content, they began piling up like nobody's business so I created a page and lists down all those tabs instead.
Next up, is the sign-up form…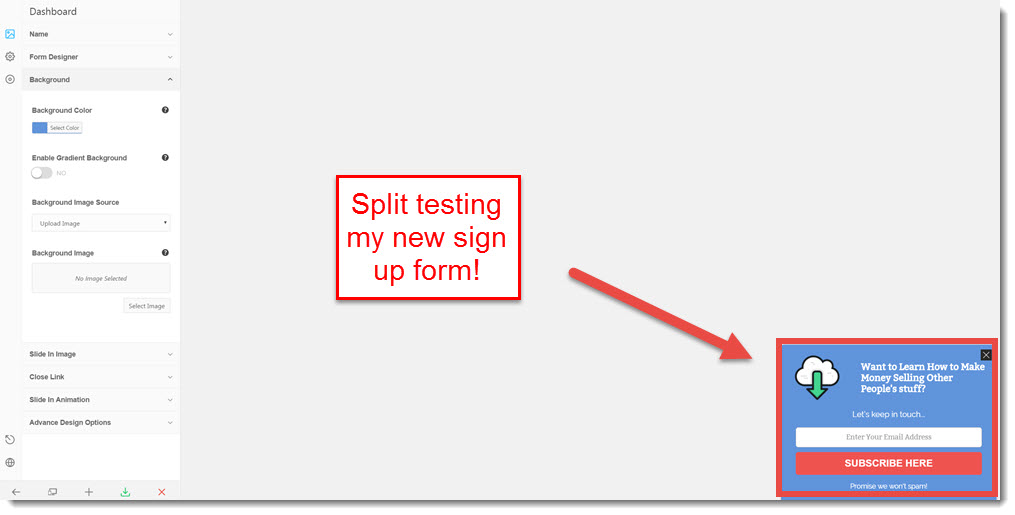 Noticed how the form nicely slides in after you finished reading or when you're halfway there?
That's a custom sign up form that I've been trying out to replace the previous Welcome Mat sign up form which I used to put on my site.
If you don't know what a Welcome Mat is, it's not an actual welcome mat though – It's just a name for a type of sign up form that pops out the moment you enter a website.
I'm sure you've come across it a couple of times before.
A lot of bloggers like to use it because it helps in making the capturing email process easier but the thing is, I don't really like it because the form pops up the moment a person enters your website.
If I am a reader, I don't like to be promoted something before I finished reading content so that's the reason for me implementing the slide-in form.
It's less intrusive, less aggressive as you don't pop up the moment someone lands on your page, and it's a nice way to politely ask for someone's email.
I'll be covering more on how email marketing works on a specific topic next week but for today, I'll just briefly cover that topic on this report so do stay tuned if you'd like to read more of my tips when the day comes 🙂
After doing all of those tweaking and cleaning, I went to check out my site health…

It went up and to "Pretty Good" which is much better as compared to how it previously was which wasn't good at all.
If you're wondering on how to access the Site Health feature to check for your website, you actually can only do that within Wealthy Affiliate because it's part of the new feature that they created for members a few months ago.
No other website building platforms provide this service, it is one of a kind.
Go ahead and it a go, it saves time and they detect for you how strong your site is SEO-wise as well as what kind of tweaks you could add to make it better and faster.
Speaking of faster, I then checked my website at Pingdom and this is what I got…

My site load speed is 1.97s!
The page load speed reduced from the initial 3s so you can bet that I'm super hyped up about this.
Did you know that 47% of consumers expect a page to load in 2s or less?
Faster page load is important for a site because people do not like wasting time loading a page of a website when there are tons of other sites that provides more or less the same info as we provide on our site.
Knowing that mine is within that speed, I feel relieved in a way and now that I got that covered, I can focus on creating content more.
In fact, UK Web Host Review even took the time to compile 21 amazing ways on how to speed up your WordPress even more and some points I mentioned earlier are only a fraction of that which you should really check it out if you're serious on it.
Having a fast loading website doesn't only make it easier for you to work as a content creator, but it will also increase conversions with your readers as nobody likes to be kept waiting.
Last but not least, I'm happy to say that I've upgraded my website with SSL!

If you look closely at the URL, instead of the previous http, it is now https which means the website is more secure and efficient, very much like Facebook or other corporate sites.
It was taking a lot of time for me to set it up because I had to redo all the technical stuff like Google Webmaster and Bing Webmaster but now that I've settled it, I can finally take a breather.
Doing SSL would usually cost hundreds but since I'm a member at Wealthy Afffiliate, they have just started adding the SSL feature free of charge for members (Deal of a lifetime!).
You could set it up for your site too by taking advantage of this new feature or if you haven't had a website yet and you're planning to create one, you could cut all the technical work and start a brand new website already equipped with SSL!
Having the SSL is also an added advantage because not only does it protect our sites even more, Google will also have the tendency to rank https sites much better since they see how serious we are and it's a signal to them that we are in it for the long run.
Final Word
---
I would say January 2017 is more of a month of preparation as I am just getting back into the game and now I can focus more on creating awesome content for you guys.
I still have a few things to take care of like my auto responder thingy because I am still testing out which one fits me best and the process takes a lot of time but I'll cover that on next month's report as well as a blog post which I'll be writing on pretty soon 🙂
That's it for this month! What do you think of my overall site now?
Thank you guys for reading through, do share your thoughts below and I'll see you on my next post.
Cheers!