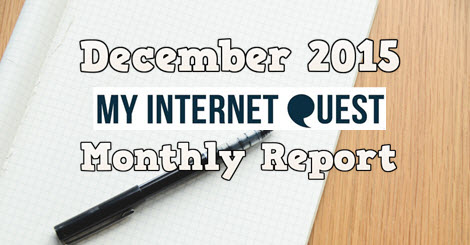 December seems like a good month as I am finally back on my blog and it is even the month where I had the most income out of all the months so far.
This proves that Online Business does work as long as you are there to put in effort and grow your site and I regretted hindering my blog's progress by disappearing for 3 months previously.
It's also the end of the year where many exciting things happen and of yeah, Christmas!
So how did my blog fare for the month of December 2015? Read on…
My December 2015 Stats
The stats doesn't look as steady as compared to November as I am still posting content very slowly – I'm still trying to adjust myself to my aggressive writing schedule.
Back then I was able to churn out 3,000 words of article in one day complete with pictures and research for 7 hours straight but now, I'm struggling to write even 500 words day.
This is another reason as to why you should never break your momentum because being busy is a good thing – That means you're well on your way towards success.
For December, I have about 3,083 visitors – That's 153 visitors less than last month!
As for the contents I've published, I only managed to write 2 contents the whole month which are both in fact reviews…
That's a good progress considering I only wrote one post the month before.
January however, will be a completely different month as I plan to write at least one post a week and get back my own fiery content-writing aura that you guys are going to love.
There will be more detailed contents which I will write every week and I am also considering on making book reviews based on some demands I keep getting, especially on the "4-Hour Workweek" and "The alchemist".
But more on that later as I'm quite a slow reader, I'm sure you're just dying to know of how my social media accounts are faring last Christmas…
It's not surprising that Twitter seems to be working fine for me, a lot of people connect with me better there because unlike Facebook, they don't restrict your visibility.
If you haven't heard of Facebook's case yet, the reason business pages aren't getting enough visibility is because Facebook wanted us to spend more on ads which is why I don't spend much time there.
I do however post my updates there because I still get visitors from Facebook surprisingly asking me all sorts of questions.
Now we've got the social media part covered, let's move on to…
The Best Growth in Sales I've Had in Ever!
Take a look at this…
I've never even reached two hundred bucks in one month and all of a sudden I got $401 just like that, it was a total leap of faith for me and I am absolutely thrilled!
This is mainly because people tend to spend more at the end of the year and a lot of people wanted to have a go at Wealthy Affiliate because they wanted a fresh start in 2016 and change their lives for the better.
If you haven't heard of Wealthy Affiliate, it's currently my top ranked program which I am currently promoting on my blog as compared the other reviews I've made, it's the best one so far.
I really love the lessons which is regularly updated, the awesome support, the friendly community, the keyword tool as well as the free website builder it comes with.
I just realized that the webhost that WA provides you with is also a dedicated hosting which means that it's a high quality fast hosting server you get for yourself instead of the shared hosting which we usually use for Bluehost and Hostgator.
If you're serious in building an Online Business, Wealthy Affiliate is something you should definitely check out – You still have time to catch up with me!
Although $401 isn't much, it actually is here in Malaysia as our currency is 4 times more so convert that to Malaysian Ringgit, I earn an equivalent salary of a McDonald's worker here plus the overtime.
Not bad I would say, but I'm hungry for success and would definitely put in more effort for the next month.
New Year New Me? – Not Exactly.
Not to show off or anything, but I've always been a very hardworking person.
I'd love to say that I'll be working harder for 2016 but the truth is I'm already doing that.
I always have a schedule of what I'll be working on every day so that I don't lose time as 2016 is probably the last year I'll be living in Malaysia.
I'm planning to continue my studies in France and I'm currently learning French (Still in intermediate).
I have 2 more DELF exams to pass – One on March and another on December (Or November I forgot).
If you haven't heard of DELF, it stands for Diplômes d'études en langue française which is just a French language fluency exam that I have to take at Alliance Française, very much like how we have to take IELTS or TOEFL for English fluency.
I love learning new languages but I can only learn one at a time and so in order to sustain myself while I'm there, I need to work hard and stabilize my business here.
I have a local events company called KAMIRA Event Management here in Malaysia which is also one of the ways I earn income and I'm currently planning on another event to host soon (I'll reveal that on next month's post once I have it finalized).
But of course I do get myself a break from time to time, all work and no play makes Jack a dull boy after all.
My recent trip was to Broga Hill and I went there at 4 am in the morning to hike with my friend Syed.
We went there very early in the morning as we wanted to catch the morning sunrise and since it'll be New Year already, wouldn't it sound cheesy if I say that we watched the dawn of a new year?
Well we did, and it was awesome!
It took us an hour and a half to reach the top and I didn't realize that there will be so many people hiking too.
We met a lot of friendly people and it was adventure I will never forget – Getting away from the busy life of the city and to not talk about work at all, it feels pleasant.
If you have never went on a hike before, I suggest that you do as it will definitely change your life.
You'll have time to reflect and the best part is that at night, you will see the stars and the moon so close to you – Plenty more than what we usually in the city.
That's it for what I did last December, I'll leave you with this one last picture of me at on the highest peak at Broga Hill…
My Final Word
---
Of all the months I had, December was the most decent one with the highest revenue so far.
Although it's not much, it did push me to work harder to make more than what I earned the next month.
I will definitely be posting more contents and I'm targeting one each week and when I'm confident enough, maybe I'll write two. We'll see.
I hope my journey so far gave you an insight on how Affiliate Marketing works and as always, thanks for reading.
I'll see you on February, cheers!