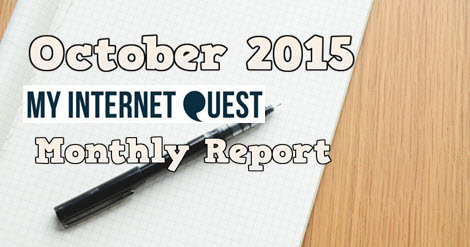 As many of you might have noticed, I haven't touched my blog for 3 whole months which was the longest time I had ever been away without writing.
The feeling is surreal and there hasn't been a day that pass by without me thinking of writing a new post… for the whole months!
The longest time I had been away without writing a post was just 2 weeks so this is a huge step for me to make but it was unintentional as I was extremely occupied running my other event company startup.
If you think running one business is hard enough, imagine running 2 of them at once!
Nevertheless, it feels good to get back on my keyboard and start typing away good content for you guys.
Wanna know how my blog went by without me tending to it for 3 whole months? Well buckle up because this is going to be a lengthy read…
Stats for August, September and October
It's going to be really packed if I squeeze in everything that has happened within those 3 months so to make everything clearer for me and for you, I'll be showing my website stats separately starting from August 2015…
If you've looked at my previous monthly report on July, you can see that my graph is slowly spiking up and it's getting ready for some good growth but since I haven't posted anything the month after, it is slowly dropping down below the 150 website visitors' mark.
Compared to July I had just lost 277 website visitors. Ouch!
Now let's have a look at what happened in the following month in September 2015…

As expected, the graph keeps dropping down and it keeps getting worse too as I had lost 280 more website visitors as compared to August.
Now let's have a look at how far my website goes down in October 2015…

This doesn't look too bad! I just lost 46 website visitors as compared to September and this is actually because I put in effort to start sharing my post and build up my comments for visibility.
Still, nothing beats content creation and although I had soften the blow of losing traffic through social media and comments, the sole purpose of having a blog is to create more content and that is a lesson I learned the hard way.
I'm sure you're curious as to how my social media channels are doing since I wasn't able to attend to it much so here goes nothing…
Facebook Page – 142 likes (33 people left me!)
Blog twitter account – 80 followers (Lost 7!)
Personal Twitter account – 641 followers (+196 more!)
Google+ – 26 Followers, 6386 views (-1 follower but I gained 368 more visitors!)
I won't delve much into the social media part though, as I know they went down terribly so I'll save that for next month because I'm sure you're just dying to find out…
The Sales – Did I Actually Make Any Money at All?
This part is a very thrilling to write about because truth be told, I too was keen to know if I've made any sales at all since my 3 months hiatus.
I checked and totaled up commissions for all 3 months and would you believe how surprised I was to know that I earned a whopping $417.50?
Just like the stats above, I'm gonna break down the commissions according to all three months starting from August 2015…
As you can see, I earned $115.50 in August WITHOUT even touching my blog nor did I do any form of marketing!
Curious to know what happened the month after? Here's the next table for the month of September 2015…
I was even more surprised to find out that my sales actually grew to $165.50 even when I haven't touched the blog for 2 months straight.
Now let's see how my sales fare for October 2015…
The sales dropped a bit but I still earned a decent amount of $136.50 on the third month!
Adding up all the profits I earned from all three months, I earned $417.50 which is a pretty cool amount since I never even touched the blog and this only proves one thing – Online Business does work and is a long term process.
If you're new to my monthly reports, the program I'm promoting is called Wealthy Affiliate and it's currently my #1 recommendation out of all the products I have reviewed as it has the best benefits for a very affordable price.
Having a website is actually a form of an investment as it will stay on search engines forever, and you get continuous clicks from that as long as you have your contents.
So now comes the question of…
What Have I been doing These Past 3 Months?
One month is a long enough period to be a way from your blog but three months is just too darn long and I do not recommend anyone to do that as it will hinder the growth potential of your site.
Even professional bloggers like Neil Patel used to blog once a month before he decided to blog every week as we need to always be creating content to ensure healthy growth.
Building and maintaining consistency is important because if you traffic falls down, getting it back up again will be troublesome and it's currently what I'm facing right now.
Still, I could not commit to the content creation part even though I wanted to as I was busy handling various events in such a short time period…
1) GP Conference
On October 3 2015, I was part of the GP Conference movement and it was a very hectic event that took up all of my time as I was the only person handling 1,000 doctors who want to attend the event.
Sounds simple but imagine handling calls up to 2am in the morning! Some doctors even called me as early as 5am and I had to go through that for a while.
I'm a workaholic so if you're wondering as to why I don't just switch my phone off, its because if I do, I'll lose my momentum and i would have to trace back the other messages which would be rather messy. I always want to give out my very best when handling with people so as to leave out a good impression to them on my capabilities.
The event is about private GPs all over Malaysia uniting and showing their concerns on the Malaysian government's action to imply the dispensing separation plan and opening up their government clinics near private clinics.
It was the first ever large-scale event event that involves private doctors in Malaysia and it also managed to get the attention of the media as doctors are extremely busy people so it's a miracle to even get a thousand of them all in one place let alone a hundred.
I am glad that they chose me as part of the organizers (There were only 3 organizers), I gained a lot of experience on how to handle large scale conferences and I was happy to know that the event went by successfully.
Here's a picture of me at the event managing the floor at the conference…
2) Dota 2 tournament for MSU University
Exactly one month after at 3 November 2015, I organized another event and this one is on another different niche entirely – gaming.
Here in Malaysia, Mountain Dew is growing aggressively and they are targeting the youth generation here to establish their brand and that is by contacting all the universities locally to get a representative in order for them to do an inter-university competition.
As most of my team members are from the Malaysian Science University (MSU), we chose to represent that particular university and organized the Dota 2 tournament for Mountain Dew.
My organization skills were getting much better after the conference and for that, we received an award for being awesome, pretty cool!
3) The Christmas Fund Bake
On November 18th (Yes, just 15 days after the tournament!) I'll be organizing yet another event called the Christmas Fund Bake at Taylor's University, Selangor, Malaysia.
For this event, we aim to raise funds for single mothers to buy school necessities for their children (Like bags and uniforms) as New Year is approaching and being a single parent, finance is a huge issue.
The event is yet to come so promotions are still ongoing until the 18th so please, do support me and our Facebook event page here.
Simply Cookies is the social enterprise responsible in helping these single mothers break out of their poverty cycle by hiring them as employees but this year, they want to do something different hence this event.
However, they are only a cookie company so in order to successfully carry out this event, they hired me as their organizer and though I get minimum wage, I still accept it because of the social calling in it.
My close friend was brought up by only his mum and my cousins too so unintentionally, I do understand the traumatic pain the children have to go through as well as their mothers which is why I feel that it's my responsibility to make a change.
So far, we've been getting good response and we've managed to secure 7 sponsors altogether but in terms of funds, we are still lacking behind due to the rushed planning.
Because of that, I've put together a crowd-funding campaign on Start Some Good…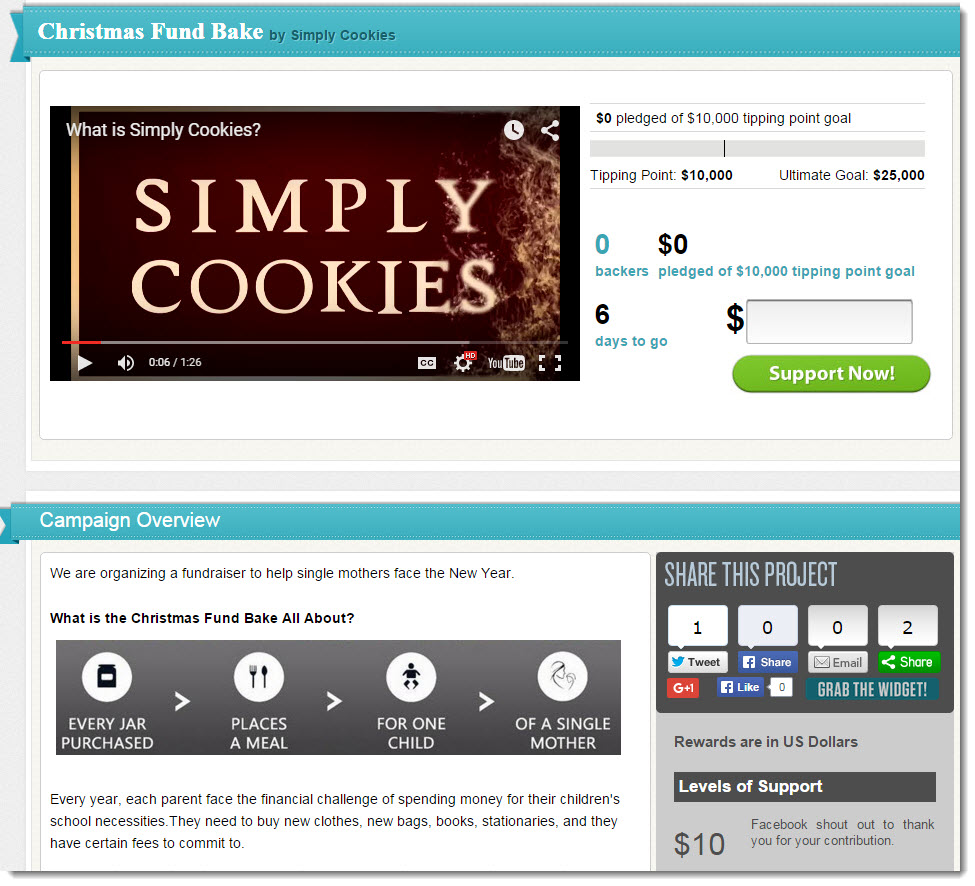 I do not believe that we'd reach our goal as we are really short of time but any contribution you make would really help us out!
My Final Word
---
So there you go, what happens if you leave your blog for 3 whole months.
Basically your blog will survive but it will gradually decrease in traffic and visibility which is actually a bad thing since you will need to spend more time to build up your momentum.
Still, the downside is that my sales are still ongoing because being in the Online Business industry, my content will always stay on Google and many of them are already on the first page which I guess is how I managed to still get some conversions.
I wasn't really proud knowing that I left my blog unattended this long as I still have to make payments to my Aweber account which I haven't also touched for a while but I'm happy that I finally found the time to start writing again and boy, it feels good to be back.
Until next month, thank you for reading guys!
Cheers!