Did you know that 50% of small businesses close down after 5 years?
Every small businesses today are facing endless competition as every other companies are getting ever more creative so it's no surprise that some entrepreneurs fail to lift off.
The solution?
Keep up with technology to make your competitors fear your business growth by building a successful authority website of your own!
Do bear with me as I explain to you step-by-step on how all of this works…
Why does your business need a website?
Almost every businesses today have websites of their own in which they are able to perform much better in terms of sales and customer reach.
In fact, your customers would EXPECT you to have a website because of today's set expectations especially due to the fact that we live in a highly technological era:
So here are some cool benefits to get you all hyped up:
Boost your image – Building a website shows dedication because in the eyes of normal people, it is expensive to maintain a site and that it usually costs thousands of dollars (It doesn't cost that much if you build one yourself).
Live up to expectations – Customers today judge a small business not only by their service, but through their websites as well.
Increase sales – Did you know that 61% of US consumers today make purchases through website blogs? Some people rather buy online than go out of the comforts of their home to a physical store.
LOW capital – Paying someone to build a website for you may cost you thousands but if you build one yourself, it can cost you less than $15 and in some cases, free.
Traffic generation – Building a website is also a form of marketing whereby people can find out about your business online.
Global recognition – Your business can be known by literally ANYONE who is using the internet today. You might never know if people from other countries tend to spend more on your business than ones near your own neigbourhood.
Your business will never stop growing – When your website increases sales and recognition, it will get more impact through time as more and more people are using the internet every day.
Building you Very Own Website – How to Build in Less than a Minute
Launching a website is easy, setting it up and writing all your content down is the tiring part.
But first, let's take one step at a time just to make sure you are on the right path in order to get the maximum results.
1) Choose a website name
A website name is also known as a domain in the Internet Marketing World.
You can choose a website name of your own that either ends with ".com", ".org", or even ".net" but bear in mind, all of these domains are paid domains.
But don't worry, you'll only pay yearly and they cost somewhere around $3-$15 depending on how hot the name is.
Now listen carefully because I don't want you to make the mistake that many people do which is buying a domain straight on and not knowing what to do with it.
A domain is one thing, a web host is another.
Sure you have a website name, but how else are you going to use that name and control your website?
How are you going to save all your files, your comments, and all your data?
THAT is when you need a web host but bear in mind that it will cost you monthly payment compared to the yearly domain payments.
Still with me on this?
So to get yourself well-suited to the website world, we will go through a free website so that you will know what to expect and how to make your website awesome.
The best free website provider in terms of performance in Site Rubix, have a go by looking for a domain name here…
2) Learn to give your website life
Now that you have your Site Rubix site, you are free to play around and discover the technicalities.
Site Rubix is made by Wealthy Affiliate which is an online business community so here's a lesson on how to maneuver and fill your website with life under 30 seconds…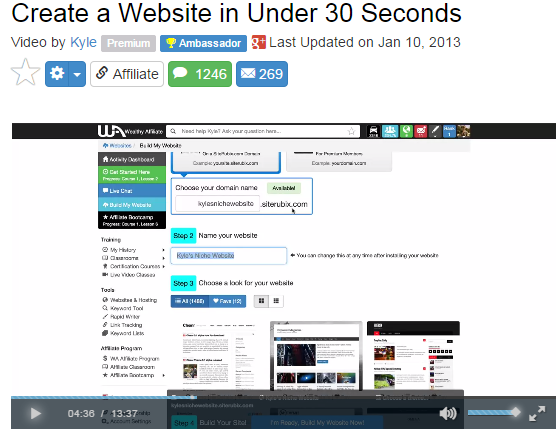 3) You're ready to get your official domain name for your company!

You should be all set and used to how easy it is to build a website by now so now you're ready to change your domain name to a ".com"! (Or any name you desire)
The reason for this is simply because having a free website will not give your domain a clean name of its own.
For example, if you're using Site Rubix, your domain name will be "something.siterubix.com" and the same goes for other domain providers like Weebly which would result in your website being "something.weebly.com"
So how do you overcome that?
By buying for an official domain name of your own through a global domain provider of course!
I would recommend you to choose Namecheap.com because it has no up sells and has great customer service.
Others would argue that Go Daddy is the best but in reality, both are the same because they just simply give you the license to have an official domain name of your own.
What you do with that domain is your own business but Go Daddy has this thing that I don't like where they will try to upsell you more stuff which I don't need so if you don't like upsells, I advise you to go with NameCheap instead.
4) Transfer your new ".com" domain to a web host.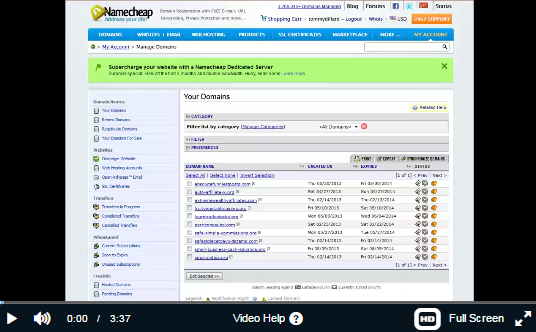 There are many web hosts that you can choose from but remember, those are all paid services which means you have to pay monthly.
To avoid that, I'm going to share with you a useful tip – Host it at Wealthy Affiliate!
Wealthy Affiliate is an online business program which is designed to help anyone build a fully functional website with high performance.
If you have host your website at WA, you can rest assured that they will monitor your website 24/7 and give you performance reports on how well your website is going to be.
Site Rubix is created by Wealthy Affiliate too which means that you won't have to worry about the need to know about websites all over again.
5) Do not stop learning!
Several months ago my websites stop ranking in Google and I was really on the verge of panic as to why that happened.
Turns out that Google recently updated their system which explains why my website wasn't getting good rankings within the search engine so I had to spend quite some time to get it fixed which made me lose a lot of potential traffic (website visitors).
The difference between hiring someone to build a website for you and building one yourself is not just the cheaper cost, is the fact that you have to be in the know of what's happening in the website world today.
A lot of people who build websites stop giving any care about what is to be with your website.
Remember, the website is not just something online.
Its part of your business and you want to maintain and improve it from time to time so that it will keep giving you money and maintain good Google rankings.
So how do you keep yourself updated?
By joining an online business community of course!
And the best one to date is Wealthy Affiliate because it's not just a course, it's a community where you can meet people with the same thinking as you which is pretty cool.
Wealthy Affiliate gives you all the resources and news on how to better prepare your website ahead to face Google easier and get an edge in the internet marketing World.
I find learning a bit tedious so sometimes I like to do a little competition with the members and see which site is better ranking…
As seen from my screenshot above, Jay just beat me by getting his site ranking highest on Google while mine, the 3rd (I will get you back Jay!)
But the main point that I wanted to tell you is that you WANT to be in the know because once your website is on the first page of Google, you'll dominate the traffic on that particular search term.
Conclusion
---
Building a website has many benefits for a company.
It may be tedious but in the long run, you will not only save more money, you will also beat your competitors and even automate the online process hence giving you a boost of income.
If you're interested in learning more on how to build a successful website, check out my #1 recommended program here.
Thanks.