If you're thinking about building a website, then you must have stumbled upon WordPress.
The name is all over the web but what is WordPress exactly, and more importantly how does it work?
Can anyone use it without prior knowledge, and is it worth the trouble?
If you'd like to know more about it, prepare yourself for a world full of possibilities as I'll unveil the world's leading platform for websites as we go.
What is WordPress About? –Business at Your Fingertips.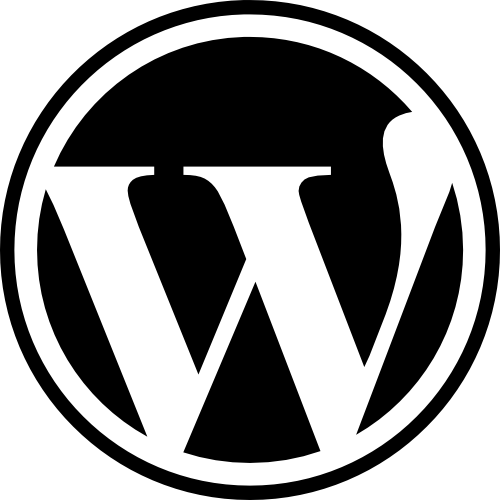 Founded way back in 2003 by Matt Mullenweg and Mike Little, WordPress is a Content Management System (CMS) that allows anyone to build a website, play with visuals, and add content to make it beautiful as they go with ease.
It is a platform which gives you the flexibility of creating your own website with whatever feel you want, and have it done within minutes.
There are thousands of themes to choose from be it free or paid without you having to worry much about designs, and plugins which are more like add-on choices that you'd like for your websites such as the contact form, or even social media share buttons.
WordPress has made everything easy for you so that you don't have to worry much about the technicalities and focus more on creating good content to help you rank better in search engines.
I remember back then when I first started creating a website, WordPress didn't even exist yet and building a website was super hard because the natural language for websites consists of CSS – coding which non-developers like me and probably you would never understand.
After WordPress existed, we can practically build a website on our own without having to worry about learning any form of coding.
Pros & Cons
Pros
It's open-source which means anyone can use it.
Very user-friendly.
Very easy to publish articles.
You can choose to type in either normal words, or HTML coding.
Always SEO-ready which makes it great for search engines to rank you.
Tons of free themes to choose from.
Highly customizable for you to add in a few tweaks of your own.
Great for blogging, business websites, and eCommerce.
They are always updated for free.
Themes are mobile-friendly.
A lot of plugin choices to choose from.
A lot of tutorials online to learn from since it is immensely popular.
Cons
Can be a bit overwhelming for beginners.
Since it is open-source, you might be prone to hacks if you do not put up a strong password.
Some plugins might not work.
Limited font capabilities.
Popular Names Who Use WordPress.
If you haven't heard of it before, doesn't mean these companies haven't.
It's a fact that WordPress's capabilities are top-notch and it shows when many more big brands are also using them, some familiar names include…
Spotify
CNN
Time
TED
Fortune
CBS
The New York Times
IBM
NBC
Harvard Gazette
Walt Disney
Microsoft
…And many more!
You can find their names on WordPress's website, or even just Google it as there are literally hundreds if not thousands where that came from.
If you want, you can also do your own research to study a big website that has been an inspiration to you for some time, by using a checker like CMSdetect.com.
It's how I use to verify whether a certain website is using WordPress or not and it's always great to know that you're on the right path.
There's more than enough proof everywhere to help convince yourself if you're still having doubts because it is evident that many big companies are using it.
Regardless of your background, your intentions, or whether or not you have tech knowledge or CSS coding to begin with, WordPress is meant for everyone is why they're still ever-so-popular today.
Some Interesting WordPress Facts.
Believe it not, WordPress has some pretty neat achievements and facts that will blow you away.
Here are a great WordPress facts infographic for 2020 made by UK Webhost Review…

There are many insightful facts but the ones which I find the most interesting are…
35% of all website users use WordPress,
Making up to a whopping 27 million live WordPress sites.
Over 800 WordPress sites are being created daily.
WordPress is available in 162 different languages worldwide.
Major updates on average are released around 152 days between one another.
What Can I Use WordPress For?
It's intriguing, isn't it?
With so many businesses booming on the internet especially now with the recent pandemic happening, you just got to hop on that train and expose your business online.
But is your business the right one?
I was asking myself too when I first started but have no fear, I'm happy to say that WordPress works for all types of businesses, here's to name a few…
Blog
Dropship
News Site
eCommerce
Local Business
Brick and mortar shops
Affiliate Marketing
Online classes
Your resume
Portfolio
You name it, whatever you need or whatever your business is, there's absolutely no reason for you to not have a website because having so not only makes your business look extravagant as you actually have a site of your own, it'll also get you more exposure and sales.
If WordPress is So Easy, Why are There Web Developers?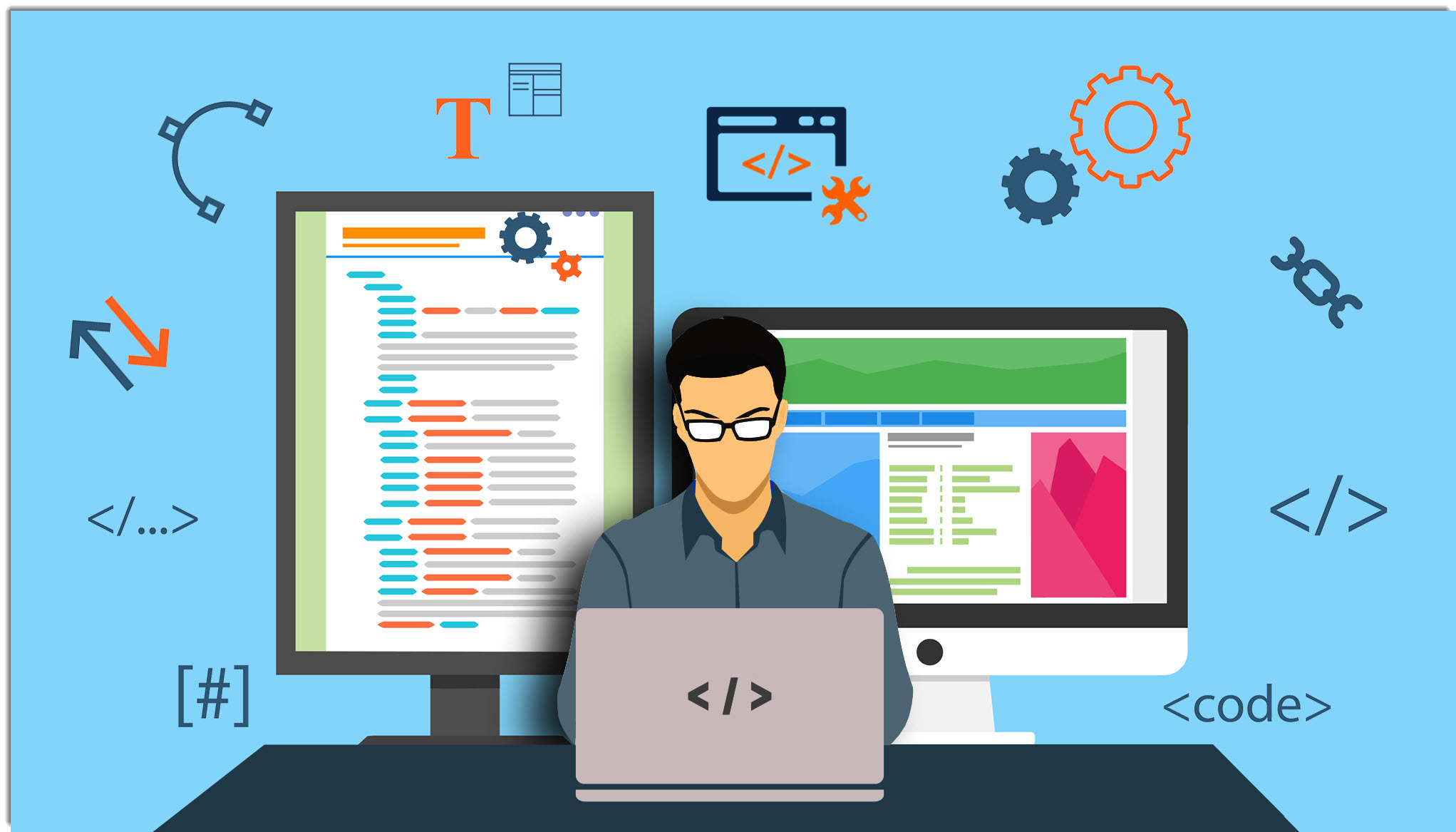 Although you can technically control the essential parts of your website through WordPress, there are still certain parts that can only be reached through web developers.
For example, creating a custom theme of your own.
Sure, WordPress does come with ready-made template themes but because those are templates, their customization capabilities are limited.
It's not that important for normal users, I certainly have never had the need for one, but if you're building a website for a corporate business and have some cash to burn, you can always hire them to handle it for you.
Some people do not want to get their hands dirty on the computer so having a web developer can of course help a lot too as since they are the ones who manually build your websites, they can maintain the site for you with a certain fee which covers all your worry of finding web hosts or plugins.
In fact, even web developers sometimes use WordPress to create a website for clients with low budgets instead of manually producing one for you which is why going through the WordPress website creation yourself can help you a lot in gauging how much it actually costs.
What's the Difference between WordPress.com and WordPress.org?
WordPress is divided into dot org and dot com, but what is it exactly?
Though they're under the same banner, they differ from each other as WordPress.com is a paid service, whereas WordPress.org is a free service.
When you say people talking about using WordPress, many of us just rather use the free service as it's highly customizable and there's no cost to it.
However, there are some strings attached that you should know of.
If you decide to go for a WordPress.org CMS, you'd have to get your own domain and web host.
But what are those exactly? Don't worry fam, I gotcha.
Any website in the world generally is made up of three elements – A domain, a Content Management System (CMS), and a web host.
A domain is the URL address of your site, for example, this very website you're at which has a domain called Myinternetquest.com.
The reason we need to get it separately is that domains are controlled by the Internet Corporation for Assigned Names and Numbers (ICANN) which is pretty much a regulatory body that controls the usage of domains to make it safe.
It's fairly cheap, ranging from as low as $12 per year and you can get it yourself from domain providers such as Namecheap and GoDaddy.
However domains are just owning rights to the name, not the content inside.
That's where CMS comes in.
It's called a Content Management System because it helps simplify the whole entire coding language of your website into a simple clickable user-friendly dashboard that everyone can use without even learning to code.
But when you publish great content or add visuals, you'll need storage to sustain all of your files.
That's where a web host is necessary.
A web host is the heart of your website responsible for not only storing your whole entire website's files, but also to make sure your site loads fast and is safe.
It's the costly part of the entire website because web hosts such as Hostgator or Bluehost usually charge monthly, starting from the lowest of $3 per month.
So to get back to the main topic, WordPress.org is an open-source CMS software that is completely free to use albeit the web host and domain which you'll need to get on your own.
If you don't want to go through the trouble of finding things individually as it sounds very overwhelming, you can check out a website builder that I can recommend called SiteRubix.
It helps you build a WordPress.org website so it's free and you can try it out first hand before you decide on spending which could help you save a lot of time money.
Have a domain name already in mind? Great! Just type it here…
WordPress.com on the other hand, is a paid subscription which you'll have to pay them monthly but they do automate a number of things for you such as a web host which is already included in the package.
Now that we've gotten down to the comparison, I'm sure wondering…
How Much Does WordPress.com Cost? -Discover the Packages.

The packages seem attractive.
As mentioned earlier, WordPress.org is a free open source software so bear in mind that this price is meant solely for WordPress.com.
Although it is a paid subscription, there are some benefits to it…
Free ($0)
Can only use a subdomain.
Limited free design themes.
3GB storage.
Comes with WordPress ads that cannot be removed.
Personal ($4)
Can be attached to a personal domain.
6GB storage.
Limited free designs.
Premium ($8)
Unlimited free theme designs.
Comes with premium design choices.
13GB storage.
Can be synchronized with Google Analytics.
Can upload videos.
Business ($25)
Unlimited free theme designs.
Comes with premium design choices.
200GB storage.
Can be synchronized with Google Analytics.
Can upload videos.
Ecommerce ($45)
Unlimited free theme designs.
Comes with premium design choices.
200GB storage.
Can be synchronized with Google Analytics.
Can upload videos.
Shipping and payment integration.
As seen from the breakdown, it does look cheap to begin with but the real package which you'd need to start from is the $8 per month to give more value to your website as only from that package can you start tracking down your website statistics.
The smaller packages might be cheap but they are very restricted and you can't track statistics nor can you do much with them as to how a proper website should be.
Another drawback to it is that although it is a monthly subscription, you can't actually go for monthly as WordPress.com will only accept upfront payment annually which might be a bit pricey.
The higher packages in my opinion cost a lot higher especially for eCommerce as Shopify costs way lower than that.
Personally, I think WordPress.com is a little pricey and you're way better off starting with WordPress.org software which gives you more flexibility and growth for costs that you can control.
Is WordPress blocked in China? -The Great Firewall.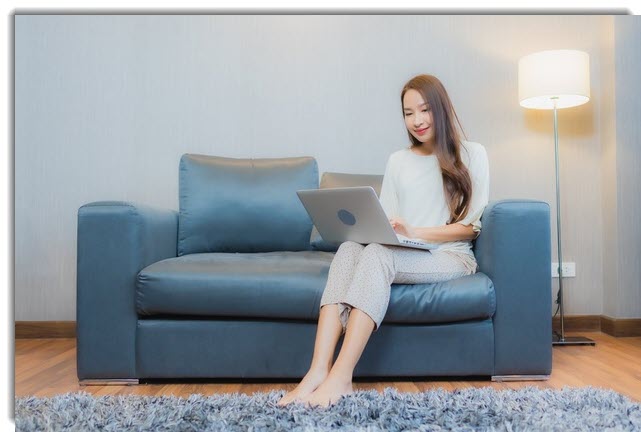 That depends.
If you're using WordPress.com, then yes, it is blocked.
But if you're using WordPress.org, then no, it's not blocked and your website can still operate there.
This is because WordPress.com is technically a web hosting service on its own which, knowing China, they like to promote their own businesses to their people.
They cut competition on another level.
This is why certain companies or web-based businesses couldn't get in, such as WhatsApp as the competitor there is WeChat which what everyone there uses.
Similarly, there are plenty of web hosting companies there in China so they much prefer using their own companies.
We can practically go through that by using a VPN, I normally use it to talk to my friends while I was there but bear in mind that not many would want to go through the hassle.
WordPress.org on the other hand, is a free open-source software which is why it's not blocked there.
As proof, my own website is readable from mainland china as I'm using WordPress.org and you can check yours too using comparitech.com.
It's a great way to check to ensure that not only is that certain website is visible for the Mainland Chinese to read, they can also create one from China which is cool and certainly something advantageous that not many CMS could offer.
China has a strict rule when it comes to the internet which is why they are famous for their Great Firewall of China.
Its purpose is to block foreign information sources, internet tools, and companies to follow china's regulation in their efforts to not only reduce cybercrimes, but at the same time help their own economy as well.
Is WordPress Still Relevant in 2020? -You Bet!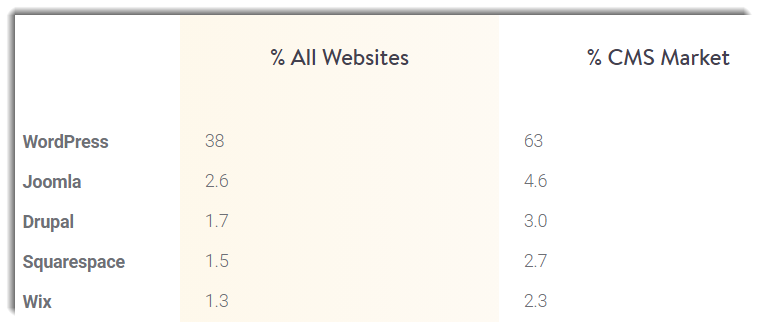 More than ever.
According to research by Kinsta, WordPress constitutes about 38% of all website types in the whole of the internet.
Not only that, they also hold the biggest CMS share of a whopping 63% which makes other software a minority and for good reasons.
They are very robust and flexible with regular updates to make sure your site and business will be at the top of their game to get the best of the internet.
According to W3 Techs, WordPress's growth is unrivaled too…
2011 – 13.1%
2012 – 15.8%
2013 – 17.4%
2014 – 21.0%
2015 – 20.3%
2016 – 25.6%
2017 – 27.3%
2018 – 29.2%
2019 – 32.7%
2020 – 38.8%
Of course 2020 hasn't finished yet so the data only as of 4 November but we can already see how big the potential is for WordPress and why we should hop on that train.
How do I Build a WordPress Site? -Setup in 30 Seconds!
There are many ways on how to go about doing this but I'll show you the easiest way.
The normal way of setting up a WordPress.org website is by first purchasing your domain name and your web host and from there, build it up manually.
But for testing purposes, I'd advise you to check out a website builder so that you'll get a feel and understand the process of it which will further help you make the right choice before you spend on anything.
One website builder I can recommend you is SiteRubix and you can check my full review on it here.
Are you ready? Let's go!
Step #1 – Choose the Type of Website You Want.
For this step, you'll need to choose what type of domain you'd like.
If you're new to this, fret not!
A domain that owns basically means domains that you've already bought and had the right to which would be a unique one and ends with the extension you choose such as .com or .net.
A free domain basically means a subdomain is a free type of domain that would end with the extension that has already been set by the website builder.
For example if you choose Wix, your free Wix website would be something.wix.com.
Similarly since I'm using SiteRubix's free website builder, the free domain will always end with siterubix.com.
Since we're just trying it out, we can start out with the free domain first.
After some time when you've got the feel of it and you're ready to purchase your own domain, you can always upgrade it.
Step #2 – Type in Your Website URL.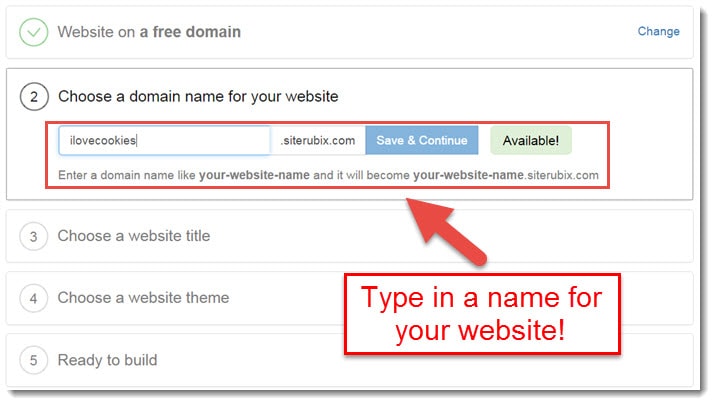 After deciding on a name, you can finish this step with ease.
As you can see, the subdomain ends with .siterubix.com as it's a free domain as mentioned.
Step #3 – Give your Blog a Name.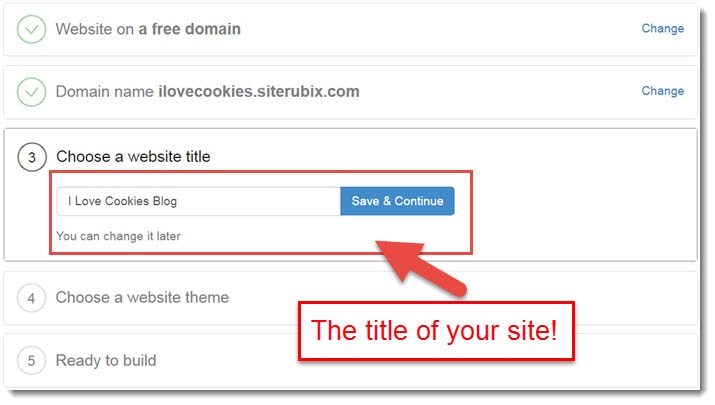 This step is the easiest.
All you need to do is just choose a title for your blog which will be displayed on your website page.
Don't worry about it much as it's adjustable anytime.
Step #4 – Time to Choose a theme!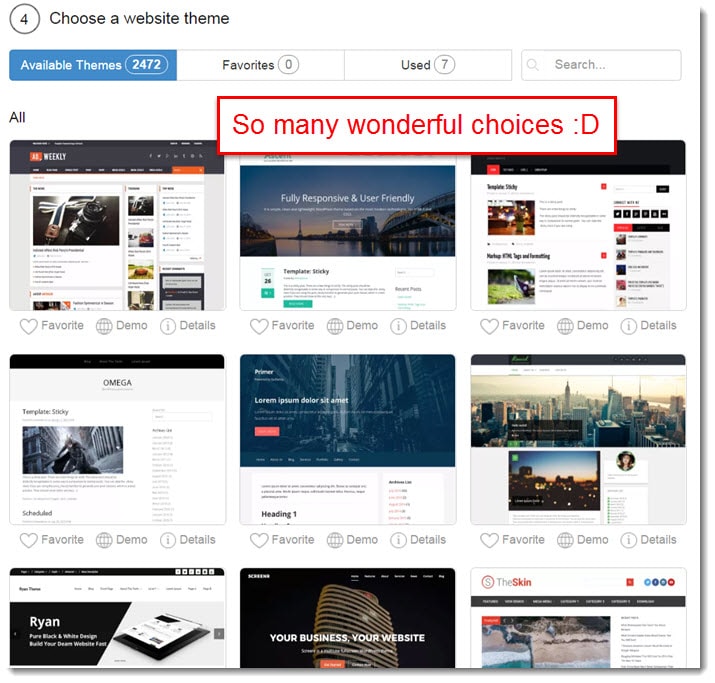 I like this part the most.
There are thousands of free themes to choose from and all of them are ready templates that will integrate into your website with a click of a button.
Don't spend too much time on this though, I spent days trying to get the right feel but you can always change it whenever you feel like it in the future.
Step #5 – Produce the Website.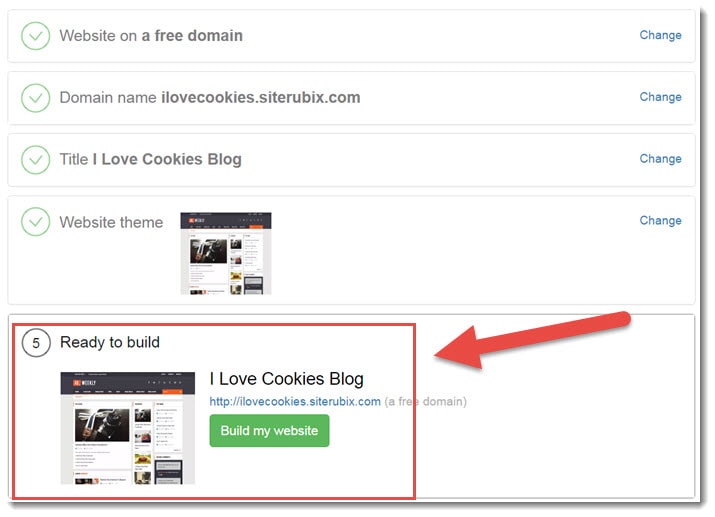 Once everything's done, all you need to do is to click "Build".
Et voilà! The website is done in a matter of seconds!
Building a website now has been easier than it was before years ago and there's absolutely no excuse to procrastinate and not build one, especially when you do one for free.
Once your website is done, you'll get access to the famous WordPress dashboard where you can discover for yourself how to publish content, how to install plugins, or just generally understand how it all works as you piece the puzzles together.
There are of course many free website builders out there like Wix and Joomla which are both as good however do bear in mind that since these companies are also creators of their own CMS, their website builder is not through WordPress.
If you want to start out with WordPress.org, then SiteRubix's website builder is the best one so far as it uses WordPress's CMS and of course, it's very sleek with fast load time and of course, with support to help you get started.
Eager to start? Great! Test it out here…
Where Can I learn How to Make Money with WordPress?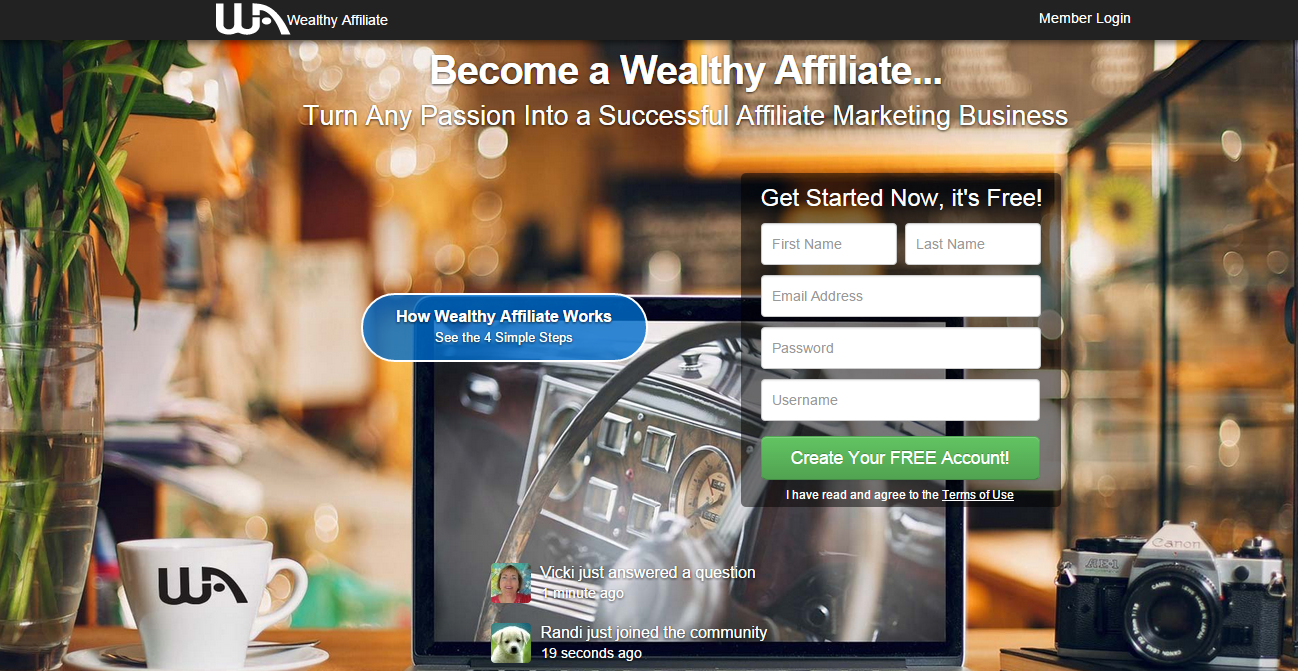 Through an Online Business course.
But not just any online business course, through Wealthy Affiliate.
Simply put, it is a platform that helps you learn how to create good content and monetize your website through whatever niche you're interested in, by using WordPress.
Do want to start a cooking blog? An online yoga class, or even an eCommerce store? – Whatever niche you have in mind, it certainly is doable.
This is because how it works is that you'll learn how to do proper keyword research based on your topic, learn the best keyword with low competition and high traffic, and from there, get your website ranking on the first page of Google.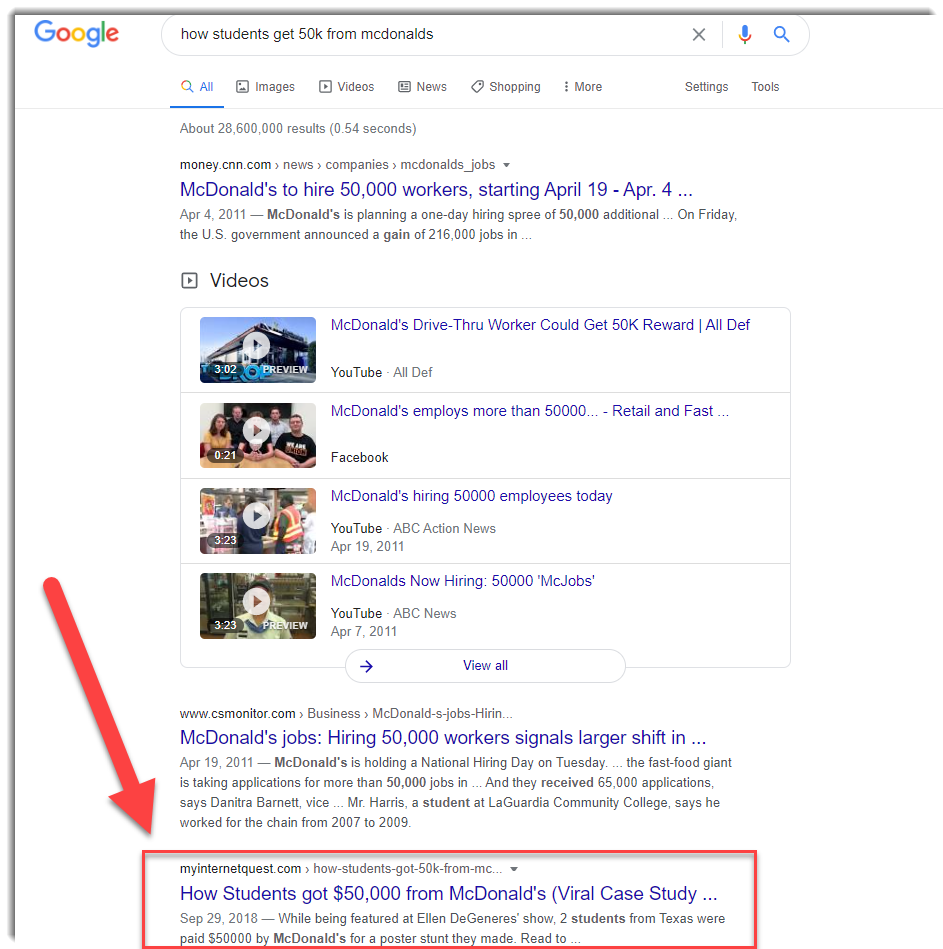 It's how I earn from my website too, by ranking it well and you can see from the screenshot I shared.
Getting your website on the first page of Google is not only an achievement, but also important because it makes up 71% of search traffics.
Getting traffic is key to a website because after getting all those traffic, we can monetize it through a number of ways such as Affiliate Marketing, your own products, sponsor adverts, or even website views.
All covered within the lessons.
There's no better way to get exposure for your brand, to get a good reputation for your business, and make passive income out of it than having a website of your own.
Final Word
---
Building a website may seem scary at first but once you get used to it, it can be really fun!
As long as you dare to try, join an online community and keep learning, you will not only be able to build a successful website, you'd also be able to earn from your website and maybe make it your main business.
If you're interested in learning more about building an authority website using WordPress, check out my #1 recommended program here.