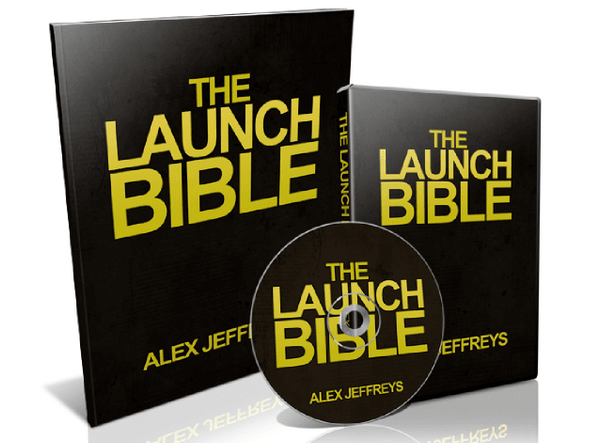 Product name: The Launch Bible
Website: www.thelaunchbible.com
Type of business: eBook launching online business course
Price: $9.95 Dime sale, $17 Marketing with Alex upsell, $27 IM Mastermind upsell
Owner: Alex Jeffreys
Overall Rank: 12 out of 100 (SCAM)
I'll come clean, I'm a bit skeptical when it comes to buying products with any holy terms because that is like a sneaky way to get someone's attention.
But the sales video was so amazing I just had to give it a try, especially with that incredibly affordable price.
Little did I know that the moment I got into the members area, I was completely disappointed at the lessons because although Alex tells you what to do, he doesn't tell you how to do it.
Read my full review below to know what I mean…
Pros and Cons
If you're curious on how The Launch Bible looks like from the members area, here's a video of me giving you a quick look inside…
Pros
It has an interactive community.
The price is affordable.
Cons
TOO many up sells! (you have to go through 3 annoying up sells which are hidden inside)
Alex will continue upselling to you even when you are already in the member's page. (Really?)
LOW quality videos with even lower quality audio when you actually get inside.
Lack of direction – He gives you tools but doesn't show you how to use it.
The Mastermind is completely ridiculous, you have to pay $27 monthly just to have the opportunity to meet other people who can guide you better on Internet Marketing which should be free as it is not a proper product.
Gives you MORE hype inside the members area videos instead of the actual lesson. We want to get to the main point already! Not waste 2 hours of our time watching Alex talk about motivation and testimonials!
Troublesome to get to the member's area – You need to SAVE the link given in order to access it. Oh and talking about member's area…
ANYONE can get to the members area with the member's link.
Jeepers, that's a lot of Cons! Better check out my #1 recommended program here instead!
What is The Launch Bible About?
Created by Alex Jeffreys, the Launch Bible is an education course that is aimed at teaching you how to launch ebooks (Also known as information product) and make money.
The methods revolve around creating an ebook and using JVZoo and Warrior Forum which are internet marketing platforms filled with people interested in finding ways to make money online.
Although launching an ebook is okay, launching a cheap quality useless ebook in hopes of luring the unwary to drain their pockets is something I do not agree with because that is a form of a scam.
Tools and Training
Like any other educational programs, The Launch Bible also revolves around giving training as it is of course, an education program.
Here are the video module trainings that you will be getting:
The Launch Bible Video guide (Main training)
The Launch Bible Transcription Pdf (Main training)
Product Launch Survival Guide
4-Page Cash Machine templates
Alex Jeffreys Black book Resource Guide
Live Group Q & A Mastermind Session
Fly on The Wall Video Documentary
How to Become the #1 Affiliate
Exit Splash Generator
There are only 2 tools within The Launch Bible and those are:
4-Page Cash Machine Templates – It's not even a template, it's a sample for you to copy.
Exit Splash Generator – That annoying little pop-up box which always asks you "Are you sure you want to leave? Get my free eBook!"
Things I Don't Like About The Launch Bible
I usually just write cons but there are some things which really grinds my gear and that you guys should totally know of about this particular product:
1) Unethical way of doing upsells
Have you ever noticed how many up sells you have to go through JUST to get to the member's area?
After you make your payment, you will be brought to a page where you are asked to join another one of Alex's programs called "Marketing with Alex" which costs $17 and if you skip that, you will be brought to ANOTHER offer called "IM mastermind" which costs $27!
I have been in the Internet Marketing industry for over 4 years and most of the products that I come across which offers upsells galore such as this, are ALL scams.
I have even written reviews on a number of scam products which you can see here.
As if that is not unethical enough, Alex made it VERY hard for you to skip those upsells by making the words REALLY small!
Here's what I mean…
As you can see from the screenshot I took above, the words "No Thanks" is at the very bottom and completely unseen!
This is a dirty method aimed at making innocent people buy the upsell in order to join.
I've been in this industry long so I know that when it comes to up sells, there is ALWAYS a link to say "NO" and skip that part.
Because of that, I didn't stop looking until I finally found that link but what if an innocent bystander comes across this scam?
He will have no choice but to buy the upsell because he doesn't know that the up sell can be avoided.
This is exactly why The Launch Bible will never come close to my top ranked program.
2) ANYONE can access the members area
What security do you have on the member's area if ANYONE can access it?
It might not seem like a big deal to some people but for those who already paid real money (Like me) to join, we will feel really ripped off because it is completely unfair.
Why do WE have to pay when others can access it for free?
Well, that's what you get for a $9 product eh?
Here's the link if you want to see The Launch Bible's member's area http://thelaunchbible.com/congratulations/ty/.
3) Videos tell you What to do, but not How to do it.
When it comes to methods that we need to apply, we need to see someone showing how to use it first in order to understand better.
When you learn mathematics at school, do you think you will understand how to calculate if the teacher just tells you about the formulas without showing you on the blackboard on how to actually calculate?
Like if the teacher says something like "You will need to write the divide and multiply symbols in order to pass".
HOW on earth would you know how divide and multiply symbols looks like if the teacher doesn't even show it to you in the first place instead of just saying it and hope we understand?
Or when learning how to drive, do you think you will be good at it if the driving test is only based on books and not real life practical?
Similarly, Alex tells you what you need to know such as creating a product or choosing a niche but he doesn't really show you how you go about doing that.
An example is that he tells us that "You need to read forums" but he doesn't tell us what forums we should go to.
Not everyone actually joins forums so we don't know where are the best forums to go to besides Yahoo Answer because remember, not everyone is IT literate.
Sure choosing a niche is easy as you won't even need to see people doing it but some methods like building a website or navigating on jvzoo is really confusing for some of us, especially beginners and IT illiterates.
Does it Offer a Great Community?
I would say that The Launch bible has a moderate community which is certainly better than most scam products but sadly, it is divided into two – The Free Facebook group and the paid IM Mastermind.
Information should be human right and if you want to put a price tag on it, it is better if you do it one shot instead of charging more when users want to access more information don't you think?
If the groups are not divided between the normal Facebook group and the Mastermind group and they all act as one, I believe that The Launch Bible can actually have a great impact and help more users because not only will the community be bigger, there will be more skilled people who will be available to help other beginners.
Is The Launch Bible For Anyone?
On the contrary.
Although it is written there "For Newbies", it is NOT meant for those who are still new to the industry.
If you are a newbie and you're interested in learning how to make money online, the first step I would recommend is do affiliate marketing which is covered in my top ranked program here.
Affiliate marketing is a way to make money online by promoting products for people in exchange for a sweet commission which is usually around 50%-75% (More commission compared to being a salesman in the real world!).
It is simple and anyone can do it because you basically leverage other people's hard work and fame for free and it is a great start for anyone who wants to go far whilst earning some sweet commissions.
By doing Affiliate Marketing, you will have a clearer view on how the Internet Marketing industry works, what people expect when it comes to buying products online, and most importantly, how to make more money with your own business whilst avoiding unnecessary spending.
When I first started, I wasted $8,000 on trying scams and huge marketing campaigns because I was tricked with the belief of making millions fast (I mean who wouldn't?).
Of course I made some money but before I managed to spend, everything finished in a blink of an eye because of those expensive monthly memberships (Some scams can go up to $97 a month! Like QuickSprout University and ClickBank University) and other marketing campaigns.
But after a while I realized that there is no such thing as making it huge online without hard work and that is why you need to start one step at a time.
The Pricing Strategy
Don't you just hate it that when immediately after you paid for something, you are still forced to buy more things in order to continue?
The MOST visible sign of a scam is the hidden upsells that you be getting AFTER you paid to join.
If you don't know what an up sell is, it's just basically a practice of trying to go up a notch and sell something optional after the main product.
For example, when you go to the dentist, you pay $30 for the dental care right?
Then the doctor will ask you, "do you want me to whiten your teeth? It will cost you $50 but it's completely unnecessary since your teeth is healthy."
THAT is an upsell!
Similarly, The Launch Bible also has upsells of its own so here's a breakdown of the prices:
The Launch Bible – $9.95 (It is a dime sale which means that the original price will increase whenever someone buys)
Marketing With Alex (up sell) – $17
IM Mastermind (Upsell) – $27 per month (But will have a $1 trial for 5 days if you try to click away)
Do I recommend The Launch Bible?
No I don't.
The Launch Bible is not for anyone and in order to make it work, you need prior experience about the Internet Marketing industry.
Alex uses unethical ways to sell his product to you which shows even more that he is trying very hard to get more money out of you rather than helping you.
The product is low quality and it looks like it was rushed to finish as it doesn't even show you how to make use of the tools and get started instead of simply telling you why and what.
There is a program which to date is my #1 recommendation and it's called Wealthy Affiliate which I would recommend you to try if you are keen on building a proper online business of you own:
Conclusion
---
If you have prior knowledge on Internet Marketing, I have no doubt that you can make money from this program.
However due to the lack of direction, the unethical ways of forcing up sells to you and claiming that the program is for newbies when it clearly is not, The Launch Bible is a SCAM and receives a rating of 12 out of 100.
If you're interested in finding a real opportunity for newbies to make money online, I would advise you to check out my #1 recommended program here instead.
Do share your thoughts and experiences as I'll be more than happy to reply 🙂 .
Thanks for reading,
Your friend Riaz.
www.MyInternetQuest.com