Quicksprout Traffic System – Should I Go For It?
Name: Quick Sprout University
Website: QuickSprout.com/pro
Type of business: Website building
Price: $47/ month or $97/ year
Owner: Neil Patel
My rating: 36 out of 100 (Scam Alert!)
[Update 21 February 2015] Due to the number of complaints, the members-only QuickSprout University program has now been disbanded and the videos can be accessed for free at QuickSprout/university.
If you're into internet marketing, you might have heard the name Neil Patel.
He's the owner of one of the World's most popular marketing sites called Quick Sprout and if you've come across the websites Crazy Egg and Kissmetrics, we'll he owns those too.
So if you are delving into the internet marketing World, you will come to notice that almost everyone knows him as Neil Patel is one of the most respected names in the industry.

He has helped many huge companies grow such as Yahoo!, Mazda and Walmart so with all that reputation and credibility he gets on his name, he decided to start an online business product which may soon turns out to be his downfall if he doesn't do anything about it.
What is Quick Sprout University all about?
Unlike other scam gurus who teaches how to make money overnight, Neil's product teaches us how to grow our business rapidly, or so he claims.
His course of course covers the internet marketing essentials according to categories:
SEO (Search Engine Optimisation).
Link Building
Content Marketing
Social Media
Paid Advertising
Email Marketing
Reputation Management
Conversion Optimization
Quick Sprout University red flags
After trying out Quick Sprout University, I was really disappointed because it seems like Neil wasn't serious about helping us after all.
Here's what I meant:
Disappointment #1 – NO clear direction on what we are supposed to do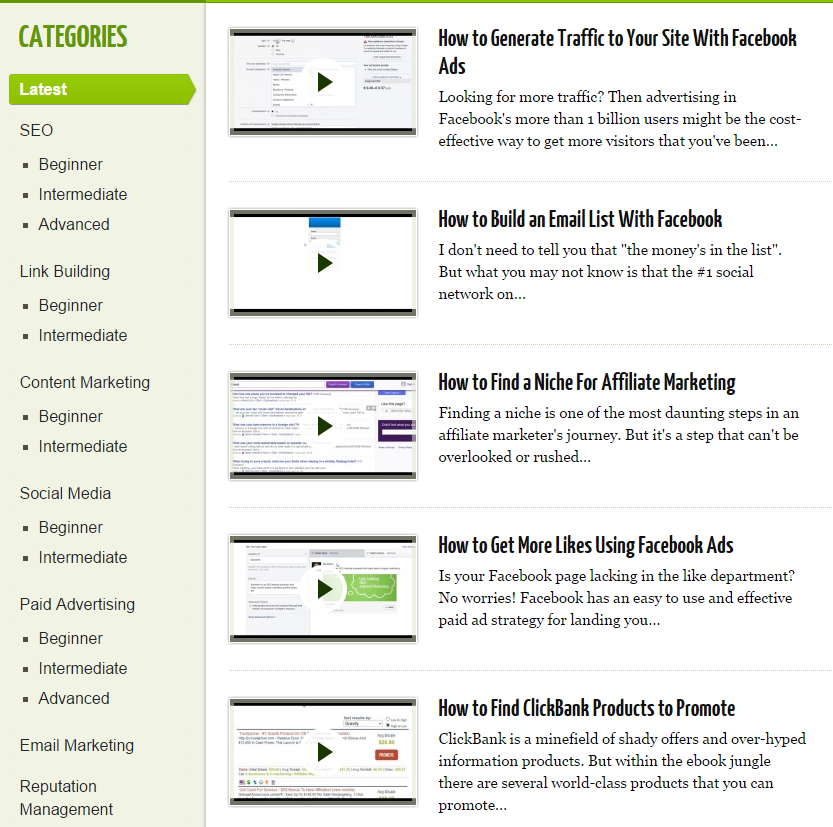 I was really confused when I got inside the program because truth be told, I have NO idea on what I was supposed to do!
Sure there is a list of categories to choose from but as a Newbie internet marketer, I have no idea what those terms are and why do we need them.
It's common sense to us that for education programs, there should and must have a direction telling us where to start.
At the very least, a welcome note would suffice but Quick Sprout University doesn't even have that!
A clear example of an online business product which provides a clear direction and guide on what you are supposed to do which I have reviewed is Wealthy Affiliate.
Even in the offline world (real life), when you go to a school or college, do you struggle and find yourself the path on how to get started, or will you get some direction after registering?
Of course you'll get directions!
This actually made me re-think on how those corporate clients can understand Neil's program unless Neil personally shows them.
Wait, that actually reminds me…
Disappointment #2 – Neil was nowhere to be found!
From his sales page Neil's name was everywhere.
Heck, even the cartoon picture of a guy with the blackboard that you saw above is Neil Patel.
But when you get to his program, you will notice that Neil was nowhere to be found!
The videos weren't even made by him, it was made by Brian Dean which Neil paid to do.
Perhaps it will soften the blow if Neil introduced to us earlier why is he hiring Brian to do the videos instead of Neil himself.
A lot of Internet Marketers hire freelancers to do their videos for them because they are afraid of speaking up which is understandable but Neil has done many talks globally which made me wonder as to why does't he want to spend some of his time doing his own videos instead.
Brian Dean is the founder of Backlinko but not everyone knows that, especially those who are new to the Internet Marketing world so if Neil would at least introduce us to Dean and why will he be trusting Dean with Quicksprout, it would affect this program much better.
Disappointment #3 – Overpriced for very little content!
It is understandable for universities to charge expensive fees because there are facilities, but what facility do Quick Sprout University actually have?
To join Quick Sprout, we need to pay a monthly fee of $47 to access the content inside.
And what those content might be you ask?
A compilation of few short 5-10 minute videos.
5 to 10 minutes!!!
And worse still, that $47 that you paid will only give you access to 5-10 minute videos every month which we can probably get anywhere else for free.
We know that you have huge branding on your name Mr. Patel, but that doesn't mean that you should charge very high for something very little.
I have reviewed many online business products so I know that there are other courses out there that lets you learn for either a very low price or even free for contents that are beyond your expectations.
Neil's Quicksprout blog which most of us know him from, gives way more information for free and has much more value as well as content in it compared to QuickSprout University which is only but a fraction of his blogs.
Is there anything good about Quick Sprout University?
Not everything is completely bad about this program because for one, Neil didn't tell you that you could be a millionaire overnight as that is one of the most dominant signs of a scam such as Dot Com Secrets X and Google Sniper 2.0.
Nevertheless, the lessons however short and insufficient they do help you out in a way with basic Internet Marketing knowledge.
The videos contained can help in trying to get rankings in Google as well as making your website more efficient so that it loads faster too.
But whether you want to spend that much money to learn something that can actually be gotten free somewhere else, depends entirely up to you.
If you have been in the Internet Marketing world for sometime, I would recommend you to stick to reading QuickSprout's blog instead as there are much more value in it than his very own program.
Comparison between Quick Sprout University and Wealthy Affiliate University
There is a product which comes close to Neil Patel's Quick Sprout University and that is called Wealth Affiliate.
I was initially thinking of making Quick Sprout my number one recommendation but instead, that falls to Wealthy Affiliate because you get more than what Quick Sprout offers, for free.
My Final Word
---
Don't get me wrong, I respect and look up to Neil Patel as a very experienced leader in the online business industry as he has helped many companies grow their businesses online.
In fact, I even invited him to give a talk all the way in Malaysia at MaGIC's startup academy last year in October 2014 here…
But when it comes to creating an internet marketing course of his own, it seems that all he thinks about is money because all those videos weren't even made by him at all.
Instead, they were made by Brian which means that he uses his name to get his product selling which is a slick way of making money.
Apart from that, there is also a clear difference in value between Quicksprout's free blog posts and Quicksprout University because the blogs were made by Neil himself whereas this program is made by someone else which is why the Quick Sprout University program is definitely a scam and receives my rating of 36 out of 100.
Thanks for reading, feel free to share your experiences below as I would very much love to hear them.
Sincerely,