Product Name: CB Passive Income License Program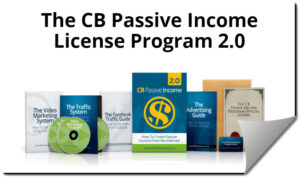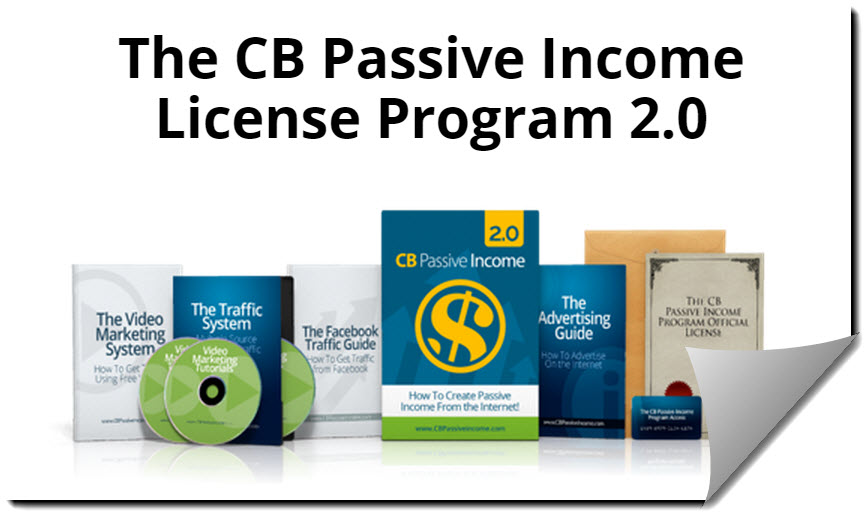 Website: www.cbpassiveincome.com
Type of Business: Affiliate Marketing
Price: $47 + Complicated upsells
Owners: Patric Chan
My rating: 0 out of 5 
[Update] By now in 2020, Patric would have released version 5.0 which is far different than his previous ones and it might be better than version 2.0 which this review is about.
I know how you feel about this program – "Really? Patric will do all the work?"
That, he does my friend.
However there are some strings attached to CB Passive Income which will make you wonder if this program is really worth your time or not.
It could be a good program, but there are better programs out there as well if you still have second thoughts.
I bought this program in 2014 but never thought of doing a review about it (Although I've made many reviews of other products) as there is not much to this program and you could literally finish the lessons in 1 or 2 days.
However after my brother came up to me and ask if this program is worth it or not, I quickly decided to write a review so I can show him (And all of my readers of course) just how big of a scam CB Passive Income really is.
If this program has got your attention enough to spark curiosity, then here's my full review that you should read on to help you decide better.
Pros and Cons
Pro
You only pay a one-time fee for Patric to promote his services to your list (Pretty cool).
Lessons are straightforward and won't waste much of your time (You could literally finish everything in one day).
The program has a pretty good conversion rate.
Great customer service – Patric has a reputation so he needs to preserve that.
60-day money-back guarantee which gives you more than enough time to try the program out without any pressure of chasing after the time (Some products give only 7 day-trials)
The offer is quite attractive – A high-quality squeeze page is provided.
Cons
Very low conversion – This is perhaps the most important part of all because since all you need to do is to promote this program, how you earn money is by hoping that your referrals will buy. Still, what good will this program if it cannot convert?
Not passive at all – Since you need to constantly drive traffic and hope for it to convert, how do we know if we can make our business passive? Passive means that business will run even though you're not working but this doesn't seem to be the case.
A lot of complaints and negative reviews – Seriously, how good will this do for you if you are promoting CB Passive Income?
Still a bit pricey – Sure we know that Patric will promote his program for you but that is a bit pricey considering that you're doing all the work to drive that traffic.
Upsells galore – That $47 is only for the license, after that you'll be needing to pay more of the upsells and those are not optional which makes the matter worse. That explains why you will have…
No control of your list unless you pay for the upsell – What cutthroat business is Patric running? Upsells are supposed to be optional, not compulsory!
Shallow training – The lessons tell you what forms of traffic can you use but it is lacking in proper techniques of execution.
You cannot choose to promote anything else – Your landing page will be the same for everyone else and since it's set that way, you can't change or alter anything if you want to do some split-testing.
No community – Even at Facebook, there are NO interactions! Posts are outdated, there are no questions asked and there are no proper communities for you to mingle with!
Golly, that looks like a lot of cons! Better check out my #1 recommended program here instead!
What is CB Passive Income and How Does it Work?
Have you heard of Affiliate Marketing?
Long story short, Affiliate Marketing is the act of selling other people's products in exchange for commissions.
And when it comes to selling other people's products, you know that you will of course be leveraging that person's hard-earned fame and reputation to make some sales.
CB Passive Income does exactly that, but with the addition that everything will be taken care of for you – All you need to do is drive traffic to the offer.
Still what good is driving traffic if it won't convert much? (I will explain this later).
Created by a Malaysian Internet Marketer Patric Chan, CB Passive Income is an offer for you to promote as an affiliate.
You will be given a ready-made landing page (Which you cannot alter) and you are given one task – To promote and hope that people will buy your offer so you'll get commissions.
If you're wondering what does CB means in CB Passive Income, it actually stands for ClickBank which is a digital marketplace and that is where Patric Chan (founder) sells his products apart from the other platforms he stuffs his products to.
Here's what Patric's program covers…
Tools and Training
Since CB Passive Income aims to do 'everything' for you, Patric does provide you with a few tools to help you drive traffic to "your" offer…
Free secret website – It's actually a one-page squeeze page that you will be promoting.
Free email blast – You won't have to email your subscribers as Patric will handle that for you.
And here are what the training covers…
Solo ads.
Video Marketing (Youtube).
Other traffic methods – Squidoo, guest blogging, press releases, viral reports, StumbleUpon and forum marketing.
How to get traffic with Google+, Twitter, classified ads and blog commenting.
If you're wondering what solo ads are, they're a form of paid traffic whereby you'd have to pay per click that you get and usually they're in the form of emails.
It's a huge market too as the regular price can usually go around $40 per 100 clicks as they're quite pricey considering that we pay for premium email clicks that we won't even know if they would convert into sales nor even subscribe to our email list.
Pro solo ad users have spent a long time and burnt their money on a lot of solo ad campaigns just to find the right conversion, content, and clickbait titles which they use on their emails but those are veterans and to even reach where they are right now would mean that more cash would need to be burnt for those solo ads to work for you which is something worth considering.
What I don't like About CB Passive Income
I have been a member of CB Passive Income for several months now and there are a few things that I think everyone should know about this particular program…
Problem #1 – Low Rate of Conversion, 14,000 Clicks But No Sale? This is Odd.
Let me remind you that how you get money from CB Passive Income is through commissions that you'll get when you promote this program.
But the question is, just how good is this program to get you those conversions you need?
If you look at my screenshot above, I have 14,537 raw clicks.
Raw click means the total amount of clicks I get, and out of those 14,537 let's see how many decided to opt-in and become my referral…
As you can see, I have 159 referrals which are about 1.09% of conversion which isn't very high and that's already a huge flaw of CB Passive Income.
Now comes the question of the day – Just how many sales do I get from those 159 referrals?
ZERO! Nada!
Just imagine how heartbroken I was knowing that all those months spent trying to get money from CB Passive Income was nothing but a waste of time which is why I would never advise anyone on this program.
After finding out that I am not getting any sales at all even with a huge number of referrals, I decided to create a separate account and subscribed to see how Patric Chan lives up to his end of the bargain and promotes CB Passive Income or not.
To my surprise, I couldn't believe my eyes when I found out that…
Problem #2 – Patric Was Lying to Your Face. He Doesn't Really Promote CB Passive Income to Your Referrals!

If you've seen CB Passive Income's sales page (or the video), Patric claims that he will do everything for you! (Hence the name CB Passive Income License Program).
At first look, you will have no idea what it meant until you actually joined the program.
After joining, you'll find out that Patric's claim of "Doing everything for you" is actually doing all the promo and email to the list of people you referred to.
This means that all you need to do is promote Patric's sales page and try to get subscribers to join hence your referrals.
But does Patric really promote?
I have over 14,000 clicks but NO conversions which made me curious so I decided to see how Patric promotes CB Passive Income and to my surprise, Patric wasn't living up to his end of the bargain!
Patric only sends roughly around 5-8 emails per month and in October, I even noticed that Patric only sent 2 emails!
What is even worse is that if you look at those email topics, some of them are not even related to CB Passive Income!
This shows that Patric is taking advantage of your hard-earned list of referrals to promote his other products hoping to get a chunk of that nugget and not sharing it with you since you only get a commission for CB Passive Income.
Seriously?? Ohhhhhhh Snap!
Problem #3 – You've Been Duped of Your Own Referrals.
As we know now that the idea of the CB Passive Income system is to promote your affiliate link, hope for people to become subscribers and let Patric do all the convincing (Which is not very effective).
However, have you ever thought of how are you saving your list of subscribers/ referrals in the first place?
In the Internet Marketing world, we have something called an Auto Responder which every Internet Marketer needs to have in order to save your list of subscribers.
We also have this term "Money is in the list" as with a list of subscribers, we can promote our products and get some sales from there.
Now let's relate back to CB Passive Income, do you know where is your list of subscribers stored?
Now is the time you go AHA!
There you go my friend, now you know that you have been tricked of your own list of referrals because your list, is in Patric's hands UNLESS you upgrade to CB Passive Income Pro which comes with your own Aweber.
Problem #4 – Patric's Scheme of a Referral Empire.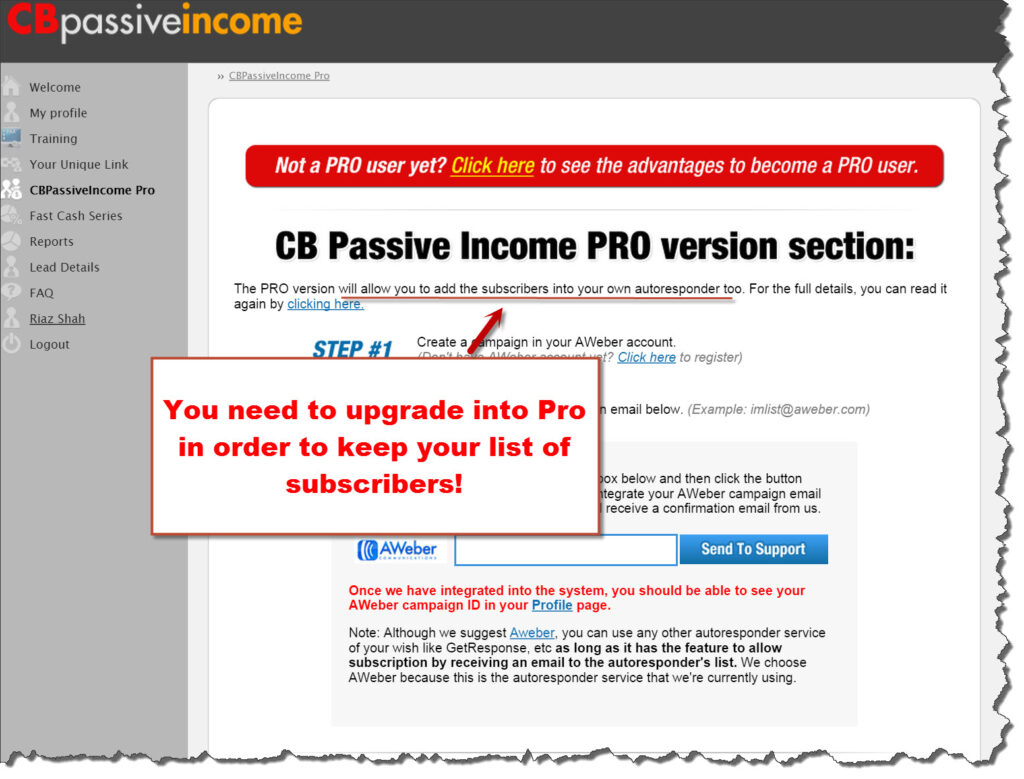 Now comes the moment of truth, do you know why Patric is NOT adding the use of Aweber on the original $47 CB Passive Income instead of the $97 CB Passive Income Pro upsell?
That is because he knows that not many people especially beginners would want to pay that much because you have no idea why you need it.
By doing that, you can bet your sweet bippy that there will be hundreds if not thousands of people joining CB Passive Income and most of them would surely pay for $47 because that is already so expensive for many of us.
From there, all your hard-earned referrals will be saved at Patric's autoresponder since you don't have yours and even if you do have your own autoresponder, you can't use it because Patric Chan wants you to use his.
Imagine how many subscribers would have been on Patric's list by now, possibly close to a million!
Speaking of lists…
Problem #5 – No Control Over Your List.
Since Patric is the one who will be the one doing all the promotions, you won't have any say on what message you want Patric to send at all… Unless you upgrade to CB Passive Income Pro.
Pretty sly of him, don't you think?
By doing this, you are giving complete control for Patric to do anything he wants with your list and you wouldn't even know if he's keeping up to his end of the bargain or not!
And Patric wasn't consistent at his job because in some months, he only sent 5 emails and there was even a month where I noticed that Patric only sent 2 emails.
If that is not a rip-off, I don't know what is!
We PAY Patric to do the convincing for us but he's not doing anything and you're probably better off doing the whole thing yourself right?
Does it Have a Community?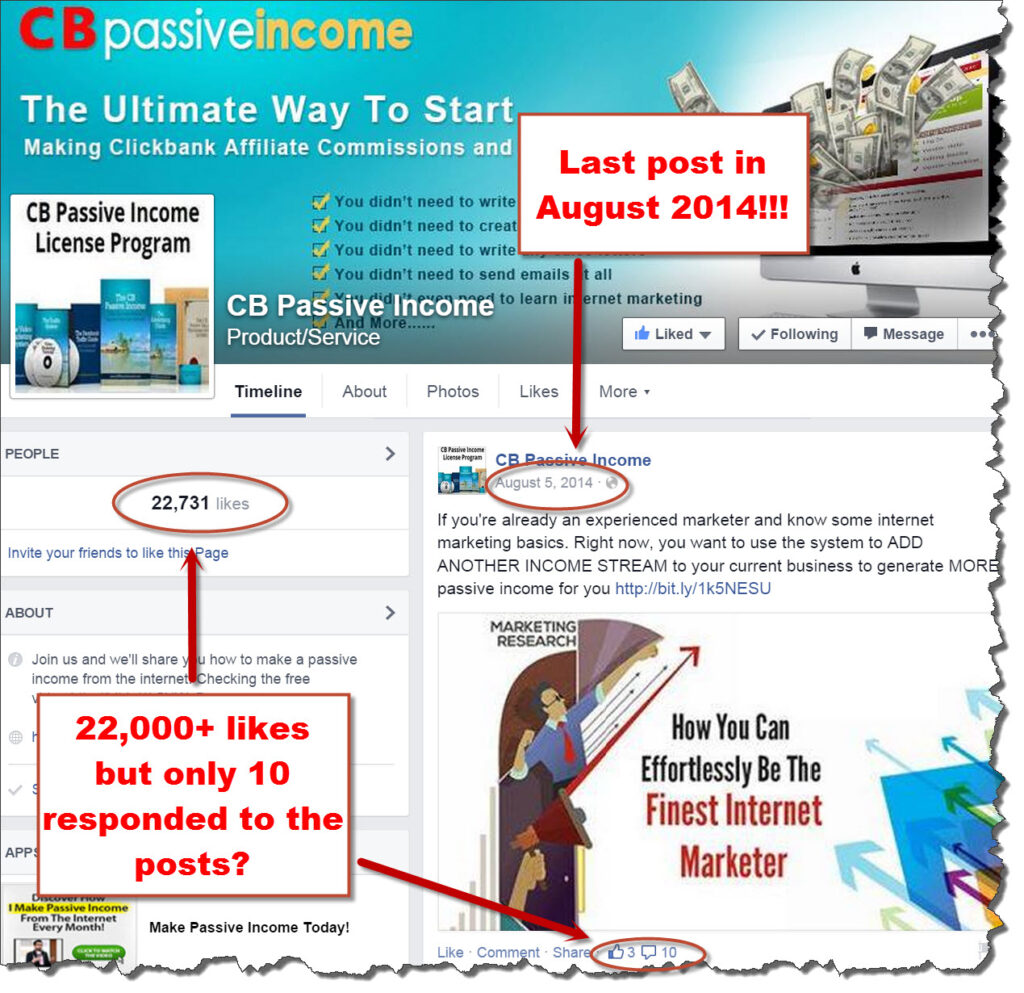 Barely, and this is a bother.
This program doesn't provide an internal community so I looked for a community outside instead and what better way to find one than to go check out Facebook.
To my surprise, there aren't any proper communities at all as there is only a business page where Patric promotes more fluff!
Imagine that, 1 year since CB Passive income was released and yet there are no communities where people can mingle!
Throughout my experiences, having a community is important in ensuring your success online, especially with CB Passive Income's lack of in-depth training.
The lessons are so shallow that they are not going to work because it tells you what to do, but not how to do it.
For example, Patric tells us to do Solo ads because it's effective.
But he didn't tell you how to do it, where to find reliable sources so that you won't waste time as well as how to minimize your risks.
Because of that, I spent $2,000+ on solo ads with no return!
What I didn't know is that Solo ads cost a lot (Around $40 -$110 per 100 clicks!) and it had left me out of any little money I had left, completely broke.
However if you have a community, you can share with other users your findings which would definitely save you more time, reduce risks and find techniques to boost conversions.
And since you can't rely on anyone for help, you are left with only the support tickets which are not always reliable as they are biased.
The Pricing Strategy -Is it Worth the Cost?
I'm always intrigued as to how scammers plan out ways of how they suck money out of innocent people.
Almost everyone is aware of how people can get scammed on the internet and yet, Patric still applies this method which makes me amazed at how are there still many people who fall for this trickery.
Here's a breakdown of how Patric implemented his prices…
CB Passive Income License – $47 one-time but has a $1 trial for 14 days.
CB Passive Income Pro – $97
Fast Cash Series – $47/month or $197/year
Honestly, I have no idea what CB Passive Income Pro does besides giving you the Aweber choice as I only paid $47 and had access to all the member's area except for the Fast Cash series.
Patric said that going Pro can help you make money even more but does it really?
After going through a straight lie by finding out that his so-called done-for-you system being nothing more than a scam as Patric never even did much when promised he would promote for us, I don't want to risk that.
I was filled with doubt that if he can lie about that, what else can he lie about?
I was this close to getting the Fash Cash series, luckily I managed to spot his scam before I managed to put another dollar into what may be just another lie by him.
Basically, the Fast Cash series is a complete waste of time and money in my opinion because you are basically paying for Patric to update you with more news on trending topics for Internet marketing.
You could actually do this yourself and just Google for updates to keep yourself updated to the latest news and by following other successful online entrepreneurs who share information for free such as Neil Patel, Pat Flyn, or Brian Dean.
I know it sounds cool but I believe that if you want people to pay more, you should give them more for the basic $47 that we paid for which is already expensive.
Do I recommend CB Passive income?
No, I don't.
I guess you would have already known too, considering all those flaws that I've just exposed.
CB Passive Income uses a really sly trick of making money which is by using a one-page offer and hope that people will buy.
Sure, you can promote a landing page but you also need the main website to back up all your claims.
Who are you in the first place to sell someone something if nobody knows who you are?
People today are smart and they would certainly Google something out before they even decide to spend their money online.
If you wish to start out an Online Business, I suggest you check out Wealthy Affiliate.
It's a platform that teaches you how to properly build a website the right way and monetize it through Affiliate Marketing.
The lessons provided there will help you do right with Google as they are very SEO-based and content-focused that you'd be able to rank any website within engines.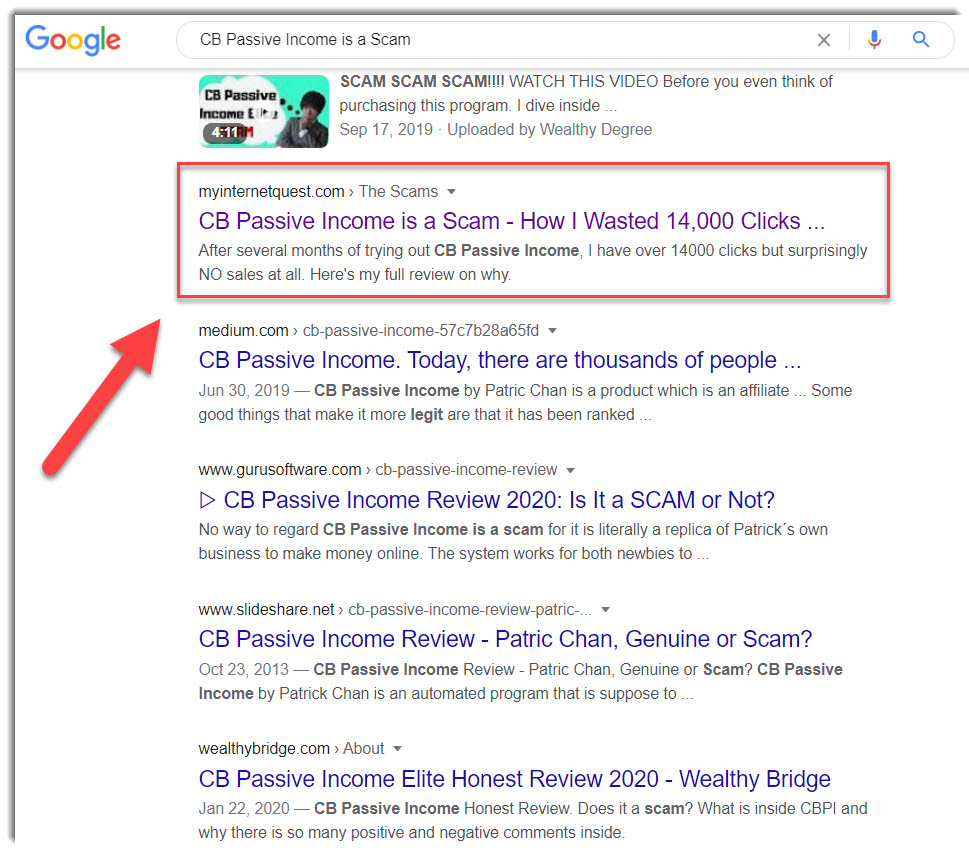 If you're reading this very, it's proof that it's ranking well on Google and you probably might have found my article there.
You can do it too.
Not only are the lessons regularly updated, you'll also get features that will enhance your website even more that will make it on par with professional bloggers out there.
The most important thing that I really like about Wealthy Affiliate would probably be the warm community there itself.
There are many successful bloggers from different niches that have helped me get back up in the online world when I was down and broke and because of their support, I managed to get back up and grow my website to an extent where I can start monetizing on my own.
It's a great community and platform to start especially in Affiliate Marketing and it's currently my top-rated program thus far which I highly recommend you to check out since starting itself is free with no time constraints to pressure you.
Here's a quick overview of these two programs to help give you a clearer picture…
Final Word
---
I actually liked the concept of having everything done for you but for such a huge claim, there must be a huge solution, don't you think?
However due to the very shallow training, the unethical upsells galore, as well as the fact that you will have NO control over your hard-earned list unless you pay more, I find CB Passive Income a SCAM and I'm rating it 0 out of 5.
If you're interested in a more legitimate way to start a viable business stream in 2015, check out my #1 recommended program here instead.
Thanks for reading, do share any thoughts you may have below as I'll be more than happy to reply.