Happy Sunday everyone!
It's been a while but here goes my monthly blog report where I share almost everything to know about my progress offline and online.
Many things have been brewing these past few weeks which is why I haven't been posting much lately but rest assured, I'm still here 😉
Without further ado, let's get to the main part of why 99% of you lot are reading this…
The Usual Monthly Stats – August and September 2016.
Yes, I haven't updated anything for 2 months and I've been procrastinating a lot too so as usual, I'll share the stats for both months here starting from August 2016…

Truth be told, I actually did pretty good in increasing my blog visibility.
Looking at the numbers, I had 4,211 visitors in August while in July, I had 3,909 which means that it actually increased by a few hundred more!
Not bad with very low productivity and I guess it goes to show that websites with older age are more attractive to Google because with little effort, I can rank up my pages easily SEO-wise as compared to when I first started the blog.
So does the momentum continue the following month?

Whoops! I guess it didn't grow!
I had 4,040 visitors on September 2016 but I was happy anyhow because I still maintained the 4k bar which I never reached before.
This gave me more motivation on trying to find time to write more.
What's sad is that I only had time to write one post for the entire period and that one is on…
Truth About Melaleuca Wellness Company Revealed – 30 Years of MLM.
I will definitely need to find time to write more, possibly one post a week. It will be a struggle but it's definitely one my to-do-list.
Now let's have a look at how I'm doing in social media…
Some very minor increments but they aren't that bad since I wasn't that active.
Now that's the web stats are covered, I'm sure you're just dying to know of…
My Sales – Good or Bad?
Let's jump straight to the numbers shall we? Take a look at this…
For August 2016, I earned $131.50.
Certainly a steady increase from the previous month as I actually earned only $97 which is depressingly low since I went far below my 100 dollars mark.
Although I didn't write many posts, I put effort into replying every single one of the comments I get and I even had a long chat with a few people on Facebook and Twitter.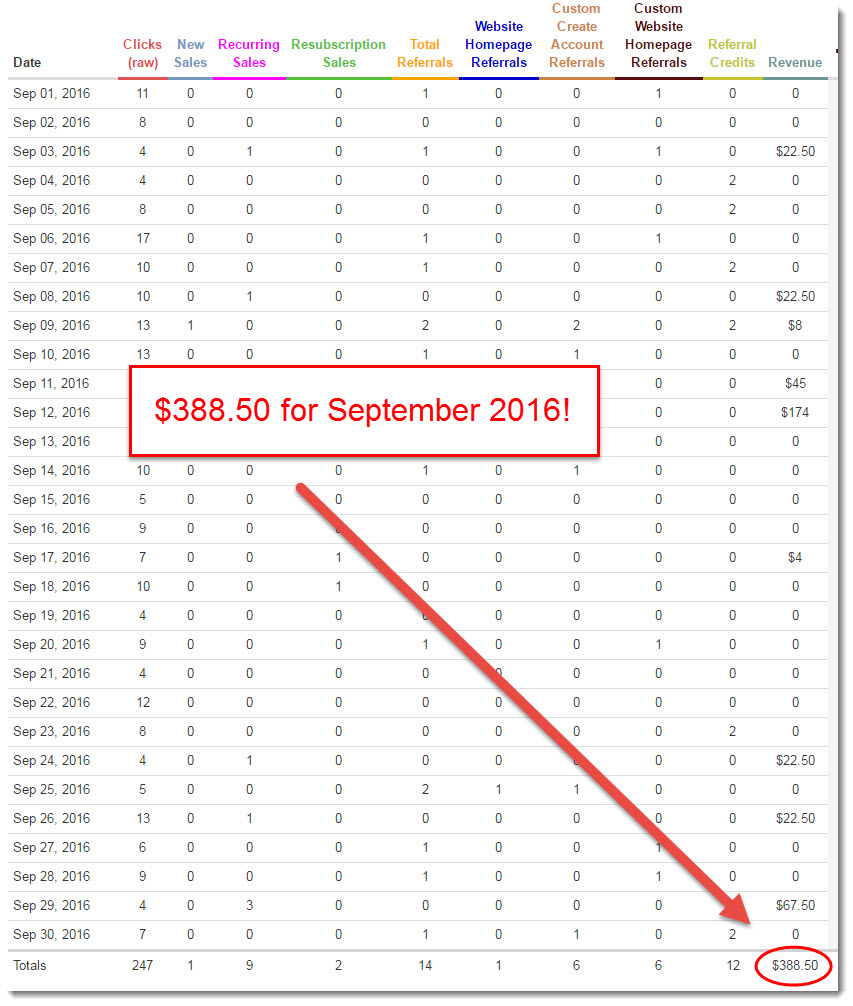 Things got even better the next month though, because on September 2016 I earned $388.50.
This is by far a huge leap of faith to me because it is by far the highest I ever got with very little effort and content – See what they mean by passive income?
No matter how much effort you put in to building your blog, never ever fret because each and everything that you write is going to be worth-while in the long-run.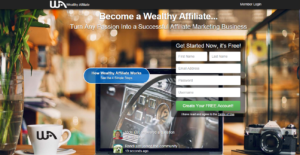 I aim to get even higher in October so be prepared for my next monthly report guys!
Just so you know, how I earn my commissions is basically through a program called Wealthy Affiliate.
It's an Online Business platform complete with everything you need in order to succeed online – Evergreen training, a keyword tool, a website health checker, live video lessons, access to the owners themselves, high speed dedicated hosting and much more.
The program works as you can see from my efforts and I aim to grow my income even more – were I to have more time.
Interesting Things that Sort of Happened
Throughout those 2 months, there were some things that happened which I thought you might want to know.
My Instagram got hacked. No biggie.
Well it's kind of a big deal actually.
I had no idea how it happened but it took up a great deal of my time and I wasted several weeks trying to fix it.
I didn't notice that my account got hacked until one day I realized that I couldn't log in my Instagram account.
It felt like something suspicious because I've never actually logged out of my Instagram since the first moment I created an account so feeling curious, I used my friend's account and checked my profile instead.
I found out that my account was hacked and my picture was changed along with the descriptions and everything.
I remembered that I actually connected my Instagram to Facebook for security reasons (Came in handy for incidents like this) so I logged into Facebook, went inside Instagram and changed back everything about my profile back to normal.
I saw that even my username and password were completely changed by the hacker.
It was my first time experiencing this and I had to admit, it did make me panic a little.
But just when I thought that everything was okay, the hacker hacked me again and changed everything about my account just few hours later. Ugh!!!!
The hacker bot-followed thousands of people and I was really frustrated so I reported to the Instagram team instead.
They put my account on lockdown and from there, advised me to change everything from my email to passwords and other accounts.
We do not know from which account did the hacker got hold on my Instagram so it's better if I change everything so I did exactly that.
A month after, I got my account back (Pretty long wait) and boy was I relieved – All I needed to do next is to find time to unfollow all those fake accounts the hacker followed.
I'm becoming an Uber driver!
Me! An Uber driver can you believe it?
If you've been following my progress, you will definitely notice the way I write reviews.
Before writing, I actually spend time to try everything myself firsthand so that I can tell the story exactly from the shoes of a user.
I have a list of scams and legit programs and you can see how detailed my reviews are complete with pictures and everything.
Uber is no different, I plan to write a review very soon after driving for one month.
It's going to be great and as an Internet Marketer, one should not pass on the opportunity for Affiliate Marketing am I right?
Do subscribe to my newsletter if you want to know my journey, you'll definitely be getting a mail from me informing you on Uber before end of this month 😉 .
Moving to a New Office and Getting a Website Makeover!
If you didn't know already, I have a local startup here in Malaysia called KAMIRA Event Management.
It's been around for 2 years now but the website theme that I previously used suddenly decided to change to "Paid" instead of free because it looked too amazing for the creators to not make money out of it. Bummer.
Because of that, I had to change to another theme and its taking some time to create as I had to do everything again from scratch.
The website is very close to finishing though – I just need to find back all those pictures of my previous projects and create new content.
We've just moved to a new office and our time is packed trying to set things up.
We'll definitely have more bills to pay and more stuff to buy but as my company is growing, I needed space to put in all my event stuff and the address we get is kind of neat too as it shows how serious you are in your work – Definitely looking good in the company profile.
My Final Word
I haven't had much progress as I had many things to focus on outside of my blog but rest assured, I will never stop blogging.
I love this blog too much and I love you all for sticking with me and my slow progress.
Good news is that my blog is back up and although it's a bit slow, it's definitely growing and I'm expecting good things next month so do stay tuned for next month's update!
Thanks again for reading my monthly report, you guys are awesome and I'll see you soon. Cheers!