Business name: Melaleuca
Website: www.melaleuca.com
Type of business: Home products MLM
Price: $29 + $50 monthly autoship.
Owner: Frank L. Vandersloot
My rating: 2 out of 5 ⭐⭐
When I write reviews, I usually choose a company to research based on complaints that I keep hearing from the news but today, this review is based on a request from one of my readers, Luis who wanted to know more about Melaleuca.

This particular company is growing very rapidly but they are being very secretive at the same time. People know that their name is everywhere now, on banner ads, on car windshields, on a home party of your neighbor, but what is it about exactly?
If you're one of those people who've been to one of those talks where the reps there desperately want you to join, then you definitely need to read my full Melaleuca business review down below before making your decision.
Pros and Cons
Pros
They have a ton of products under one roof.
Unique form of MLM where home and wellness are used as products.
A+ rating in BBB.
Cons
They test on animals.
You are forced into autoship to buy products every month for at least $50 in order to maintain your membership.
Members manipulate people into joining through network marketing rather than focusing on the product.
Tons of complaints online.
With that many products which you need to buy every month, you will have too many stocks, even if you don't need them.
In order to sell their products, you actually need to buy them yourself, it's not provided by the company.
They are an obvious MLM company but they still deny that to the public.
They have 244 complaints within BBB!
Compensation plan is extremely long and hard to understand.
You can't buy their products if you don't have a sponsor. Talk about typical recruitment scheme.
Very hard to cancel your membership once you give your card, they will keep deducting money even when you've already quit.
Jeepers, that's a lot of cons! Better check out my #1 recommended program here instead!
What is Melaleuca? – Home and Wellness Products Under One Roof.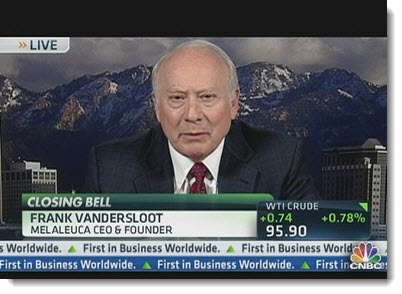 Created by Frank L. Vandersloot in 1985, Melaleuca is one of the oldest MLM companies there are today.
It started with a great vision and a healthy market of families who are interested in their products which helped them propel their influence and spread their wings to where they are today.
Like every MLM company out there, Melaleuca too has focused on products of their own which they produced and are available today online though their main niche is hard to put a finger on to because it covers home products and wellness but their products are actually pretty numerous as you can fit a whole store with them.
Think of Cosway and Amway, they have retail store franchises for their members filled with all sorts of items and Melaleuca is no different.
As for the products, Melaleuca focuses on a variety of household items which includes…
Nutrition – Vitamins, supplements, food, weight loss, hot beverages.
Medicines – Cold, allergy, etc.
Beauty – Skincare, nails, etc.
Household – Cleaning detergents and pet care.
Bath & Body – Facial, skincare, dental care, hair care.
Essentials oils
It's great that they have a variety of items as it tends to have a wider capture and it would be a change pace to see more products from Melaleuca in my opinion though some might argue that it may be a bit too wide of a range for a niche company as even supermarkets are having a hard time trying to create products of their own brand in multiple niches.
Let's Have a Look at Their Compensation Plan.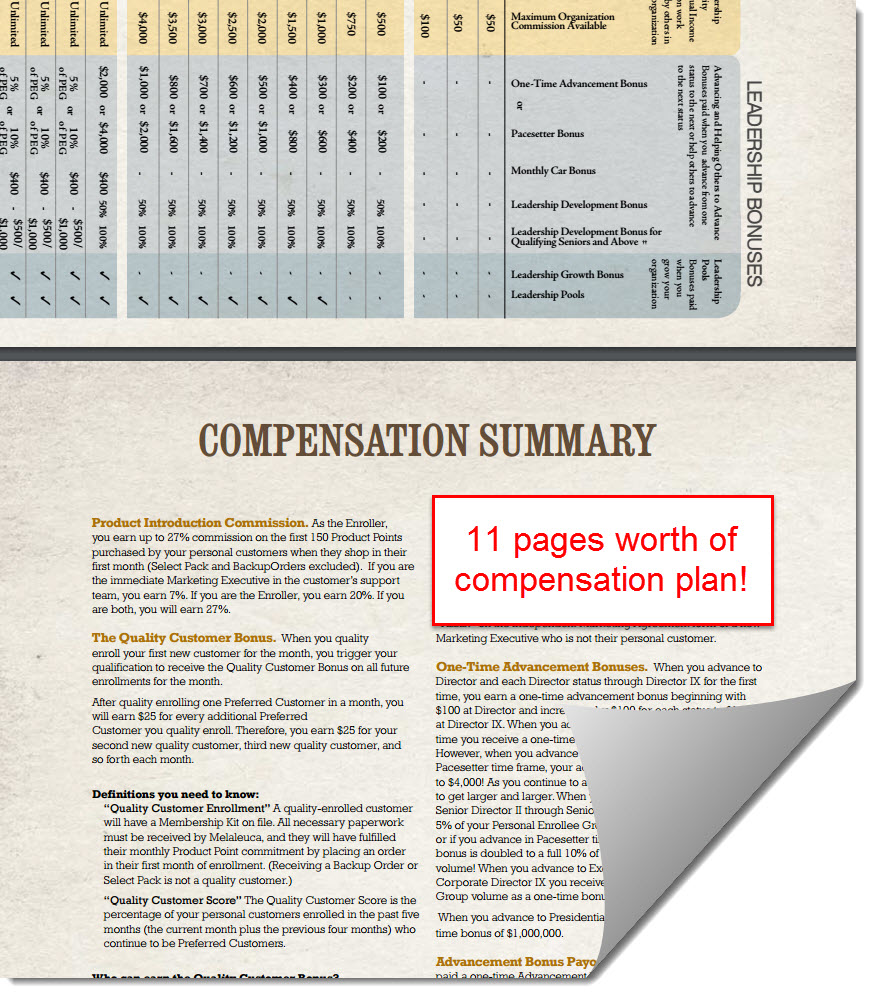 A lot of people are asking about the updated Melaleuca compensation plan as the company tries its best to hide it since they don't want to be seen as an MLM.
Being the curious consumer that I am, I eventually found out from the website that they do have one, and believe it or not, it's 11 pages long!
That's one of the longest MLM compensation plans that I've ever come across and personally for me, it's a huge turn-off to see that – It's like reading a manual booklet, nobody reads them but eventually, that will be your own undoing.
I think it's high time we get to my Melaleuca business opportunity review so that you can have a clearer picture of whether or not this company is for you.
There are overall 11 methods of earning but fret not, here's a summarized version for you to understand the whole situation better…
Method #1 – Product Introduction Commission.
You earn 27% commission off your customer's first 150 points when they shop on their first month.
If your downline's downline buys, then you earn 20%.
You see, In MLM when you recruit someone into your scheme, your downline will be put under you and when he recruits as well, his one will be under him and so one hence a pyramid structure.
If you're fuzzy on all these downlines thing, take a look at this…

Method #2 – The Quality Customer Bonus.
This one is like a recruitment bonus for the month.
To activate, you need to recruit your first downline for the month and only after that will you get a $25 bonus from all your next newly-recruited downlines.
Method #3 – Personal Enrolled Customer Commission.
You get commissions from people that you personally recruit and the more people you recruit, the more commissions you'll get…
1-7 downlines – You'll get 7% from their purchases
8-19 downlines – You'll get 14% from their purchases
At least 20 downlines – You'll get 20% from their purchases
Method #4 – Organization Commissions.
You'll get 7% monthly commissions for the first 150 points purchased by your downline.
Method #5 – Value/Career Pack Commission.
In the first 2 months, if your customer purchases the value pack, you get $30 and if they were to buy the career pack, you get $50.
Method #6 – One-Time Advancement Bonuses.
When you gain up ranking to Director Level or above, you get $100 for the first time.
As you gain more levels higher than that, you earn more – Think of it as a congratulations gift for reaching that stage.
Method #7 – Advancement Bonus Payout.
This works just the same as the One-Time Advancement Bonuses, just that the bonus comes if you maintain your high retention rate of at least 90% and keep on fighting.
The bonus will be paid 1/3 in the same month of your advancement, another 1/3 the next month, and the rest on the month after that.
Method #8 – Pacesetter Director Bonuses.
This is a bonus chased by time.
In a certain time period given, you'll need to recruit a new downline who purchases a Value or Career pack AND becomes a director within the first 2 months of his or her joining.
Method #9 – The Leadership Development Bonus.
Ahh, this one's a classic – Very normal in all MLM companies.
By helping your downline reach the Director status or higher, you'll get 50% of the One-time Advancement bonus.
Method #10 – Director Development Incentive.
You don't really get any cash from here though, just that you can save yourself some money in maintaining your Leadership status as the requirements will be waived… As long as you develop your personal Director.
Method #11 – Monthly Car Bonus.
When you reach the Senior Director level, you can get monthly payments for a car that you've been eyeing on.
Of course this goes without saying that the higher your rank, the more money you'll get for those monthlies.
All of these ranks on the compensation plan may sound sweet with their promising rewards but before you delve into the MLM world, think again – Are you really that much of a soft talker that's able to convince people into joining as easy as the other leaders do?
Red Flags – Things to Look Out For.
Now that you've seen the good side of Melaleuca which I guess is making you pretty hyped up about joining, it's time for me to lay you in on the negative sides which you must also know before making your decision…
Red Flag #1 – They test on animals
Part of the thing that makes Melaleuca interesting is that their products cover all household item ranges at one stop so you won't have to think of which brand suit what and all that but one thing that really bothers me to find the answer to is that, Is Melaleuca really all natural?
I have had my doubts about the company's integrity but what would you think if you find out that the internet is flooded with comments like this…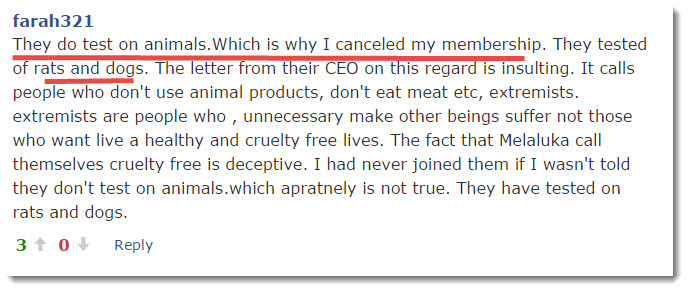 I'm sure a lot of questions might have run through your head, one in particular I just know that you're dying to find out is, does Melaleuca test on animals?
I was thinking of the exact same thing so I did my own research and look what I found out…
The answer to that is definitely yes because according to PETA, Melaleuca signed a statement of assurance that they will never test on animals for the gain of the company.
After that, they crossed the line and started experimenting with rats and dogs, resulting in the horrible and painful death of those animals.
The public found out, and finally, Malaleuca confessed that they are indeed doing those tests for the betterment of their products.
Not everyone cares about animals though, I myself am neutral for that matter but personally, no living being should die a painful death. They deserve better wouldn't you agree?
Red Flag #2 – Products aren't that good either.
You'd think that Melaleuca has awesome products but in truth, there's nothing really special about them.
In fact, many actually complain about the quality of those products…
And here's another…

Although the cleaning products and detergents may have some good effects, the nutrition vitamins on the other hand, got me quite doubtful as there are elements used that are deemed unhealthy…

Typical complaints that often many MLM companies face include the products being of low quality, potentially harmful, or very pricey.
The reason for that is that MLM companies focus more on network marketing or more commonly known as recruiting because that's where the real money is.
In terms of products, well I'll explain it here…
Red Flag #3 – You Might be Forced Into Autoshipping.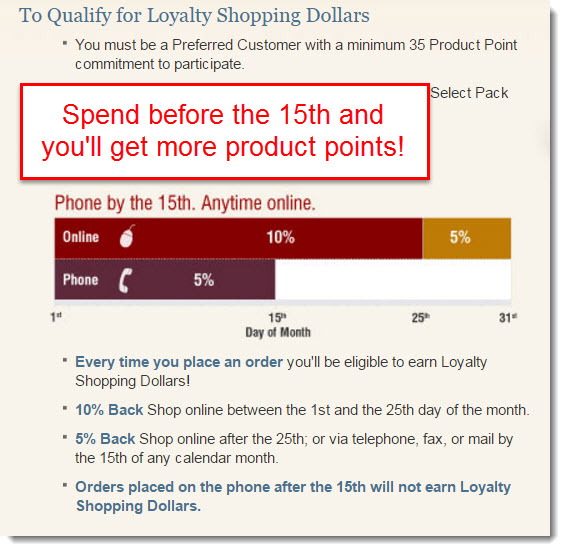 In order to maintain your membership within the company, you will need to spend at least 35 Melaleuca points per month.
Just to be clear, 35 points isn't just a mere $35.
It depends on how you spend but on average, most members spend around $50 a month buying things they didn't need just to fill the quota.
See the game there?
The Melaleuca monthly minimum is quite pricey and quite the commitment you must make which is another factor as to why many members quit.
The system itself is also very problematic, once you give them your card details, it can be somewhat difficult to completely cancel your membership.
I've had many people complaining to me about problems that they face such as this…

And this…
Don't be alarmed, this is quite normal in an MLM company to make the best of people's money and make quitting a hell of a difficult choice for you.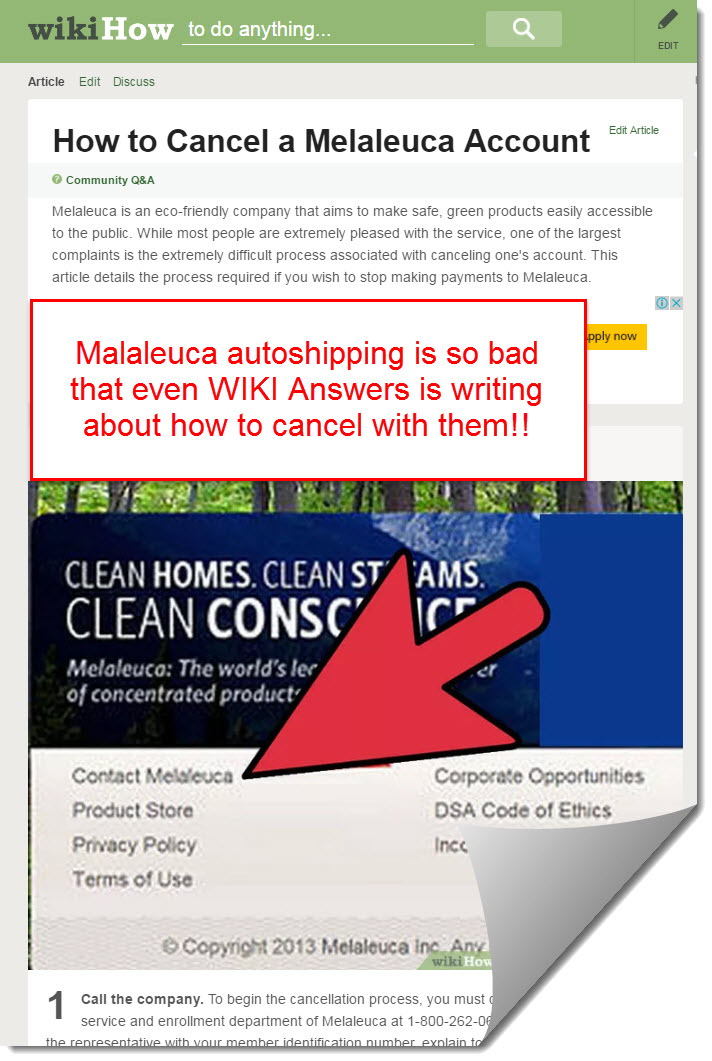 Trust me, I've been in many MLM firms to experience this myself but I have to admit, I was a bit surprised to see that quitting Melaleuca is so huge of a problem that even Wiki How posted the steps to cancel a Melaleuca account.
It's normal for Wiki How to post general steps and tutorials on many modern-day challenges people face today but I find it quite surprising to find out that there are specific steps to get out from a specific company which you rarely see they do unless it's really affecting them.
If you haven't heard of WIki How before, it's similar to Wikipedia, just that they focus more on steps or in other words, how-to guides on solving things.
Anyone from the community can submit articles that Wiki How can post to help get more people to know more on that particular topic so seeing that there's a specific post on how to cancel your melaleuca account there, I can only assume that there's a certain frustrated someone who got trapped with Melaleuca's automatic payments that that person decided to post an article telling how once he managed to solve the issue.
If you're planning to also get in on Melaleuca's automatic payments, it's wise to learn how to get out from there before going in to avoid having problems in the future.
Red Flag #4 – Complaints are Off the Chart!
It's not a pyramid scheme without countless people angry frustrated about what their uplines lie to them about.
Are you ready? Here's a sneak peek…

This is a case of an abusive sales rep and there's more where that came from…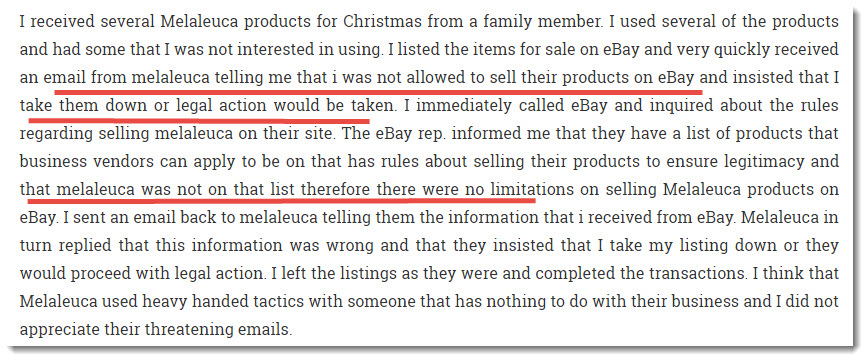 Harassing email even when ebay has already backed the consumer up. And here's another..

In this case, the rep manipulated the customer into coming to the party and while there, he wrongly used the product on the consumer.
There are loads more where that came from, you just read any website page dedicated to Melaleuca and you'll see a battle between the consumers and the MLM representatives themselves trying to defend their beloved company's innocence.
Red Flag #4 – Difficulty in purchasing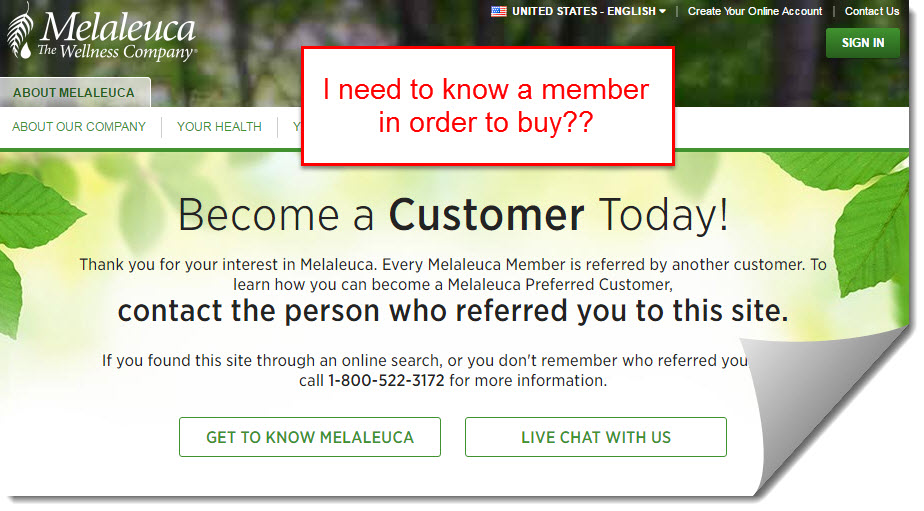 When I write reviews, I like to try the products for myself for a certain period of time to see if it's okay with me, whether it has any side effects or whether the claims are as said or not.
Review writing would be so much easier as I can write based on experience – In other words, a confession from a consumer.
But to my surprise, I couldn't even buy their products online ON their very own website!
I had to contact the person who referred to the site in order to buy but the problem is, nobody referred me in the first place.
In the end, I had to try the products from sellers I found on eBay instead, how ironic.
Red Flag #5 – 244 complaints within BBB.
For those of you who didn't know the Better Business Bureau (BBB), it is one of the top websites consumers worldwide go to in order to know whether or not a certain company is a fraud.
It's an organization of its own which rates companies on whether they are a scam or not and last year alone, about 6.4 million consumers refer to the BBB prior to making decisions.
Melaleuca has a total of 244 complaints reported but what I am surprised to find out is that their rating is still an A+.
I've seen however, companies with only 3 complaints but received a B grade but a company with over two hundred complaints PLUS an A+ grade?
Something's definitely not right here but either way, those surprisingly high amounts of complaints is not something we can turn a blind eye to.
Red Flag #6 – $35.6k Reported Loss on Pissed Consumer.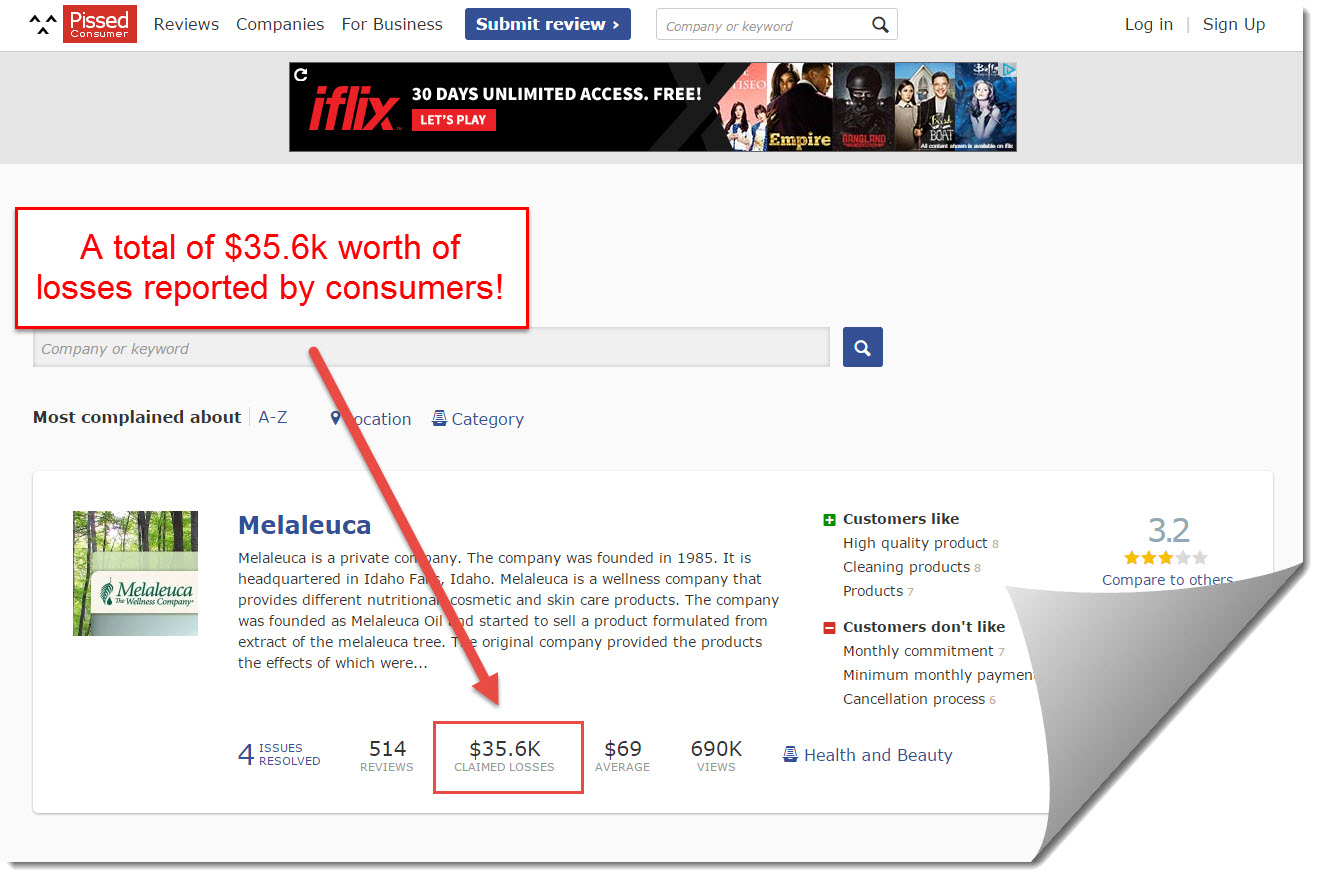 Yup, you've read it right.
An alternative to BBB is Pissed Consumer which, as its counterpart aims to do, helps consumers worldwide avoid scams.
I love Pissed Consumer more though because there are loads more reviews written by consumers in a more detailed way and instead of the website itself calculating and grading an organization, consumers can do a better job here as they can report the amount of money they lost and people can communicate with each other through the comments section.
I was surprised to see a whopping $35.6k reported loss on Melaleuca though, because this a whole lot more compared to the ones Mary Kay got, and that's a name almost everyone knows.
Red Flag #7 – Most members earn an average of only $84 a month.
One thing that I like about Melaleuca is that they are in a way transparent in showing how much their members earn as you can find their income statement on their website.
However one thing I find disturbing is the fact that most of their members (About 86.7%) actually only earn an average of $2,111 a year, which is about $84 a month!
Now, it's okay to have a small revenue when you first start out, perhaps up to 6 months' grace period even if we're talking about entrepreneurship, but a year?
If there's no significant growth in your profit if you've been working hard for a year, then that's definitely a sign that it's not for you.
Do I Recommend Melaleuca?
If you're in it for the products and not the MLM, then it wouldn't be all that bad.
Melaleuca's products are controversial but they've stood through the changes of time for a reason and part of it may be that the people back then might not care much about the details and intricacies of how a particular product comes to be as compared to now which, as we've seen, is on a whole different level.
One wrong step and the public gets exaggerated which pressures the company to tread carefully if they were to thrive back to their former glory.
Still, I believe that for them to survive this long, there might be hope that Melaleuca would adapt and adjust its methods to suit today's demand a little better starting from the products which they have invested their whole lives on.
However for the Network Marketing part, that is something I wouldn't recommend as a full-time income source simply because MLM isn't how it used to be.
More and more people are getting skeptical as people realize there are better options out there to focus on, real businesses that you can earn money from rather than "recruiting" people for money like most MLM companies do today.
If you're feeling like you're not getting much luck trying to recruit people into your MLM organization, then probably this line is not for you.
There are countless more people who are feeling the same way as you do because not everyone is a smooth talker, not everyone has thick skin, and not everyone can be manipulative enough to find random people to join you as your downline.
Take a look at this…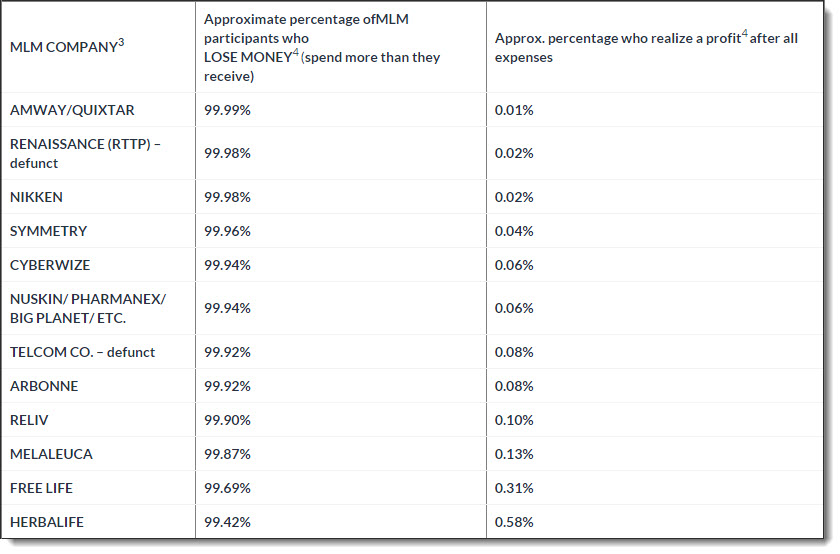 Did you know that less than 1% of people do well in MLM? You're not alone.
That is because 99% of people are downlines who make money for those on top of the pyramid – In other words, the founders on top are the ones who are earning money the most out of the efforts of the people below hence the term pyramid scheme.
This case not just for Melaleuca, but for all other MLM companies who mask their system with some products to "show" that they are not a recruitment scheme when clearly they are.
There is a much better way to take control of your life and that is by following your passion and starting your own Online Business and the best place for that, is Wealthy Affiliate.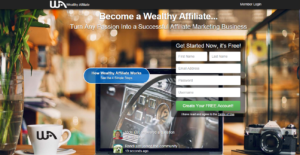 WA is an Online Business program with everything you need to succeed – Its updated lessons, its keyword tool, its domain registrar, the complimentary high speed dedicated hosting and the wonderful community is actually all that you need to give you success.
I joined to learn how to create a website and monetize my passion through this blog that you're reading but now, I have my own local company here in Malaysia and I'm using the knowledge learned to boost my growth.
Believe me when I say that it feels great to be in control of your own life – Your decisions, your ideas and how you want to grow your business depends on how much effort you want to put in.
You don't have to worry about meeting people and trying to persuade them to join you, you don't need to buy products monthly in order to maintain your membership, and you definitely won't need to hard-sell because everything is done online.
We live in an era where the internet can make or break your business so it's a valuable skill every entrepreneur should not miss out on. Here' a quick comparison between the two programs to help you see better…
Conclusion
---
Despite its slightly expensive price, overall they do have some very interesting products that are out of the ordinary.
However due to the huge amounts of complaints all over the media, the difficulty of members trying to cancel their membership as well as the fact that they do tests on animals, Melaleuca is a different kind of risk to partake on and I wouldn't recommend anyone to go for it unless you're fine in terms of ethics and you don't mind burning some cash.
Phew, 3,300 words! I have got to write shorter reviews.
If you're interested in starting your Online Business as I did, don't forget to check out my top-ranked program here.
Any experiences as a Melaleuca member you'd like to share? Write them down below and I'd be more than happy to reply!