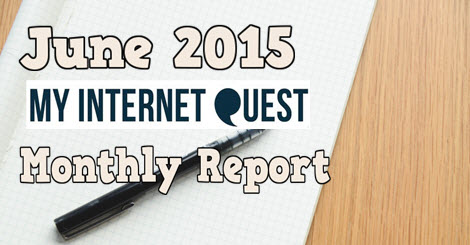 June was a hectic month for me (And so is July) so unlike the previous months which I have a lot to update on, I don't have much to update on for last month.
The reason being is that my events company KAMIRA Event Management is starting to grow and I have gotten loads of inquiries hence a lot of my time spent on meetings all around the state.
Not only that, I'm sure you've noticed the rising heat wave which swept across the world? It's around 40°C in Malaysia and across Europe, it reached an all-time high temperature of 34°C! It is so hot that one can have trouble trying to even focus on the job at hand.
Last month was also the month where I have written the least amount of posts in my entire lifetime of maintaining this very blog.
However, I was still surprised that my blog is getting me more sales at all before because I actually made the most income in a month so far compared to the previous months.
Curious on what's happening and how my blog survives? I am too so…
Let's Have a Look at the Stats

If you look at my previous monthly report, I actually left a good momentum at the end of May 2015 because things were really looking good and the graph shot up just when the month was ending.
All I needed to do was to keep my momentum and my blog will really shoot up because that's the way a blog works – you just have to keep your momentum and consistently write and promote.
However I got so busy at the moment that I completely forgot about my blog as I had an event running on the first week so I just left everything without even thinking twice.
It was the first time I left my blog for a long while because normally, I can't even sleep one day without Googling my blog to see how it is doing before going to bed so I can gauge everything better.
As you can see from my graph, my blog hit an all-time low traffic because although I still get visitors, they are really dropping in number and I didn't even manage to go above the 200 sessions mark.
In fact, my sessions were even lower than 100 which was worse than last month.
But I'm glad that I promised to myself that I'd keep writing these monthly reports because although not many want to read about me talking about myself, I actually get to evaluate my progress which sometimes gave the scare I needed to keep pushing.
At the time of writing this very monthly report, it is July 10th which means 10 days from July without publishing anything!
But after so long not writing my regular posts, I have to say – It feels good on the fingers to type out content as it gives me time to reflect and this is one of the best perks of being a blogger as you can write away anything at all that you want.
But enough of my ramblings, here's a quick look at my website's stats compared to last month…
Judging from the quick social media stats, a majority of my followers went down. I mean just look at my Facebook page – 31 followers unliked!
Organic search remains my number one form of traffic out of all the other channels which are Direct (Traffic from internal links), Referral, Social and Others.
Which means that if my organic search results drop, the majority of my traffic will drop as well and the only way to maintain and increase organic search, is through SEO.
As blogs grow with content, this means that the more content you publish the faster it grows but unfortunately, I only wrote 3 posts for the whole month…
Just last month I was aiming to write at least 2 posts per week to increase my blog growth but this month, I actually went even slower and wrote 1 post after 10 days! Oh the irony…
Google will rank blogs much better if we are consistent at blogging and at the very least, once a week of posting is the slowest you can go for if you are strapped of time like me because it doesn't hinder your growth.
To the Part You've Been Waiting For, Sales!
Even when I had no time for my blog, I managed to boost it enough to let the momentum take care of the growth in my absence and I was actually surprised to have made a total of $159!
Just so you know, I make my income by promoting an Online Business program called Wealthy Affiliate.
There are many programs out there that can give me a higher return with their upsells and down sells but I stayed with Wealthy Affiliate instead is because out of all the programs I've reviewed, I find WA as the best one on the internet as you get so much with only $47 membership.
Sure, there are no upsells at Wealthy Affiliate to make you more money out of each sale but it is much better if I promote an ethical program rather than those MLM schemes which aim at draining money out of your pockets rather than giving you true value.
But being honest has its own reward – people will love the value and they tend to stay longer which is why the community inside is very friendly and vibrant.
From the $159 I earned, a majority of it are actually recurring sales instead of a new one which further shows that the program has great customer retention.
I for one, have been a member for over a year and when it comes to the date when I have to renew, I go for yearly to save money because I trust the program, the tools and the community as without those features, my website wouldn't even exist.
However I haven't made any sales on my other affiliate program Jaaxy yet this month as I haven't started promoting it let alone even mentioning its name.
Still, I actually managed to get several referrals from Jaaxy and that is enough to give me hope for the next month.
2 Minor Setbacks I Wish Like to Share On…
I was hoping June would be the month that I wouldn't be having any setbacks as I didn't even put much effort to grow my blog but I did ran across some problems worth mentioning…
1) Problems With Qlucase
If you followed my progress on June last month, you might have read about the part where I wanted to sell my own mobile phone covers which were coated with enhanced epoxy to give it a lasting stick which is an awesome feature.
I wanted to sweep over the nation quickly and make it a trend in Malaysia as the market is still fresh so I made agreements with a local wrapper called Altimet which was more than happy to help me out.
In fact, he even offered to sell my product under his company at Zalora!
However somewhere along middle of the month, Altimet's partner went sour on the deal. He put us off and made fun of my company too which was totally not cool.
It was totally unprofessional of him to release his personal problems on his clients and after doing some digging, I found out that he even kicked some of his staff and mocked them when one of them asked for a leave to go to his sister's wedding.
Altimet was okay with me though, and he was agitated with his partner's annoying mood swings but he could not go along with the deal because he needed to uphold to the agreement that he had with his partner and manger.
I actually went to one of their branches in Quill City Mall, KL and I found out that they are still selling my mobile phone covers in their shop!
I'm not the type to hold on grudges so I just let it slip by because at least I know now that my product actually has value.
I wasted all my money on the investments for the stocks but on the bright side, they didn't sue me nor tarnish my image so I can still sell off the stocks… All I need to do now is to think of how.
2) Guest Posting Postponal
Another mission I had last month was to have a go at guest blogging.
Everything was great in my head at the time of planning because initially, I thought that I'll have all the time in the world after my previous event gig.
Turns out that it was worse because after I pulled off that particular event, I managed to get even more calls from random people and companies wanting me to do more events.
As a startup, I had no capital and very few staff which even those are my friends so I can only accept so many at a time but I attended meetings anyway to bond with them as those connections are going to bring me business in the future.
I've always known that life as a sales exec is hectic – There was never a day when I had no meetings back then while I was working for The May Fair hotel.
But after getting back into the game after a long hiatus, I remembered exactly why I started blogging and that is because I can have more time for myself.
Still, I will bear in mind to get a day or two in a week to focus on guest posting because if I don't, my progress will remain a slow growth.
My Plans for July 2015
July seems like a bright month for my events company but as for My Internet Quest, it will still experience a slow growth as I still need to learn how to dedicate my time.
My blog growth was doing fine and is growing steadily but after I decided to start my local events business, the only time I'm home to start blogging is at night and often times, I get too tired to do anything.
I'll be extremely busy the whole month because I'm taking a leap of faith to host my very own bazaar in a small town called Bangi – An event called Tengah Raya Ada Bazaar!
Literally, it means "There's a bazaar in the middle of Eid!" because as many of you might have known, Muslims everywhere are fastin and since Malaysia is a Muslim-majority country, it is a great idea to cater to that market since its their month. But although the name sounds funny, I've been receiving calls for booth bookings already.
The event itself is on August 1-2. I know it's a little rushing but I hope I can manage to get 30 booths to join as that is just enough for me to break even and get the required experience to host another one.
Once the bazaar is a success, I'll be creating a new website so that I can handle everything online and create an eBook containing the event details for people who are interested.
You can say that the bazaar is a trial for a bigger online business-to-be and if everything goes well, I'll have another fully-functional website that I monetize from.
If you've joined a bazaar as a vendor before, you'll know how tiring it can get.
Well, planning one is just the same thing but in order to make sure I fully understand what vendors are facing in reality, I put myself in their shoes and joined another bazaar selling cookies.
It was devastatingly exhausting, you have to be there at 9am and can only leave at 11pm so it's roughly 14 hours of work!
I used up all my selling tactics and I even put a box on my face to look like a mascot so that I can attract people enough to make them look twice and surprisingly, I managed to sell off my stocks and I had only 3 jars left.
Those extra jars do not mean much to me so I gave them to the other vendors instead as a sign of good gesture and I managed to bring them to join my bazaar too.
Planning a bazar is fun and I'm halfway to reaching my goals so stay tuned to next month to know how it goes!
My Final Word
---
At the time of writing, it is 4am in the morning and I didn't sleep the whole day because I just got back from work, so here's something to get us all fired up…
Overall, I was actually impressed with the sales I got because I only spent time to write 3 posts for the whole month.
Although it was okay for a short period of time of a few weeks, I recommend to write at least one post per week because if you don't, your blog growth rate will start to fall drastically.
I'm starting to experience it already because starting July, I had no referrals at all and my followers are leavings me already which isn't good so when it comes to blogging, consistency is your greatest weapon.
Its 11 July today which means it's the second week since I posted anything, hope I can keep up the momentum and spend more time on the blog!
Thanks for reading if you do read at all lol, you guys are awesome for following my progress and I hope there will be more good news for me to update next month. Happy July 2015!