Tired of looking for ways to get your refund from ClickBank?
Almost all ClickBank products come with a 30-day money back guarantee (Some products even have a 60-day money back guarantee!) but when it comes to actually getting back your refund, they made it so difficult for you that you might even think that they are not honest in taking money out of their pockets.
With most ClickBank tutorials out there being outdated, I learned to discover the hidden trick to quickly getting your money back without you needing to go to ClickBank.com.
[Update] Clickbank has recently updated its system so I took up the initiative to do a newer guide on getting a refund from Clickbank for June 2015 here.
What is ClickBank?
ClickBank is an Internet Marketing platform for digital products such as ebooks and memberships.
It is the biggest affiliate marketing network and has been around for many many years. Vendors can add their products to the ClickBank marketplace whereas affiliates can look up for whatever products that interest them so that they can promote in exchange for a commission.
ClickBank has a huge reputation in the Internet Marketing world not to mention being highly established so because of that, you can bet on Zeus's golden balls that they would not do anything to jeopardize their image.
How to Get a ClickBank Refund?
One thing about ClickBank that you might not know is that it has a surprisingly high refund rate from the vendors so because of that, the ClickBank team made it particularly difficult for anyone to get a refund in order to hide that flaw.
Still, it's not impossible and you can still get your money back so here's a quick video on that…
Alternatively, I've outlined the steps for you to read here…
 1) Check your email for the order number
You only need 2 things in order to get your refund on a particular ClickBank product and those are…
Your email
Your order number
To get the order number, you need to scour through email to look for the invoice that you first received when you first bought that particular ClickBank product of yours.
Here's how the invoice will look like…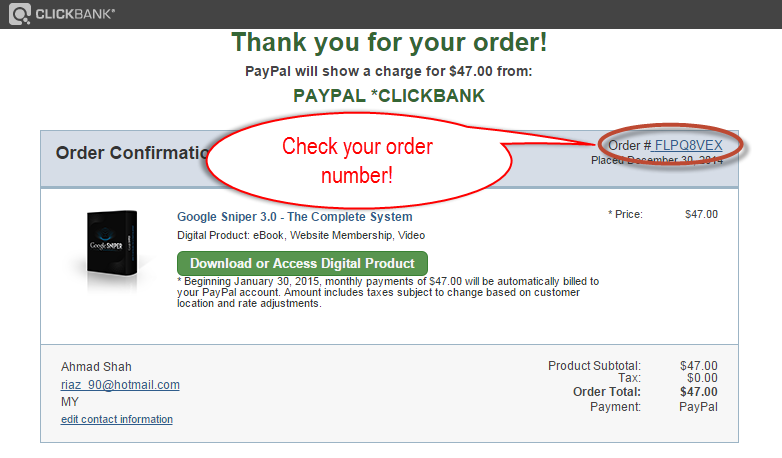 So from that picture, my ClickBank product would be Google Sniper 3.0 and my order number would be on the top right which is "Order # FLPQ8VEX".
Once you have your order number, you need to…
2) Go to www.CLKBANK.com
Caution! That's Clkbank.com WITHOUT the 'IC'!
This is a clever trick Clickbank uses to make the process of getting that refund even harder than it's supposed to be.
I mean come on, all we want is to get our money back!
Once you typed in the URL, it will lead you straight to the back-end of CLickBank.com and from there…
 3) Key in your email and order number in the "Order Look Up" section
The purpose of this is so that ClickBank can retrieve the product that you have paid for to make the rest of the refund steps easier.
 4) Click on "Get Support"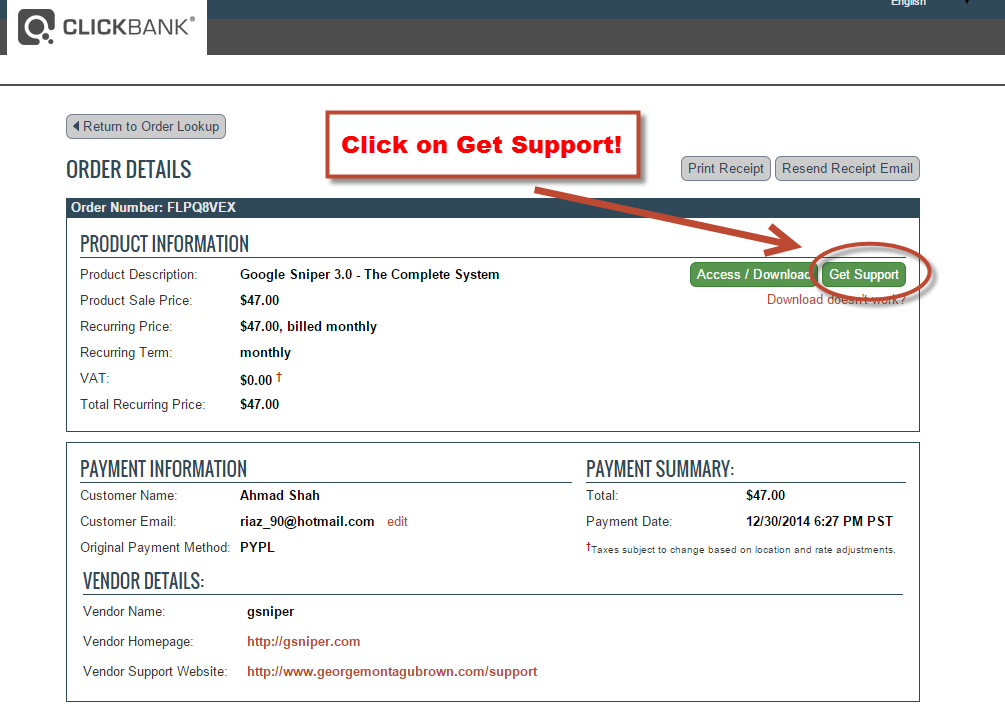 After retrieving the order, click on "Get Support" and that will bring you to another section.
I know what you mean, "Why would anyone click on Get Support??"
I was thinking the same thing!
ClickBank doesn't want you to get a refund which is why they made this steps really difficult.
 5) Click on "More Options"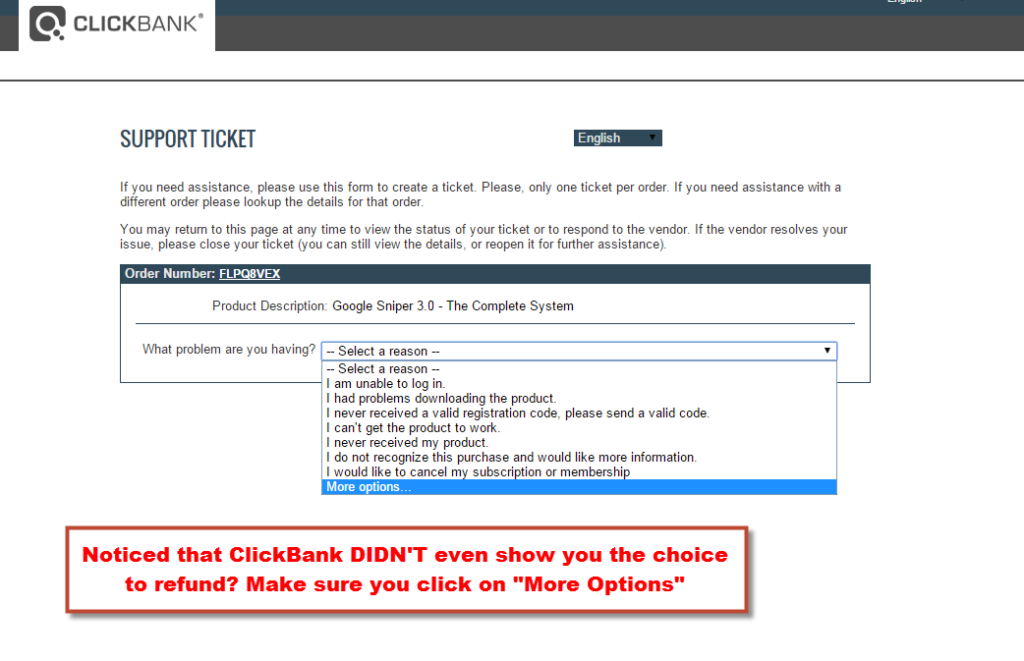 After clicking on "Get Support", you will be brought to the support ticket page and with a dropdown.
Don't rush! If you click on that dropdown, you will notice that there are NO REFUND CHOICES! The closest to a refund there is the "I would like to cancel my subscription".
Would you believe that even when you're SO close, ClickBank still makes it even harder for you? Click on "more options" instead.
 6) Click on "Refund Request" and finish it up!
Who ever thought that requesting a refund will be located in "More Options"?
It took me half an hour of clicking to figure this out and I hope you managed to settle this faster than me.
Last but not least is to simply click on "Refund Request", type whatever it is you want to say in that comment box and click submit and you're done!
It will take about 2-3 working days for them to reply you.
Become an Online Entrepreneur! –Learn How to Start Your Own Online Business.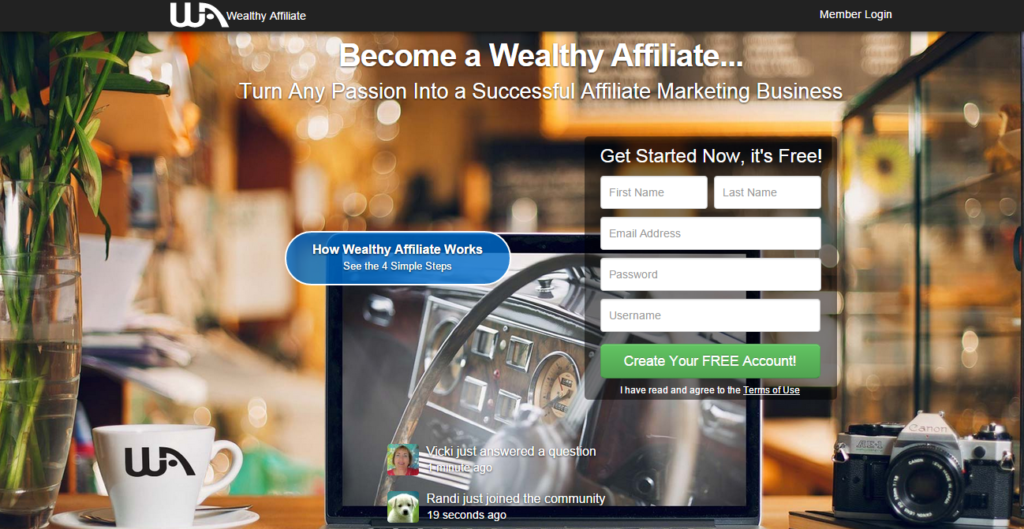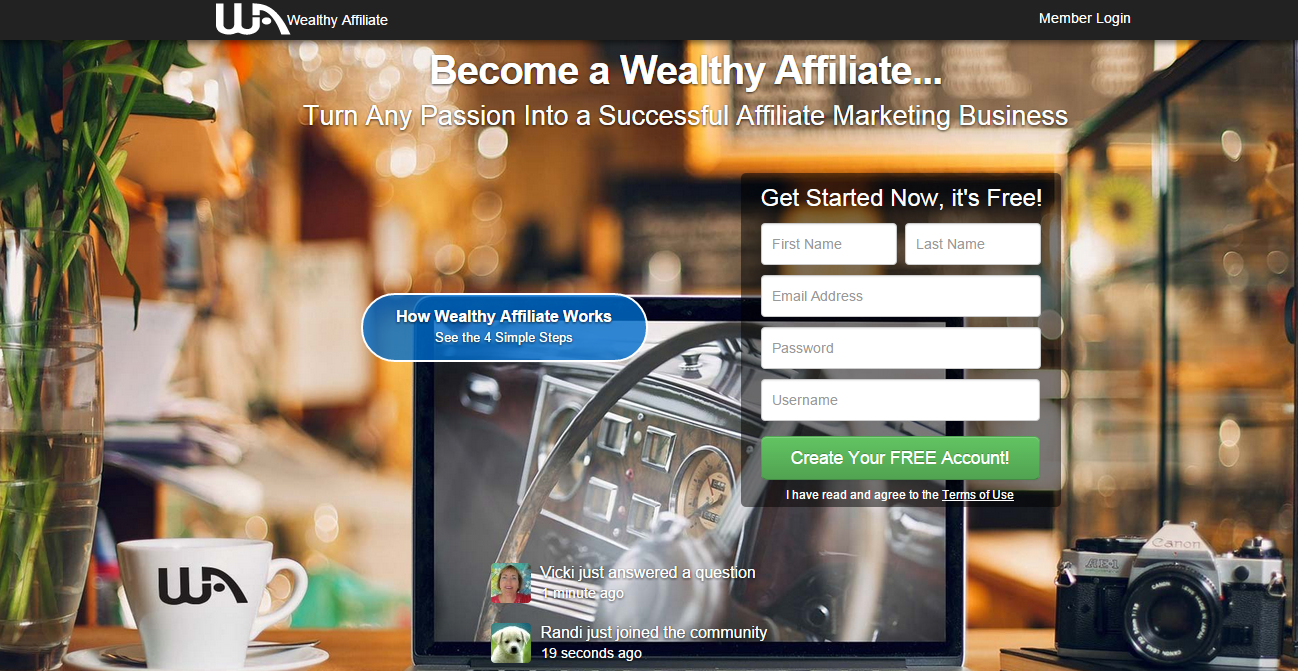 There is a lot of hype on "making money overnight" which a lot of ClickBank vendors make loads of money from as in the end, they are the ones getting money in their pockets and not YOU.
The reality is that there is no such thing as becoming a millionaire overnight which is why the best way to earn money, is to start your own online business.
There is a program that specifically teaches you this called Wealthy Affiliate which I highly recommend you to join as it has evergreen lessons that keeps updating, and a great community to help you out or ask advice from.
Take a look at this…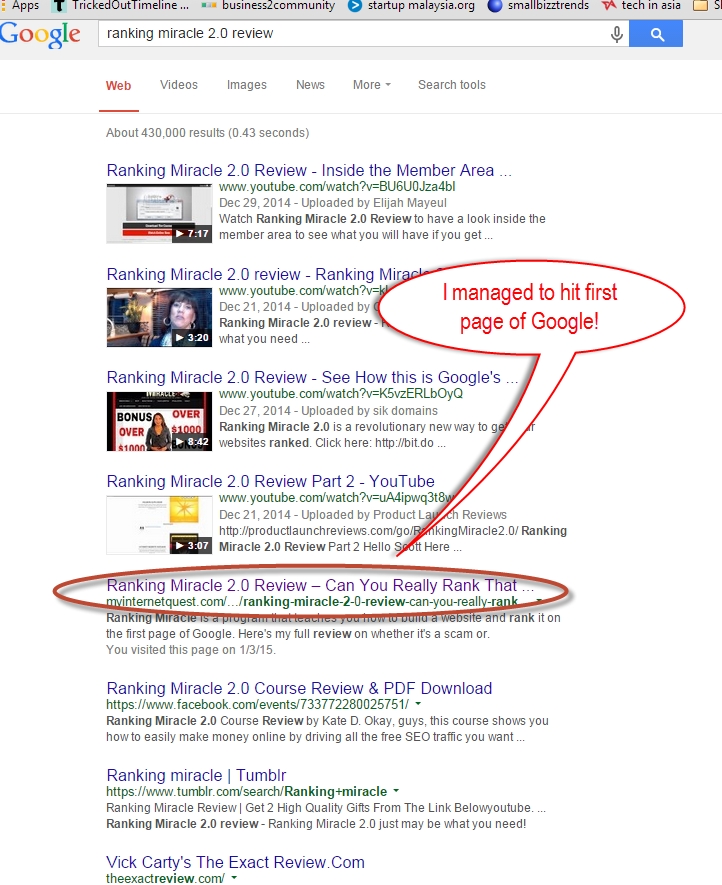 Even though my website is not at the top (Mainly because of those videos), what I'm trying to show you is that when you can get your website on the first page of Google, you know that your hard work is beginning to pay off.
How Wealthy Affiliate teaches you to become an online entrepreneur is by simply guiding you to build your very own website and get it to rank on the first page of Google because once it's up there, that is when you will get endless traffic which will lead to conversions hence your income.
Conclusion
---
ClickBank sure makes it difficult for you to get a refund but that doesn't mean you can't get a refund.
Just be sure to scour your email for your previous ClickBank invoice, get that order number and the rest of the process will be smooth like butter.
If you're interested in learning more on how to build your own online business, check out my #1 recommended program here.
Do share your thoughts below as I'll be more than glad to reply you.