Did you know that over 543,000 new businesses get started each month?
The world of businesses are getting more competitive than ever which is why we need to develop the way we do things to make our business stand out above the rest.
What is more surprising is that many businesses did not even get through the 5th year and that gives us all the more reason to move further because the more we push ourselves to grow further, the easier it gets for our business as well.
Before we get to the good part, let's first take a look at…
What a Business Really is?
Many a times we hear the word "Businessman" but have we ever stopped to think at what these things are?
Business is actually an economic activity, one that involves the act of selling something be it clothes or food, in exchange of money.
It used to be small but now the way we do business is evolving and there are always new streams of income to grow our business which is what we will be covering today.
But one thing to always bear in mind is that no matter how many businesses are there in this world today, the one that clicks with the customer's interests the most is the one that will win the majority of the business.
How to Grow Your Business -5 Ways for the Unwary
Isn't it annoying that no matter how hard we try to grow your business, it doesn't seem like it's going anywhere?
A thing to bear in mind if you want to grow a business, is that it is always better to find new ways instead of spending all your time and effort on trying harder to work faster.
Here are some of those ways which you should take note of…
 1) Expand your business online
Bill Gates said that by the end of 2002, there will be only two kinds of businesses – those with an Internet presence, and those with no business at all.
Did you know that many small businesses fail because they did not want to invest some time on building an online presence?
Nowadays people EXPECT businesses to have a website and if you are a company with several businesses, you are going to need websites for all of those.
Building a website isn't as hard as it used to be though, because 10 years ago you need to learn coding which nobody understands.
Today, you can literally build one yourself to save more money while you're at it.
Here's a video on how to build a professional website in 30 seconds or less…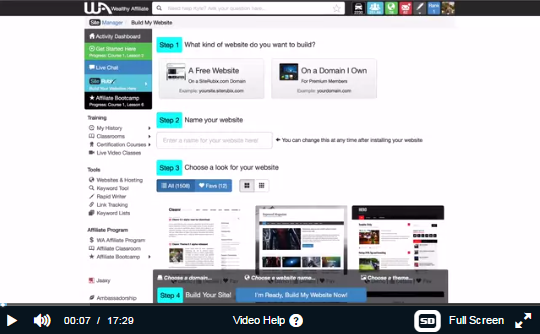 2) Adding a "blog" section on your website
Did you know that 79% of companies that have a blog report a positive ROI for inbound marketing?
Everyone can have a website, but not everyone have the will to add a blog section to it.
If you don't know the difference between a blog and a website, just know that a blog is also a website – The only difference is that a blog is updated regularly.
The reason for this is because having a blog will…
Boost your company image to show that you are trendy and updated.
Give the image that you are more approachable.
Capture the majority of the traffic online.
A common dilemma when it comes to blogging is that you will run out of ideas on what to write about, or not knowing how to make your articles more engaging.
To avoid that, I recommend you joining a blogging community which is also an online classroom called Wealthy Affiliate.
At Wealthy Affiliate, you will learn how to get more ideas to write about, how to make your articles beg for comments and even ways on multiplying your online income stream.
 3) Consider franchising to other areas
One of the best ways of growing your presence is to franchise your business elsewhere.
A lot of business owners always wanted to create a franchise but they are reluctant to leave their current business in the hands of their staff.
To resolve this, you need to let go of your fear of leveraging work to other people and start trusting your employees more.
This will not only create trust, but will also prove that your business has room for career growth which will also attract more eyes which you would definitely want.
You've be amazed as to how far your employees can go if you allow them room to do so.
After seeing your employees take flight in their career, you can now focus on finding co-founders to help franchise your business.
You have 2 choices of hiring co-founders: Internally and externally.
Hiring co-founders within your own business is definitely cheaper, but they might lack business skills.
However, they understand the most about how your business works which is also something to consider.
Hiring co-founders externally is a more common approach and is definitely easier as there are many places you could go to in order to hire them, one in particular is Founder2be.com.
A pretty cool example of using co-founders for franchising can be seen from a Malaysian company called Mindvalley.
Take a look at this…
Mindvalley has one of the best family-oriented business plans I've ever seen as even if they have franchises in many different countries, they keep track of all of them and show it on their website.
 4) Specialize in more services
Sometimes putting your trust in just one method of making money is the very reason your business isn't growing faster than it should be.
In every business, you should have a funny strategy on what you offer.
For example, if you have a bakery and you want to go one step further, you could consider selling the home-made dough you use for added income.
This way, you can attract not only customers who are interested in baking your breads, but also attract your own competitors to buy your dough because they want their breads to be like yours.
After feeling confident enough, you could even throw in baking classes every week which further adds another stream of income and this is how your business can grow further.
 5) Win a contract to supply for the government
Have you noticed how small stores in London became big because they provide for Queen Elizabeth?
If the Queen trusts a simple cheese shop, why wouldn't the rest of the people?
Similarly in other countries, you can win contracts for the government especially since you already conversing in their own language.
Sure there are a lot of controversies when it comes to the government but at the end of the day, it is them who wants to see your company grow because by doing so, they develop their own country.
A Congresswoman from the Ranking Democratic Member of the House Small Business Committee called Nydia M. Velázquez actually stated that "The best way for a small business to grow is to have the federal government as a customer" (Click here to read that interview of hers)
A great tip to make your business look stronger is to try to get certificates beforehand because when associations trust you, there is no reason why other corporations won't put their faith in you either.
My Final Word
---
Developing a business is everyone's dream but it's not as easy as it seems.
As long as you take up the initiative to develop new streams of income, build your online thumbprint, learn to franchise your business and trying to win the government's favours, your business will surely grow faster than you ever thought possible!