If you're new to the World of internet marketing, then you should take this opportunity to know about one of the leading online entrepreneurial websites, Quick Sprout.
Quick Sprout is a blog website which shares weekly tips and tricks on how to develop your website fast enough to see a quick rise in traffic.
Why this is important is because every month, millions of websites are being created which can only mean one thing – extreme competition.
So without prior knowledge on how to survive, your website won't get far without professional help.
I have to admit, even this very website that you're reading uses tips that I learned and implement from Quick Sprout to help me kick start my journey with a competitive edge.
How Quick Sprout helps websites
Besides the blog, there are actually other features contained within Quick Sprout that not many people known of and those are:
1)  Website performance check
One of the best things about Quick Sprout is that it has a built in software that can do a thorough investigation on any website keyed in.
So if you're wondering as to why your website isn't getting enough traffic, just key in your site there and Quick Sprout will tell you where you did wrong.
Was it your heavy image and videos? Or was it the wrong placement of images?
It's amazing to know how small things like image placing can affect customer likeliness to buy something.
2)  Quick Sprout Forum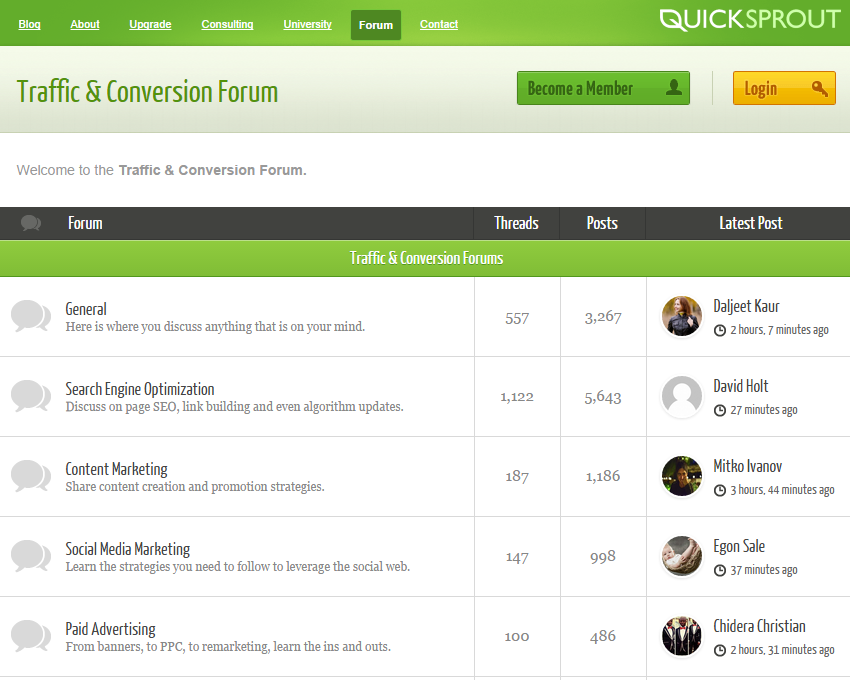 Yes, you read it right.
Quick Sprout has its own Forum specifically on internet marketing topics like website development and Search Engine Optimization.
What is pretty cool about this is that although Neil won't be able to answer all the topics (be kind, he's only human), the other random veteran internet marketers will still be there to impart some precious knowledge.
This is great not only for networking with other website owners, but because of the fact that you can actually learn cool tricks on how these successful people get their sites up and running smoothly.
So the next time you're having problems with your website, you know where to go!
3)  Quick Sprout University
As Quick Sprout is getting huge credibility by helping all those corporate clients like Walmart and Mazda, Neil Patel (The owner) also decided he open an internet marketing course.
That's right, a whole course!
But although the graphics are absolutely amazing and videos nice and clear, my personal experience with Quick Sprout University wasn't very good.
It may be a personal thing but as a wise consumer, I advise you to please do make a thorough study on the course before deciding to become a member.
Conclusion
---
Almost every internet marketer knows Quick Sprout as it belongs to one of the most renowned online entrepreneur, Neil Patel.
I particularly love the website performance detection and the valuable tips being shared but when it comes to selling, Quick Sprout seems to be a bit off in terms of product creation so I would advise against buying it for the time being to give it a little time to improve.
For more information on creating a viable online business stream, do check out my review of Wealthy Affiliate here.