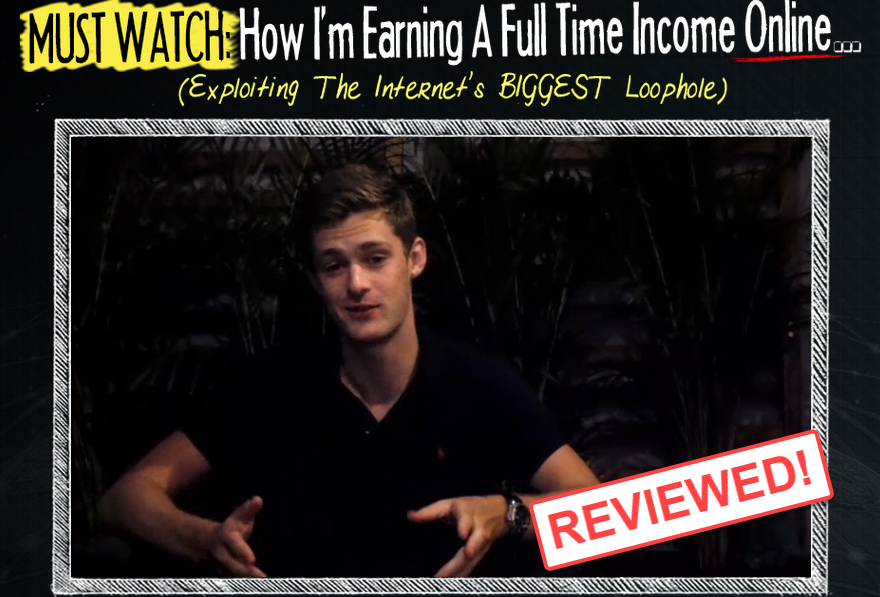 Product Name: Google Sniper 2.0
Website: www.gsniper.com
Type of business: Black hat website building
Price: Complicated and unethical pricing plan
Owner: George Brown
My rating: 0 out of 5 (Scam)
[Update] There is another version of this program called Google Sniper 3.0 which I've made a review on here.
[Double update] Also, the program has been taken down by ClickBank so you won't be able to access his page.
One thing you have to bear in mind when it comes to buying products online is to look for a trial.
Why? Because products who are confident that their content is legit and meaningful doesn't mind giving the customers a sneak peek preview.
But scam products don't usually give trials because they know their content sucks and if customers manage to get a preview and see how bad it is, they won't probably buy, would they?
When I first laid eyes on Google Sniper 2.0, my Spider-Sense was tingling due to the fact that there weren't any trials.
But I braved through and bought it anyway so that I can write a thorough review of the program.
So is it a scam then? Yes, I totally fell for it and here's my review.
What is Google Sniper 2.0 All About?
It's an Internet Marketing program made by George Brown who claimed that he can help you make thousands of dollars with ease by leveraging a loophole he found on Google.
Based on the product, I discovered that basically, the whole training is about making money online through websites that you need to make, and by implementing his system, your website can gain high Google ranking in a blink of an eye (Or so he says!).
In reality, if you're new to internet marketing, it's wise to not that getting your website on the first page of Google actually takes up a lot of time and effort and you won't be able to actually do it in a blink of an eye as everything depends on Google themselves.
Therefore, you can't actually get your website on the first page of Google and make millions in a jiffy as he claims.
Bear in mind though, that Google Sniper 2.0 has no connections whatsoever with the Google team which that Google can actually sue them if they want to anytime, and being the good guys that they are, no lawsuits have been made of course.
The reason George uses the name Google Sniper is to attract people to buy his program as he will be teaching the methods that he implements to rank his site high on the Google search engine.
Red Flags – Are They Worth the Risk?
The program does sound nice but if you're considering getting this program, it's worth noting that there are certain risks to it which I figure I'd share with you to help you decide if it's the right program for you.
Flaw #1: Google Sniper 2.0 is Outdated
You might have noticed that he wrote there "Bulletproof for 2014".
Do not fall for this!
Google Sniper 2.0 has been around since 2007 and although you might think that it shows that the company is stable, it is only so because of the money it took from innocent people like you and me.
Why do I say so you ask? Simple.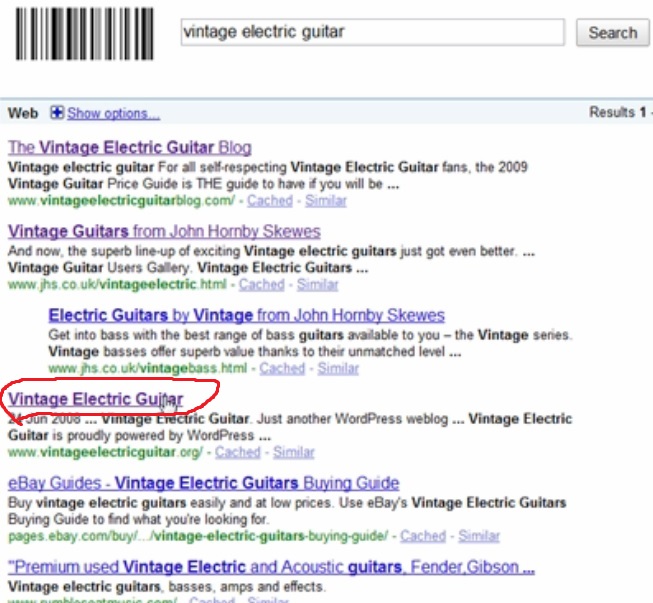 Because after the Google Panda and Penguin updates, it is now harder to get rankings in Google search compared to last time.
George claims that your website can gain rank in Google in a blink of an eye and proved this by making a blank website called "vintageelectricguitar.com" which got 4th rank in Google search.
But if you take a closer look, the year was 2008.
Plus, it doesn't exist anymore which probably hints that George's trick was before Google has updated their algorithms because naturally, many websites will be affected especially those which are trying to cheat their way to ranks by means of Blackhat SEO methods.
Whenever Google does updates, it wouldn't be pleasant for certain people especially scammers because there are always things that Google detects as a scam, to be penalized.
Once a website has been penalised, that particular website will find it hard to gain traffic and will of course fall very far in search engine ranking so it would definitely not be on the first page of Google anymore.
Let's see how his website fares now in 2014…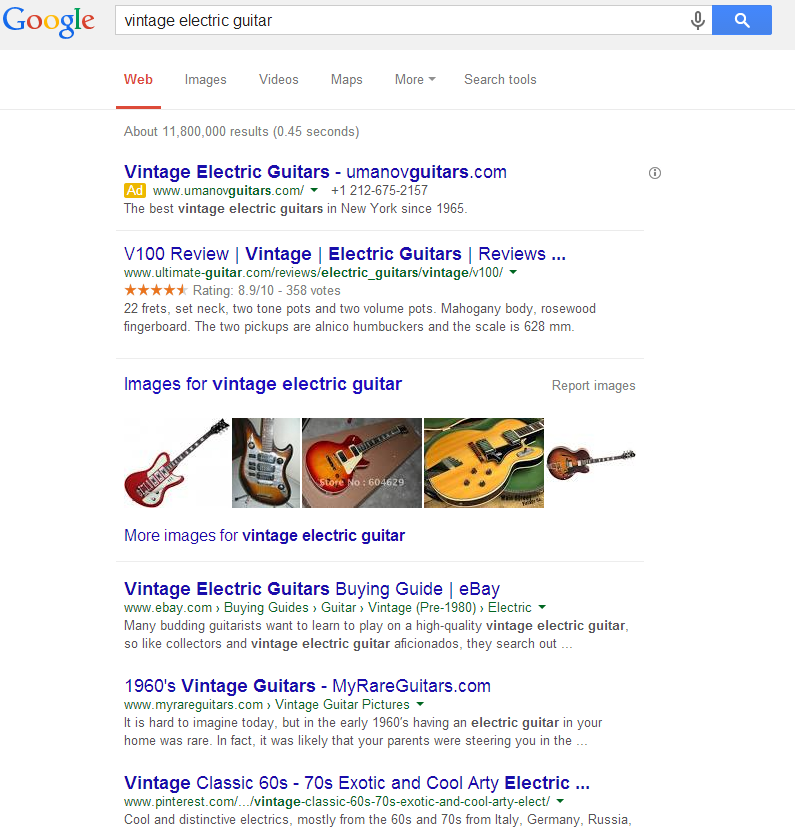 As you can see from my screenshot above, George's website is nowhere to be found which shows that Google Sniper 2.0 is very outdated and does not work today anymore.
Flaw #2: No Trials
Nowadays, scams are on the rise and every day there's products online.
People are already cautious in the offline world, what more online?
To ensure that your product is trustworthy, online marketers often have money-back guarantee policies on their products such as Dot Com Secrets X or Wealthy Affiliate.
The reason being is that they are confident with their products enough to let their customers try beforehand before buying because it shows transparency and how confident they are with their products.
Google Sniper 2.0 on the other hand, does not provide any trials as George knows that after you get inside, you'd instantly lose faith because his program is of low quality.
Flaw #3 – Blatant Lies
One thing I hate the most about these sellers is that sometimes they tend to hype you up but never delivers.
There are many lies George implements in his Google Sniper 2.0 and I'm sure you're very familiar with the first one – Google rankings.
George claims that his product can bring your website rankings up in Google but as we've seen before, it doesn't work in 2014 anymore.
He also uses the name "Google" on his product to create the impression that his product is approved by Google even though it isn't (I would love to see Google suing him).
George quoted in his video "I don't know of a single product that has been running for anywhere near that long and is still being searched for as much as Google Sniper throughout the entire internet marketing space."
This is another big lie because there are many products that have stood the test of time and still manage to deliver honest results compared to Google Sniper.
After discovering how scammy Google Sniper 2.0 is, I bet the testimonials are fake as well wouldn't you agree?
Flaw #4 – Unethical Pricing Trick
There are 3 pricing tricks that George implements on every visitor who is unfortunate enough to stumble upon his website.
Pricing trick 1: $47/month for those who buy immediately.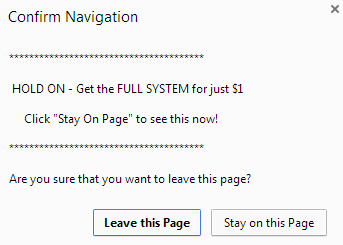 Pricing trick 2: $1 trial for 5 days, then a one-time payment of #67. You will only get this choice if you're planning to exit but a pop-up block (see picture).
Pricing trick 3: $47/month for those who tried exiting the website twice but decided to come back and try it out. These people are penalized therefore they can't have the $1 trial that they were offered initially.
The pricing trick implemented by Google Sniper 2.0 is enough to sicken me.
People are desperate to make money from home due to the rising costs of living and George takes advantage of these poor people!
I will not stand idly by while I watch people get scammed for being innocent and I hope my review of this product is enough to steer as many people as I can away from getting robbed.
Now having seen the unethical pricing techniques implemented by Google Sniper 2.0, would you even have the thought of buying it anymore?
Flaw #5 – Blackhat Backlinks Implementation
One of the biggest tricks used by George in Google Sniper 2.0 is using backlinks for your website. Here's what the "Real" Google has to say about that.
As you can see from the video, Google is slowly taking down the power of backlinks from websites so it won't be beneficial in the long run.
Just in case if you didn't know Matt Cutts, he is the Head of Google's Webspam team and it is very wise to heed his words.
There's a Better Way.
There are other programs that can help you make money online.
One in particular which I can recommend, is Wealthy Affiliate.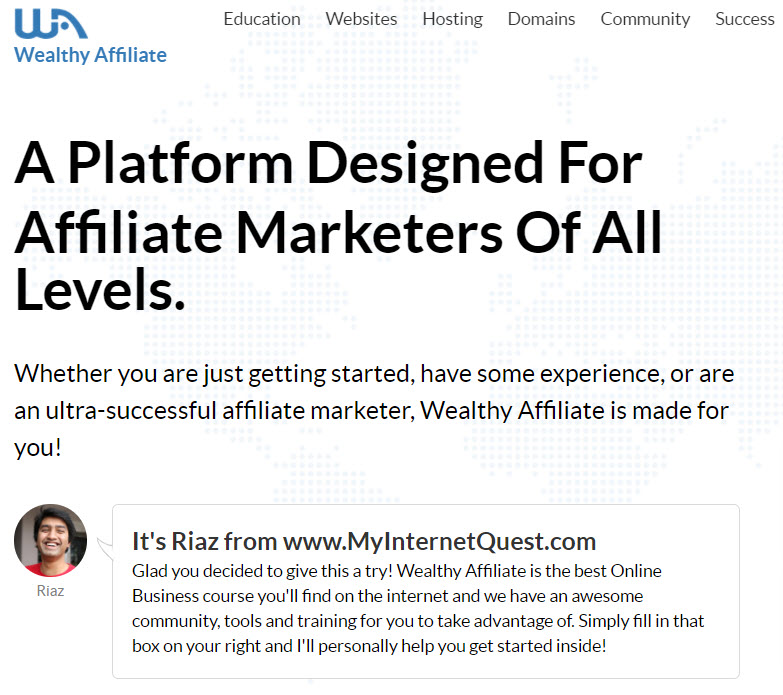 It's an Online Business platform that helps you build an Affiliate Marketing Online Business and you can earn by monetizing your website.
It's also to date, the only program that has withstood changes of time and still is using the same name which tells a lot about their reputation.
And being a platform in the ever-so-competitive SEO niche, I can't tell you how important the lessons are in building your online business the right way.
Google is always going to come up with updates and every time they do so, many websites will be affected as they combat scams on their search engine so having the right SEO knowledge will not only help your website stood through time, but also prosper on the light.
If you've come across this review, you might have seen my website on Google.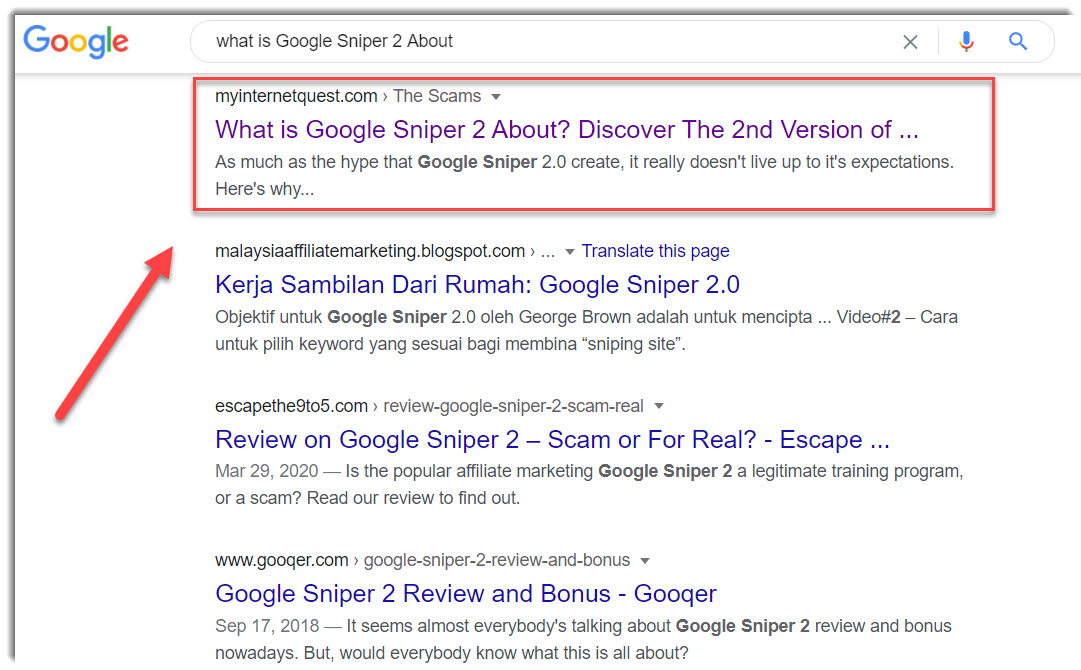 I wrote it in 2014 and it's still standing here, giving me traffic for as long as my website is still alive and I learned how to do this by implementing the SEO lessons from Wealthy Affiliate's wide array of content courses.
This is important because as your website grows, you're continuously bringing in more traffic with your newer content.
With that increasing traffic, you'll have the chance to learn the various ways on how to monetize your website, regardless of what niche you are in which is one of the attractive points of having that freedom.
To help you see clearly, here's an overview to help you weigh…
Final Word
---
With so many risky tricks implemented by Google Sniper 2.0, I believe you do not need me to tell you to stay away from this product.
George Brown will definitely be creating more versions of Google Sniper and he'll continue to do so with different titles or names because, by the time many people start complaining, he can't use that same name anymore and would have to switch to another so newer people wouldn't know of his scheme.
Thanks for reading, do check out my top-rated program here to find out more.