Name: Clickbank Pirate
Website: www.cbpirate.com
Type of Business: Clickbank Affiliate Marketing
Price: $67 then $37/month with a $195 upsell
Owners: Soren Jordansen and Cindy Battye
Overall Rank: 0 out of 5 (SCAM)
[Update] The program by now has been taken down already so you won't be able to access their website. Finally, Arr!
Aye I have to admit, I was attracted to Clickbank Pirate because of the theme.
I mean who doesn't like pirates?
I believe that it's actually really catchy, especially after the release of Pirates of the Caribbean which is indeed a great time to sell anything pirate-related.
And when it involves money, a lot of people just fall for it including me.
Despite the cool theme, Clickbank Pirate didn't live up to their expectations so here's my full review on this particular product.
Pros and Cons
Pros
Awesome pirate visuals (I'm a sucker for pirates)
Easy to get a refund since it's a Clickbank product
Cons
The cost is very pricey for a simple education course on affiliate marketing.
Lessons do not cover SEO, which is a huge part of affiliate marketing. In fact, it hurts SEO by doing duplicating websites. (An affiliate marketing course with no proper SEO training? Come on!)
The lessons are so simple that you could actually learn yourself and do it for free elsewhere instead of paying a pricey monthly cost for it.
You will be doing cloned websites that are of cheap quality.
The program doesn't update its lessons since it was created in 2009 which explains why the lessons are so outdated.
No trial.
"Requires no work" is a blatant lie they make to attract you into buying. I've been in this industry long enough and believe me when I say that affiliate marketing takes time and hard work. After all, you'll be building a website which of course will have a lot to add in am I right?
You have no control over your own list that you have tirelessly built. Your list is the property of Clickbank Pirate which means that if you are no longer a member, the Clickbank Pirate team will take your list away from you. Logically speaking, they have no right to do that considering that it's your business and the hard work that gave you that.
Golly, that's a lot of Cons! Better check out my #1 recommended program here instead!
What is Clickbank Pirate All About?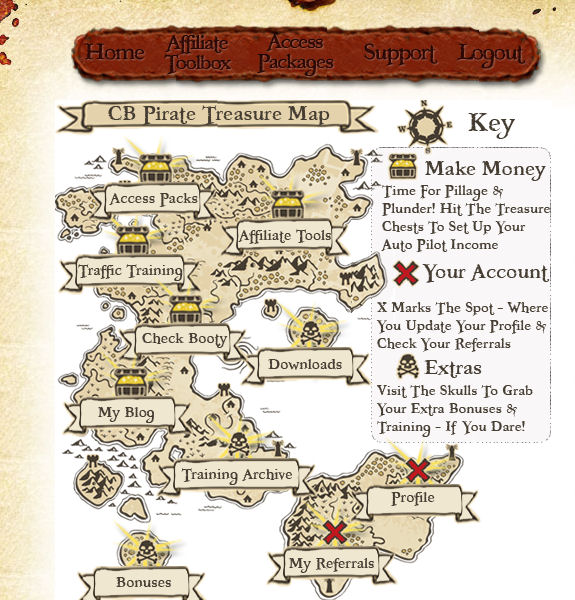 Created by Soren Jordansen and Cindy Battye, ClickBank Pirate is an affiliate online business course that teaches you how to get money by selling products on your website.
To cut things short, all you need to do is promote Clickbank Pirate through an affiliate link that you will be getting.
And inside the course, you will learn all sorts of methods just to drive more traffic to your affiliate link and hope for some conversions which you will be getting a 50% commission from.
The marketing methods revolve largely upon the duplication of websites and content to make your business "legit" but really, it definitely isn't because you are merely copying and pasting stuff to make your website look original.
The program is basically an Affiliate Marketing course providing you with the basics on starting your website (or should I say, websites, arr!)  finding ways to that you can utilize to drive traffic, and finally, wait for the money to come in and fill your coffers.
I have to say, the ambiance of the whole program does feel rather fun, very Pirates-of-the-Carribeany as everything is treasure-themed and you can see that it's in the form of a treasure map too.
Red Flags – Is it Worth the Risk?
There are cons that you can either ignore or give a blind eye to but when it comes to red flags, these are the ones that you need to personally make it your business to know.
Here are a few of the red flags that I've encountered:
Red Flag #1 – You Have No Control Over Your List.
In the internet marketing industry, we have this saying that "the money is in the list".
By list, I mean a list of subscribers that opt-in to your site.
If you're new to the World of internet marketing, you might wonder why is a list so important and why am I getting upset over a small list.
Well for starters, a list of subscribers can mean a huge amount of money.
Imagine you have a list of 5,000 people.
And say that Clickbank Pirate has a 50% chance of getting a sale from people, which means that about 2,500 people will buy your product!
Secondly, building a list is hard work because you have to put in time and energy for marketing so it is certainly yours because you earned it so why do you have to give it away to people?
Red Flag #2 – You're Restricted to Only One Niche.
How ridiculous is that?
For an affiliate marketing course, you are supposed to have the freedom to choose any niche you want.
If you don't know what affiliate marketing is, it's basically a practice of selling other people's products in exchange for commission so you can say that it's like being a salesman in the real world, only that affiliate marketing is online.
Therefore an affiliate marketing course should give you the freedom of choosing what products you wish to promote which doesn't seem to be the case for Clickbank Pirate as they only want you to promote the Making Money Online (MMO) niche.
It is obvious that Soren doesn't want you to venture on any other niche and make affiliate commissions from other products but instead, to just spend on his own product and promote him only so that he can fill in his own pockets.
Red Flag #3 – No Proper Analytic Tools.
How would you feel if you had spent all your money on promotion but not getting any information on your results?
Clickbank Pirate has very low-quality tools that don't even give you information on proper tracking.
You can only find out if someone clicks on your link and how many conversions you are getting which is not very detailed information.
Even Google does better at doing analytics and you can create accounts for free at Google analytics and Google webmasters just so you know.
Learning about the results of any marketing campaigns you have done is important because it is like a split-test – you keep which methods are giving you the best results and stop the remaining methods that don't convert as much.
Red Flag #4 – You'll be Using a Cloned Site.
It is never a good idea to use a duplicated site.
Whether for business or for anything you do in life, using anything cloned and claiming it as your own is not good especially online because Google has strict algorithms and duplicated websites are against their policies.
Sure you can still create your duplicated site and start adding content but once Google starts their updates, every website on their search engine will be screened through and those that are using BlackHat techniques like that taught by ClickBank Pirates, will definitely be penalized.
Content that is too short, too spammy with lots of links rather than value will not be ranked as good and you'd even risk being penalized by Google which means your site won't even appear on search engines unless you type the website URL exactly so using a cloned site would not be a good idea if you're planning to utilize traffic from SEO.
Tools and Training – Is it Worth the Value?
Here is the type of pieces of training that will be covered in Clickbank Pirate:
Search Engine Optimization (SEO)
Affiliate Marketing
Pay Per Click (PPC)
Blogging
Email list-building
Exchanging email lists
You will be getting a few tools that you can use which of course in my humble opinion, is not worth the huge monthly cost as there are better programs out there which give you access to their tools for free:
Pre-loaded WordPress blogs – hosted by Clickbank Pirate and already set up for you which in other words means cloned site.
Pre-written content and banners – For you to copy and paste which doesn't go well with Google.
5 Premade niche landing pages – For you to capture leads.
Free autoresponder – very risky as your list will be controlled by them.
PLR articles – second-hand eBooks that you can promote as your own.
Is Quality Better Than Quantity Today?
By now, you should have gotten the idea that duplicated content as taught in Clickbank Pirate doesn't go well with Google.
There is a program that also teaches you affiliate marketing called Wealthy Affiliate which I would recommend you to join any day rather than Clickbank Pirate.
The main reason? Simple.
Quality education on proper website SEO which is legitimate with Google.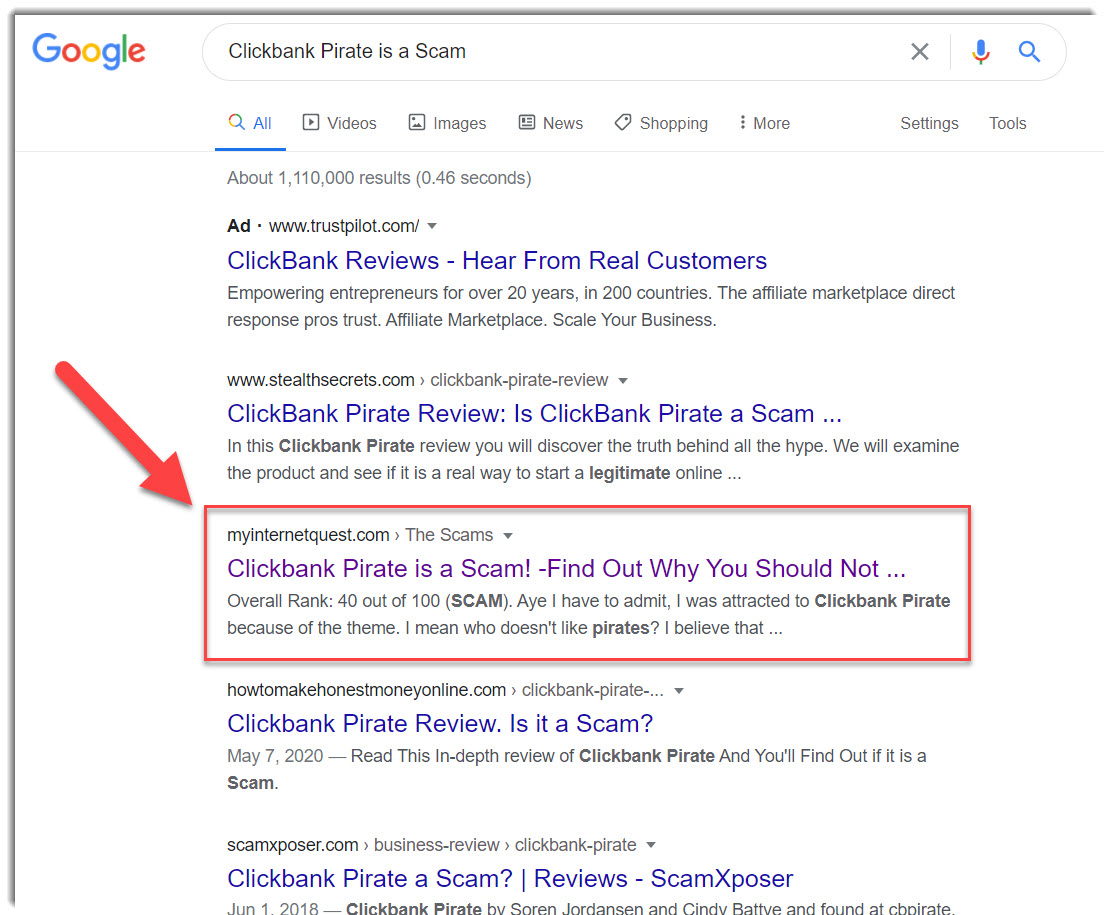 As you can see, my website managed to get on the first page of Google (Still so psyched!) because I followed all the rules laid out by Google, and not by using cheap Blackhat tricks like duplicating content.
It is actually ranking well because the way I implemented my content is on good terms with Google.
It's called Search Engine Optimization and it's also covered inside Wealthy Affiliate's many courses.
Once you get your website on the first page of Google, traffic (Also known as web visitors) will come to your website for as long as your website is there and what it means by an automatic cash machine as your visitors will turn into buyers because your website ranks keep getting more traction.
Sure having multiple websites is cool but what use are they if nobody can find them on Google in the first place?
Here's an overview of these two programs to help you weigh better…
My Final Word
---

I'm going to come clean and tell you that you can actually make money with Clickbank Pirate.
However due to the limit of choices on what products to promote, the outdated modules since 2009 as well as the illegal black hat website duplication methods you will be doing once inside, I would never recommend Clickbank Pirate to anyone hence the rating of 0 out of 5.
With Google's fast-changing of update patches, it's best we play by the rules and not bend them to our will especially not through blackhat methods as that would definitely backfire on your site.
If you're really interested in building a viable business online and make some honest income, check out my #1 recommended program here instead.
Thanks for reading, do share your comments below as I'll be more than happy to reply.