Program Name: SpiderMetrix
Website: spidermetrix.com
Type of business: Paid Survey
Price: Free
Owner: Jerry Evas
Overall Rank: 3 Out of 5 ⭐⭐⭐
I came across SpiderMetrix while looking for local survey sites that everyone can join.
I've heard of it multiple times before but never bothered to try it out until I found out about it on Google and I thought it'd be nice to check it out but what got me really into it is the fact they used a country-specific title saying "we have surveys in Malaysia" which is really intriguing.
Fascinated, I then started delving more and more into their surveys and began to understand their system better and even found out that there are a million users from across the globe.
They have a lot of cool features that you don't normally see on most survey sites too but I can't help but ask, is SpiderMetrix worth it?
Are they really legitimate seeing now that the pandemic is affecting many businesses worldwide? More importantly, do their surveys really pay well or do they not.
A thousand and one questions run through my mind so if you're as curious as me and hungry to know more about what the program has to offer, do continue reading as I unveil my full SpiderMetrix review.
Pros & Cons
Pros
Available worldwide.
Everyone can qualify for surveys.
You can bid to win cash.
It has fun and uplifting vibes to it.
You get cool spider names based on rank.
You'll get emails whenever there are new surveys.
Owned by a respectable company.
Various payment methods.
Has a referral program.
Cons
Lack of surveys.
Their chat system stopped working.
Their competitions also stopped in 2018.
They stop taking members in as advisors (used to happen a lot).
They use reward points instead of direct cash.
Not mobile-friendly.
$30 Minimum threshold to withdraw.
Their interface looks a bit dated.
No accreditations with the BBB.
Low-income potential.
Gosh, that's a lot of cons! Better check out my #1 recommended program here instead!
What is SpiderMetrix? -Two Decades of Surveying.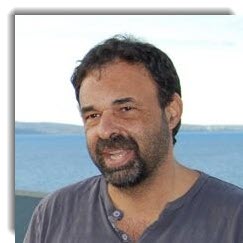 Founded in the year 2000 by Jerry Evas, SpiderMetrix is a paid survey site that offers commissions for each survey that you do on their platform.
The types are surveys are various but covers mostly general questions such as Gaming, Lifestyle, Shopping, and Health which makes it easy for anyone to answer.
It is operated by MicroFlex Pty. Ltd., a very established Australian engineering company based in Melbourne which has a series of businesses under them such as Microflex Information Technology and has been operating over 30 years which I find really amazing.
Without much digging, you just know how serious they take their business to have been operating that long.
For the survey questions, the company Microflex Information Technology acquire projects by selling research packages to clients who would want a market study for their products and services.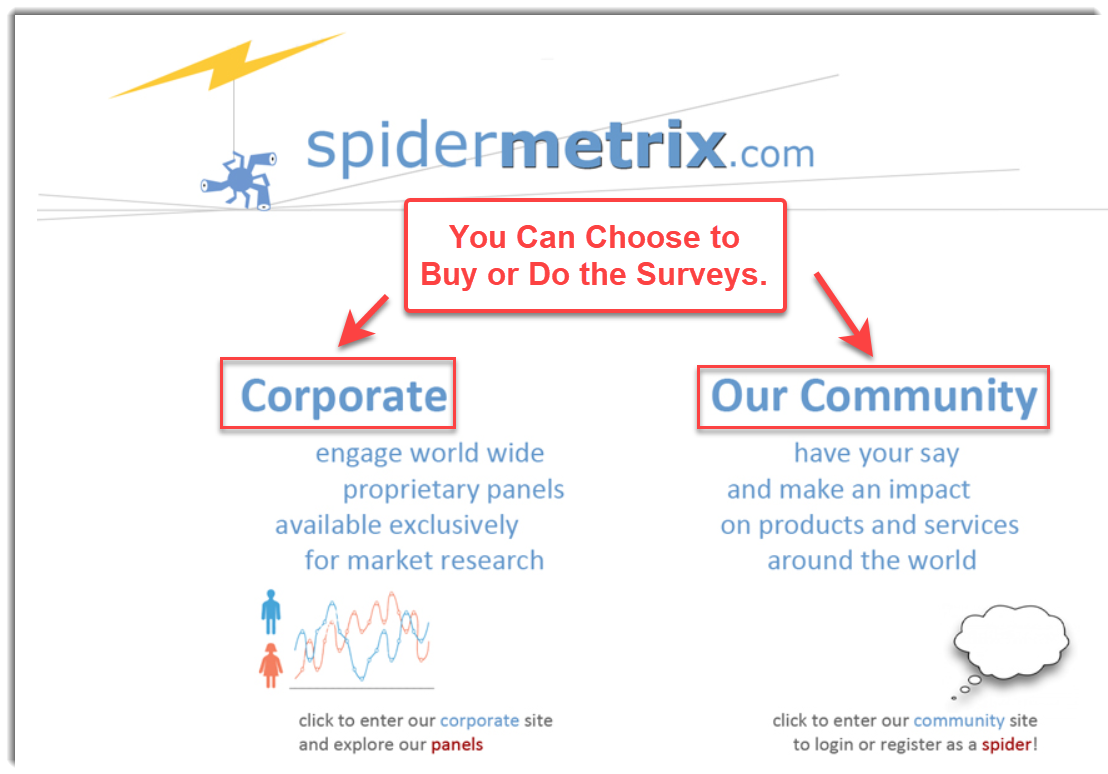 From there, data collection is then handled by their survey arm, SpiderMetrix which would get those data through surveys which they would offer to their one million panel members which are where we come in as survey doers.
It's handy too as you can choose to either pay for a specialized SpiderMetrix market research done for you, or to just sign up as a user for SpiderMetrix all from the same page.
It's great to know that your voice can be heard because when clients are asking for companies to do surveys, they naturally are curious to know what we think and this is because they want our input in order for them to launch their product.
You will never know if your opinion will affect the next big product launch, maybe Amazon will do promotions during weekdays, maybe Honda will do full green car, or maybe a new movie will release to cinemas near you this month.
Whatever it may be, it's wise to put your heart and soul when filling up a survey and be as honest as possible because they need our input.
I love how quirky SpiderMetrix is with their lingos, like instead of calling their members survey panels like most survey sites do, well get a special title called Spiders and the longer you become a member and point you've collected, the more interesting your name gets.
Go on and try it yourself, you will not miss the fun terms they use and the fun atmosphere they have to offer.
How to Create an Account? -The SpiderMetrix Sign Up.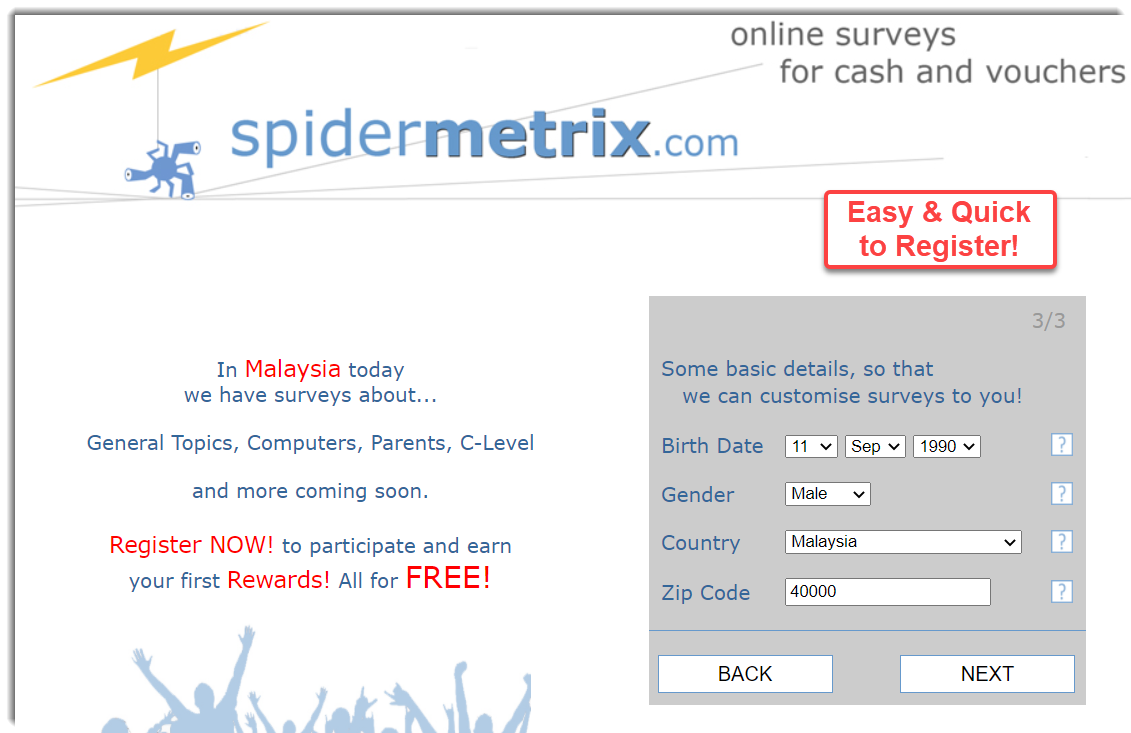 Did I hear how? I'm glad you asked!
With SpiderMetrix, registration has never been easier.
It's very straightforward to have your account up and definitely doable within minutes which is one of the many attractive points this program has to offer as usually, signing up can be a drag and a tad time-consuming.
Since it's open worldwide, you won't have to worry and think much about it though as you can simply sign-up with ease and start immediately.
They are also not intrusive into your personal info so you can expect only the general questions like your address, date of birth and things like that.
You can literally complete it within minutes, have a go at creating an account here.
How do You Earn? -SpiderMetrix Payout.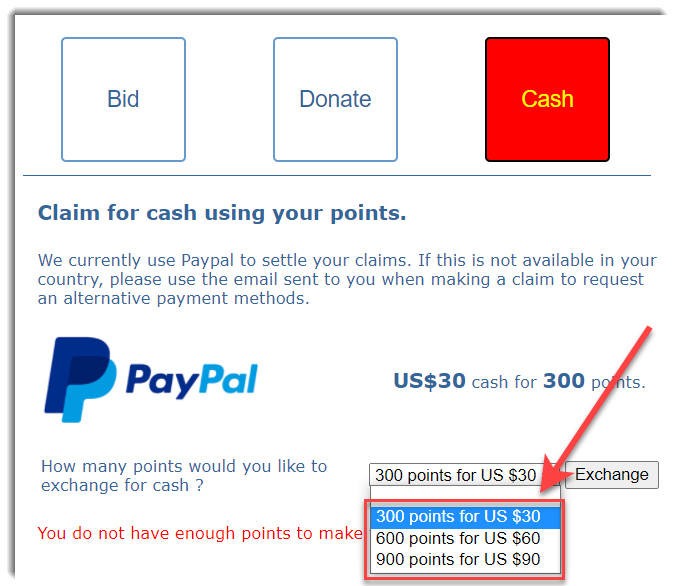 The minimum payout to withdraw is $30.
That's an equivalent of 300 points for your ease of converting and just to make things easier for you on how their point system works…
3 Spider Points = $0.3
30 Spider Points = $3
300 Spider Points = $30
This goes to say that 1 Spider Points is worth ten cents USD so that means you'll need to keep doing surveys until you hit that magic number and you're good to go.
It's a sensitive question but one that needs to be put up, does SpiderMetrix pay?
Don't worry guys, they do pay as I managed to withdraw through PayPal and if that's not your preferred payout gateway, you can choose to transfer your credits through Amazon e-vouchers, use it to bid for more points, or donate it to World Vision Australia.
If you're wondering what that is, World Vision Australia is a charity organization in Melbourne that helps families and children overcome poverty and injustice and they've even up their efforts even more since the pandemic is really affecting lives.
It's great that SpiderMetrix is putting an option to donate to charity, it goes to show how much they care for the people as they're not doing all of this purely because of money.
The last option is the bidding system which you can find within the SpiderMetrix member dashboard where you can bid a certain amount to get rewards which I'll touch more as we go.
What Tasks Can You do to Earn? -The Moolah Way.
Now that you're all hyped up, let's get to the serious part.
There are multiple ways in which you can earn and benefit from the program and those are…
Task #1 – Main Surveys.
This is the core of every survey site.
Main surveys are the sole reason why people do surveys because they offer better pay and their tasks are also a lot longer which will usually take around 20-30 minutes and offer rewards between 6 to 8 Spider Points.
Their surveys differ as they depend on the clients that SpiderMetrix procures so don't be surprised if you get a survey on shopping one day, and a whole different survey on gaming the next time.
SpiderMetrix offers their clients surveys as part of a market research service so their questions will mostly be those that ask about what you do and feel about something for them to compile and make their data from us as consumers.
Task #2 – Quick Surveys.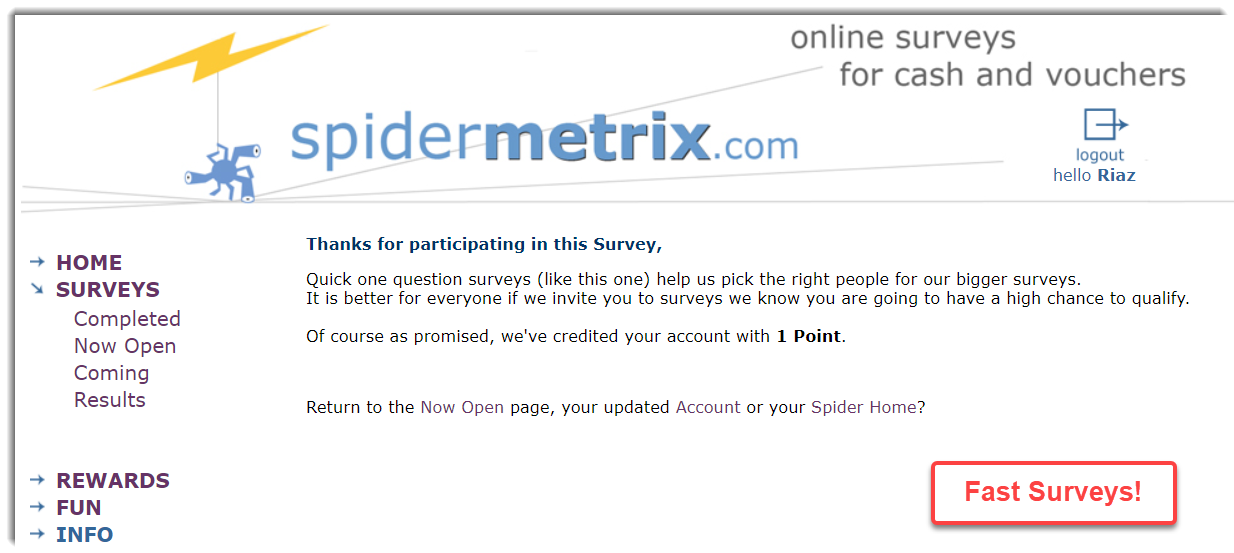 When you're in a rush, you can also opt for something quicker.
Besides the option of doing main surveys, you can also do Quick Surveys on SpiderMetrix which are really short and simple with only one or two questions which you can finish on the spot and get an easy reward of one point.
The quickies are very limited so if you do see it on your dashboard, be sure to click on it fast as they're basically free points up for grabs.
Task #3 – New Account Bonus.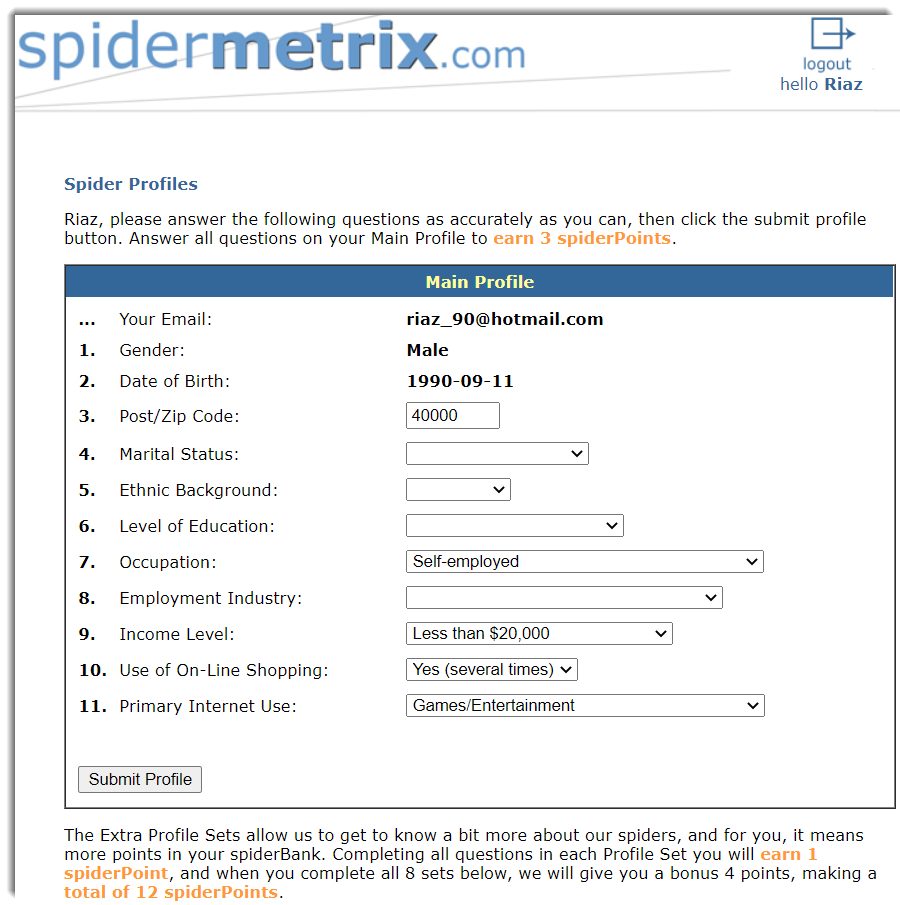 Did you know that you can earn 15 points just by creating an account?
It's part of SpiderMetrix's way to reward newcomers so you'll feel more inclined to spend more time within their system and discover the various features that they offer.
But there's something you'll need to do before you can claim that reward though because after registering your SpiderMetrix account, you'll need to go to your SpiderMetrix login and from there, click on your profile where you'll see some personal data that you'll need to fill in such as education and marital status.
I don't exactly know why would they hide it, maybe it's because they want you to explore the site yourself and discover the various features that they offer but it's certainly great knowing you could earn with little effort.
It's short and simple so you should finish within a minute with ease.
Task #4 – Referral Program.
If you like to spread the word, then this one's for you.
The SpiderMetrix referral system works a bit differently though, because instead of earning directly after referring someone, you instead can only earn once your referral has done a survey.
It might not be a lot but surveys are free after all and you do not have to do much because once you get someone to check out the site, they will register by themselves so all you need to do is to simply focus on spreading the word to as many people as you can and let the site do the conversion for you.
From each survey that your referral completes, you'll easily get 1 Spider Point for as long as you remain a member which will come automatically.
If you have a hand in influencing people to join, it is definitely something you should hop on.
Task #5 – Contests.
This one's a change of scenery.
And quite a literal one too, because SpiderMetrix sometimes offers you interesting contests which you'll need to guess from photos that they share on their Facebook page.
Sometimes you'll get a picture of a city, sometimes an interesting building, but regardless, I find them quite entertaining as it'll bring your focus out of the whole survey world for a short while as doing surveys can be quite draining.
You won't find the contests on the login page but instead, on their Facebook page so be sure to check it out every now and then as you can stan a chance to win 15 points just by answering questions.
It's definitely something you should check out because not only will you meet some interesting people there, you might even meet some mutual friends that are also doing surveys with SpiderMetrix but most importantly, there are also some announcements on updates that they tend to share on their Facebook page.
Task #6 – Bidding.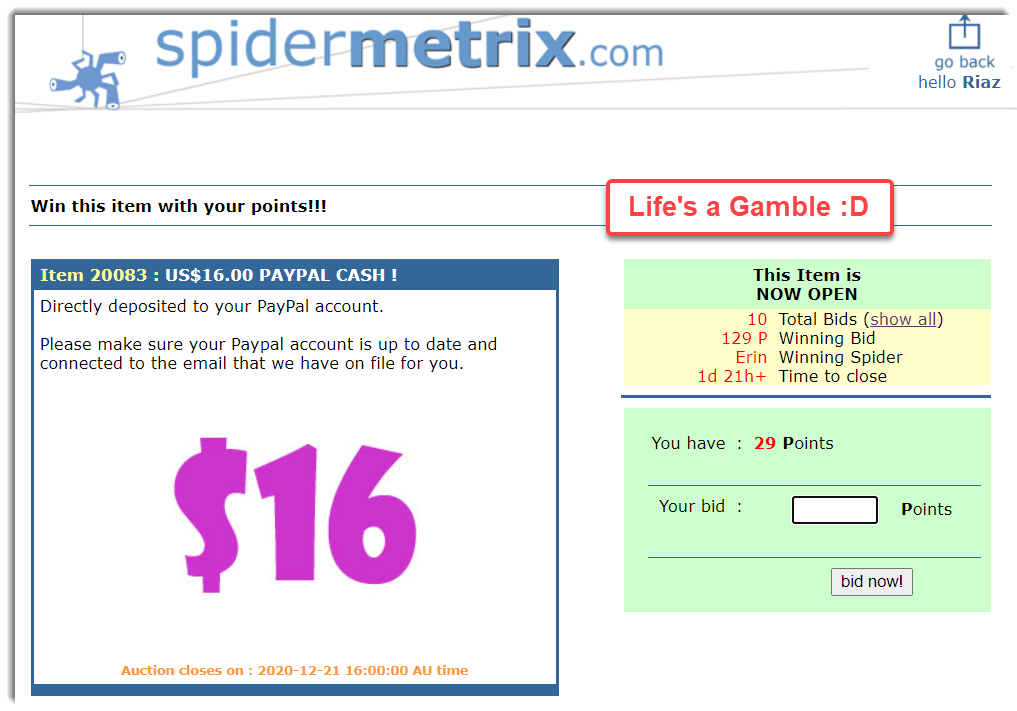 If your life is a gamble, then this one's for you.
SpiderMetrix differs from most survey sites not because of their fancy names or their Spider titles you get, but rather their bidding system which is something you don't see every day on a regular survey site.
Some sites try to attract attention by doing sweepstakes which is like a lucky draw for a random winner but at SpiderMetrix, you'll get none of that!
Since life's a gamble and the sweepstakes are based on luck anyway, they take a different approach where they implement the bidding system instead for their members or should I say, Spiders.
I particularly like the bidding part because it's direct and easy to do not to mention the fact that you're not using real cash but instead, your Spider Points.
The bid restarts every week and each time, it's different so don't be surprised if sometimes you'll see the cash prize of $16, or $20 on another week.
It's really engaging and you can see the leaderboard which shows other members who are also bidding so you can do a bigger bid if you see someone overtaking you.
Things I Like About Them.
Now that we've got all the technicalities down, let's move on to the good part.
There are several plus points that I find very interesting on SpiderMetrix which sets them apart from many other survey sites out there…
Perk #1 – You Get Cool Spider Titles!
It's not every day that you get a cool title.
One cool thing about SpiderMetrix that I really like is the fun atmosphere that they're building within their system which takes us outside the norm of boring survey sites.
Not only do they have interesting activities, their copywriting is also fun and quirky not to mention each member getting specific spider names – Mine is Daddy Long Legs, how cool is that?
I've seen many other older members getting even cooler spider titles such as Tarantula and Black Widow and for newcomers, you'll be named Baby Spider until you've been in the system for some time enough to be worthy of another name.
That definitely creates quite the engagement to entice members to spend more time and do more surveys to get their points up.
Perk #2 – You Get to See the Result of Surveys.
Have you ever wondered what is the result of a survey?
Normally, we don't even know what the data from a certain survey which can leave us wondering what most people in our place would click on while doing a specific survey as survey sites do not usually share this with us but rather their clients.
How many people voted against not caring for child abuse?
Do more people use iPhones in Asia rather than Samsung?
Are there people who would prefer online shopping over physical shopping?
These are some of the questions which we normally come across when doing surveys as surveys are basically questions that clients want to know from us consumers and as we do these surveys, all we do is click to tick without knowing the results.
SpiderMetrix does it differently here as they share the results from the surveys so not only do their clients know the results of their market survey, we can know too what most consumers think when they were in our place.
It's little things like this that sets a program apart from others.
Perk #3 – Statistics in the Form of News.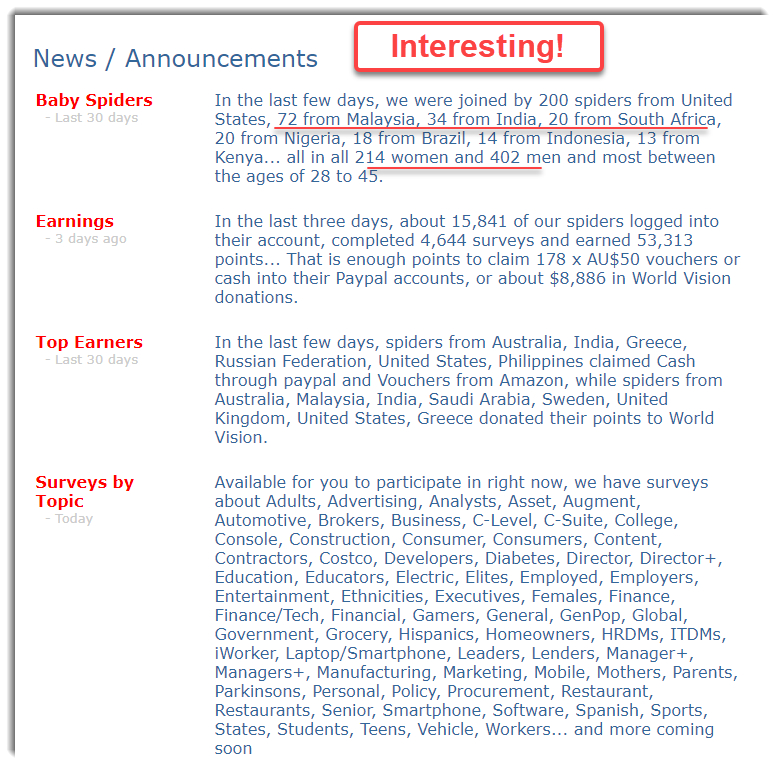 It's like reading a newspaper before going to work.
The only difference is that your work is in that newspaper too if you catch my drift.
Another interesting thing that SpiderMetrix offers is the news on what's happening within their platform which gives you a clear view of what other survey doers all over the world are doing, or how many new joiners are there daily.
Sometimes you can't help but wonder if you're the only one on that survey platform or not as there's literally no sight of other people as we carry on and do our surveys.
SpiderMetrix took a great step in being transparent by showing us the data of the users on their program and seeing that it's still very lively makes it all the more interesting to continue with the site.
Perk #4 – You Can Chat with Other Members.
Introducing the SpiderChat.
It's currently closed and there's no update on when it'll be live again as it's a recent closure due to a lot of people taking advantage of the SpiderChat to spam their own things.
But on a bigger picture, I wanted to emphasize that the community interaction they have here is real and it's very reassuring to have the opportunity to chat with other survey members who can eventually be your friend and also share good surveys with.
A community is very important in any program, especially in survey sites as it is proof of a program's legitimacy because why else would that many people stay in one place for a long time to interact with one another, right?
Perk #5 – Any Country Can Join.
Restrictions can be very limiting.
Especially it is country-based as it just doesn't seem fair when other nationalities can have the chance to earn but not others.
With SpiderMetrix, you can kiss that worry goodbye as just about anyone all over the world can join and earn just as well as you.
It's reassuring to know that you can make more by putting more effort and earn just like anyone without having to worry about why the next guy is earning more than you and why you cannot.
It's also great for nationalities with lower currencies too as they pay in USD which can be converted to earn more in their country and this can help a lot of people who are facing hard times as some people are less fortunate than us.
Perk #6 – Smooth Registration Procedure.
Don't you just hate long signups?
Well with SpiderMetrix, that won't be a problem anymore as creating an account will only take a few minutes which is very easy and you can already start doing surveys and earn as soon as you're in.
The sad fact about it is that a lot of survey sites out there have very long signup procedures which would take so long to fill as they ask very personal questions to the dot from the type of car make that you have to the length of insurance that you're using.
Worse, some survey sign-ups can take an hour to fill up which is crazy time-consuming like this survey site I came across.
I've gone through some and let me tell you, it doesn't feel good and asking extremely personal questions for an hour like that can really test your patience as it'll make you wonder whether it's worth doing or not.
Perk #7 – Referral System is a Breeze.

There's a reason why I point this out.
The process for referring should be easy and for good reasons too, it's because we're bringing more people into a company so the process should at least be easy for us.
SpiderMetrix made it very easy where we can get affiliate links to refer within our member login page just like that which made it very easy for us to get started.
You'd be surprised as to how many companies out there made the process excruciatingly difficult to register like this company here whereby you'll need to sign and agree to a legal document before we can start referring.
It's not wrong but if the process alone already takes so much time when we're the ones that are doing the promoting for them for free even, then it might not be worth promoting that particular program.
Perk #8 – They're Still Active on Social Media.
A community reflects the image of a business.
Being a community-based venture, it's great to know that SpiderMetrix has a very healthy Facebook page with a good amount of followers and engagement.
It's not necessary of course but it would be weird for a community-based program to not have a community and I've seen several survey sites that don't which is very troubling as you'd start to wonder if it's the right program or not.
After all, communities are people and being humans, we would of course only stay and support a company if it's a legitimate one.
It's also great to find like-minded individuals and SpiderMetrix made their page even more engaging by regularly hosting contests to get free Spider Points which makes it very exciting.
Perk #9 – They're Slowly Getting Back Up.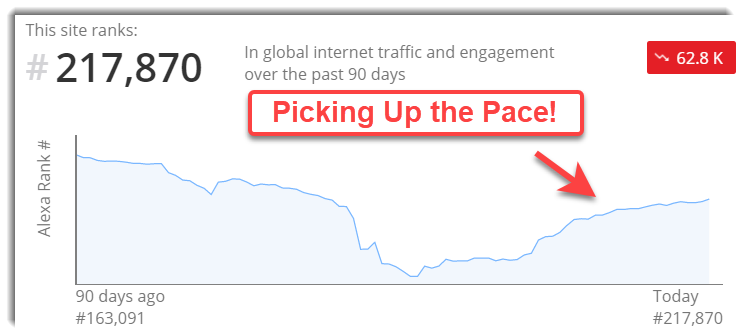 If you look at the graph, they had a massive drop.
It comes to no surprise though as all businesses are affected by the pandemic but seeing how they got themselves back up despite hard times put faith that they're in for the long run.
I was curious to know more about them as many survey sites tend to close down as they were hit hard which greatly affected the number of projects they can acquire to sustain their business but it seems that SpiderMetrix is definitely staying strong.
Let's hope that they'll eventually pick up the pace again!
Red Flags – Are the Risks Worth Taking?
Now that we've covered the good sides, it's time I drop the bomb.
Despite having amazing features, no program is perfect in this world as we are not without flaws and SpiderMetrix has its own fair share of red flags which you'll need to know of before making your decision.
Red Flag #1 – Lack of Surveys.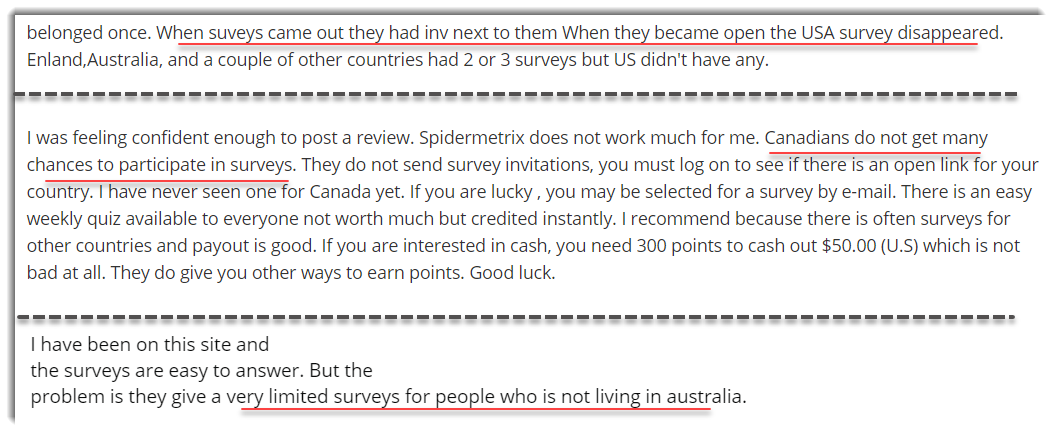 This one's actually a common problem.
Not just for SpiderMetrix but on many other survey sites out there which is something we cannot fix and something that we have to bear through.
This is because for survey sites, the surveys actually come when the company closes a deal with their client as part of their market research service so when there are no clients, there won't be any surveys.
It doesn't mean that it's the end but rather just a drop in sales as it is after all, the pandemic season where our economy isn't as what they used to be.
Red Flag #2 – Surveys are Not for Everyone.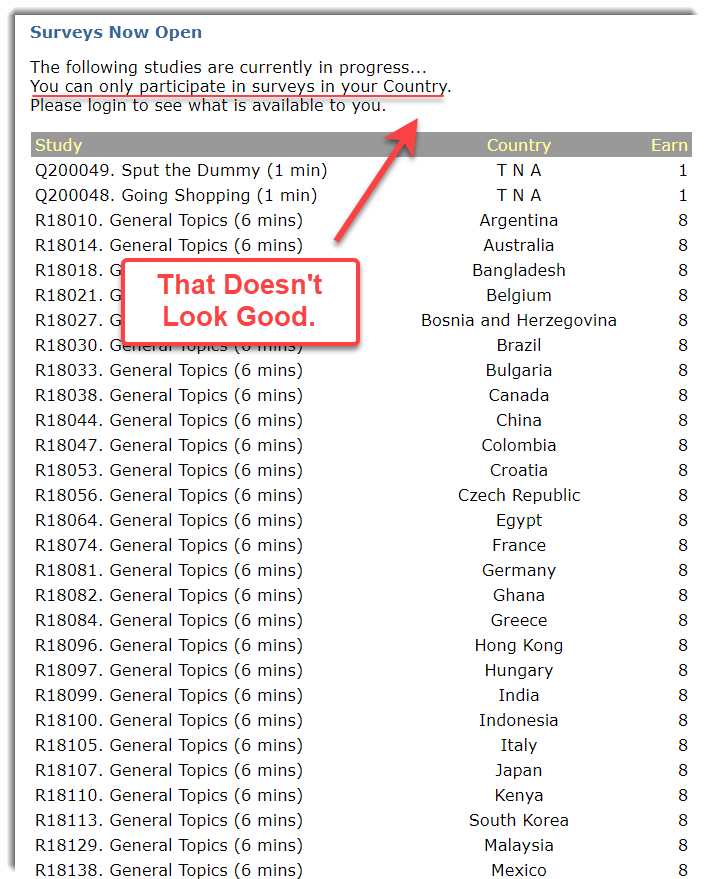 This is kind of a soft rejection.
Although everyone all over the world can join the surveys, the only ones visible to us from our account are the ones that SpiderMetrix has chosen for us based on our country.
This is because some surveys are nation-based, for example maybe a client wants to do market research about consumers in Malaysia's tendency to go shopping on New Year for them to find a suitable time for their company to do a promotion or something like that.
Regardless, seeing that surveys are country-specific, it might be the cause for lack of surveys if you compare clients that want a worldwide audience to those that want a country-specific audience.
There are of course surveys that require a global audience which in this case, anyone can join but we cannot deny that there are also local surveys that only specific countries can join which causes an imbalance where some members can have access to more surveys than others just because of the country they're from.
Red Flag #3 – Some Features Stopped Working.
During its glory days, SpiderMetrix was cool.
It still is today though, but previously they had a few features which they don't continue anymore like the competitions and the SpiderChat features.
Of course their Facebook page contests still happen but there used to be regular competitions within the member's page itself where you can stand a chance to win amazing prizes over AUD500 by answering questions which were really cool.
There was also SpiderChat which is a live chat system where you can talk with community members and make friends or talk about which surveys to do but at the very core, it helps to keep you focused after countless hours doing surveys.
Not anymore because both these features got disabled since 2018 so new members will not be able to experience them.
Red Flag #4 – Your Voice Won't Be Heard.
It's good to know that your voice can be heard.
Sadly, this won't be the case anymore today because if you look at the SpiderPanel names, only the same people are picked as panels and even those people are ones who started from the early 2000s.
SpiderPanel is for members who are handpicked by SpiderMetrix to become part of the advisory board to give their team input on how to make the platform better for their fellow Spiders.
It brings hope because the big guys actually care about the little people like us that they even picked a few of us to advise them on how to make our experience better.
Unfortunately, that doesn't seem to be the case anymore as there are no new members among those advisory boards so we definitely won't be able to get our voices heard.
Red Flag #5 – They Are Not Mobile-Friendly.
Not everyone owns a computer.
And the ones that do, not all of them use computers most of the time as some of us have commitments that require us to be on the move a lot which is why a lot of us would browse through our phones instead of using a computer.
Spider Matrix is a bit outdated in this case as they are not mobile-friendly at all as their theme is very dated and does not adjust to your screen when you Google it through your phone.
Instead, you'll see the same version as the one we see on the computer so you can just imagine seeing a computer-sized theme on a phone – It's dreadfully irritating.
Not only is the page huge, we would have to scroll to the left and right whenever we want to read something as they are not using a responsive theme which most websites do today and what other survey sites are also implementing to remain competitive.
It's terribly hard to do it from a phone when it's not suited to your phone at all and as for mobile apps, they don't even have one which leaves the mobile phone survey-doing part out of the question.
It's best if we just do it from a laptop or computer instead.
Red Flag #6 – It Might Take a While Before You Can Cash Out.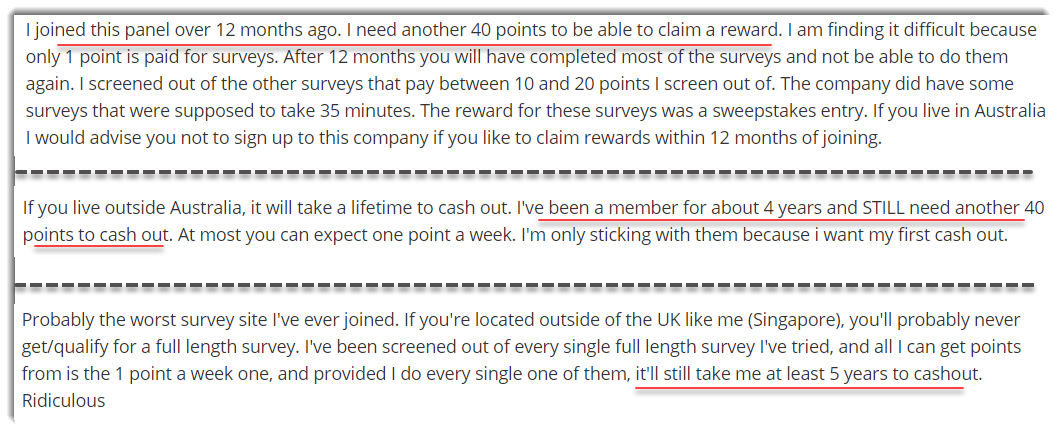 This one's due to the lack of surveys.
Since there is a lack of surveys to do on Spider Metrix, a lot of people have been voicing out regarding the period they need to wait in order to withdraw.
Some had to wait for months, some even a year but what worries me is that for a wee amount of $30 minimum, why do we need to wait a few months for it?
If surveys are abundant, we could have cashed out it in a week or two but seeing that it takes this long, it's worth thinking over.
Red Flag #7 – They Pay With Points Instead of Cash.
It's a trend for survey sites to pay in rewards.
There are of course some sites like this one that pay directly with cash every time you do surveys but every time you complete surveys on Spider Matrix, you will instead get rewarded with points.
From there, you will need to do your own calculation of how much a point is worth when converted to USD which can be a tad bit annoying as it's extra work when all we wanted to do as users, is to simply withdraw our well-earned cash.
It might be a cool thing for these companies to name their reward points with a fancy name like SwagPoints for SwagBucks, or SpiderPoints for SpiderMetrix, but the real reason behind it is because rewards are a lot safer for these companies to manipulate.
Not many people stay with a survey site for long and because of that, the companies will not have to spend money to pay you if you leave so giving us points as their currency is a way to make us feel good and forget all about the money.
Red Flag #8 – Your Account Might be Deleted.
This is not the first time I experience this.
Not just for SpiderMetrix, but for many other survey sites too and there's a reason for it.
Survey sites handle millions of users at once so they won't hesitate to simply remove a few members every now and then whenever the amount is too much for them to cope with and there's nothing we can do about it since it's free to join and we're not paying anything for it.
They will usually try to eliminate you through various means such as freezing your account, removing the cash out button, or even make your account disappear which results in you not being able to log in to your account anymore.
It is sad but the best way to overcome this is to accept the fact that maybe this site isn't for you and that you would have to just let it go and continue to other sites instead.
Red Flag #9 – High Cash out Threshold.
I hate to break it to you, but $30 is high for a survey site.
Normally, the minimum cash out threshold for most survey sites is around $10 to $15 and there are even some sites that don't even have a payment threshold so we can withdraw anytime we want.
Doing surveys is not meant to be a full-time thing but rather a side pocket money or beer money in other words which is why they pay low so that we can get them fast and use it when we are really in need of it.
However seeing that it takes so long to cash out not to mention a high threshold level that we need to reach in order to qualify for the withdrawal, one can't help but think that it's not a viable platform for that beer money after all.
Red Flag #10 – Low Overall Earning Rates.
Time to face reality.
As interesting as these survey sites are, the cold hard truth to it is that you can never make enough money from it as it just doesn't pay well and the fact that there is a lack of surveys to do makes it even harder for anyone to earn a decent income from it.
If you've heard from someone saying that doing surveys can earn you a living, then I'm sorry to say that that person is lying.
One survey ranges from $1 to $3 which usually takes up to half an hour to do and that is, if you're lucky enough to have continuous surveys in the first place.
It takes a lot of time which you could have used for better things elsewhere like starting an Online Business or even work as a freelance writer which would earn you a more decent income in the long run so if you're keen on doing surveys, it's best to set your expectations low so that you won't be disappointed.
Red Flag #11 – Creepy Home Page.
Have you had a look at their site?
I've mentioned earlier that SpiderMetrix's website is a bit outdated and their theme being non-responsive, but the reason for that which you might have not noticed is that their site looks very ancient, like when the internet was first being built.
Seeing that they don't bother to adjust their SEO to make it more mobile-friendly which is a requirement by Google a few years back, this can only mean that the SpiderMetrix team has not touched nor updated their site at all for many years back, possibly since the very beginning in the year 2,000.
It might not be much of an importance to most people but if you have updated your site for so long, you'd bound to come across certain issues from time to time.
Red Flag #12 – No BBB Accreditation.
BBB stands for the Better Business Bureau.
It is an organization that protects consumers by working together with regulatory bodies such as the FTC and FDA to scan out companies and their business in order to inform consumers whether or not those companies are a scam or not.
I'm surprised that SpiderMetrix isn't on the BBB's radar but it's completely understandable since they belong to an Australian company, it just goes to show that although it's a global operation, they're not that popular in the US yet.
Many people refer to the BBB as a shortcut to know whether or not a company is safe to commit to but I guess we would just have to have faith in SpiderMetrix and do our own due diligence the old-fashioned way which is by digging for ourselves.
Do I recommend SpiderMetrix?
If you don't mind waiting long for cash, then yes.
But if you can't stand to wait a few months or order to withdraw your earnings, then it might not be the right choice for you.
If you're wondering if SpiderMetrix is a scam or not, the good news is that they're definitely legit but there's no deny that they too are affected by the pandemic and we can see how much it has affected their ability to close projects which results in the lack of surveys we tend to experience as members.
As members are increasing and surveys decreasing, we would be lucky to have only a survey or two a day for us to do as everyone is fighting for that piece of the pie.
And plus, the $30 minimum threshold to withdraw is definitely going to take a while to collect.
It is good in a way since we don't have much to spend in a day to do surveys so we can simply complete everything in less than half an hour or so but the downside is that we also will not get the chance to earn more since opportunities are scarce.
Looking on the bright side, I do hope SpiderMetrix will get the chance to grow their business and get more projects soon seeing that vaccines are being distributed all over the world.
If doing surveys is your thing, it doesn't hurt to check out their surveys every now and then and explore other surveys sites at the same time so you can get plenty of surveys to do but if you're considering a different route, then this next part is definitely for you.
Is There a Way to Make Passive Income?
Surveys are great but it doesn't hurt to keep your options open for more.
I started out in the online world through surveys but after trying out different programs, I discovered that Affiliate Marketing is definitely the best choice for those serious about making more.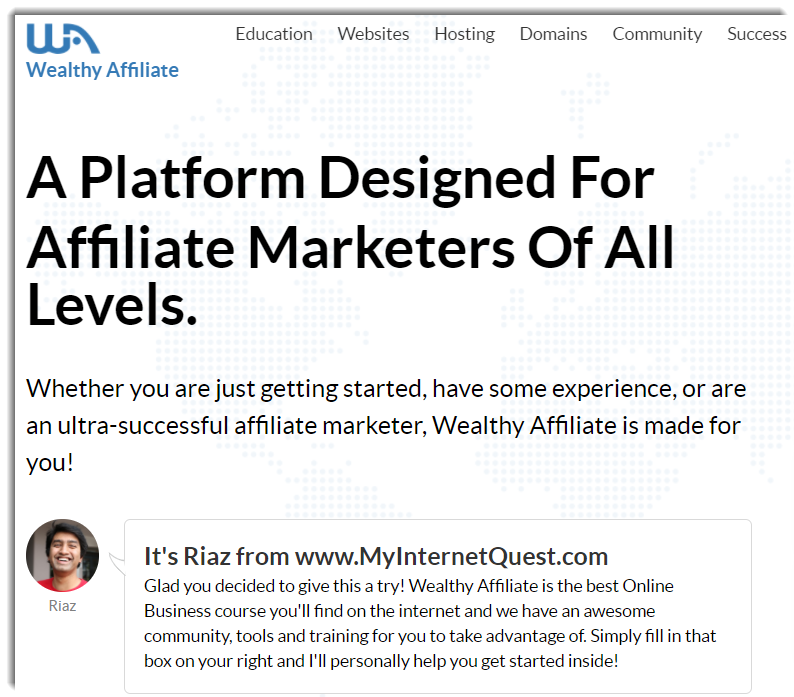 Introducing Wealthy Affiliate.
It is an Online Business platform that provides you with everything you need to succeed online by helping you monetize whatever niche that you're interested in.
If you love guitars, you can go with that niche and learn how to earn from that niche.
If you love cooking, well guess what, that's also possible.
And if you already have a business, it's all the more reason for you to join as their courses can help you scale your earnings to greater heights by increasing your exposure.
How it works is that you'll learn how to build a full Online Business on your own particularly on Affiliate Marketing and from there, learn how to monetize through the various ways being taught there.
Affiliate Marketing is on the rise now more than ever and you can see from the graph below…

The reason for the trend is that more and more people are realizing that it's so easy to do and start online as we do not need much to begin with since as affiliates, all we do is just promote other people's products like through Amazon, eBay, or ClickBank.
We do not need to keep any assets, we do not need a product and we don't even need to do any hard sells nor meet any people at all and seeing that the pandemic is upon us, working from the comforts of our own homes is one of the best options to go for.
I still do surveys from time to time, but my major focus is actually on Online Business as there is always something new that I can implement to grow which I find very rewarding which is definitely worth focusing your view on.
It's a bit unfair to compare a full-fledged Online Business platform to that of a survey platform but just to give you an idea of what I mean, here's an overview between the two…
Final Word
---
There's no doubt that SpiderMetrix was once a great site.
They were after all, built in the year 2,000 and have seen and evolved multiple times with over a million members but little by little, they are undergoing problems that are affecting the experience of their fellow members.
Not only are there a lack of surveys to do, the threshold to withdraw is high therefore pushing the members to fight for whatever few surveys they can find whenever it pops out within the member login page and it can take months to just qualify for the first payout which takes a longer time than expected.
People do surveys for quick pocket money as they're easy to do but if you can't even get enough surveys to withdraw not mention the long time it takes to reach that minimum threshold, it might not be an option for quick pocket money anymore.
That being said, being at the whims of a company can have its ups and down so if you're interested in another source of income, you'd have a much better shot at my #1 recommended program here instead.
Thanks for reading, do share your experiences down below and I'll be more than happy to hear them.